How To Create A Hanging Door Basket For Spring And Summer
Tips and tricks for how to dress up a boring front door for spring and summer with a hanging door basket instead of a typical wreath.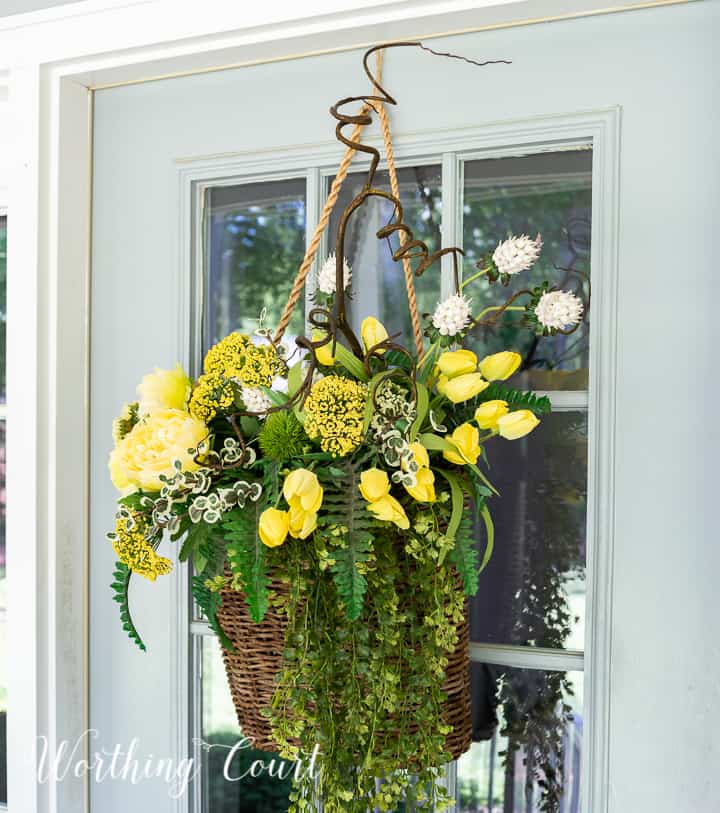 I truly enjoy having something on my front door that represents the current season or holiday! 
At Christmas I used a swag
for the first time, but most of the time it's either a DIY project such as a wreath that I've made or a hanging basket filled with flowers and greenery.
To keep things looking fresh, I prefer to make something new instead of using the exact same thing year after year. That doesn't mean that I don't reuse the same wreath base, hanging basket, ribbon or faux flowers and greenery over and over again. It means that I just arrange them in a different way.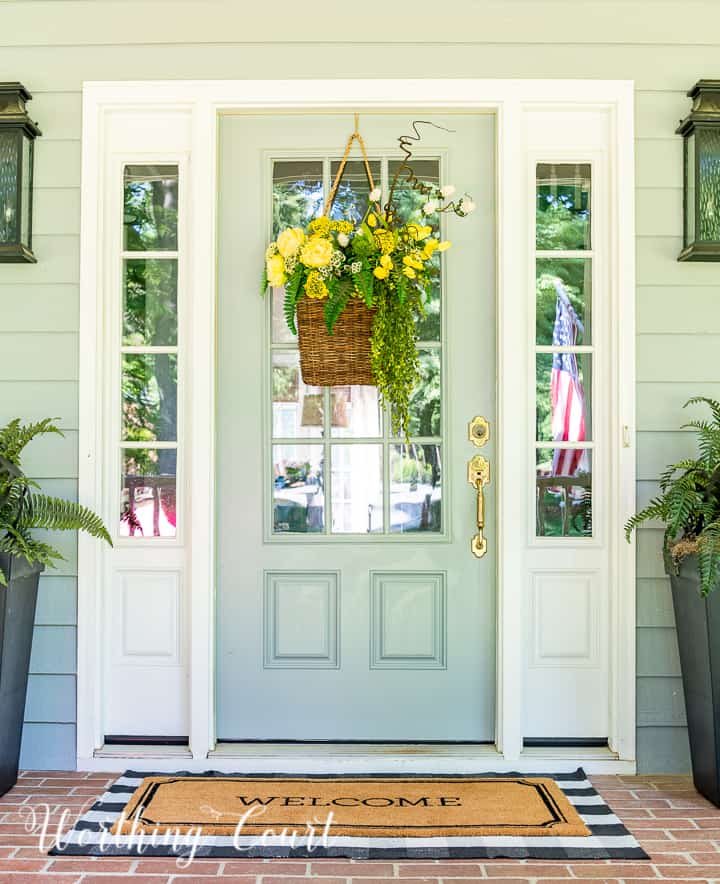 If you could see the tons of stems that I have stored in my attic, you'd know why I try to avoid the extra cost of purchasing all new filler!
What You Should Put In Your Spring Door Basket
It's pretty obvious that you'll want to add florals and/or greenery to your basket, but for an extra pop think about tucking in some of these too:
picks that have ladybugs, butterflies, bees or other spring and summer insects on them
small signs on a short stake
a piece of ribbon tied into a bow, tucked in amongst the foliage
a faux bird
a faux bird's nest
a small bird house
tie a bow around the outside of the basket for an eye-catching addition.
Have fun with it and let your imagination and creativity run wild!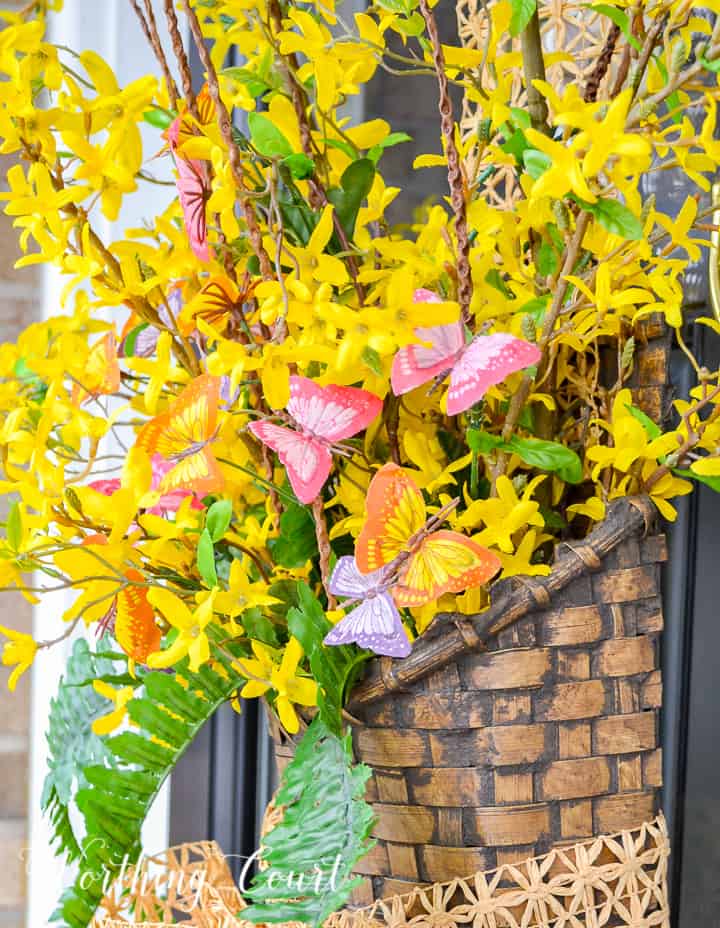 Tips for Arranging A Door Basket
Filling a door basket is such an easy thing to do that it really doesn't warrant a step-by-step tutorial. I've learned a few tricks along the way though, so I'll give you my tips for putting one together.
1. Unless the stems that I am using are super long, I always place something in the bottom of the basket to give them height. You can use floral foam, but I usually just stuff the bottom of my basket with grocery bags or garbage bags.
The bags also help to hold the stems in place. If you have stems that simply will not stand up the way that you want them to, try stuffing more bags in between them.
TIP: If your wicker basket has an open weave that you can see through, use a black garbage to stuff the bottom with instead of grocery bags. The black will disappear and won't show through the weave.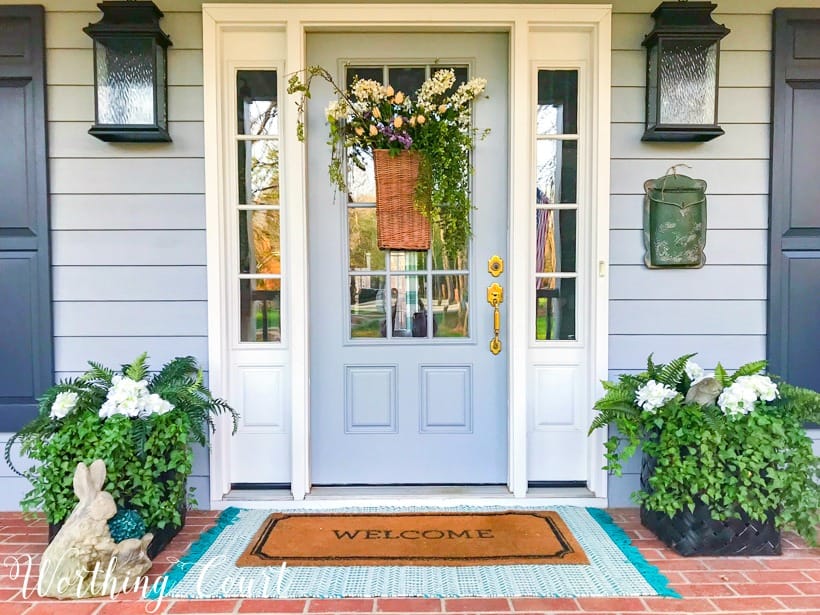 2. For drama and interest, I prefer to use a variety of stem lengths. I usually place the tallest stems in the basket first, toward the back.
If you're using a floral bush, I recommend cutting the stems that you want to use apart instead of placing the whole bush into the basket. Be sure to fluff those stems before adding them to your basket!
TIP: Crushed or flattened blossoms can be made full again by blowing it with a hair dryer. Position the dryer so that it is blowing toward the opening of the bloom, but be sure to keep the hair dryer moving so the hot air isn't blowing on one spot too long. Start out with high heat on the low blower setting.
3. After the tallest stems have been placed, add the florals with the largest blossoms where you want them to be before adding the greenery. Next, fill with the greenery and the smaller blossoms.
When working with faux florals, there are usually some blooms that you want to make sure are seen, so place those toward the very front of the basket.
The great thing about working with faux stems is that you can usually bend them the way that you'd like them to go. I typically bend the heads of the flowers so that they are facing toward the front of the basket instead of leaving them straight.
4. Adding draping greenery or florals can be done evenly across the front or off to one side for an asymmetrical look.
The asymmetrical look is especially eye-catching if you'd offset it with an extra tall stem toward the back.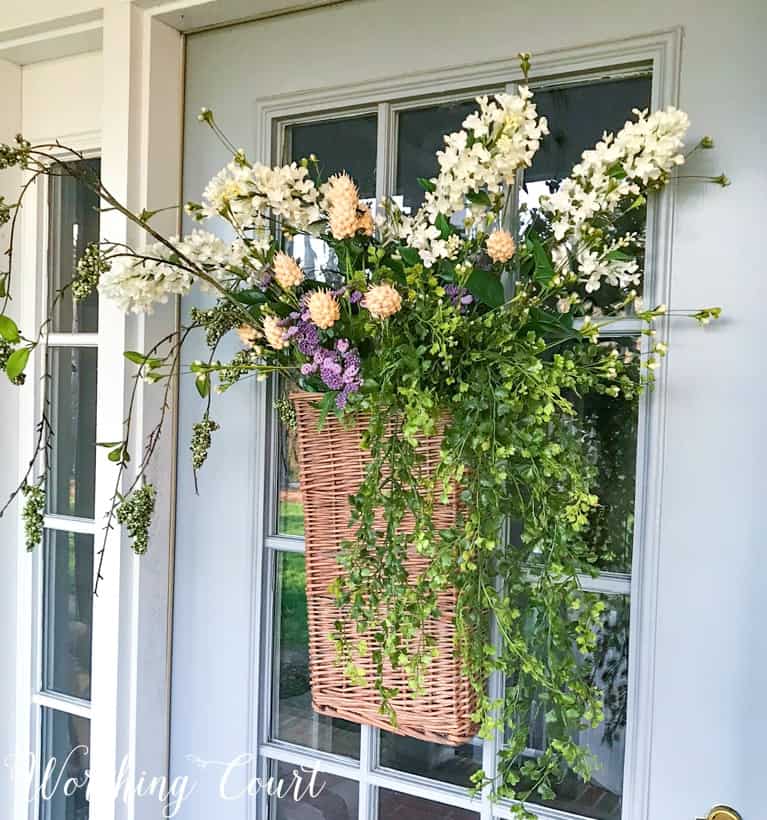 5. Fill in any gaps with the smallest sized stems. This is a good time to add a fun accent. In the image below, you can see the colorful butterflies picks that I added to a spring hanging basket arrangement. They're actually from a little floral bush that I purchased from the dollar store and cut apart.
HOW TO CHOOSE REALISTIC FAUX FOLIAGE & FLORAL STEMS
These tips will help you choose the most realistic foliage to fill your basket with:
Faux floral stems with silk or fabric petals usually look the closest to the real thing.
If the floral stems have leaves on them, opt for ones with darker green leaves.
Choose stems with leaves or flowers in colors that naturally occur in nature.
If at all possible, steer clear of stems with plastic flowers or leaves.
Since no plant in nature is perfect, avoid stems with identical leaves or flower petals.
Avoid stems that have frayed edges on the petals or leaves.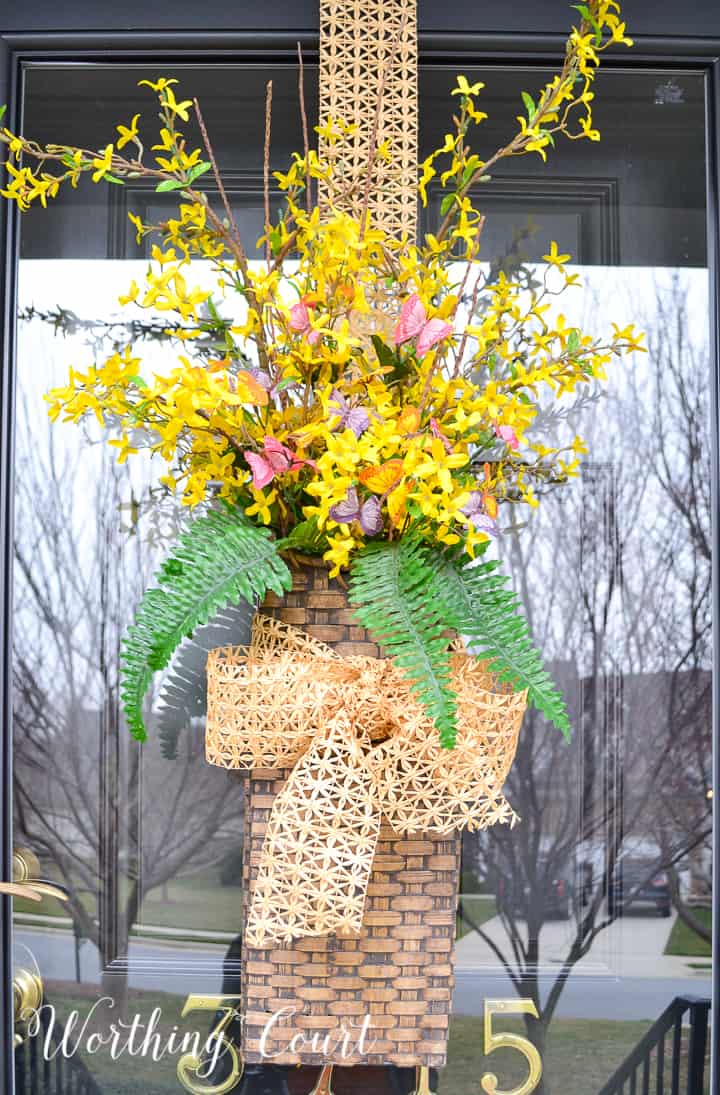 SCROLL THROUGH  A FEW OPTIONS BELOW

How Do You Hang A Door Basket?
There are multiple ways to hang the basket on the door – it all depends on the type of door you have:
Use a basket that has a handle on the back side of it.
Large suction cups are a good choice for hanging the basket on a glass door.
Tie a piece of ribbon or jute twine to the basket's handle long enough to reach the top of the door. Secure the ribbon into the top of the door with a thumbtack. The door should still completely close just fine.
Create a door hook by placing a Command Hook upside down, on the inside of your door, near the top. Make a loop with ribbon or jute twine that's long enough reach the top of the door, with a little extra to use to tie a knot with at the ends of the ribbon. Loop the knot over the upside down hook.
Traditional wreath hangers can be used if it doesn't allow the basket to hang too low on the door.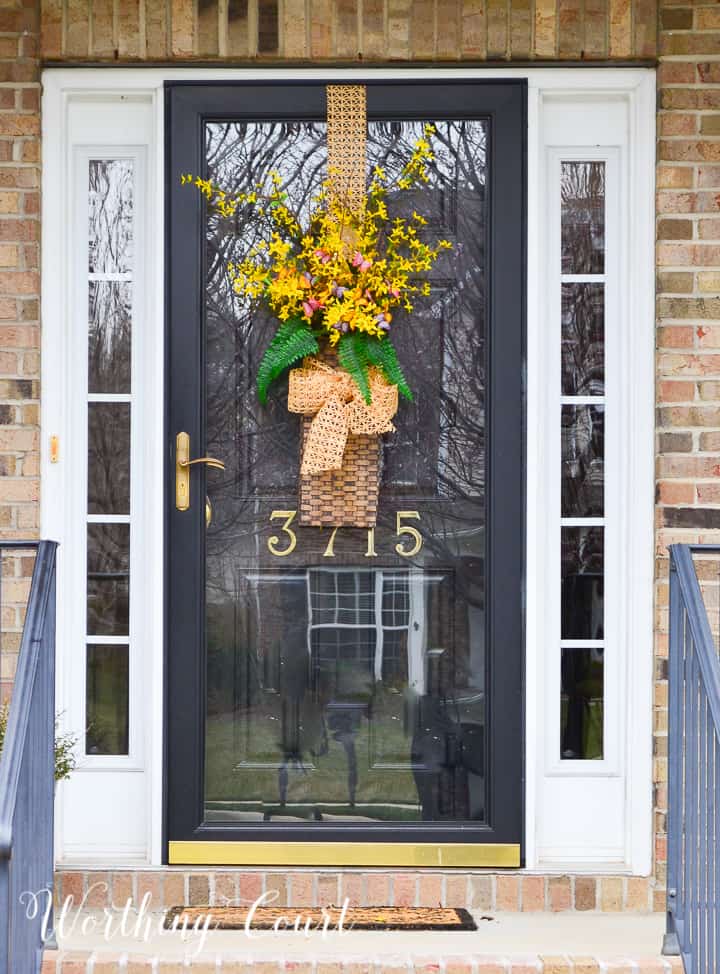 SCROLL THROUGH THESE DOOR BASKET HANGERS BELOW

Where To Buy Hanging Baskets
Anytime I share one of my door baskets, I always get asked where I it can be purchased. In the past, they were a bit difficult to come by, but now that they've gained in popularity they're easier to find.
You'll find images below of a few that I found online, but I've also found them at thrift stores and outdoor vintage fairs. Simply click on the image of anything you're interested in.
I recommend using a basket with a flat back as opposed to a round one, which will allow the basket to rest against the door better.
SCROLL THROUGH DOOR BASKET OPTIONS BELOW

Hopefully, these ideas show you how you can decorate your front door with something instead of a wreath!