How To Help Your Home Put Its Best Foot Forward
All homes have both good and not so good features.  Here are tips to bring out the best features of yours!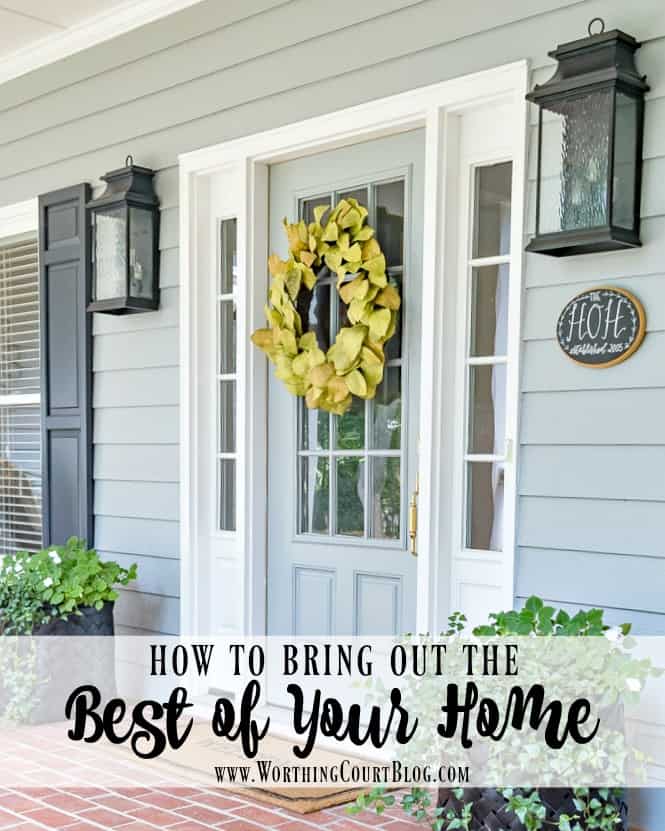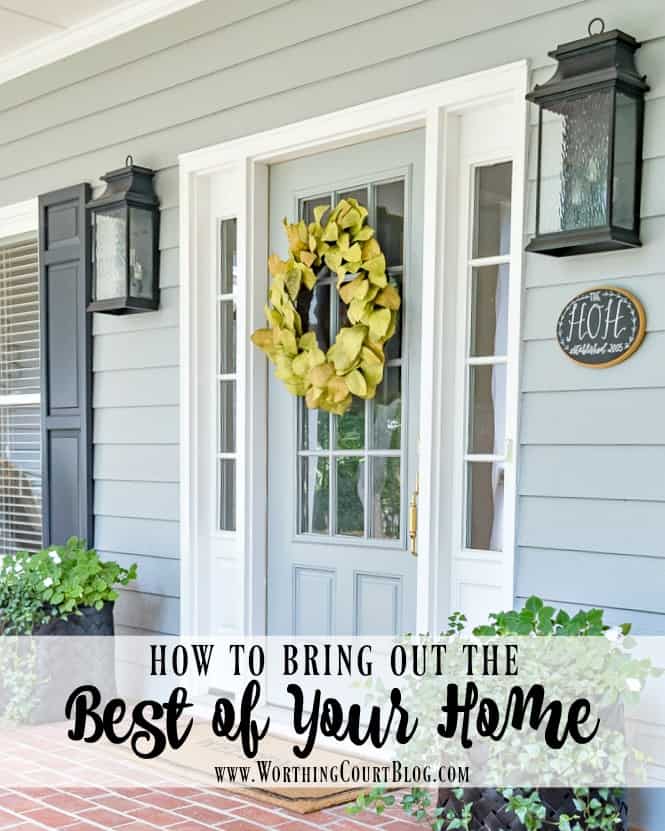 PinNo matter how dated or un-decorated, every home that I've ever been in is, I can always find a few features that are awesome and others that are well…not so much.  The idea is to minimize the features that don't make your home shine in the best light and maximize the ones that do! Check out these tips for how to bring out the best of your home, so that it will always put its best foot forward.
REFRESH THE EXTERIOR & IMPROVE CURB APPEAL
Obviously, the exterior is the very first thing that someone sees when they arrive at your home.  It will be THE thing that either makes a good first impression or a less than stellar one.
Our house is a good example of what a difference improving curb appeal can make.  The landscaping was a hot mess when we first purchased it.  You could barely see the house from the street because the limbs on the large trees had been allowed to grow so low on the trunks.  To make matters worse, the twenty year old landscaping, that was around the foundation of the house, was majorly overgrown.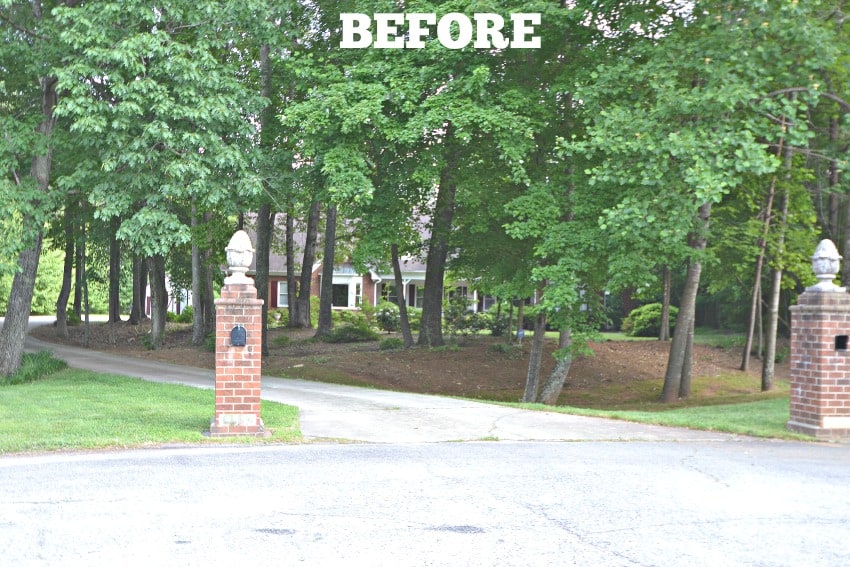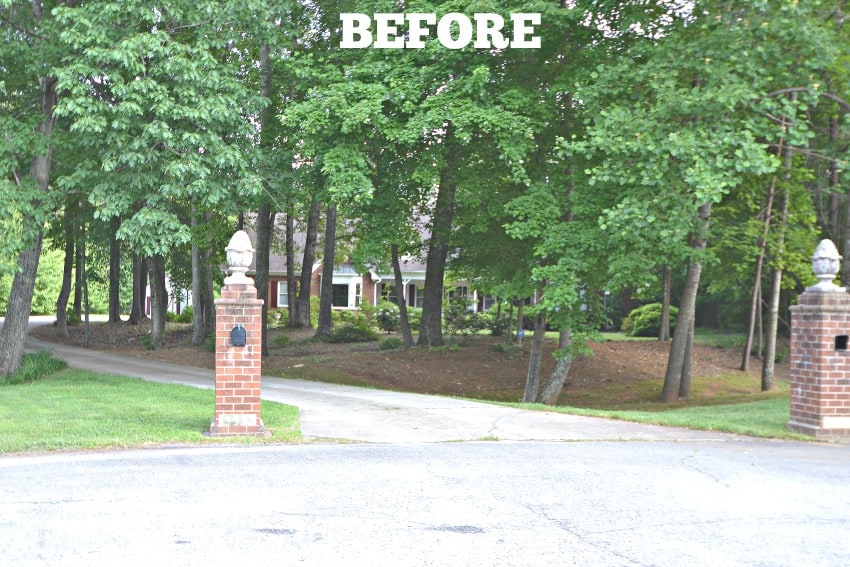 Pin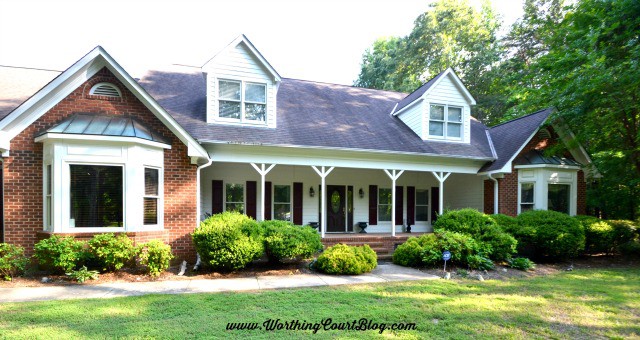 Pin
We've made quite a few changes to the exterior of our house and the yard, but it was all done in stages, over the course of more than four years, so as not to overwhelm the budget.  😀
There's still more landscaping to do (this year, I hope!), but today, we've limbed-up all of those huge trees and pulled out all of the overgrown landscaping.  The house got a new roof (thanks to insurance coverage for hail damage) and new gutters, we beefed up the front columns (the old ones looked like toothpicks holding up the porch roof!), removed the diagonal supports from the columns and even gave the brick itself two coats of paint.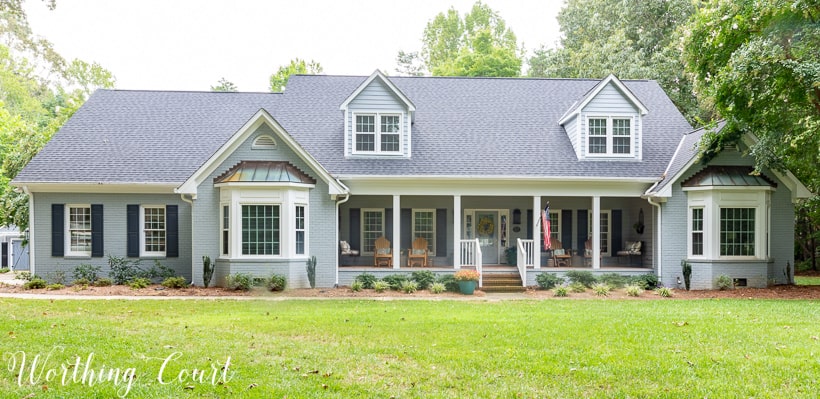 Pin
All of our windows are just one big pane of glass, which makes them look cold and uninviting to me.  An easy fix for that was to add window grids to the interior of each window.  It was a very affordable project and so easy to do!.  Click HERE for the details, if this is something you think you might like to do to your windows.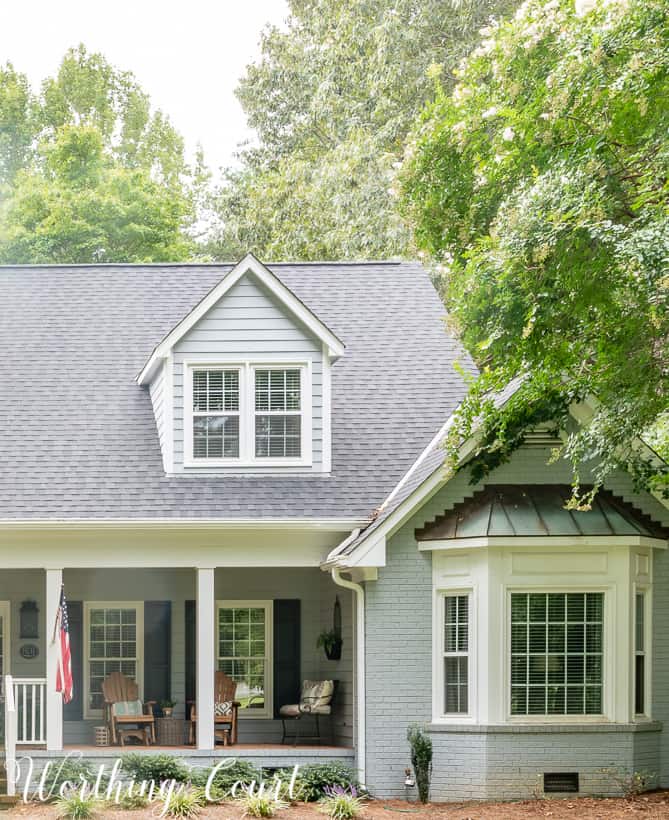 Pin
The original front door was mahogany with oval glass and we replaced it with a more modern farmhouse door and updated the outdoor wall sconces.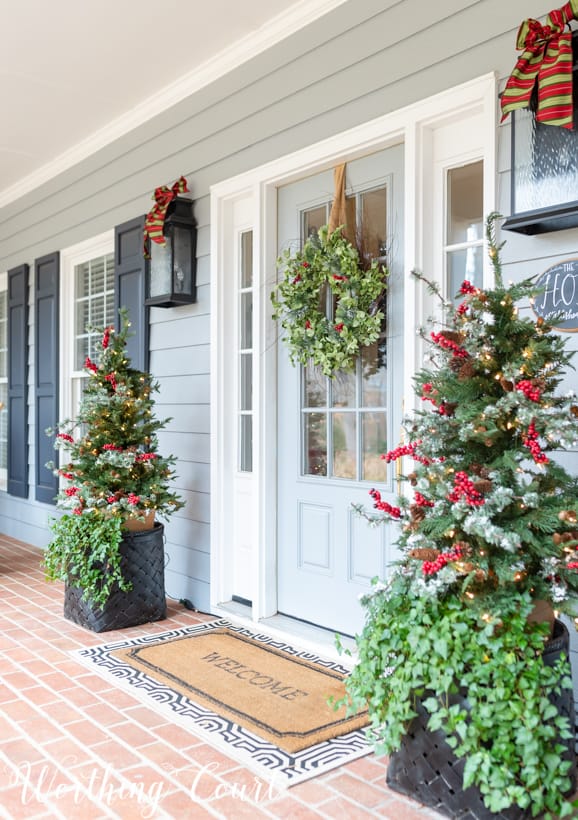 Pin
You certainly don't have to go to this much trouble or expense, but anything you can do to tidy up and freshen your home's exterior is a plus!
FIND (OR CREATE) A ROOM'S FOCAL POINT
Many rooms have a ready-made focal point already in place, such as a fireplace or a beautiful view through a window.  If your room doesn't have a built-in focal point, then you can create one by strategically placing art, or with the furniture arrangement, or by adding pops of colors and so on.  In fact, I wrote a whole blog post about focal points and you can find it by clicking right HERE.
Some rooms have more than one focal point and that can create another kind of problem.  In that instance, you want to draw your visitor's eye toward the one that you most want to stand out.  I have multiple focal points in my family room – one is the fireplace and vaulted ceiling, but the other is a large entertainment center holding our huge tv.  The huge tv is the one that I don't want to draw attention to!
I made an extra effort to draw the eye to the fireplace and the height of the ceiling by hanging tall, over-sized wall decor above it.  As a result, that's where everyone's eye goes, no matter which doorway they enter my family room through.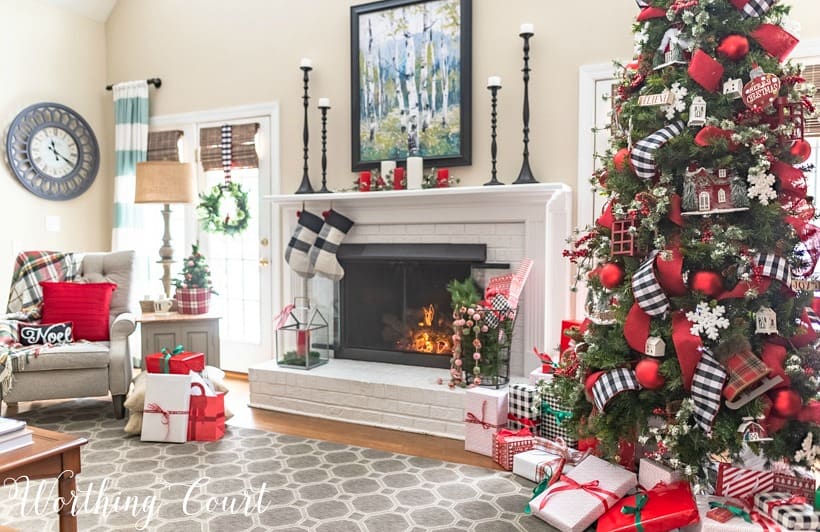 Pin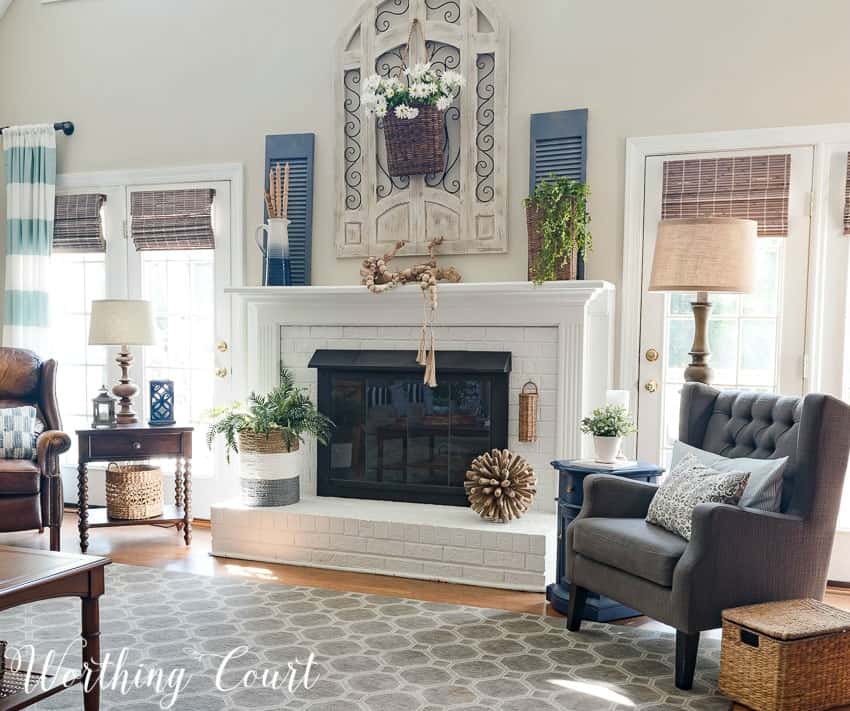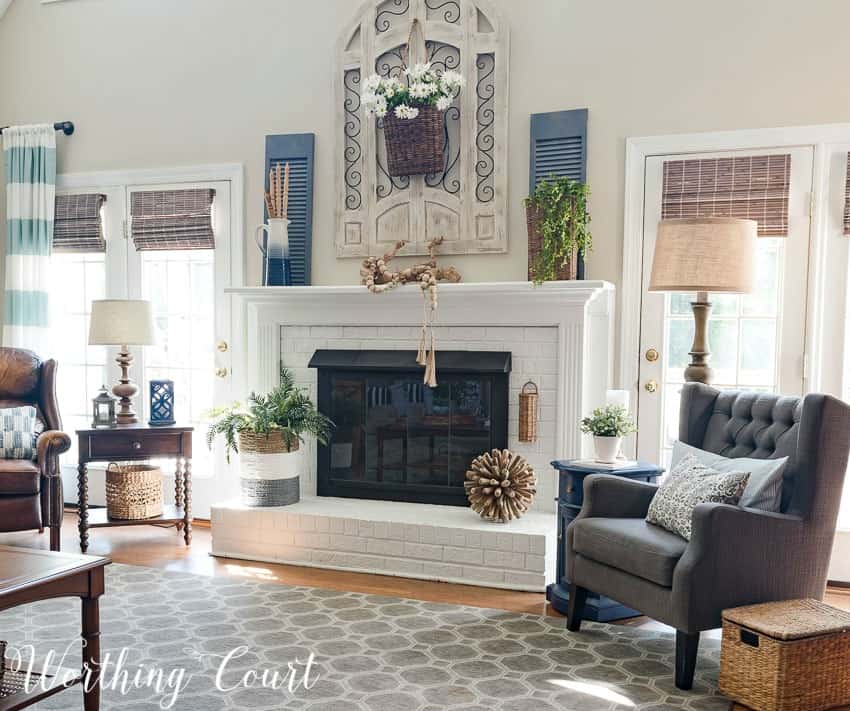 Pin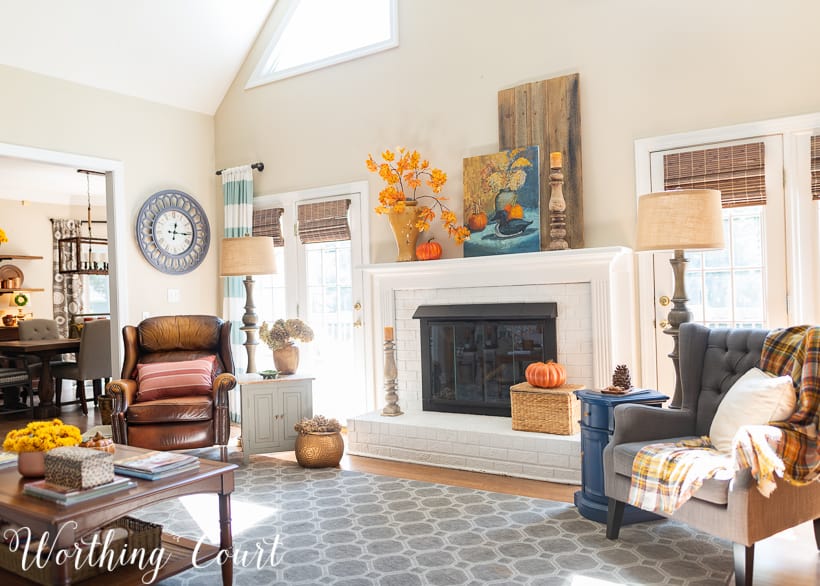 Pin
One of our bedrooms is a good example of a room where there really wasn't a good focal point, so we needed to create one.  Yes, the bay window is a nice feature, but it really doesn't draw your eye like a focal point should.  My solution was to add board and batten to the large wall where the bed resides.  It makes quite the statement!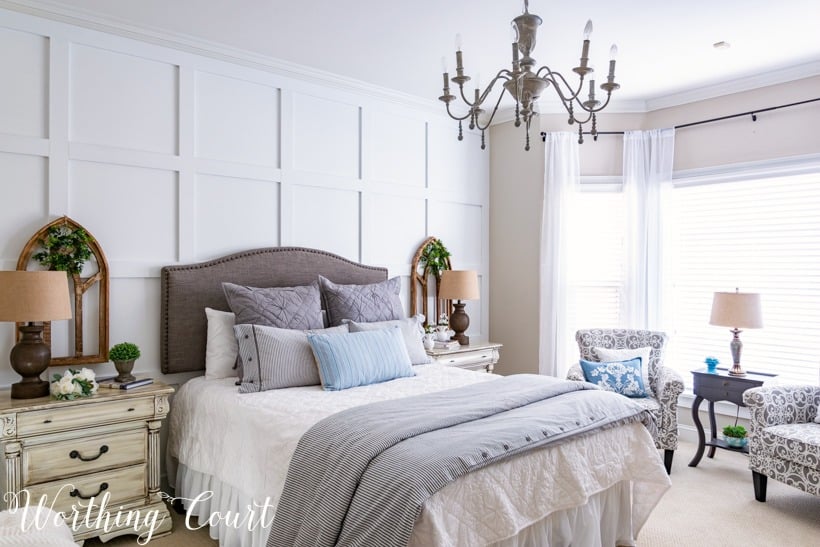 Pin
ADD TEXTURE TO A BORING SPACE
We've completely remodeled our whole house, but I've been going through room-by-room to put the finishing touches on each one. There are multiple rooms with walls that pretty much had zero interest until I added texture.  Now each of these walls is a real feature!
Our foyer has a wall with a large opening that leads into the home office.  Because of how the front door opens and because of the placement of another opening, I wasn't able to add anything of a substantial size to make the wall less boring.  I could have hung artwork on either side of the opening, but that would have been too matchey-matchey for me.
My solution was to add a board and batten treatment and dress it up with hooks that are fun to dress up for the different seasons and holidays.  I built those matching benches too!  You can get the step-by-step tutorial for those by clicking HERE.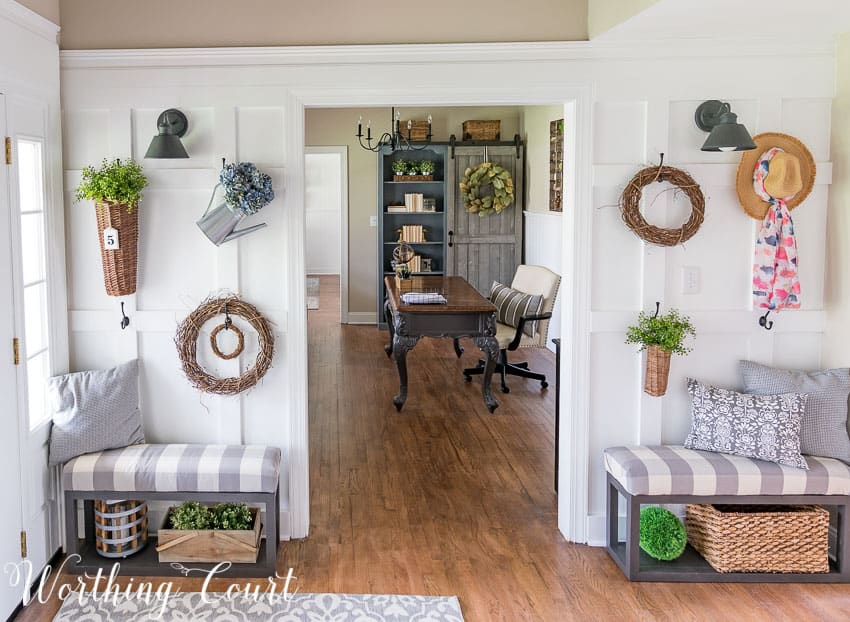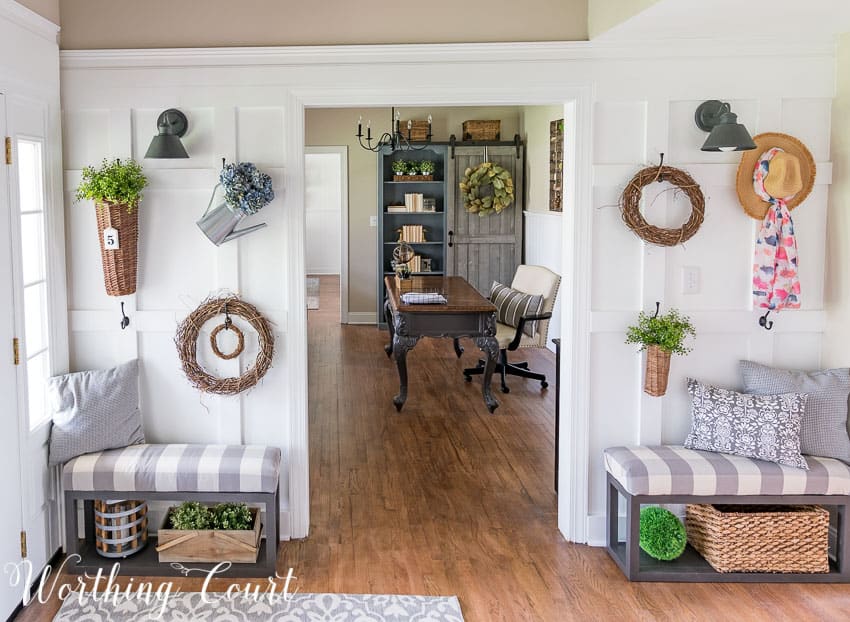 Pin
Our dining room had a long, boring, blank wall that still had a lot of bare space even when I placed my buffet against it.  My solution?  I dressed the wall with a super easy planked wall treatment, then topped it with a large vintage shelf and a pair of diy hanging lantern displays. Want to make a hanging lantern display for your home?  You can get that tutorial right HERE.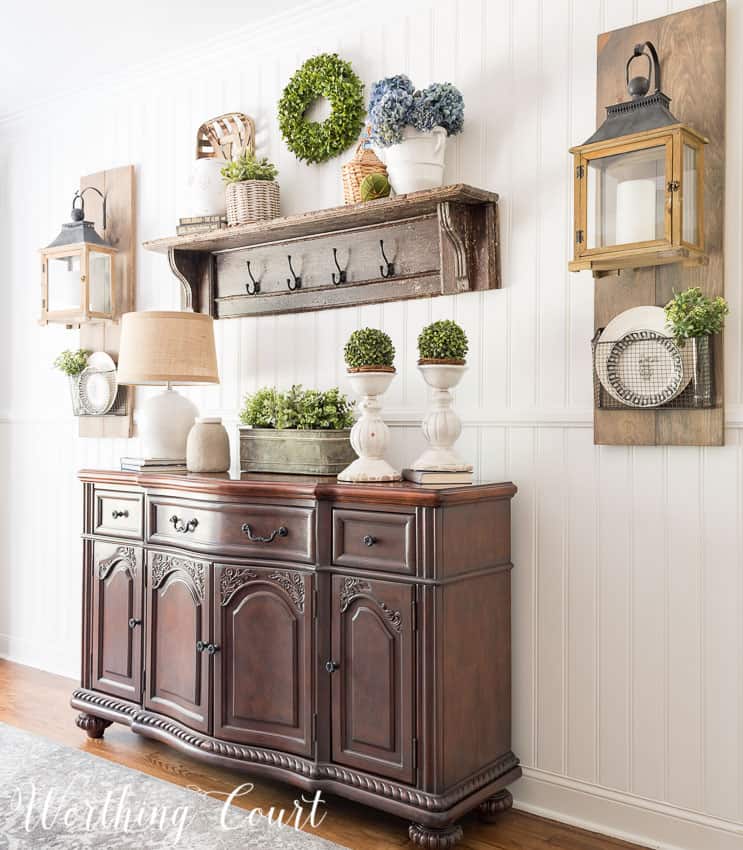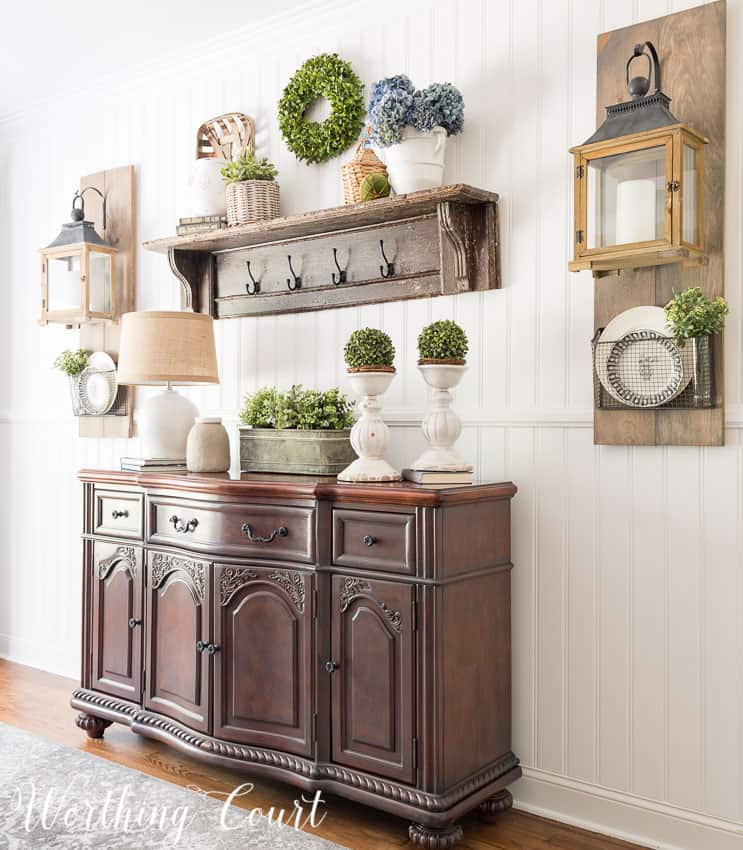 Pin
FRAME A WINDOW
Maybe you don't think a room has any sort of feature that you consider a plus.  More than likely, it at least has one window though.  Did you know that window treatments are the jewelry of a room?  A pair of simple draperies, flanking a window can be the very thing to give an entire room a special feel.
The windows in our office were too close together to hang a pair of draperies on each window (plus they would have blocked a lot of the natural light), so I chose to hang one drapery panel on each window instead.  The pair of draperies serve to "frame" the whole wall and turn it into a feature.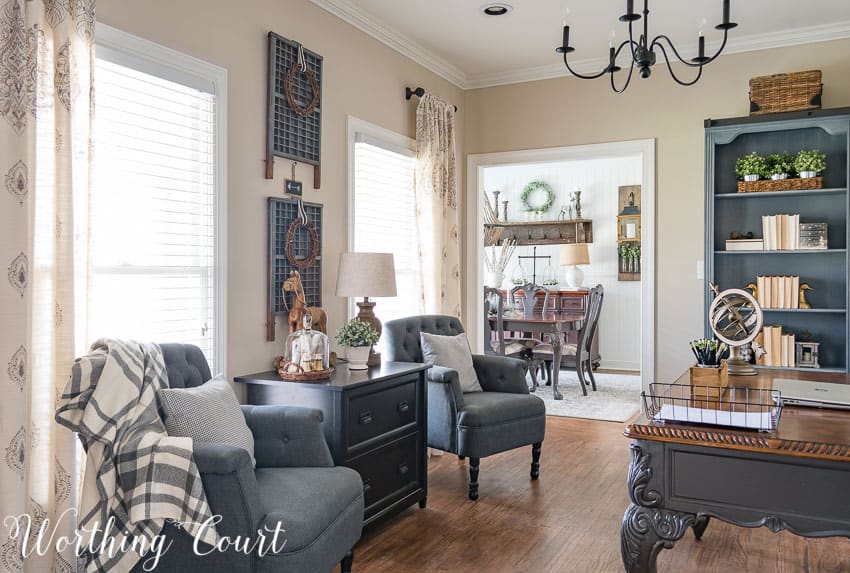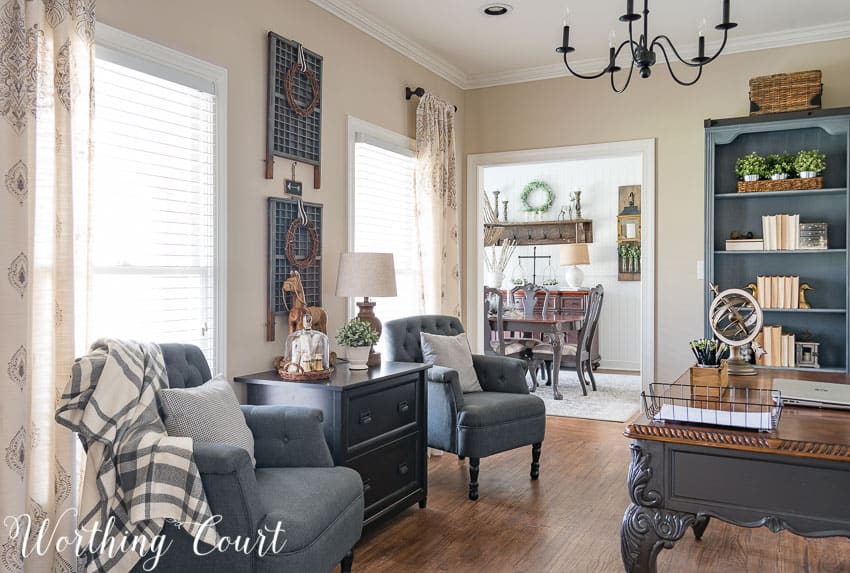 Pin
What's your homes best feature?  Have you taken any steps to highlight it?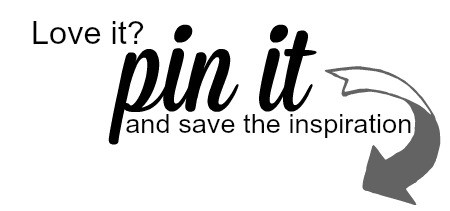 Pin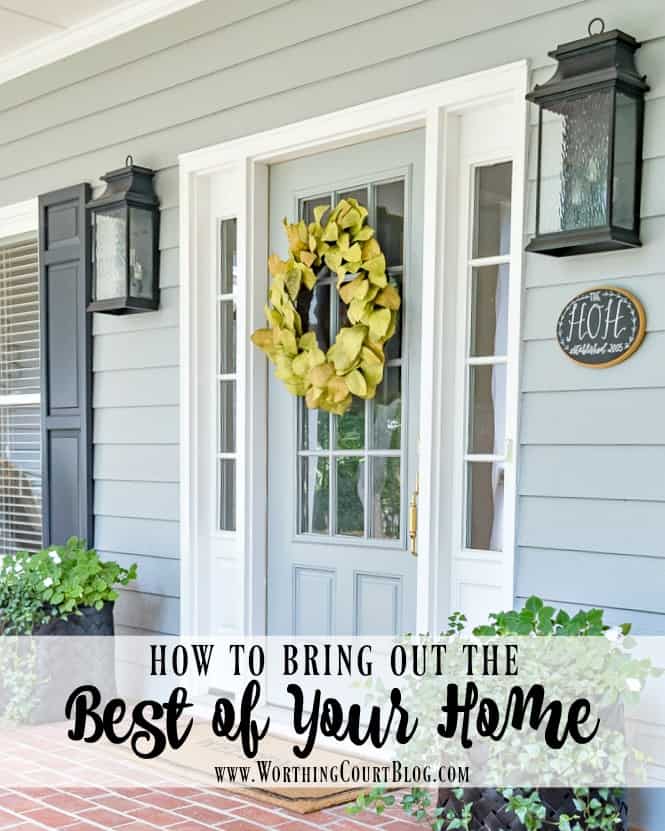 Pin