My Christmas Kitchen Decor
Find out just how easy it is to create a festive Christmas kitchen decor with a few simple touches.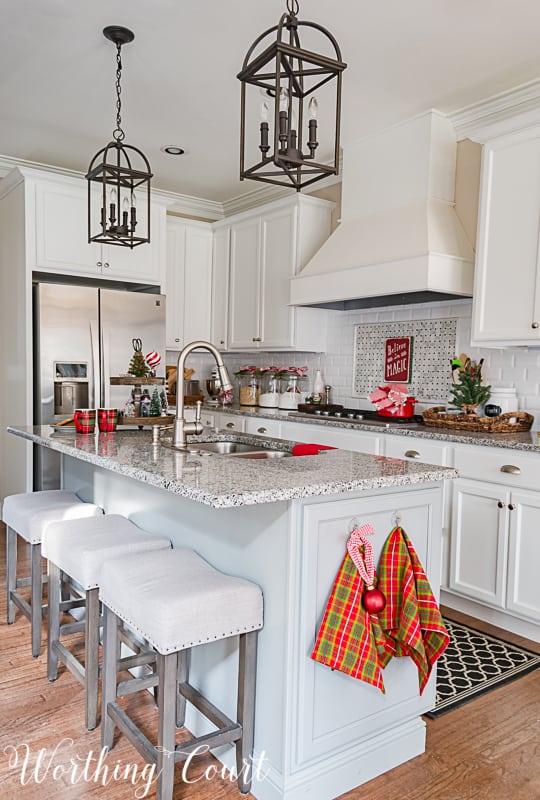 Pin
The kitchen here at Worthing Court is a real workhorse during the holidays!  Everything from cooking a meal for twenty, to cooking a meal for two, to holiday baking, to holiday party prep, to holiday crafting – it all takes place in my farmhouse kitchen.
I want my kitchen to be festive and Christmas'y, but I also need room to spread out on my counters and do all that stuff!  So, I've kept the decor in here very simple – just enough to say Merry Christmas, but still leave me plenty of room to cook and bake.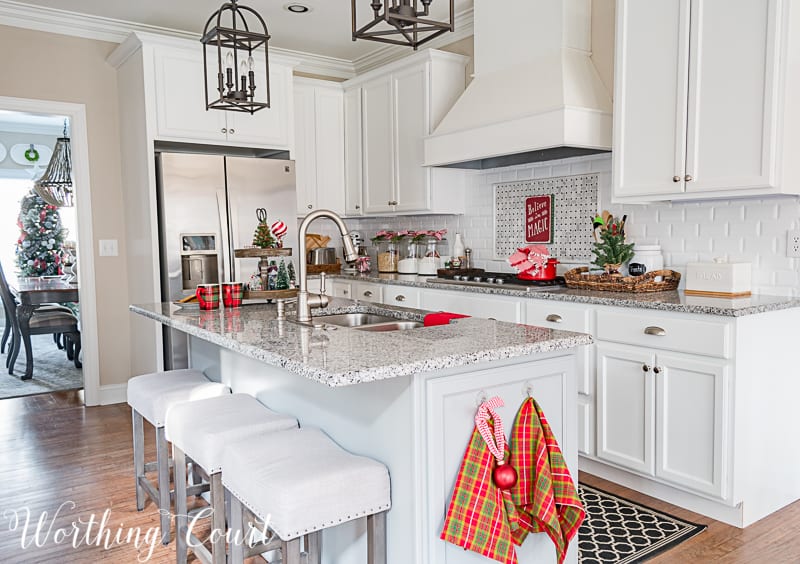 Pin
My kitchen and breakfast area is one long room, so even though the decorations in the kitchen are simple, the decorations in the breakfast room spread festive Christmas cheer throughout the whole space.
One of my favorite areas to decorate is the island.  It's right smack in the middle of the room, so it's the hub of the kitchen.  I always make sure to place something really special that will catch your eye.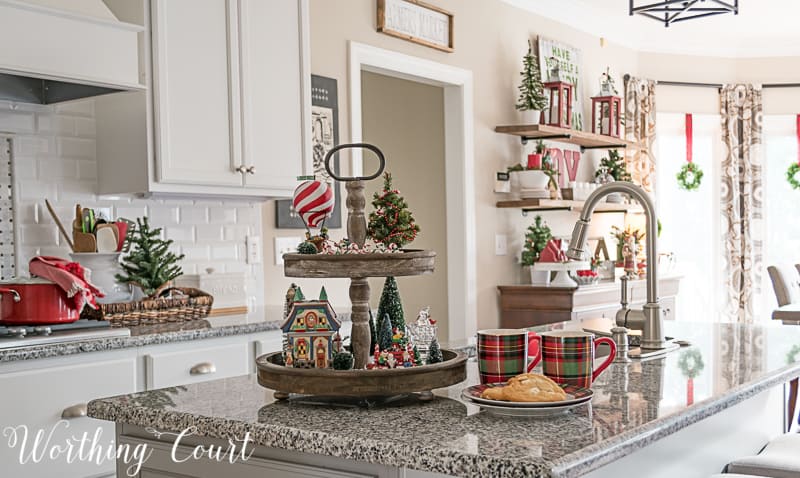 Pin
This is a sponsored post, but I only recommend companies and products I love. Affiliate links are included in this post, I'll be compensated if someone clicks on an affiliate link and makes a purchase, but there is no additional cost to you. Read my full disclosure policy here.
This year I chose to use this awesome two-tiered tray from Emory Valley Mercantile, which is an online shop specializing in farmhouse style decor and accessories.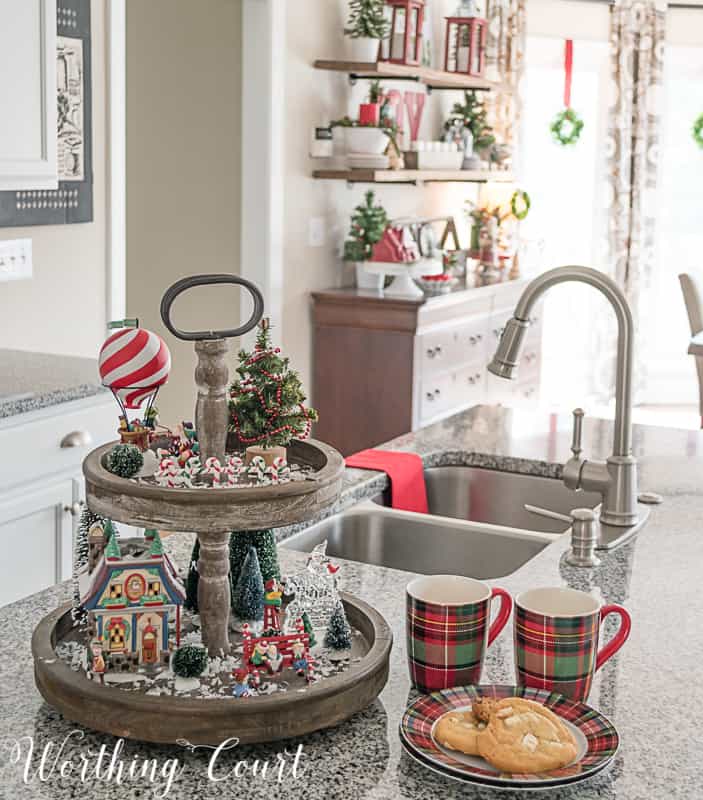 Pin
Most of the time, I see tiered trays used as part of a hot chocolate station or beverage bar setup.  But, I decided to think outside of the box and use mine to display some of my fun Christmas village pieces.  I chose only favorite pieces and then sprinkled some fake snow around after placing all of the pieces where I wanted them to be.  If I do need to move it out of the way for anything, it's easy to just lift up from the bottom or carry by the handle.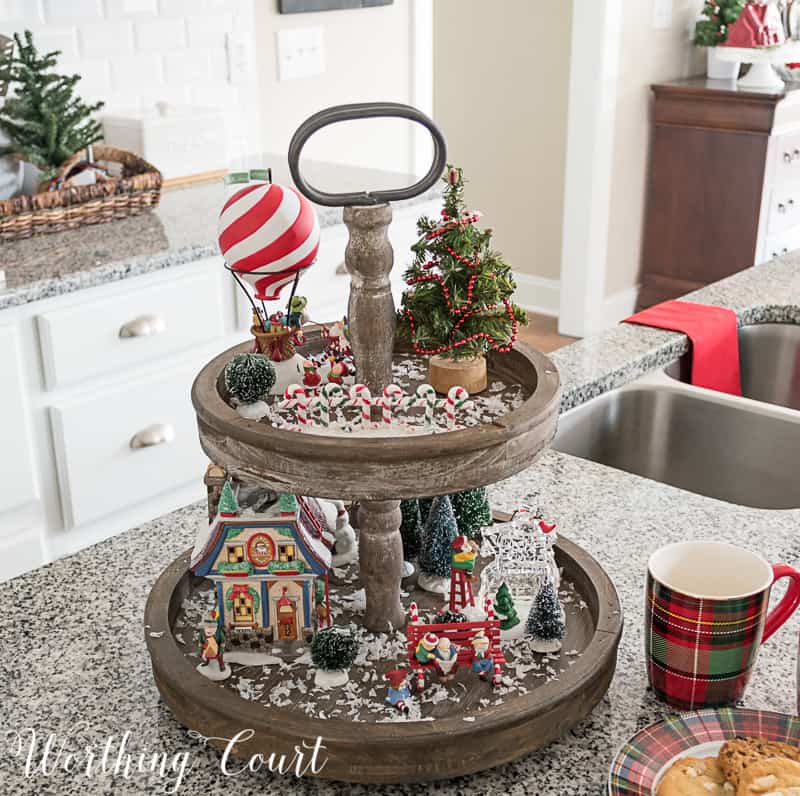 Pin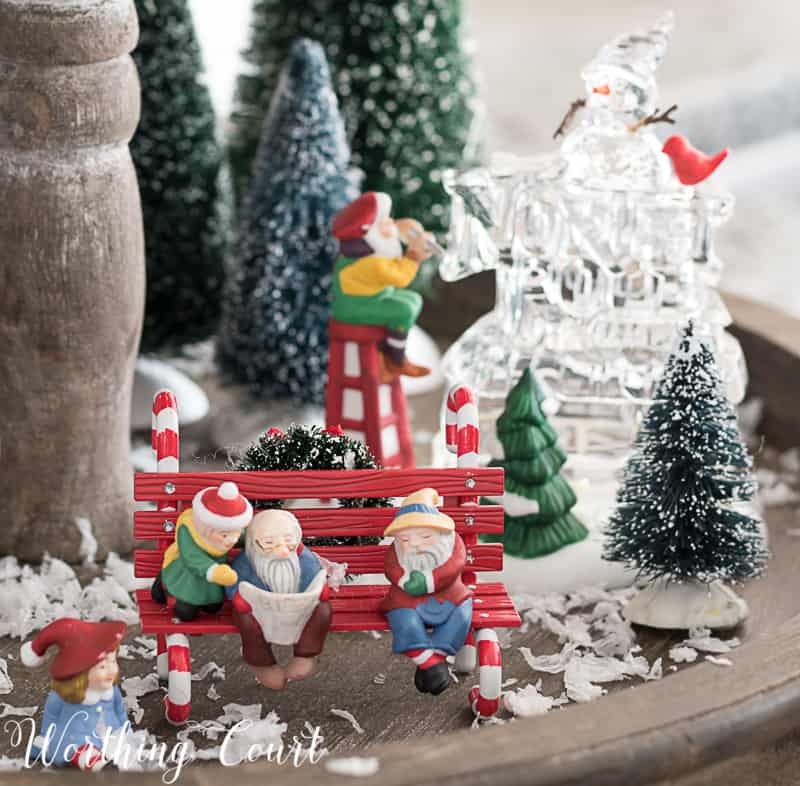 Pin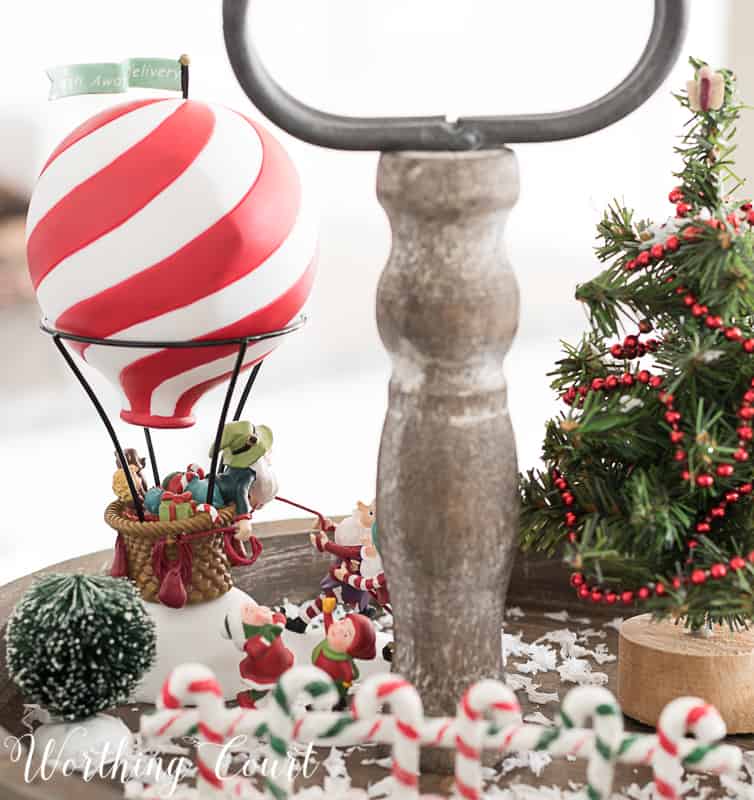 Pin
Tiered trays are sooo super versatile!  I can imagine one in the kitchen used as a Christmas cookie baking station, a place for displaying candles and greenery, a place to display vintage silverware and serving pieces, a place to display all that Rae Dunn that you've been collecting – the list is endless!  Emory Valley Mercantile has several shapes and sizes of tiered trays to choose from – you can shop all their tiered trays by clicking HERE.  I'm thinking my next purchase will be for the three-tiered rectangular tray! 
There are lots of little ways to add Christmas decorations to a kitchen without filling it with too much stuff that will get in your way.  Take a look around at what you keep out on your counters year round and think about what you could add to it for Christmas.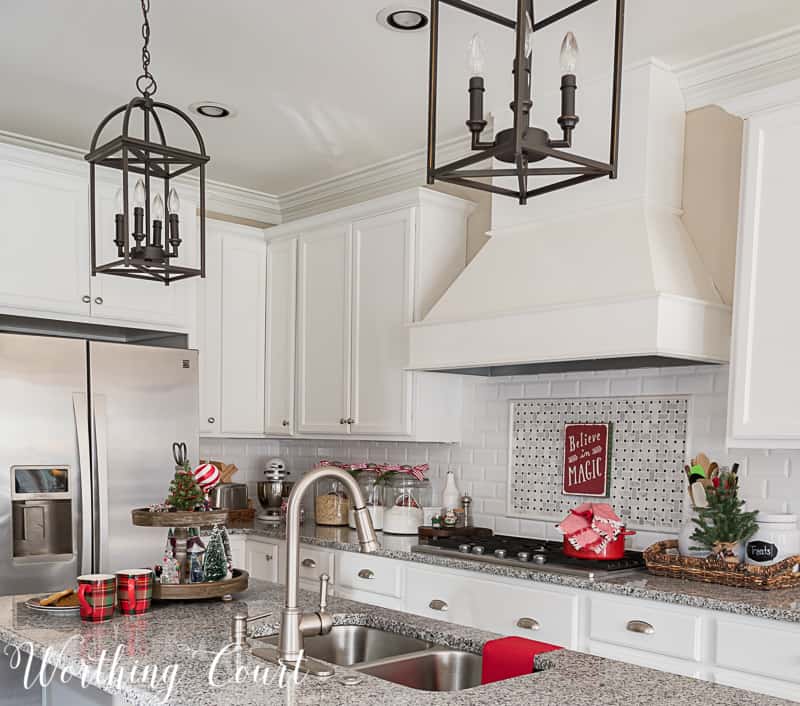 PinFor example these large glass canisters live in my kitchen, in the exact same spot all year long.  Also for Christmas, I tied a sprig of greenery and a cute cookie cutter to the top of each glass jar.  For an added touch, I replaced each scoop with a Christmas plaid mug.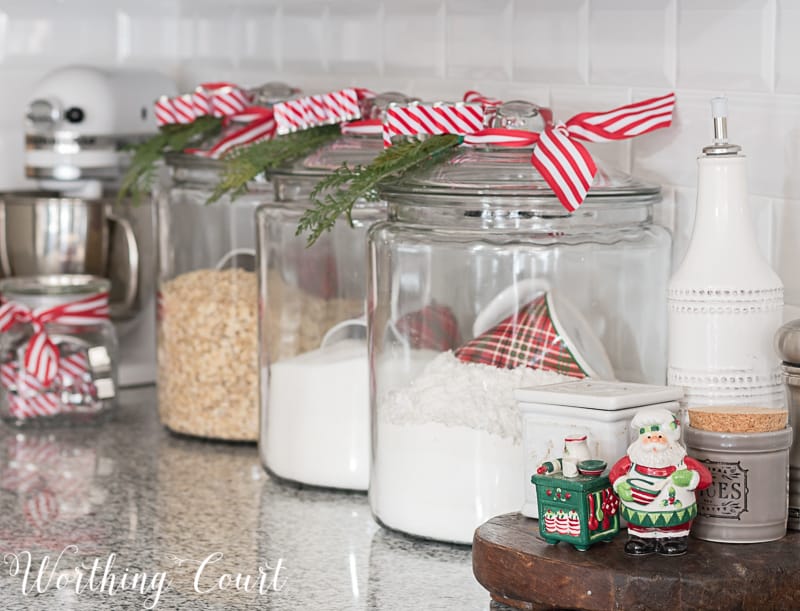 Pin
The small tray, beside the cooktop, holds salt and pepper grinders and cellars all year, but for Christmas I added cute Mr. and Mrs. Santa Claus salt and pepper shakers.  See?  Just little touches.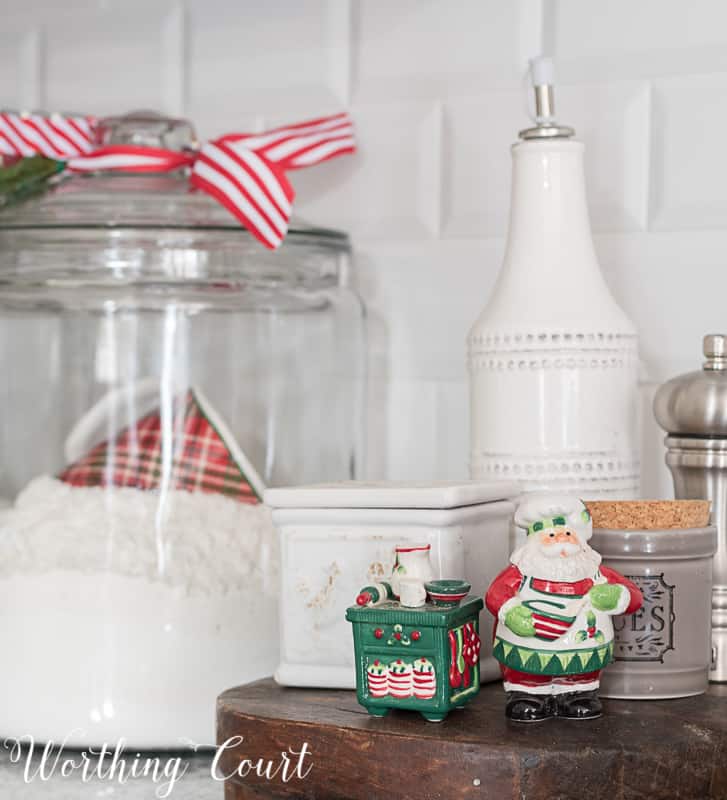 Pin
The tray on the opposite side of the cooktop holds the same cooking utensils and dog treat jar all year too.  All I did was add a couple of colorful spatulas to the utensil holder and plop a little mini Christmas tree into the basket too.  Instant Christmas!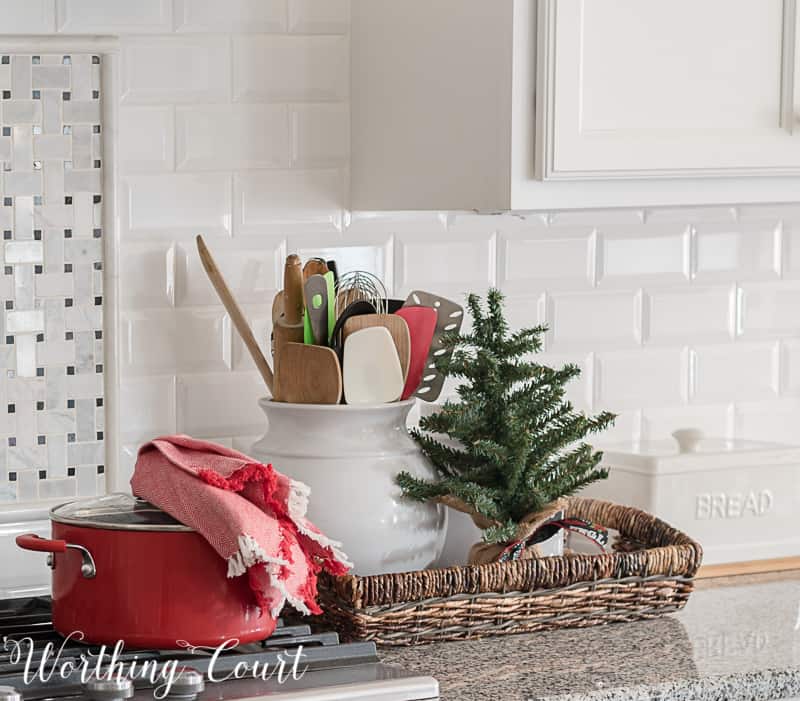 Pin
To finish off the holiday decorations in my kitchen, I added two Christmas plaid towels to the end of the island.  The towels are hanging from small suction cups, so no worries about damaging my cabinet.  And, shhhhh – don't tell – these are actually square napkins instead of actual kitchen towels.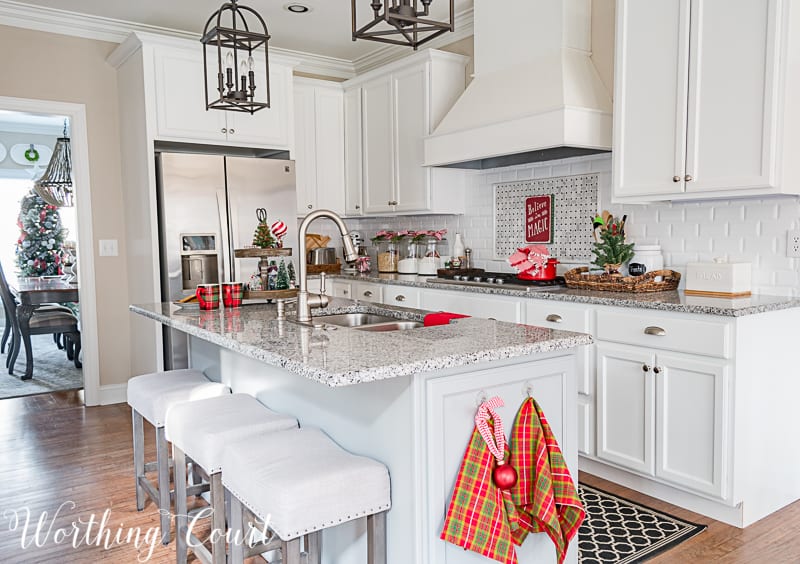 Pin
Thank you for coming by to visit with me in my Christmas kitchen today. Merry Christmas y'all!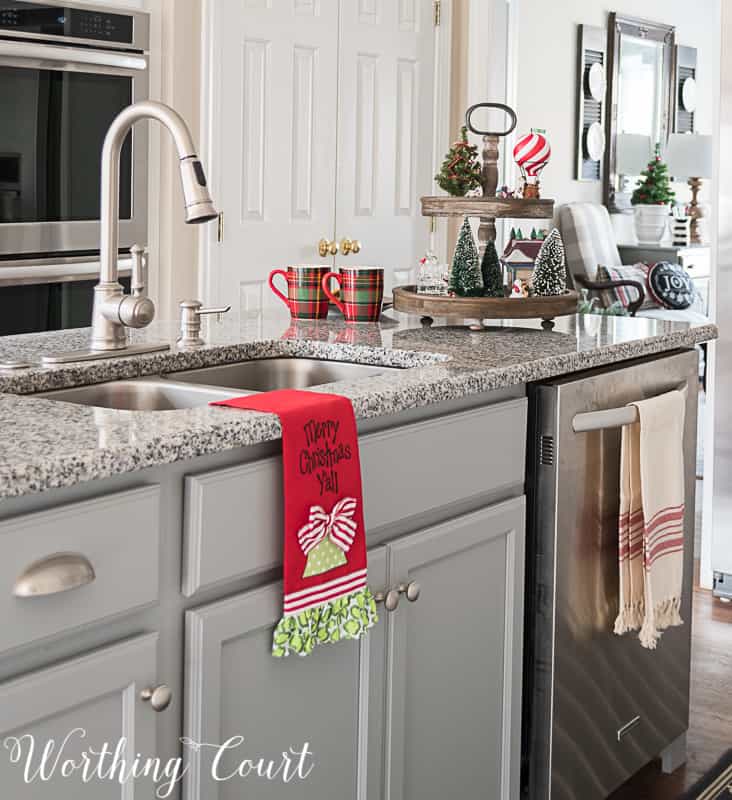 Pin
CHECK OUT MY DECORATIONS FROM PREVIOUS YEARS FOR MORE CHRISTMAS KITCHEN DECORATING IDEAS.
A VERY MERRY FARMHOUSE CHRISTMAS KITCHEN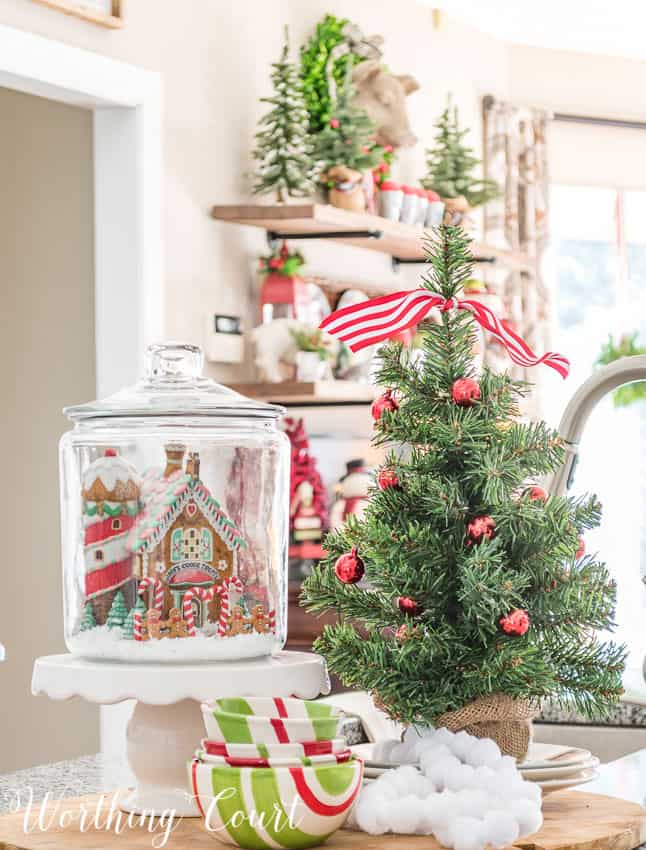 Pin
CHRISTMAS IN MY FARMHOUSE KITCHEN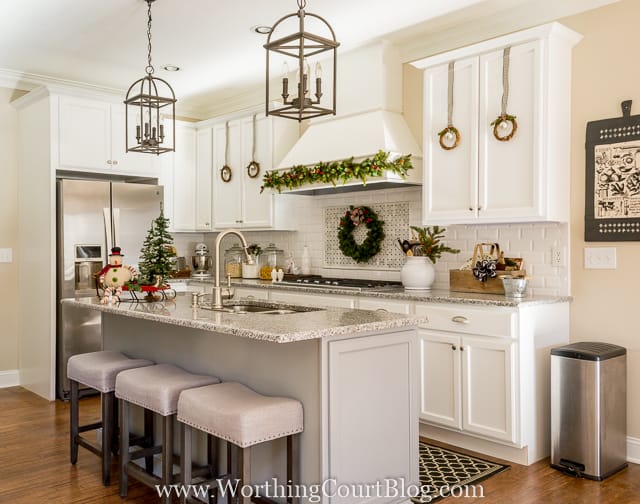 Pin