Closet Organizing Tips from a Pro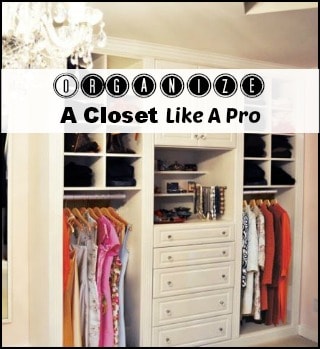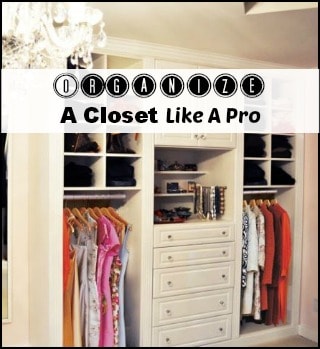 I don't know about you, but after all of the excitement and celebration of the holidays is over, this is the time of year when I most feel the urge to freshen up my living space and tackle an organizing project or two.
The looming question is, "Where do I start?"

I decided to seek the advice of Professional Organizer, Geralin Thomas.
I did not know Geralin until I had the privilege of meeting her at the Southern Bloggers Conference in October of 2012.  I was immediately drawn to her warm, gracious personality.  We had a celebrity in our midst at the conference and didn't even know it!
Let me tell you a little about her so you can feel confident that you are in the hands of a pro:
Past president of the NC chapter of the National Assn. of Professional Organizers
Founder of Metropolitan Organizing
Chronic disorganization and ADHD specialist
Published in an array of national magazines
Often featured on television, such as A&E's Hoarders, The Nate Berkus Show, Today and The Home Channel (South Africa)
~ ~ ~ ~ ~ ~ ~ ~ ~ ~ ~ ~ ~ ~ ~

Suzy:  Where should someone begin if they want to declutter one area of their life and have a "wow" factor?
Geralin: Well, there are no "shoulds" in organizing and it's never a one-size-fits all, but at this time of the year, the nights are longer and people tend to want to spend more time indoors. Plus, many have committed to becoming more fit – eating better, working out, and, toning up so I suggest starting in the closet.
Begin by removing items that need mending, ironing, alterations, or stain treatment. I call those "MIAS." Often times, we look at an item and think, "Oh, that old thing isn't even something worth fixing; I'll donate it instead of having it taken in/let out."
Or we might think, "I hate ironing, and this garment is just too much trouble to iron" (or too expensive to send to the cleaners) and we decide it can go.
Starting with the MIAS builds momentum and once in motion, we tend to stay in motion.
Suzy: What's the best way to keep enough space in our closets for new purchases?
 Geralin: We are so lucky because now, more than ever before, there are many stylish storage solutions to assist us in folding, stacking, hanging, sorting and storing everything we own.
Next time you have a few minutes, click on California Closets and The Container Store's websites and take a look at some of the beautiful ways to store shoes, scarves, purses, and jewelry.
Suzy:  Those are great places to find inspiration for affordable diy organization!
 Tried and true is the "one in, one out" method but truthfully, I prefer asking everyone to take a look at what's in their laundry baskets week after week. These are the clothes worn most often; these are the favorites and the keepers. Knowing this makes it easier to take a good, long look at what hasn't been worn and ask yourself if you'd buy it again today.  If not, let it go; consign it, donate it, sell it at a yard sale, or trash it.  
Suzy: Geralin, are there any specific methods or products for helping ladies organize their outfits?
Geralin: Yes! Here's a link to an absolutely free wardrobe planning sheet I created for clients who like to plan what they're going to wear (http://metropolitanorganizing.com/managing-modern-life/professional-organizing-services/3-simple-strategies-for-organizing-your-wardrobe/).  This is an economical, sensible way to get organized and plan in advance. These wardrobe planning sheets are especially helpful for those who travel a lot; conferences, vacations, business trips, and/or, social events.  The wardrobe worksheets can be saved and recycled each season thus reducing the amount of time, stress and extra cost involved in organizing a beautiful and functional wardrobe.
Suzy: Is there a quick and easy way to personalize your closet space without spending a fortune?
Geralin: Well, perhaps it's similar to what you do when designing a space for a client. The first thing I do is suggest the client finds words that describe themselves. A few examples might include: sexy, classic, dramatic, funky, or, trendy.
Next, I have them focus on personalizing their closet by finding at least three components or accessories that agree with their theme.  It could be the materials used in her closet: wood, steel, glass, or, the colors she's most attracted to for closet accessories: hangers, handles, hooks.
In addition, I'm a fan of valet hooks in closets because they're helpful for planning an outfit. Planning what you'll wear the night before eliminates the mad dash in the morning and the frantic, "What do I wear today?" challenge. Hooks are inexpensive, and they come in a variety of shapes, sizes, colors, and materials.
Suzy: In addition to hooks, if you had to pick an, "affordable-for-the-average-person" favorite closet organizing product what would that be?
Geralin: Clear, drop-front shoeboxes and here's why – – because shoes remain stacked nicely and there's never a tumbling tower of boxes every time a pair from the bottom of the stack is retrieved. You simply open the end of the shoebox, pull out the shoes, and that's it. No restacking or pulling lids off boxes.
*Photos courtesy of California Closets
Thank you so much for your help, Geralin.  Your advice is invaluable and will go a long way toward helping me get whip my out-of-control closet into shape!