Easy DIY Fall Decorating Ideas To Make Your Home Cozy
A home tour featuring easy diy fall decorating ideas that have infused my home with cozy charm.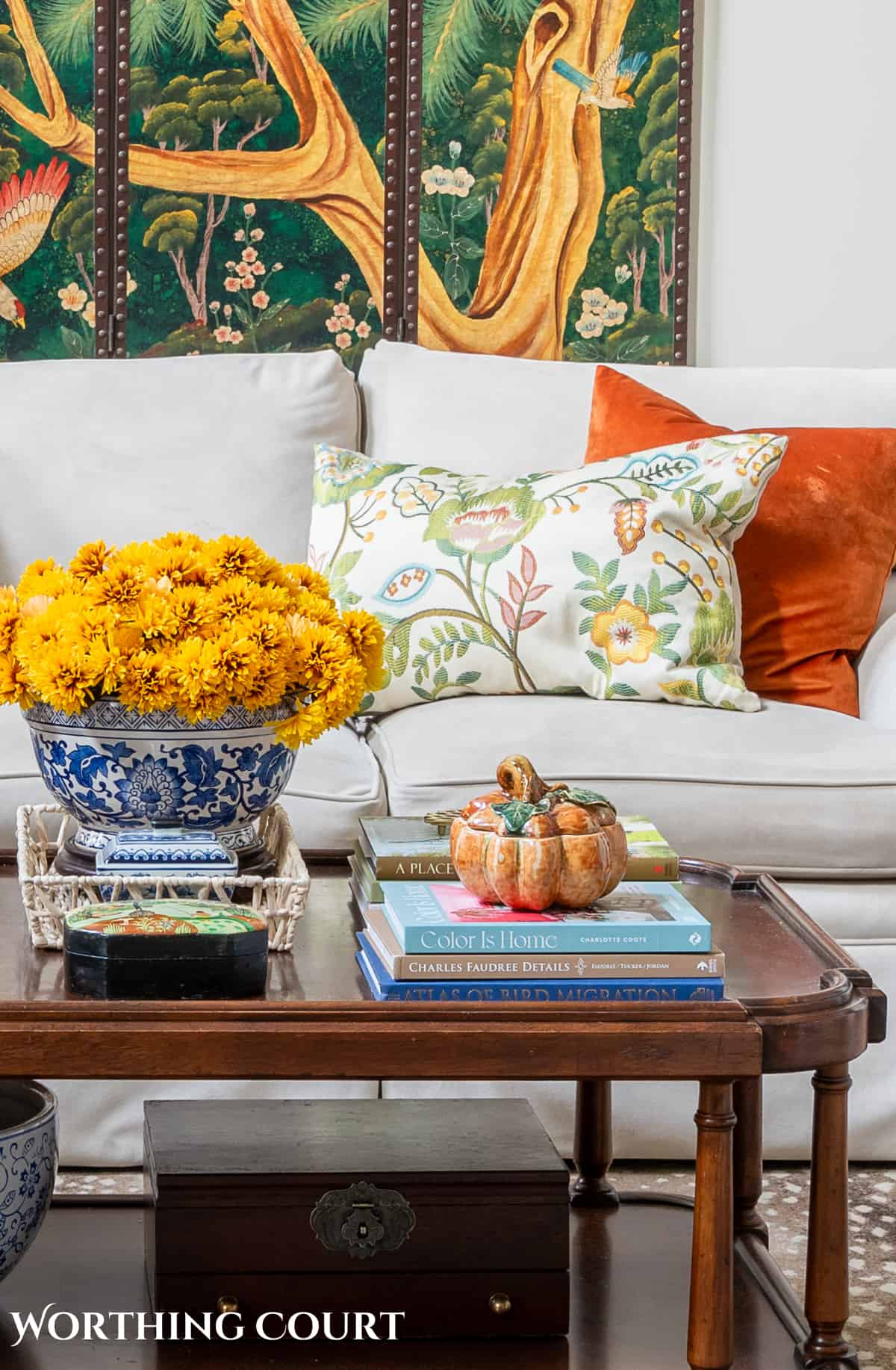 I'm declaring that the old days are o-v-e-r. What old days you ask? I'm referring to the old days of spending hours redecorating your home every time a new season rolls around.
I've kissed the days of completely redecorating every nook and cranny goodbye. And don't let the door hit you in the caboose on your way out!
I'm fully embracing a simpler way of celebrating the changing seasons into my home. Honestly, it's a no-brainer, easy concept, but I have two rules for myself:
Don't fill every available spot.
Do my best, to add seasonal elements into my existing decor.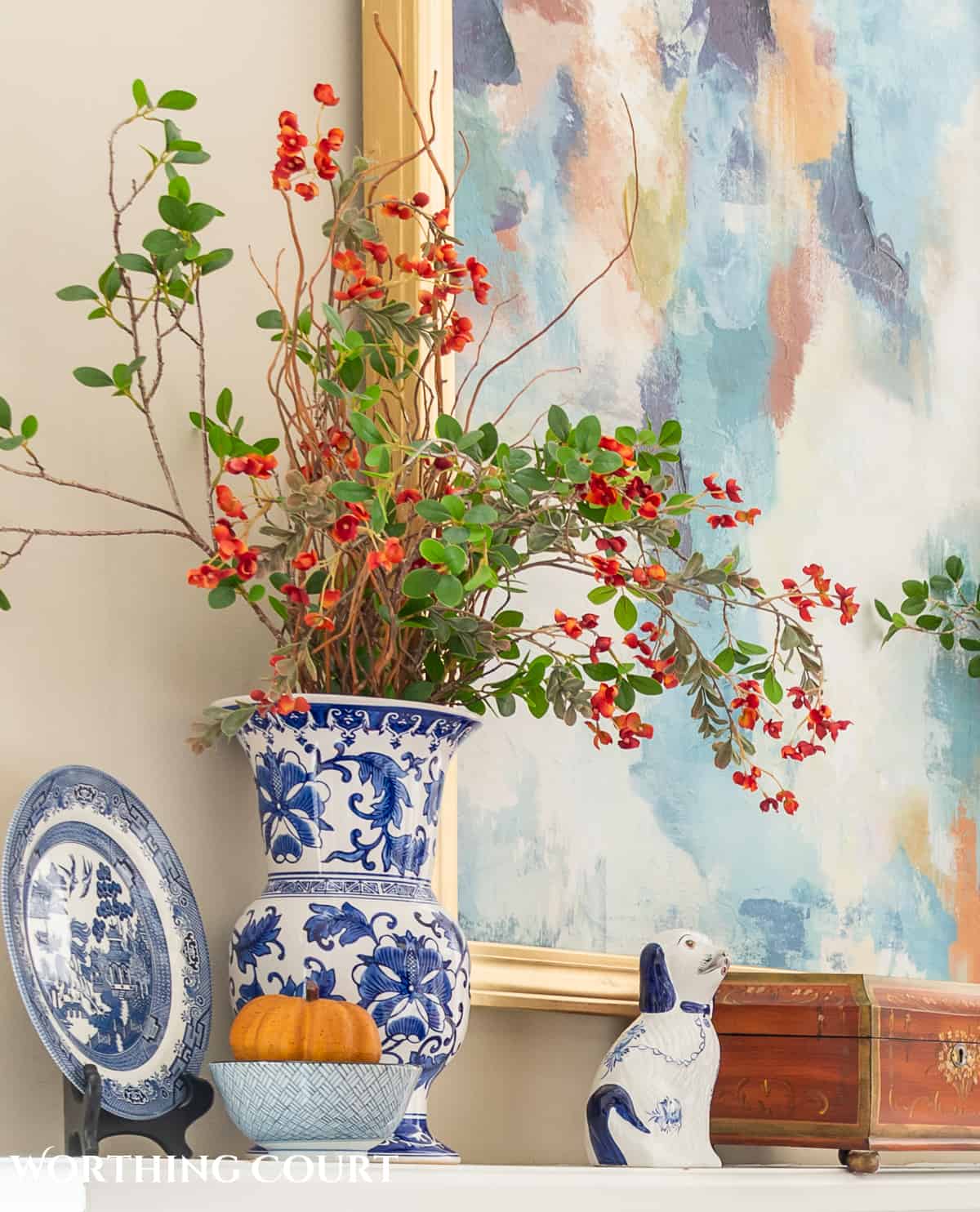 By diy fall decorations, I'm not referring to complicated crafts or projects. I'm referring to fall decorating that you do yourself – as in not paying someone to make special arrangements or spending extravagent amounts on new decorations.
A touch of inspiration to spark your creative juices can take you a long, long way and is a great way to decorate for fall, especially if you're on a low budget.
So grab a pumpkin spice latte and settle back for a tour filled with lots of inspiring images!
Welcome to fall at Worthing Court! I'm honored to be part of the Blogger's Best Fall Home Tours, hosted by Kelly from the Tattered Pew.
Kelly has put together a fabuous assortment of over 25 bloggers who are all sharing their fall decorating ideas this entire week. Scroll down below to get the links to everyone's tours.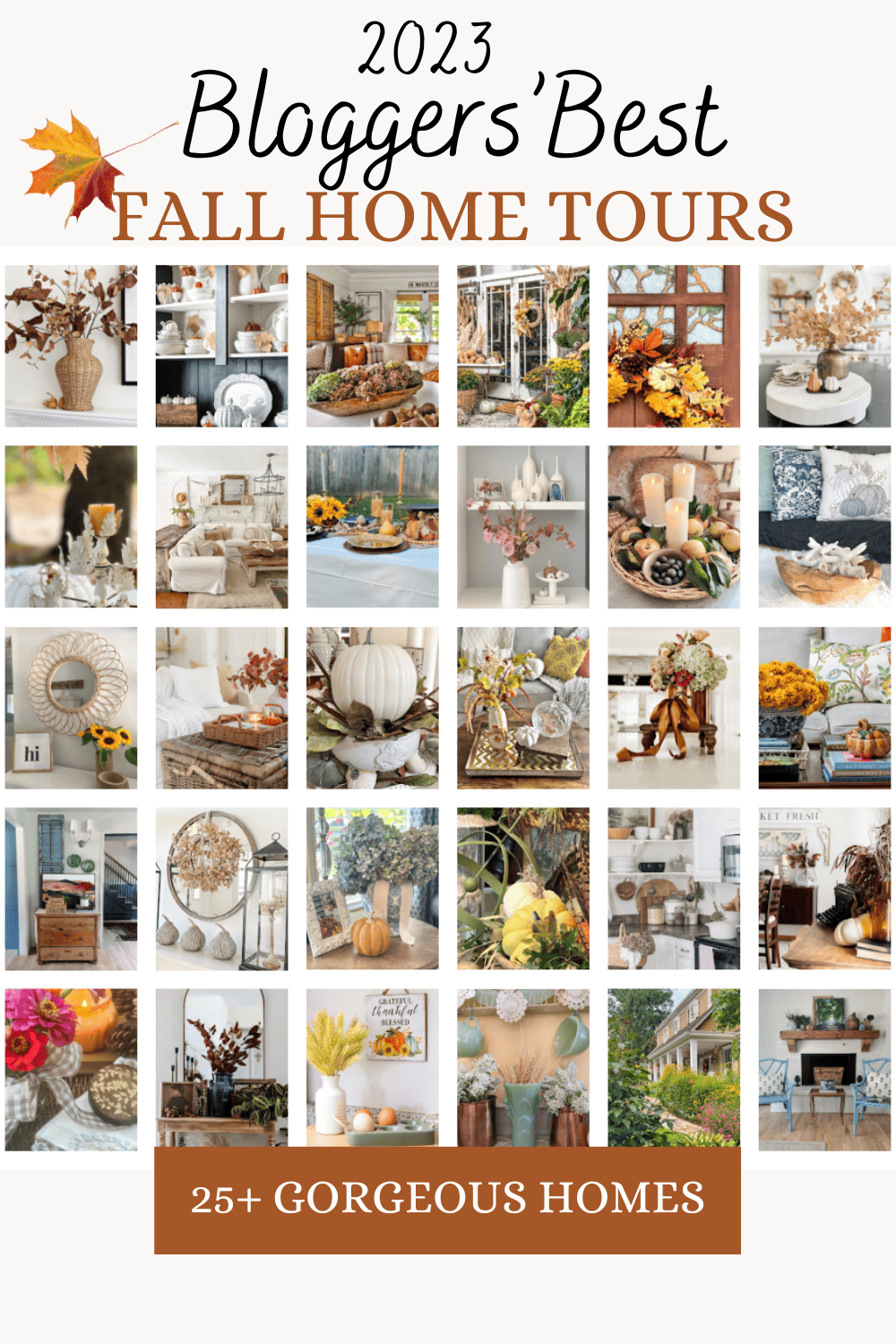 If you're coming over from Robyn's French Nest, I'm so glad you're here! I think that Robyn's home is just beautiful. She has such a talent for creating a home that is both beautiful and inviting.
If you were here for last year's fall tour or especially the year before, you'll see that things are looking quite different around here.
Almost two years ago, I began working on a makeover for my breakfast nook, which turned into a giant snowball of making over every single room on the first floor of the house, with the exception of the bedrooms.
None of the rooms are finished yet. They're all still a work in progress, but that hasn't stopped me from doing a bit of diy fall decorating!
So – this will be a combination of a fall tour and a tour to update you on the changes that we've been making.
So come on in and let me show you around!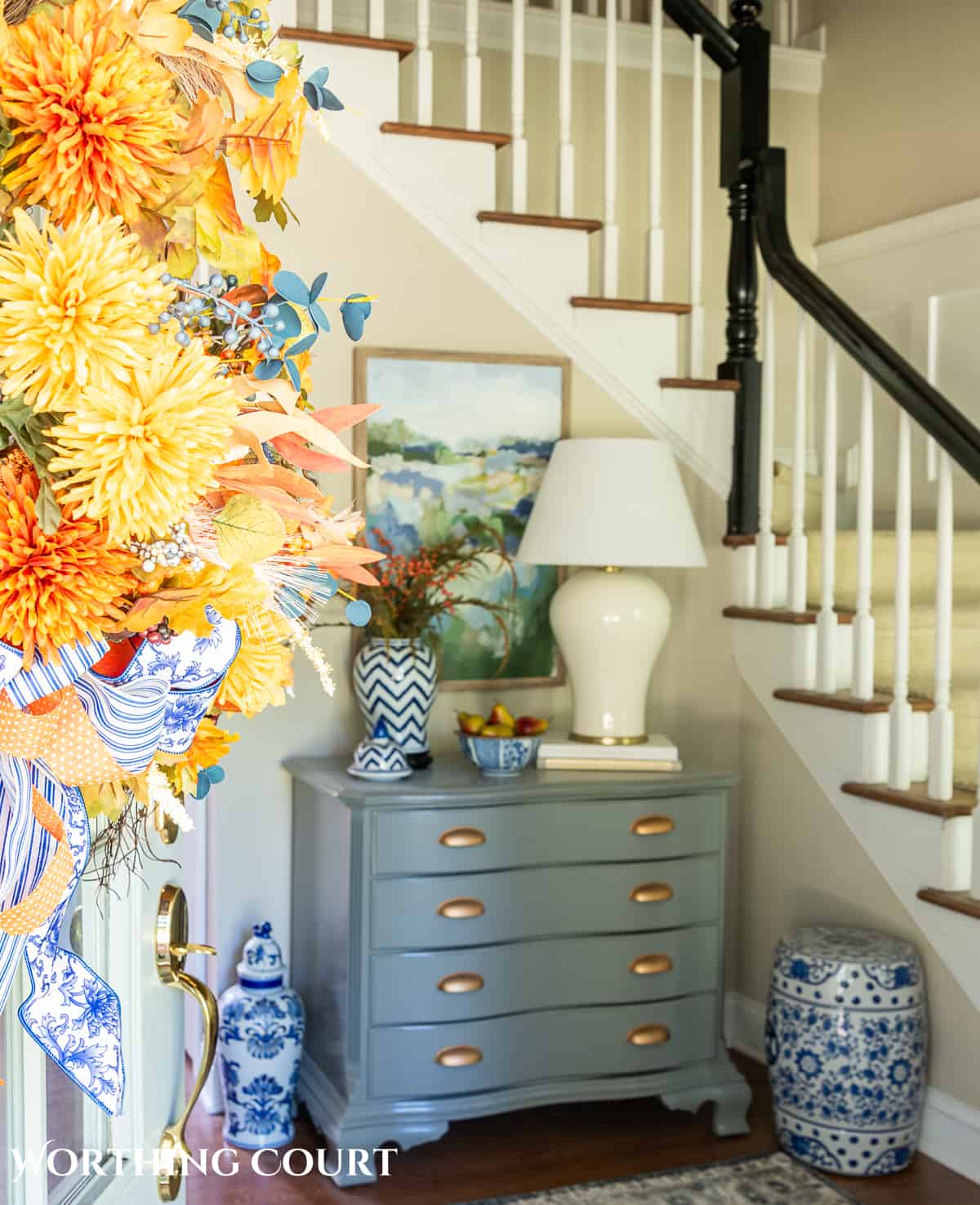 Simple Fall In The Foyer
I have to tell you, when it comes to easy fall decorations, anything faux is my BFF. You'll see it sprinkled throughout my home, no matter the time of year.
All it took to add a touch of fall to my foyer was the addition of a few faux leaf and berry stems and a decorative bowl filled with fake pears.
Using faux stems and florals is an easy way to make a fall themed room without over decorating a room for the season.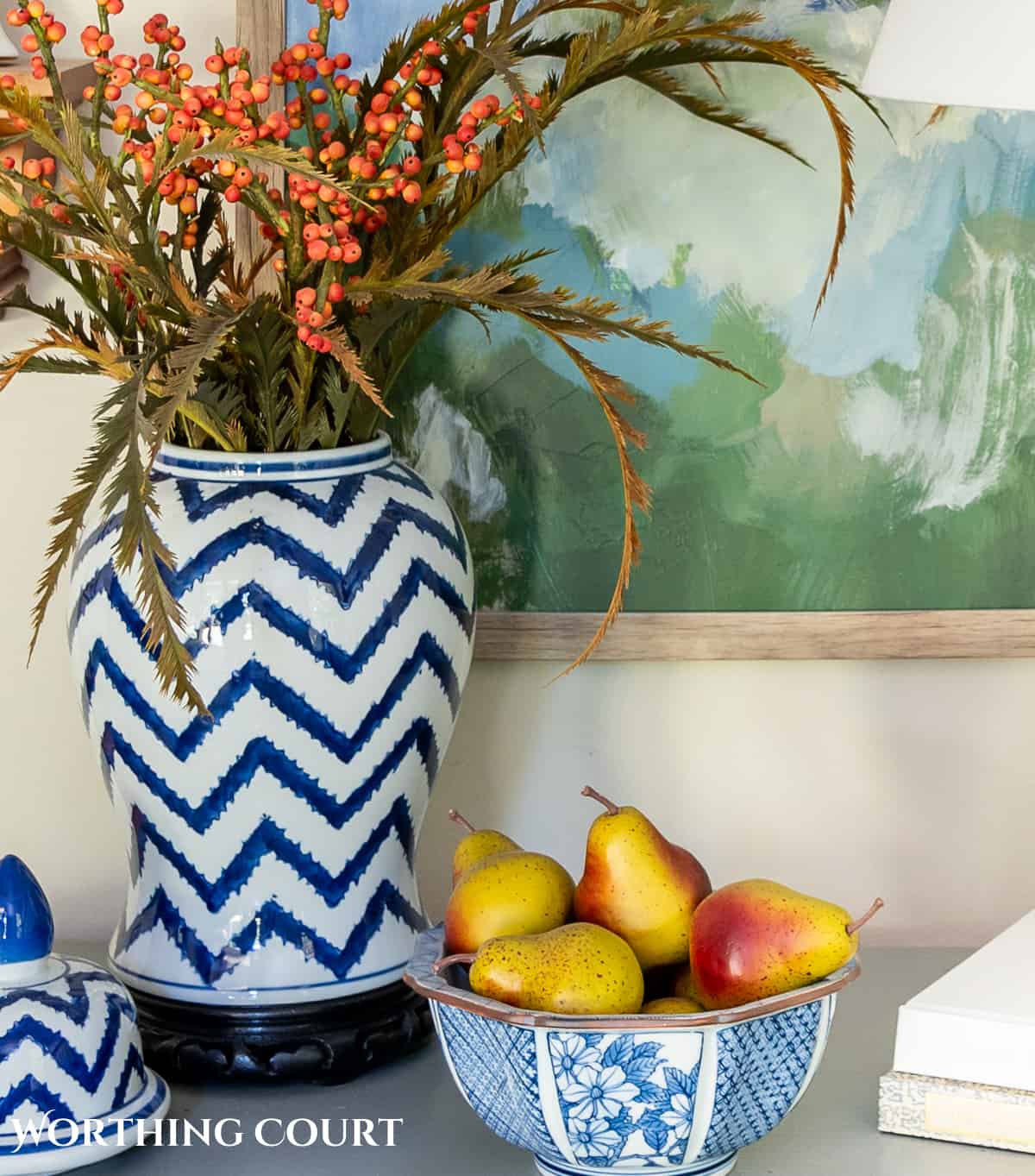 I haven't done much makeover'ing in the foyer yet other than to change the mirror for a piece of wall art and to add a pretty vase on a decorative bracket.
At some point, I plan to paint the chest and update the hardware. I'm just not sure what color I'll use yet. I have an idea in my head using green and gold. We'll see.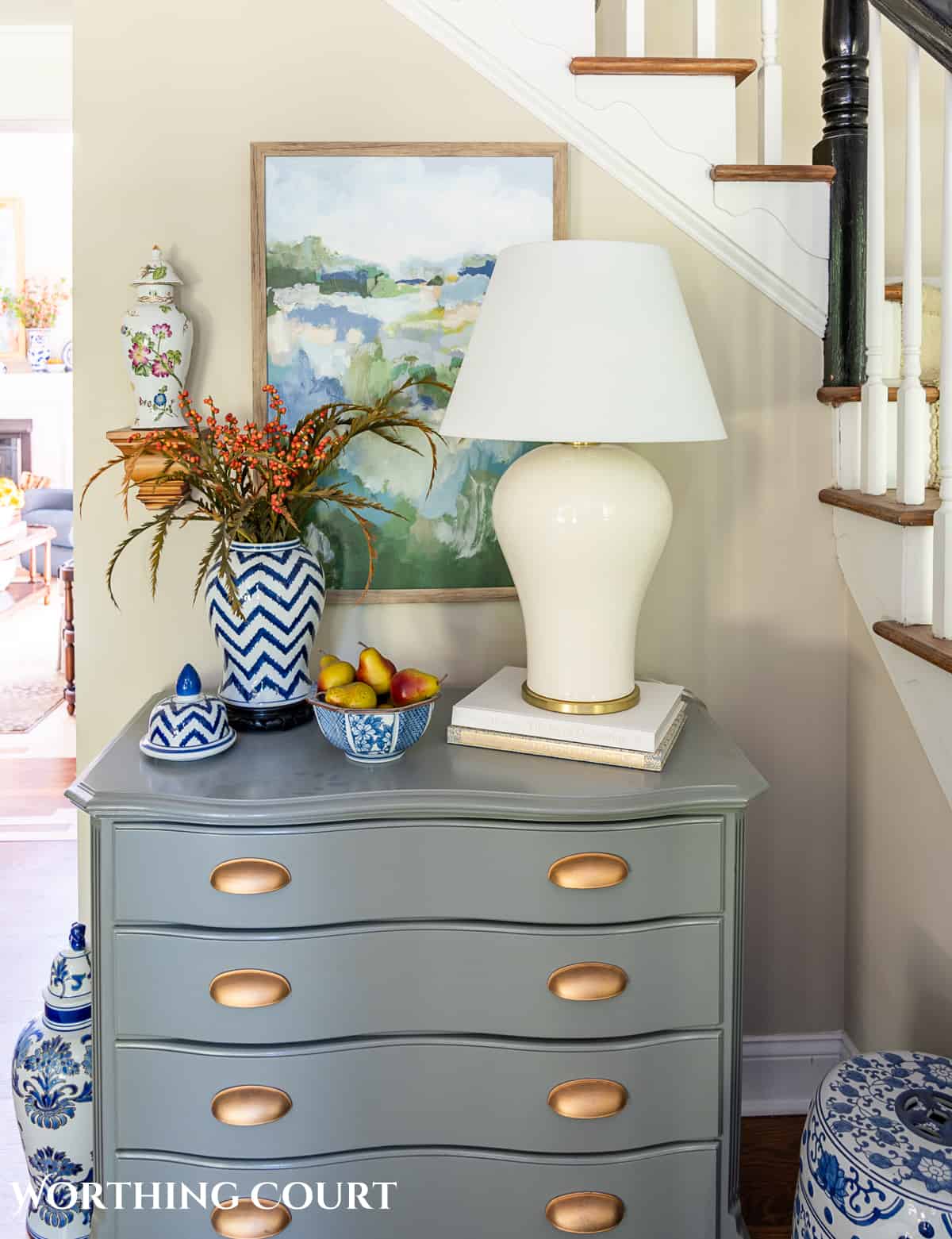 Fall Around The Living Room
Coming into the living room, from the foyer, take a look at the floor. Notice anything unusual?
Yup – there's another thing trying to thwart my fall decorating – a burst pipe in the wall in our hallway that caused our hardwood flooring to warp in this area. These are replacement boards that haven't been finished yet. *sigh*
When they finish redoing our master bathroom, movers will be packing everything on the entire first floor up, so we can move out for a week or so while all the hardwood flooring on the entire first floor is refinished. Ugh.
We had to move our entertainment center out of the way due to the water damage to the floor, so we got a wild hair and decided to just rearrange the entire room!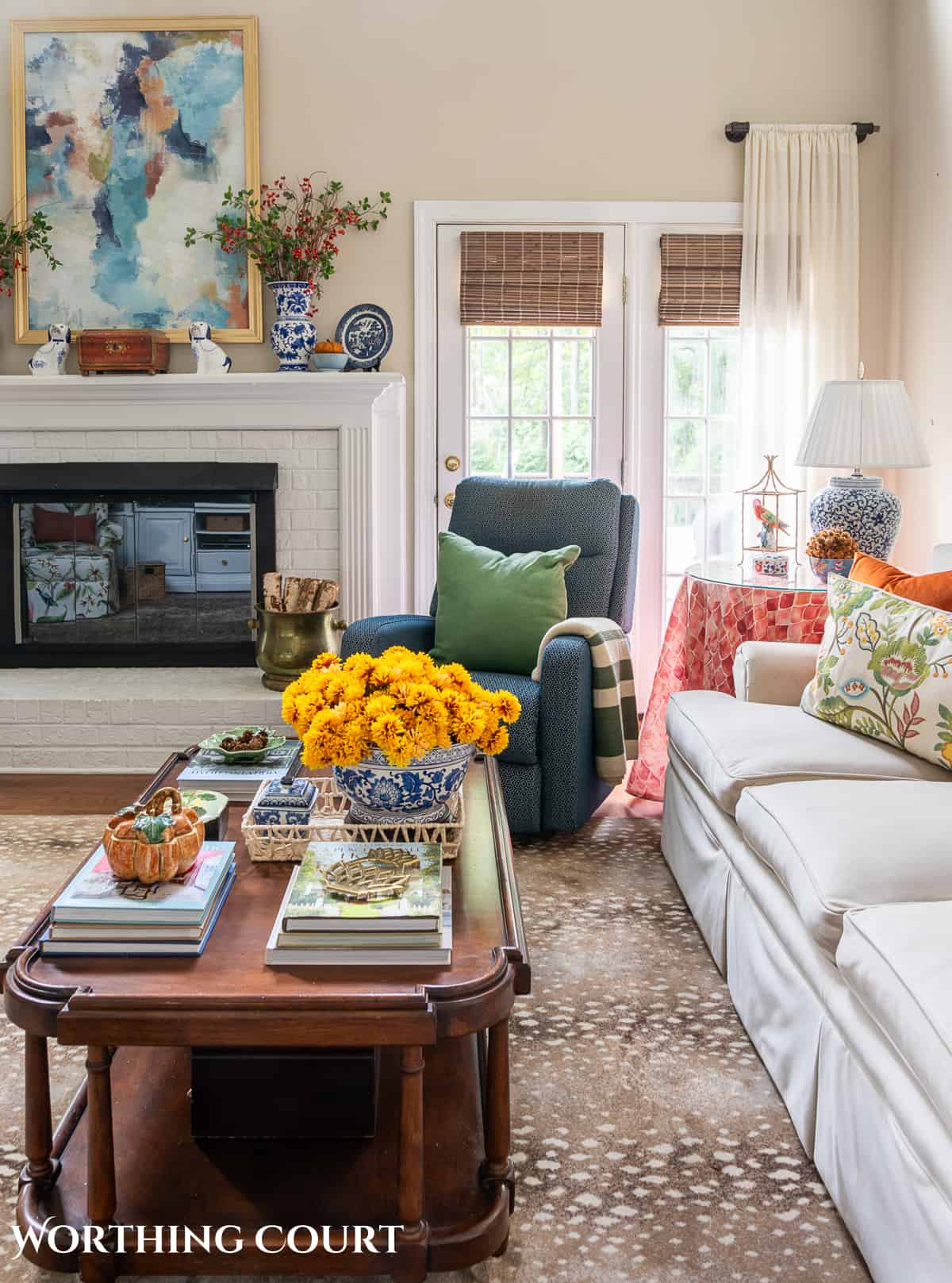 Basically, the entertainment center swapped places with the couch and we added two chairs to the mix.
If you're new here, take a look at last year's fall tour to see how the room arrangement has changed.
Along the way I somehow, managed to turn my husband into a vintage-loving, consignment shopping-loving buddy and well, you know how that goes….I can blame him for getting this whole thing started.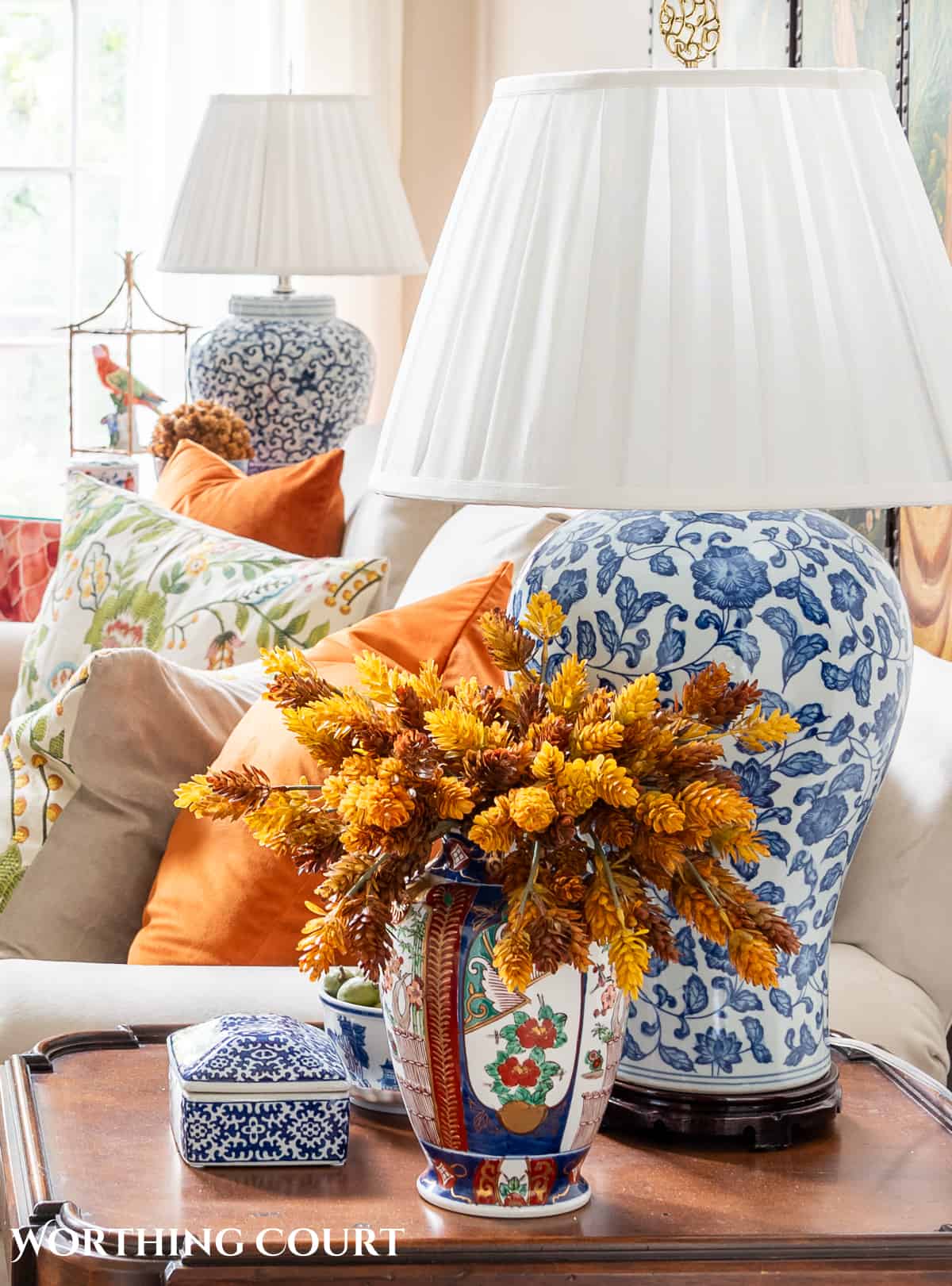 On any given day, you're subject to find us out "galivanting". That's my definition for days when we make the rounds to thrift stores and consignment stores in our vicinity. I have to say that we have been having so much fun!
On one of our escapades, we stumbled across a gorgeous divider screen that we felt would be perfect on the huge wall above our couch.
As soon as we hung it in place, it was instant love. I couldn't resist sharing it now, even though you can see where the wall is patched on the right hand side (thank you burst pipe).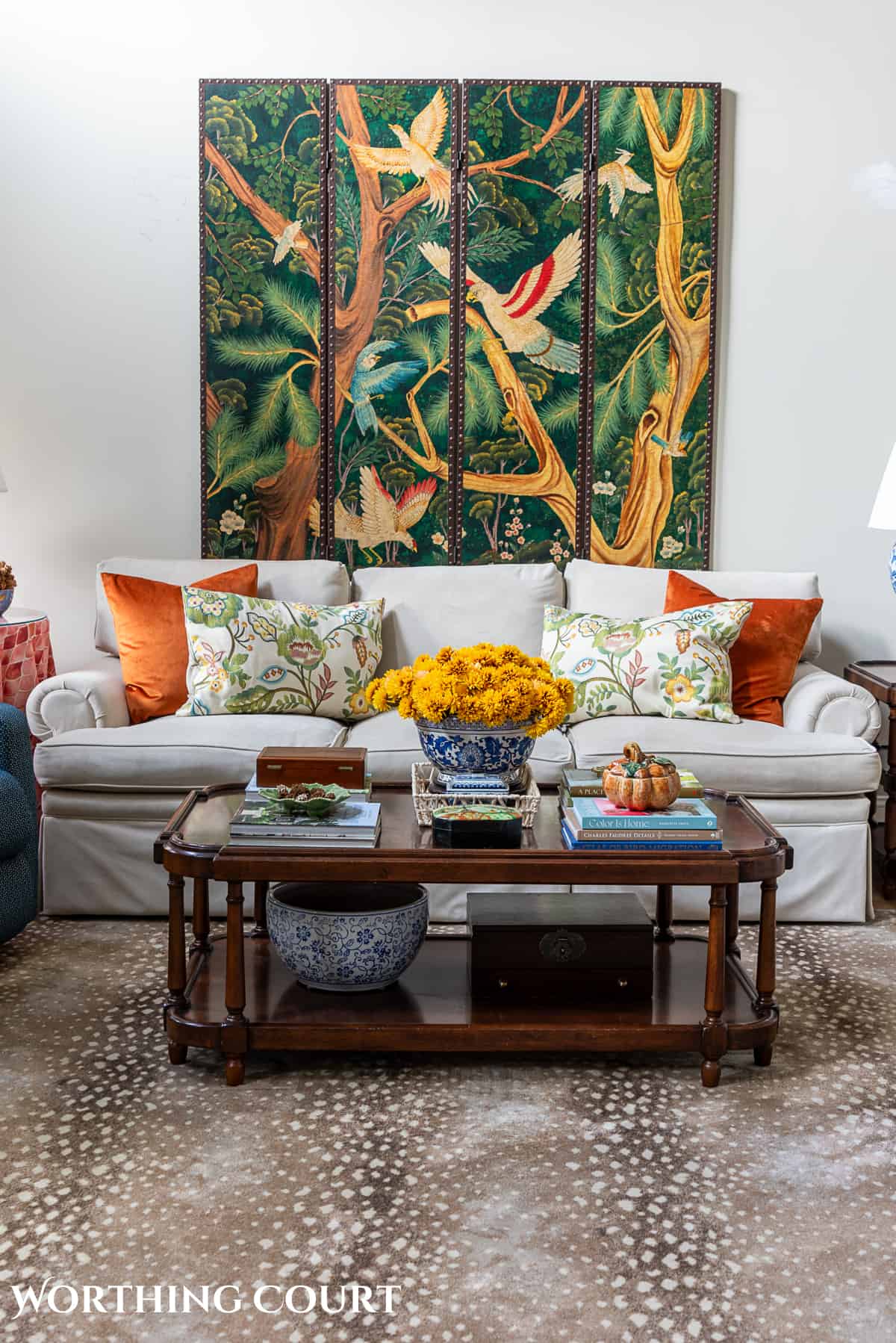 Now, I'm presented with the problem of what to put on the rest of the wall. It's still a bit two empty.
Lush velvet throw pillows, in a burnt orange, look pretty on the couch mixed with fall colored floral pillows.
It's a simple thing, but adding those floral pillows to the couch was part of my simple transition from summer to fall decorating.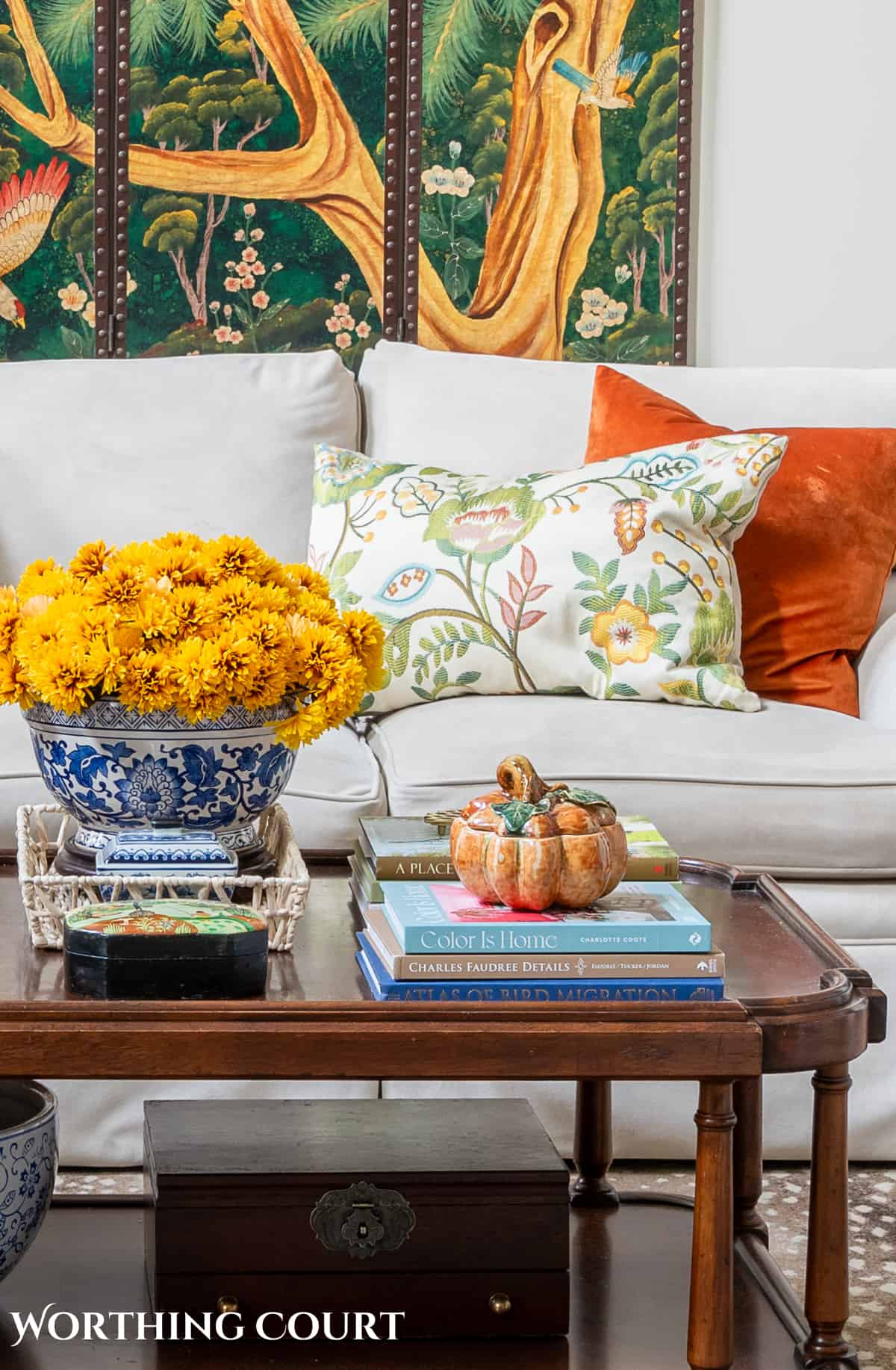 I pulled a round table from a bedroom upstairs to use on the end of the couch nearest the French doors. The room needed something larger and taller to help fill this corner. This is the part of the wall that needs something else.
A step-by-step tutorial for making a round tablecloth with a corded edge will be coming soon!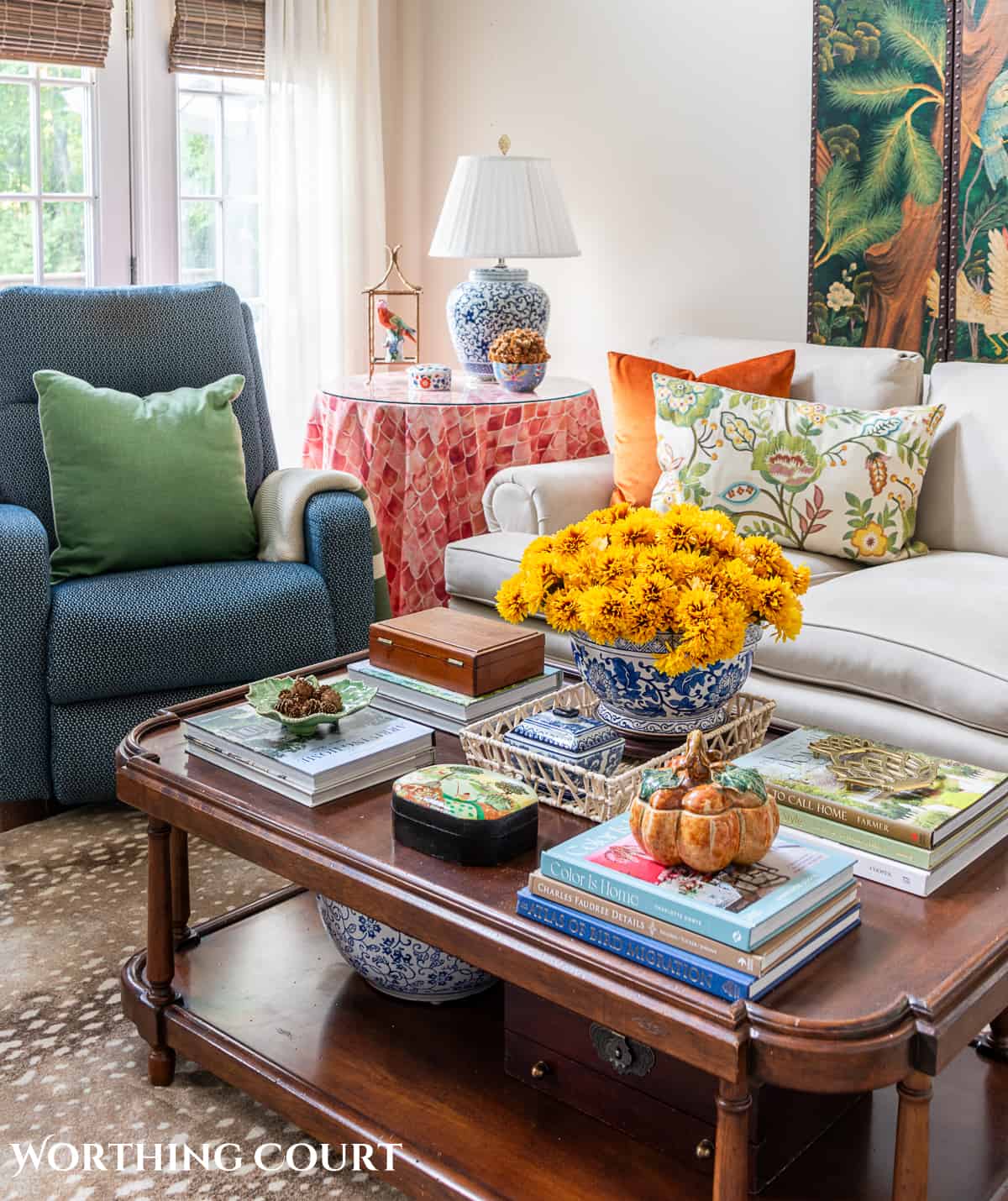 The other end table and coffee table were Facebook Marketplace finds. They had been well loved, but this product, along with some elbow grease, brought the beautiful rich brown wood back to life.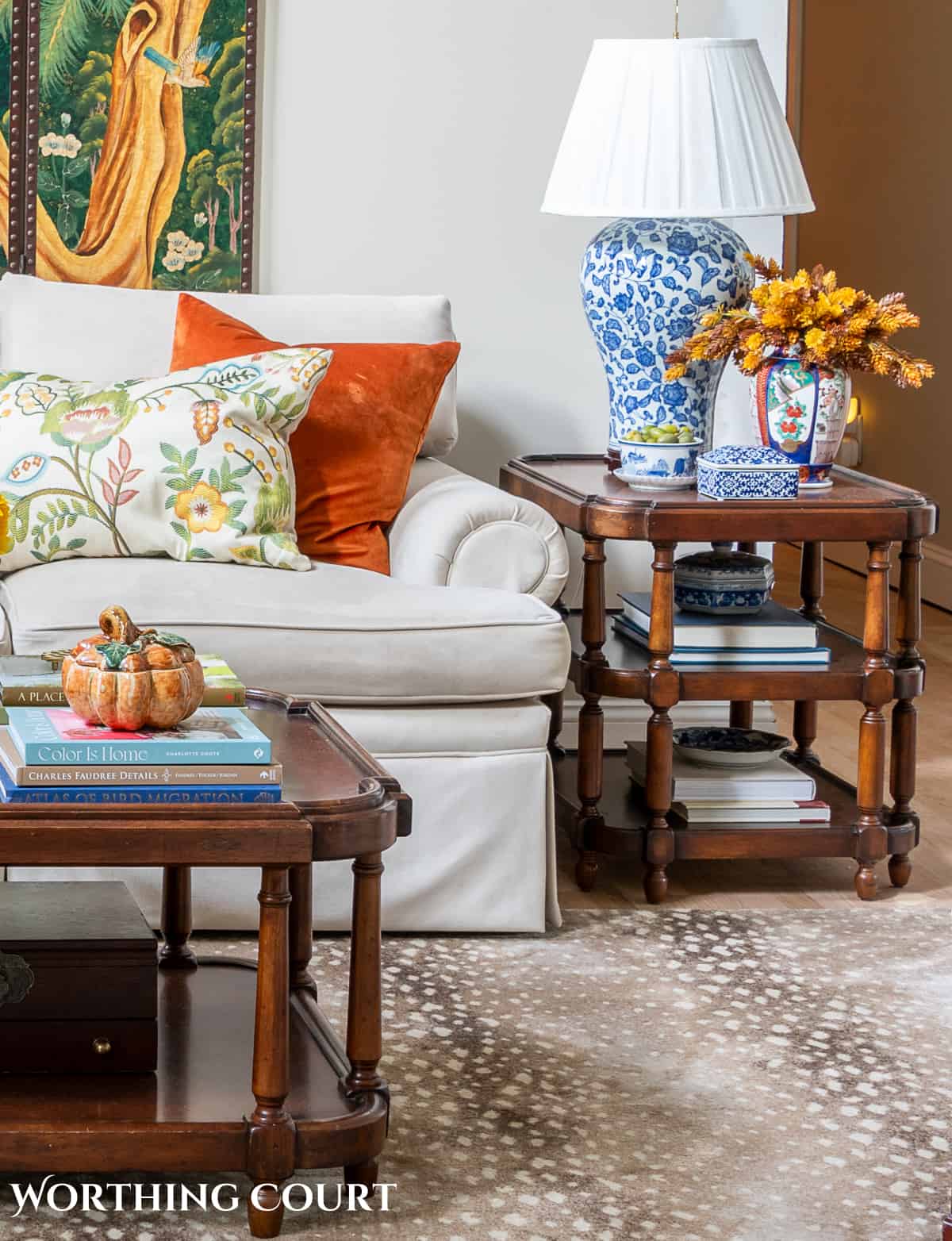 Remember, these are easy diy fall decorating ideas, so everything in the rest of the room stayed basically the same. I simply switched out a few of the accessories and added fall'ish natural elements.
The large blue and white bowl on the coffee table stayed in place and was filled with faux mums. A favorite ceramic pumpkin was added to a stack of books and a leaf shaped dish was filled with mini pinecones.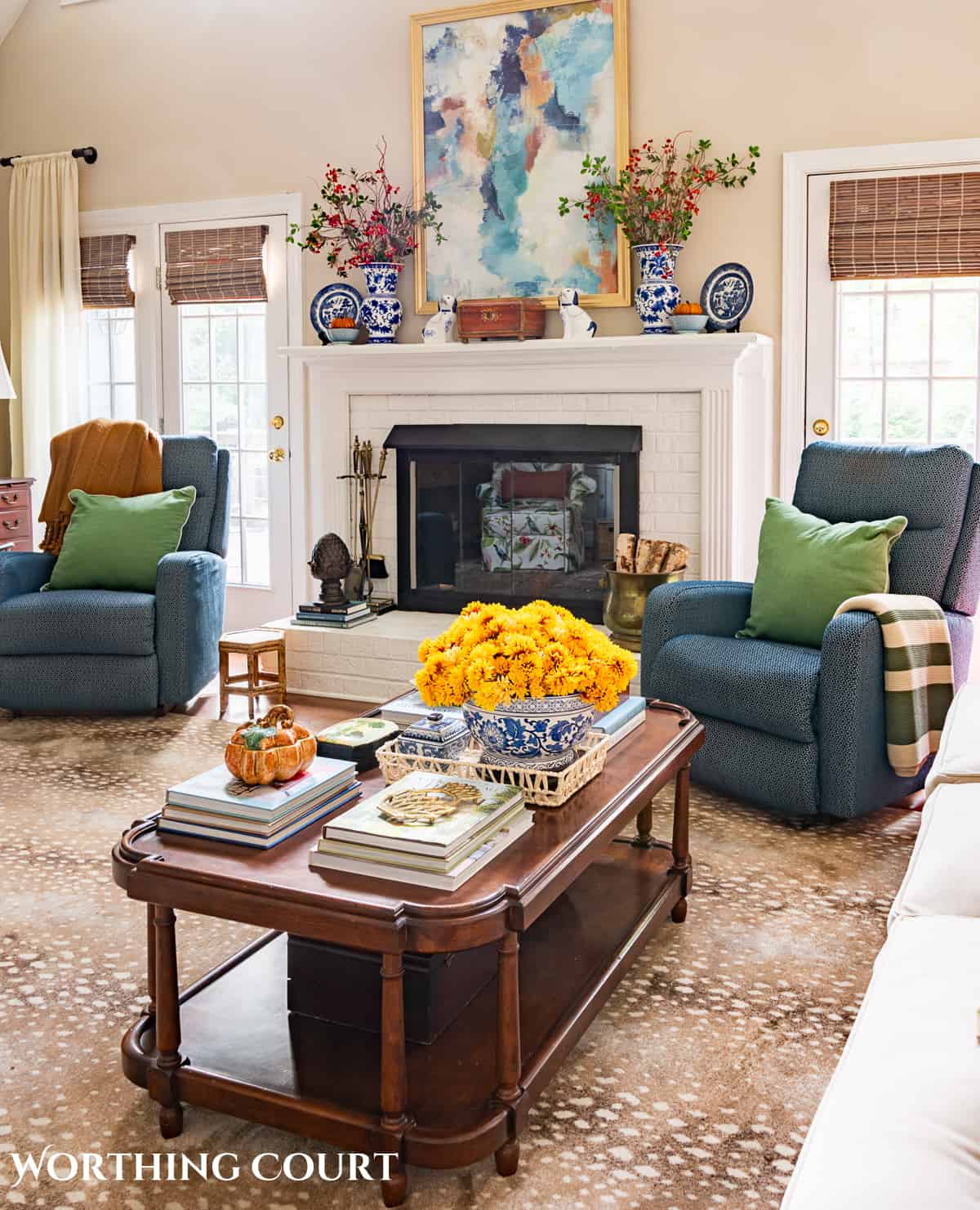 The changes on the fireplace are simple too. I kept the leafy twigs and fall colored floral stems that were on the mantel for the summer to fall transition, changed the location of a couple of other accessories and added mini pumpkins.
Down on the hearth, I kept the large brass urn (another consignment shop find!) in place, but replaced the ginormous boxwood orb with birch logs.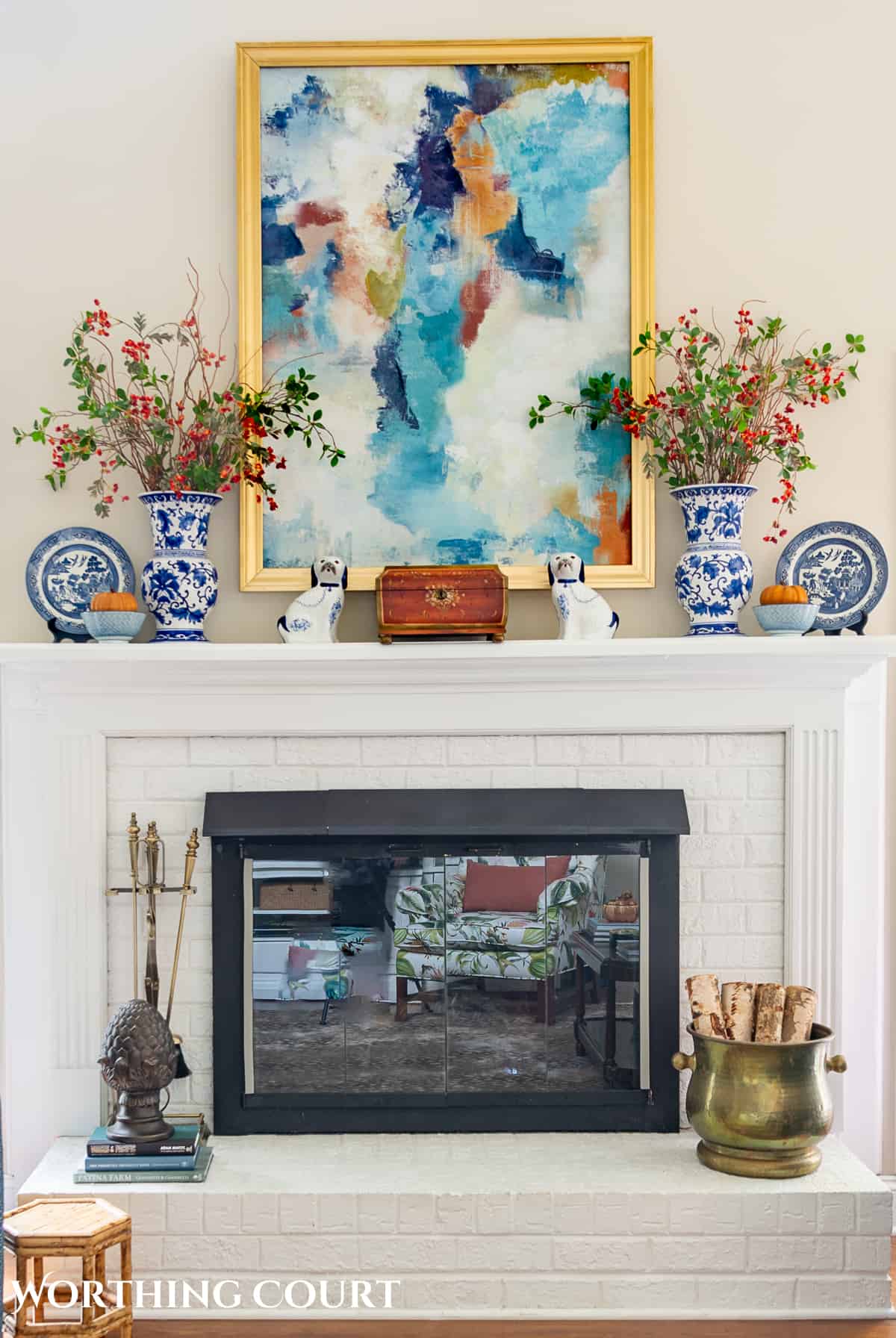 Yes, this is a gas fireplace, but I still love having the logs and fireplace tools here. I've toyed with the idea of replacing the glass doors with a traditional fireplace screen, but I can't get the hubs on board with that one.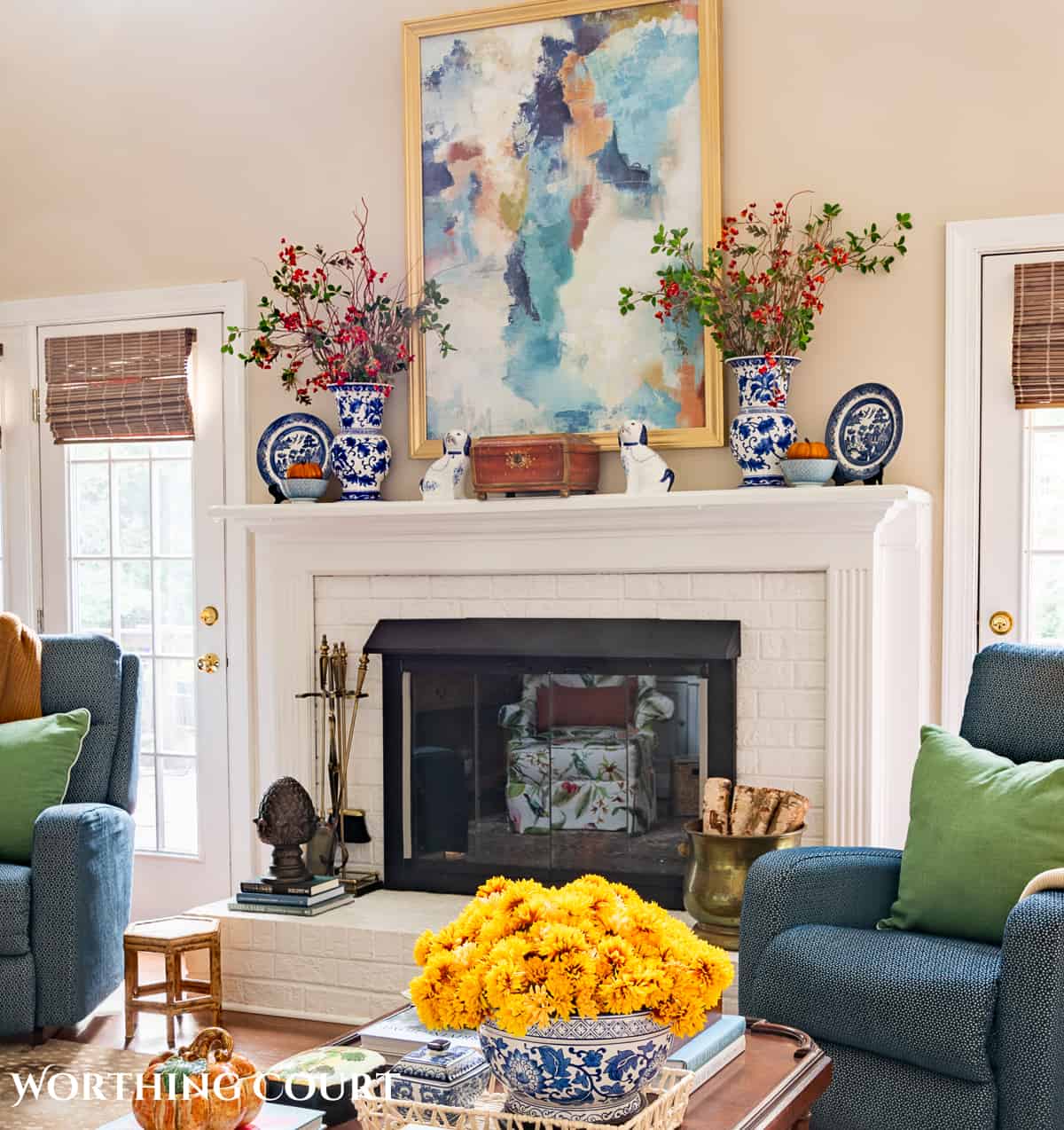 I'll be making pleated draperies to replace the existing neutral ones that are currently on the French doors that flank the fireplace. But, I've realized that I'm going to have to be careful getting a fabric that won't fight with the decorative screen above the couch.
I almost forgot to mention the new area rug! I've been on the hunt for an antelope rug for a long time, but finding one large enough for this room was so expensive that we decided to have one made.
Yes, it cost a little more, but it's better quality and is super luxurious underfoot. Plus, I'm really happy with the updated vibe that it adds to the traditional elements in this room.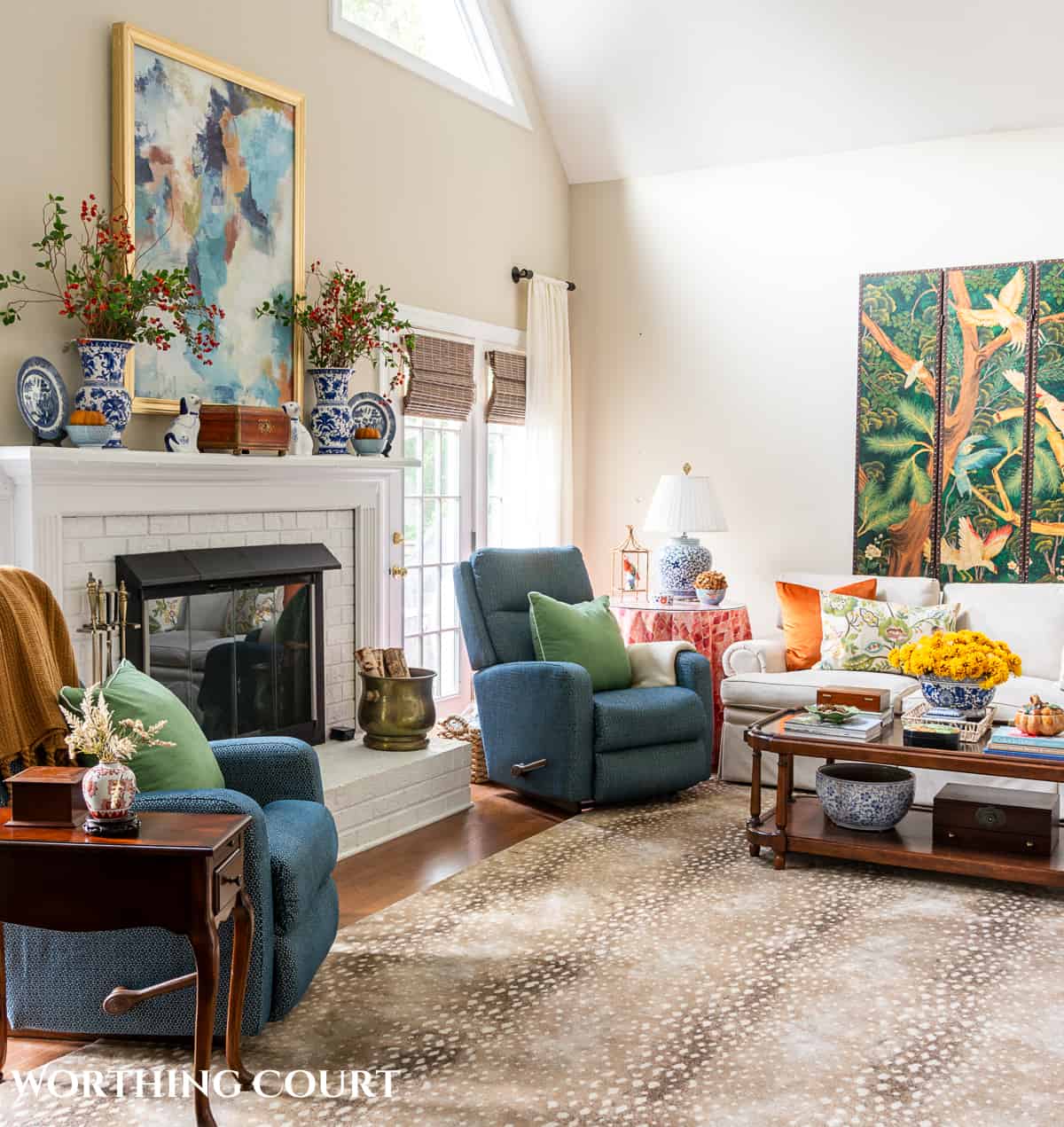 We replaced the gray recliners that used to sit in front of the doors with two better quality ones. We've turned into those people who sit in their recliners and watch tv every night. Haha. They passed the not-too-poufy test and are very comfortable.
Other consignment and Facebook Marketplace finds are the chest, lamp and small table beside the chair on the other side of the fireplace.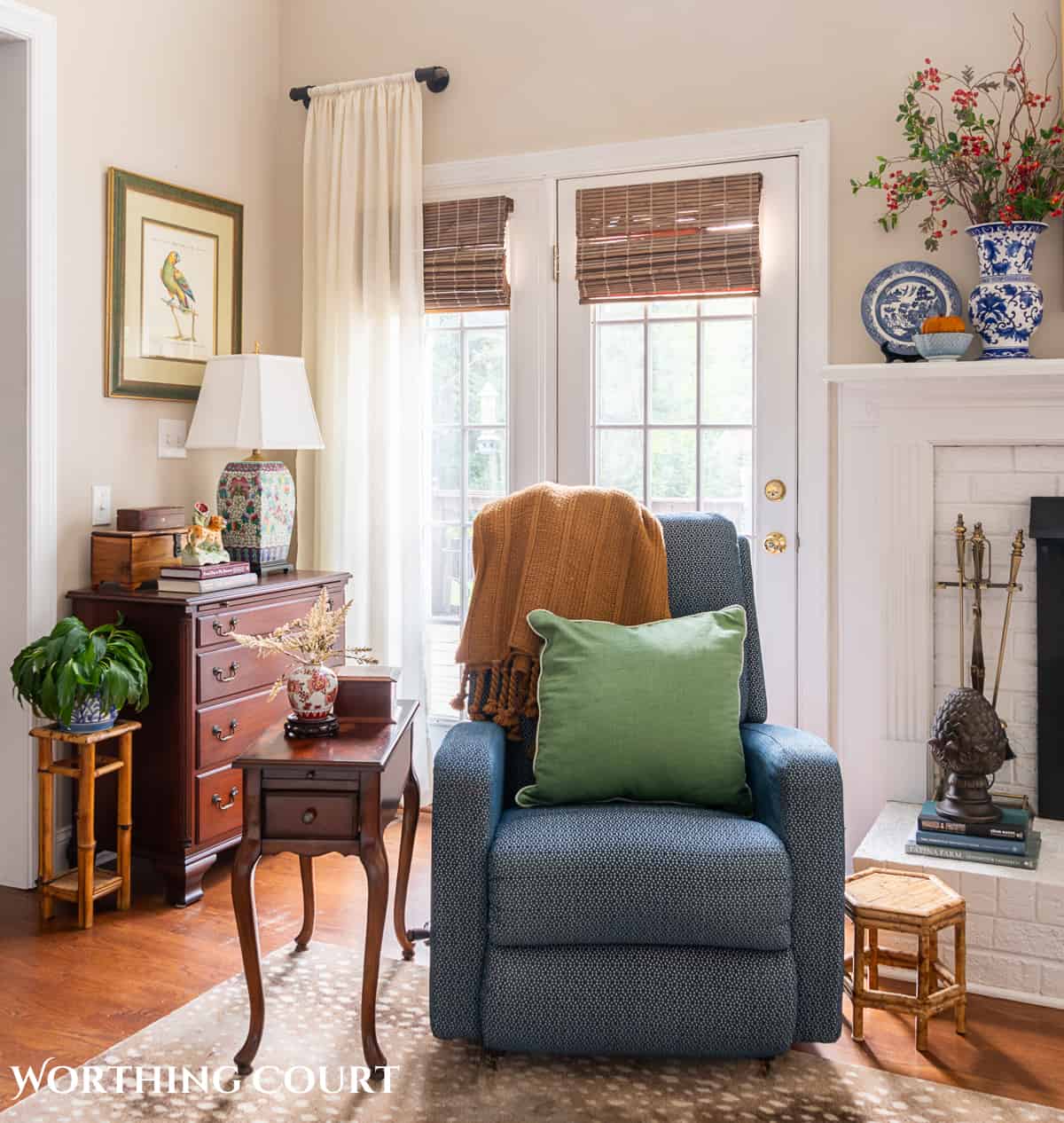 Okay – these chairs are the culprits that really sparked this room's makeover. While on one of our galavanting adventures, we spotted them sitting in the window of a local consignment store and were immediately smitten.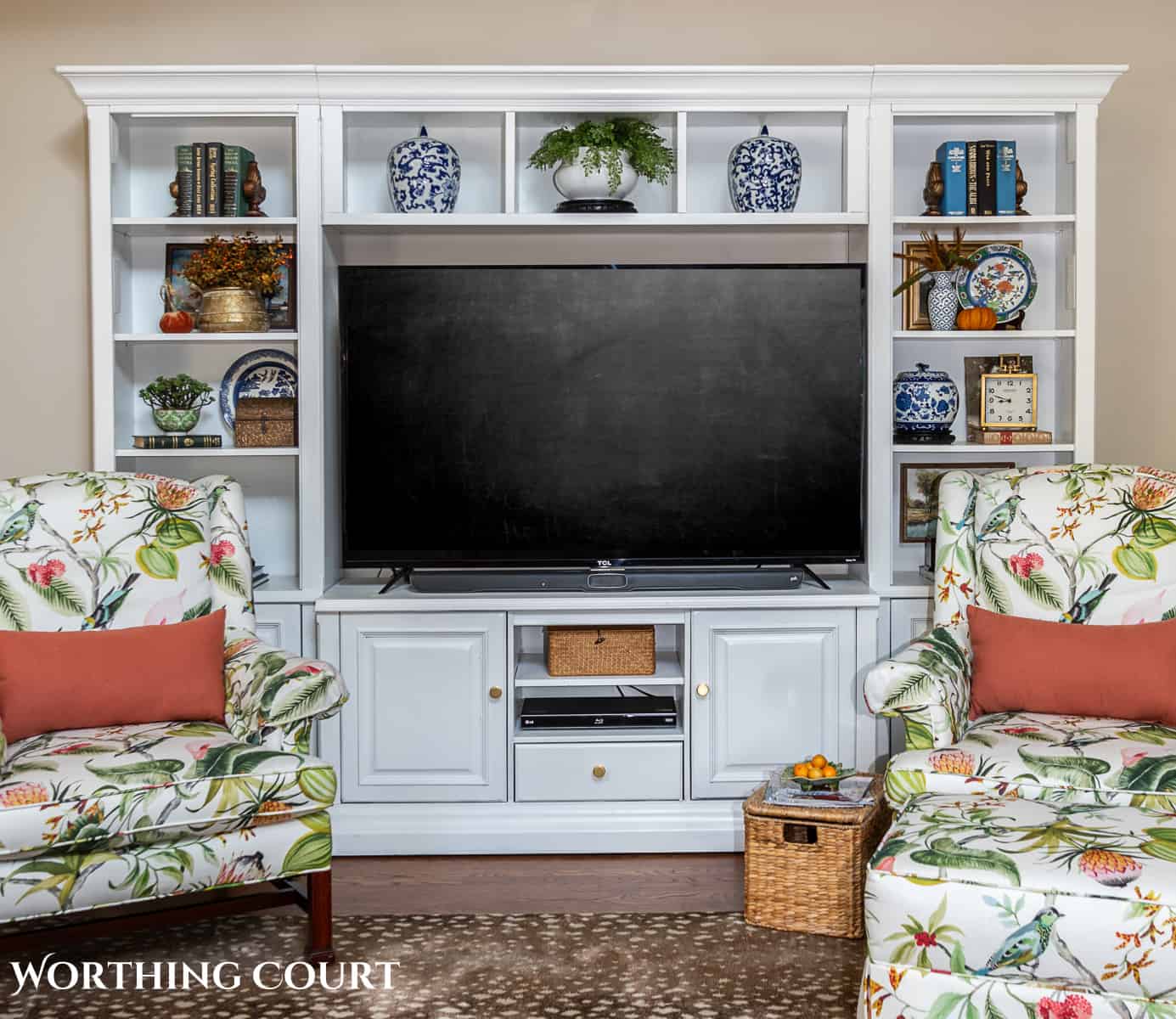 When it comes to my home's decor, I've been denying my color-loving, traditional self for far too long. I'm thrilled to bring more color back into my home!
This wall is the former location of our couch, but having the entertainment center here works much better. The room's new arrangment allowed us to add two more arm chairs to the room, which we really needed.
This is probably going to be the new corner for my Christmas tree, btw.
In the spirit of keeping the fall decorating easy, I only switched out a couple of accessories, added a little fall foliage and a couple of faux pumpkins to the shelves.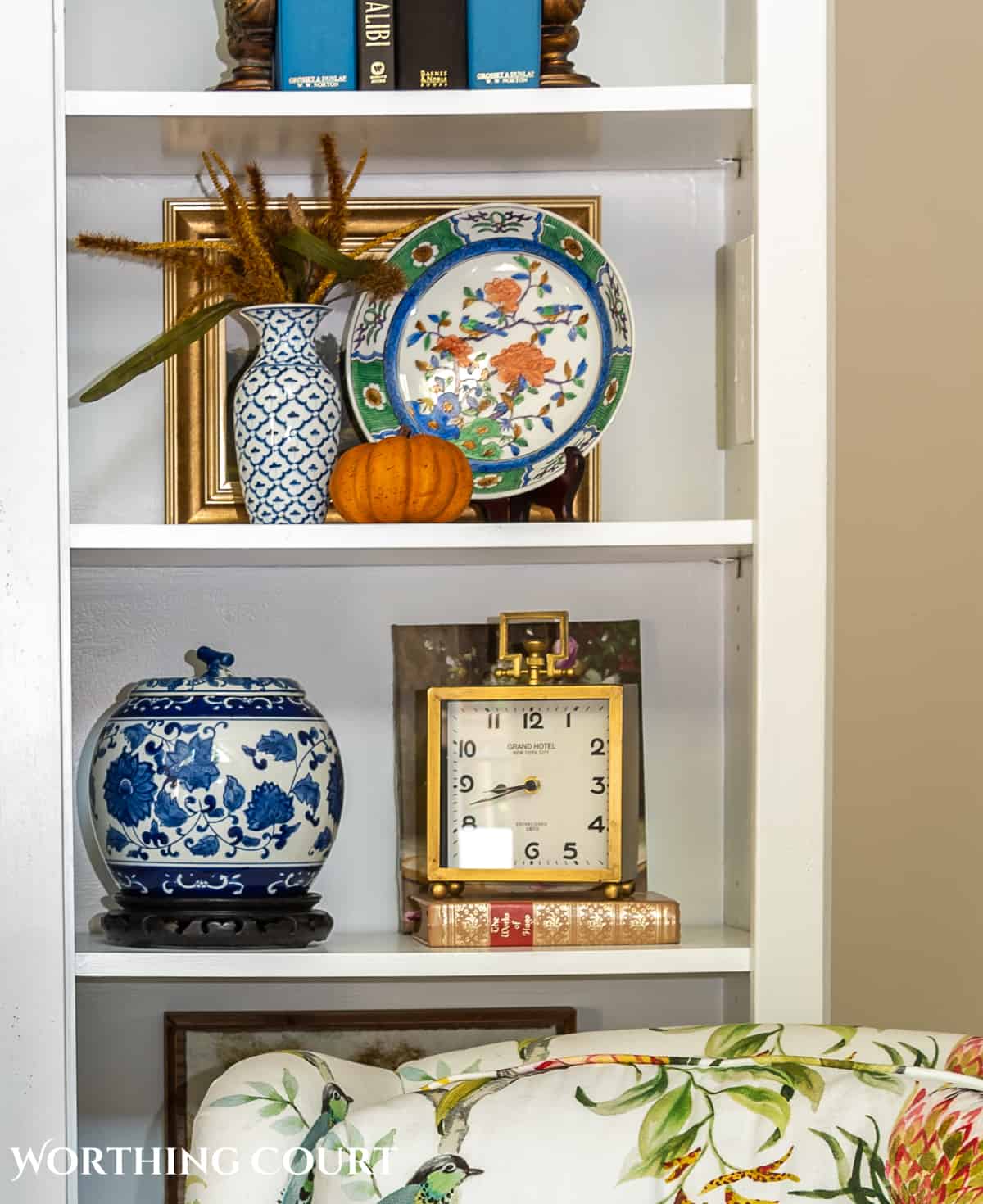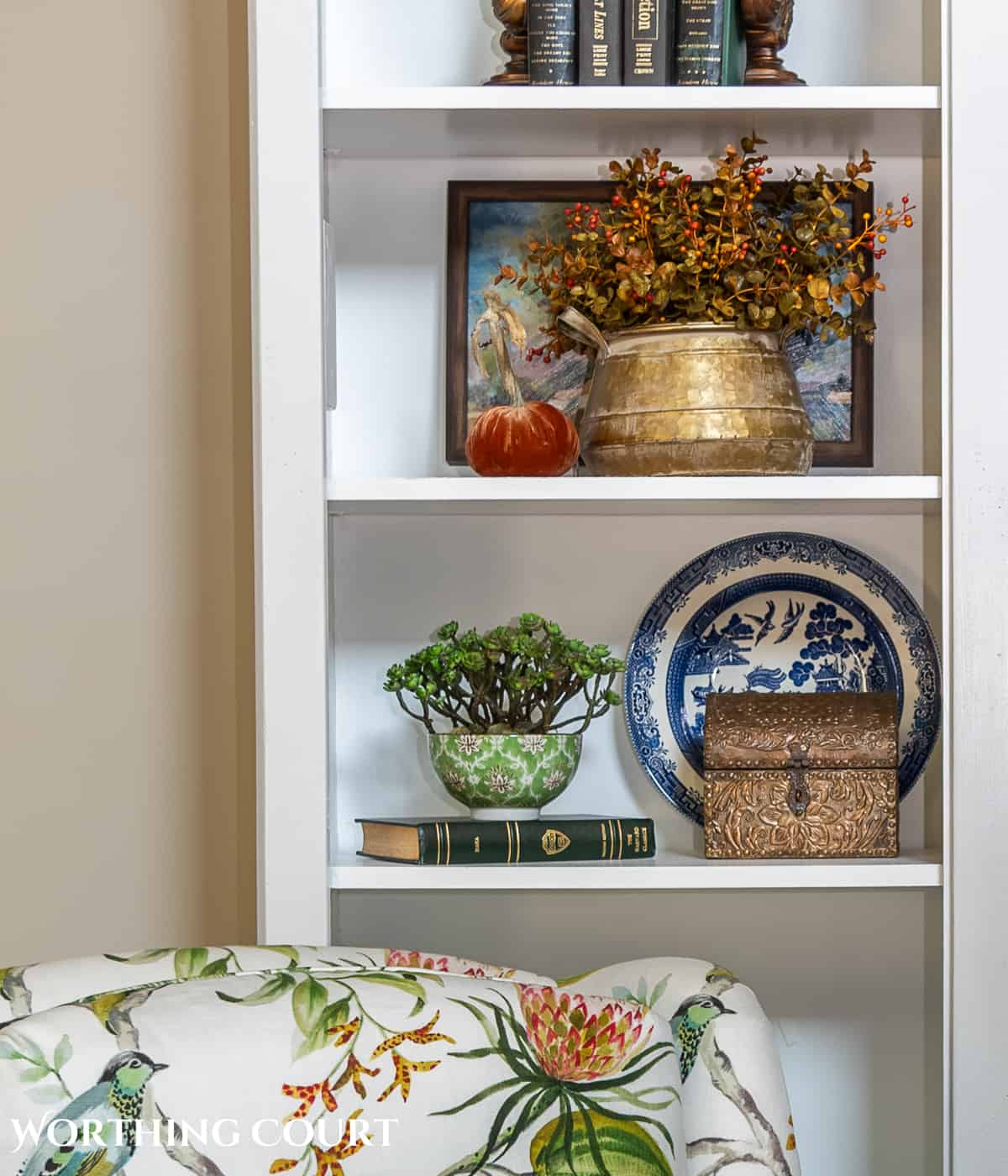 Eventually, I want to change the art hanging above the table that's beside one of the chairs. But for the now I made a pretty fall display by arranging lots of bits and pieces from stems in my stash in a pretty aged brass container.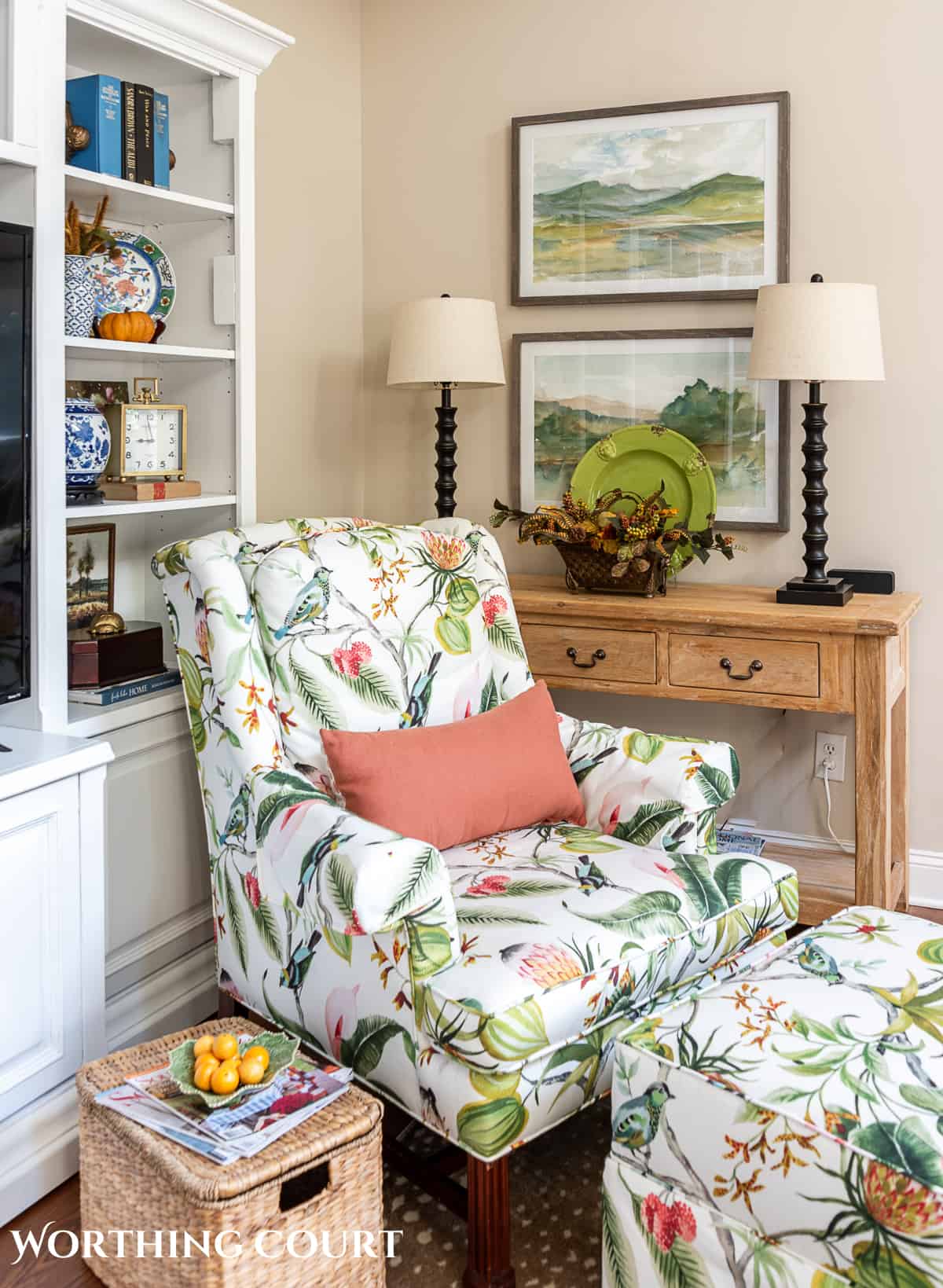 Adding Fall To The Breakfast Room
If you've seen other pictures from our house, you know that the living room has a large entry into the breakfast room/kitchen.
The plate rack is very visible, so it's a spot that I always change up for each season.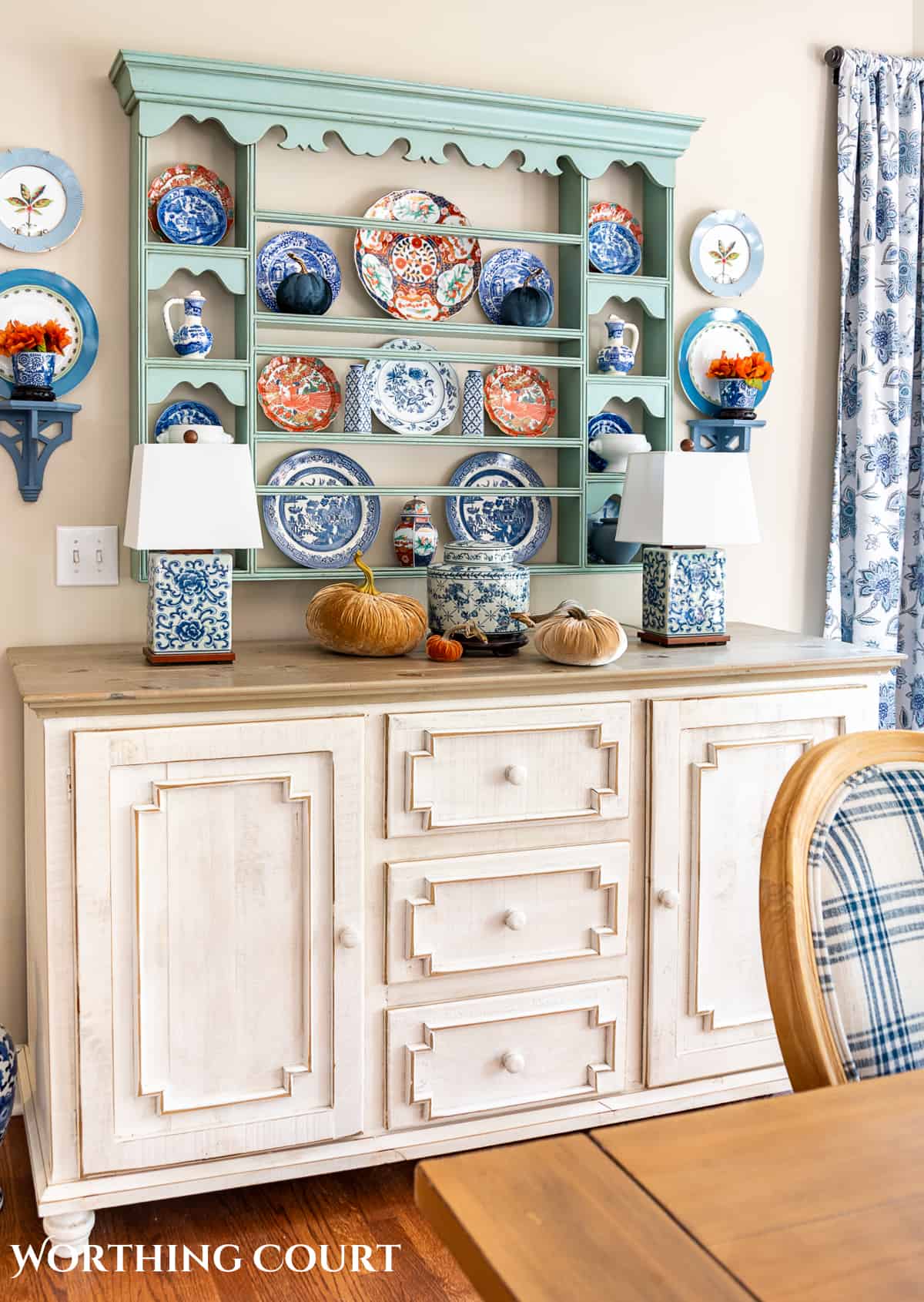 Every year that I decorate for fall, I always need something to inspire me, and this year I was inspired by these gorgeous Imari Peacock pattern plates that I found in a consignment shop.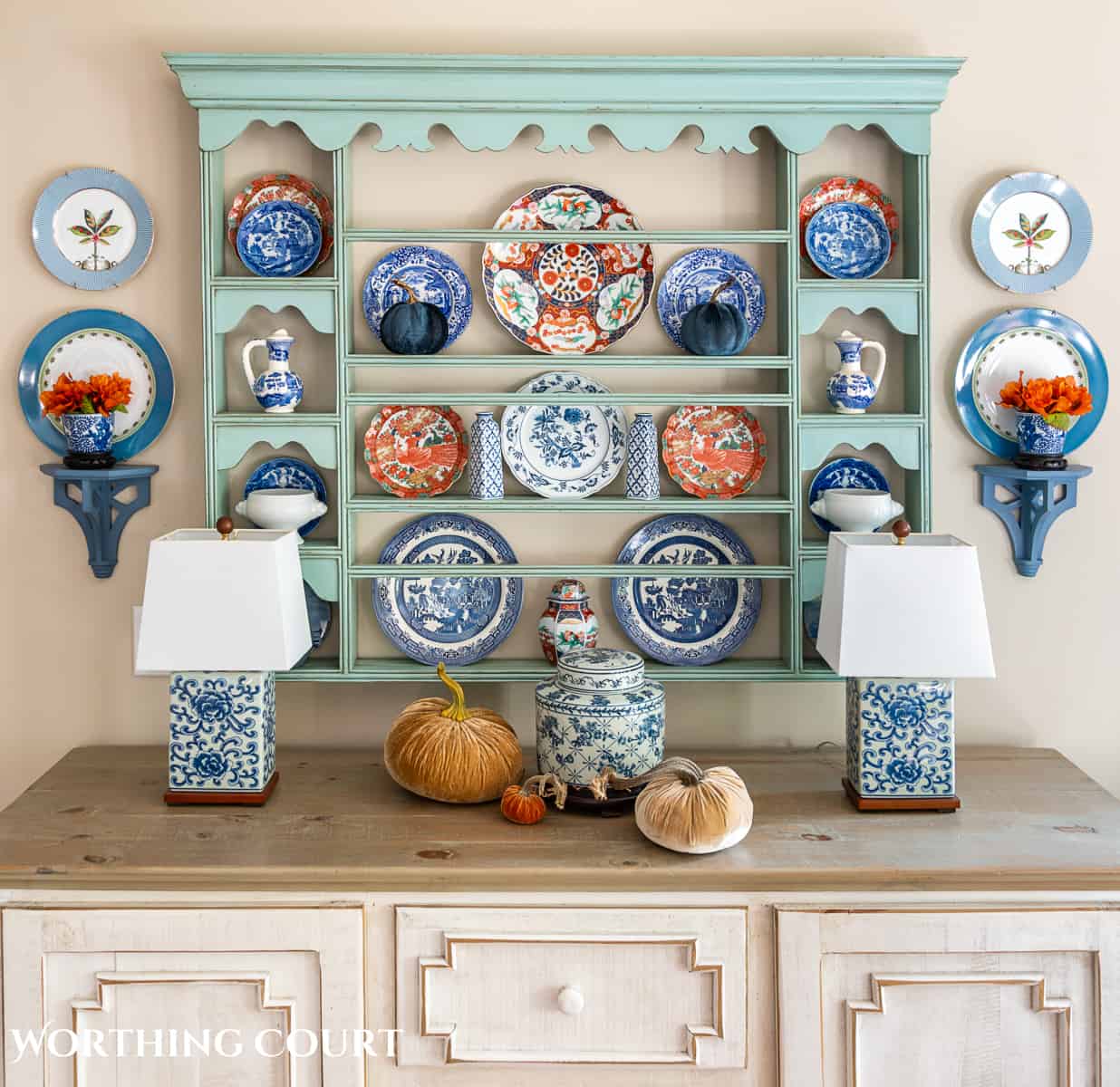 A full set of them would be too much for me, but just a few of them make a great accent for fall.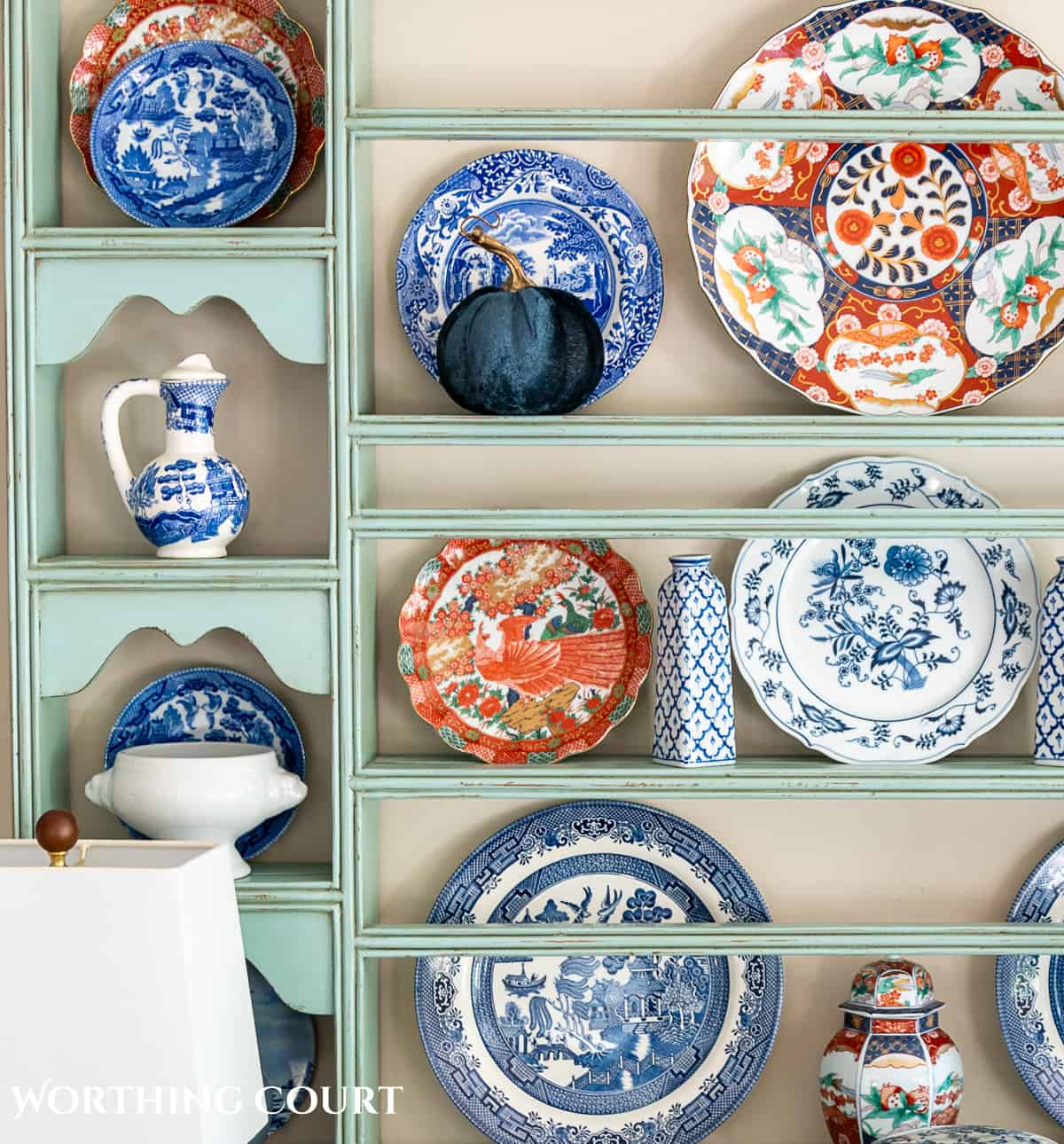 And of course, the orange looks awesome combined with blue and white for the fall.
A couple of mini pumpkins and a bit of fall foliage leave no doubt that it's fall in the breakfast room!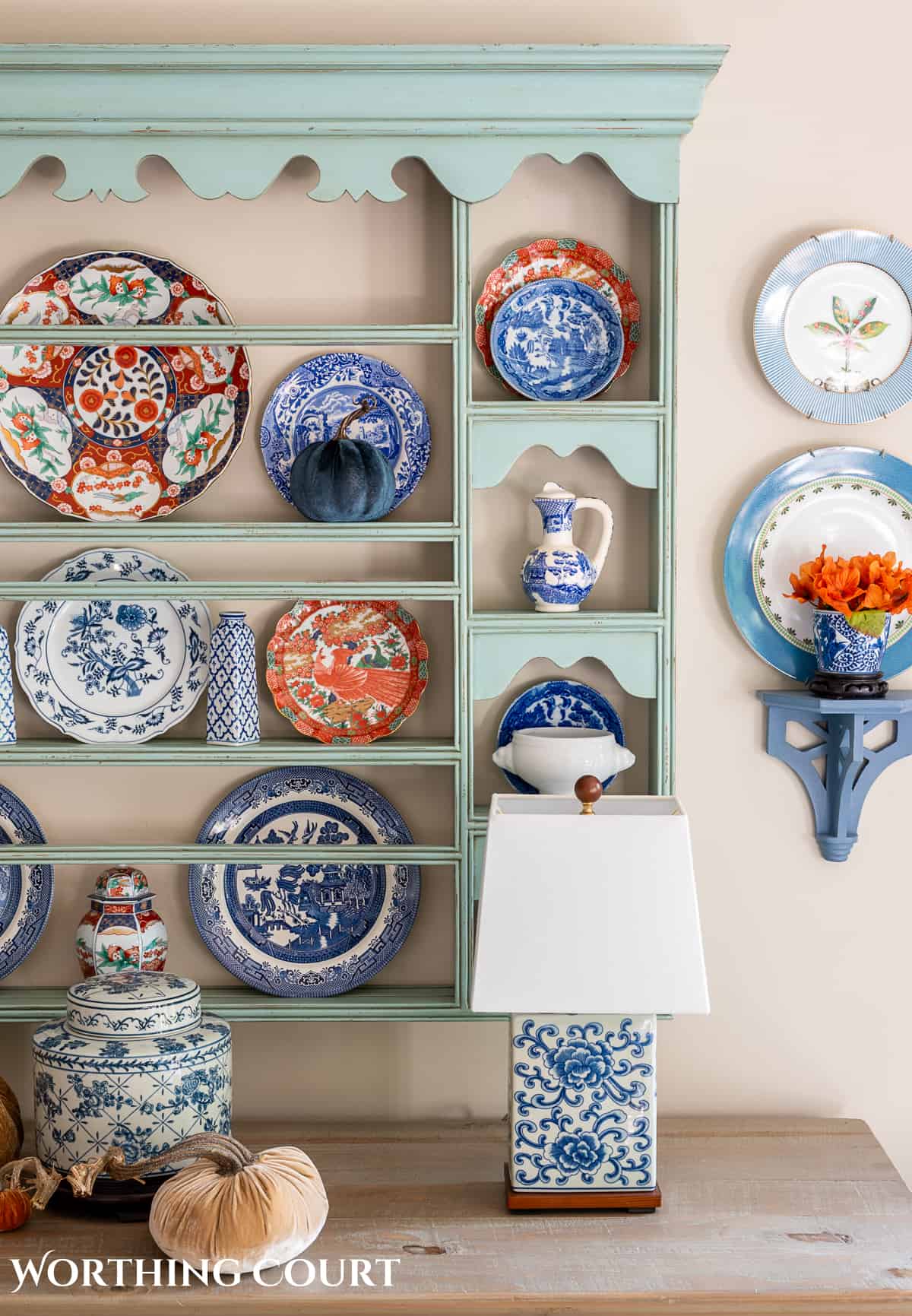 I try to coordinate my table centerpieces with the way that the plate rack is decorated since the table sits right in front of it.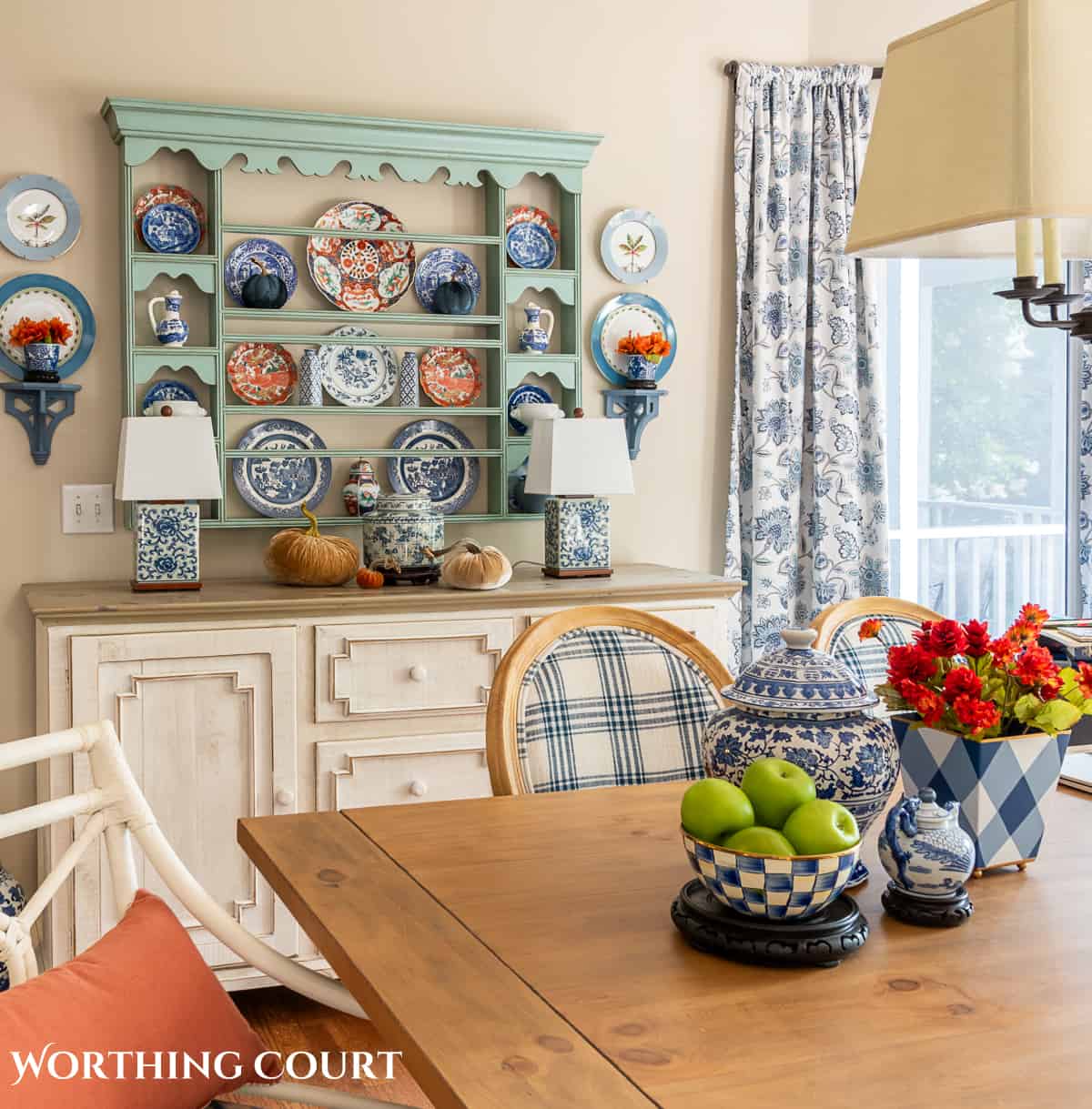 The rich burnt orange of the seasonal flowers and the vibrant green of the apples are very eye catching when you enter the room.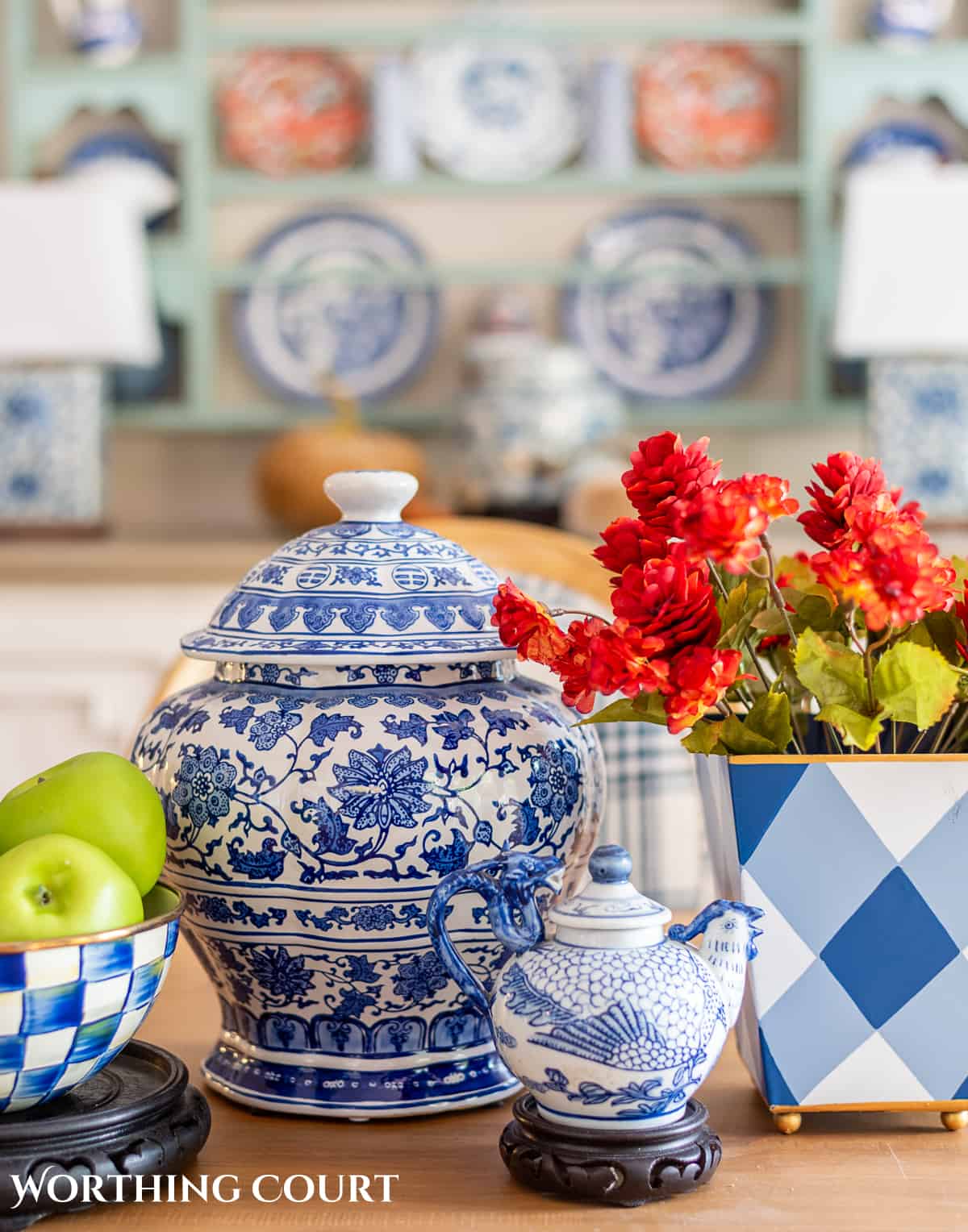 Elegant Fall Decor In The Dining Room
This is another room that has seen major changes over the last several months, but still has more to come.
It all started with a steal of a deal on this solid mahogany dining room table that came with two leaves and ten dining chairs.
We've done some research and paid under $1000 for something that would have cost upwards of $8000 brand new. I already have fabric to recover the chair seats with, but it will have to wait.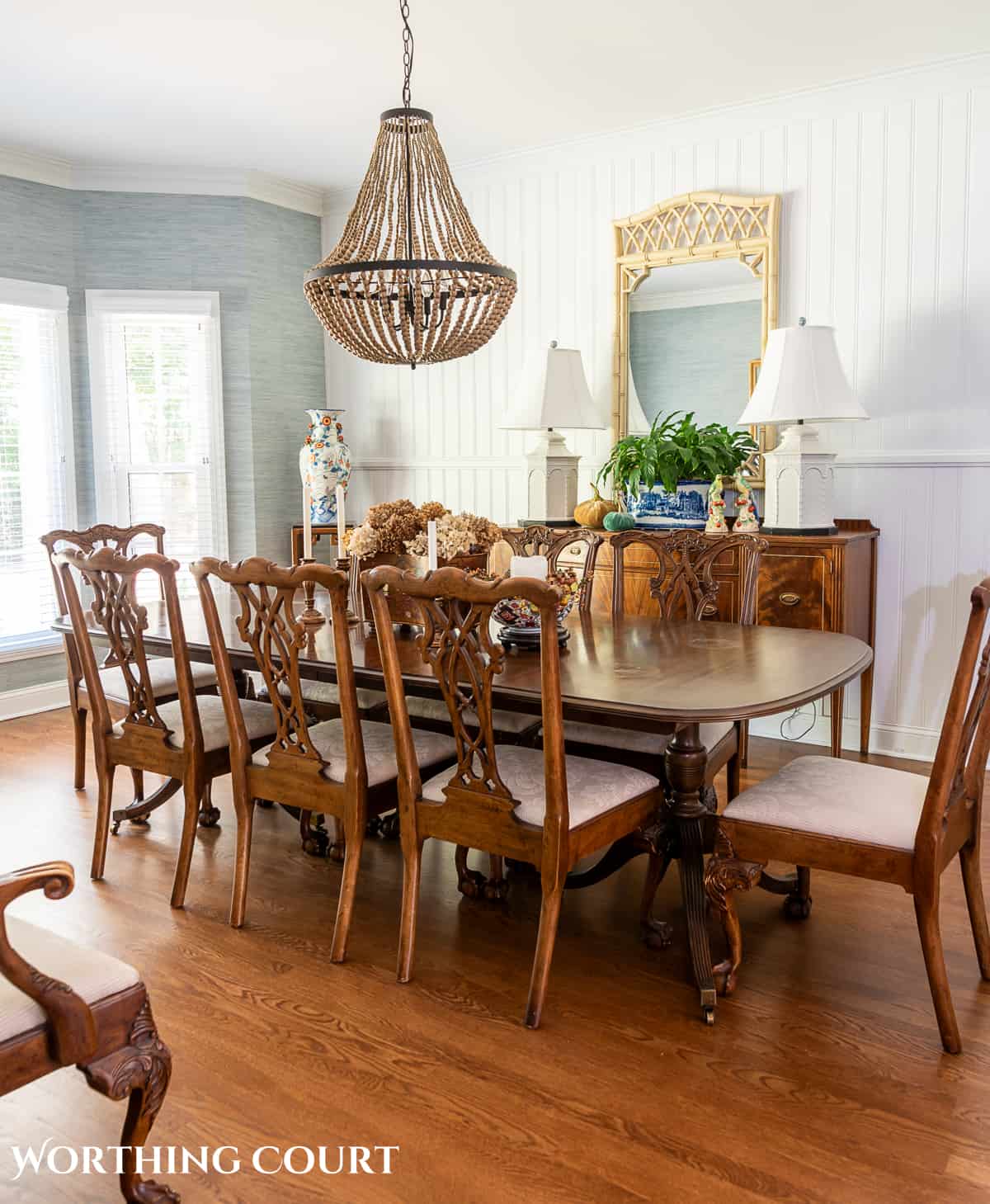 I kept the paneled wall (because I love the texture of it) and hung faux grasscloth wallpaper on the rest of the walls in the room.
Antique-look candlesticks, dried hydrangeas in an pretty cachepot and a fall colored decorative bowl filled with a candle and some fall berries make a perfectly elegant fall centerpiece.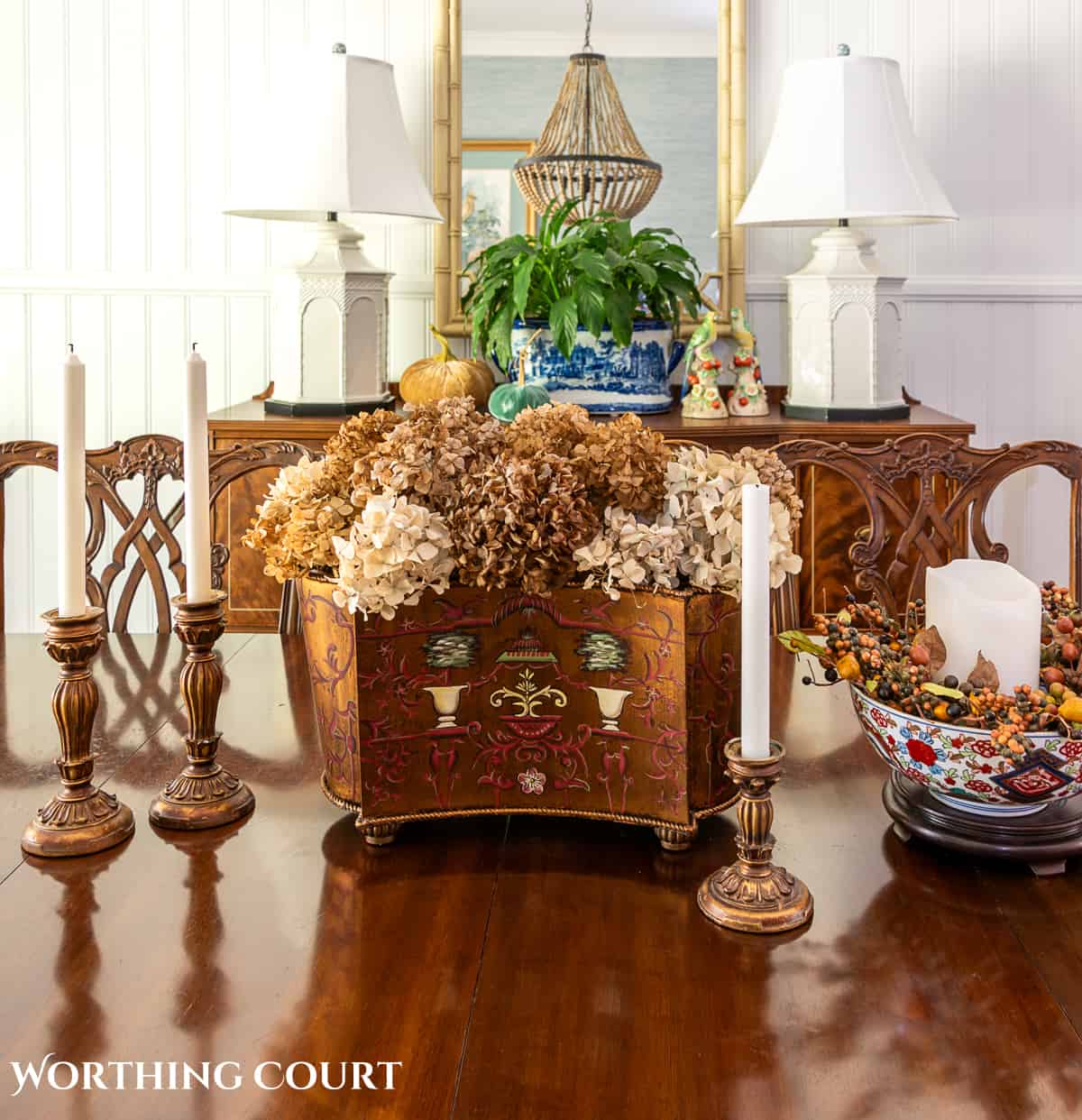 The mirror, sideboard, pagoda'ish lamps and all of the small accessories are consignment shop finds.
I have plans to paint the mirror blue and think it will really add a nice pop to the room.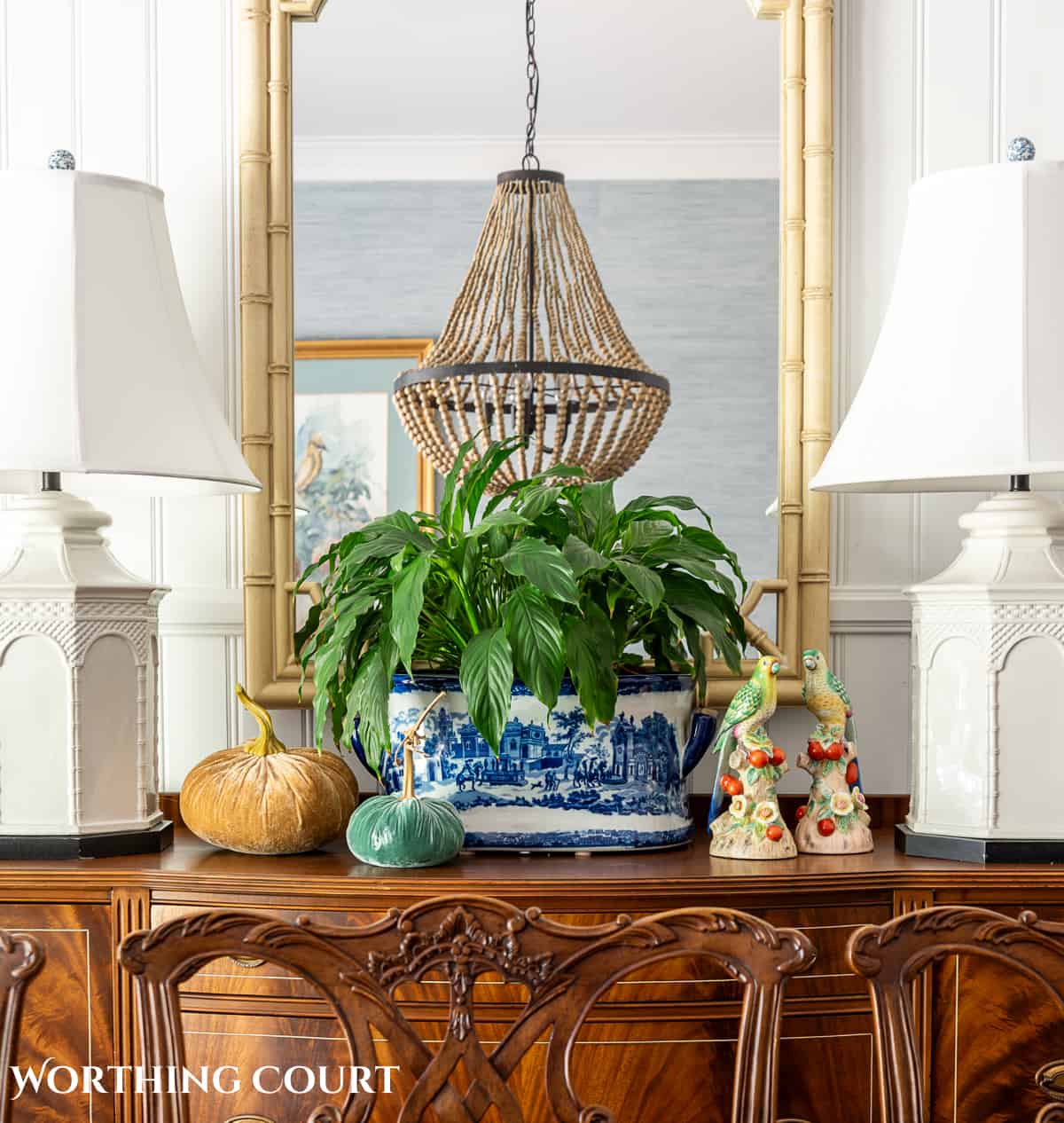 My existing gray chest will likely be painted white and get new hardware. If you look closely, you can see where I was testing out a blue paint color on it several months ago.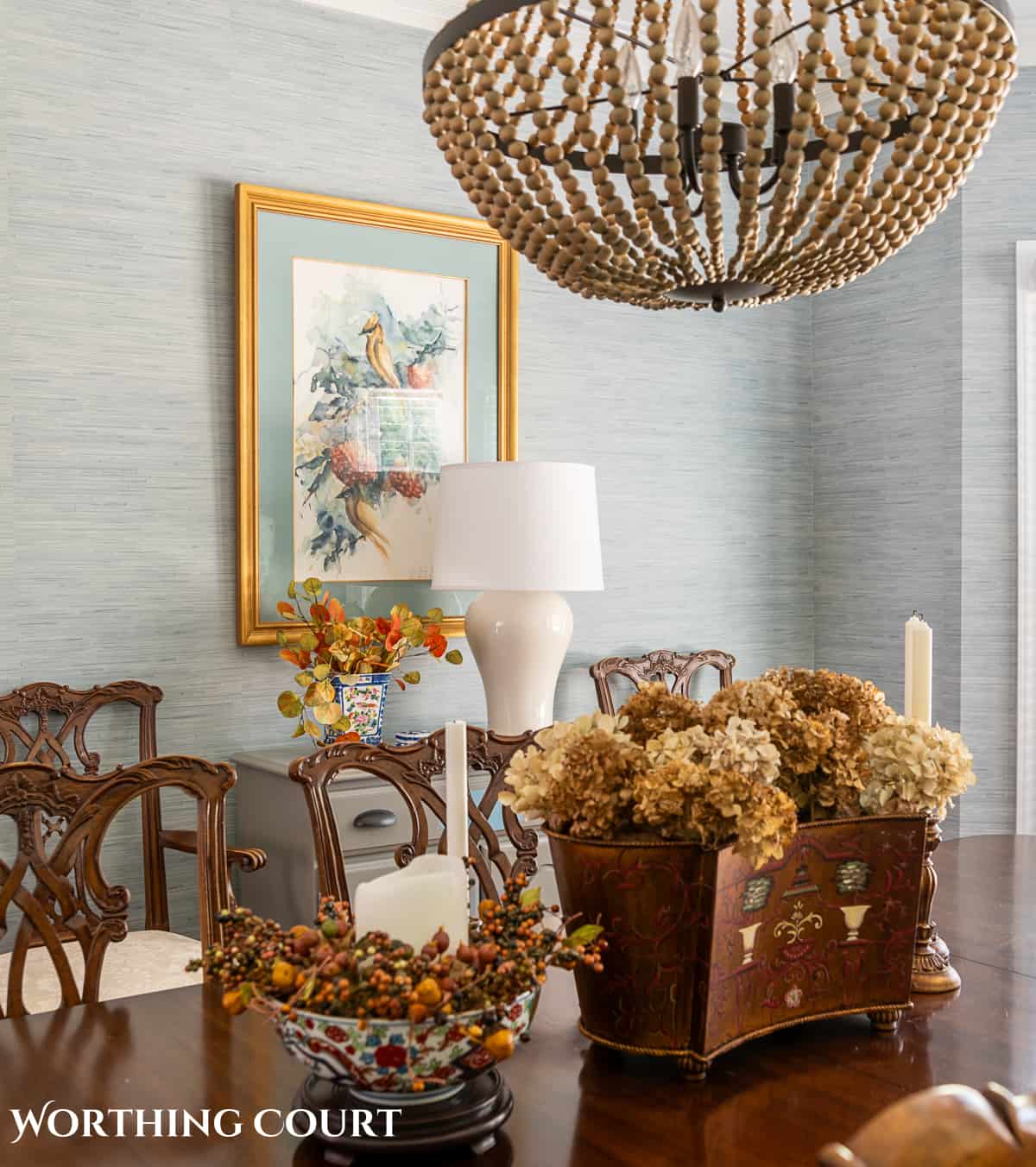 Another steal of a deal is the wall art hanging above the chest. It was marked 50% off at yet another consignment shop. I've been collecting pretty plates and brackets and plan to hang them on either side of it. I just have to get up the nerve to make holes in the wallpaper.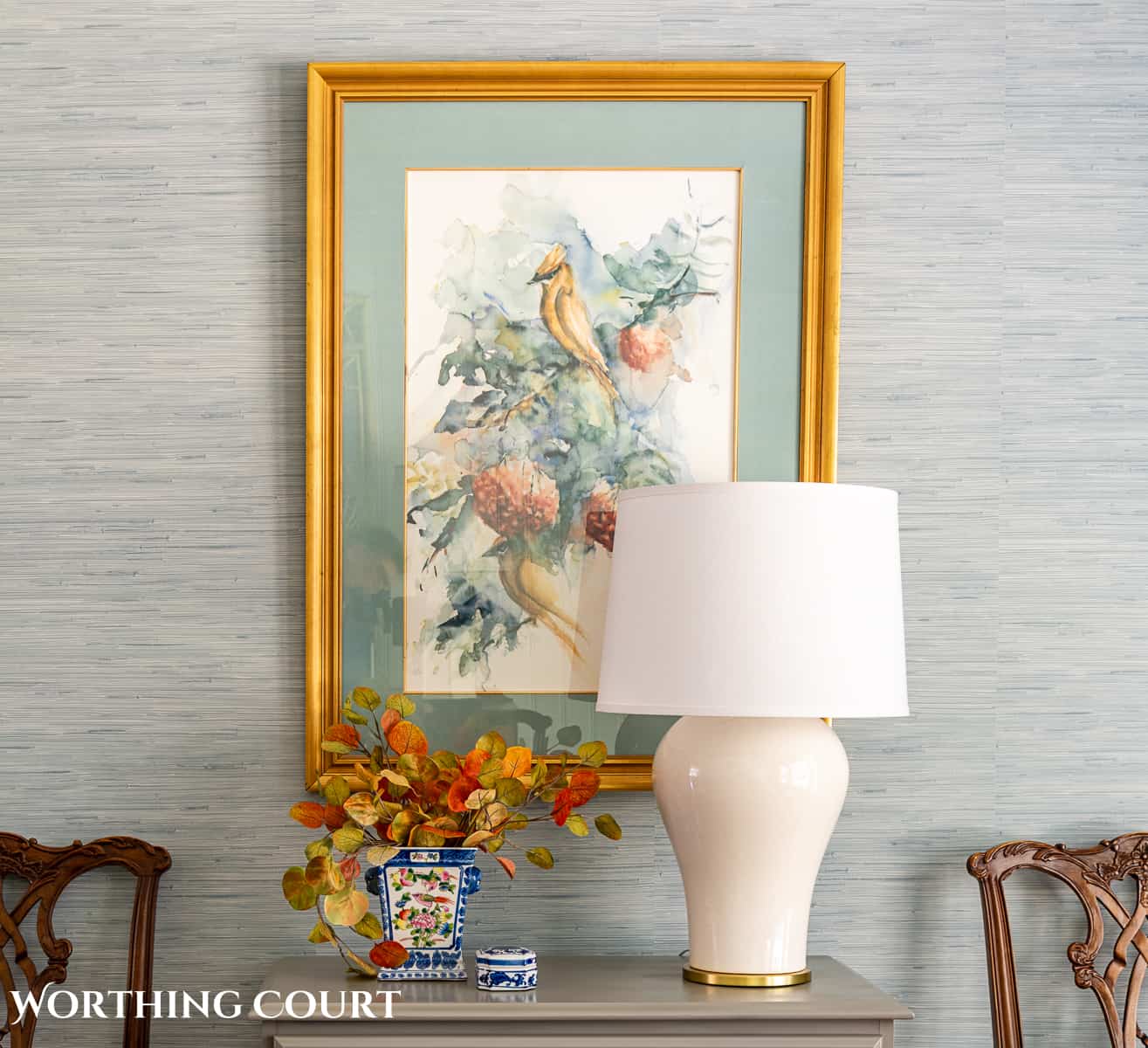 A new light fixture and rug are part of the plan too, but first I have to figure out what I want.
I already have fabric for making new draperies and think you'll be surprised at the final color scheme for this room. Stay tuned!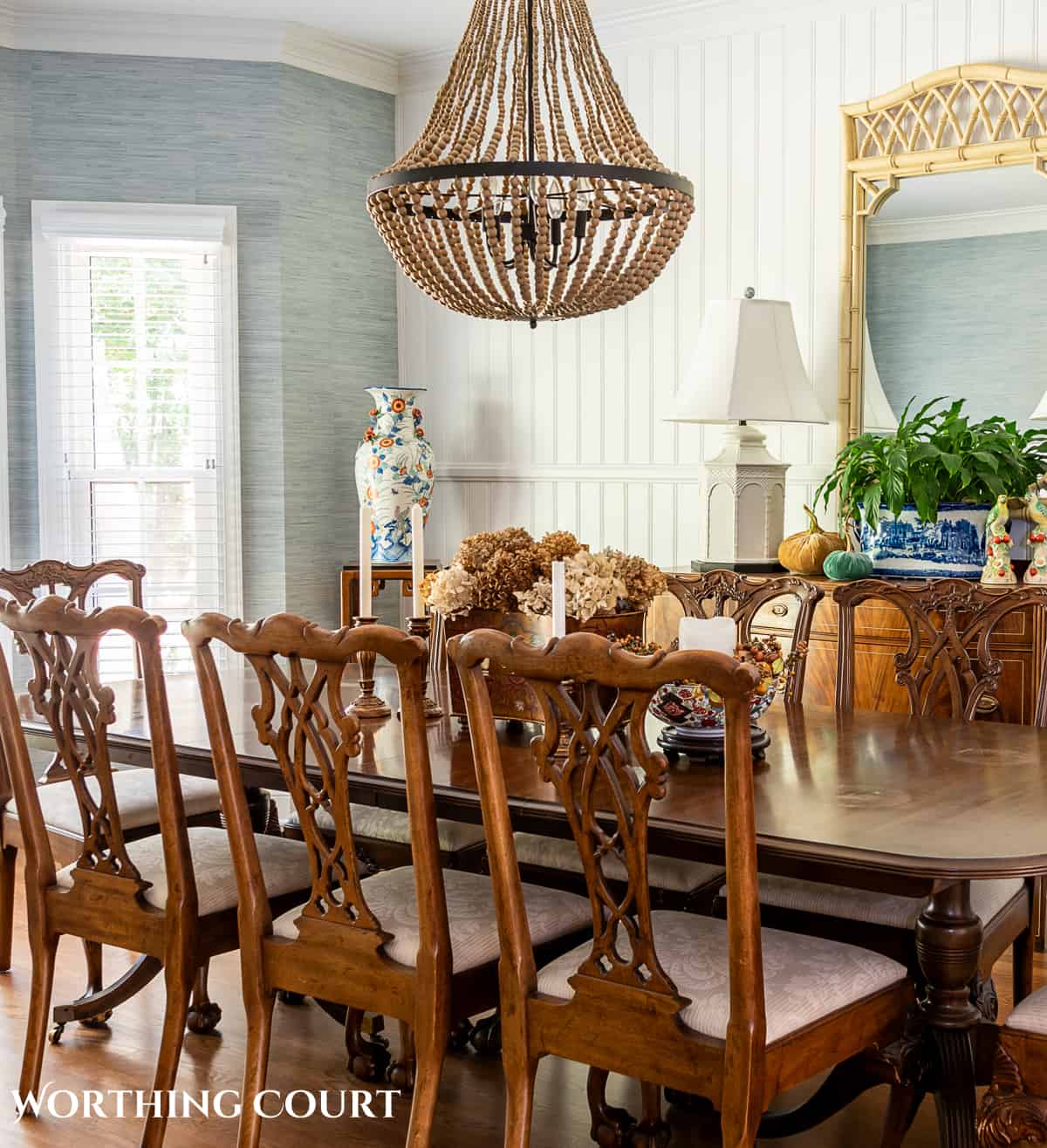 Thank you for visiting my little corner of the world today! Now you'll want to be sure to visit Southern Home And Hospitality, where my good friend Kate will show you how she's decorated her gorgeous home for fall.
Bloggers' Best Fall Home Tours
This week I am joining some of my blogging friends for the Bloggers' Best Fall Home Tours. Thirty talented and creative women will be opening their homes up for you to tour all week long. You can visit each Fall home tour by clicking the links below.
Monday's Tours

The Tattered Pew // StoneGable // My Wee Abode
Cottage On Bunker Hill // Bricks n' Blooms // My Thrift Store Addiction
Tuesday's Tours

She Gave It A Go // Midwest Life and Style // Open Doors Open Hearts
Peacock Ridge Farm // Cottage In The Mitten
Wednesday's Tours

White Lilac Farmhouse // Shiplap and Shells // The Ponds Farmhouse
WM Design House // DIY Beautify // This Is Simplicite
Thursday's Tours

Eleanor Rose Home // Robyn's French Nest // Worthing Court
Southern Home and Hospitality // Amy Sadler Designs // Our Crafty Mom
Friday's Tours

White Arrows Home // A Life Unfolding // County Road 407