My Updated Traditional Cottage Fall Family Room
Easy fall decorating ideas for your living room or family room that will inspire you when adding fall touches to your own home.
Welcome to another day of fabulous fall home tours! I'm super excited to invite you into my family room where I think you'll find lots of ideas to inspire you for decorating your own home this season.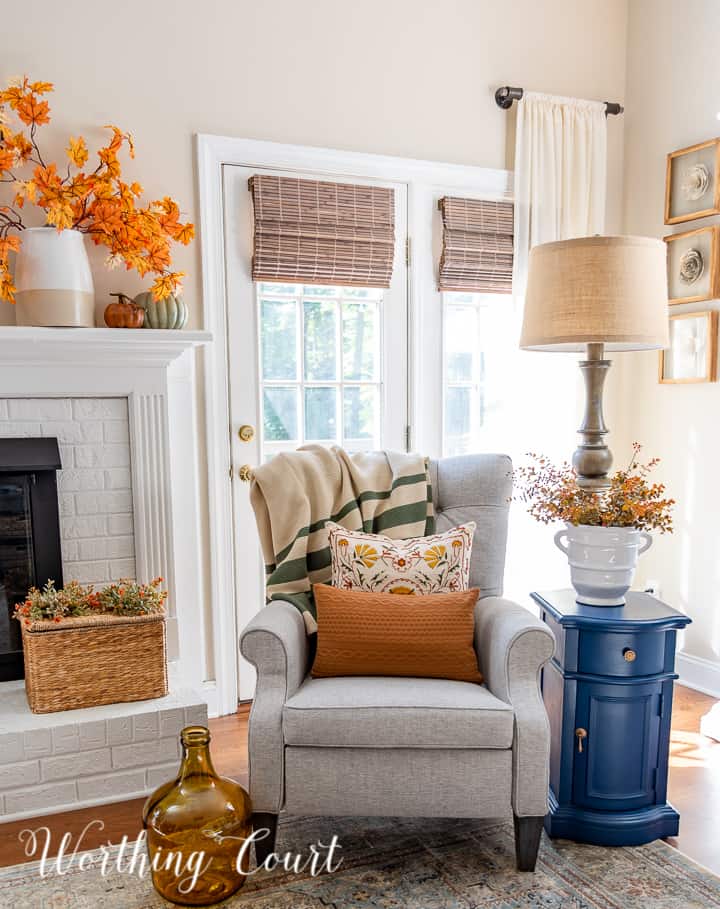 This post and photos may contain Amazon or other affiliate links. As an Amazon Associate I earn from qualifying purchases. If you purchase something through any link, I may receive a small commission, at no extra charge to you. Where possible, the exact product has been linked. If that product isn't available to link, I've linked something similar. All opinions are my own. See my full disclosure HERE.
Today, I'm excited to be joining a group of 30 of your favorite bloggers, hosted by Marty at A Stroll Thru Life, to give you a look at some of our favorite fall decorations in our homes
If you're coming over from Marty's home at A Stroll Thru Life, welcome to Worthing Court. I'm so glad you're here! Marty is one of the best at combining modern, traditional decor in her home and is always inspiring to me. She describes her style as chic on a budget – so true!
The one place in my family room that always sets the stage is our fireplace. It's definitely the focal point of the room and is one of the first spots that I decorate.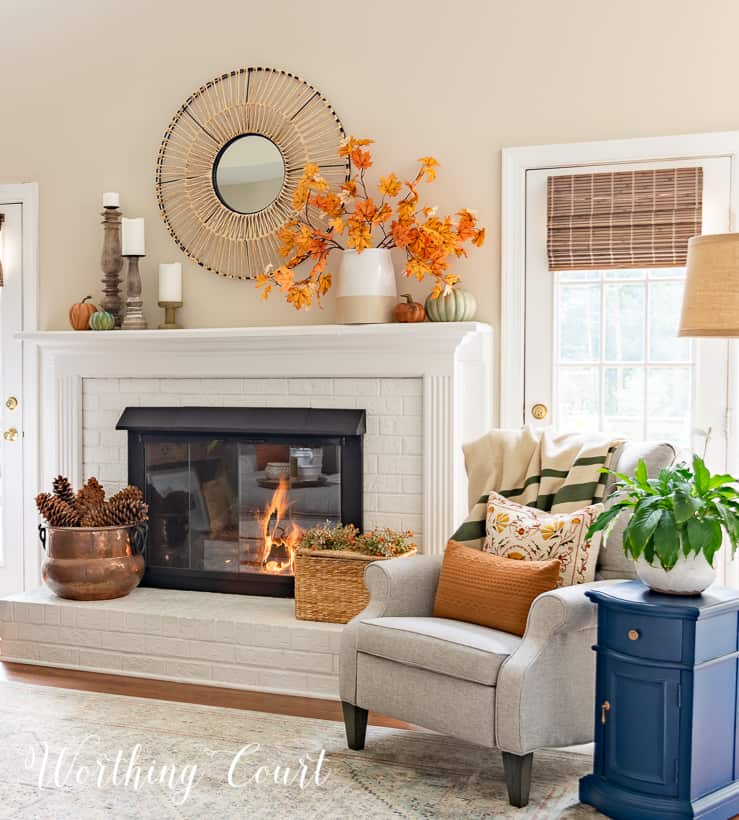 OLIVE & CREAM THROW BLANKET || LUMBAR PILLOW COVER
Once I've decided on the color palette that I'm going to use, I'm ready to take an inventory of my stash, do any necessary shopping and dive right in! In all honesty, a pair of crewelwork pillows that I stumbled upon at HomeGoods were the inspiration for the colors that I used this year.
BTW – to make things easier for you I've listed any items that are linkable below each photo, since I often get asked for my resources.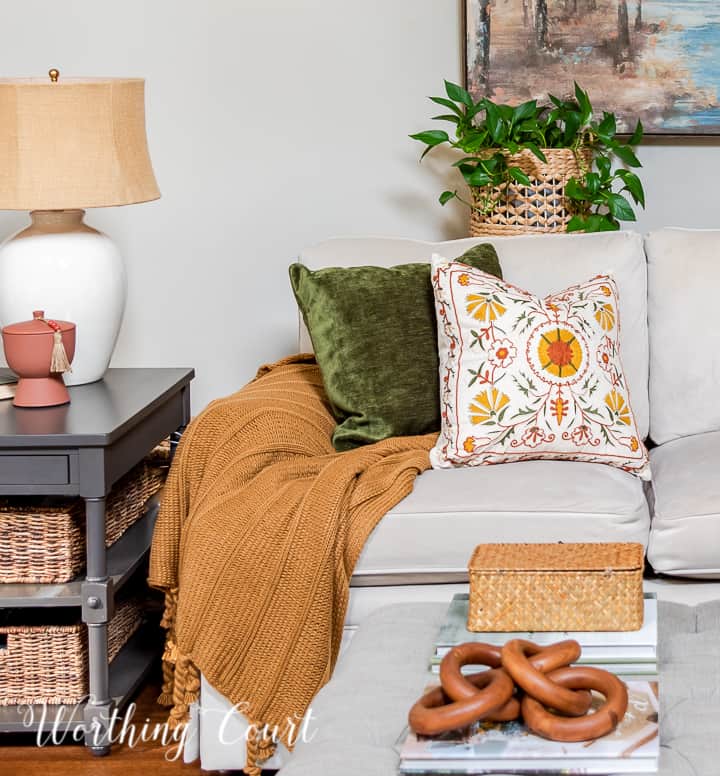 WOOD LINKS || SIMILAR THROW BLANKET || STACKING BOXES
This year, I'm using a color palette of warm ambers/browns, rust and deep saturated greens. Keeping things cohesive is really important to me, so you can take a look at how I used this same color palette and decor style in my breakfast room, which is directly off of our family room.
The room is rather large, has multiple entry points and has a vaulted ceiling, so it can be a little difficult to make the room feel cozy and inviting without filling it with too much stuff.
One of my tricks is to place furniture in groups, which can be hard when there are three entrances into a room that you have to leave clear pathways for.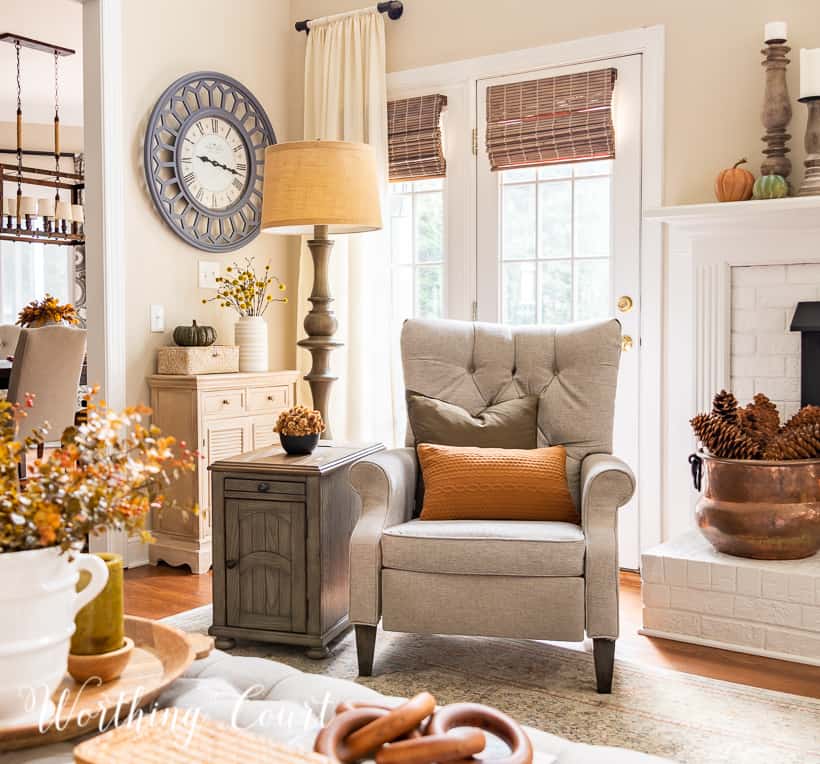 LINEN DRAPERIES || OLIVE GREEN PILLOW COVER || LUMBAR PILLOW COVER
Using textiles such as pillows and throw blankets and lots of texture spread throughout the room really amps up the cozy factor, even when your furniture is spread apart.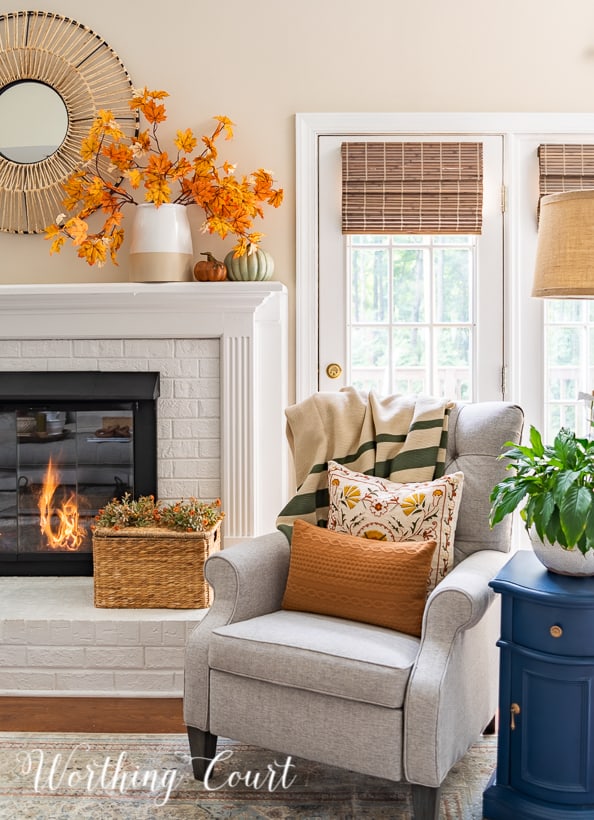 OLIVE & CREAM THROW BLANKET || LUMBAR PILLOW COVER
I love that our fireplace is flanked by a pair of French doors as it really helps to frame out the whole wall. We don't actually use these doors, so I treat them as windows by placing furniture in front of them.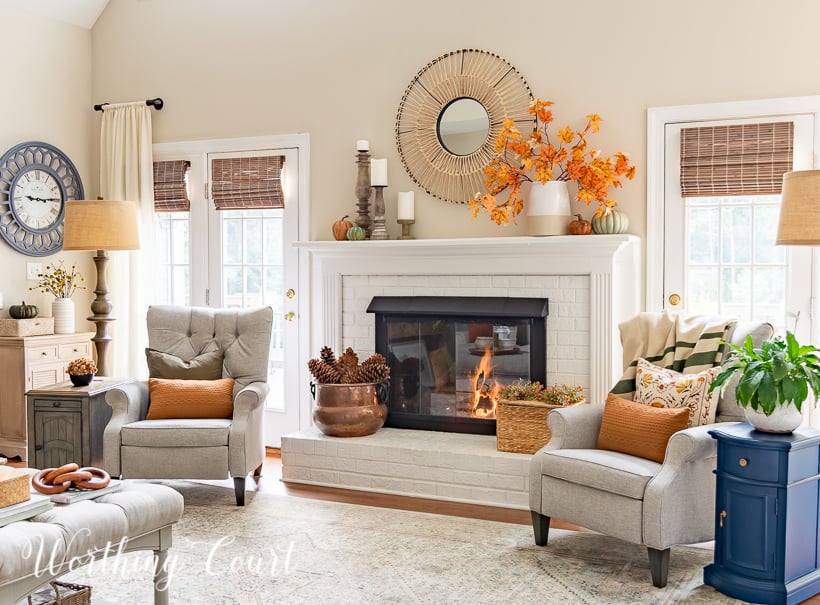 LINEN DRAPERIES || OLIVE & CREAM THROW BLANKET || OLIVE GREEN PILLOW COVER || LUMBAR PILLOW COVERS
Instead of using lots of little things on our mantel and hearth, I kept it simple by using large'ish items that are eye-catching and make a statement all on their own.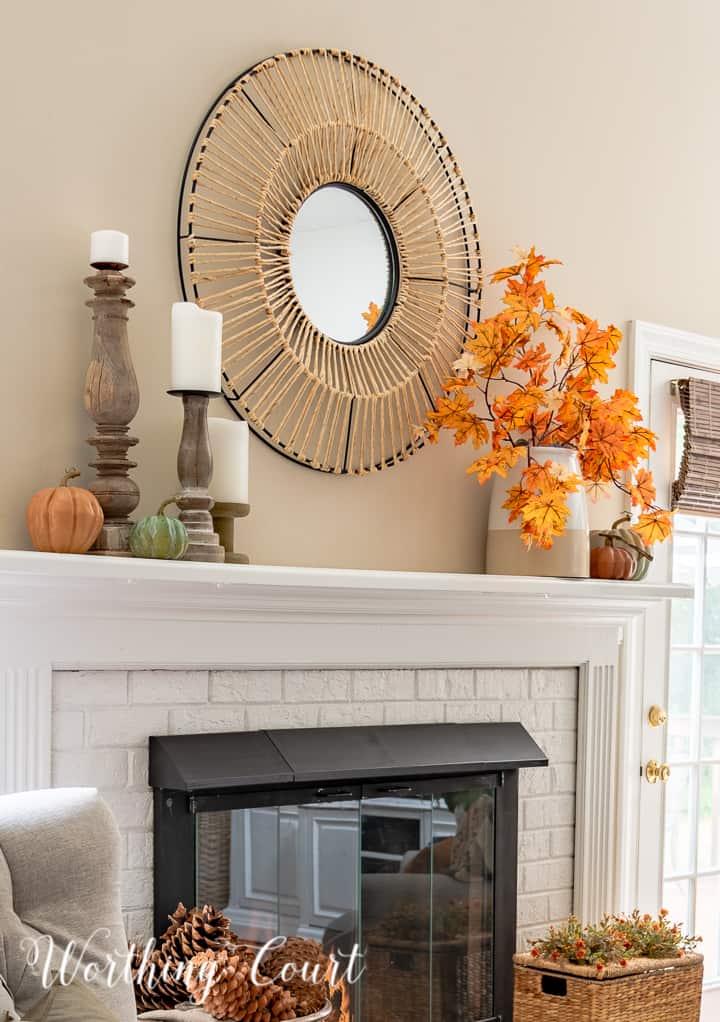 I kept the pumpkins to a minimum, but I had to have just a few. winkwink
I think the debate over real vs faux pumpkins is just a hot as the debate over real vs faux plants. Faux is the way to go for me since it gets super expensive buying real pumpkins year after year, plus it allows me to decorate as early as I like. I actually decorated this room in mid-August before real pumpkins could be found anywhere.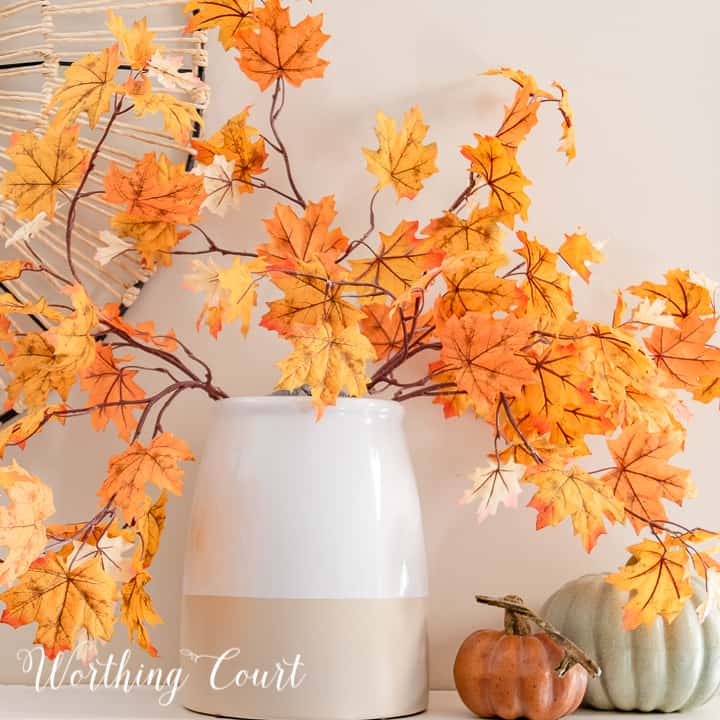 Our property is surrounded by woods, so you'll often find me enjoying the scenery through the French doors, when sitting in "my spot" on the end of the couch that's across from the fireplace.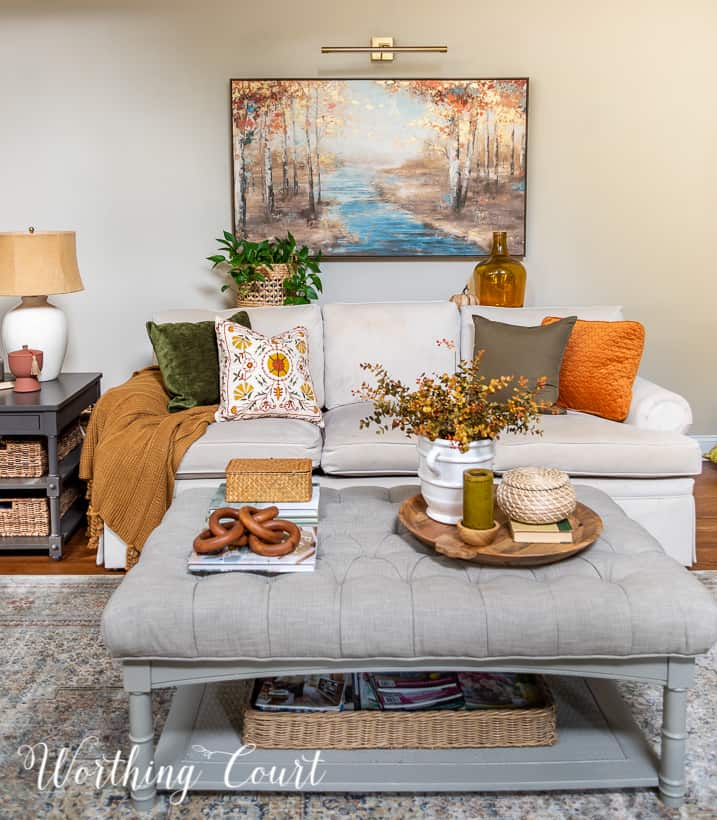 I've been working my way through multiple rooms in my home to give them a more simplified and updated look. One of the changes that I made in my family room was to change the wall behind the couch.
The wall was previously filled with a gallery of six complimentary framed prints with three farmhouse style lights above to highlight them. You can see its previous look HERE.
I changed those out for a large single canvas topped with a brass gallery light. It's just for looks as it isn't hardwired. The canvas has some shiny spots of gold on it which I plan to tone down with a tiny bit of dark wax. One more thing on my to-do list. Ha!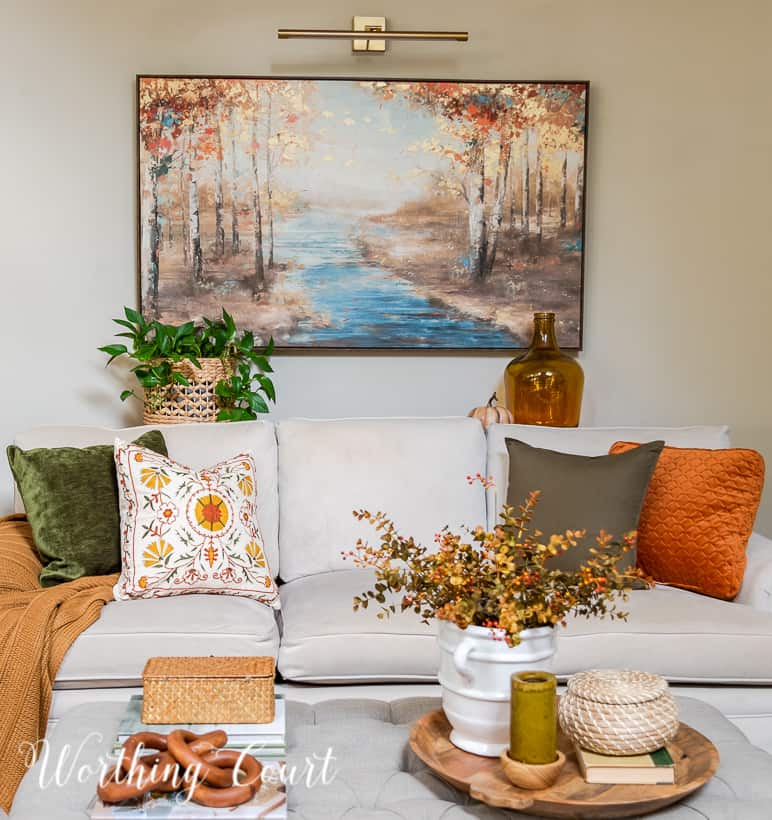 GALLERY LIGHT || ROUND WOOD TRAY
My coffee table is actually an old, old table that I found for a steal several years ago and sent to my upholsterer for a makeover. What a fabulous job he did!
I always decorate the table with a vignette on one end and a few books and pretties on the other. Creating a different vignette is one of the easiest ways to change the look of a room, especially for a specific season. If you find vignette creation to be a challenge, click right HERE to see my step-by-step guide to successfully creating a fall vignette.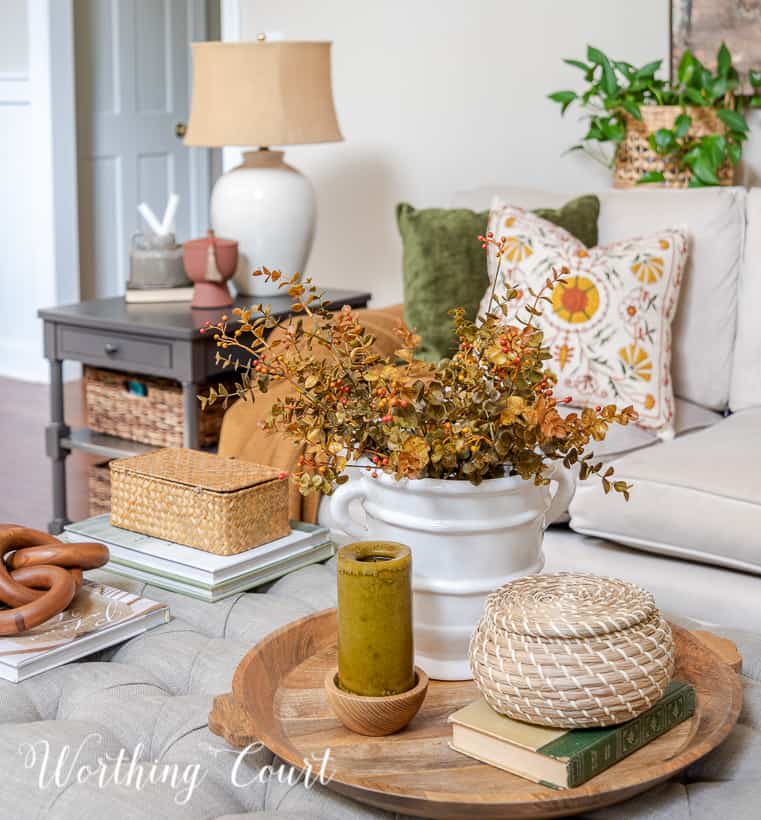 ROUND WOOD TRAY || ROUND STACKING BASKETS (set of 3)
As much as I love them, I resisted the urge to purchase any of the large oversized links that everyone is decorating with. And that's why I resisted – it seems that everyone is using them. But when I stumbled across THESE, I knew they would be perfect for adding a fall touch to my coffee table and they are! I can see myself using them in multiple places around my home year after year.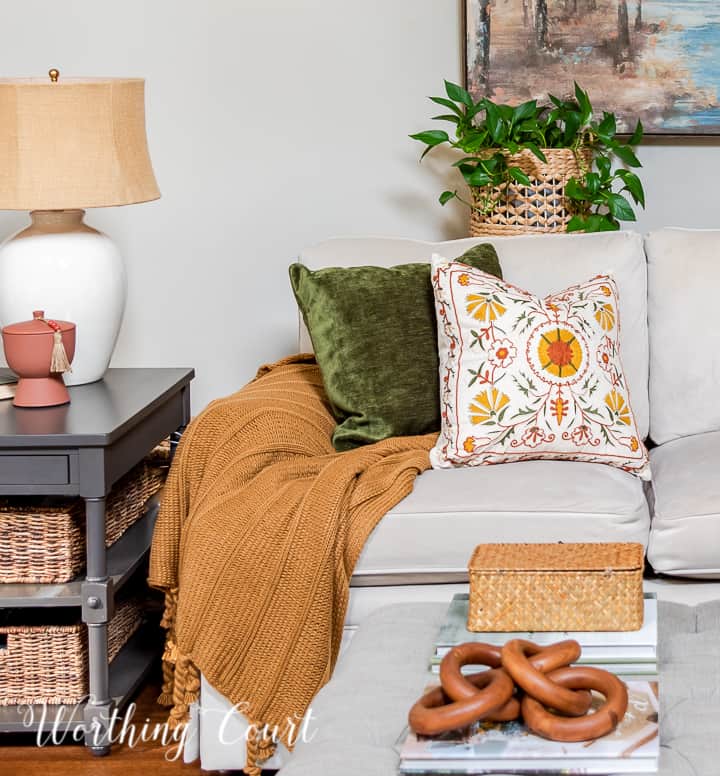 WOOD LINKS || SIMILAR THROW BLANKET
The last spot in our family room that I'd like to share with you is the entertainment center that resides at the end of the room, opposite from the entry from the breakfast room.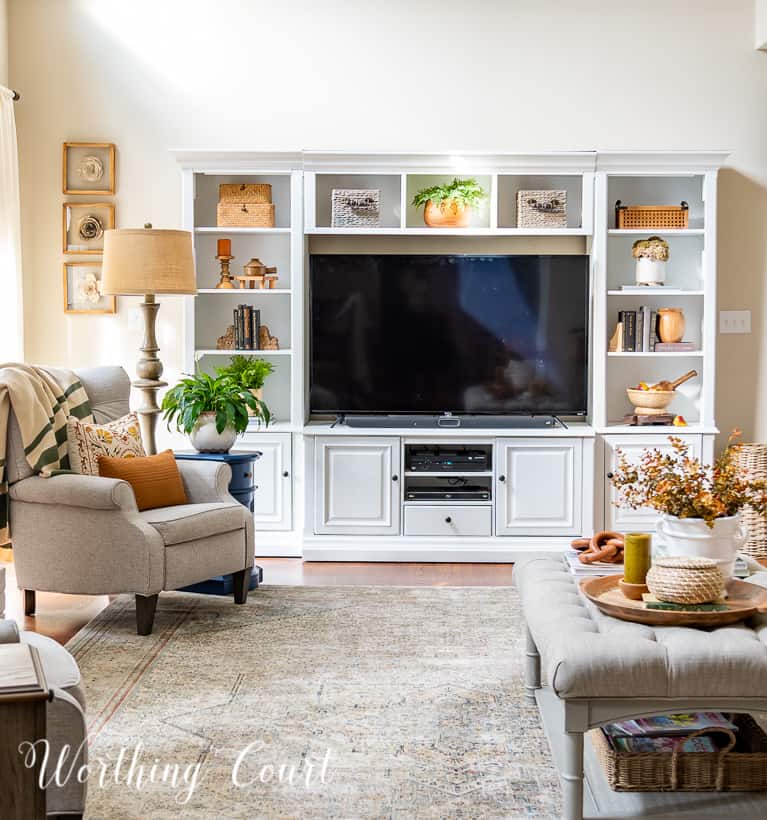 It would be lovely not to have a huge black box in my room, but….compromise. Right?
I don't completely redecorate the shelves for each season, but do switch just a few things out for something more seasonal.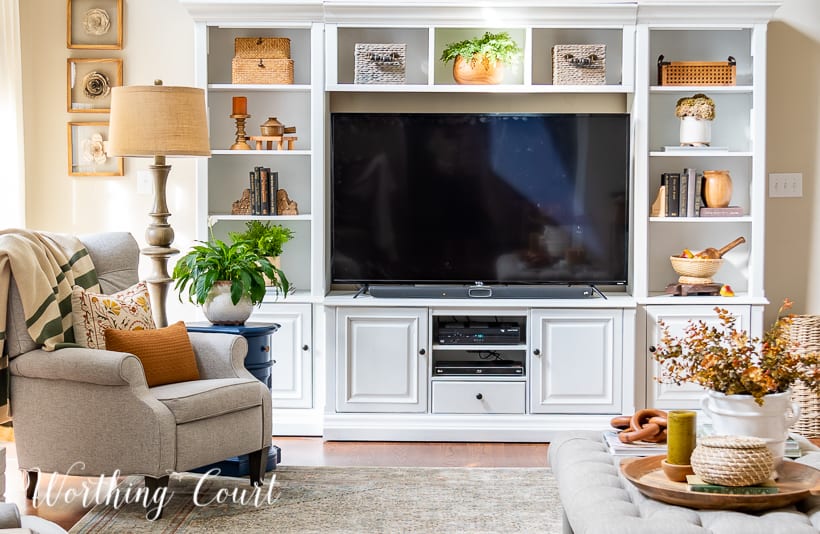 STACKING RECTANGULAR BOXES (set of 3) || FAUX PEARS
Thank you for stopping by for a visit to my family room today! We're bloghopping all week long, so be sure to come back tomorrow to tour the beautiful home of Tammy from Pink Peppermint Style.
Monday Sept 13 – – –
A Stroll Thru Life – Inspiration for Moms – Worthing Court
Pink Peppermint Style – Clean And Scentsible – LeCultivateur
Tuesday Sept 14 – – –
Southern State of Mind – This is Our Bliss – Cuckoo4Design
11 Magnolia Lane – Decor to Adore – Noting Grace
Wednesday Sept 15 – – –
Grace In My Space – Remodelando la Casa – Whispering Pines Homestead
Up To Date Style – The Stonybrook House – Thrifty and Chic
Thursday Sept 16 – – –
CitrineLiving – Our Southern Home – Southern Hospitality
Hymns and Verses – A Pretty Life in the Suburbs – DIY Beauty
Friday Sept 17
Golden Boys and Me – StoneGable – Quarters One
The Woodgrain Cottage – White Arrows Home – Chalking Up Success