How To Make Mini Valentine's And A Free Printable
I will show you how to create mini Valentine's that anyone would love to receive!
One of the items in the Valentine vignette in my foyer was a bowl containing mini Valentine's.  You might remember me saying that it is my intention to share these little snippets of love with everyone who stops by for a visit during this time of year.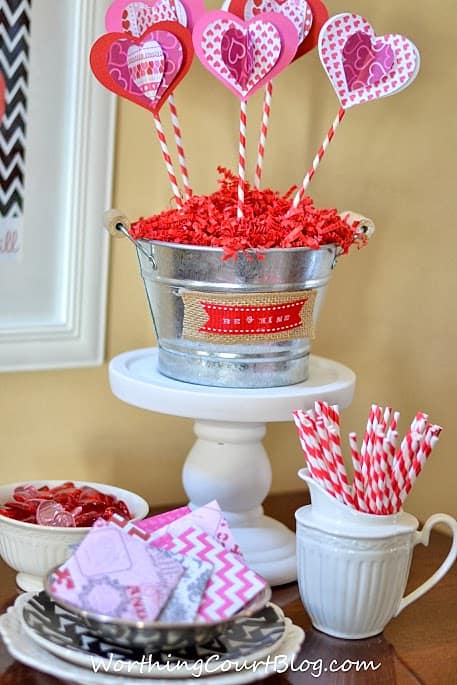 Pin
I wanted to share how you can make some of these cute Valentine's for yourself.  This is a project that the kiddos can certainly participate in.  In fact, they would probably love to make some for their own friends.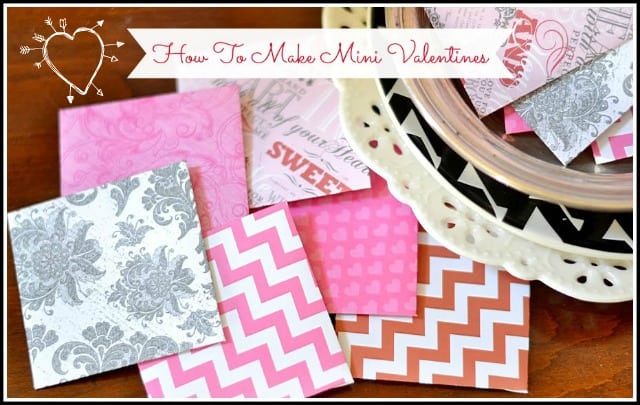 Pin
When I started this little DIY project, I had no idea it would be a meaningful and somewhat healing project for me.  So let me share a little story with you before we get started.  But don't worry, it has a happy ending.   😀
There once was a little girl who struggled at home.  She struggled to gain her parents attention and to feel loved.  Her parents were doing the best that they could, but they had issues of their own so the little girl mostly felt left out and very lonely.
All of that would change every February 14th though, when the annual Day of Love would roll around.  That was the day when the little girl could count on being told she was loved over and over – even if it was only on a paper Valentine.
There was much anticipation leading up to that special day every year.
And there were many preparations.  Old shoe boxes had to be gathered and decorated.  Candy had to be bought.  And best of all, the perfect Valentine's with the perfect message of love had to be found.
And then that special day would finally arrive!  The little girl would watch all day to see who would stuff messages of love into her specially decorated box that was placed just-so on her desk at school.  And she would smile each and every time someone paused to leave her a card.
Finally, late in the afternoon, the teacher would pour the punch and pass out the cupcakes so that everyone could celebrate loving one another.  And the little girl would smile and feel loved with every Valentine that she opened.  It was a very special day.
You probably guessed that the little girl in the story is me.  Valentine's Day was one of my favorite days of the year when I was growing up.  I had forgotten a lot of those feelings until I was making these cute little mini Valentine's.  I was transported right back to a happy part of my childhood.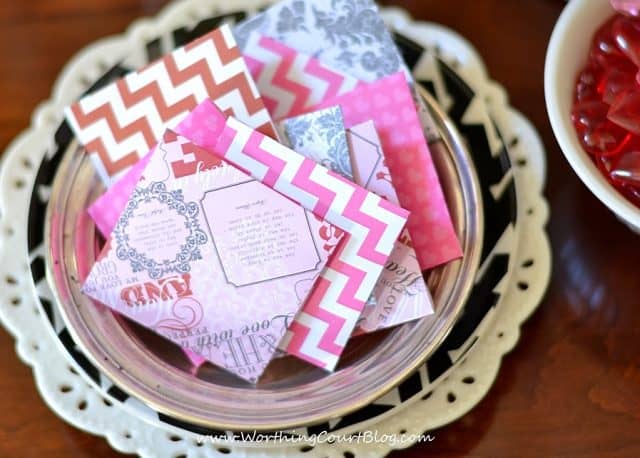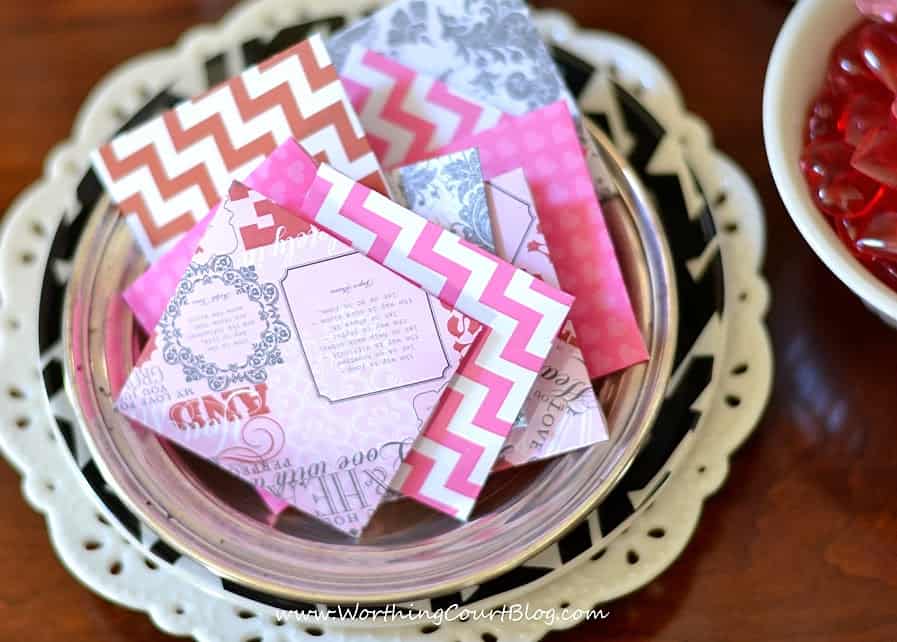 Pin
Here are the supplies that you'll need:
assorted sheets of scrapbook paper, one sheet of 12 x 12 paper will yield 4 envelope templates
glue dots or double-sided tape
 1 sheet of white, 8 1/2 x 11 cardstock paper per page of message printouts (link to printout is below)
scissors
envelope template (provided below)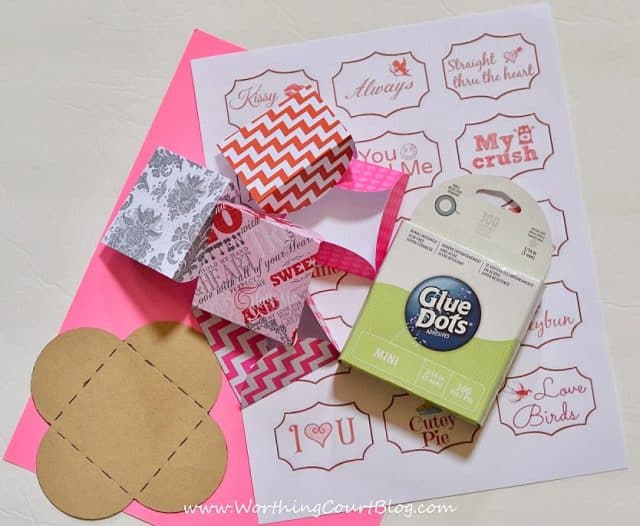 Pin
 These couldn't be easier to make.
1. Print and cut out the envelope template.  Click HERE to download the template.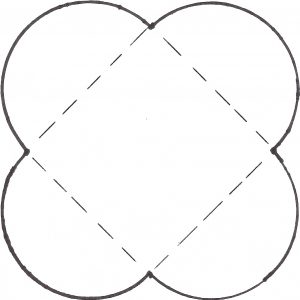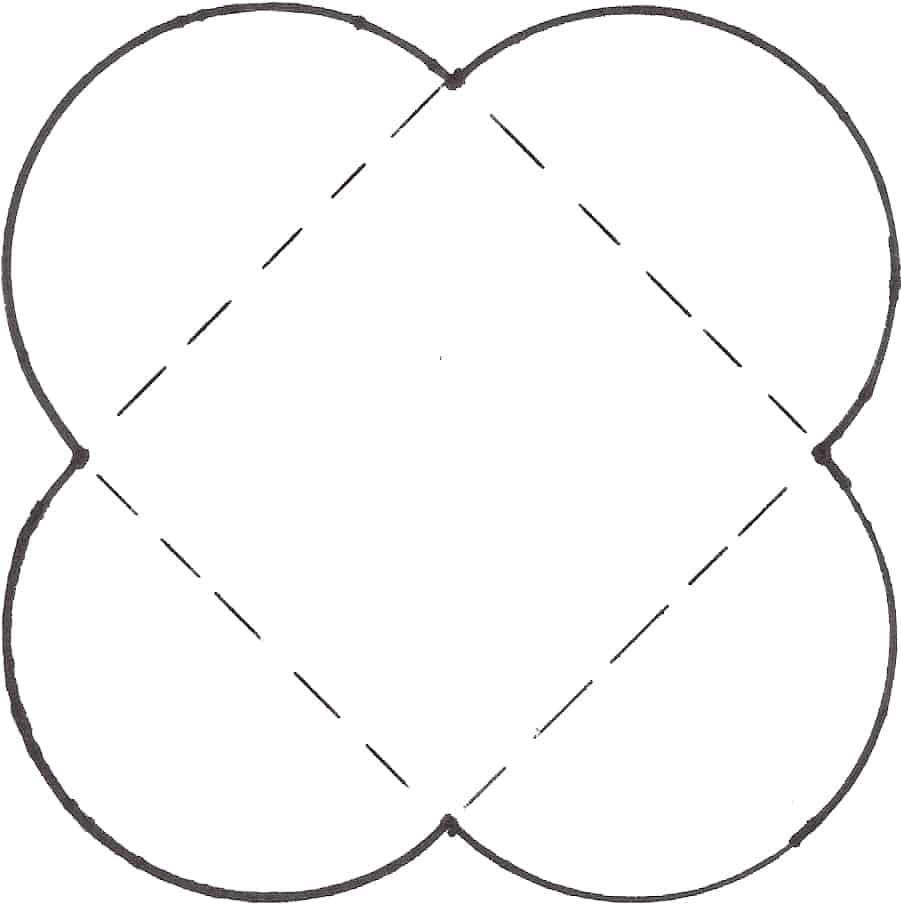 Pin
(This is shown smaller than the actual size)
2. On a piece of scrapbook paper, trace around the edges of the template and cut it out.  The dotted lines are fold lines.  You can mark them if you choose to, but basically you're just going to be folding a flap in at each set of corners.
3. Print out the mini Valentine messages on a piece of white 8 1/2 x 11 cardstock.  Cut each message out.  Click HERE to download the printout.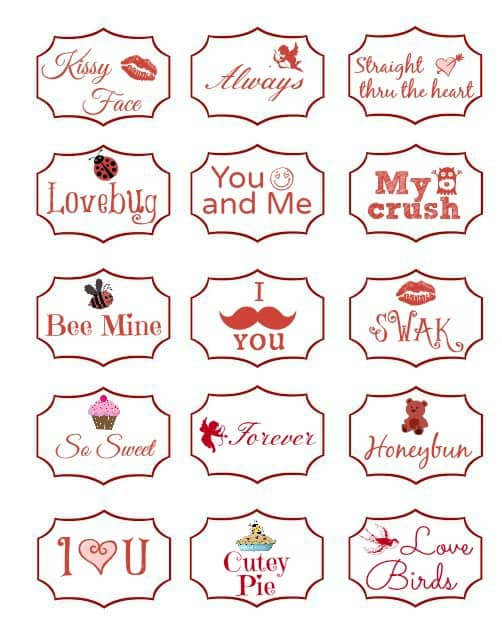 Pin
4.  Lay one of the mini messages on top of the wrong side of the scrapbook paper envelope cutout.  I've drawn a dotted line along the fold lines and have numbered each flap to show the order in which the flaps should be folded in.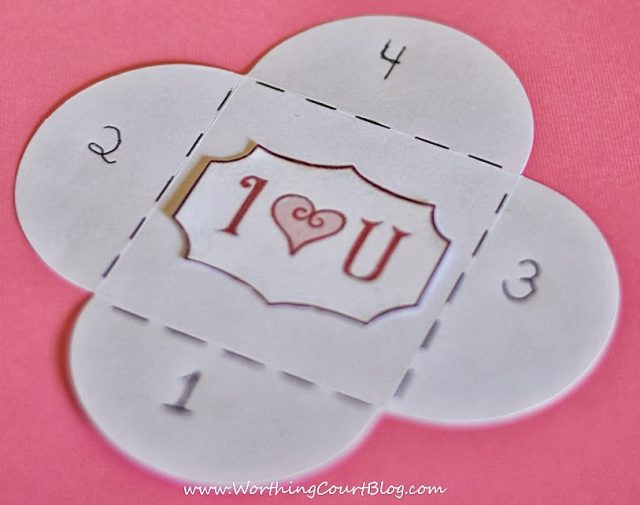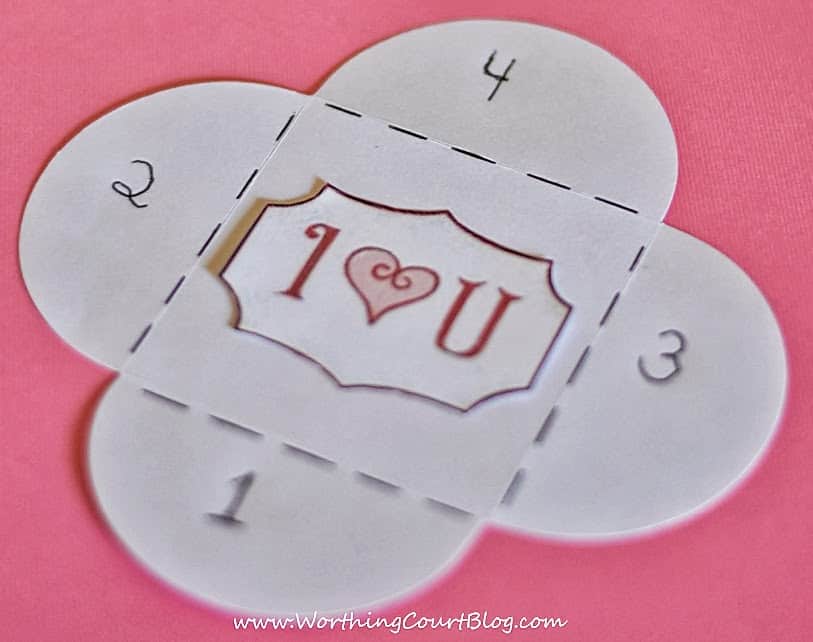 Pin
 5.  Add one glue dot in the middle of flap #4.  Then proceed to fold each flap in, in the order they are numbered.  Press down when folding flap #4 to "seal" the envelope.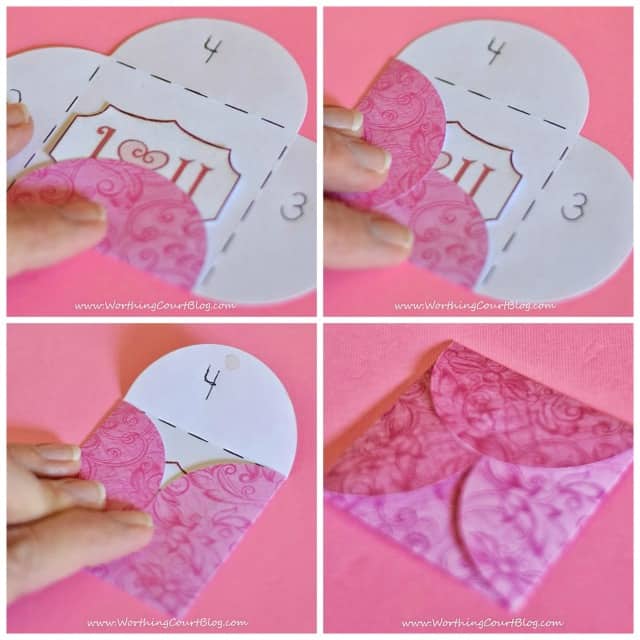 Pin
 And there you have it!  Adorable little envelopes filled with love for that special someone.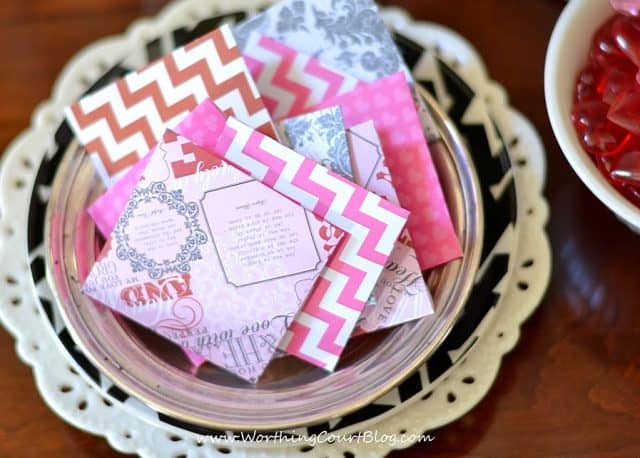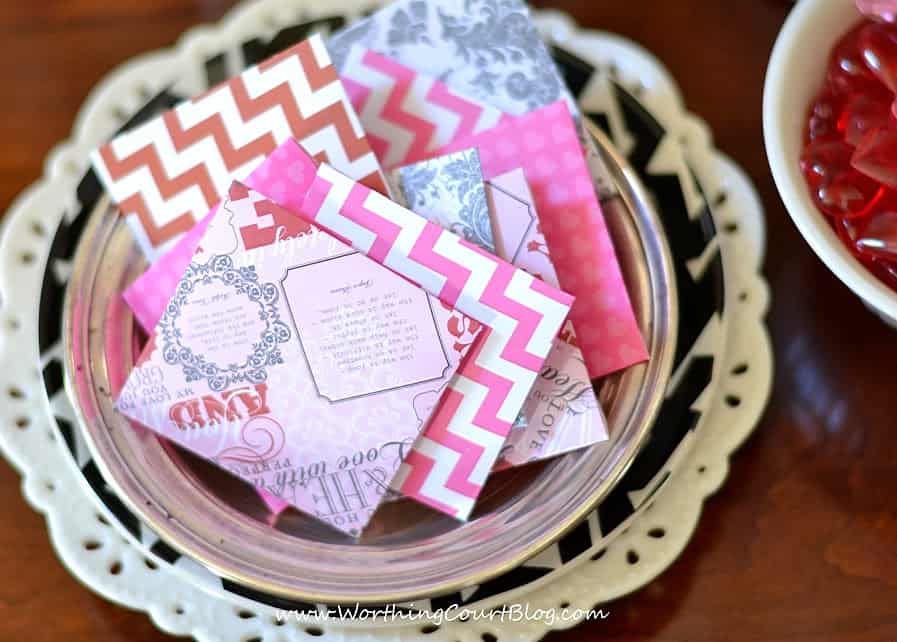 Pin
You can even tuck a few small pieces of candy inside to sweeten the deal.  (You might need to add a piece of tape to the back of the Valentine if you add any candy.)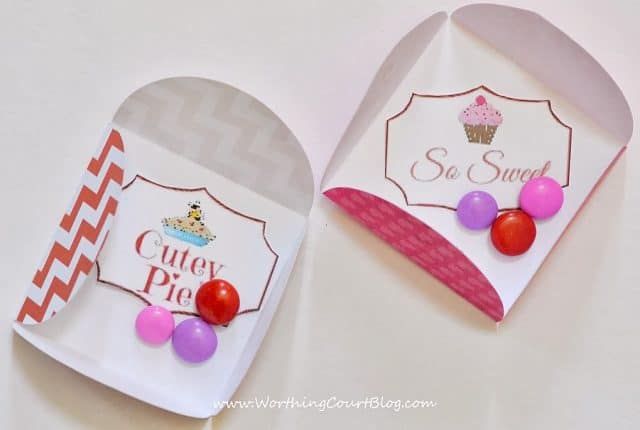 Pin
Oh – and that little girl?  She grew up and was blessed with a husband who shows his love for her a thousand ways every day.  She was blessed too with children and stepchildren and grandchildren and friends to lavish her pent up love on.  And they in return have filled her heart beyond measure.
So while you're celebrating this season of love, just remember – you never know who's heart you may be touching.
And he said to him, "You shall love the Lord your God with all your heart and with all your soul and with all your mind.  This is the great and first commandment. And a second is like it: You shall love your neighbor as yourself.  Matthew 22: 37 – 40