This post was sponsored and paid for by SunTrust Mortgage. All opinions are my own.
When we purchased our current home (almost three years ago!), it was the fulfillment of a long standing dream of mine. We knew that we wanted a fixer-upper and that's what we set out to look for. When the 'right for us' house came along, I couldn't have been more excited to get my hands on a true fixer-upper that we could put our own stamp on!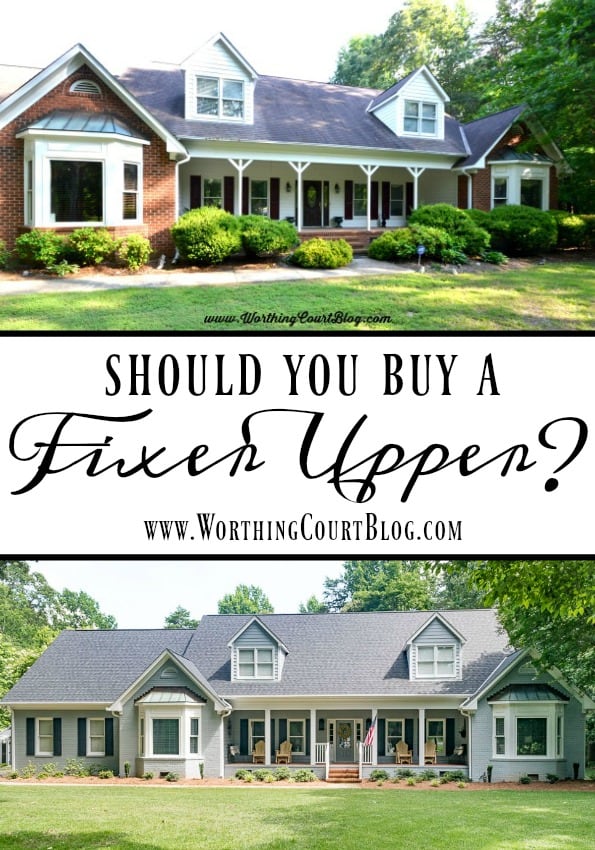 Purchasing a home is one of most exciting things that you'll ever do, but there much to think about and it can be a bit overwhelming. If you're just starting the home-buying journey, you'll find the "Your Guide To Home Buying", from SunTrust Mortgage, to be very helpful! SunTrust truly wants to help buyers understand the ins and outs of the whole home buying process. This guide will give you the confidence that you need to make it happen.
We knew up front that we had a WHOLE house that needed remodeling and updating. Shows on television make renovations look so easy and fast, but the truth is they usually aren't. The temptation is to just dive in and do everything yourself, but we knew that taking that approach could turn into a disaster for us. Neither one of us wanted to live with a remodel for years and years, plus there were budget and diy ability constraints that had to be taken into consideration.
First, we carefully looked at the major projects that needed to be done, such as window replacement, flooring, kitchen remodel and a bathroom remodel. Our next step was to make a list of all of the smaller projects that needed to be done throughout the house. After that, it was simply a matter of breaking everything down into what we wanted to hire-out and what we wanted (and felt qualified) to tackle ourselves.
Our kitchen remodel is the perfect example of a project where we felt qualified to do a large part of the work ourselves, but we knew it would take so long to complete, that we really couldn't even project a completion date. Even though budget was a huge consideration, the time factor convinced us that we needed to bring in professionals. One area we knew we could save money though, was to do the demo ourselves. It only took my husband and son-in-law a couple of hours to remove all of the old counters and cabinets from the kitchen. From there, we turned the job over to the experts who installed hardwood flooring, the cabinets, countertops, backsplash and did all of the plumbing and electrical work.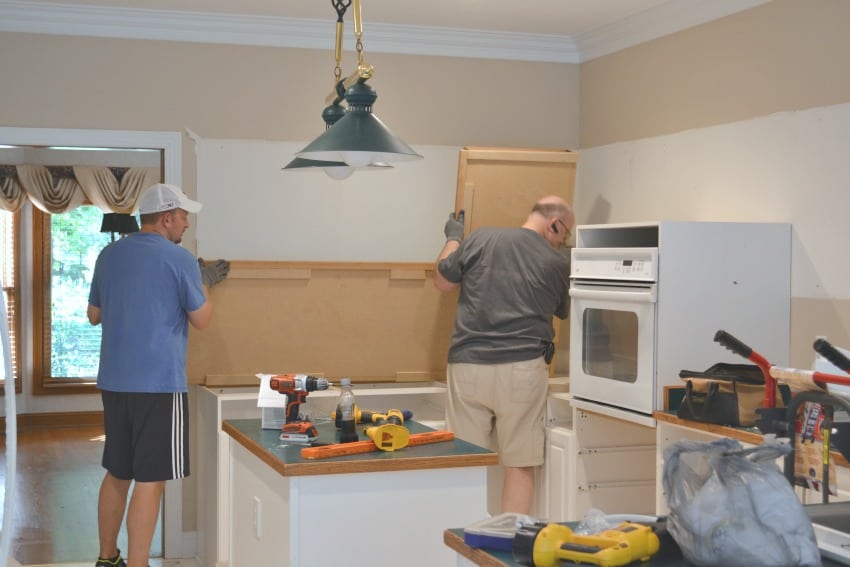 Once the room was completely empty of the old cabinets and appliances, we laid out the new cabinet and appliance arrangement ourselves, by placing masking tape on the floor. For two people who have zero experience with kitchen planning, we are absolutely thrilled with the end result! My favorite part? It has to be the gorgeous statement hood above my cooktop! Click HERE to see the full kitchen reveal with before and after photos.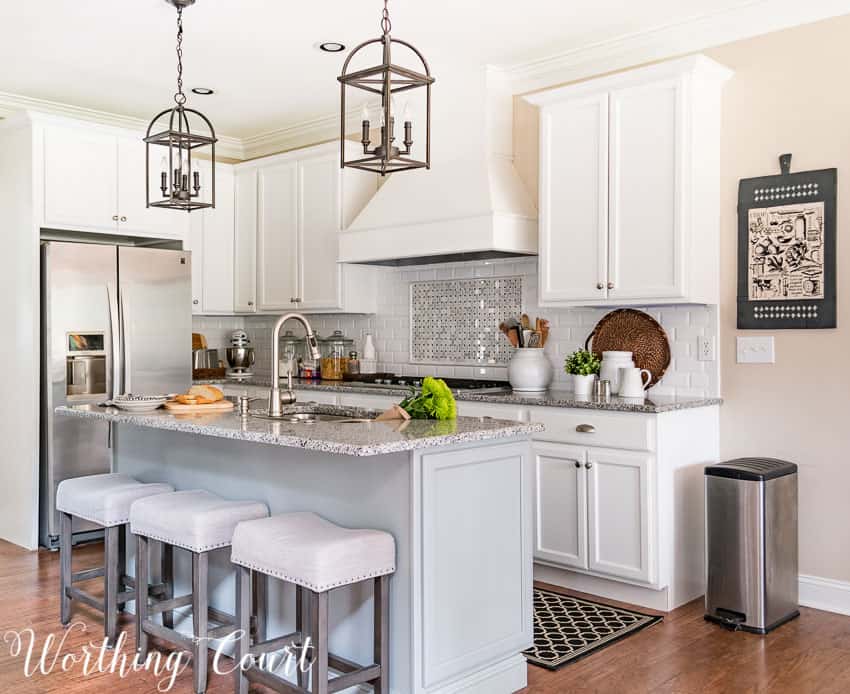 There have been many, many projects that we've tackled ourselves though! Making the decision to diy as many of the smaller projects as we could, has given us room in the budget to bring in the pros and get some projects completed more quickly than we could have done them.
Our laundry room was another gut job. Even though my husband has basic carpentry, plumbing and electrical skills, we made the decision to let the experts take care of the rough-in electrical, rough-in plumbing and replacing the flooring. The rest of it – installing cabinets, installing a countertop, sink and faucet and adding the shelf above the washer/dryer was done by us. We saved a huge amount of money by reusing some of the old cabinets that were part of the original kitchen. Check out the full reveal and before and after's of this room HERE.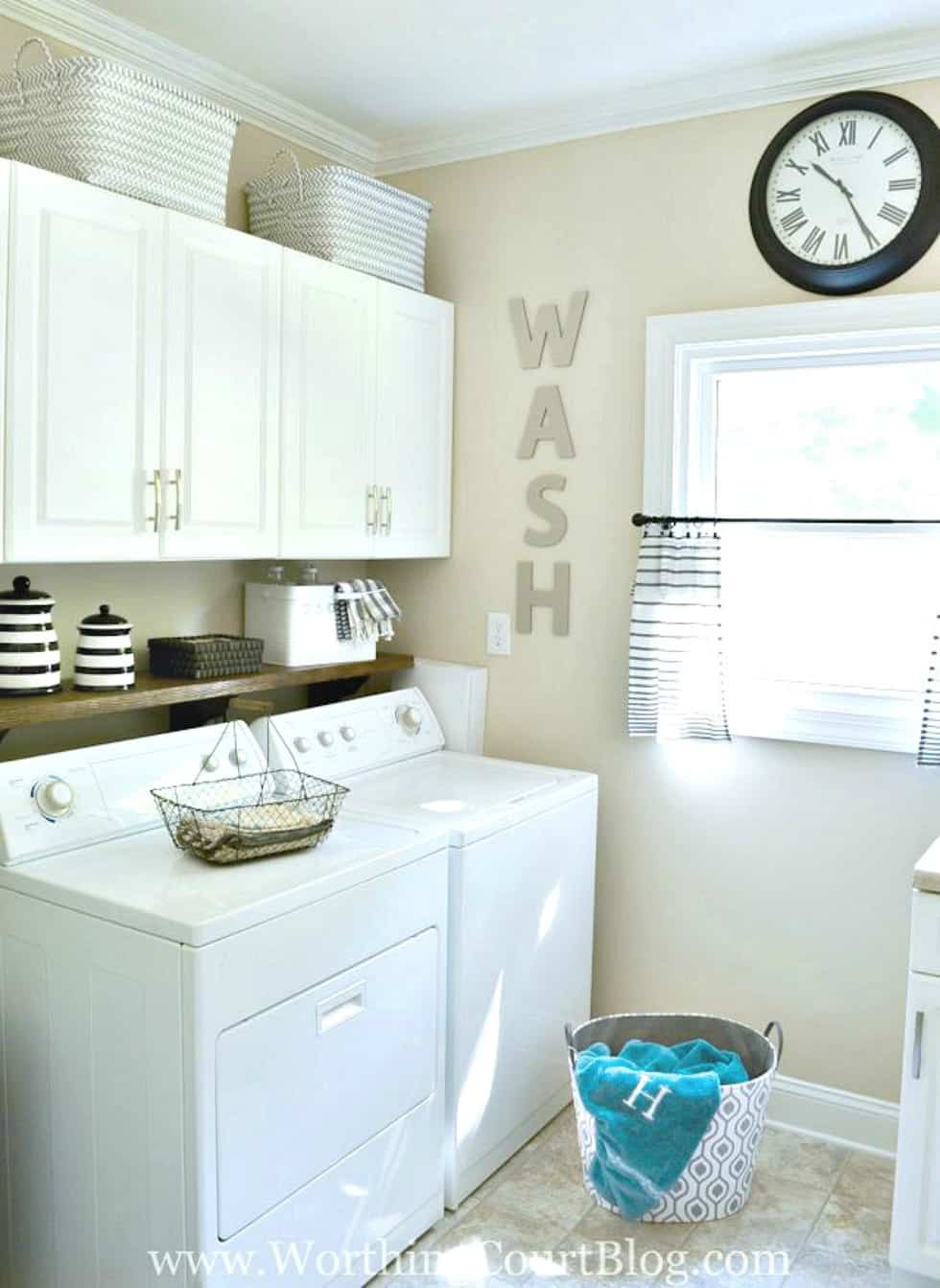 Once the pros had completed the major projects in the house, the remaining projects were mostly small diy and cosmetic updates. We were ready to truly turn our house into the home of our dreams! It has been difficult, but I have FORCED myself to focus on completing one room at a time.
We diy'd several smaller projects in our breakfast nook, such as the open shelves, replacing the old light fixture and adding diy budget draperies and hardware. Click HERE to see the full reveal.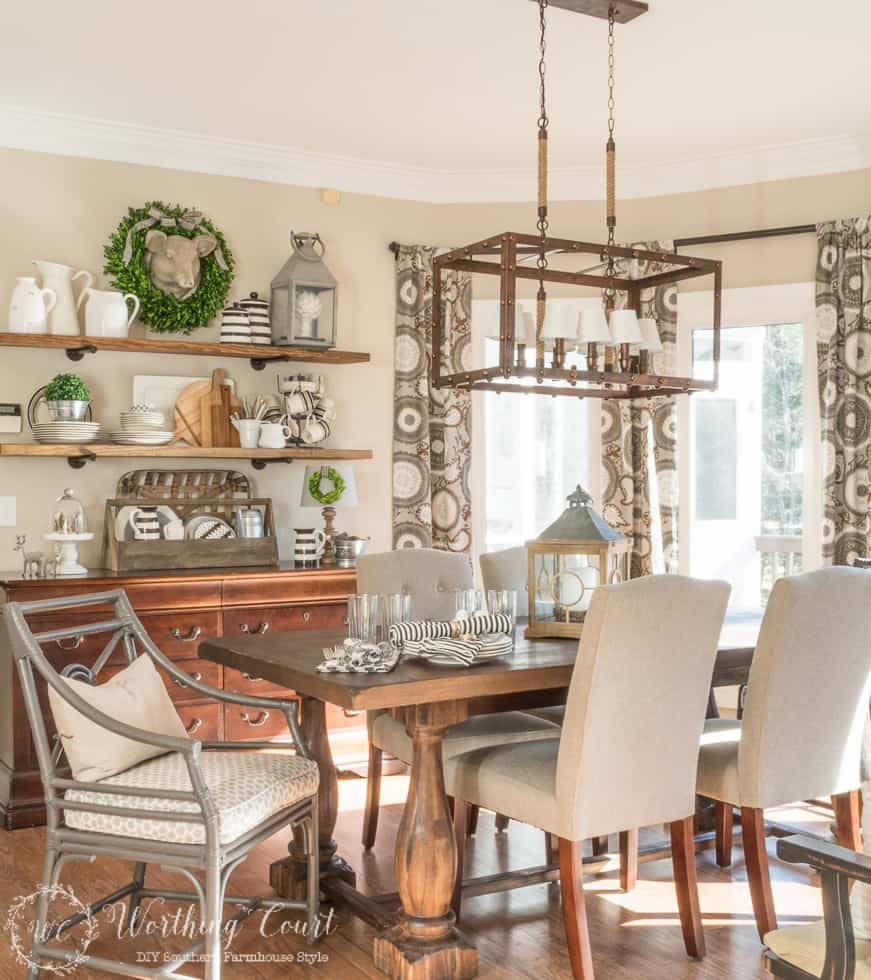 The makeover of our dining room required removing the dated wallpaper and light fixture and painting all of the stained trim. A couple of very simple diy projects later and the whole room looks totally different! See the full room reveal HERE.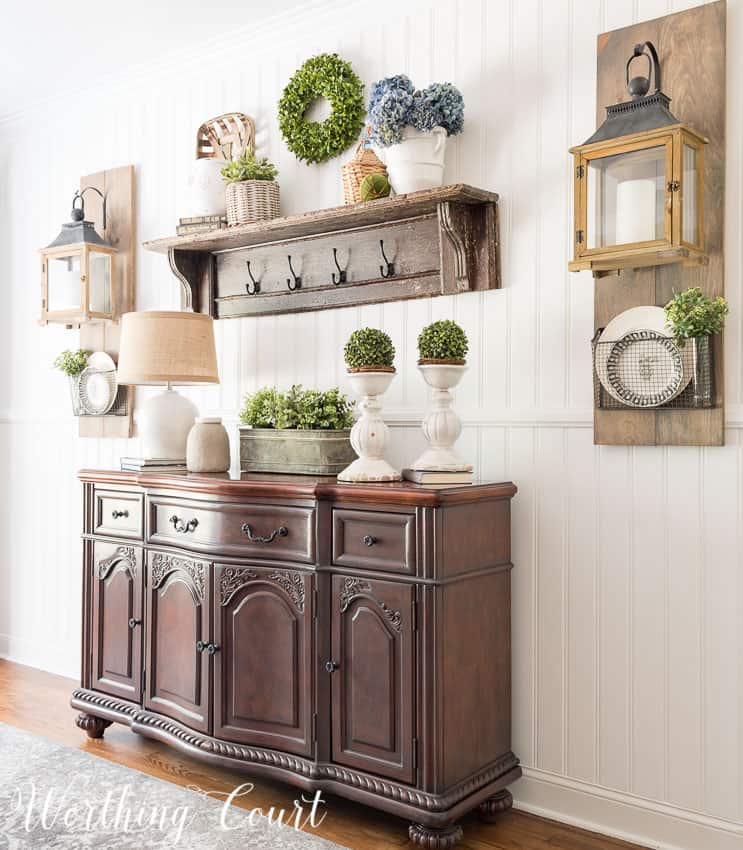 A super fun diy project for the makeover of our home office was turning a cheap set of fake cherry bookcases into something much more updated and functional for us. Click HERE to get the tutorial and click HERE to see the full office transformation.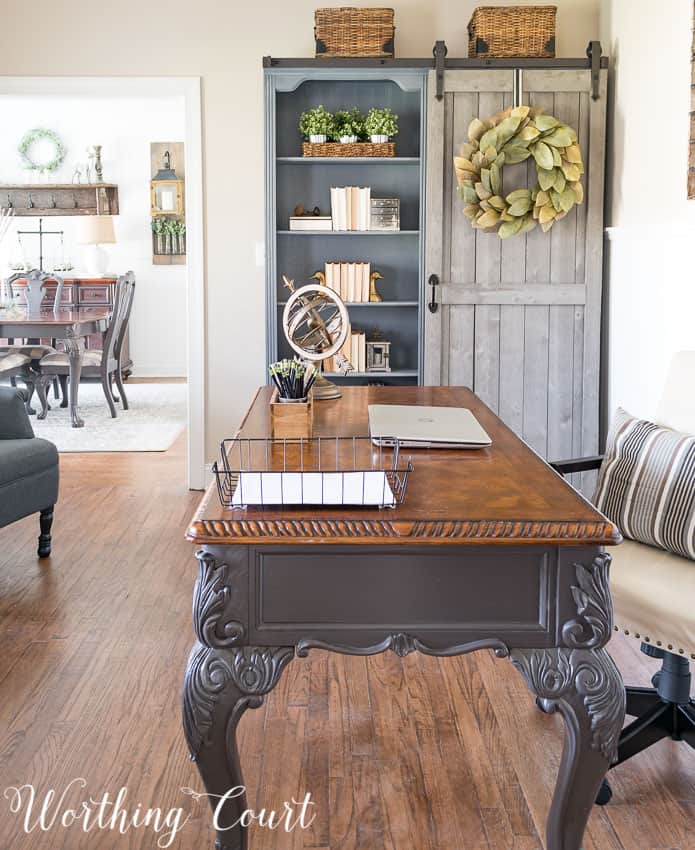 These are just a few of the many, many projects that have been completed in our home. As we continue to make our way through our home, room by room, I'm sure we'll have more decisions that need to be made – should I diy or call the experts?
At SunTrust Mortgage, we make it a priority to learn all about your unique circumstances. Confidence starts with a conversation.
Talk with a SunTrust Mortgage expert today.
This post was sponsored, and paid for, by SunTrust Mortgage. All opinions are my own.