How To Create The Small Front Porch Of Your Dreams
Here are five easy ways to decorate a small front porch to add to your home's curb appeal and to create a welcoming place for receiving guests!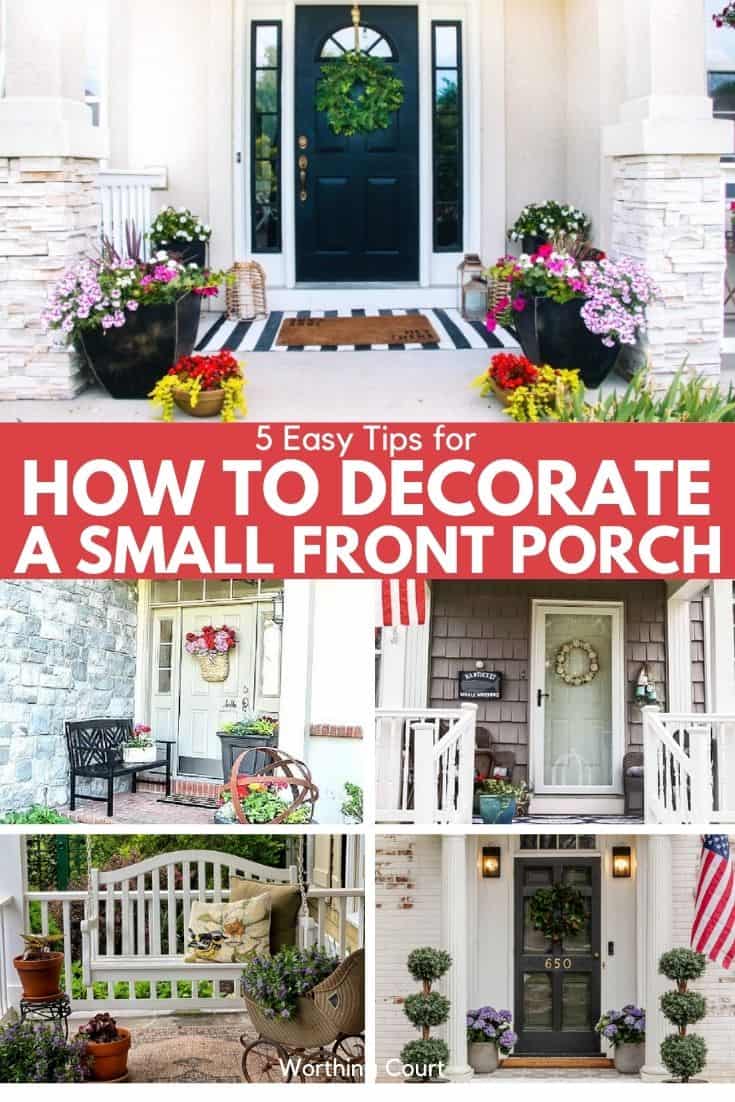 Pin
I wish that I had a picture of the small porch that was on the front of my first house. It was truly pitiful. What passed for a front porch was little more than a concrete slab covered in chipped paint with several steps leading up to it.
No railing, no exterior light, no room and absolutely no curb appeal. The most interesting thing on the whole porch was the rusted mailbox that hung on the side of the house. I was scared to death that someone was going to fall off of that thing.
I had the same question that I bet a lot of you have, "what can I put on a small front porch?'. I literally had no clue what to do or where to start.
*sigh* If only I had known what I know now. That tiny little spot would have out-shown every other house in the neighborhood!
There's no doubt about it – decorating a small porch can be a challenge!
Even with limited space to work with, using these five decorating tricks on your small porch will result in an entrance where you'll be proud to welcome guests and will also add to your home's curb appeal.
1. A DARK PORCH IS UNINVITING & UNINTERESTING – HERE'S HOW TO BRIGHTEN IT UP
I'm willing to bet that you've had the experience of approaching someone's front door that's located on a dark, shadow-filled front porch. No one likes the foreboding, uninviting and even scary feeling of a dark entry like that!
The problem could be that your porch is enclosed, that the house is painted a dark color or that trees or a roof prevent the sun from shining in.
One easy fix is to paint your front door a brighter or lighter, eye-catching color that is different from the rest of the exterior of your home. Be sure to use a color on your door that compliments the body of your home and doesn't clash with it.
You can go bold or you can go soft with the paint color that you choose.
The color of this front door from Sunnyside Design is just right for brightening this small porch. The color is brighter than the surrounding trim and blends perfectly!
Also notice how the addition of a pot filled with pretty bright white flowers adds an instant pop of brightness.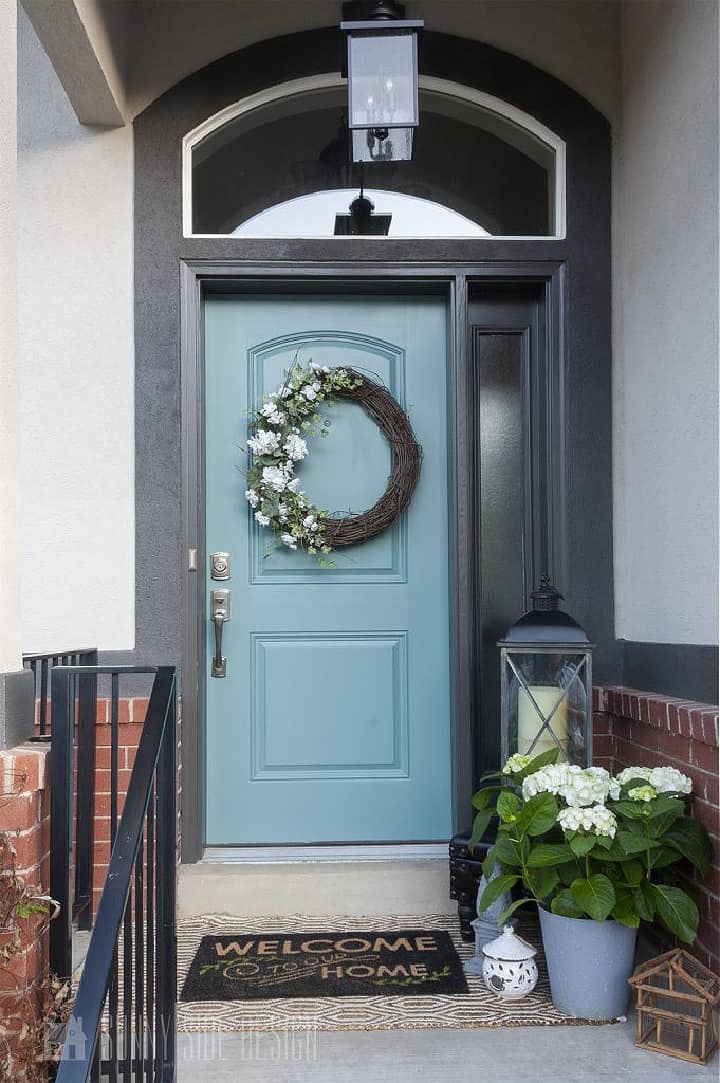 Pin
If you aren't a bright front door kind of person, a neutral color is equally appealing.
This soft gray color on the door from Cottage On Bunker Hill is a neutral color, but still draws your eye to the front porch and brightens what would otherwise be dark because of the porch ceiling.
Also take note of how much interest the texture of the shingled siding adds.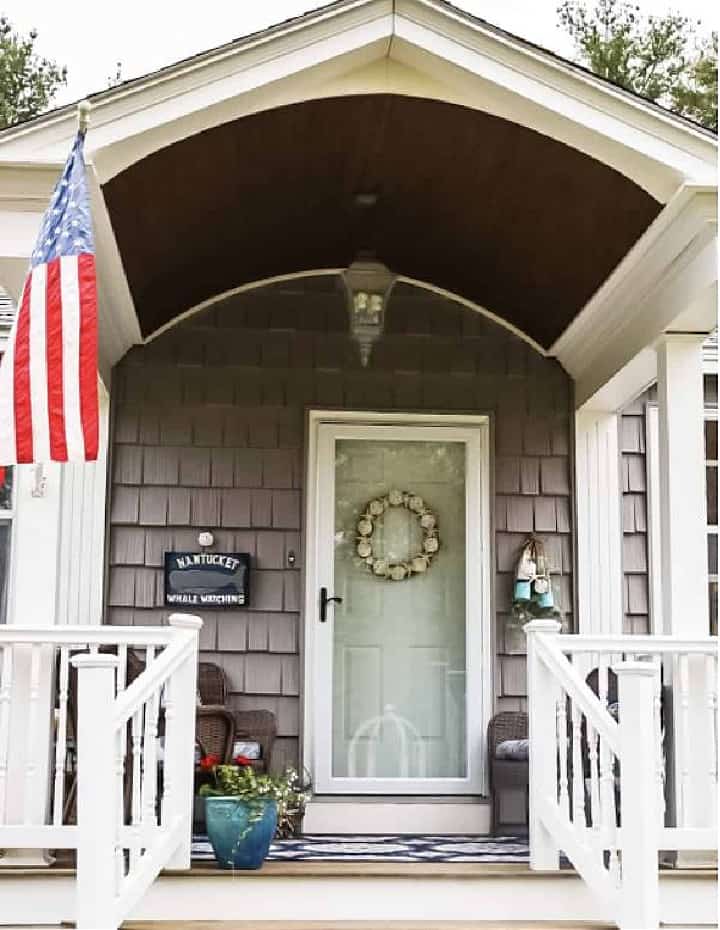 PinCOTTAGE ON BUNKER HILL
2. ADD UNEXPECTED DETAILS TO SPARK INTEREST ON A BORING FRONT PORCH
Front porches can be very basic (and therefore boring) spaces with nothing to really make them interesting. That definitely applied to the front porch on my first house!
This is where your local big box building store can come to the rescue! You can find lots of inspiration for adding architectural details to your front porch design by strolling through the trim department.
Whether on the exterior or interior of your home, using architectural trim pieces is a look that is always on trend! This porch from Delineate Your Dwelling is a great example.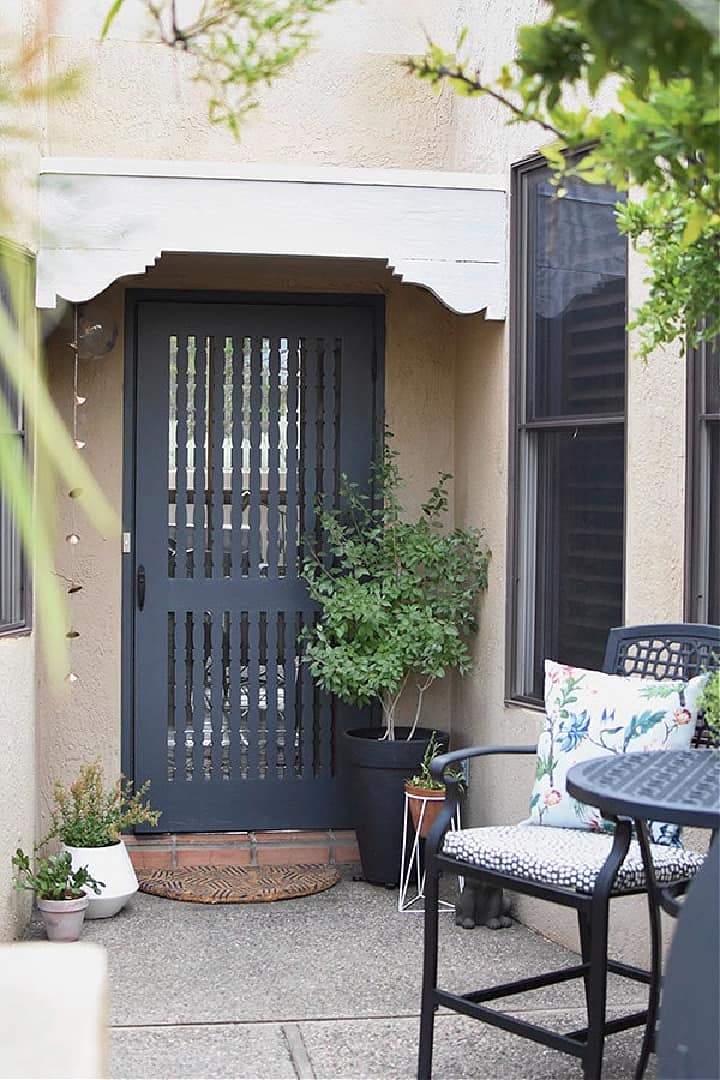 Pin
The board and batten siding on the front porch at Fox Hollow Cottage adds interest on its own, but consider what the addition of a framed sign does!
Now, technically the decorative sign isn't architectural trim, but it visually feels like it is because the sign's frame adds another layer to the board and batten.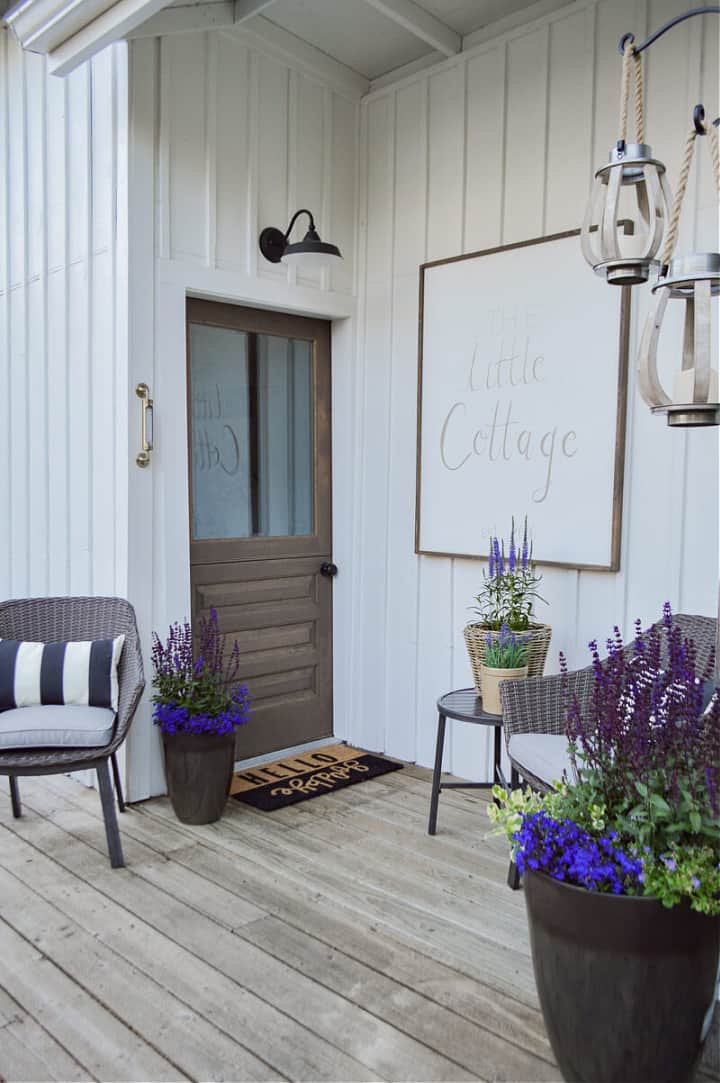 PinFOX HOLLOW COTTAGE
3. ADD VALUABLE CHARM TO YOUR SMALL FRONT PORCH DESIGN
No matter your decorating style, there are many, many ways to add charm to your small porch!
At the home of My Wee Abode, three pieces of wood tied together with rope not only look great tucked into a corner, but does double duty as a plant stand.
If you don't happen to have any wood lying around, a 4×4 or 6×6 pole from the big box store, that is cut into three different sized pieces, would work just as well.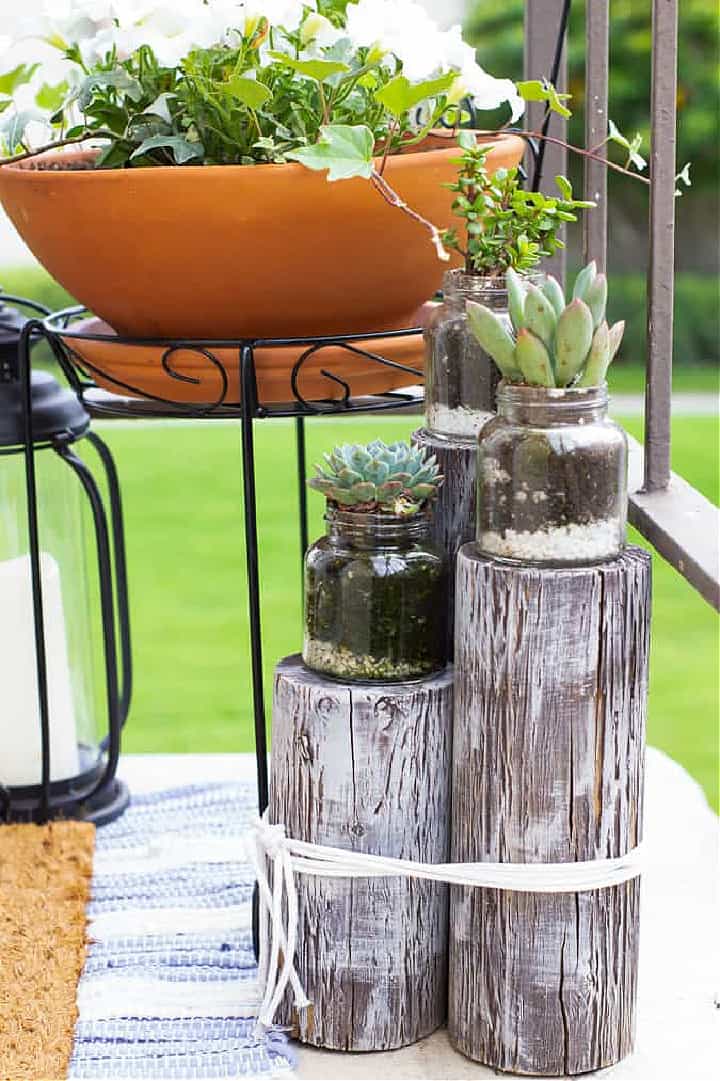 Pin
When it comes to adding charm, you just can't beat a porch swing! Even though the space on the porch at Stacy Living is tight, she was able to find a swing that is small enough to fit.
The creative idea to use a vintage stroller to hold greenery really ramps up the charm! Consider also, the charm that is added by the sweet bird throw pillow and the vintage-look rug.
Pin
Maybe your porch is so small that there's no way to fit a traditional swing, so how about a swinging chair instead?
You can see how super shallow the porch is at Jessica Welling Interiors. Even though there isn't any room for a traditional swing, she got creative and added a pair of hanging swinging chairs.
Adding pillows, a garden stool, an outdoor rug and throw blankets turn it into a relaxing seating area. This front entry just oozes with charm!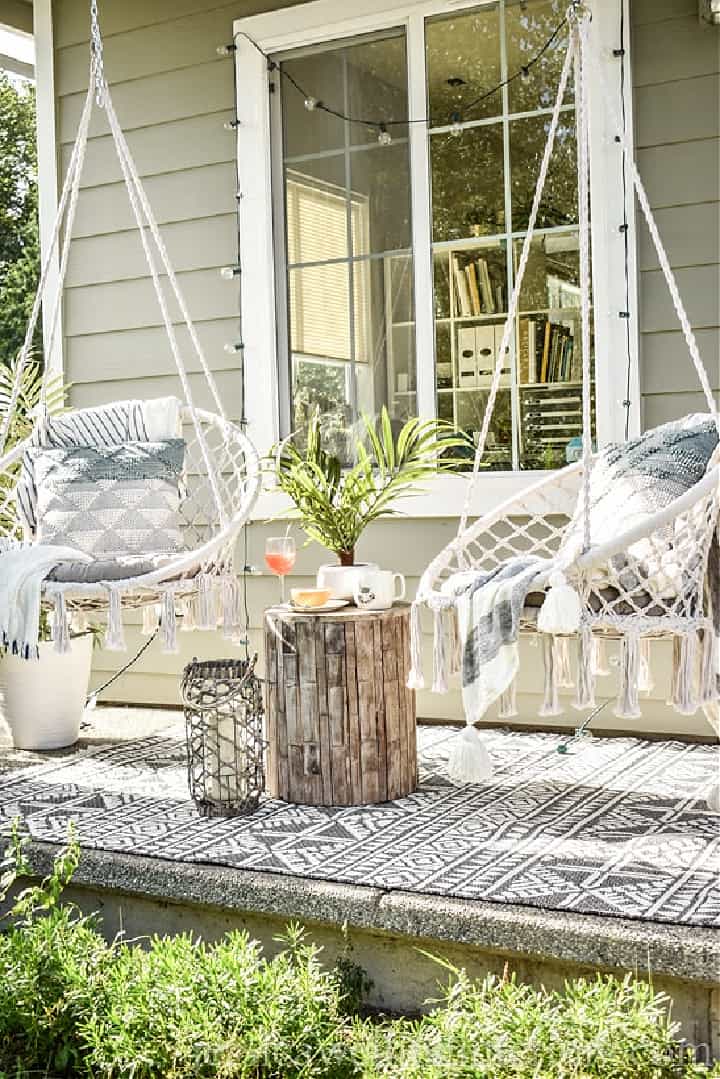 Pin
4. DON'T WASTE YOUR FRONT DOOR'S REAL ESTATE – DRAW ATTENTION TO IT
The bench and other porch decor at Stone Gable is very pretty, but what really draws my eye is the colorful basket of faux flowers hanging on the front door.
Note the cute idea to add brightly colored flowers to the bench too.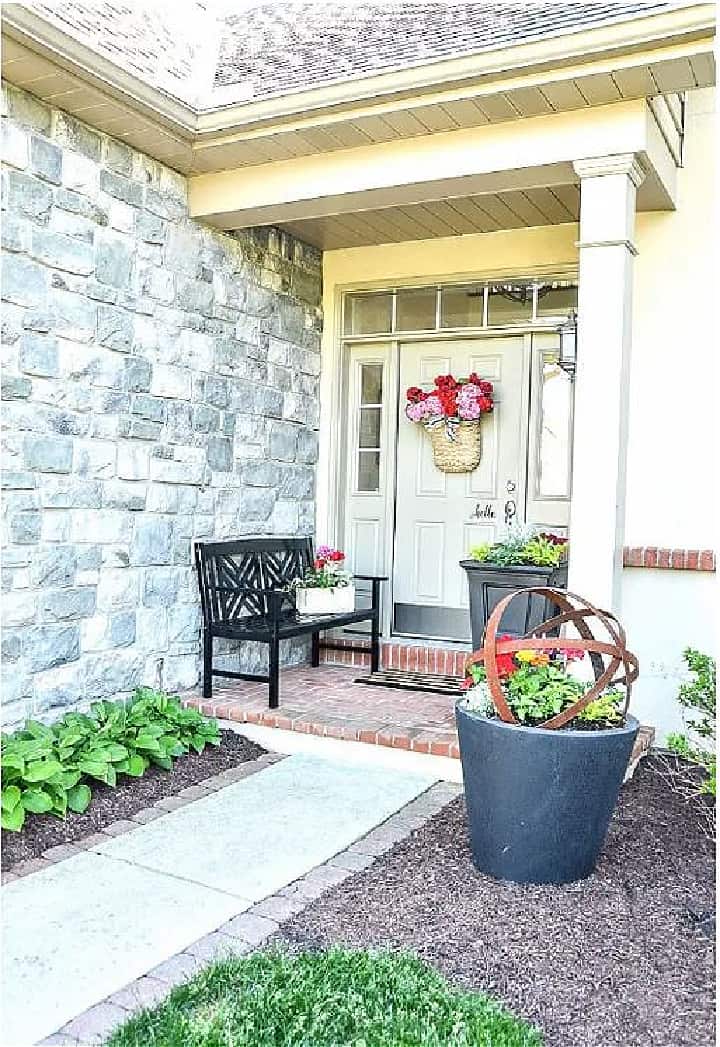 PinSTONE GABLE
Pay special attention to how you arrange the accessories on your porch.
The front door at This Is Our Bliss has a pretty wreath on it, but what really draws my eye is the way that the planters and lanterns are arranged in a pathway that leads your eye right to the door.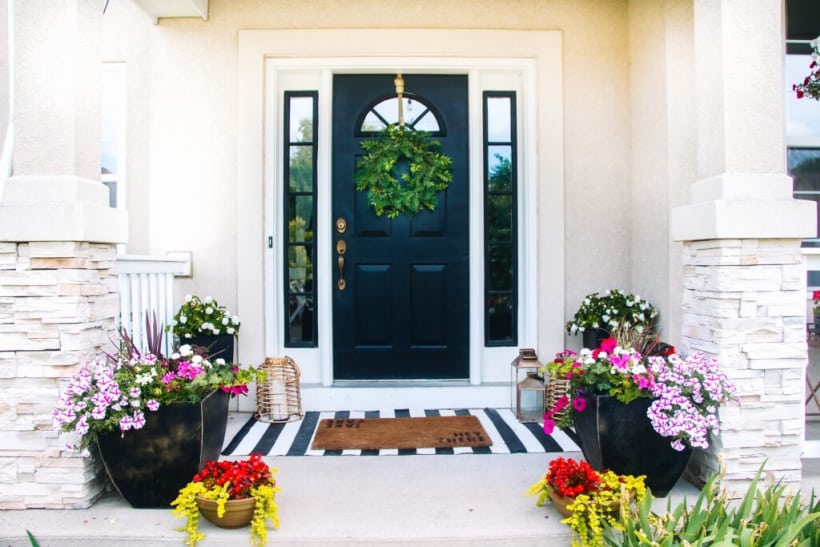 PinTHIS IS OUR BLISS
5. EVEN A SIMPLY DECORATED PORCH CAN BE INTERESTING & INVITING
It's true – a very simply decorated front porch can be just as charming and have just as much curb appeal as a very elaborately decorated one.
Often times, less is more. It all depends upon what your desires are and what your style is.
Take a look at the small front porch ideas used at the home of Blesser House. Even though the l entrance area is very simply decorated, it is still very welcoming and has great curb appeal.
A couple of matching topiaries, colorful potted plants and a doormat are all the area needs to dress it up.
Note that placing the topiaries on the outside of the columns, instead of placing them on either side of the door, visually widens the porch.
As if all this eye candy alone isn't enough to convince you of the importance and desirability of a decorated and styled front porch, here's what my trusted realtor, has to say: "I encourage sellers to always make the best first impression possible. After all, you only have one chance to make a good first impression. By giving the front porch, door or entry to the home extra charm, character or a pop of color you welcome potential buyers and create excitement for what they will find inside! A great first impression is sure to bring an offer even sooner than anticipated!".