My Spring Fireplace Mantel And Hearth
I have put together a beautiful spring fireplace mantel and hearth which combines pretty florals and a spring wreath.
There's always excitement in the air around our house when old man winter finally takes his leave.  The trees become fuzzy with the promise of new growth and the birds, newly returned from their winter trek to warmer parts, greet us every morning with their happy spring songs.  The whole outdoors around us seems electrified as it comes back to life.
I wanted to reflect that same happy feeling with my spring fireplace mantel and hearth.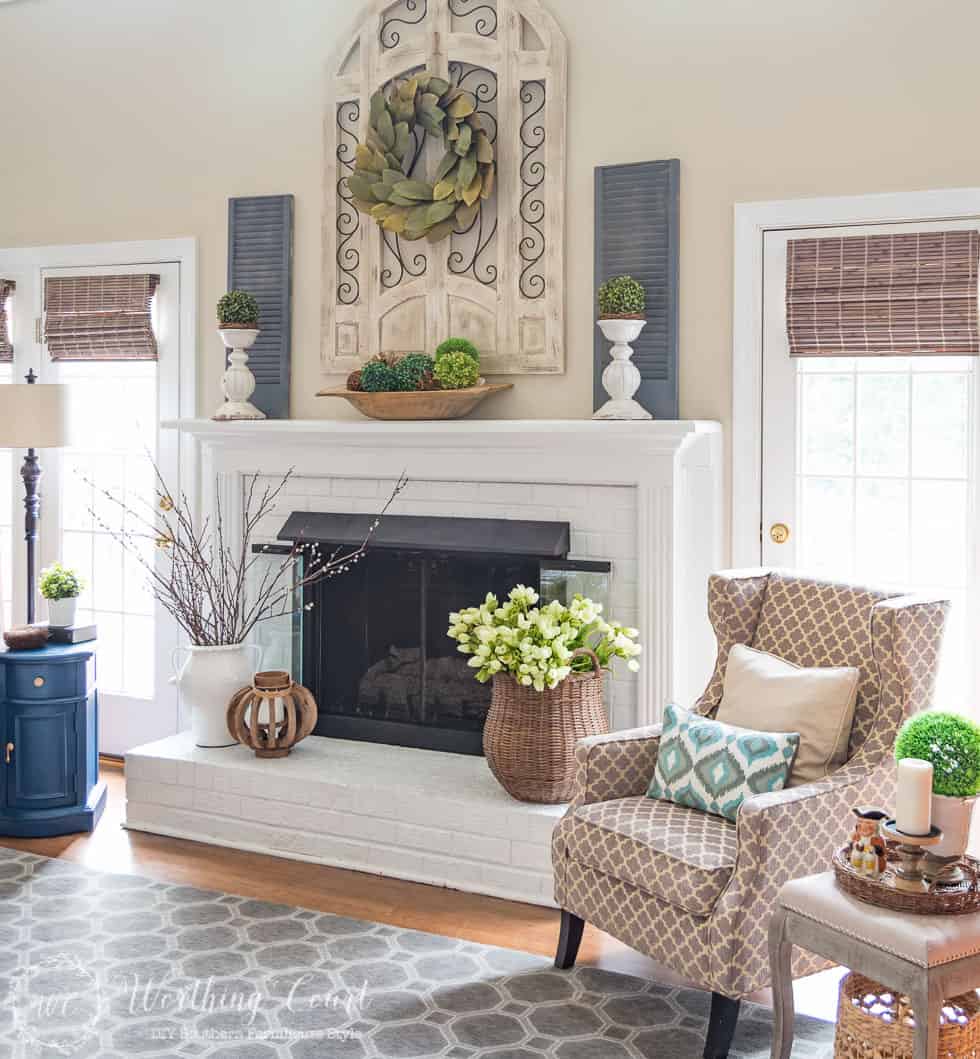 Before we look any closer at the fireplace, let me stop to say how excited I am to be participating in the March Celebrations of Home bloghop!  Our theme this month is, Spring Has Sprung.  Be sure to scroll to the bottom for the links to everyone else's amazing spring inspiration.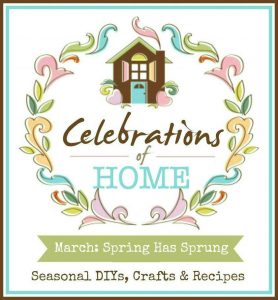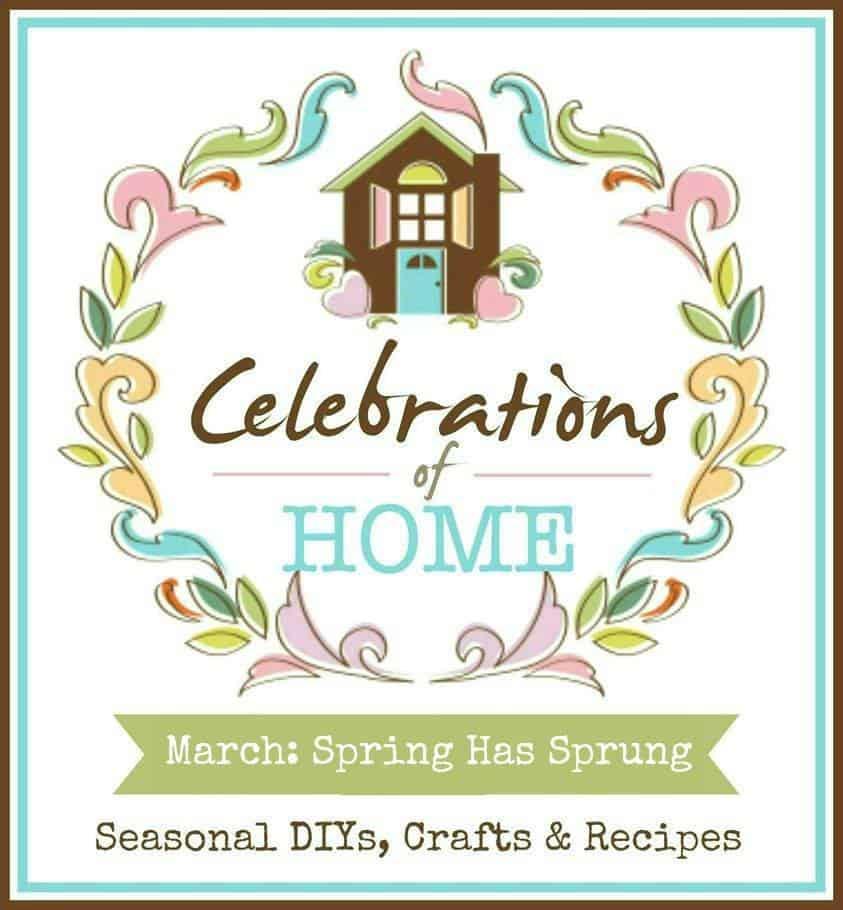 Alrighty – back to the seasonal fireplace decor.  This is the view entering our family room from the foyer.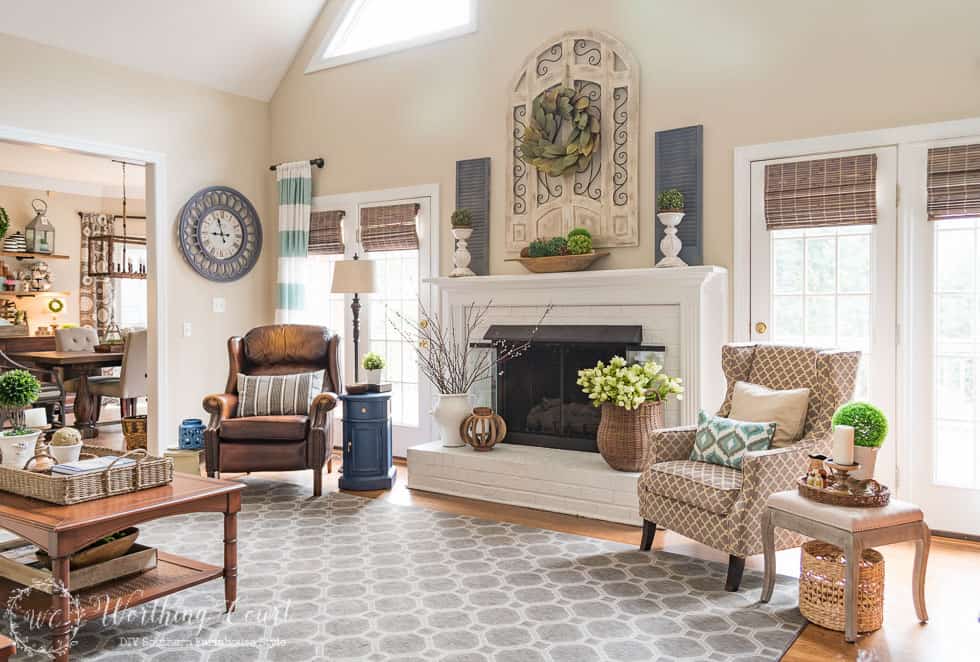 You know, above all else, my desire for this blog, is to encourage you in your decorating and homemaking endeavors.  Don't be afraid to spread your wings!  I know that some of you feel overwhelmed at the thought of decorating a spot for a certain season or holiday.  Sometimes I do too!  But, let's break it down a little.  As you think about using items that you already own, maybe this will help the process seem a little less complicated.
I've said it over and over – I love to keep things easy.  That was exactly the reason why I chose the wood and metal arched panel to hang above my fireplace.  I knew that I could leave it up year round and just change out what hangs from it or leans against it.  Right now, it's serving as a backdrop for a seasonal magnolia leaf wreath that I've suspended from a length of twine.  I searched high and low for a faux magnolia wreath that looks like the real thing for a long time.  I finally found the perfect one at Painted Fox.  Believe it or not, the leaves are made from paper, but you'd never know it isn't real just by looking at it.  Click HERE to order one for yourself (affiliate link – see my full disclosure policy HERE).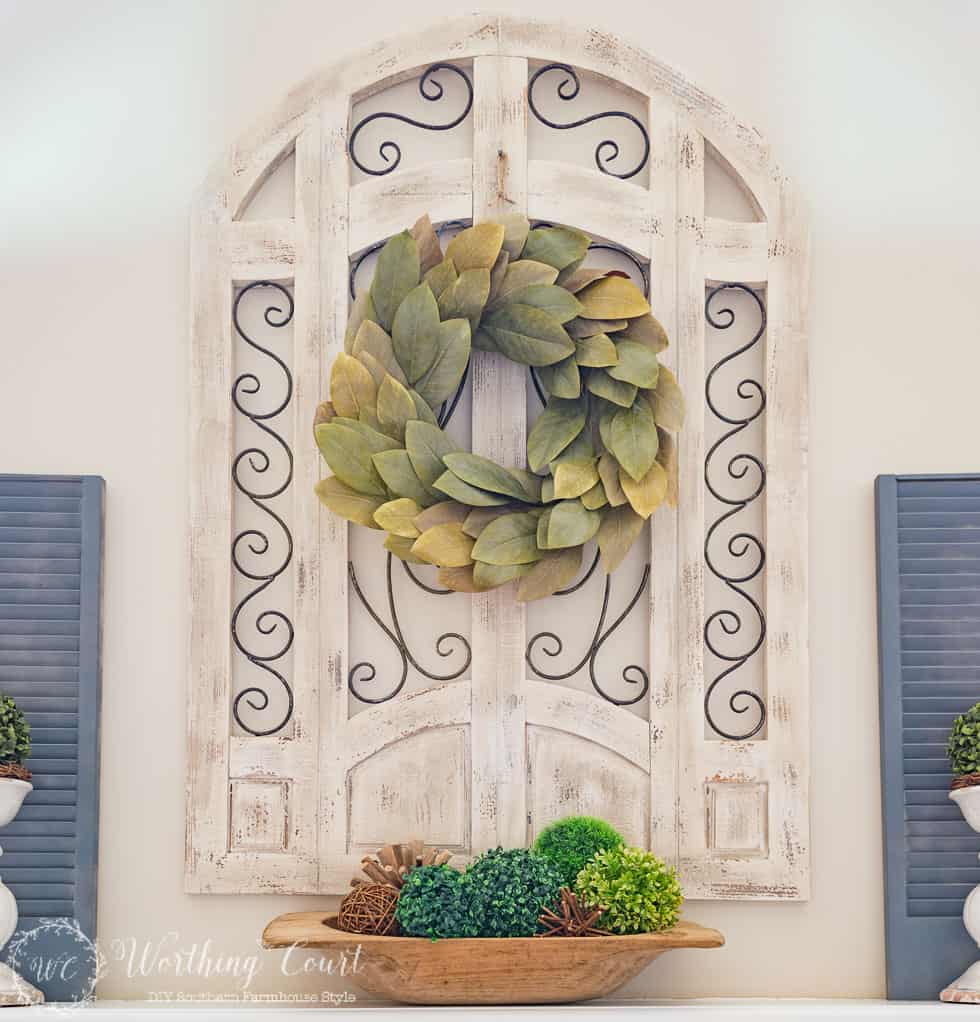 Keeping it easy is the reason that I kept the same wooden shutters that were a part of my Christmas mantel to serve as a backdrop for the chunky candlesticks that were on the hearth of my winter mantel.  I even kept the tiny twig wreaths perched on top of the candlesticks to add a little more interest to the boxwood orbs.  I moved the doughbowl from its spot on my diy sofa table and kept it filled with the boxwood and twig orbs that were already in it.  I tilted it slightly forward so that you can see the contents of it better.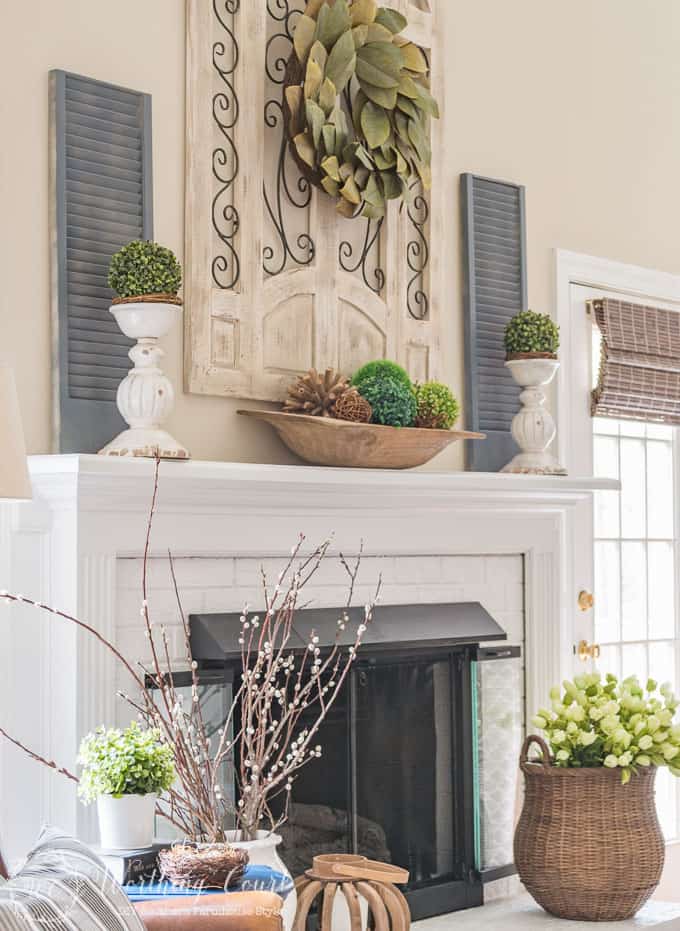 On the hearth, I filled a basket with an explosion of the same faux tulips that I used as part of my spring kitchen table centerpiece last year.  An urn filled with real pussy willow branches lives on the other side of the hearth, along with a slotted wood lantern.  I bought those branches last spring and carefully stored them until I could pull them out again this year.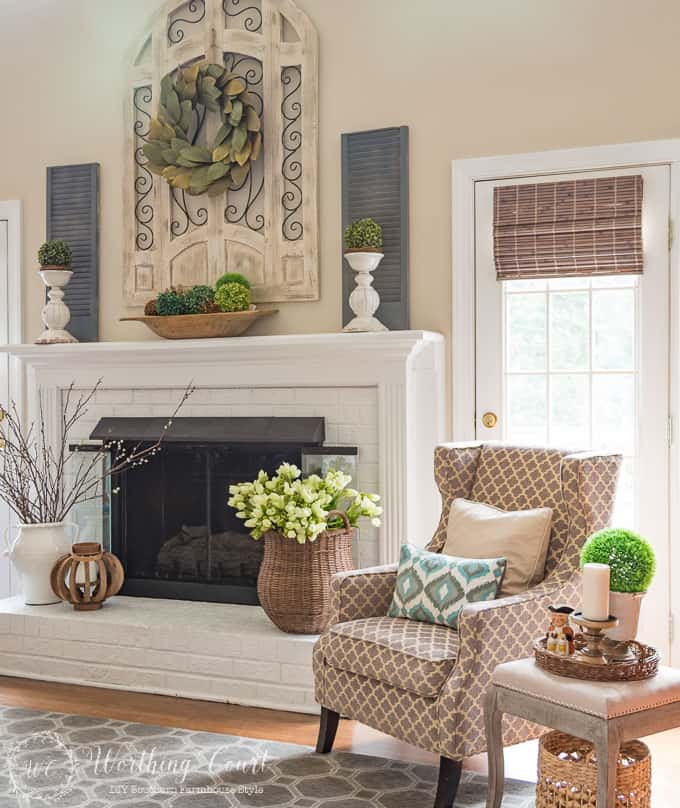 So see?  There's nothing hard here.  And I didn't spend any money either.  Just shop your house and move things from one spot to another for a whole new look.  It might take you more than one day to get it looking just the way that you want it to, but that's perfectly fine!  Just play and tweak and above all else have fun enjoying your home.
Sharing at THESE great parties.