Let's Take A Tour Of My Spring Front Porch!
A southern style covered front porch decorated for spring with green, white and black, with small pops of yellow, against a neutral backdrop.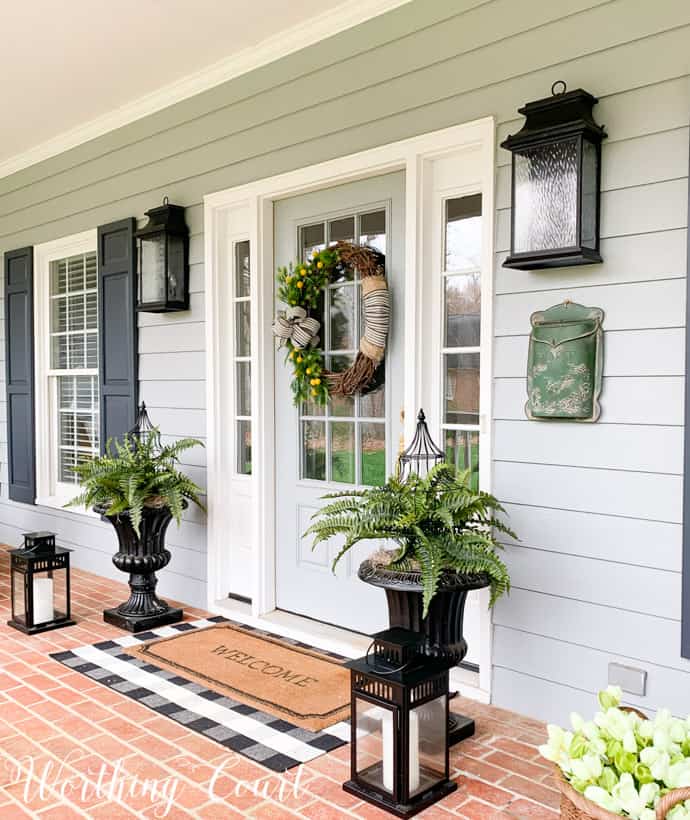 Pin
This post and photos may contain Amazon or other affiliate links. As an Amazon Associate I earn from qualifying purchases. If you purchase something through any link, I may receive a small commission, at no extra charge to you. All opinions are my own. See my full disclosure HERE.
Spring is here and it's time to spruce up our outdoor spaces! I'm sharing my spring front porch as part of a Spring Ideas Tour, hosting by my friend Paula from Virginia Sweet Pea.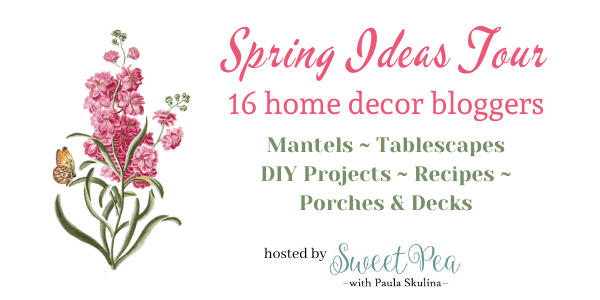 Pin
Be sure to check out the other spring projects, linked at the end of this post. You won't want to miss the spring mantels that were shared on Monday, tablescapes on Tuesday, the DIY's that were on Wednesday and the recipes that were shared on Thursday!  SO much amazing inspiration!
Today, it's all about spring porches and decks, but if you'd like to see the inside of my house decorated for spring, CLICK HERE.
Whether you have a large front porch, a small one or simply a stoop with no real porch at all, there are always things you can do to add some spring curb appeal to your home.
I like to do something a little different on my porch every year, so this year I decided to decorate with a color theme of green, white and black with some small pops of yellow thrown in.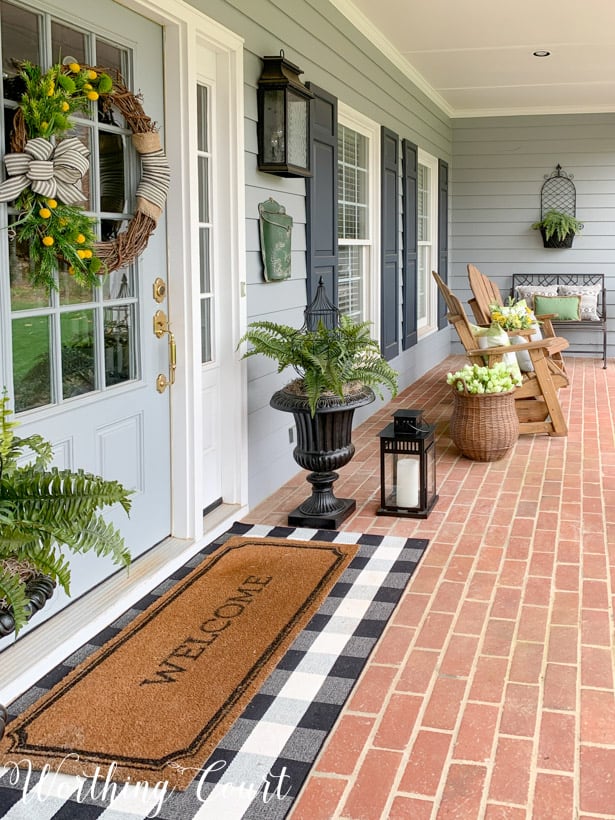 Pin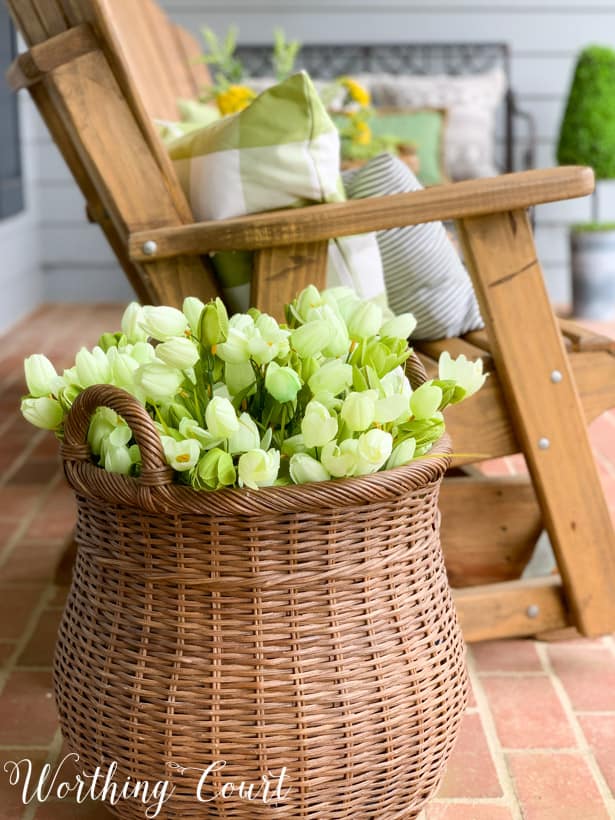 Pin
Let's start at my front door. I kept the urns that flank my front door simple!  I added a wire lantern to each urn, placed a faux fern into each lantern and then pulled some of the pretty leaves through the openings.
Spanish moss placed around the base of the lanterns hides all of the open spots that the lanterns don't fill inside of the urns. I wasn't sure I was going to like it when I was putting them together, but I do!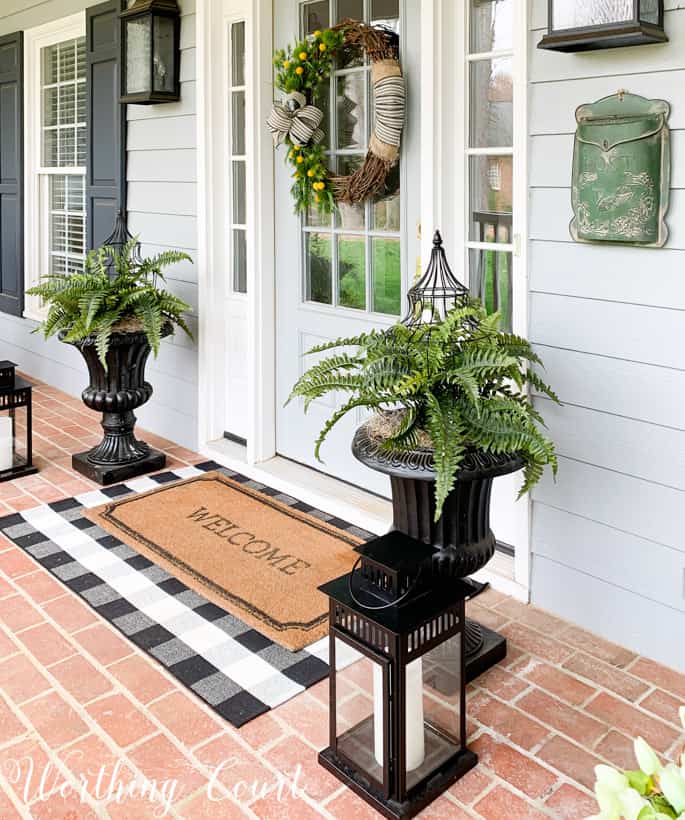 Pin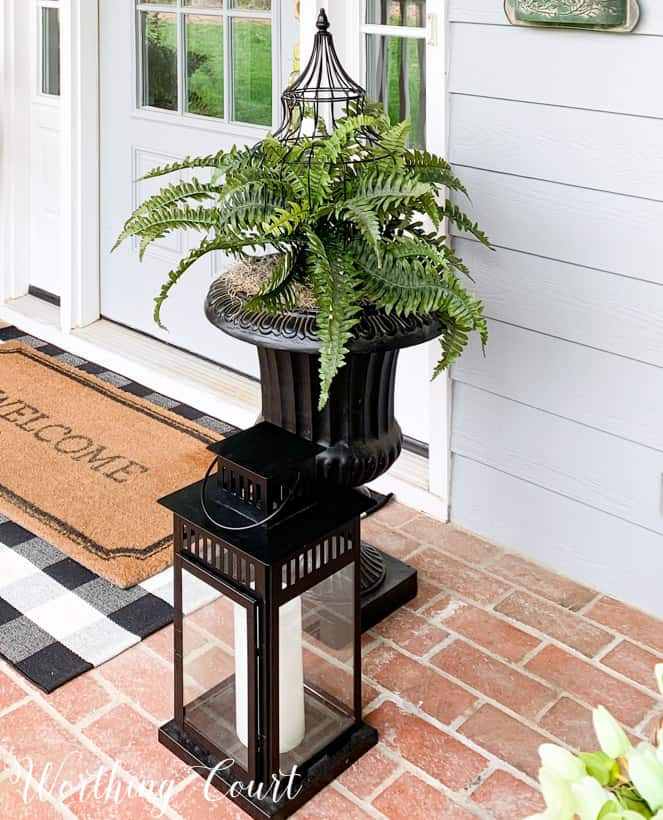 Pin
I carried the layered door mats over from winter because they fit right in with my spring color theme. If you've been on the lookout for a black and white buffalo check mat to use for layering, you can find one that's the same size as mine in the Favorite Home Decor shop in my Amazon storefront.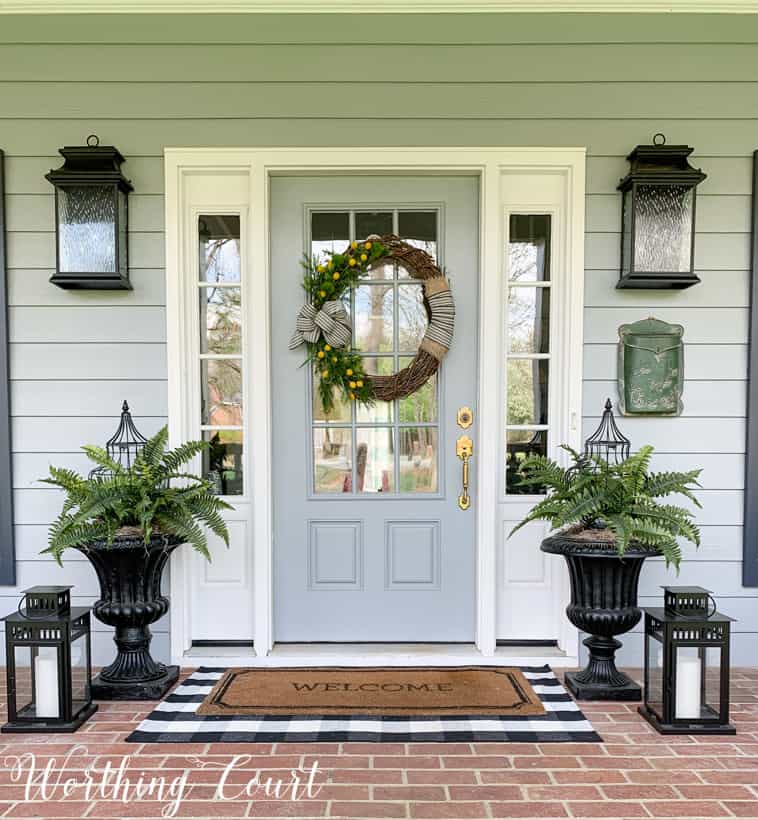 Pin
Can we just talk about this spring wreath?  I have used this same grapevine wreath three seasons in a row!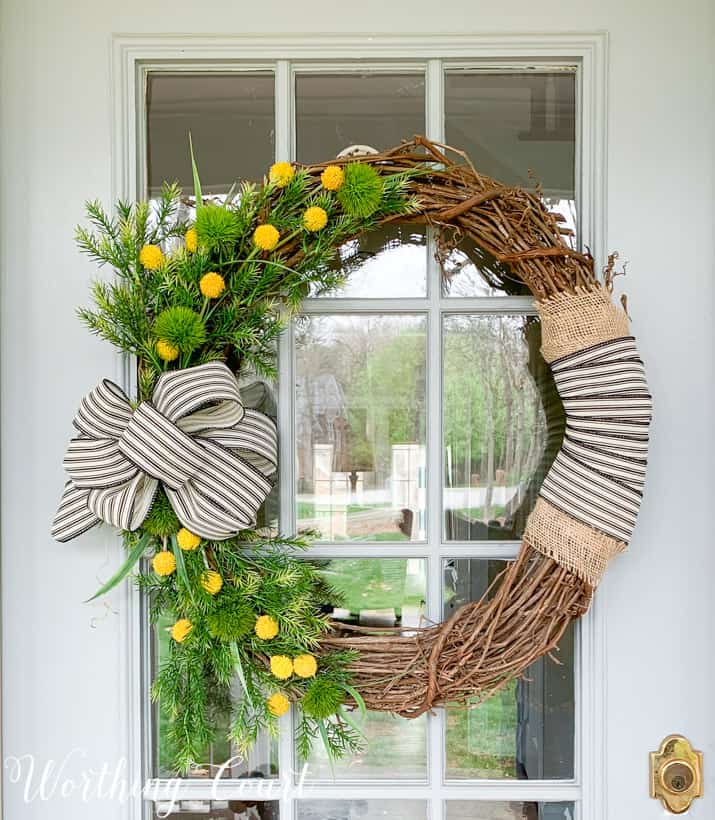 Pin
For a little something different this season, I also chose to wrap the side opposite the bow with a layer of burlap ribbon and the same black and white ticking ribbon that the bow is made from.  I admit that I had to live with it for a few days to make sure that I liked it, but it turned out that I really do!
Grapevine wreaths are SO easy to decorate with! I simply tuck the stems of the faux greenery and florals in between the vines of the wreath and add a bow.  Sometimes I may need wire something in place with floral wire, if what I using is too heavy and wants to flop forward when I hang the wreath.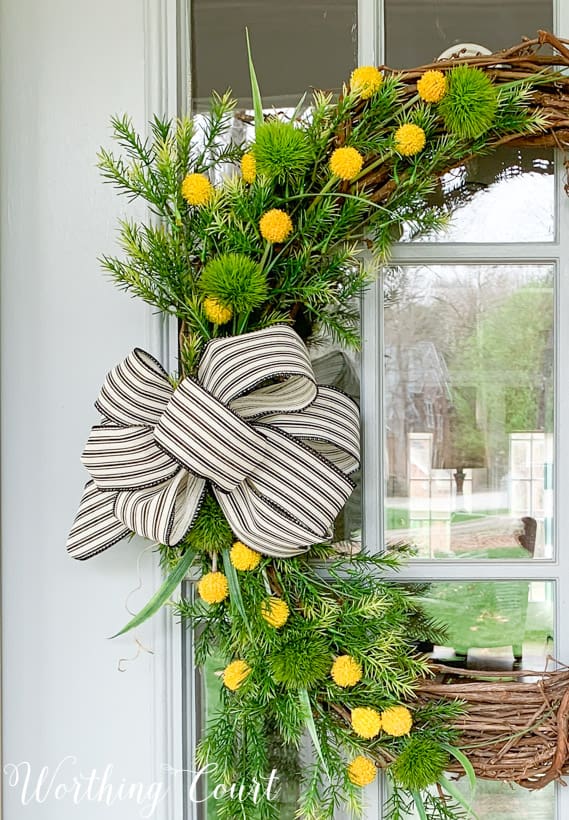 Pin
As always, I try to use as much of what I already own as I can, so the only new items on my southern porch this spring are a few new pillow covers.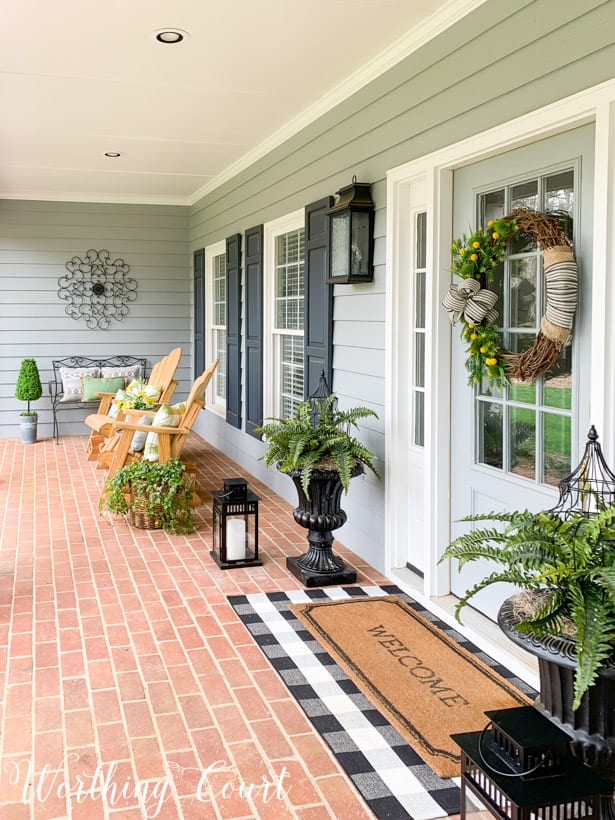 Pin
I already owned the black and white pillows on each of the benches, but the rest of covers are new and are very affordable.  You can find them in my Favorite Spring & Easter Decor shop in my Amazon storefront. 
Pin
Other than the different wall hangings I have at the ends, each side of the porch is decorated symmetrically. The birds love to make a nest in the fern in the wall planter and I don't mind one bit!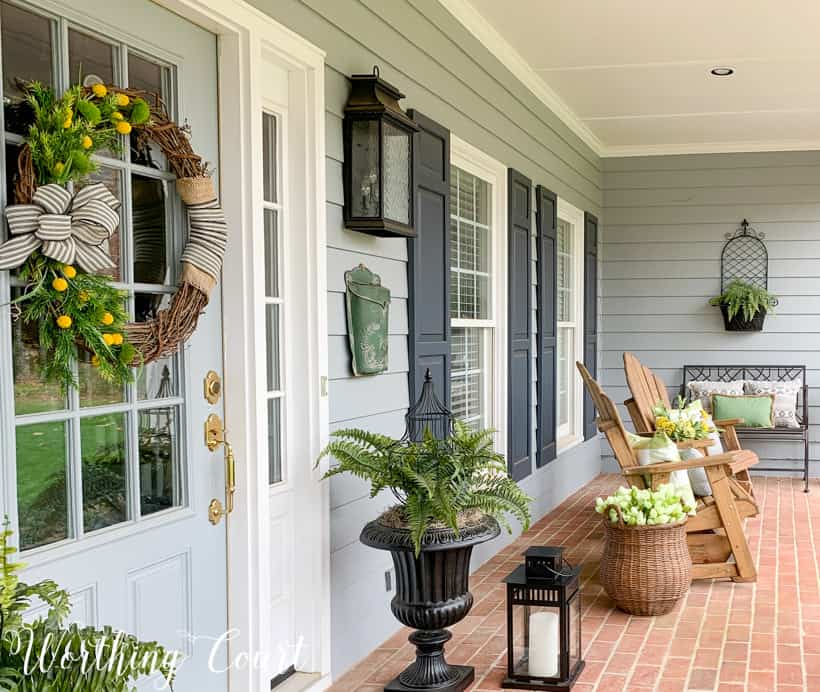 Pin
I feel that the Adirondack rockers on the porch are pretty leggy, so I opted to use a basket turned upside down in between each pair of chairs for a table. It works great and is so much better looking than all those legs!  😀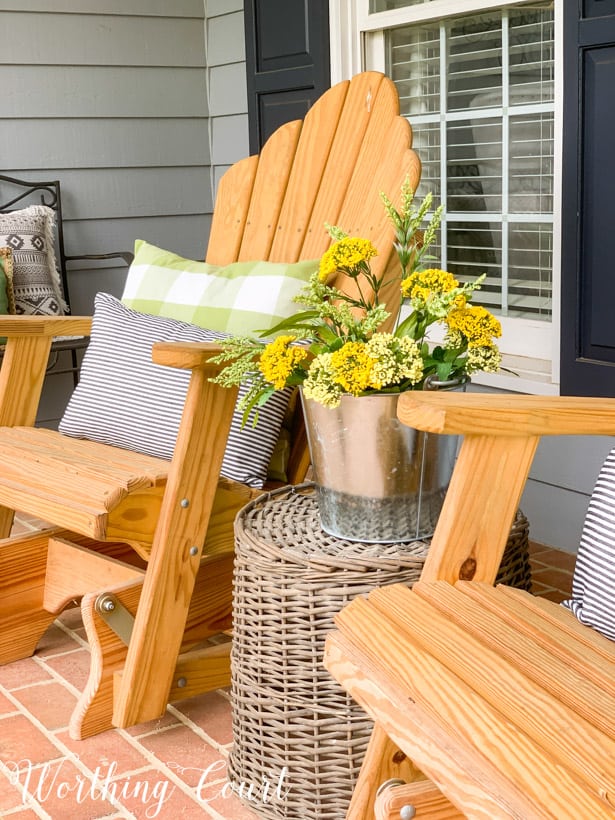 Pin
For another small pop of bright yellow (besides on the wreath), I added a few faux florals to a silver bucket on each table.  The buckets don't match, but that's ok!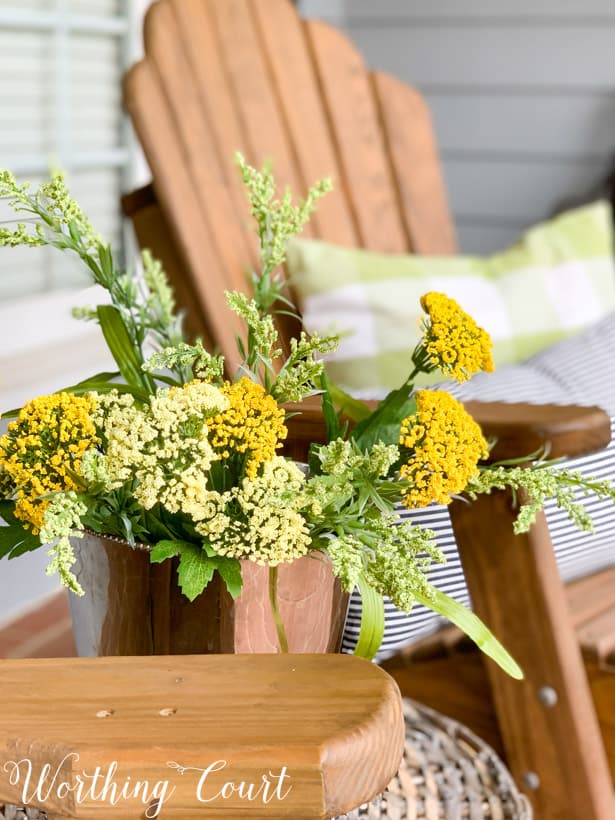 Pin
I hope you enjoyed touring my front porch this spring and found some inspiration to use at your own home!
Now it's time to enjoy more spring decorating ideas. Click on the links below to visit each blogger who is sharing their ideas.
SPRING MANTELS

Pin
Hearth and Vine | Postcards from the Ridge | Marty's Musings | Calypso in the Country
SPRING TABLESCAPES

Pin
Lora Bloomquist | Our Southern Home | The Painted Hinge
SPRING DIY'S

Pin
Sweet Pea | 2 Bees in a Pod | The How to Home | Our Crafty Mom | What Meegan Makes
SPRING RECIPES

Pin
My Wee Abode|Thistle Key Lane|Harbour Breeze Home|First Day of Home
SPRING PORCHES

Pin
Redhead Can Decorate | Worthing Court | Follow the Yellow Brick Home