How To Get A Cohesive Look When You Accessorize Decorative Shelves
Open shelves can look amazing and create interest in a space and I will share my best accessorizing tips for decorative shelves!
I know, first hand, that accessorizing decorative shelves can be tricky.  It doesn't matter if they're open shelves hanging on the wall or if they're shelves in a bookcase – all that empty space can be intimidating if you don't know where to start!  Whether you change the accessories on your shelves out for the seasons or you're just a once-and-done kind of person, keeping these tips in mind are sure to give you the cohesive look that you crave.
YOU'LL GET A BETTER END RESULT WITH YOUR DECORATIVE SHELVES IF YOU HAVE A PLAN
Your plan can be something as fluid as just a "look" you're after or an idea in your head.  Use Pinterest to your full advantage for inspiration if you don't already have something in mind!  I actually have a whole Pinterest board dedicated to Bookcases and Shelves that you can follow right HERE.  Or you can see the pins on all of my boards by following me HERE.
When I decorated these shelves for summer last year, my plan was inspired by some lush bushes of pretty summer daisies that I ran across.  Since my theme for these shelves was summer, I included pops of fresh and cheery blue and natural green too.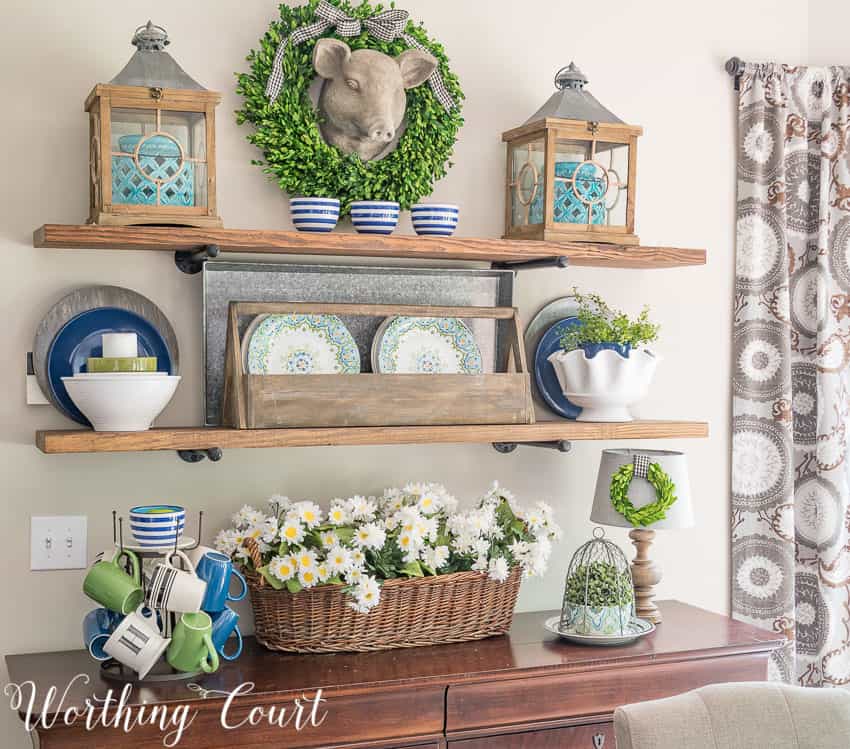 PinI'm one of those who changes the accessories on some of my shelves seasonally and I generally try to keep those decorations in keeping with the rest of the decor in the room.  Whether I decorate the open shelves in a room first or after everything else in the room is done pretty much depends on how much presence the shelves have in the room.  For example, the open shelves above the sideboard in my breakfast room definitely take center stage, so they always get accessorized first, then I follow up with a centerpiece and some throw pillows on my bench to tie the room together.
Since my dining room opens into the kitchen, I brought the same color palette into that space on the vintage shelf above the sideboard.

STRATEGICALLY CARRY COLOR THROUGHOUT THE SHELVES
As another example, when it comes to decorating for fall, I fully embrace all of the rich, rustic colors of the season.  When coming up with my plan for these fall decorative shelves, I was inspired by some plaid chargers that I've had for a while.  I pulled the rustic orange color out of the plaid and repeated the same color in multiple places on the shelves.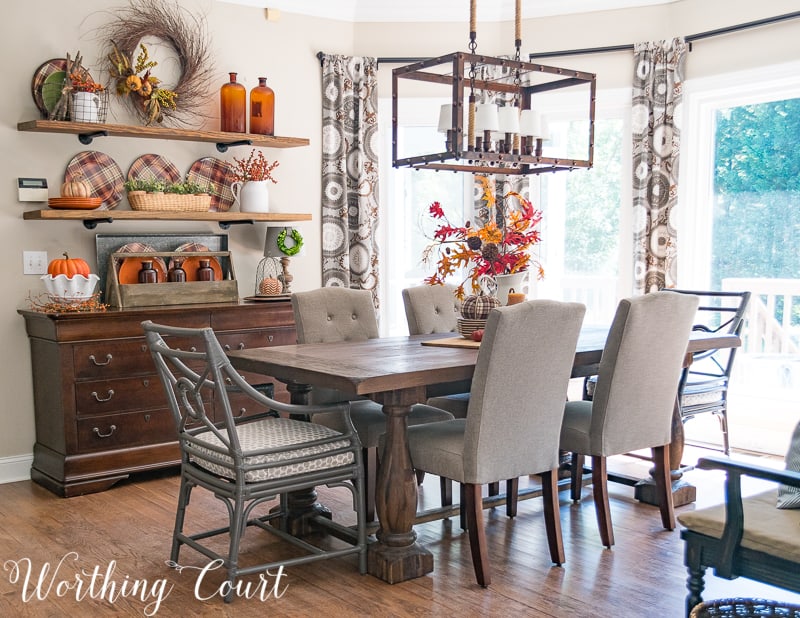 Pin
Notice that the color is on each one of the shelves, but that it is spread out.  I interspersed other calmer colors to tone down the strong orange statement and keep it from becoming overpowering.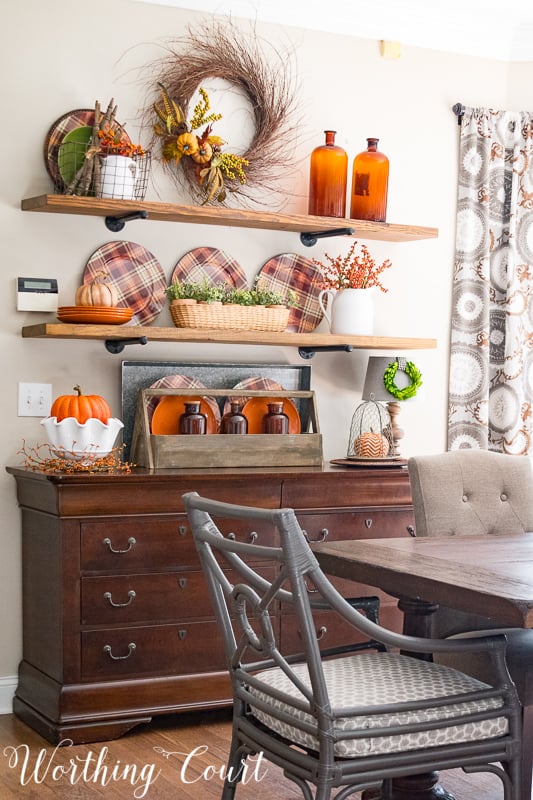 Pin
TRY SOMETHING A LITTLE DIFFERENT
The bookcases in my office are one place that I don't decorate seasonally, other than just a maybe adding just a small touch or two.  To make them fit in with the rest of my decor, I painted them a soft gray and then we added a barn door that slides from one side to the other.  I'm able to hide all of my ugly office supplies behind the door and slide it open whenever I need to get to them.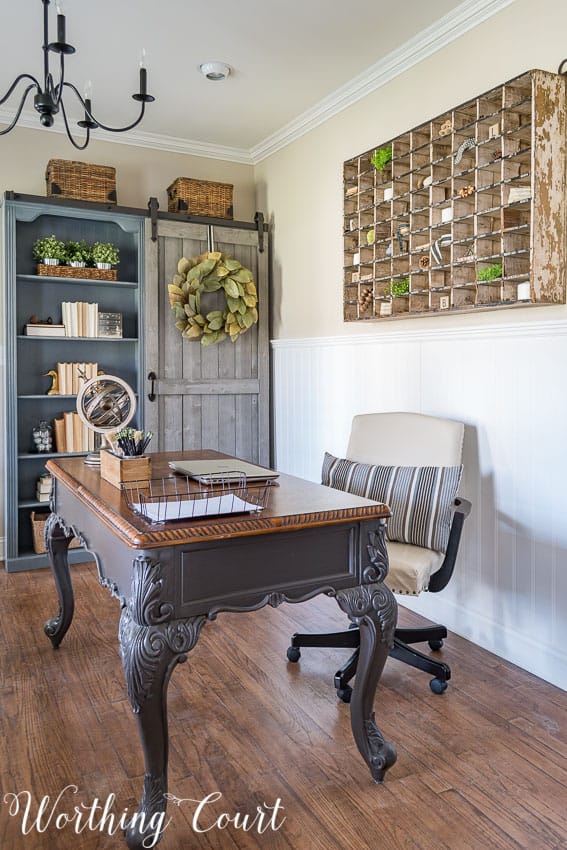 Pin
Other than a way to store office supplies, these bookcases are mainly a decorative element in the room, so I didn't overload them with books.  When you're accessorizing decorative shelves, I recommend being careful not to make the shelves appear top heavy by placing anything too heavy in appearance on the first shelf.  Notice that the bottom shelf contains a wicker basket which is holding several larger, heavy books, but the top shelf only has a trio of plants in a basket.  Which one looks 'heavier' to you?  The books that I do have on display are carefully placed by size – either all the same size or taller books in the middle.  The bindings on my books were an assortment of colors and weren't pretty, so I turned the books backward to give me more of a neutral palette.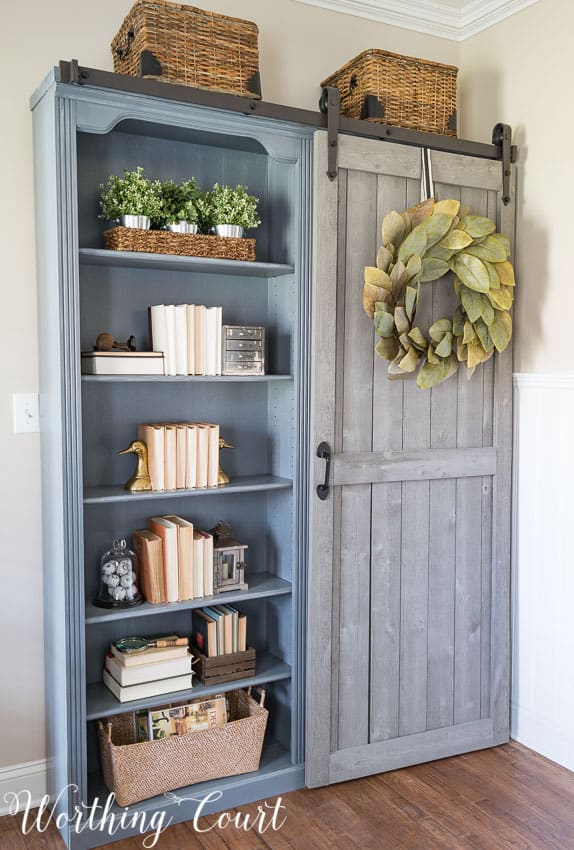 Pin
SOME SYMMETRY IS GOOD, BUT TOO MUCH IS TOO MUCH
This is strictly a matter of personal taste, but I think it makes for a much more interesting display if you create a symmetrical feel by balancing the size and visual weight of accessories instead of making sure that everything matches.  I balanced the look of the shelf in my dining room in a couple of ways – I used a group of three on each end of the shelf and made sure that both of the groupings had a similar visual width and height.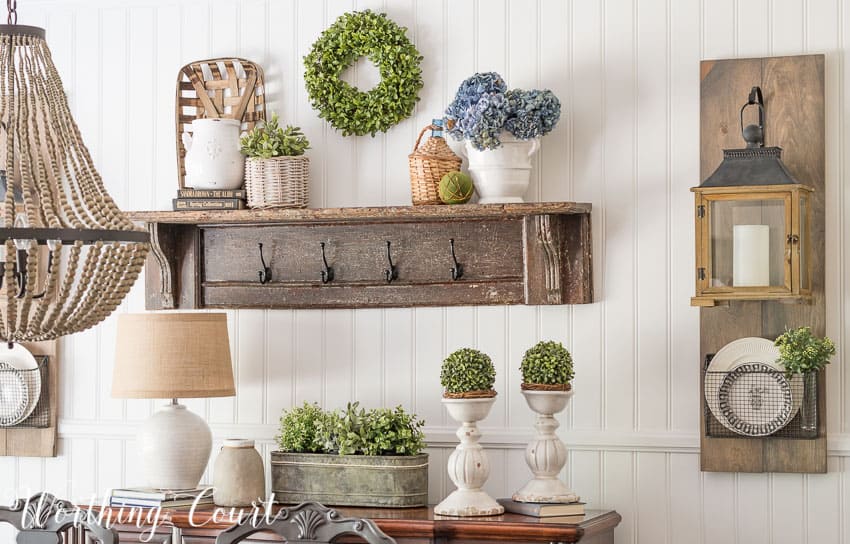 Pin
Color can also play an important role in bringing a symmetrical look to your shelves.  For this variation of my spring decorative shelves, I made the color work for me two different ways.  First of all I made sure there was a nice balance of green on each shelf, but I also used my favorite trick of creating a "triangle" of the color on all three shelves – the green wreath above the top shelf, the green plates on each end of the bottom shelf and the green mugs and green wreath on the sideboard itself.  Even though I used color as the main symmetrical tool, I still made sure to keep the visual height and weight of the groupings on each side similar or else the whole thing would have looked off.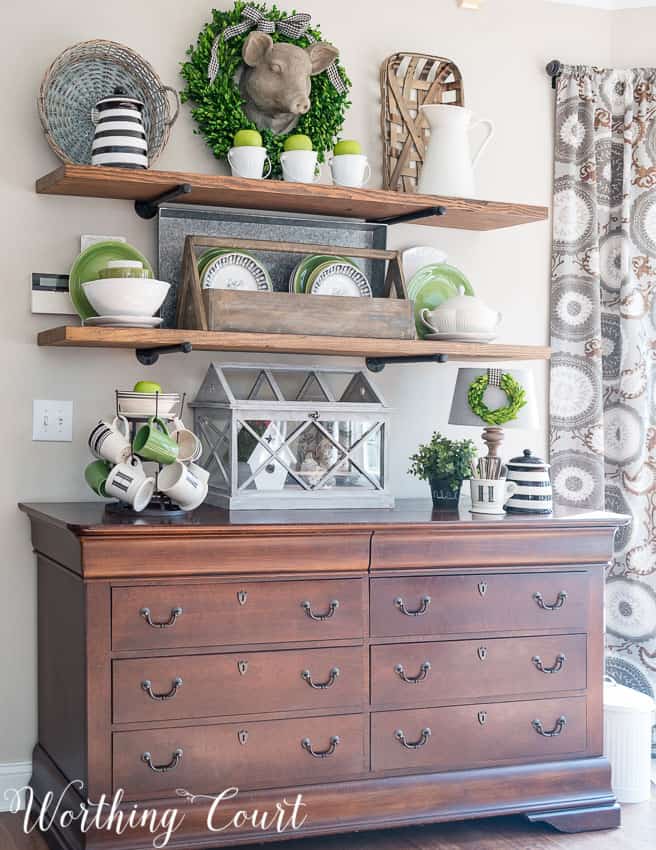 Pin
When it comes to accessorizing your decorative shelves, the end of the story is to not be in a hurry.  Even professionals don't always get it right on the first, second or even third try.  Be patient with yourself and be willing to tweak until you get them looking just the way that you like.  I KNOW you can do it!

Pin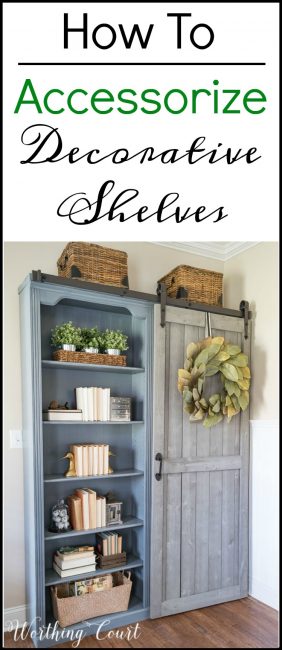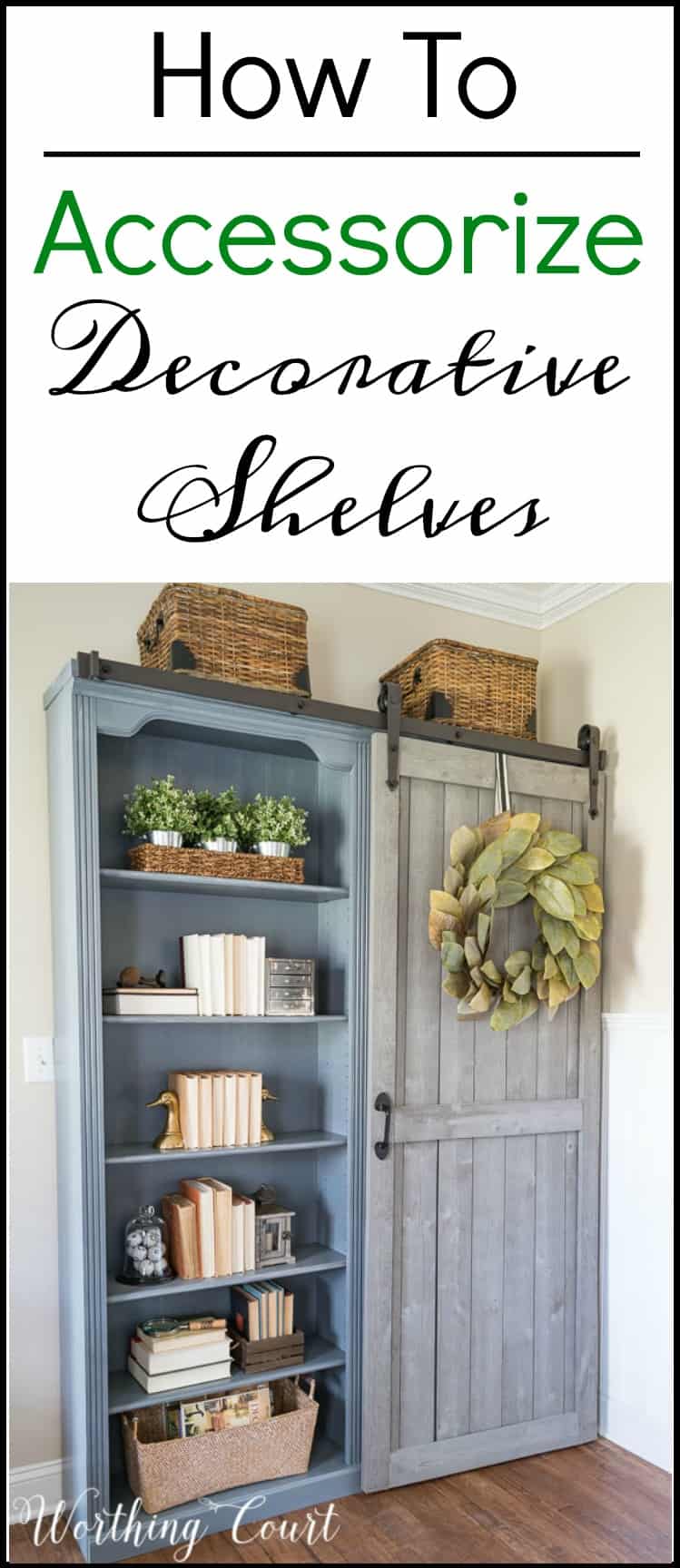 Pin