Learn the 5 basic decorating rules you should live by when it comes to transforming a home into a beautifully decorated space.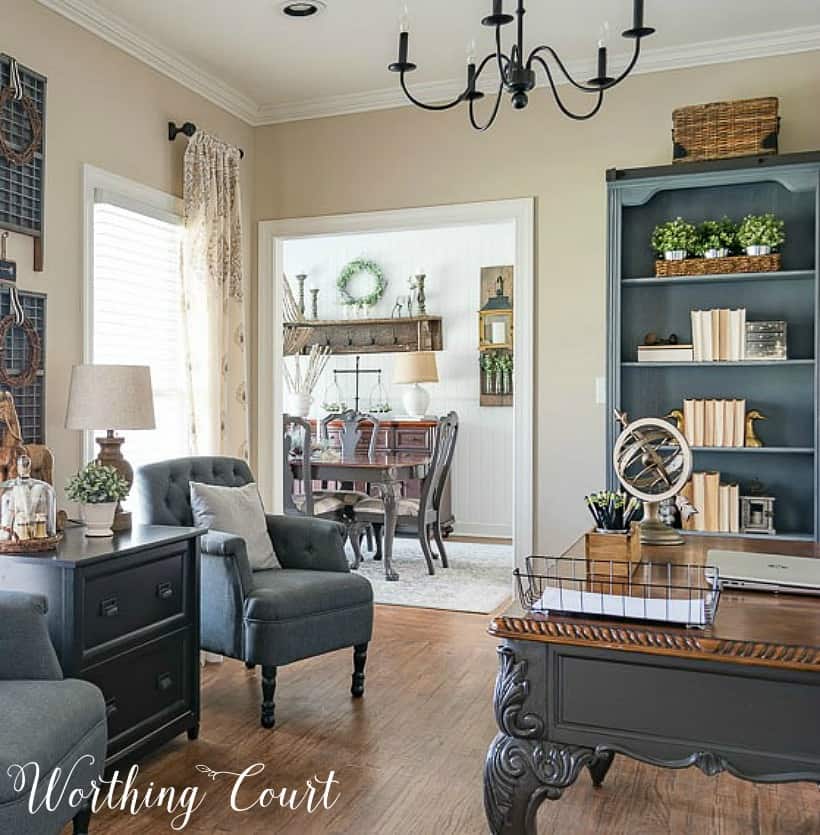 You may not like to think of yourself as a rule follower, but when it comes to decorating your home, you'll be glad that you at least followed these basics.
The rules exist for a very important reason, which is to help us make decisions for our home that will turn it into a place that's comfortable and pleasing to live in.  They can help us to navigate through what can sometimes be a confusing and complicated process.
Decorating rules don't exist to dictate the choices that we make, but rather to guide us into making choices that will help our home look its best.
DECORATING RULE #1:  THERE ARE NO RULES
Let me say up front – I'm a rule breaker.  😀   Technically speaking, there are rules, also known as principles of good design, but if I don't like a rule – I'd don't follow it.  Seriously.
This is my home, not some designer rule setter's home, and I'm going to do what works for my family and myself, whether it follows the rules or not.  My #1 recommendation for you is that you develop the same attitude!
However, with that being said, let me also say that although I'll break a rule if I don't like it, I do try to follow certain design principles.  No matter what the latest trend may be, these principles have been around for a long, long time and they just plain work.
DINING ROOM MAKEOVER REVEAL – BEFORE AND AFTER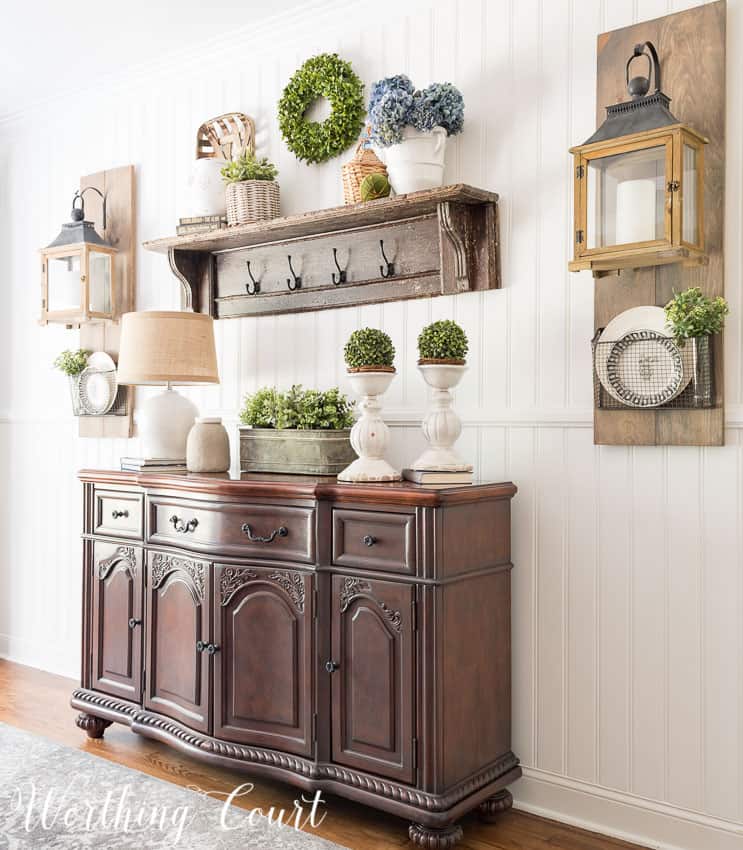 DECORATING RULE # 2: BUILD A STRONG FOUNDATION
I'm talking about space planning.  For example, you may dream about having two sofas that face one another with a coffee table between, but that may not work in your space.  I would love to do that in my family room, and even though I do have the room to do that, it would not work for us at all.
Careful and well thought out space planning may not sound like a fun thing to do, but it's very necessary.  Not only will it allow you to utilize every nook and cranny in a room, which is especially important in a small space, it will both improve functionality and give off an impressive vibe!
There are three different ways you can tackle space planning:
Measure your room and draw it out on a piece of graph paper.  Measure each piece of furniture, that will be in the room, then cut out pieces of cardboard or paper to represent each one.  Keep the proportions of the furniture pieces the same as the proportions on the graph paper.
Let's say the squares on your graph paper are ¼" and that each square represents 12″ (or 1′) of space.  When cutting out your pieces of furniture, if you have a chair that measures 36″ wide, your little piece of cardboard (or paper) should be ¾" wide.  Make sense?
Once you have your room drawn out and have your pieces of furniture, you can move them around on your graph paper until you come up with a furniture arrangement that you like.
 Measure the furniture pieces that will be in the room and use painter's tape on the floor to represent each piece.  This is a little more labor intensive, but I think it gives a better feel for how the pieces will work in a room.
This method worked especially well for us when we completely gutted and remodeled our kitchen.
Prefer to do your planning on a computer?  There is a variety of free space planning software available on the web.  Just Google, "free space planning software" and you'll be presented with lots of options.
A WHOLE NEW LOOK FOR MY FAMILY ROOM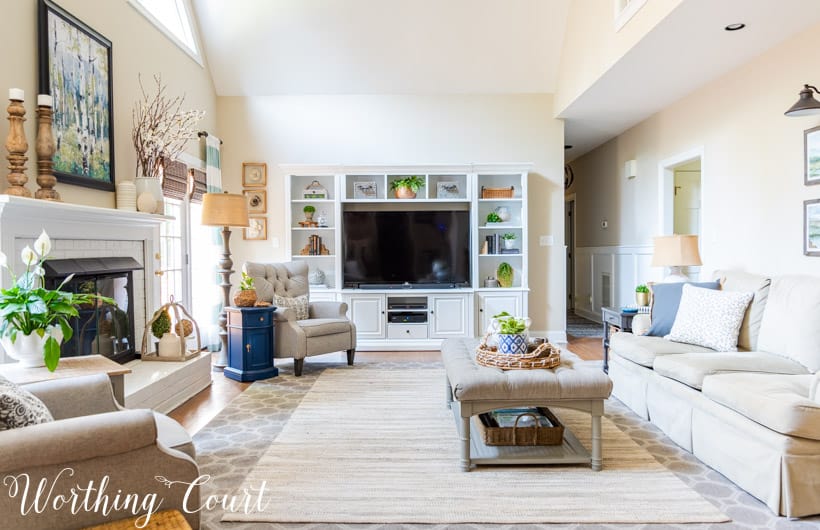 DECORATING RULE #3: FIND YOUR ROOM'S FOCAL POINT
This goes hand-in-hand with Rule #2.  You can't do a good job of space planning until you've determined the focal point of your room.  I talked about this at length (with loads of tips!) in a Design Dilemma post that I did a while back.  I highly recommend taking these tips into consideration when doing your space planning!  Click HERE to read the post.
A WHOLE NEW LOOK FOR MY FAMILY ROOM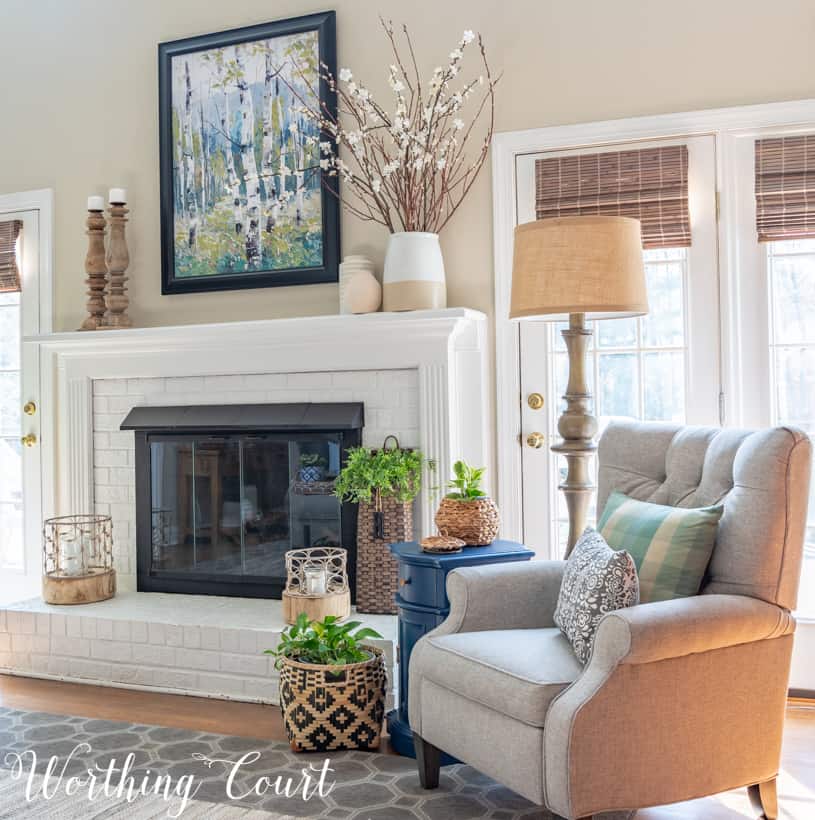 DECORATING RULE #4: CHOOSE YOUR FABRIC AND RUGS FIRST
Some people will strongly disagree with me on this one, but I'm speaking from experience!  Here's my logic – paint comes in thousands upon thousands of colors.  Shoot – you can even have paint custom mixed to match a particular color in your fabric.
So…the reason that I take this step, before choosing my paint color(s), is that finding paint to go with a particular fabric or rug is a WHOLE lot easier than finding fabric or rugs to go with a particular paint color.
My rule breaker exception is this – if you are painting with a neutral color.  Just be careful in choosing which neutral you use!  All paints look different in different lighting situations, so it's important to buy a test pot and try it out on several different walls in your home to see how it reacts.
Most paint (even white!) has undertones of other colors in it.  Ever seen a beige room that looks pink or lavender when the sunlight hits it?  Yeah, that's what I'm talking about.
FARMHOUSE DINING ROOM MAKEOVER REVEAL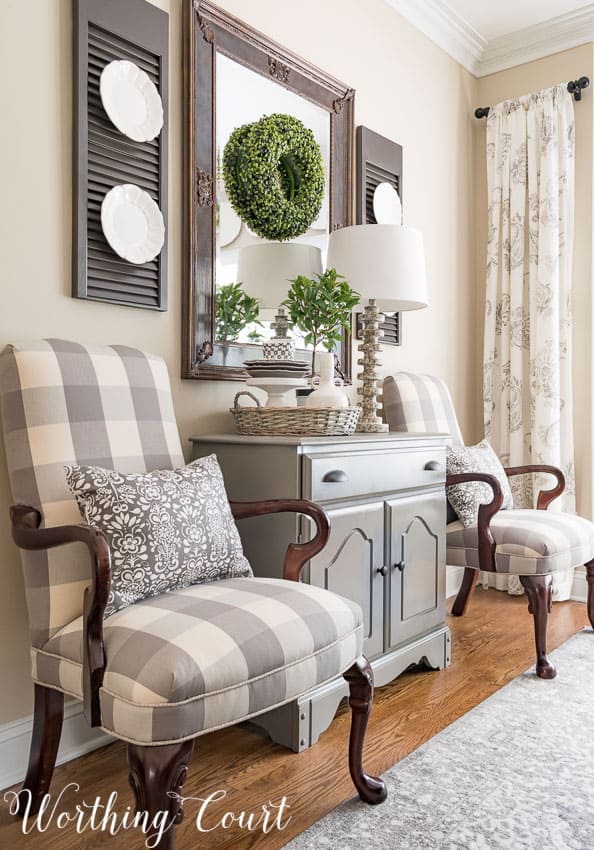 DECORATING RULE #5:  JUST BECAUSE THERE'S AN EMPTY SPOT, YOU DON'T HAVE TO FILL IT
This falls into the category of less is more – but then again, it all depends upon your point of view.  Many people prefer a very minimal look, so for them a lot less is more and that's perfectly fine.
That isn't me at all though.  I enjoy having pretty things in my rooms, but I do strive to strike a balance between too much and just right.  If you're like me and prefer to have lots of pretty things around to look at, just be careful not to go overboard or you'll wind up with a room filled with so much stuff, your eye won't know what to look at first.
I've always heard that when you're adding jewelry to your outfit, you should add what you think will look good and then remove one thing.  So I guess, the rule of thumb is to edit, edit and then edit some more.
BOOKCASE MAKEOVER – TRADITIONAL CHERRY TO FARMHOUSE FAB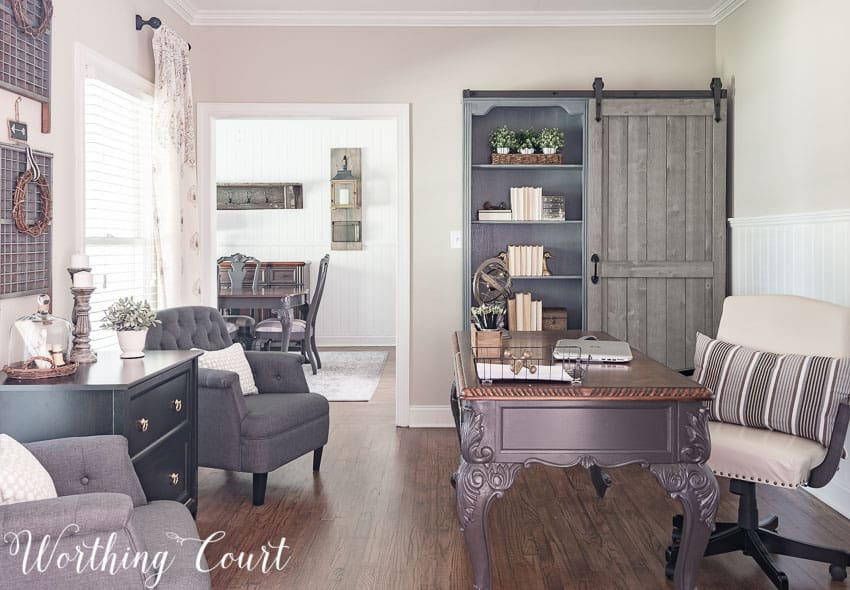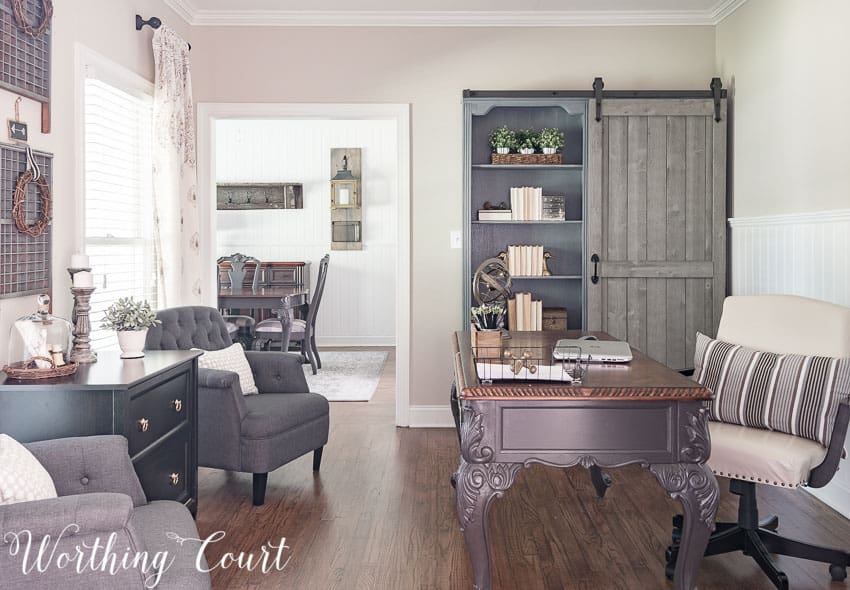 For those of you who may be struggling, I hope that these tips will give you a place to start.  Just remember – no matter which of these "rules" you decide to follow or to break, just be sure to follow your instincts and make your home your own!