How To Create Fresh Christmas Decorations Without Buying Anything New
Here's how to create fresh Christmas vignettes around your home without buying anything new!
One of the quickest ways to decorate around your home for Christmas is with the use of vignettes. Once you know the easy basics, they can literally be put together in just a few minutes!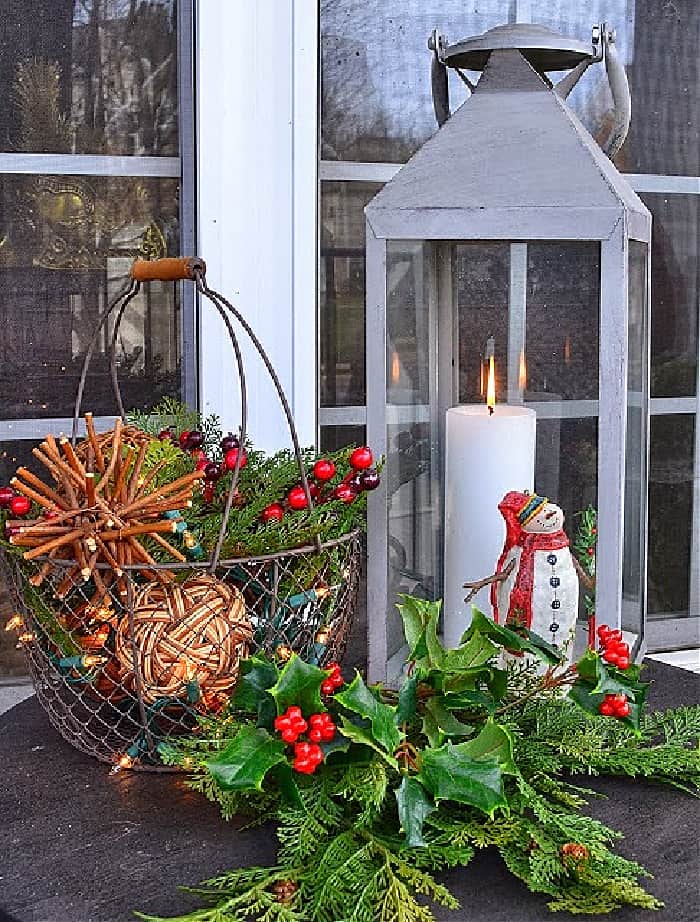 There's no limit to how much you can spend giving your Christmas decor a fresh look each year – am I right??? These tips will walk you through examining your existing decor to create a vignette with a whole new look without spending a dime.

If you haven't already, I recommend reading my 7 tips for creating a vignette blog post to help you get started.
We're going to use Christmas vignettes that I've created in multiple areas of my house over several years as examples.
FORGET ABOUT WHAT YOU DID LAST YEAR
The whole idea here is to create something "new", even though it may be located in the same spot that you add decor to every Christmas.
So throw out the notion that you're just going to do a repeat of last year's (or previous year's) decor!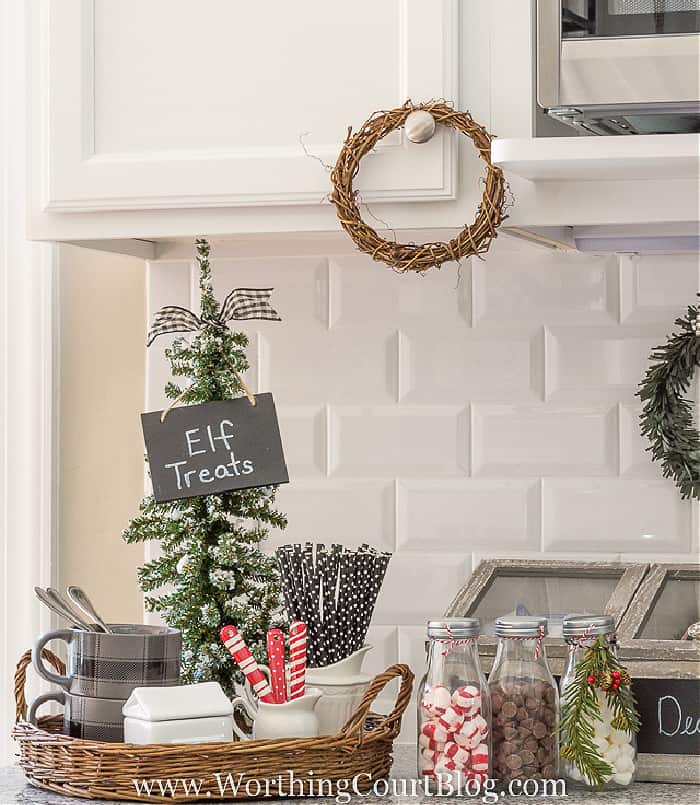 EVERY VIGNETTE NEEDS A BASE
I believe that every successful vignette should start with a base of some kind. Corralling items together on a base gives them importance and draws attention to the display much better that just placing things close together in a group.
Taking into consideration how large you want your vignette to be, look through your stash for these items to use as a base:
trays, crates or baskets – metal, wood, wicker, round, square or rectangular
risers – something to elevate part or all of the vignette
bowls, dough bowls
tiered trays
dining table runners or placemats
layer of artificial greenery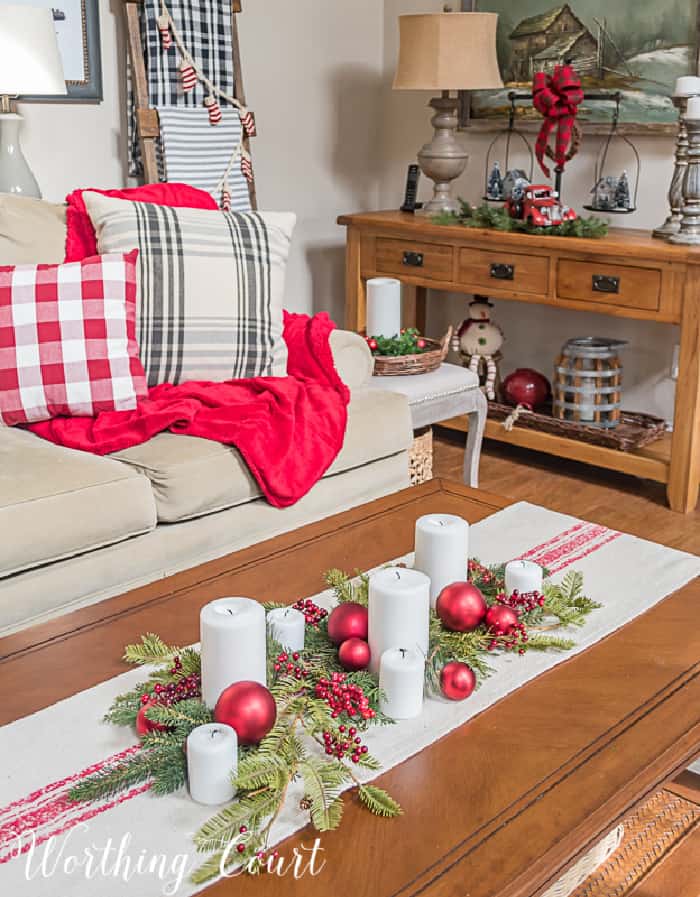 WHERE WILL IT BE LOCATED?
The only requirement for creating a vignette, is that you need a surface to place it on. I know that may seem a little over simplified, but you do need to take that into consideration.
The size and location of your surface will have a direct impact on the size and shape of your vignette – right? The direction the vignette will be viewed from also dictates how you arrange the vignette on your base.
My favorite vignette locations are:
coffee table
sofa table
buffet or sideboard
end table
bathroom vanity
kitchen counter
fireplace hearth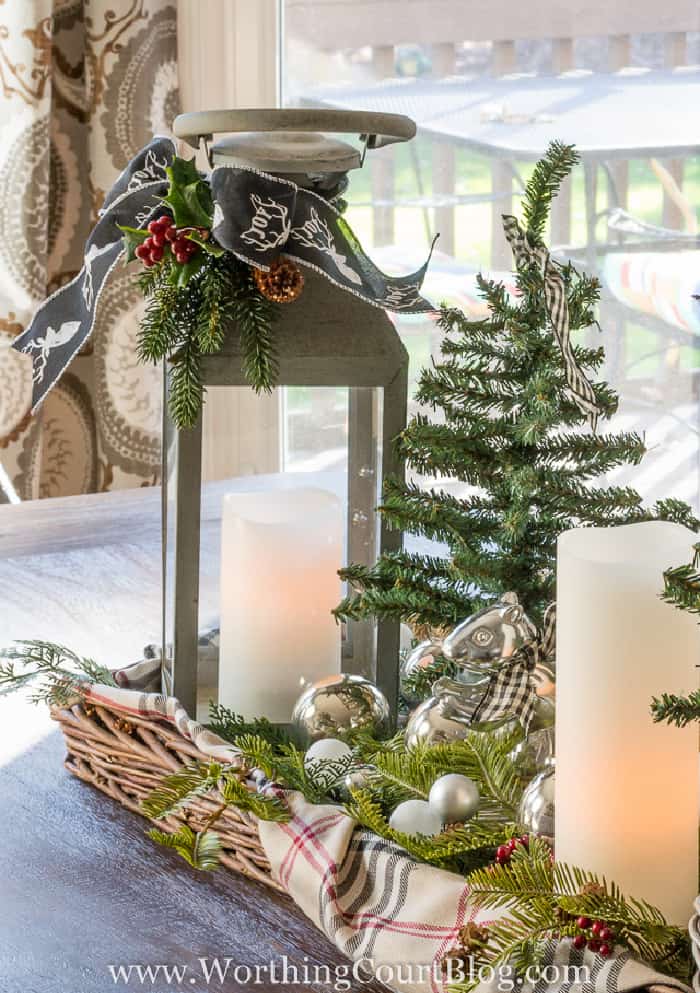 ITEMS TO INCLUDE IN A CHRISTMAS VIGNETTE
The list here is pretty endless, but below are a few of my go-to items for my Christmas vignettes. But be careful – a vignette consisting of too many different items can look messy, so I recommend keeping the number to a 3 – 5, depending upon the size of the vignette.
candles
artificial greenery
Christmas ornaments
lanterns
mini Christmas trees
artificial berries
wood bead garlands
fairy lights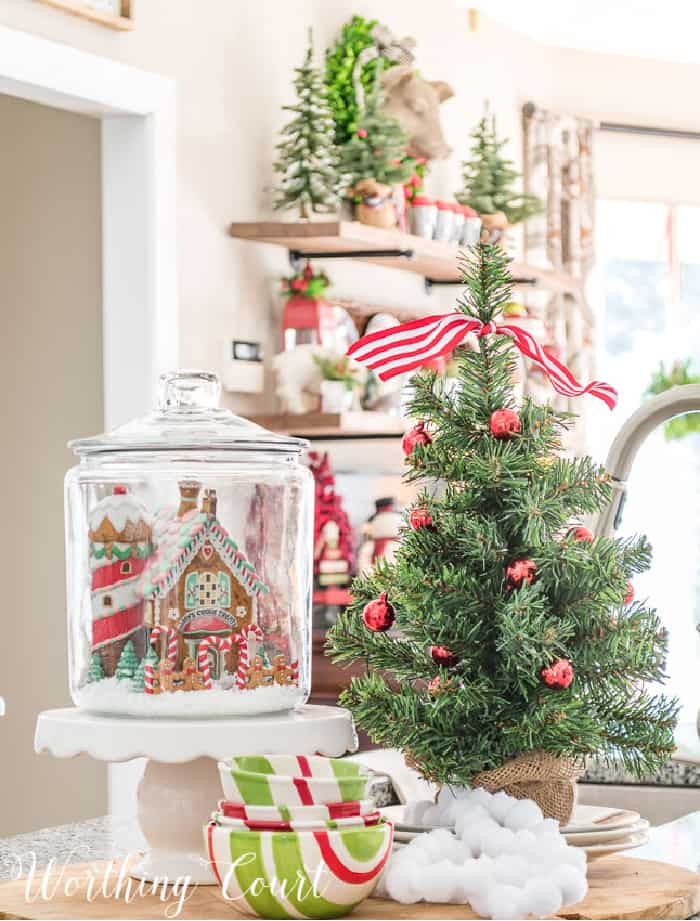 What's your favorite idea for free Christmas decorating?