Festive and Frugal: A Guide to Budget-Friendly Christmas Decorating Ideas
'Tis the most wonderful time of the year, and we all want our homes to look festive with fresh decorations for the holiday season. But – what is some budget Christmas decorating that we can do to deck the halls without emptying our pockets?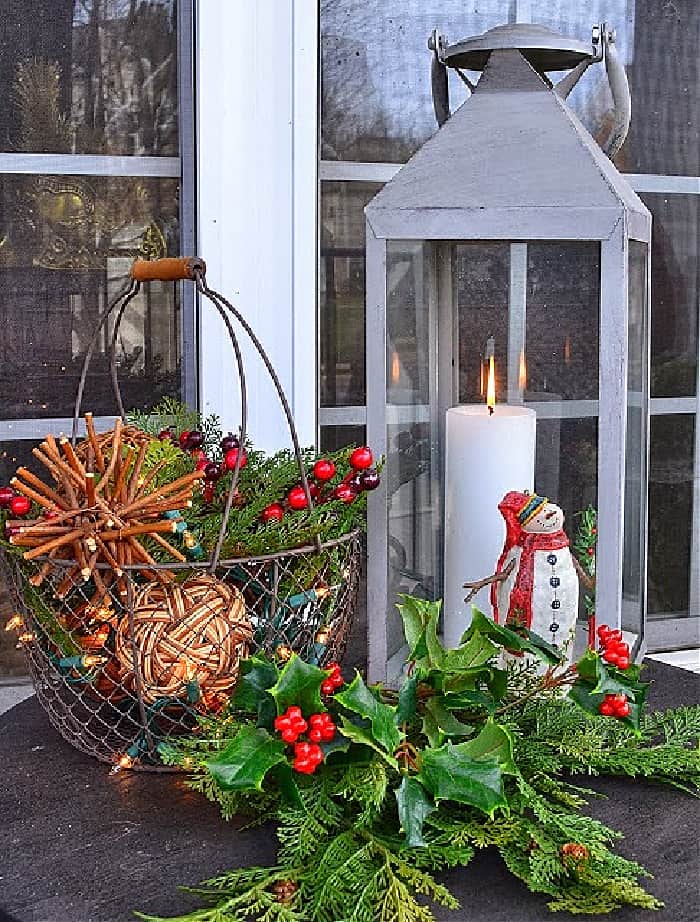 There's no limit to how much you can spend giving your Christmas decor a fresh look each year – am I right???
Have no fear – we're going to look at how you can work wonders this Christmas season, with little to no budget. By using your creativity and resourcefulness, you'll be able to make it look like you've added new fresh, festive touches to your home.
What do you already have?
It's pretty obvious, but THE most effective budget Christmas decorating idea is to decorate for this festive season by using what you already own. The key is to reimagine your old decorations in a whole new way.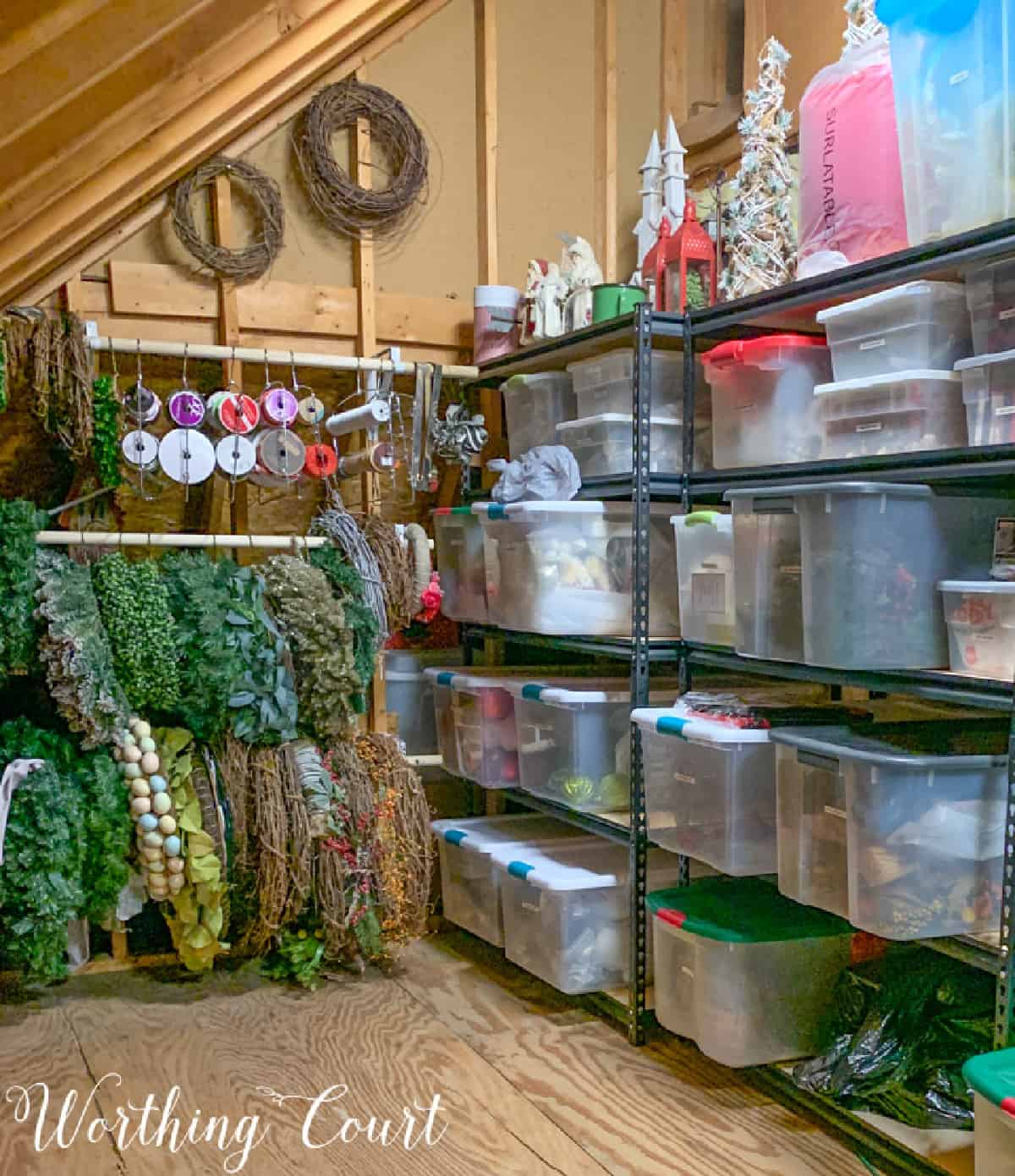 The very first step has to be to take a deep dive into your storage and rediscover gems that you may have stashed away from years past.
Check out my
attic organization
tips
Some ideas for how to repurpose your old decorations are:
Repurpose old lights:
Place a string of old lights in a glass vase or a bowl filled with solid color ornaments.
Use them to frame a mirror and add more sparkle to a room.
Hang strings of light in a window behind sheer curtains to add a truly magical feel.
Lay a strand of lights along the back of bookcase shelves for a beautiful glow.
Repurpose old ornaments:
Suspend ornaments with ribbon from a chandelier or curtain rod in a window.
String ornaments onto wire, a coat hanger, or a length of ribbon to use as a garland on your tree or on a staircase rail.
Shop at thrift stores for picture frames to glue small ornaments to. Add a picture from a past Christmas to the frame.
Tie an old ornament to a gift-wrapped package to be placed under your tree.
Create an ornament topiary by hot-gluing them to a cone or round styrofoam base.
Cover old ornaments with clear-drying craft glue and glitter to make them look new.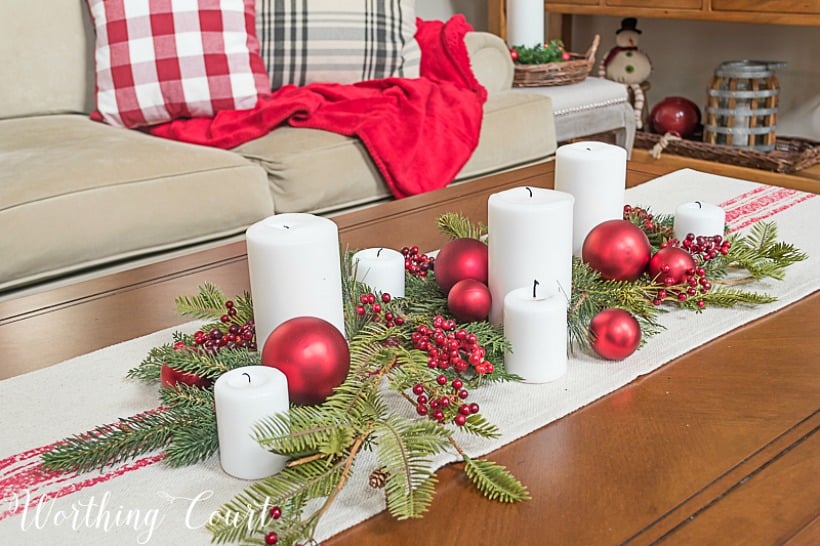 Repurpose an old wreath:
Lay a wreath flat on a dining table. Place a large bowl, candles, or a hurricane lamp in the center.
Hang a wreath over a mirror or piece of art. Suction cups work great on a mirror. A length of ribbon tacked to the back of the frame, works well on artwork.
Attach a smaller wreath to the back of the head chair at a dining table.
Suspend a wreath from a chandelier, upside down, with clear fishing line or lengths of ribbon.
Attach one or more wreaths to a staircase railing.
Give your Christmas tree a new look
One of the easiest areas to spend too much money on when Christmas decorating is decorating your tree.
It's tempting to want to redecorate your tree according to the latest trends. I totally get it!
If you're working with little to no Christmas decorating budget, reimagine your existing decorations to give your tree a new, personalized look, instead of investing in all new decorations.
Hang ornaments with ribbon instead of ornament hooks or wire.
When hanging an ornament with ribbon, make a bow.
Use floral wire or pipe cleaners to cluster ornaments together instead of hanging them individually.
Decorate your tree with a specific theme or color scheme in mind.
Use floral wire to add unexpected large elements to your tree. Let your imagination run wild!
Place your tree in a container instead of on the stand it comes with.
If using a tree skirt, place wadded-up pieces of paper or plastic under it to prevent it from lying flat.
Spray painting an old tree with white paint is an affordable way to get a lightly flocked look.
Hot-glue narrow ribbon to the back of plates, small frames, or other items to use as ornaments. The glue is removable by reheating it with the hot tip of the glue gun.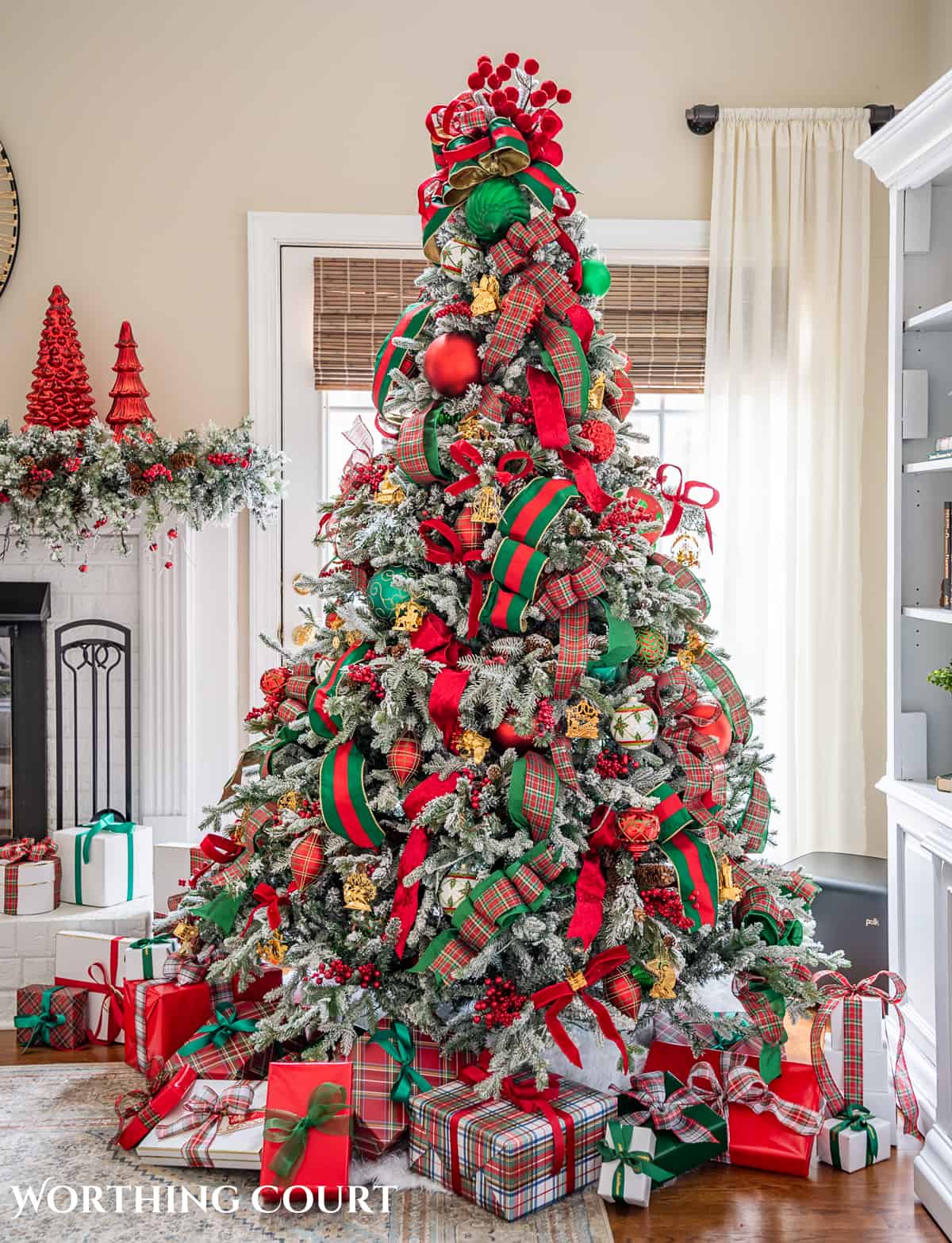 Revamp your fireplace mantel decorations
Your fireplace mantel is very likely the focal point in your room, so you'll want it to shine. But – purchasing all-new Christmas decorations can blow your budget right out of the water!
Let's explore budget-friendly ways to give your mantel a whole new look this Christmas:
Change up your color scheme by spray painting old decor or thrift store finds to display.
Reuse the same decor on top of your mantel, but arrange it in a different way. IE: Create an asymmetrical design by moving two candlesticks to one end instead of placing one on each end of the mantel.
Shop your yard for natural elements to tuck into a garland or among objects displayed on the mantel.
String old ornaments together with twine or ribbon to create a festive garland.
Create a new-to-you garland by disassembling an old wreath. Then, add the components to a cheap evergreen garland.
Cover old or thrifted candlesticks with glitter.
Wrap battery operated pillar candles that you display with a length of ribbon.
Hot-glue tiny ornaments to the base of old candlesticks.
Display glass hurricanes filled with old ornaments and inexpensive fairy lights.
Attach an ornament to the loop of your stockings to give them a fresh appearance.
Suspend ornaments from the bottom of a mantel with clear fishing line.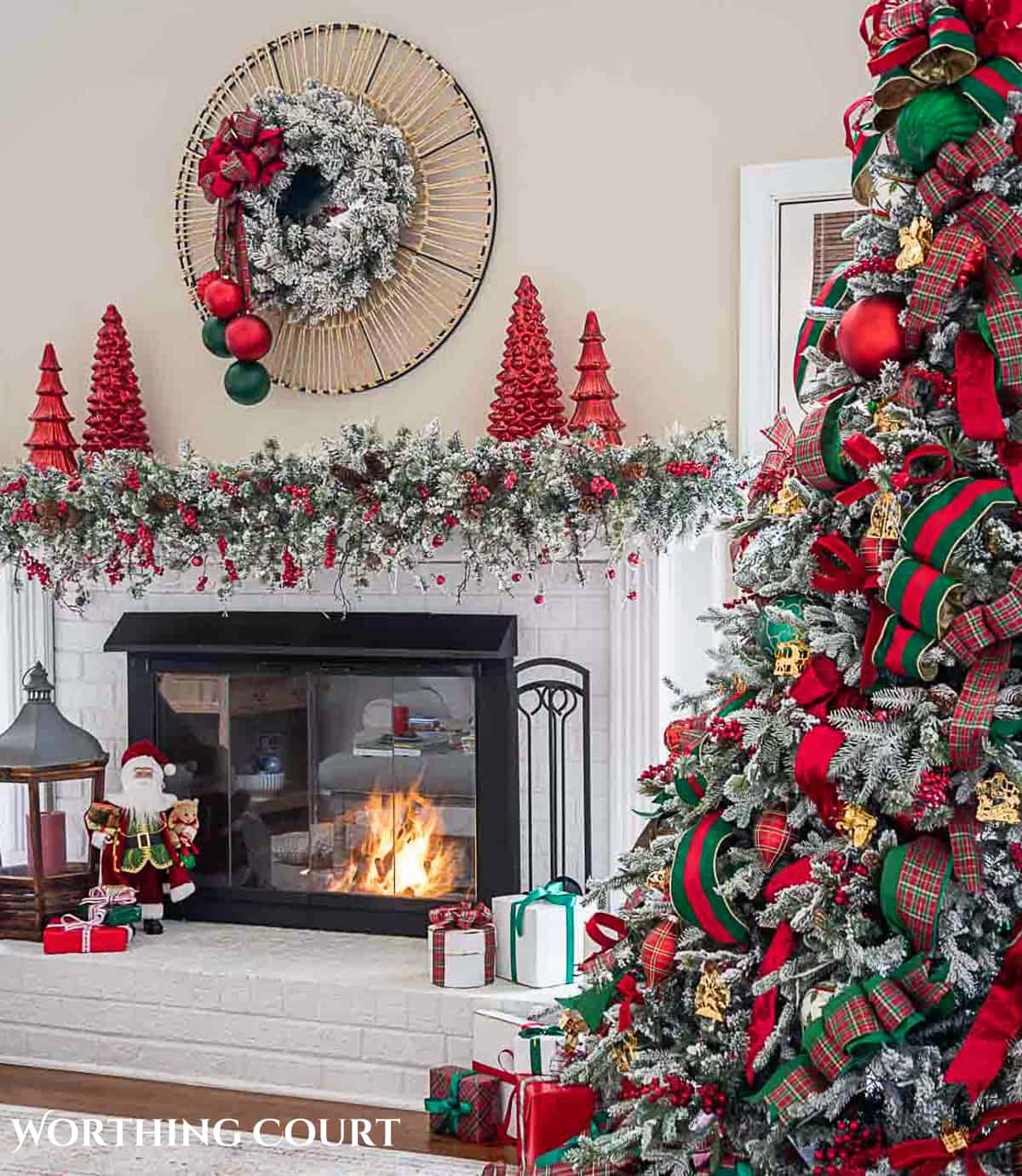 Update a centerpiece
Ever found yourself staring at that same old Christmas centerpiece and thinking, "Hmm, time for a change"?
Check out these budget-friendly tricks to give your centerpiece a whole new vibe:
Use nature once again. Beef up an old centerpiece with twigs, pine cones, and evergreen branches from your yard.
Instead of using tall candles, nestle tea lights in votives (from the dollar store) among your centerpiece.
Visit the produce aisle in your grocery store. Fresh fruits and vegetables make beautiful accents to a Christmas centerpiece.
Reimagine some of your everyday decor pieces. Arrange them in the middle of your table with ornaments or greenery added to the display.
Use unconventional containers as vases for real or fresh flowers and greenery.
Display bare branches from outside in a vase along with stems of evergreens.
Display holiday cards by arranging them around or within a centerpiece.
Stack old books together to use as a base to elevate different components of a centerpiece.
Add a festive aroma to the table by placing cinnamon sticks, cloves, or citrus peels in a bowl.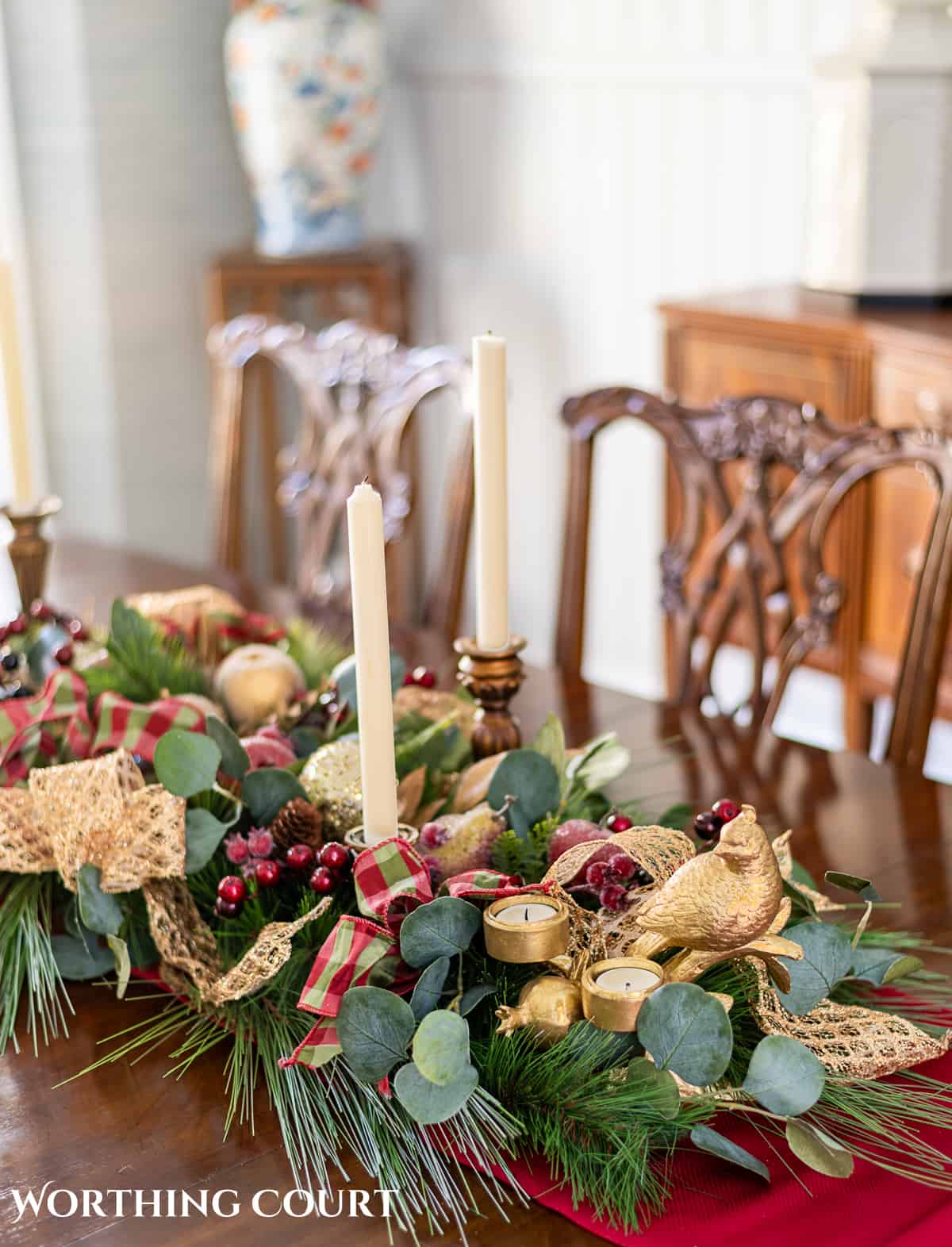 More budget Christmas decorating tips
Embrace the thrill of secondhand shopping this time of year! There are treasures galore to be found that can be reimagined into new holiday decorations.
Unleash your creativity with easy DIY projects. Use those thrift store finds, natural elements from your yard, and extra ornaments to craft "brand new" festive decorations.
Craft a beautiful tree topper, create a new wreath for your front door, redecorate your tree – all these things are possible for a fraction of the price of buying something new.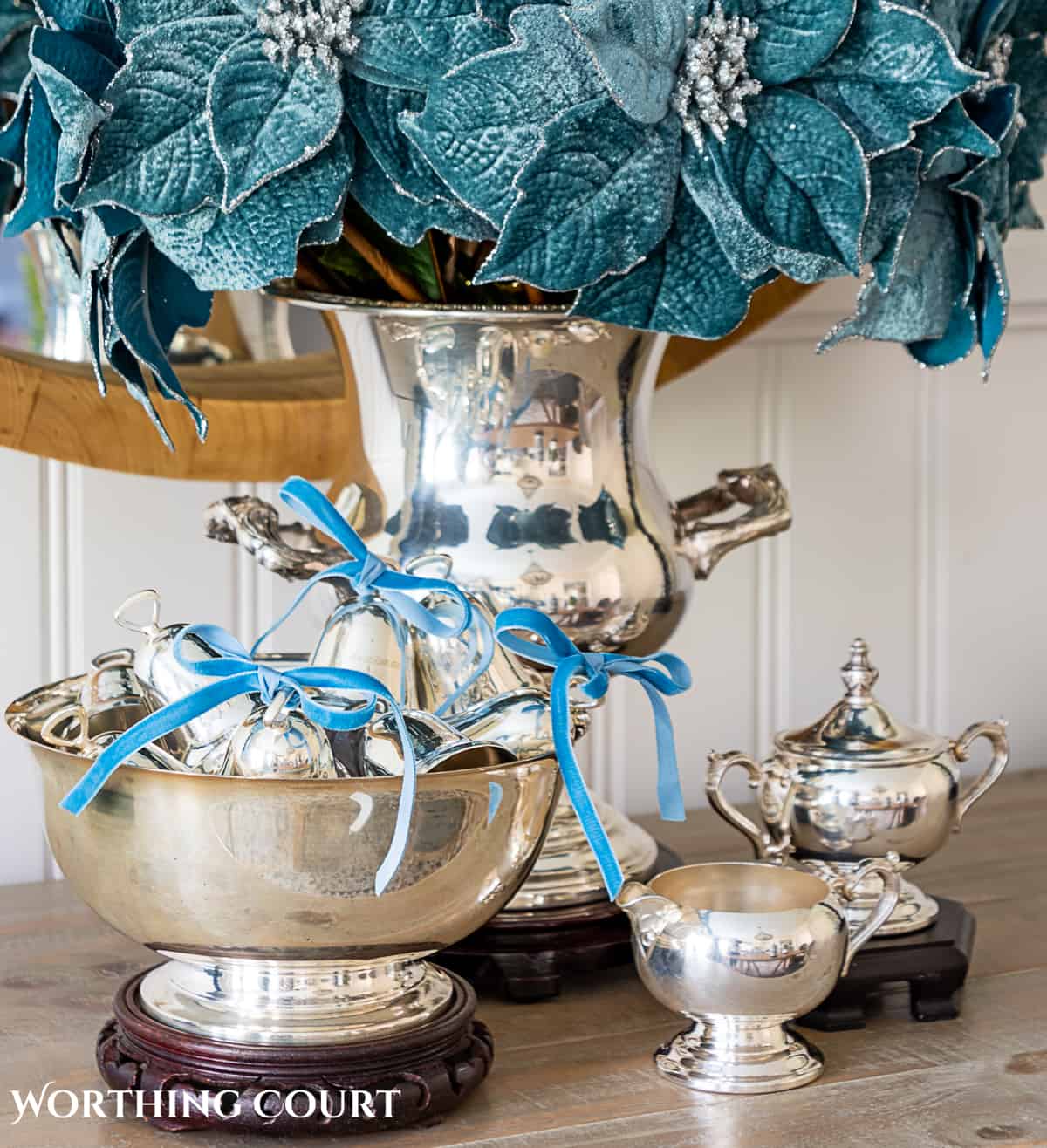 Wait until a couple of weeks past Christmas to shop for next year's decor. By that time, the after-Christmas sale rush is over and retailers just want to get rid of their remaining inventory. I often find decor for as much as 90% off of the original price.
With these tips, your home will radiate the magic of the Christmas season, all achieved in the most budget-friendly way possible. So as you embark on this festive and frugal journey to spruce up your space for this Christmas season, remember that your home is a canvas waiting to be adorned with memories, reimagined treasures, and the holiday spirit.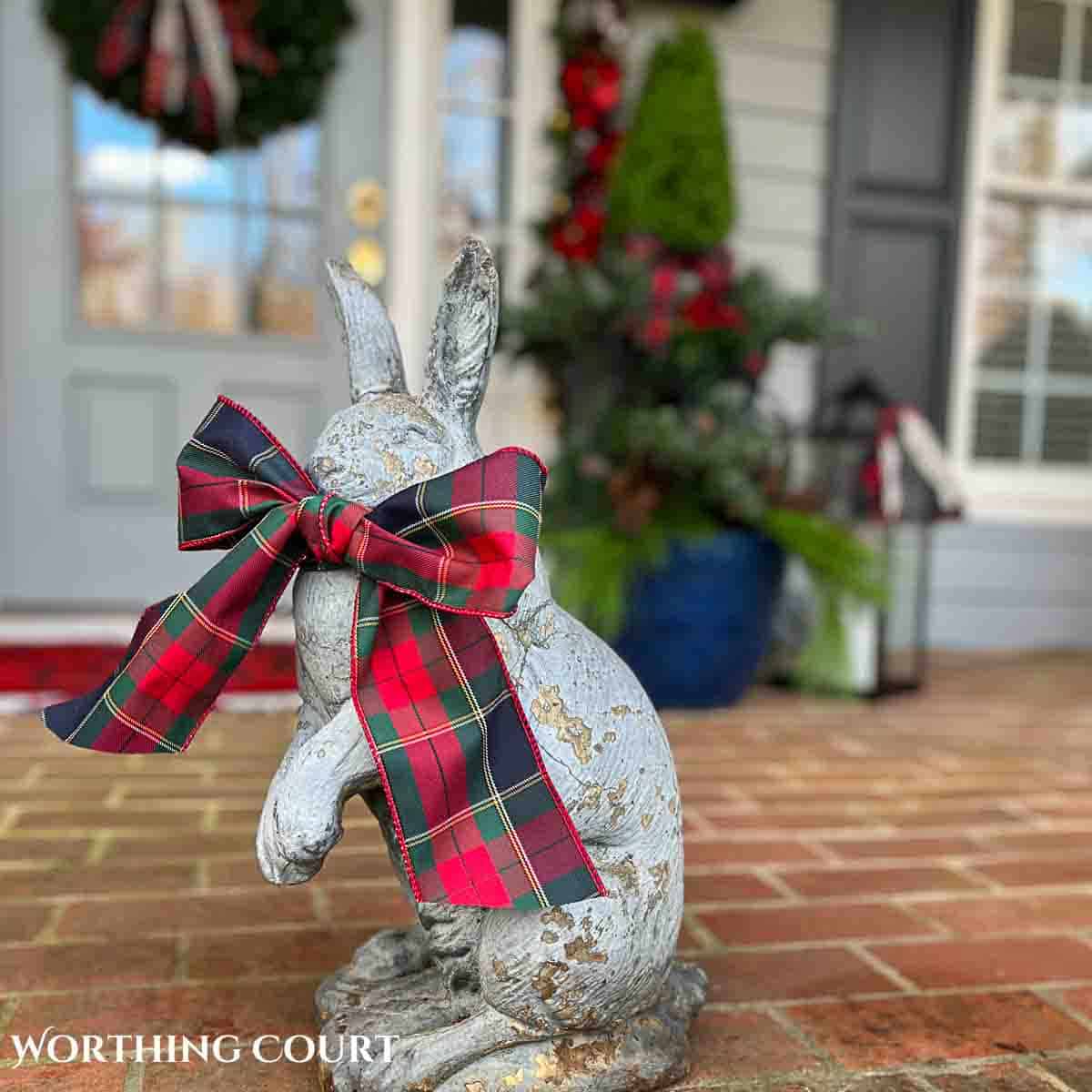 So, whether you're revamping your mantel, giving new life to old ornaments, or crafting a centerpiece with nature's bounty, embrace the joy of creativity and resourcefulness. With a dash of DIY flair and a sprinkle of secondhand charm, your home will radiate the warmth and magic of Christmas—all achieved without putting a strain on your budget.
Wishing you a season filled with the joy of the true meaning of Christmas, the thrill of creativity, and the simple pleasures that make Christmas truly special.