Get Inspired By My 10 Minute Cheery Spring Mantel
You don't have to spend a lot of time with your seasonal decorations.  These easy ideas will show you how you can decorate your mantel for spring in 10 minutes.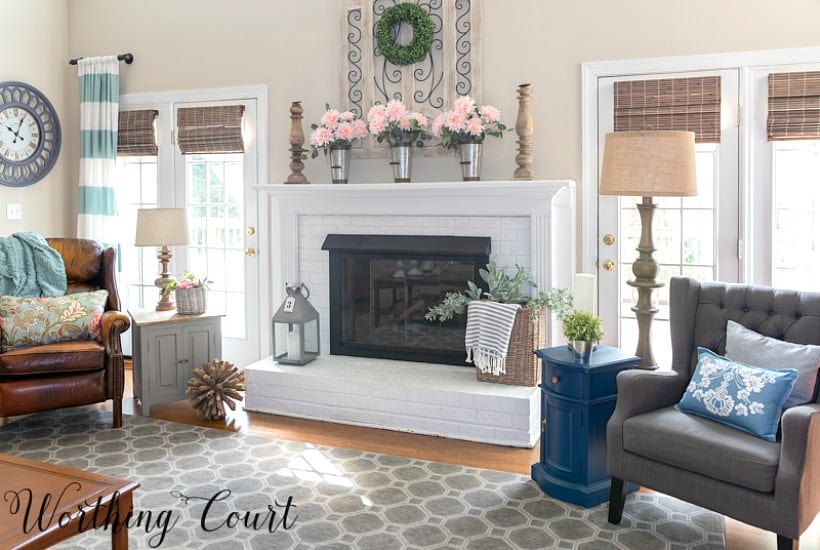 Life has been crazy for me the last few months, so I needed to put together something fast and simple when decorating my fireplace this spring!  I honestly didn't have time to make a new wreath to go above my fireplace this season and I didn't have time to create an elaborate mantel either.  So….it was either keep it simple or do nothing at all and doing nothing at all wasn't an option for me.  😀
SIMPLE THING #1
The inspiration for my spring mantel this year came from these gorgeous blush pink floral bushes.  I just love the deep shade of pink in the center that fades to a lighter shade on the outer edges.  Using floral bushes instead of individual stems makes it super fast and easy to arrange in a container.  I added three stems of eucalyptus (that I cut from a faux eucalyptus bush) to each container for added interest.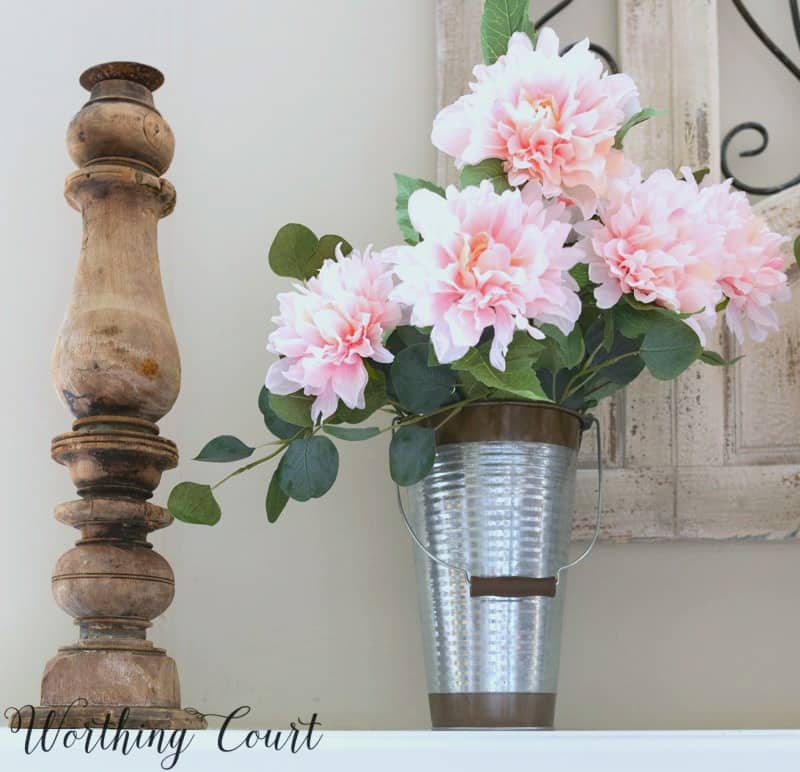 SIMPLE THING #2
Lining several galvanized buckets up in a row creates more of an impact and flanking the containers on each side with candlesticks helps to give definition to the spring mantel display.  Can we just stop for a minute and stare at these yummy candlesticks?!?  I picked them up on my recent trip to Magnolia Market.  I didn't place candles on them since the tops are a bit wonky, but I think that the wonkiness just adds to their charm.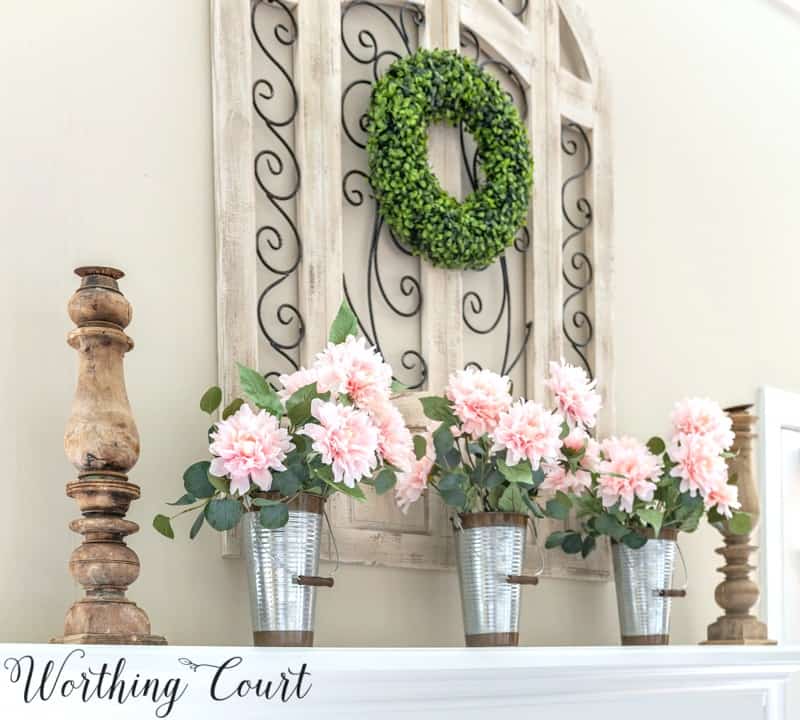 SIMPLE THING #3
Remember my post about K-I-S-S decorating?  The decorating philosophy of mine definitely comes into play anytime that I decorate my fireplace, no matter the season or holiday.  I keep this large wood and metal piece above my fireplace year-round.  It provides me with a great backdrop and provides instant layering and texture.
SIMPLE THING #4
Add a wicker basket filled with a pretty throw and faux greenery on one side of the hearth and a large lantern holding a simple white candle to the other side and you're done!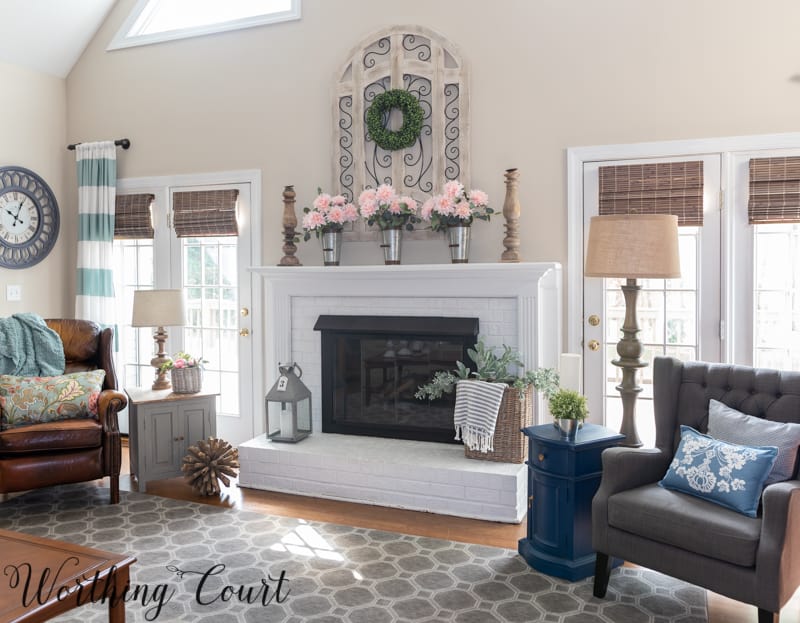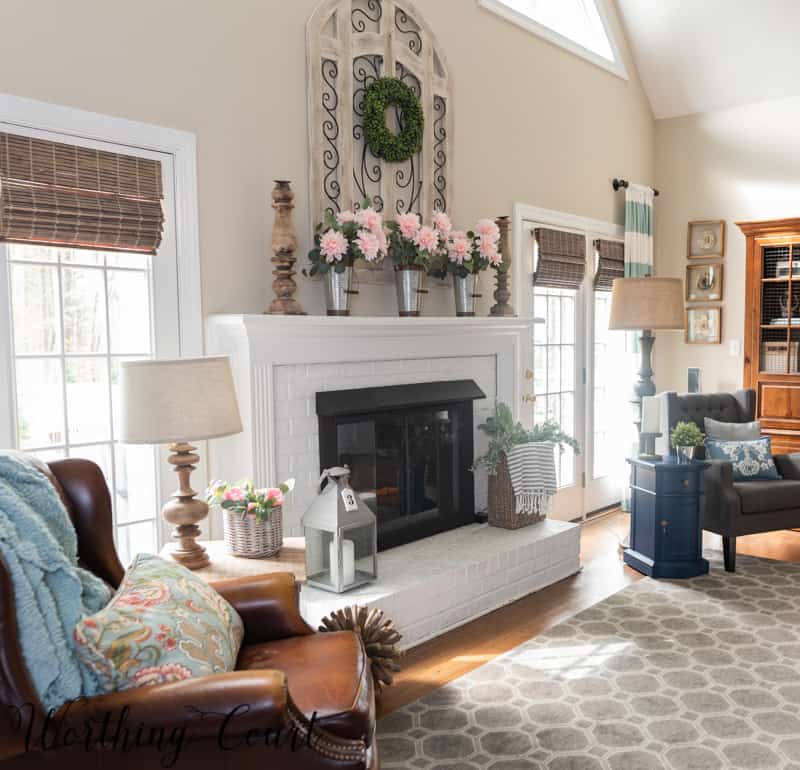 See – easy peasy and done in 10 minutes!  What's your favorite fast and easy decorating trick?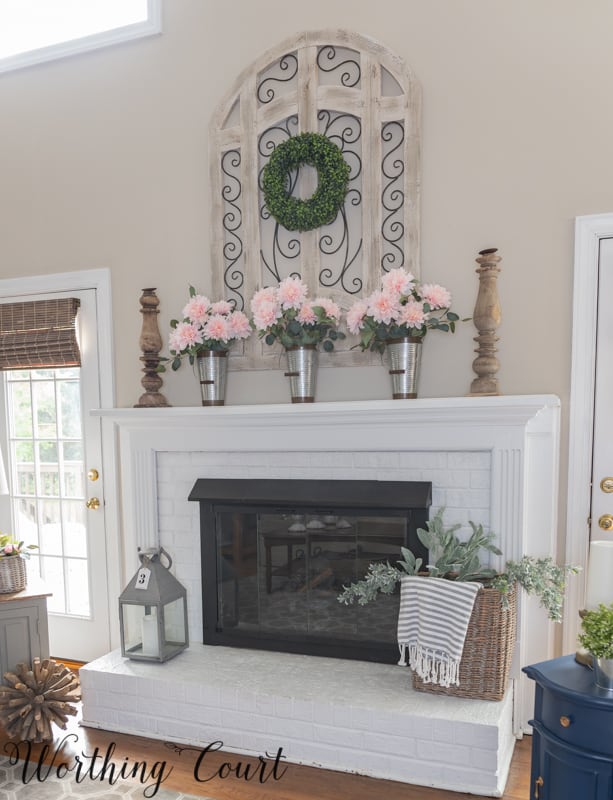 Now get out there and have some fun decorating! 😀