The Fall Boutique At Worthing Court
Welcome to the Fall Boutique at Worthing Court!
Need a few fall decorating essentials or ready to freshen up what you already own? I've worked hard to bring you a carefully curated selection of decorating items that will help you decorate your home for fall this year.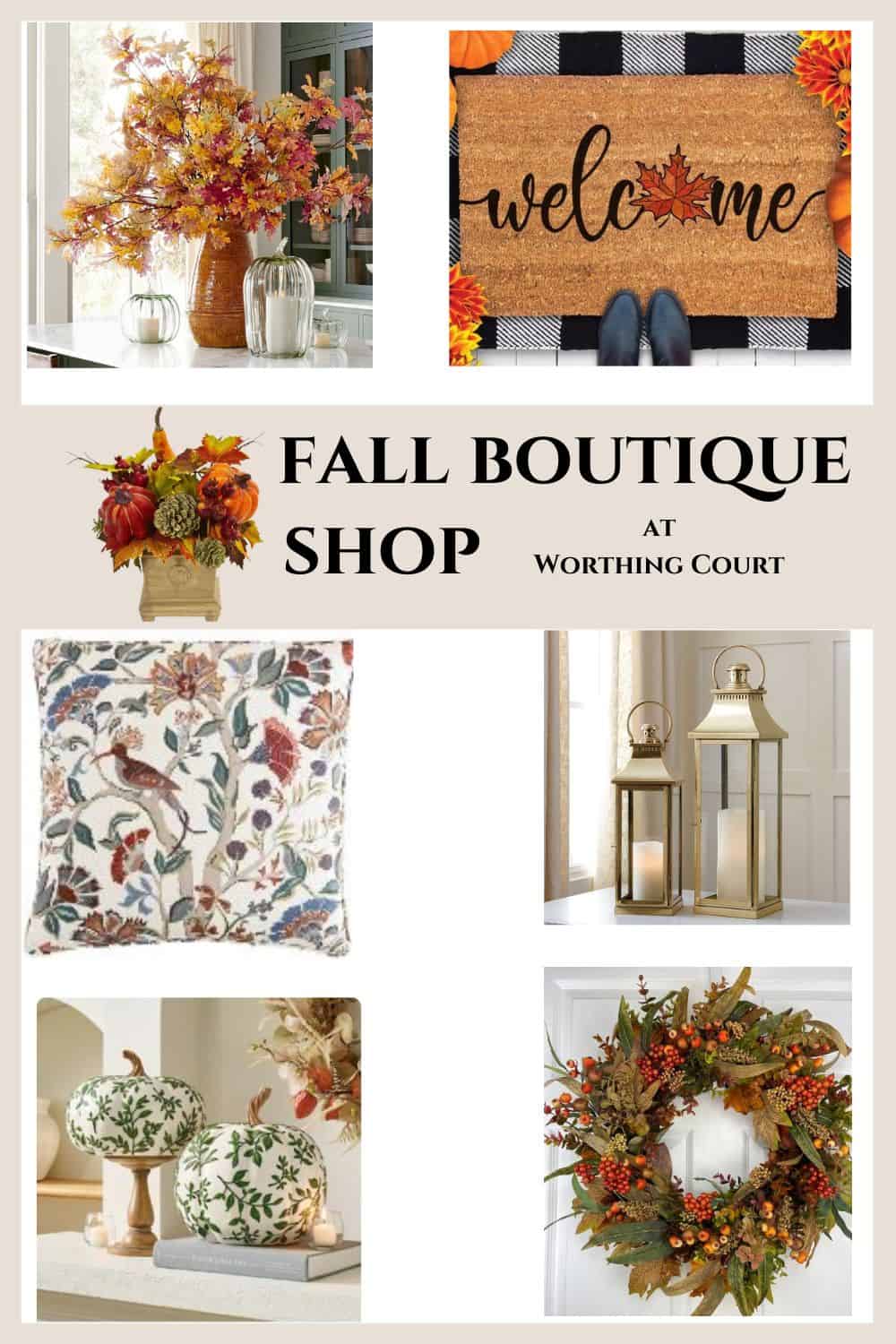 I found some beautiful items, many of them on sale for a great discount! Each one them is something that I either have in my own home or would love to add to my collection.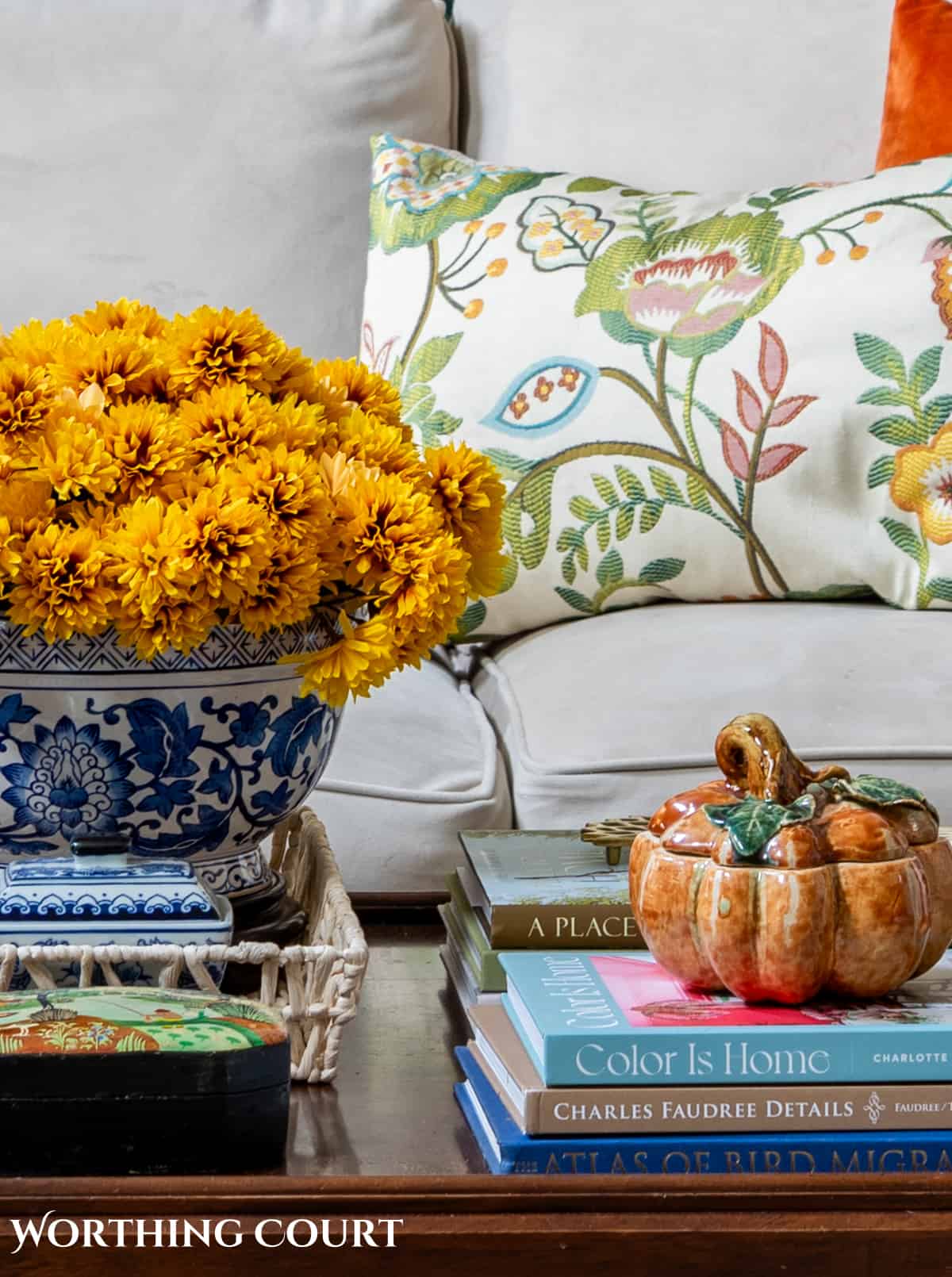 You'll notice that the Boutique is broken into sections. There's a section for Fall Home Decor, Fall Pillows and Throws, Fall Pumpkins, Fall Wreaths, Ribbons and Bows, Fall Stems and Florals, Fall Planters and Arrangements, Fall Entertaining and Kitchen and Fall Doormats.
So settle back in your pj's and do all your fall decor shopping right from the comfort of your own home!
Click on any of the images of things that interest you for more information or to purchase.
Fall Home Decor
Bring the cozy charm of the season into every corner with items from the Fall Home Decor collection. From fall-themed accents to everyday accessories, any of these items will infuse your space with the inviting spirit of the season.
Fall Pillows & Throws
From plaid patterns that evoke the cozy feeling of the perfect flannel shirt to more subtle fall nods to the season, these cozy fall pillows and throw blankets will add warmth and style to your seasonal decor.
Fall Pumpkins
Whether you prefer pumpkins with whimsical painted designs or in traditional shapes and colors, displaying any of these selections will add just the right touch of fall to any little spot in your home.
Fall Wreaths, Ribbons & Bows
A wreath is like jewelry for your door. Any of these selections will add just the right fall-welcome to your entry. Don't forget to top it off with a bow made out of beautiful ribbon for a finishing touch.
Fall Stems & Florals
Bring the essence of fall indoors with faux leafy and floral stems. Add a burst of fall beauty by assembling stunning arrangements with the rich and varied colors of the season. The possiblilites are endless!
Fall Planters & Arrangements
These planter fillers and arrangements are great whether you're aiming for a bountiful harvest-themed display, for something as minimalist as displaying a fall tree or for a simple arrangement for a table.
Fall Entertaining & Kitchen
No matter if you're serving up pumpkin-spiced delights or hosting cozy gatherings, these kitchen accessories, from harvest-inspired tableware to festive linens, ensure that your fall entertaining is all about that warm and cozy fall atmosphere.
Fall Doormats
Welcome guests with a touch of fall right at your doorstep with one of these fun doormats. From a classic welcome-themed mat to pretty pumpkin shaped choices, these doormats offer a charming way to set the tone for your home's cozy and inviting atmosphere.