Home Office Redesign Plans And Current Status: Switching From Farmhouse To Updated Traditional Style
Plans for a budget friendly home office redesign and switching from farmhouse to updated traditional style.
When I shared my 2020 House Goals and Resolutions earlier this year, an office redesign was at the very bottom of the list – #7 to be exact.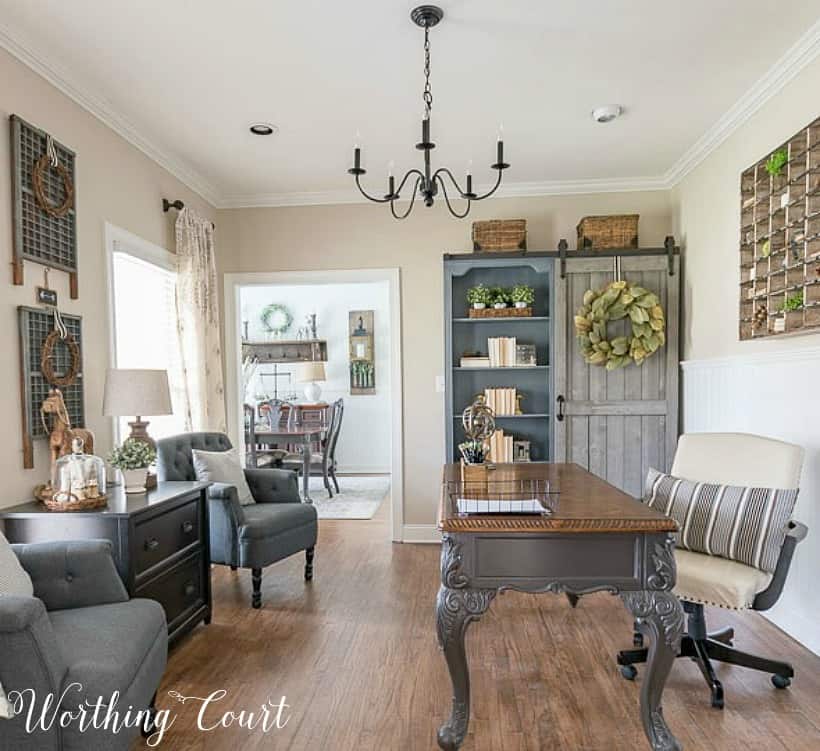 The makeover of our master bedroom and master bathroom was well underway and I had no intention of starting on the office next, but it quickly moved up in priority when my husband started very nicely mentioning a few issues he was having with some of the current situations in there. Gotta keep my man happy, ya know!  😀
It's so hard to believe that it's already been almost six years since we first bought this house, remodeled the entire interior and began the process of fully decorating all of the rooms!
When I first decorated the office, I was fully in the throes of incorporating as much farmhouse style into my home as I could. But – it's time for a change for me.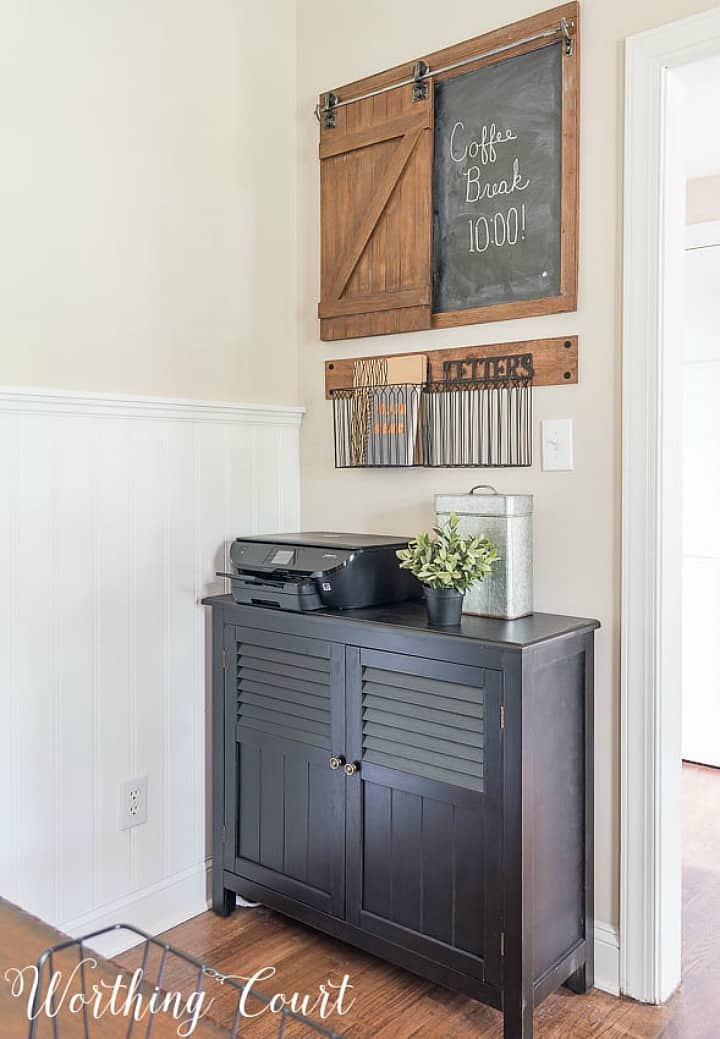 As I make changes, I'll do it as budget friendly as possible by re-imagining and using as much of what I already own as I can.
As part of the office redesign, I did invest in a couple of new pieces of furniture, but with careful shopping, I was able to pay for most of it out of my earnings from selling both the original desk and the vintage mailbox sorter that used to hang on the wall behind the desk.
Let me show you the office design board that is my inspiration for this room's new updated traditional style look and then I'll go into a little more detail and show you what we've already done so far and also share my to-do list for this space.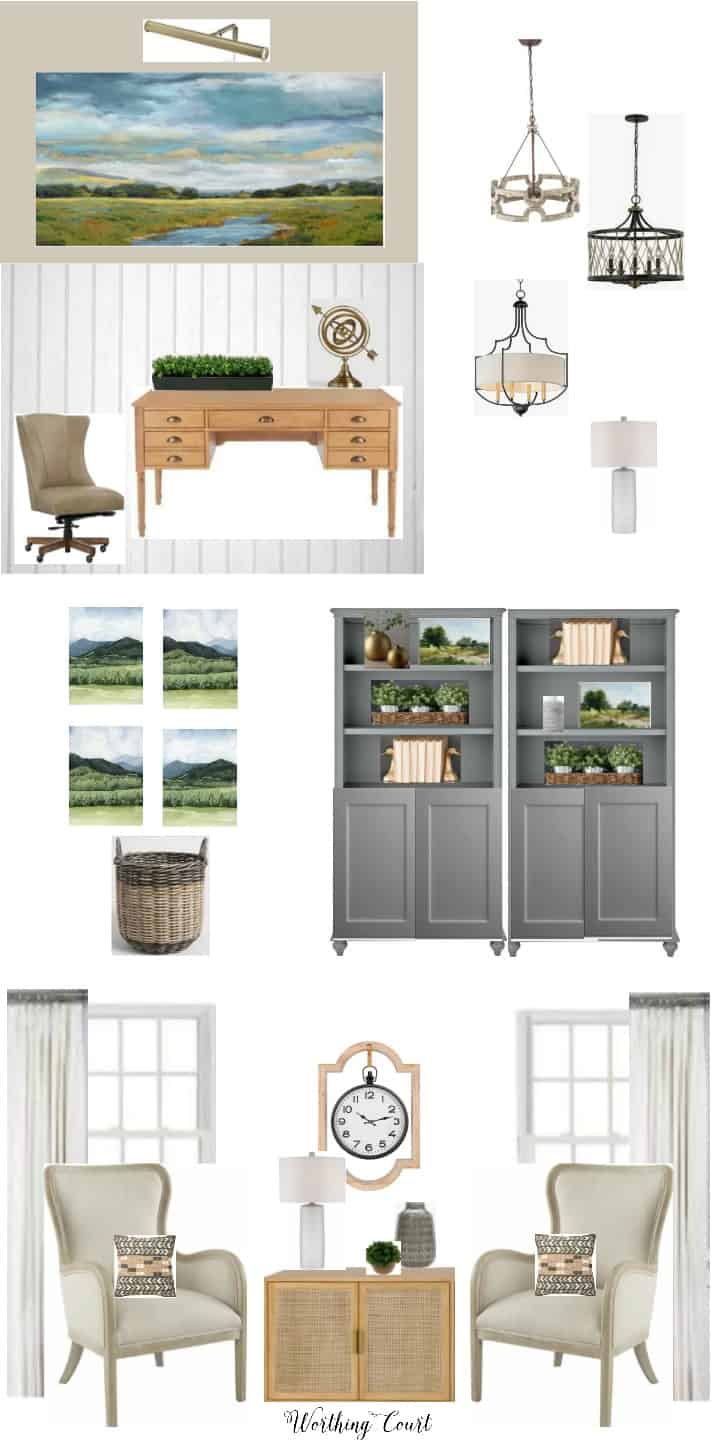 In preparation, I've completely cleaned out the room of all of its art, draperies and accessories and have added in the new furniture. Cleaning the room out makes it so much easier to visualize new design ideas!
Things may look a little un-cohesive and disjointed at this stage in the process, but don't fret! The plans that I have should pull all of the colors and other elements of the office redesign together.
THE DESK AREA
The desk that we originally had in here filled up the room quite a bit, as it was large and bulky with heavy ornate legs. It was a beautiful piece of furniture that I loved even more after I painted the legs. But we had it for around fifteen years and it no just didn't fit in with my updated traditional office redesign plans.
The wall behind the desk is where I proudly displayed the vintage mail sorter for several years.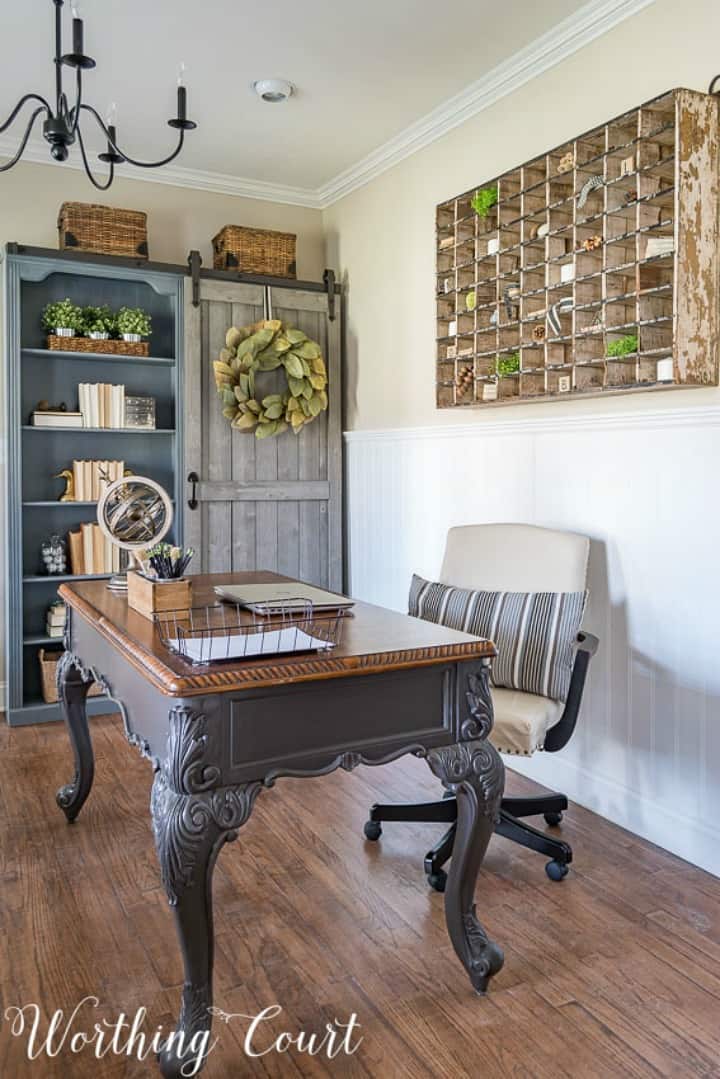 The new desk is smaller in scale, has much cleaner lines and is made from beautiful honey colored wood. It also fits my tall husband's body better since it has more leg room under the center desk drawer. It's taking me some time to get used to the smaller scale of it, but I think it will fit in perfectly once the room is completed.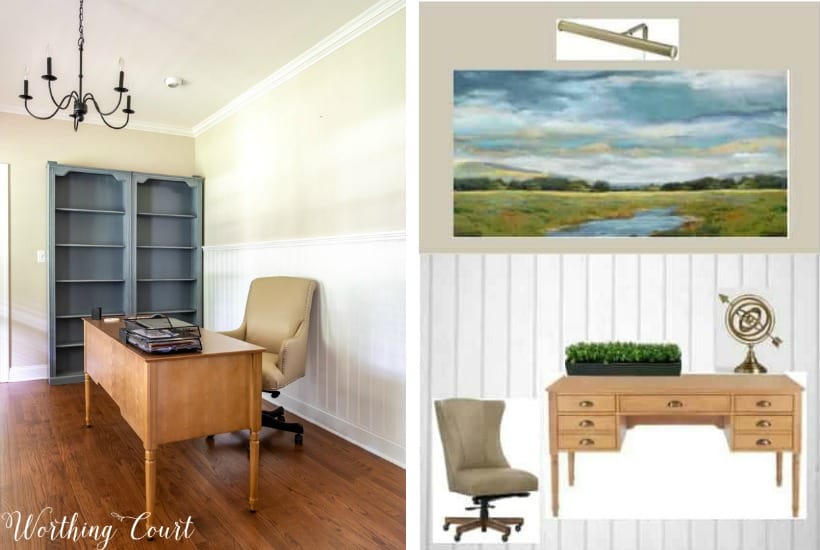 THE BOOKCASES
The bookcases in this room became quite a popular feature when we gave it a makeover with paint and added a diy sliding barn door to it! As of today, the sliding door and its hardware have found a new home.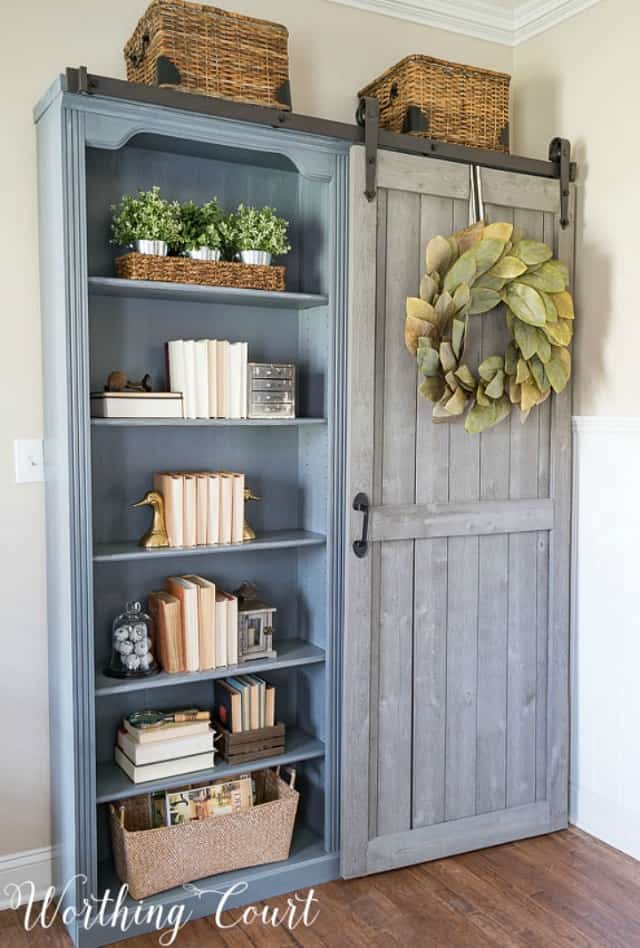 I plan to add some diy cabinet doors to the bottom, but I'm undecided on whether or not I want to do anything to the back of the bookcases. I think I'll let other elements of the room come together a bit before I make a final decision.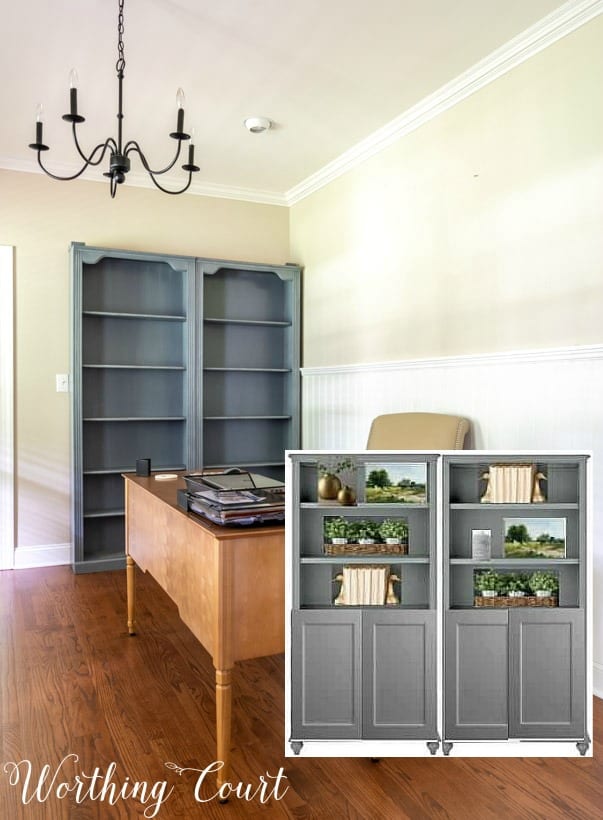 THE WINDOW AREA
I loved the gray chairs that I originally added to this room. They were a bit smaller in size, which was great since the desk that they sat across from was so large.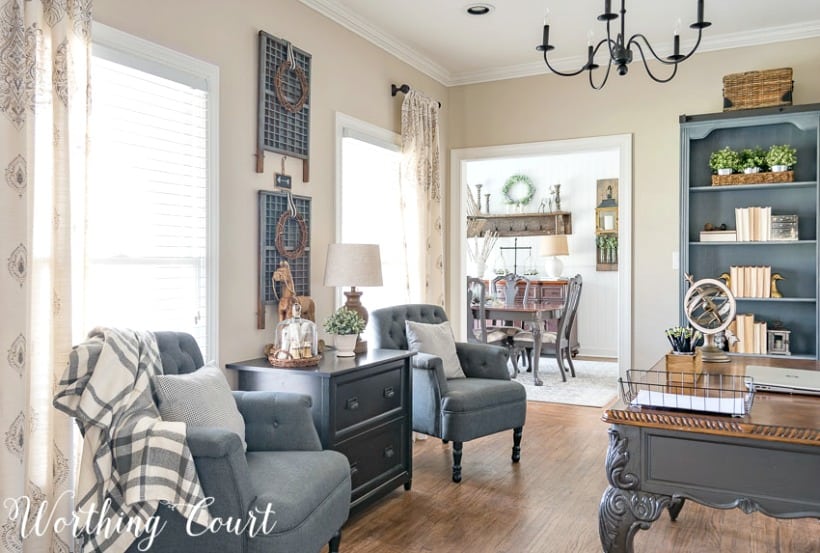 But with the smaller scale of the new desk, I think the room can now easily handle a pair of wing chairs, which is what I've wanted in this room from the very beginning!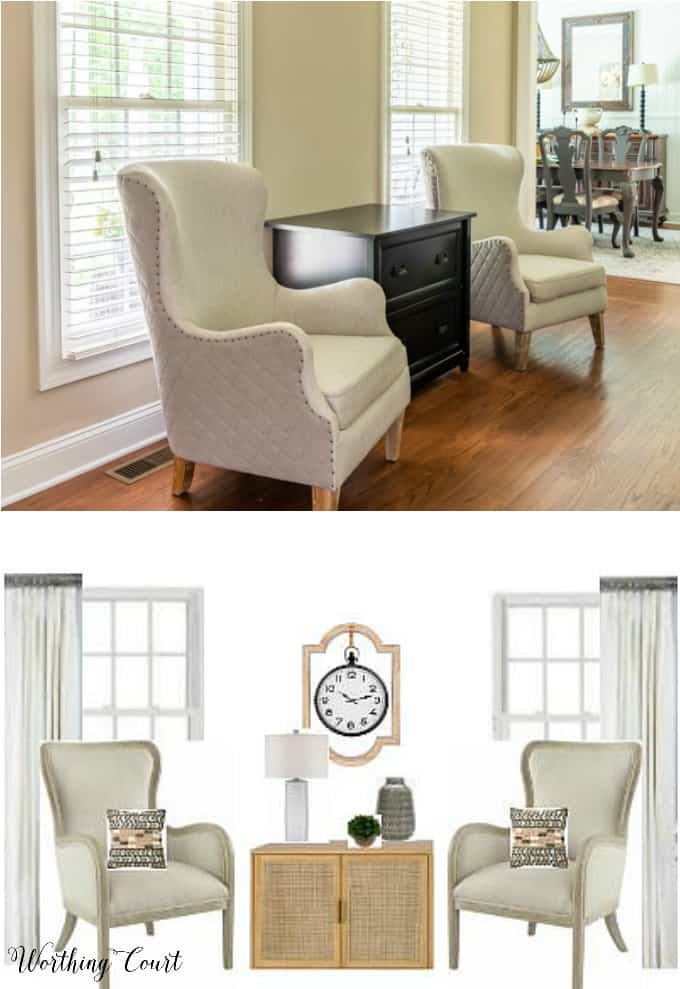 THE TO-DO LIST:
replace desk with something smaller and with better leg room
replace the gray arm chairs with wing back chairs
replace the vintage mail sorter with art and possible sconces
add a pair of diy cabinet doors to each one of the bookcases
possibly paint or add something to the back of the bookcases
replace the chandelier
replace the eyeball can lights with regular can lights
give the lateral file a makeover
add new hardware to the lateral file and to the chest with shuttered doors
replace the draperies with something more simple
replace the lamp
possibly add an area rug
decorate!