How To Create an Inviting Outdoor Space
8 Tips for creating an inviting outdoor space no matter where you live.
Outdoor spaces, porches, decks, patios, terraces and even front stoops, are an extension of our homes.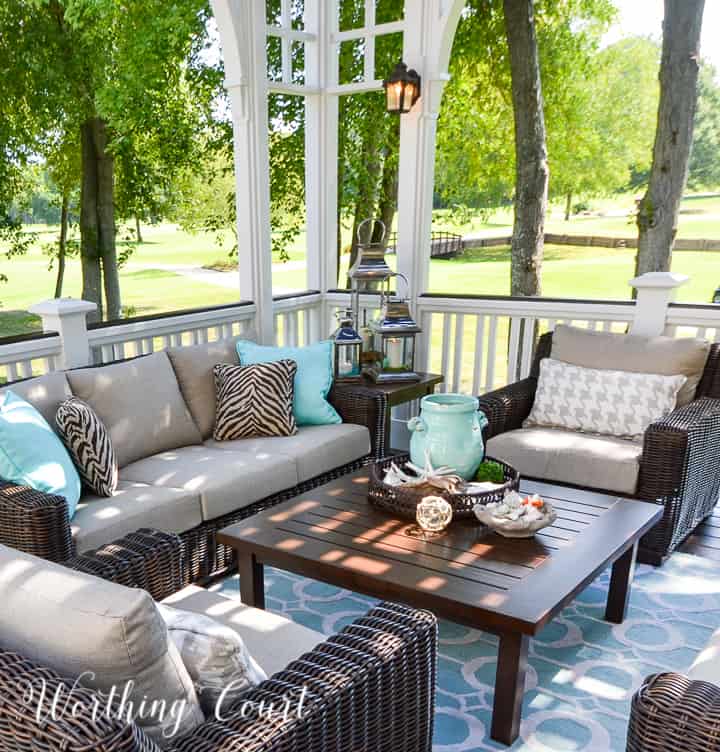 Pin
This post and photos may contain Amazon or other affiliate links. As an Amazon Associate I earn from qualifying purchases. If you purchase something through any link, I may receive a small commission, at no extra charge to you. Where possible, the exact product has been linked. If that product isn't available to link, I've linked something similar. All opinions are my own. See my full disclosure HERE.
Get the most out of your outdoor space by using these tips to help you create a space that is inviting and beautiful as well as functional. Let's do more than just add a welcome mat and a potted plant or two. Let's put a little effort into making those areas exactly what you want them to be!
In the past, I typically just filled a few pots with flowers, swept the cobwebs away, tidied things up and called it done. Not anymore. I've learned that a well designed outdoor living area works to extend the walls of my home.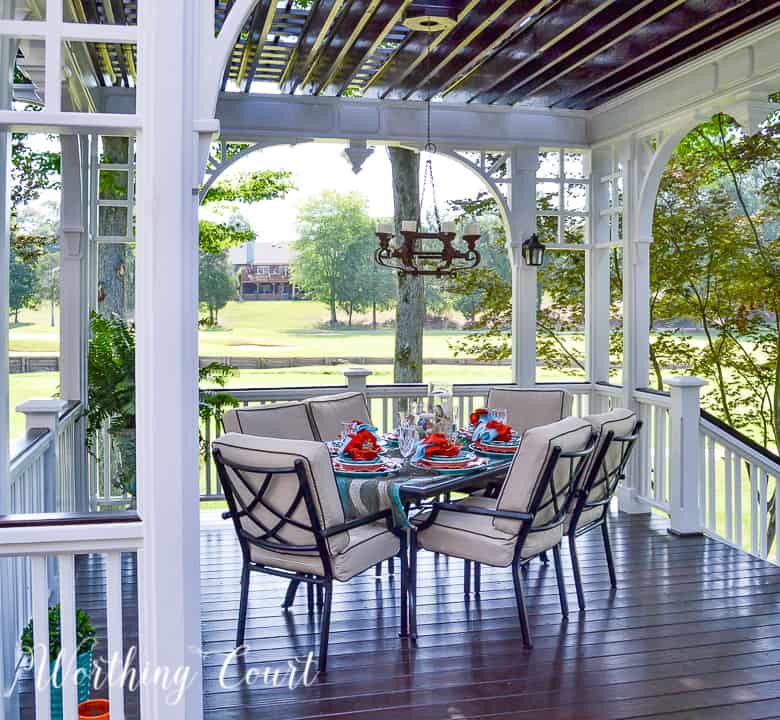 Pin
Using these tips, I've been able to create a relaxing outdoor oasis that we use and enjoy nine months of the year! Specifically, I want my deck and porch to feel more like an outdoor room instead of just a place for some potted flowers and a table with an umbrella over it.
THE FIRST STEP IS TO CLEAN – HOW TO MAKE IT EASIER
This isn't a fun step, but it's a very necessary one! All of my outdoor spaces are filthy after a fall and winter of dropping leaves and don't even get me started talking about the yellow pollen we have to deal with for a couple of weeks in early spring.
Even though cleaning isn't my favorite thing to do, here are three ways that I make it as painless as possible:
After using this product, the white railing on my porch always looks like it has been freshly painted. Be sure to read all of the directions before use to see what you need to do to protect plants and exactly how to use the product.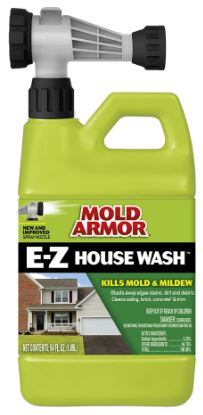 Pin
I only use outdoor rugs and pillows and cushions made with outdoor fabric and outdoor inserts, even if the area they're in is covered and protected. These types of products typically only need to be knocked together to get rid of dust and pollen. If they do need additional cleaning, they can be cleaned with a garden hose. A pressure washer works too, but make sure to test the fabric or rugs first to make sure they can withstand the force of the water.
I don't usually need any special products to clean the furniture and accessories. A wet paper towel or rag works just fine.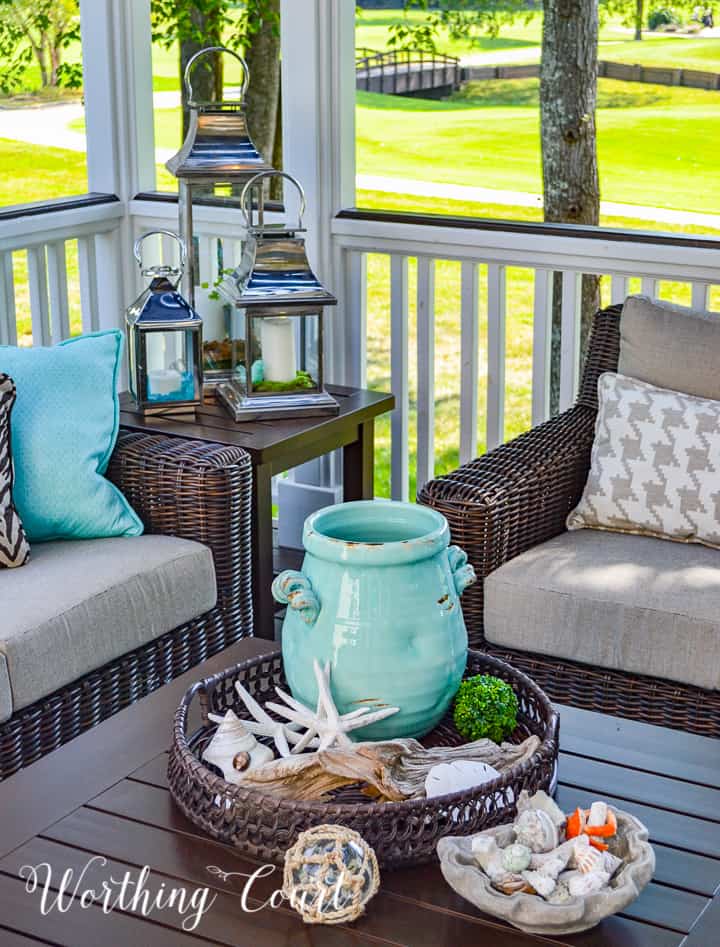 Pin
HOW WILL THE SPACE FUNCTION?
To get the most out of your outdoor space, determine the functional needs and desires that you have for your area. Those needs and desires are what should dictate the type of furnishings and accessories that you need and what the layout should be.
Things to consider:
How much space do you have – what are the dimensions?
Is privacy an issue?
Do you need an outdoor dining area for entertaining?
Do you need to create shade?
How much seating do you need for yourself and for guests?
Do you need lighting?
Do you need outdoor storage?
Do you need noise control features, such as a water fountain?
Do you need to set up the furniture to take advantage of a pretty view?
Do you need an outdoor kitchen area?
Do you need any help with climate control, such as ceiling fans or an outdoor heat source?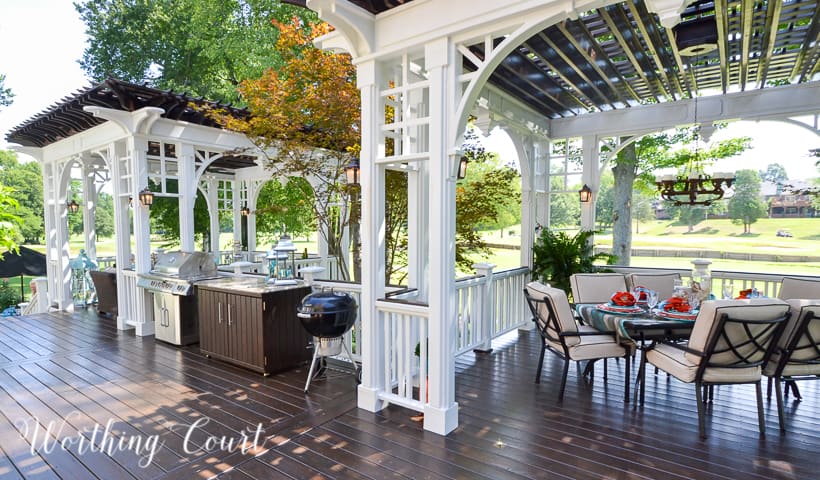 Pin
SPEAKING OF FURNITURE
If your goal is to spend periods of time enjoying your outdoor space, comfort is key. Raise your hand if you've ever been stuck with hard seats or rocking chairs that sit too straight.
If at all possible, try out pieces for seating before purchasing. I've learned the hard way that purchasing outdoor furniture online without being able to try it out first, isn't necessarily the way to go.
For low maintenance, make sure the cushions are made with outdoor fabrics. I know if I can avoid it, I don't want to have to bring my cushions inside in case of rain.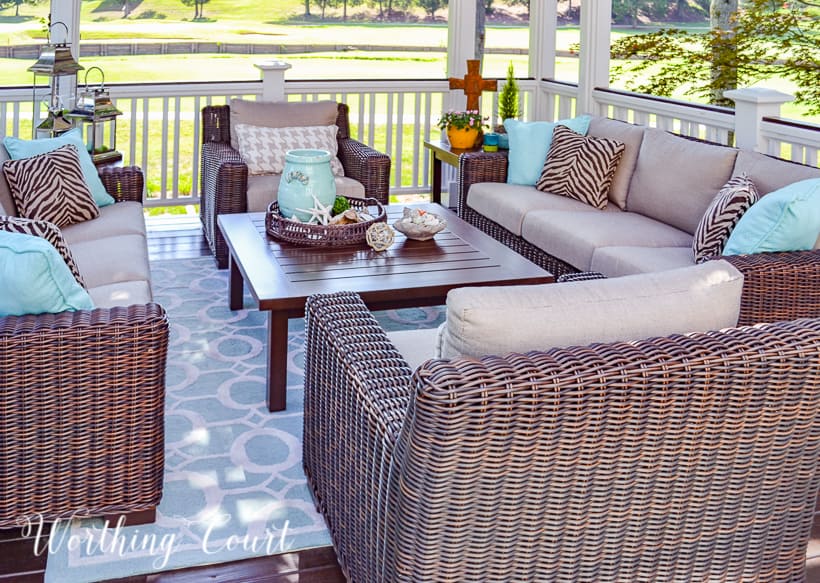 Pin
ACCOMMODATE DINING IN YOUR OUTDOOR ROOM
Even if it's just a small table with a couple of chairs tucked into a corner, adding a spot for outdoor dining is a perfect way to create an instant invitation to enjoy an outdoor space.
Having a spot for dining ramps up the cozy factor and is like an unspoken invitation to stay a while.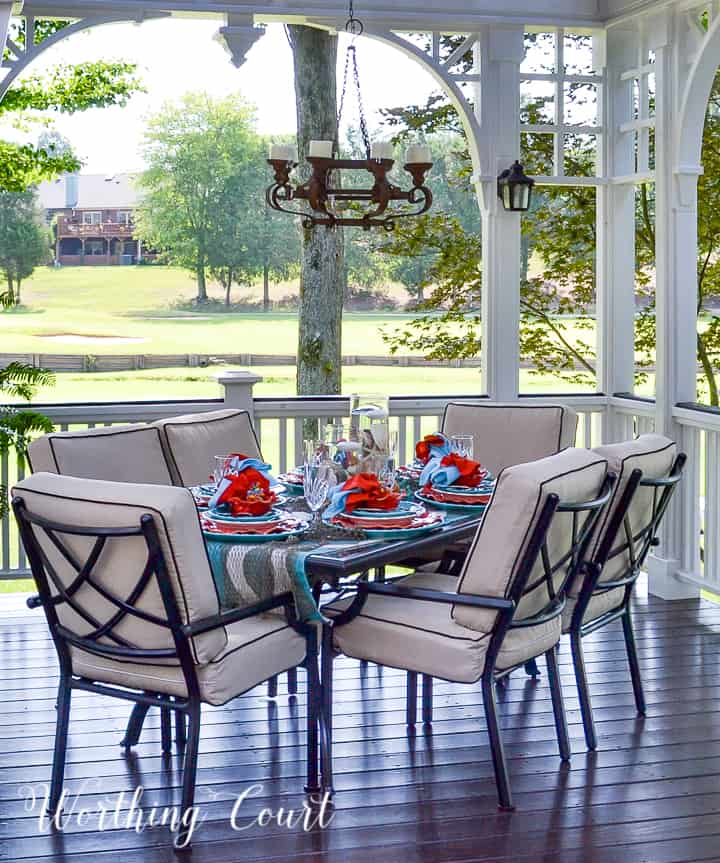 Pin
ADD GREENERY WITH PLANTS
Greenery adds life to any space! Use plants as accents throughout the area or think about placing them around the perimeter of an area to help define the outdoor room feel.
If you want low maintenance, look no further than succulents. They come in all sorts of varieties and colors and are the ideal plant for adding texture.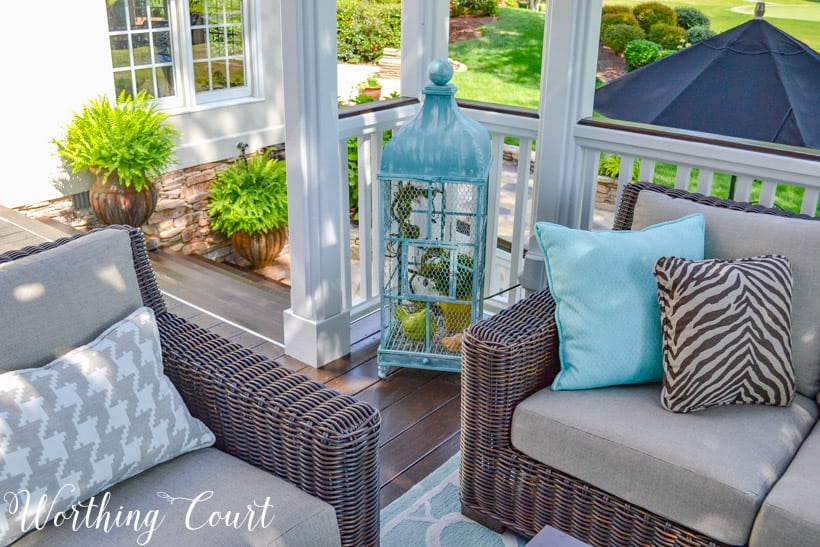 Pin
No worries if you don't want to have to remember to water! Using faux plants to add life works just as well. You can even purchase UV resistant faux plants on Amazon if you're concerned about fading from the sun.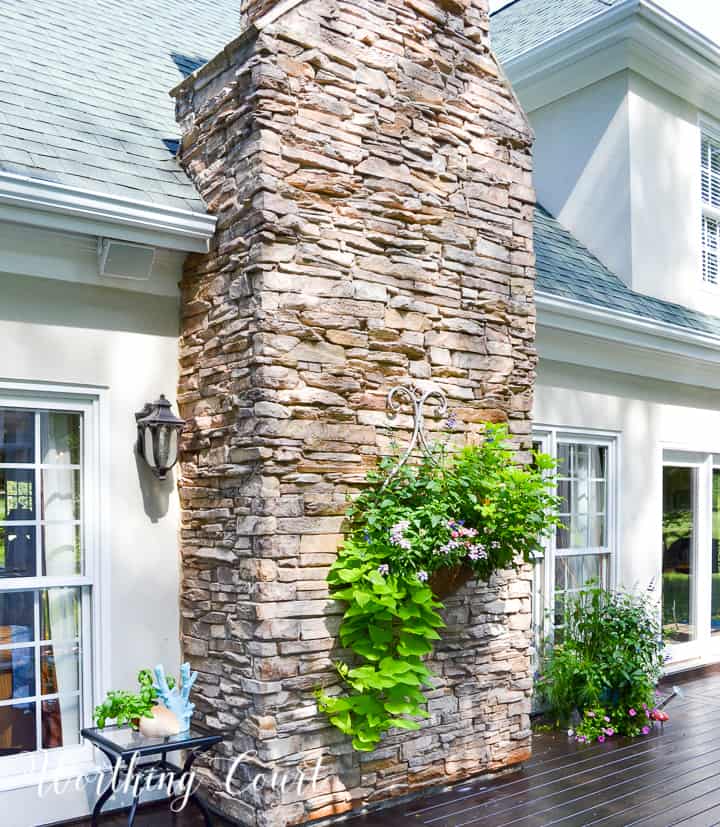 Pin
LAYERING IS IMPORTANT IN AN OUTDOOR SPACE
That's right – layering your decor is just as crucial to creating a cozy, intimate and inviting outdoor space as it to creating the same feeling in an indoor space. So, layer those doormats, layer that wall decor and layer those pillows!
Tips for layering:
Arrange multiple throw pillows on an outdoor couch or chair so that some are toward the front and some are toward the back.
Use two different sized area rugs, with the smaller rug layered on top of the larger one.
When placing decorative items, stagger them front to back so that items aren't simply lined up in a straight line.
Add a throw blanket to the back of a seat or arm of a chair or couch.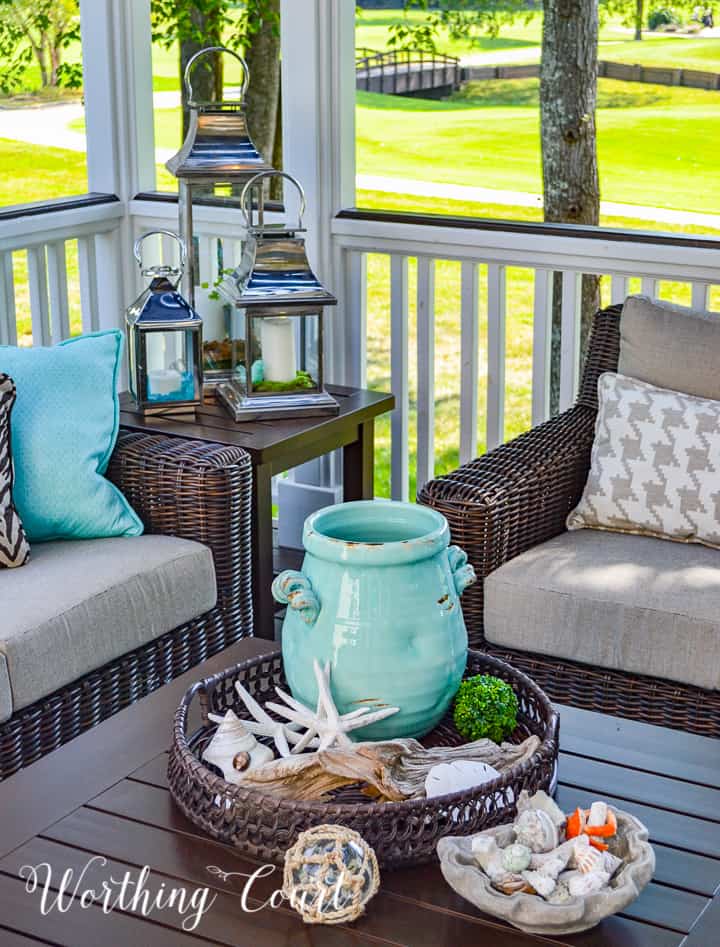 Pin
CREATE SPECIAL "MOMENTS"
There are all sorts of accessories that are good choices to add to your outdoor area that will make it feel more cozy and inviting. They add interest, texture and act as the jewelry to the room you're creating.
Just make sure that whatever you use is outdoor friendly and is heavy enough not to be blown over by the wind. Some of my favorites include:
grouping a trio of multiple size lanterns on the floor
hanging string lights
adding candles (whether real or battery operated) for a pretty evening glow
adding an outdoor fireplace or fire pit
using a coffee table, bench or a stack of outdoor cushions for extra seating
the sound of a small water fountain is very soothing and relaxing
TIP: To make an indoor accessory safe for outdoors (other than fabric), spray it with a clear sealer that is outdoor proof.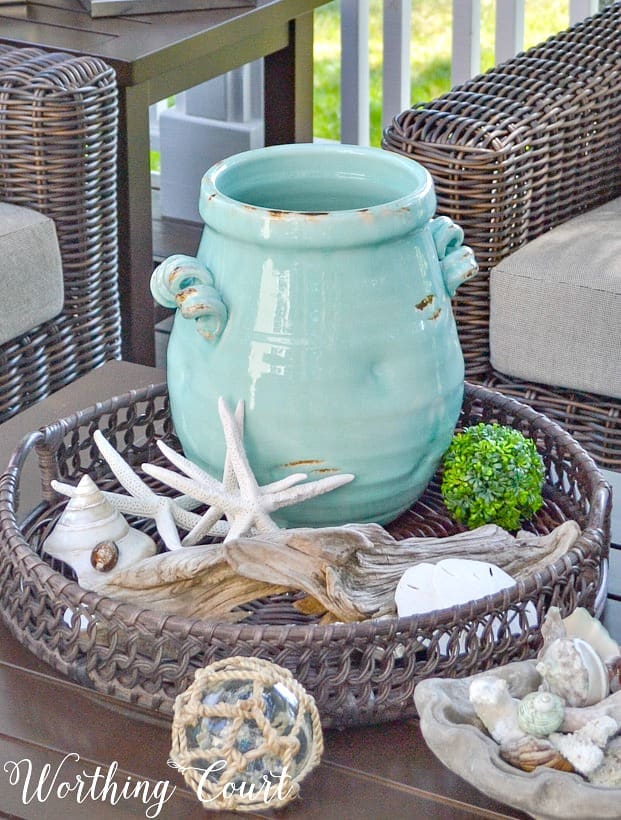 Pin
DEFINE THE SPACE FOR INTIMACY OR PRIVACY
If you have a wide open area, such as a patio, consider adding a low wall to define the area and create a sense of being in a room. The low slate wall surrounding this terrace works beautifully for creating a sense of intimacy even though it's located beside a wide open golf course.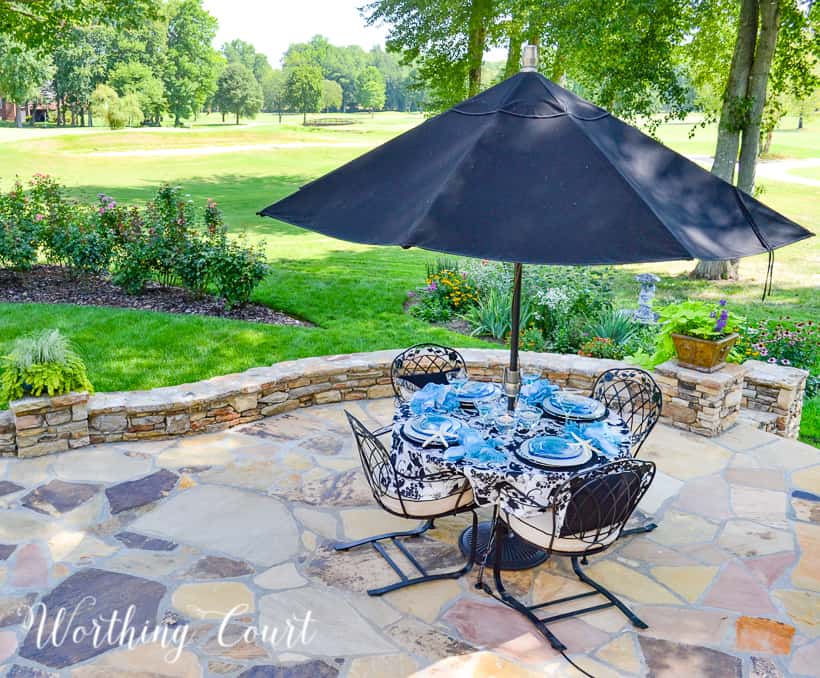 Pin
Or, you can always choose to build a wall where nothing currently exists. The addition of the trellis behind these seats helps to "enclose" an otherwise very open patio. You don't have to have a roof and the design is limited only by your creativity.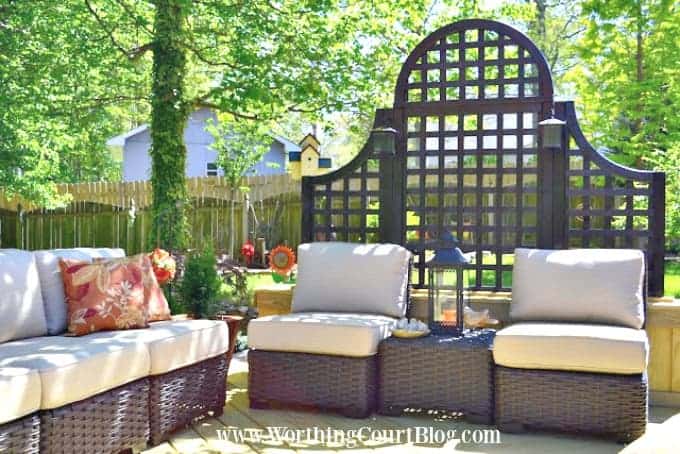 Pin
Even though my friend Nancy's deck is a very large wide open space, make note of the cozy intimacy that the addition of structure in the form of "walls" and a pergola type ceiling adds.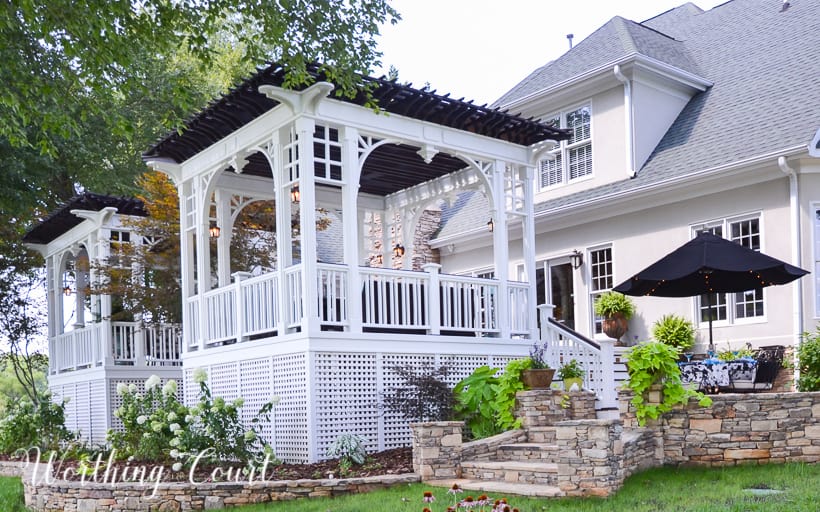 You can also use outdoor planters to create the illusion of a wall. If diy projects aren't your thing, these self-watering outdoor planters are awesome! They're on wheels (which you can lock in place), so they can easily be moved around.
These are available in three colors – white, charcoal and green and can be ordered HERE.