How To Make A Thanksgiving Table Special Using Everyday Dinnerware
You don't have to buy expensive dinnerware to set a beautiful and elegant Thanksgiving table.  Use these ideas to inspire you to wow your guests while using your everyday dinnerware.
Pin
Do you feel like you have to purchase a new dinnerware set, special accent plates or silverware to set a special holiday table?  I've certainly caught myself falling into that mindset, but this year I was determined to use what I already had on hand and not buy a single new thing for my gorgeous Thanksgiving table.  I'm happy to report that with a little imagination and outside of the box thinking, I was able to set a beautiful table using just my everyday dinnerware!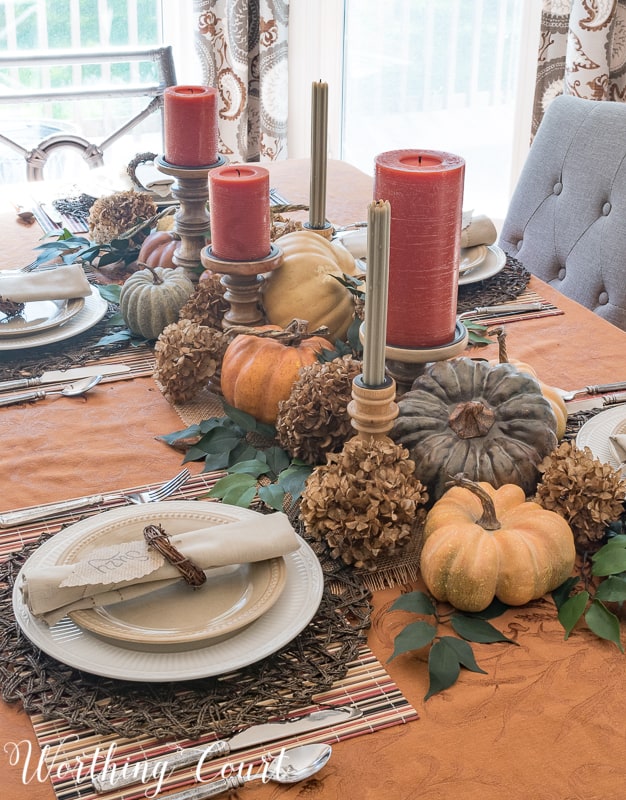 Pin
No way did I want to reinvent the wheel here, so I knew that however how I set my table, it had to compliment the shelves that I had already decorated for fall in my breakfast room.  That meant that when looking through my stash, I needed to look for items that were rich, traditional fall colors with a slightly rustic vibe.
The only tablecloth I already had that would fit the bill was one that is a gorgeous shade of deep rustic orange.  The problem was that it was way, way too shiny.  Shiny is not usually a good thing when you're working toward a bit of a rustic feel.  I had a light bulb moment though and decided to try turning the tablecloth upside down.  Problem solved!  The reverse side is just as pretty to me and no more shiny.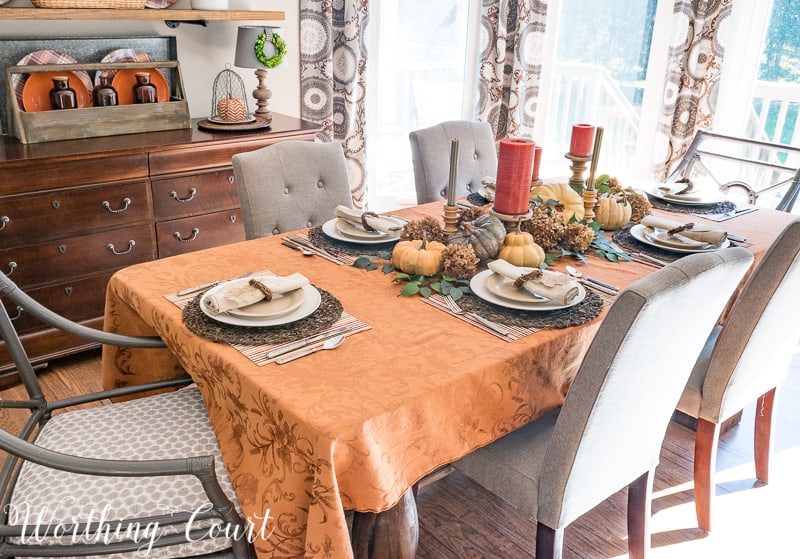 Pin
Once the pretty tablecloth was in place, I turned to the fall centerpiece.  When it comes to any kind of decorating, layering is a huge deal, so I began by placing a piece of burlap down the center of the table to act as a base.  Next came several different sized candlesticks randomly placed on top of the burlap – nothing was lined up or made symmetrical.  I didn't have candles in the same colors to fit the various size of the candlesticks, so I used a mix of what I had – burnt orange pillar candles and sagey green tapers.  I think they look great mixed together!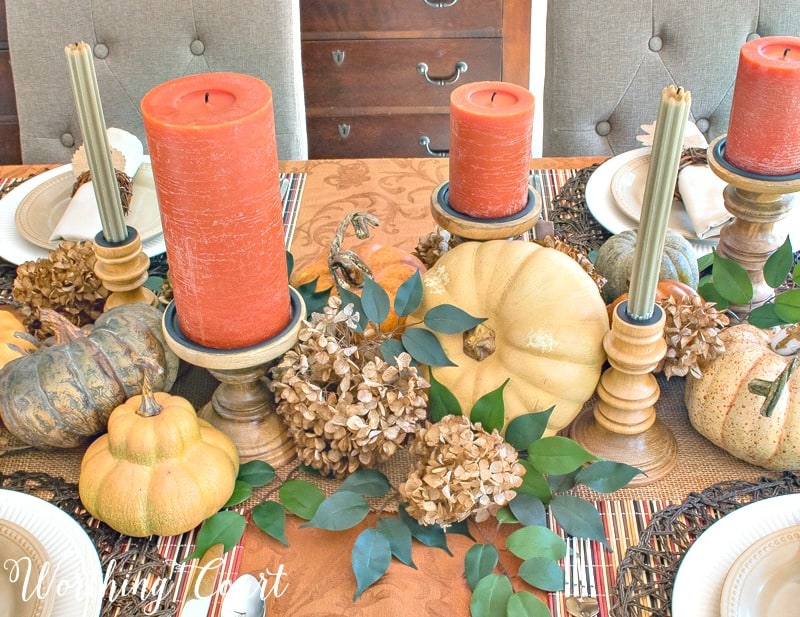 Pin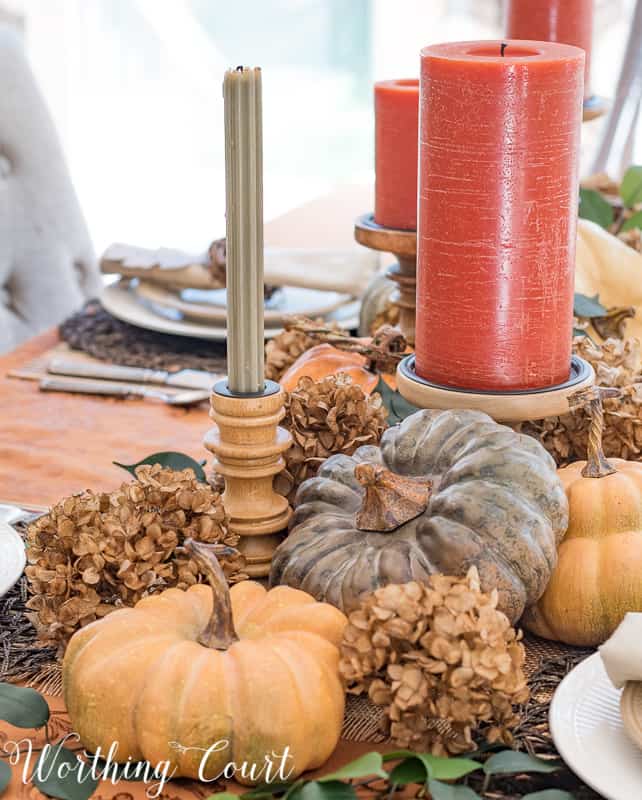 Pin
By the way, if you'd like to get a similar look for your own table, scroll to the bottom to see the list of products I've chosen that are the same or similar to what I've used.
Faux pumpkins were added next.  I simply scattered different sizes and various colors along the burlap, laying some flat and propping others up at an angle against the candlesticks.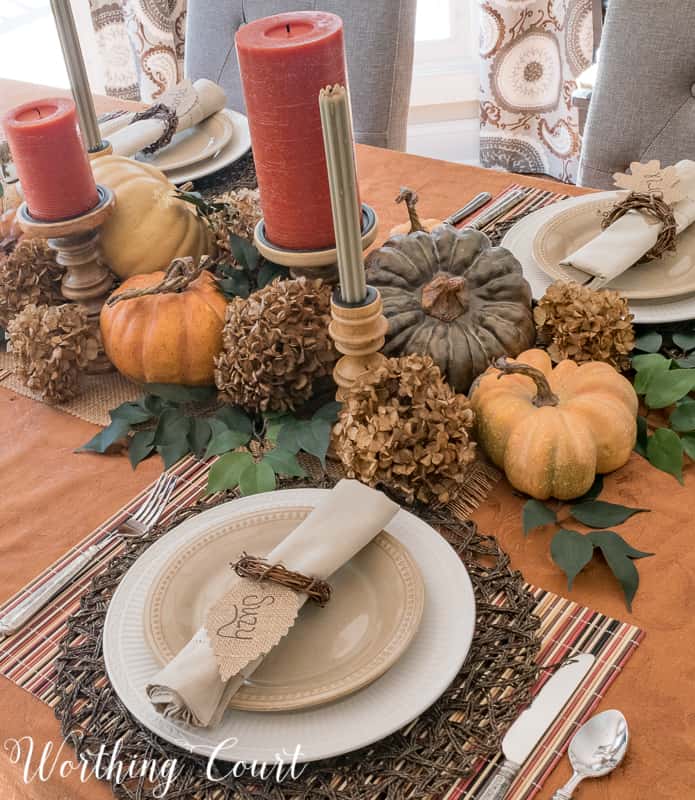 Pin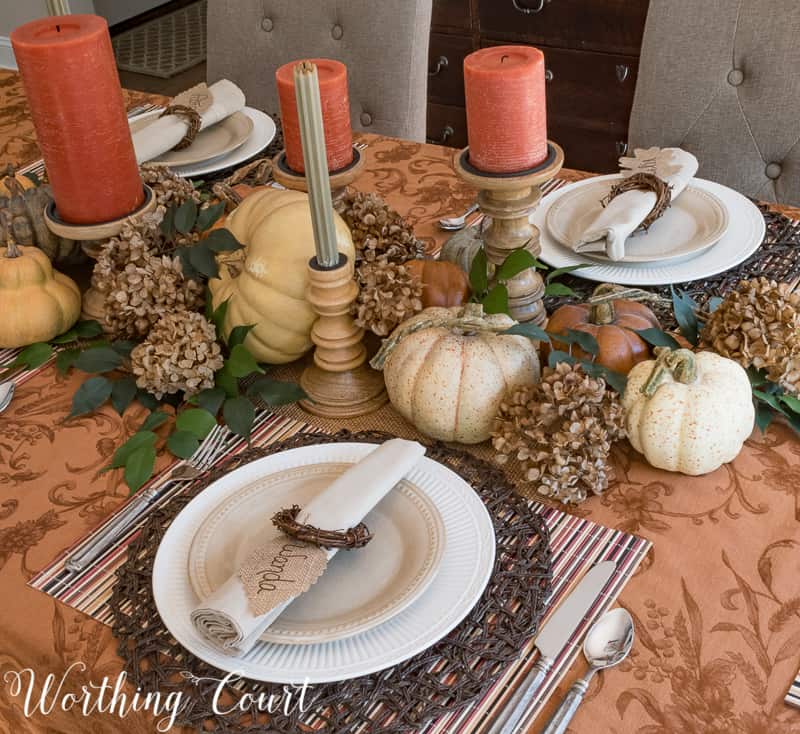 Pin
Then it was just a matter of adding filler to the empty spots.  Unlike me, my daughter has several hydrangeas that fill with glorious blooms each season, so when they were ready to be cut back last year, I grabbed as many of the dried blooms as I could.  I've carefully preserved these things for over a year and they were perfect for tucking in and around all of the pumpkins on the table!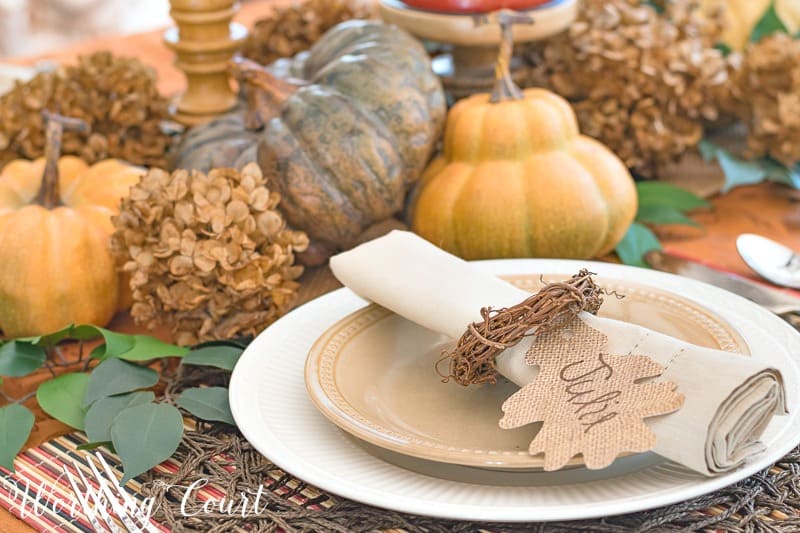 Pin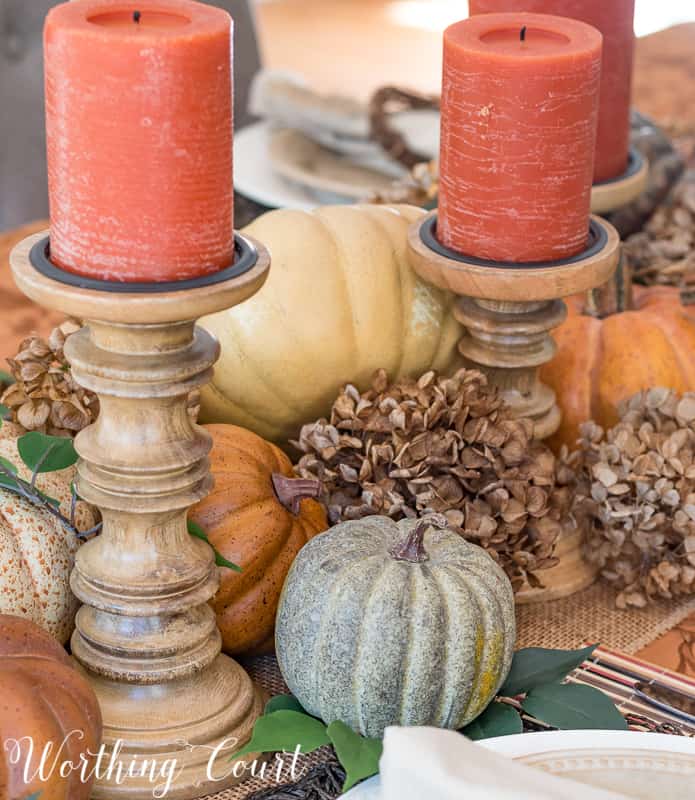 Pin
The Thanksgiving centerpiece was still looking like it needed just a little something else, so I cut apart a faux foliage bush and tucked branches in here and there.  That was just what it needed to finish the centerpiece off and the green leaves helped to break up the rich oranges and gold colors.  And by the way, if you struggle with putting centerpieces together, click HERE for my tips!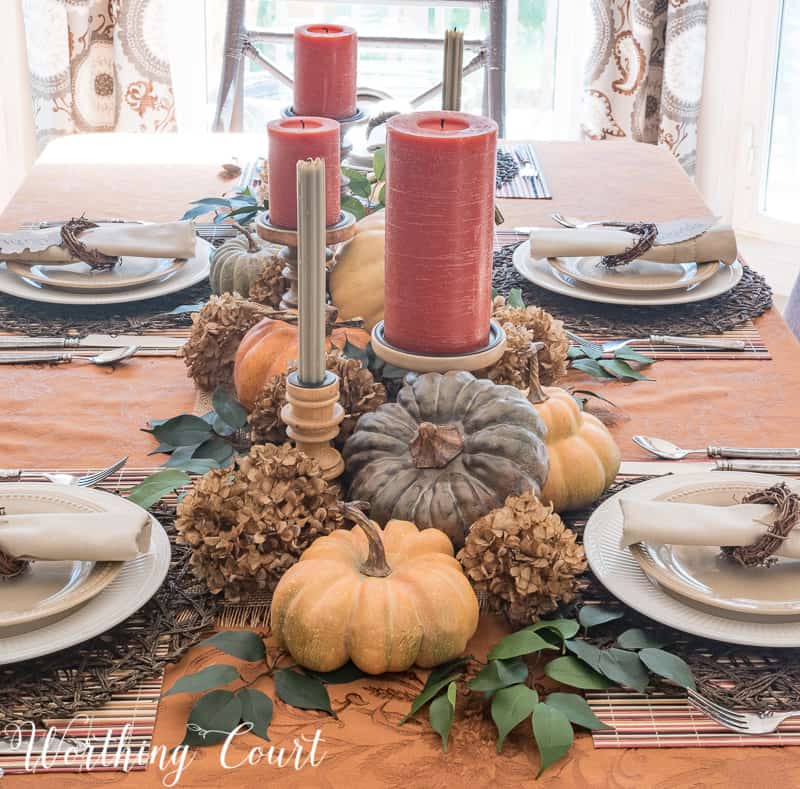 Pin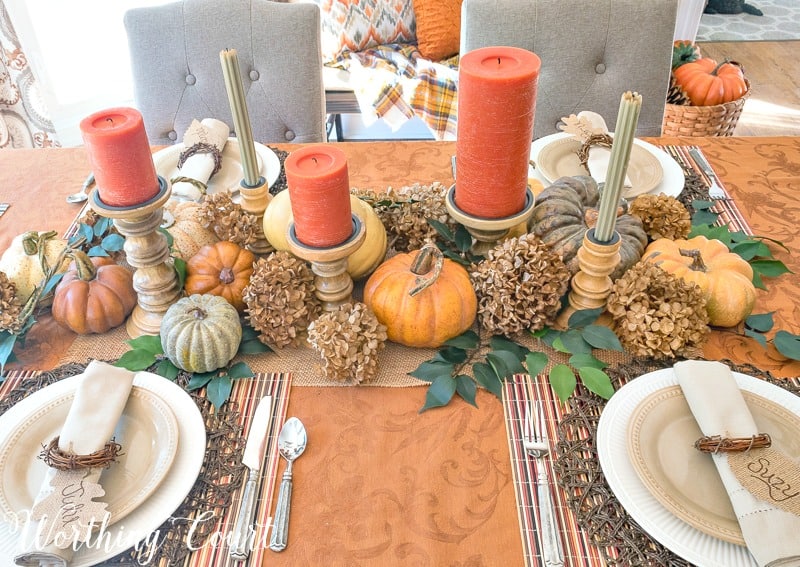 Pin
Now it was time for the place settings.  Creating a showstopper centerpiece allowed me to use my everyday dinnerware and keep the individual settings on the simple side.  I sure didn't need anything elaborate, that would compete with the centerpiece.
To keep the all important layering going, I began with placemats that I purchased at the dollar store several years ago.  The placemats were topped with round, woven mats that I've also had for several years.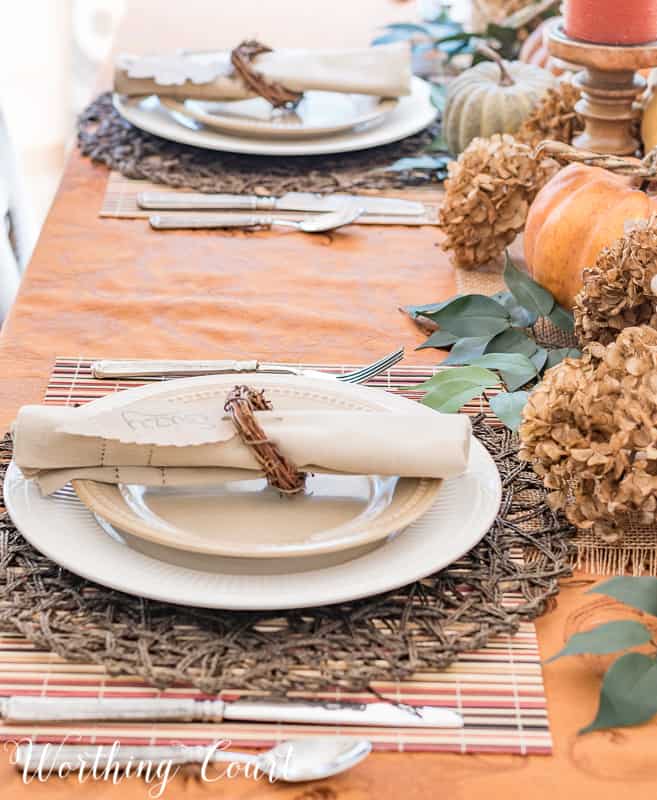 Pin
I added one of my everyday white dinner plates (Mikasa Italian Countryside) and topped each plate with a beige colored salad plate.  Then, my everyday flatware, (Danieli from World Market) and simple beige linen napkins were all that each place setting needed.   Mini grapevine wreaths made the perfect napkin rings and scrapbook paper cut into leaf shapes made the perfect place cards!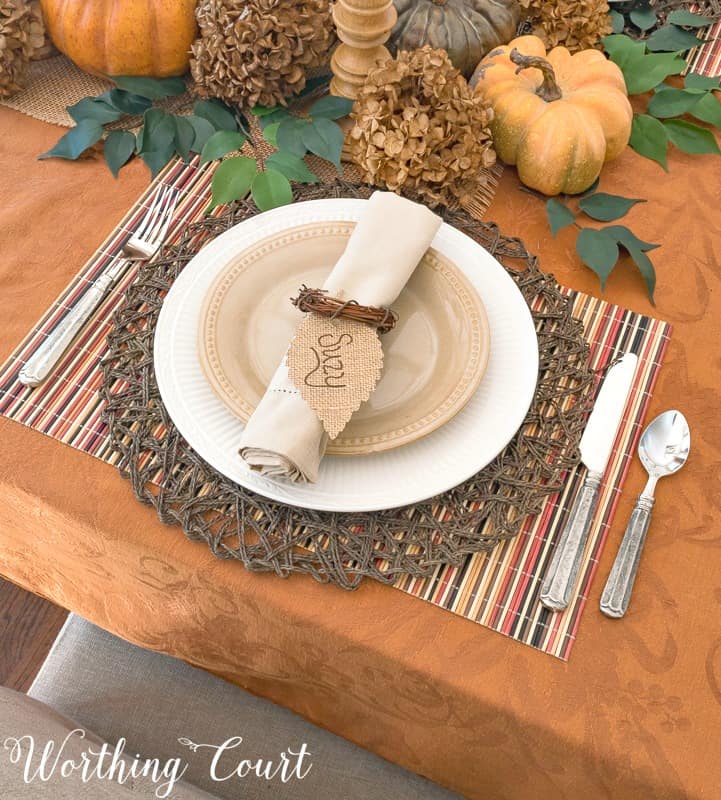 Pin
So, in spite of the fact that the individual place settings are really rather plain and simple, the entire table still looks elegant and beautiful because of the lush centerpiece and the rich colors, layers and textures used on the rest of the table and throughout the room.  The framed quote is a printable that I made and is available in regular paper size HERE and the large size HERE.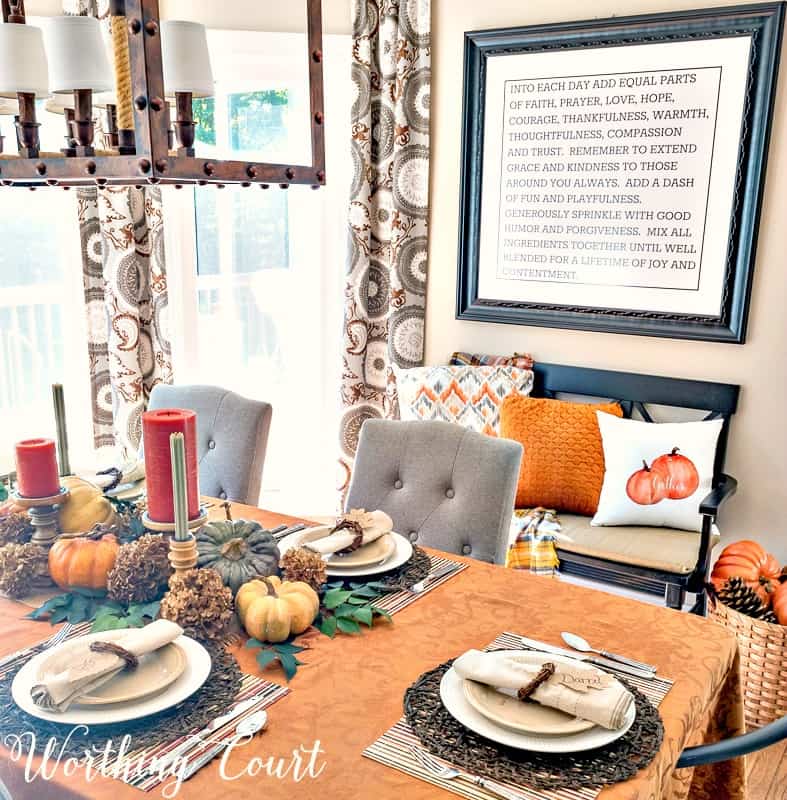 Pin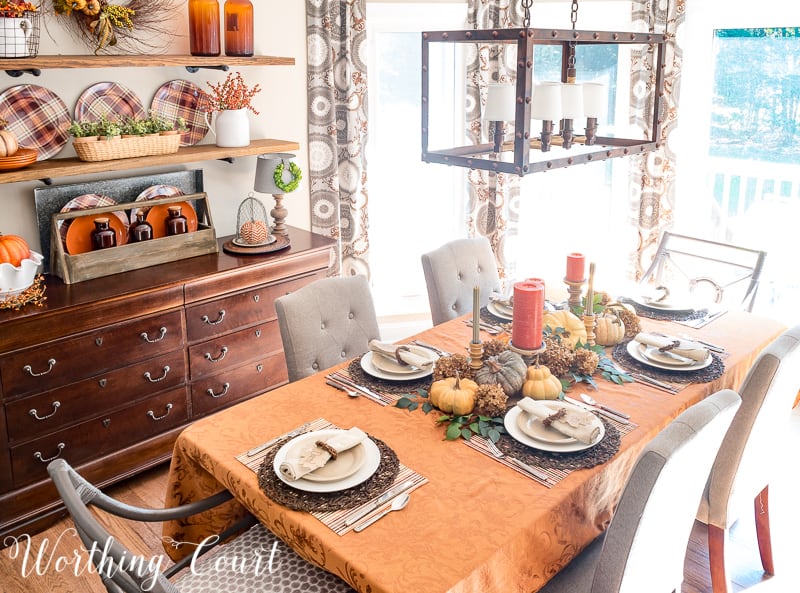 Pin
---
HERE'S WHAT YOU NEED TO GET THE LOOK.
This post contains affiliate links.  See my full disclosure HERE.


---