6 DIY Christmas Wreaths That You Can Make
You'll love these 6 easy to diy Christmas wreaths that you can make for your front door or for displaying anywhere in your home.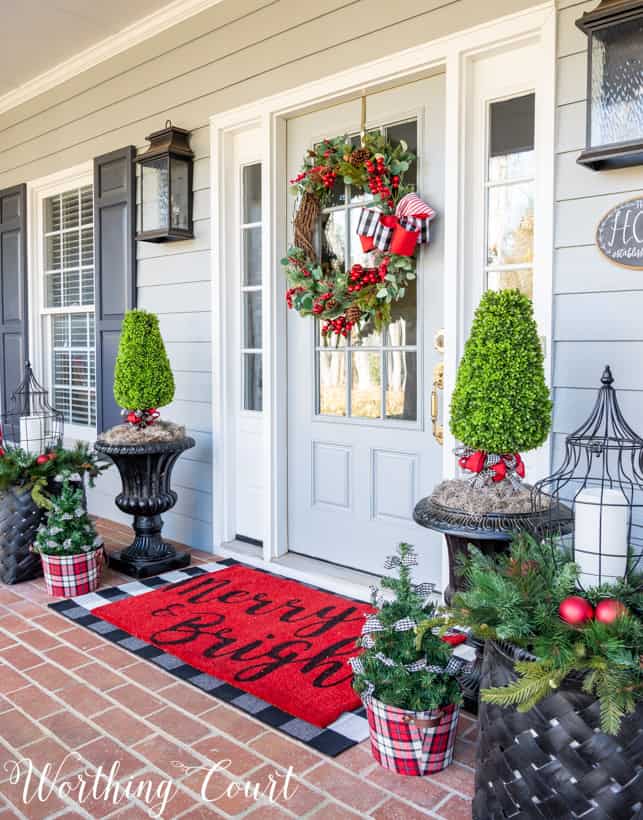 I love adorning my front door and the interior of my home with pretty Christmas wreaths! Every year I challenge myself to see what I can make that's different from all the Christmases before. Sometimes I start from scratch and other times I start with a readymade wreath and just zhush it up a bit.
I can't wait to show you the new wreath I'm making for this year!
This roundup will give you lots of ideas and inspiration, but if you need a little help in the wreath-making department, you may be interested in my post HOW TO MAKE A CHRISTMAS WREATH – DIRECTIONS FROM A PRO.
Let's start off with a peek at one of my favorite Christmas wreaths that I've ever made. It may look complicated, but it was so easy! I love the bright and festive colors and the unexpected element of the branches off to one side holding a sweet cardinal. Click HERE for the step-by-step tutorial.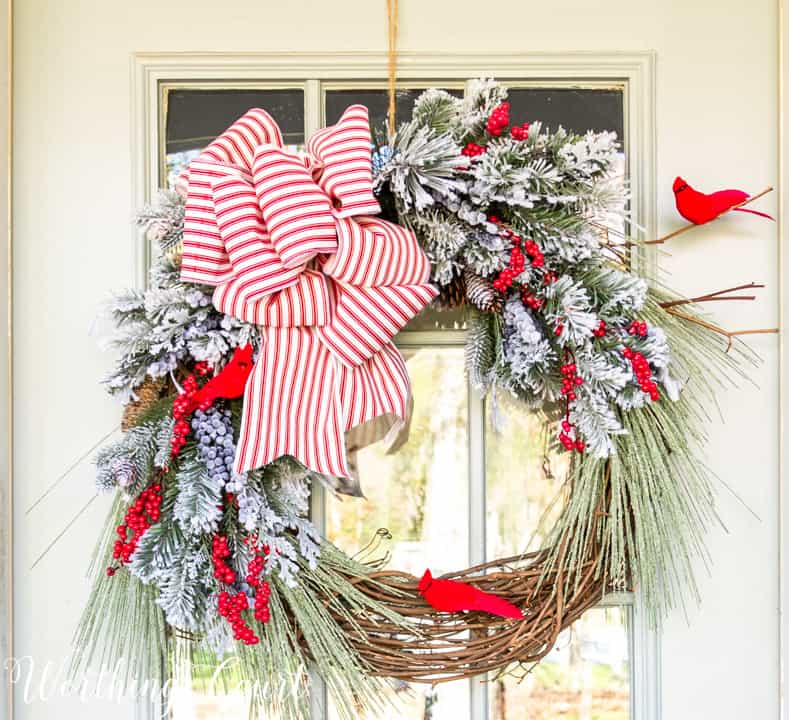 Grapevines wreaths are a favorite of mine to use as the base for a diy wreath. The branches lend themselves so well to inserting the stems of picks and faux foliage between them. You often don't even need wire or hot glue to hold them in place, which makes them perfect for disassembling so that they can be reused.
This is the wreath that I made for MY FRONT PORCH ONE YEAR. Part of the grapevine wreath is left exposed, but the rest of the wreath is filled with a generous amount of eucalyptus stems (that were cut from a larger bush), pinecones, two types of red berries, little bits of greenery and a bow made from four different types of ribbon.
The eucalyptus and berry stems are tucked in between the vines and didn't need to be wired or glued into place.
The pinecones and little bits of greenery are held in place with hot glue.
The bow was made by tying four layers of different ribbons together with florist wire and is attached to the wreath with the same type of wire.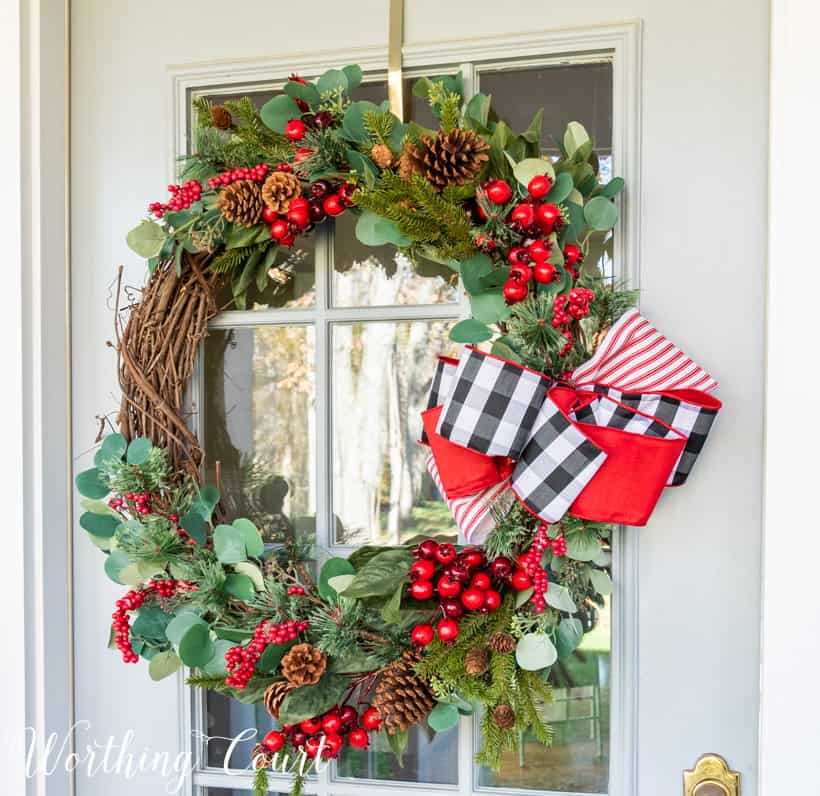 If you're a neutral Christmas decor lover, this one's for you! When I made this wreath, I was doing my best to copy a wreath that I had been saving from a magazine for ages.
I coordinated the mantel and wreath to go with THE CHRISTMAS TREE and the whole effect was really stunning. My pictures don't do it justice.
The grapevine wreath was lightly sprayed with white spray paint. Then glitter was sprinkled on the wreath while the paint was still wet.
Neutral, glittery mesh ribbon was wrapped around the wreath.
Neutral, glittery pine bushes were cut apart and the pieces were hot-glued in place.
The deer is glitter also and is hot-glued in place.
A few pinecones were glued in place as the final embellishment.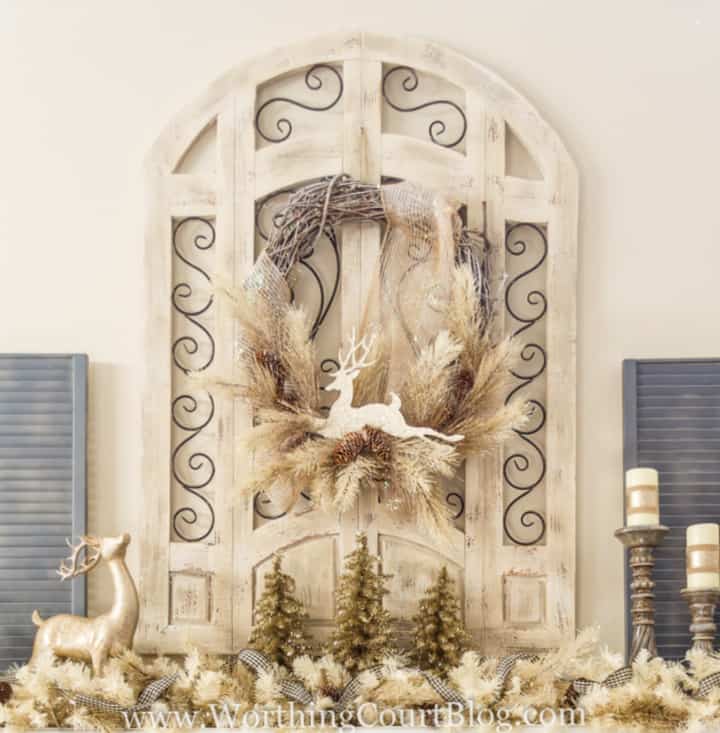 If you prefer keeping things super simple, a readymade wreath embellished with a house Christmas tree ornament couldn't be easier or cuter! If the wreath is in a location where it won't be disturbed, the cardboard house ornaments are lightweight and can be supported by placing them on the branches. If placed on a door, you'll need to either hot glue or wire the house in place.
For MY DINING ROOM one year, I brought a plain tinsel wreath to life by placing a glittery Christmas house on the bottom of it.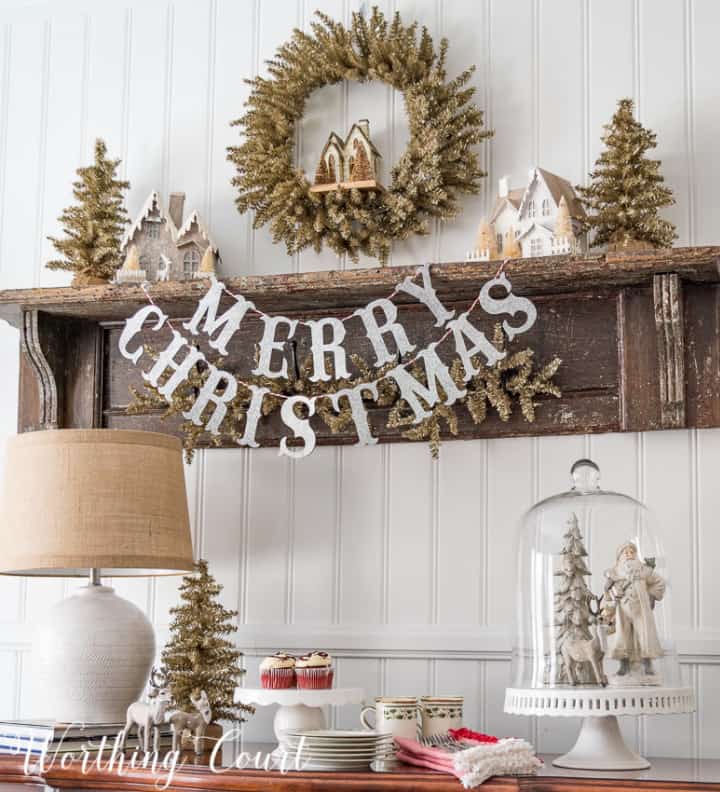 IN MY BREAKFAST ROOM one year, I easily ramped up the look of a totally plain wreath with a cute Christmas house, a piece of ribbon tied into a bow and a bit of pillow stuffing for the snow.
Nothing is glued or wired in place. Everything is lightweight, so it's all just tucked into the branches.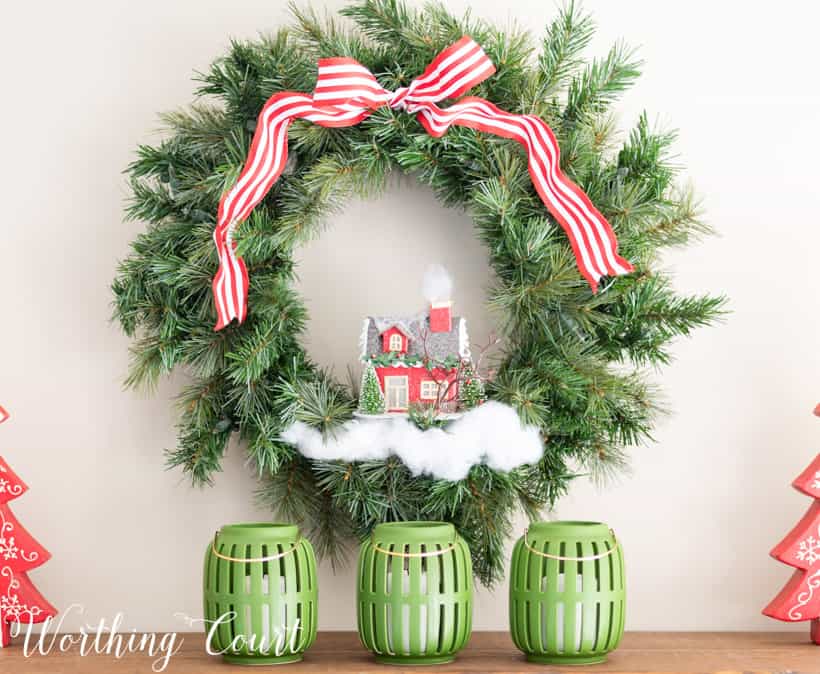 In my family room one year, I added red berry picks, some red and white striped ribbon and another cute cardboard Christmas house to a wreath hanging on a French door. Take the tour of this entire room HERE and take a close-up look at the red and white flocked Christmas tree in the room HERE.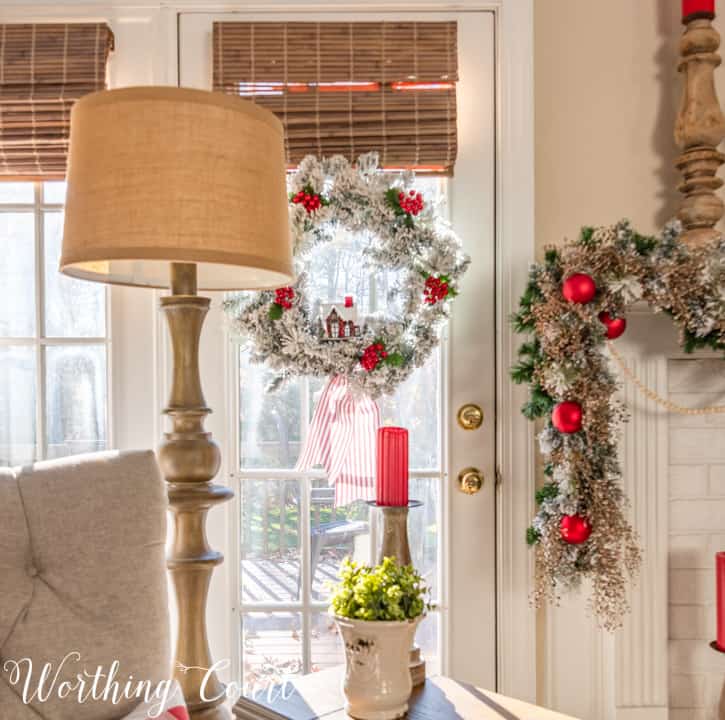 Now it's time for you to get busy! Pull out those wreaths and supplies and let your creativity and imagination go to town!