Welcome To My Fall Family Room Tour!
Ideas for decorating your living room or family room for fall using a muted fall color palette and understated decor.
Decorating my family room for fall this year was a bit different for me. I have a tendency (that I really try to fight) to go overboard when it comes to fall decorations. It's my favorite season to decorate for, so you can understand, right???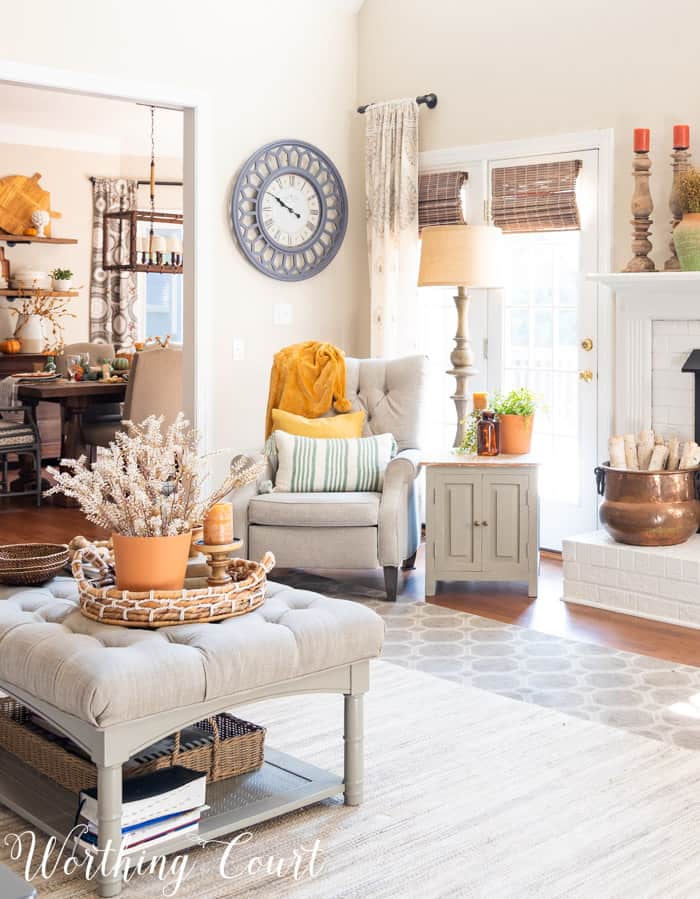 Before I start showing you around the room too much though, I want to stop to thank Linda from It All Start With Paint for pulling together this amazing group of bloggers who've been sharing some of their fall decor all week!
This tour is normally hosted by Marty from A Stroll Through Life, but she had a few life events lately that prevented her from pulling it together this go-round. She was able to join us though, so make sure you give her post today some extra love.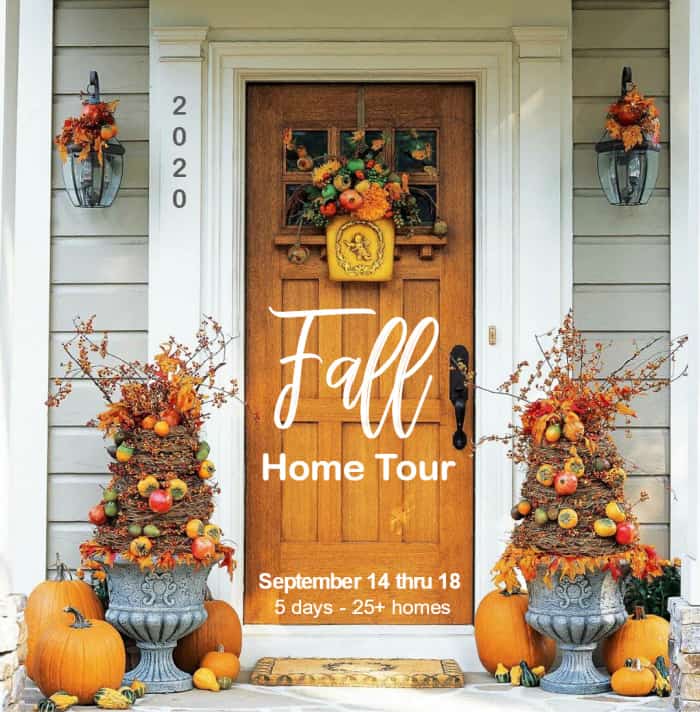 If you're an old friend, welcome back! If you're a new friend, I'm so happy you're here! I'm Suzy, an empty nester, who's been remodeling and redecorating our current home for six years – always with a sharp eye on the budget.
I have four rooms that I'm currently working on either decorating for the first time or updating how they were first done the first time around – our master bedroom, master bathroom, home office and dining room (I haven't shared my plans for this room yet). I'd love for you to follow along by signing up to receive my newsletter and get my free e-book!
As I was saying, I have to really fight my tendency to go overboard with seasonal decorations. My heart says "bring out all the things", but my head says "keep it understated". Big, big fight y'all – for real. 😀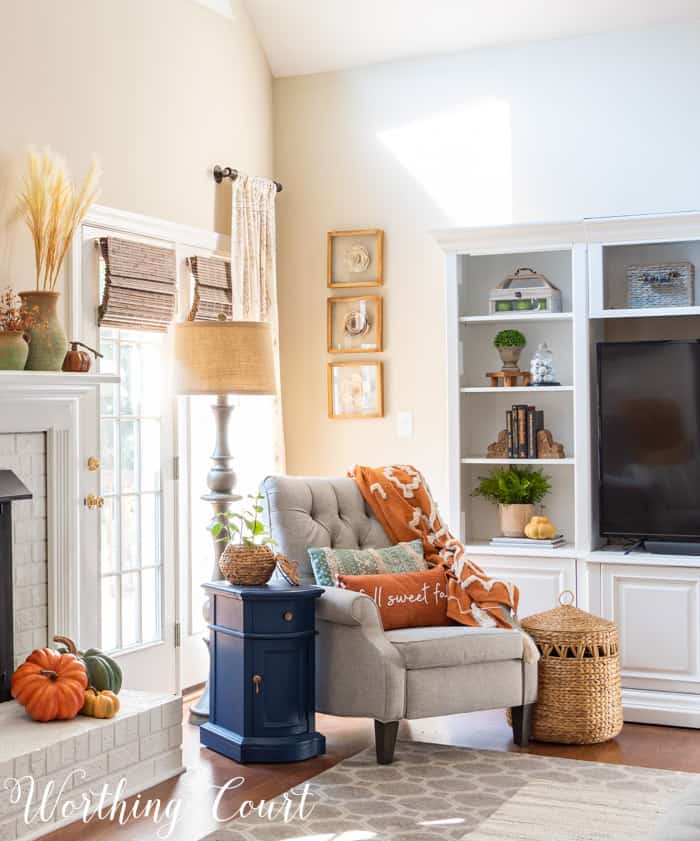 But, I hope I won the fight this year in my family room, by using a very simple, muted fall color palette this year. I spread shades of terra cotta and the color of wheat around the room and then added just a little bit of aqua for interest.
My fireplace and the open shelves in my breakfast area are always the first spots that get decorated when I'm changing things up around here. And since the two rooms are open to one another, I always do my best to make sure that they flow together well.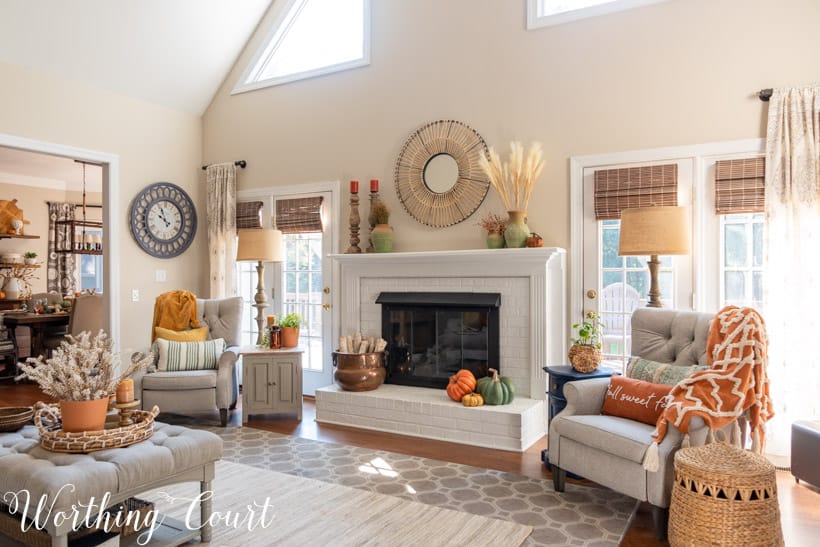 I just have to gush on this throw a little because it's so amazing! The texture of the weave is wonderful and the chenille type raised design and tassels send it right over the top! If you've been on the hunt for THE perfect fall throw, you can find it HERE. Be sure to use the coupon code FALL55 to get the sale price.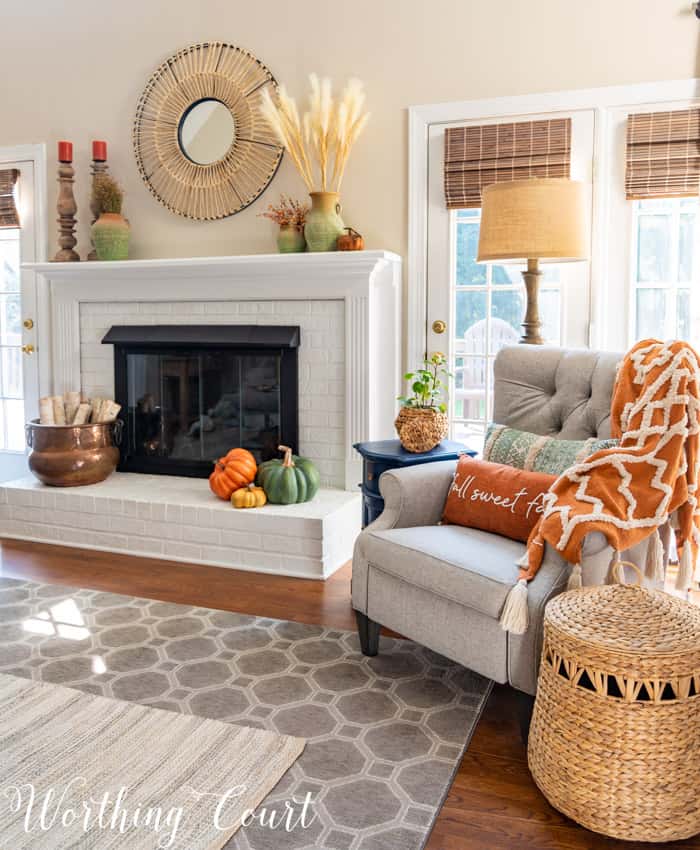 My mantel is kept fairly simple (understated!) with a trio of terra cotta jars filled with dried bundles and my favorite wooden candlesticks. The star of the show though, is the copper pot (down on the hearth) that I found on a recent jaunt to a local store. I picked it up for a steal!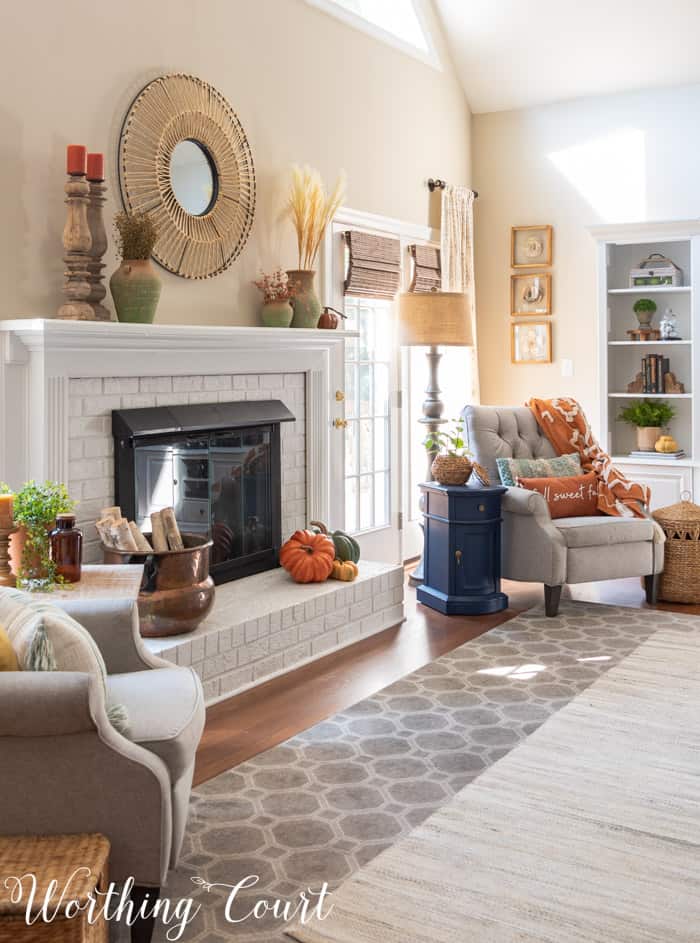 My couch is located across from the fireplace and is filled with a few fall colored pillows and more of that pretty aqua color. I stole the aqua pillows from my screened in porch because I really love how this color looks with the other fall colors that I used. I used them on my front porch this year too!
Those two fur babies (aka constant shadows) of mine immediately crawled right up on top of the pillows, but I chased them down just so I could get a shot.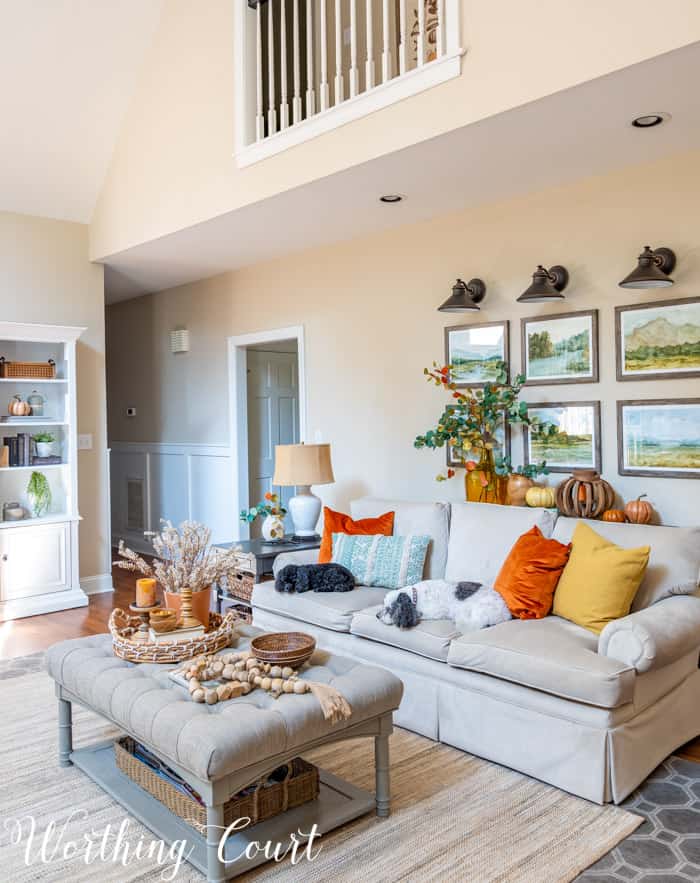 The decor behind my sofa is resting on my diy sofa table that I built a few years ago. It's sole purpose is to push my couch out from the wall a bit, which it desperately needed because of the overhang above it.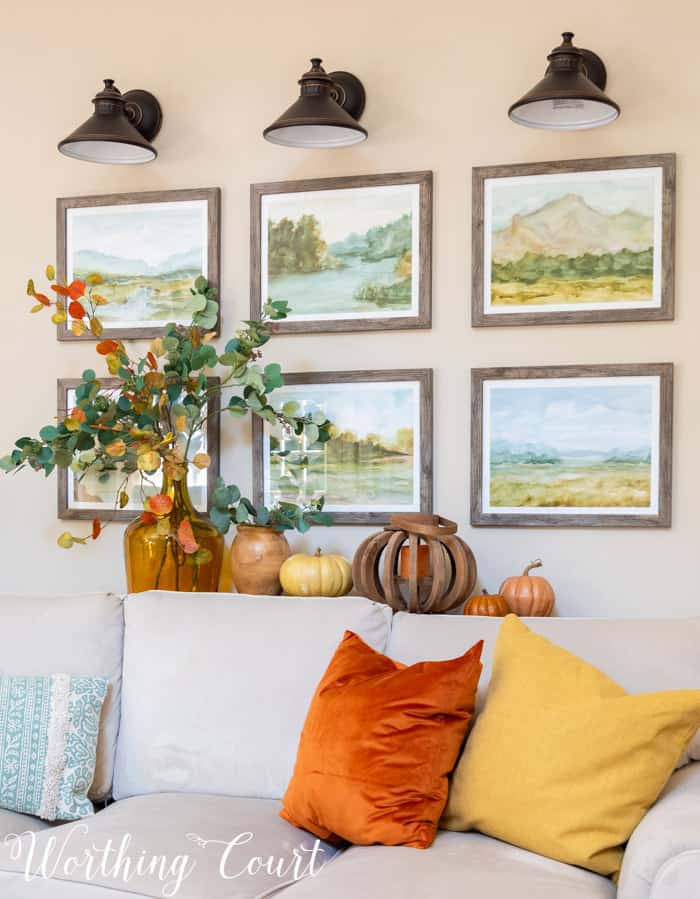 Did you happen to catch my Instagram stories when I was decorating that table? I also made videos and took y'all along when I was trying to figure out how to decorate my coffee table too. No worries, if you missed them – I have them both saved in a highlight that you can watch HERE.
The hardest thing for me to "get right" on my coffee table was that strand of large wooden beads. They're supposed to look like they're casually draped across the corner of the table, but I'm still not completely happy with them. sigh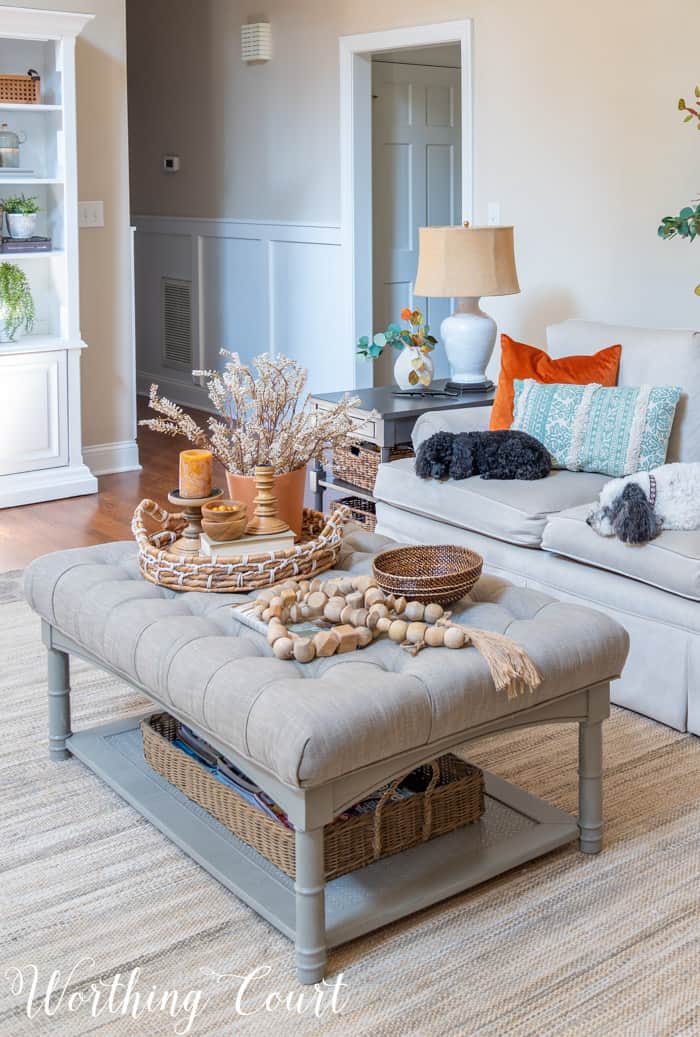 One thing I do love on the coffee table though, is the little vignette in my tray basket. All those layers of texture and just the right colors are yummy to me.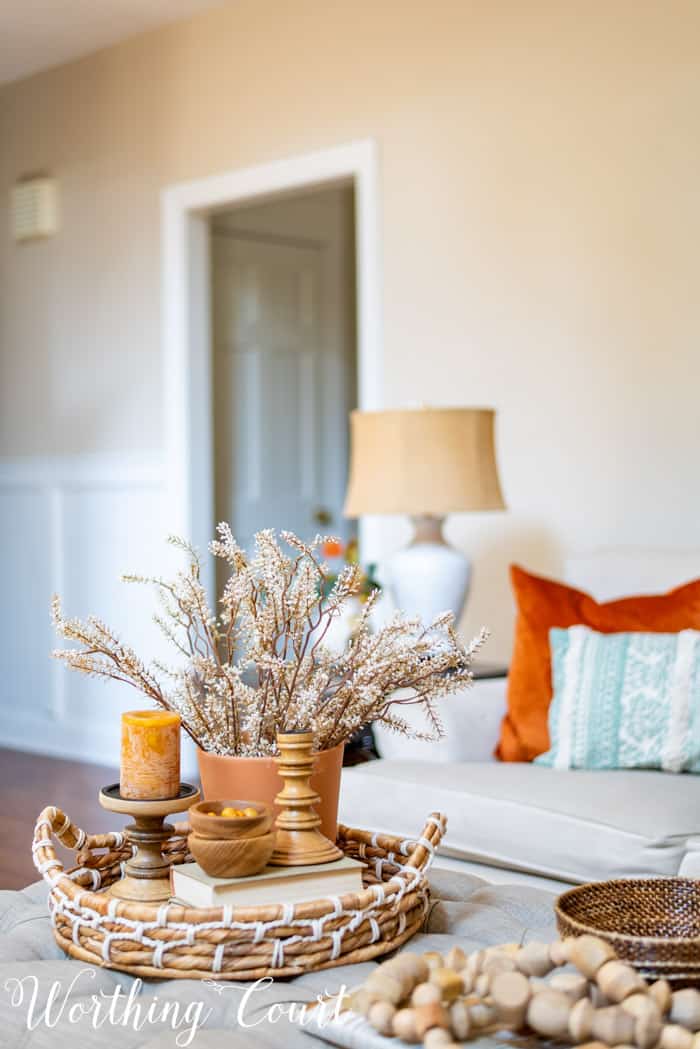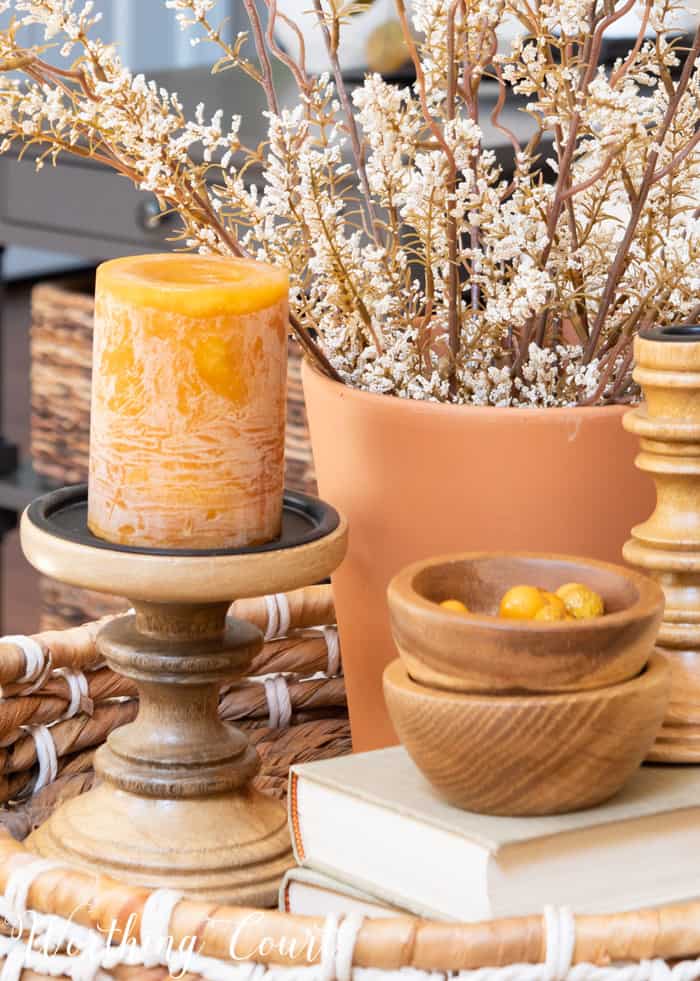 If you've been around for a while, you may have noticed that the birch tree canvas is no longer above my fireplace. I moved it on a whim one day and it wound up in this little corner at one end of my couch. I think it was meant for this spot! The round mirror that was here is now above my fireplace.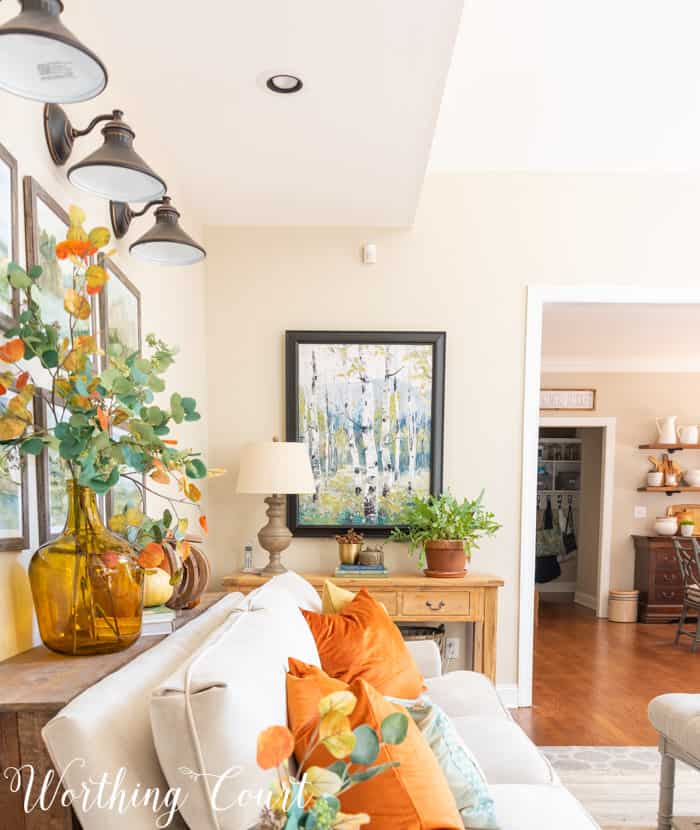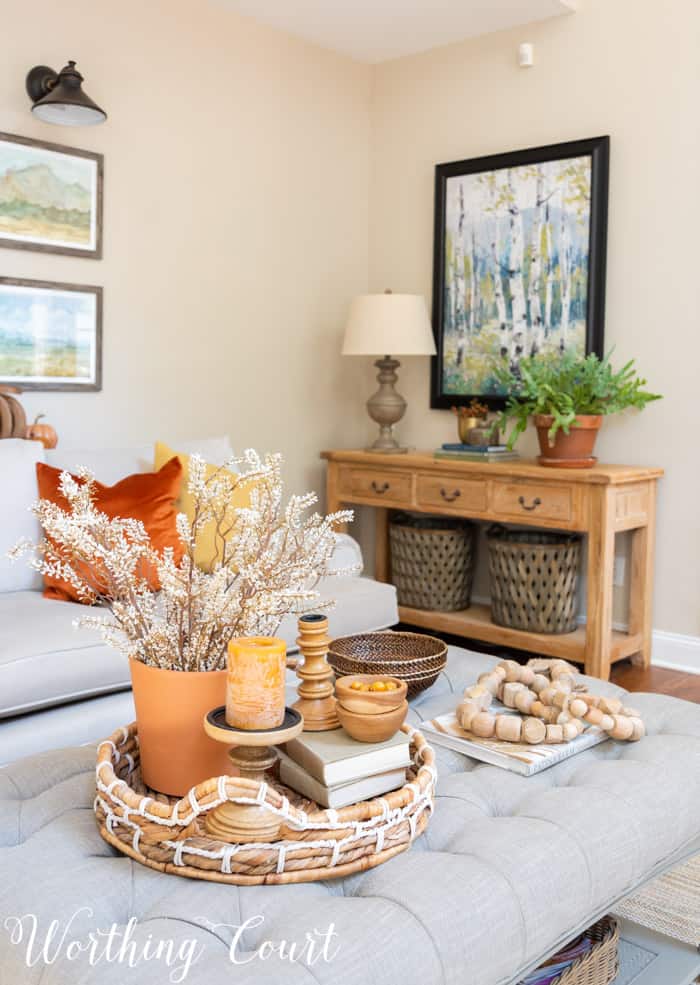 I hope you enjoyed the tour around my family room today and were able to get some ideas for your own home! Next up on the tour is Citrine Living. I promise you are going to love her gorgeous home. You'll want to be sure to check the others on the tour too!
Monday

Tuesday

Wednesday

Thursday

Friday