Fall Open Shelf Decor + An Easy Centerpiece
How to make your kitchen shelves functional yet easy to decorate for fall or any season. Plus an easy fall centerpiece too!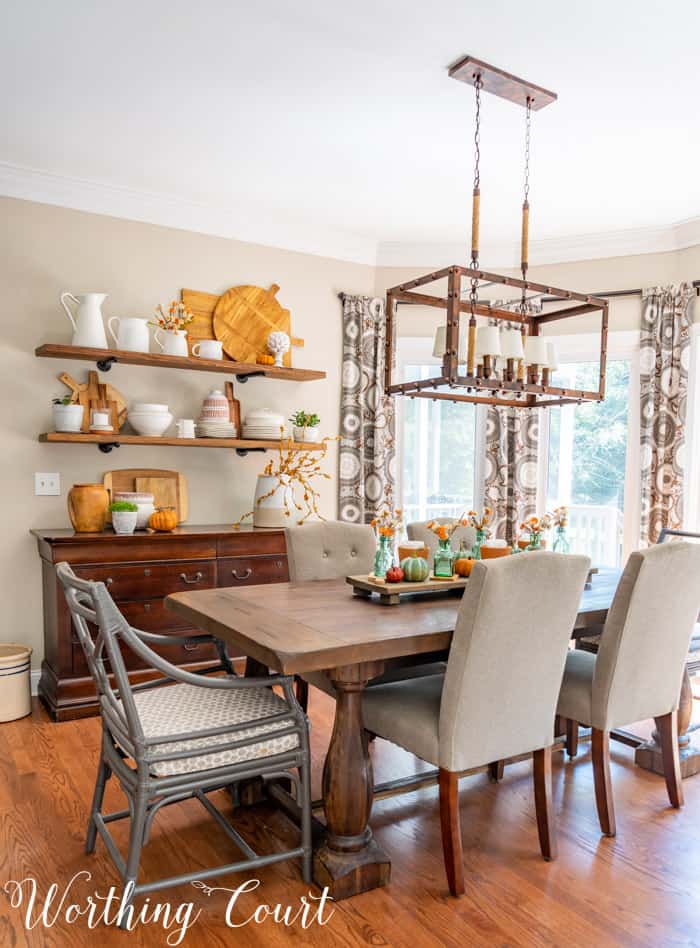 We're all friends here – right? So I'm going to share a fact that may surprise you – I've grown weary of completely redecorating the open shelves in my breakfast room/kitchen several times a year. There – I admitted it!
Before I get into how I solved that dilemma though, I want to welcome you to the Brilliant Colors Of Fall Home Tours hosted by my friends at The Tattered Pew and This Is Simplicite. I'm honored to be among a group of talented bloggers sharing our fall decor this entire week!

If you're just coming over from Inspiration For Moms, welcome! Aren't the fall touches in Laura's bedroom pretty?!?

If you're an old friend, welcome back! If you're a new friend, I'm Suzy, an empty nester living in North Carolina surrounded by my hubs and two fur babies who follow me everywhere.
I've spent that last few years completely redoing all of the rooms of our house that we completely remodeled when we moved into it six years ago. I'm still not finished and some of them I'm working on for the second time!
I have four rooms that I'm currently working on either decorating for the first time or updating how they were first done the first time around – our master bedroom, master bathroom, home office and dining room (I haven't shared my plans for this room yet). I'd love for you to follow along by signing up to receive my newsletter and get my free e-book!
Okay – back to my shelves. After thinking about it, I realized that I've completely redecorated these shelves at least four (sometimes five) times each year since I added them to our breakfast room about five years ago. That adds up to close to twenty different looks!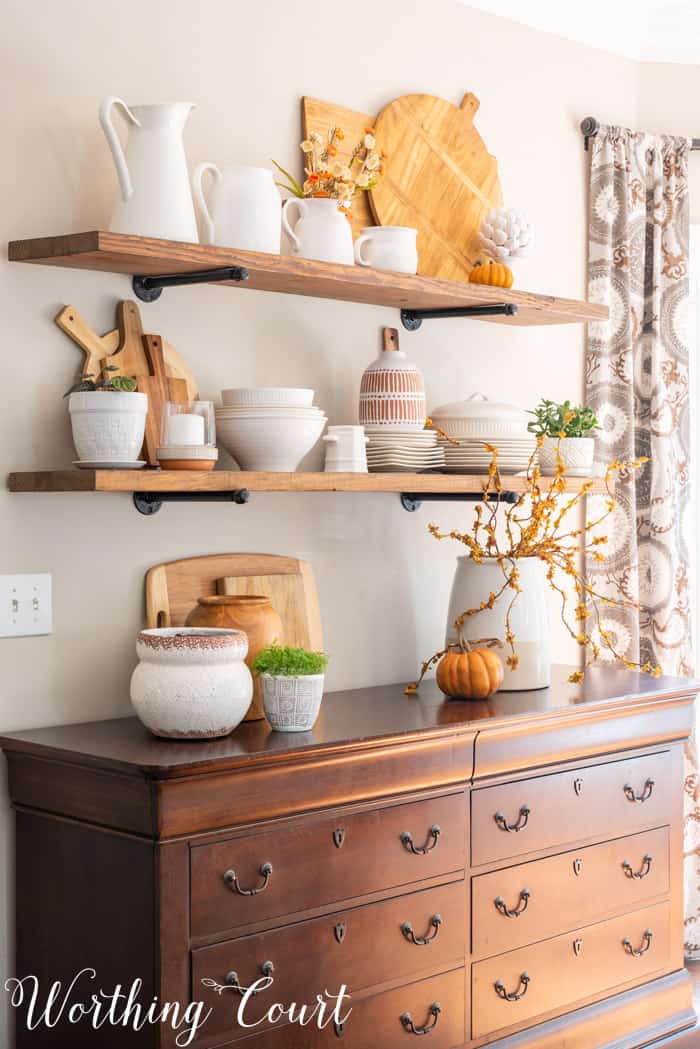 Considering that I've tried to come up with a completely different look every single time – well, you can probably understand my shelf decorating weariness. 😀
So, when I redecorated my shelves (once again) for fall, I decided that enough was enough and I would try to accomplish two things:
free up some of my cabinet space by making my shelves functional, as well as pretty
do it in such a way that I can just add touches of the current season without having to reinvent the wheel.
Some of my cabinets are getting a bit crowded, so it made sense to make use of these shelves by storing some of those pieces here. I'll be able to easily access them when needed and the fact that they're white means they'll go with anything. Win win!
After arranging all of the white items, I just placed a very few fall'ish items in strategic places. Switching these few things out, while leaving all of the white pieces in place, will make it a dream to update my shelves every season!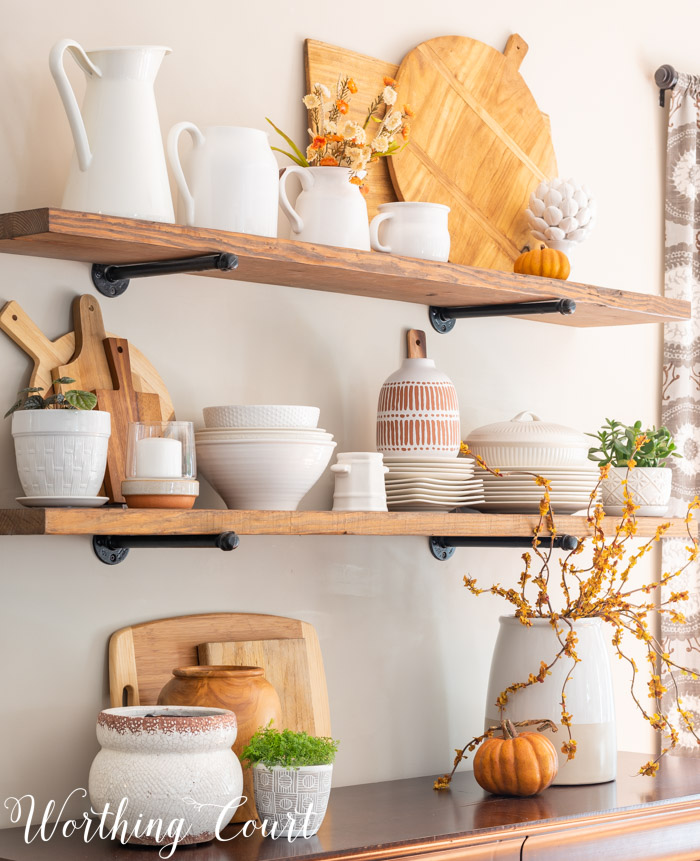 Even though the wooden cutting boards have a fall feel, I don't think they're fall specific, so they'll likely stay here for other seasons too.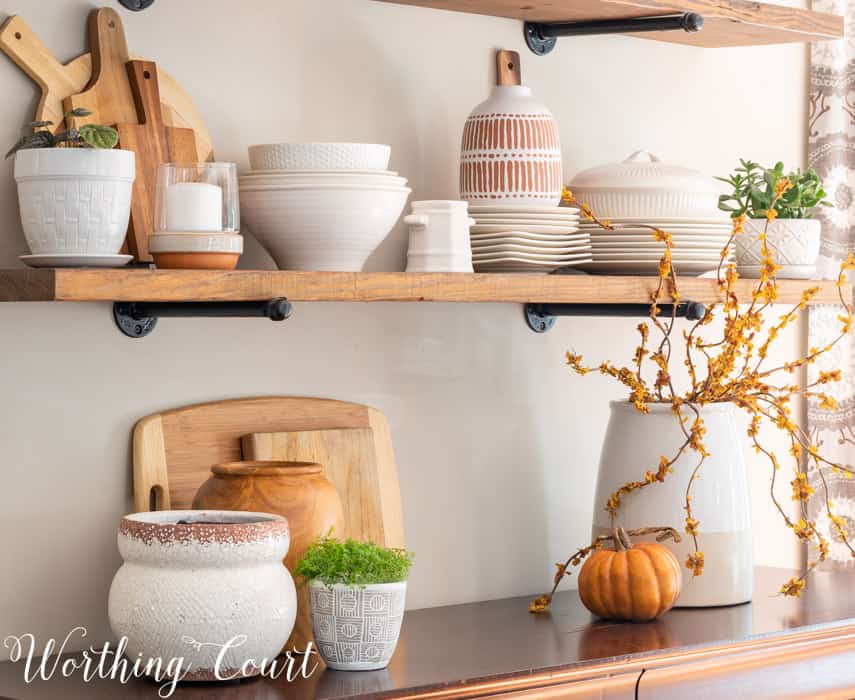 To give some interest and color to my breakfast room for fall, I added a simple centerpiece down the middle of our table.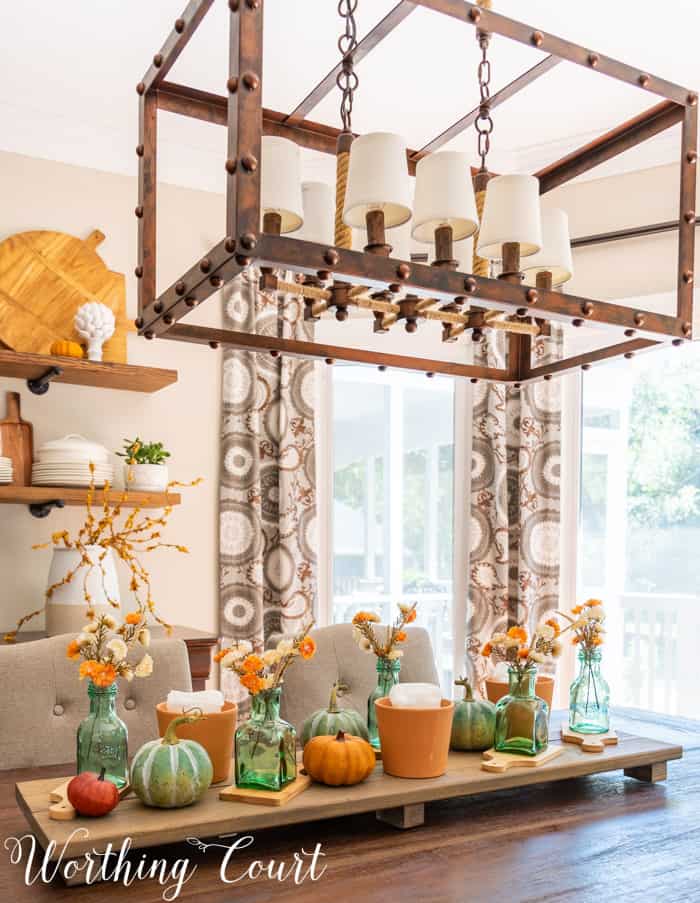 I wanted to give some height to the display, so I made a riser by simply cutting down some boards that we already had, attaching them together on the back with metal straps (like THESE), gluing some blocks of wood on for the feet and giving it all a coat of stain. Super easy and basically free!
Adding that little bit of height looks so much better than if the whole display were just flat on the table.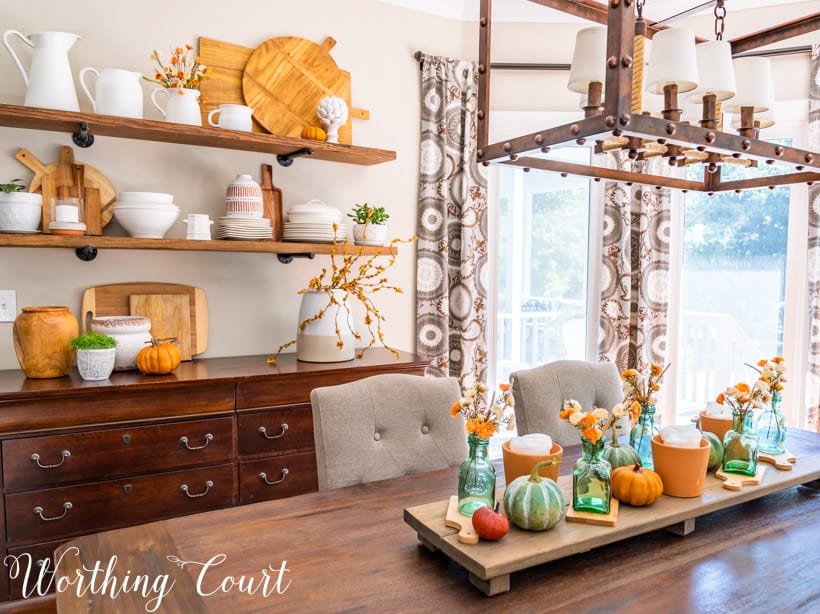 The pretty green bottles add just the right amount of color and help to draw your eye. The terra cotta pots, white candles and flower sprigs that I used help to tie it all together with the fall touches on my shelves.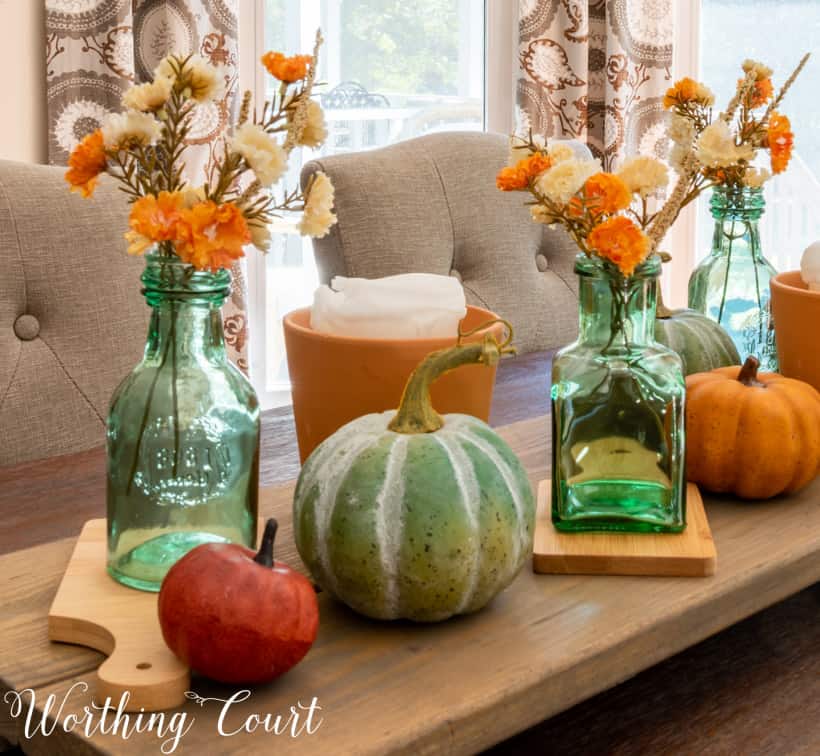 And last but not least, I added just a few pumpkins to fill in the empty spots. What's fall without pumpkins – right???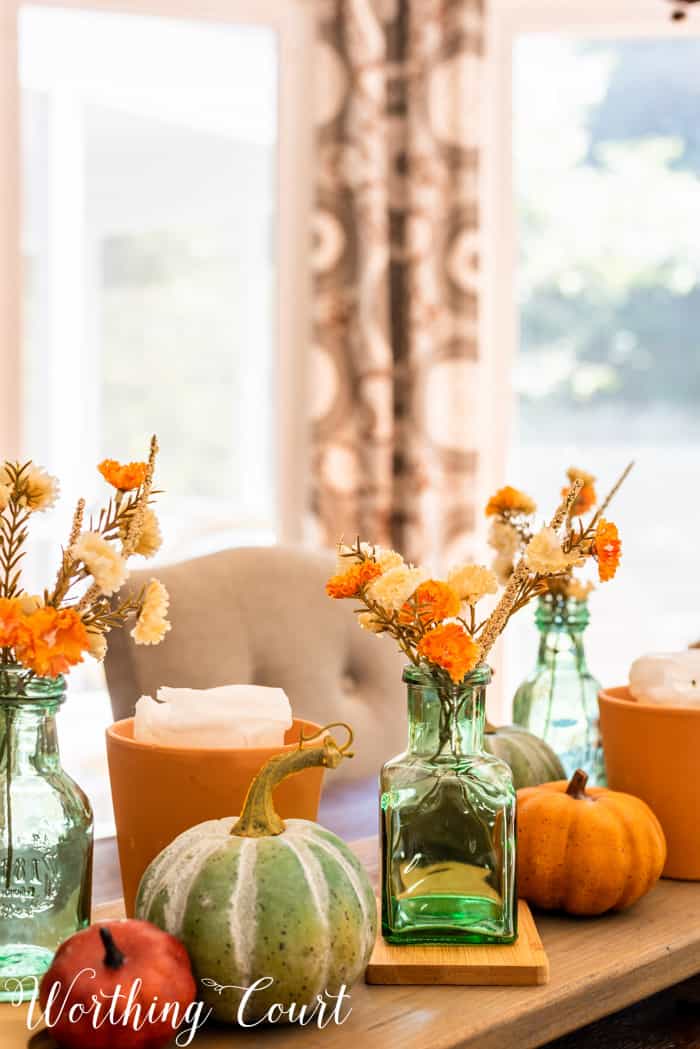 Thank you for taking a little look around my breakfast room! I hope you'll come back on Friday when I'll be sharing what I did for fall in my family room.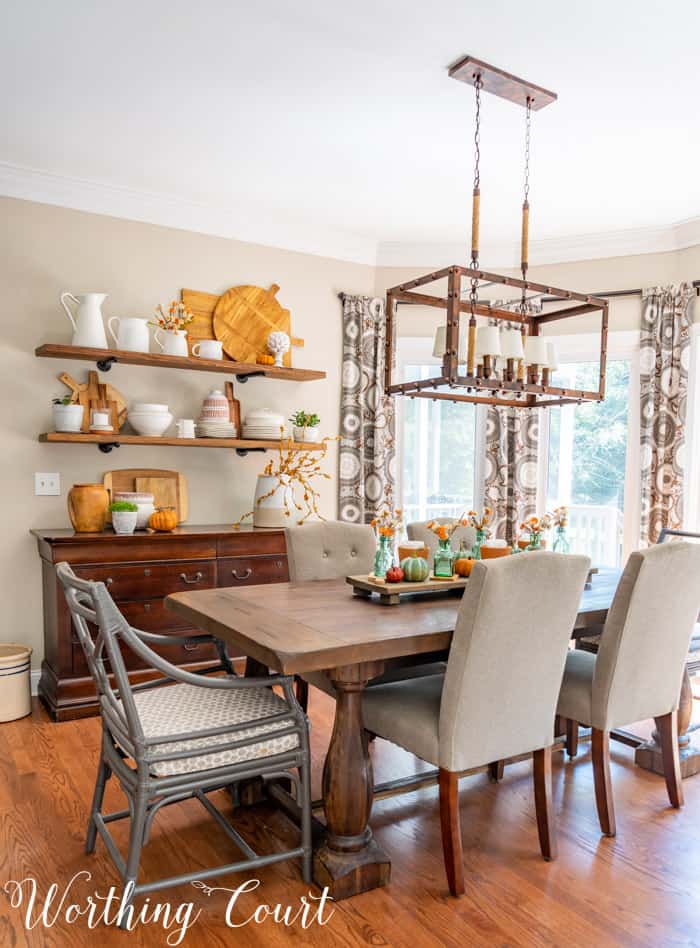 Now make sure you head over to Kate Pearce Vintage to see what she has to share. Then browse the rest of the beautiful tours below!
Sharing with me today…
Wednesday

Worthing Court // Kate Pearce Vintage //
A Blue Nest // Caitlin Marie Designs // Inspiration For Moms
And sharing the rest of the week…
Monday

Sweet Pea // The Tattered Pew // My Thrift Store Addiction
Shiplap and Shells // Stone Gable // Dabbling and Decorating
Tuesday
The Happy Housie // The Aspiring Home // Mint Candy Designs
This Is Simplicite // She Gave It A Go // Vintage Society Co.</p
Thursday

Aratari At Home // My Wee Abode // Midwest Life and Style
Simply2Moms // Stacy Ling | Bricks 'n Blooms // Open Doors Open Hearts
Friday

Up To Date Interiors // Simply Styled Inspo. // Love Create Celebrate

Noting Grace // White Arrows Home // Dans Le Lakehouse// Casa Watkins Living