7 Favorite DIY Projects And Crafts To Try
Seven budget worthy, easy craft and DIY projects to do while you're at home. Each one is complete with step-by-step directions.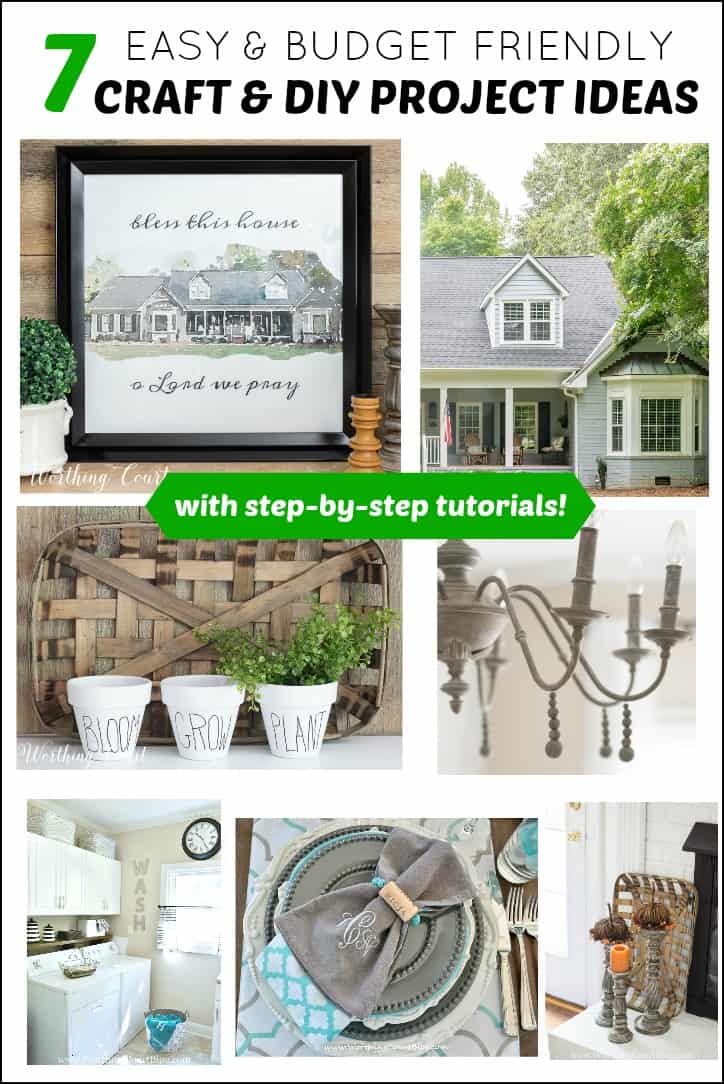 Pin
With all of us spending more time at home these days, there's no better time than now to try some budget friendly crafts and diy projects! If you're a long time reader, some of these may be familiar to you, but you may very well find one or two that you missed along the way or would like to revisit.
When it comes to decorating my home or providing you with decorating inspiration for your own home, my mantra is to always do it affordably, on a small budget.  I can honestly say that everyone I know is working within some kind of a budget when it comes to beautifying their homes, myself included, so that means that instead of always running out to buy whatever I want or need, I often either make it myself or turn something that I already own into what I want it to be.
This craft ranks as #1 in the easy and budget friendly departments! This set of three Rae Dunn lookalike pots probably took all of two minutes to make, once the paint had dried, and cost me a fraction of what I would have paid for them in a store.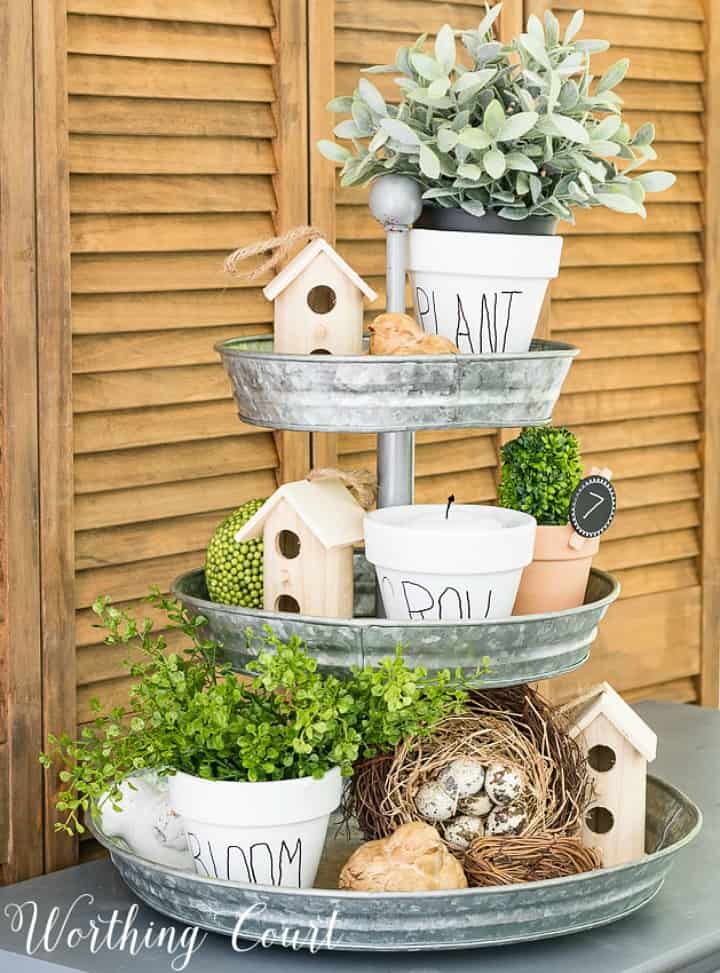 Pin
I have used this easy four-step process to get the look of driftwood over and over and over again! I've used it on everything from candlesticks, to plastic, shiny gold chargers and more.
Can you believe that these candlesticks used to be red, green and gold??? I found them for a song and completely transformed them with my driftwood technique.
You'll find all of the step-by-step directions in the post.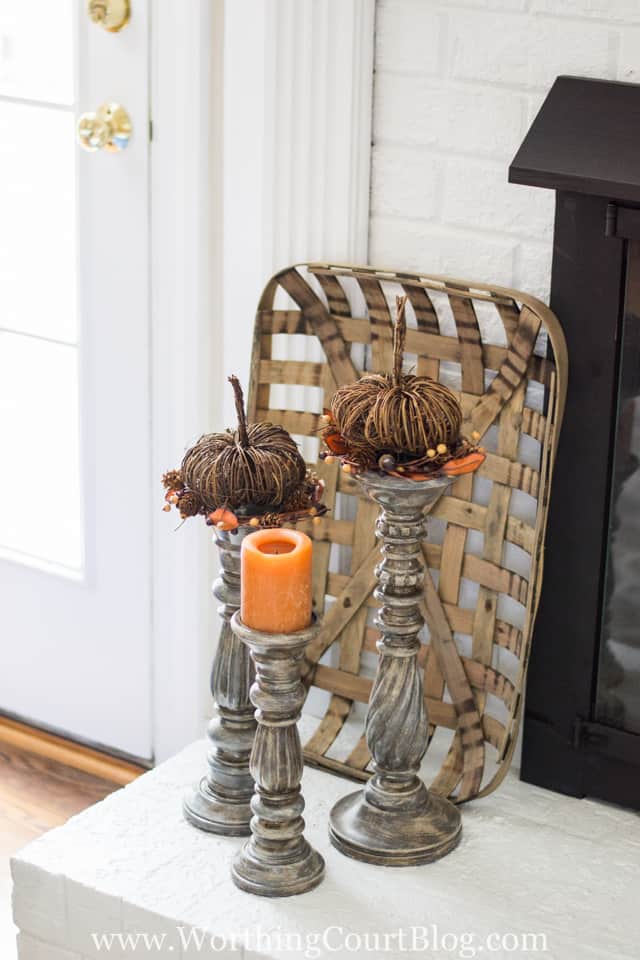 Pin
Now here's an easy little project you may not have thought of! Raise your hand if you have a hole in your wall where the cold and hot water faucets and the drain pipe go for your washing machine.
Not only did I have the ugly, but necessary hole in the wall, mine was located to the side of my washer, so there was no way of hiding it under the shelf that I added behind my machines.
This little box was my solution so that I don't have to stare at an eyesore every time I walk into my laundry room!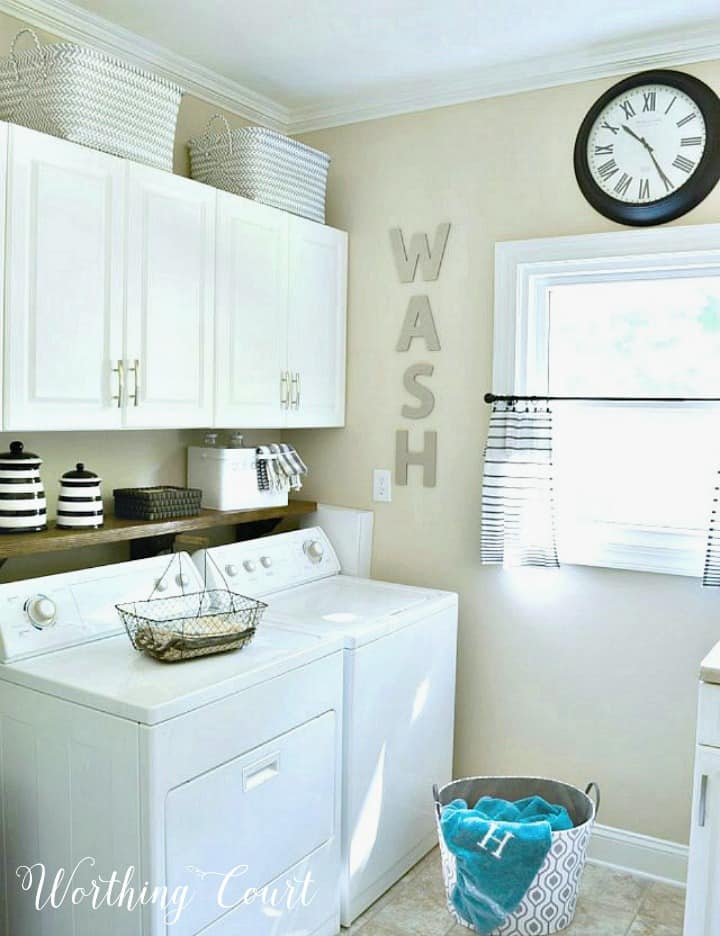 Pin
If you're decorating on a budget, finding affordable lighting can be a real challenge. I was able to give an old chandelier from my dining room a total makeover for just a few dollars!
Thrift stores, FB Markeplace and other similar venues are great places to find dated lighting fixtures. Thankfully, I knew this chandelier was a good candidate for a makeover, so I held onto it for four years before I found the perfect spot to reuse it!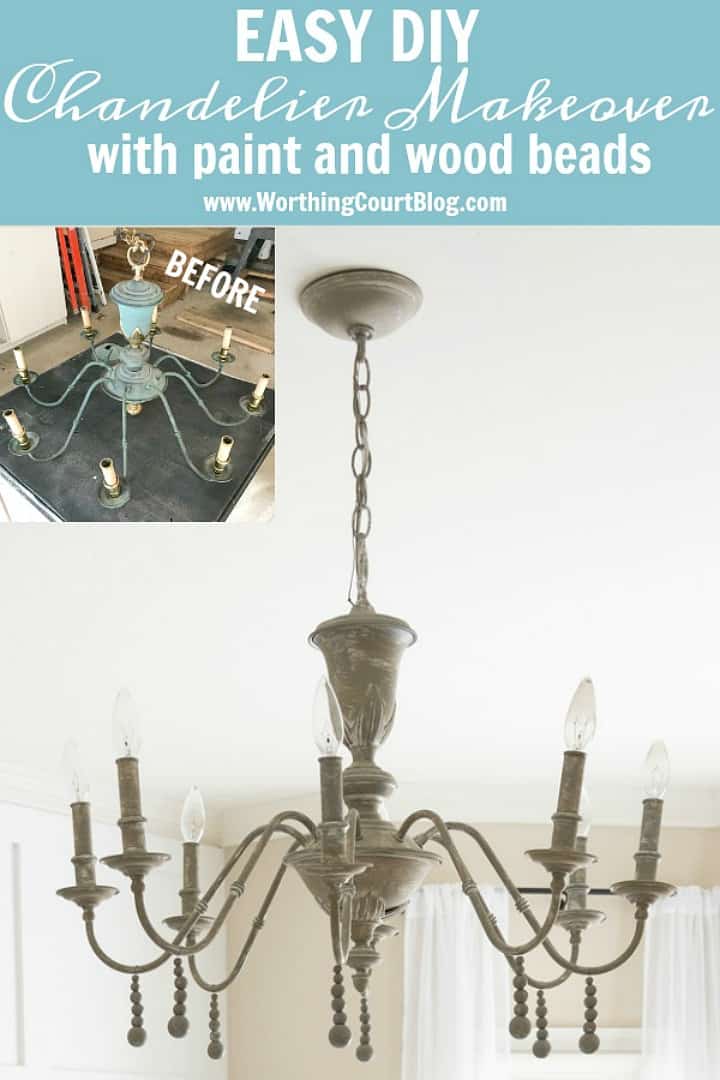 Pin
Improving your curb appeal usually involves something rather pricey, such as new landscaping or painting the exterior of your home. Not this one!
This is one of the subtle changes that made me love my home so much more. I never felt like the plain plate glass looking windows were suitable for the style of our home, but figured I would just have to live with them.
But then! Then I stumbled across New Panes DIY window grids. Guys, I can't tell you what an easy project it was to add grids to our windows, not to mention that it was super affordable. We did all of these windows in just a couple of hours!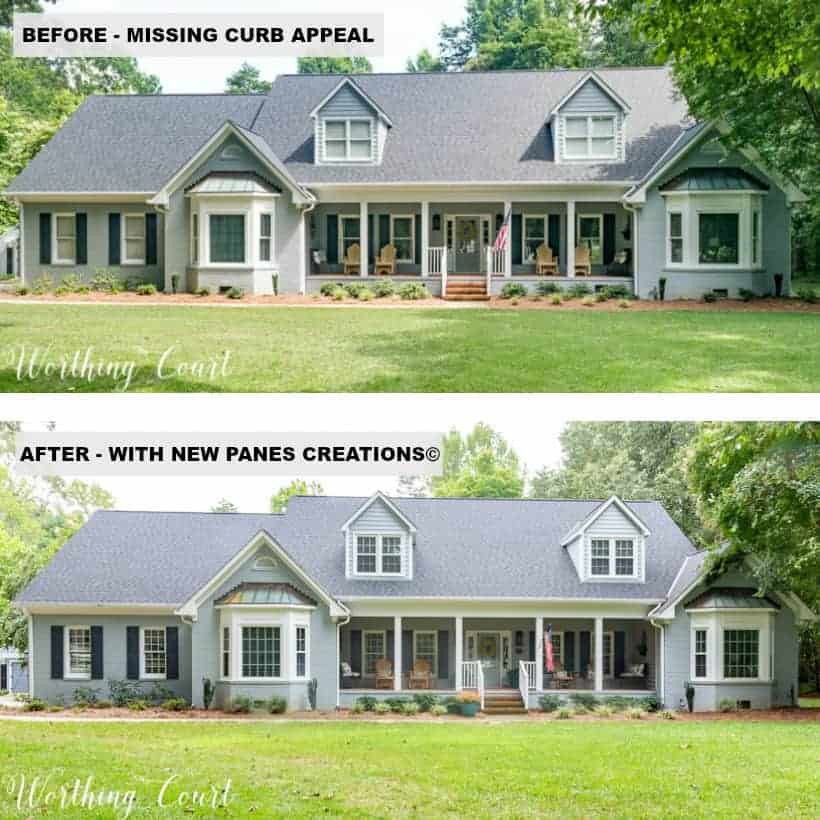 Pin
Not only is this diy project easy – it's fun too! Watercolor paintings are one of my favorite types of art, but sadly, I'm no great artist.
This is a project that you can do with your iPhone. I used a photo of the exterior of my house to create this piece of art, but you could use an image from your iPhone of anything – a vase of flowers, pretty scenery – the possibilities are endless!
This detailed step-by-step tutorial will guide you right through the process of creating your own watercolor-look artwork. And whether or not you decide to add text to your creation is totally up to you.  😀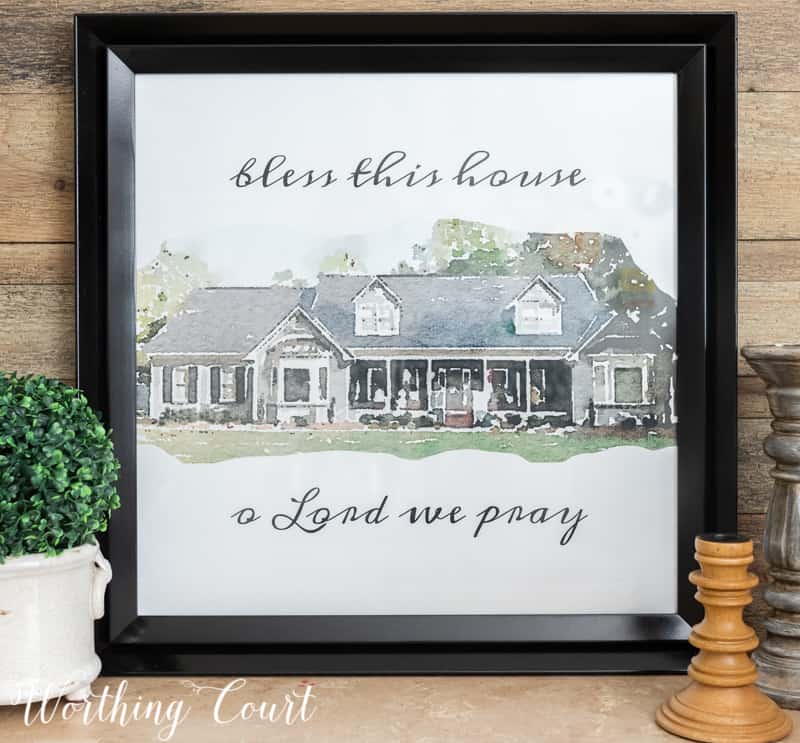 Pin
This may be an oldy, but it's still a goody! Hold on to your wine corks because this is a fun craft.
If you've been following along with Worthing Court for a while, you already know that I enjoy putting together seasonal and holiday tablescapes.
All those tablescape supplies can get pricey, so my friend and I came up with a fun, budget friendly way to create napkin rings, using wine corks, that can be customized to any color that you need.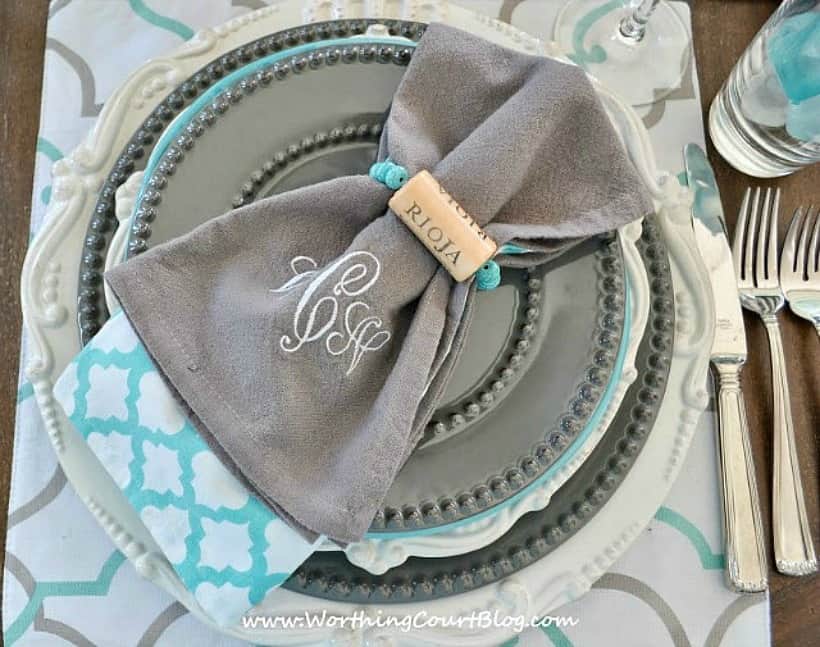 Pin