Winter Decorating Ideas And Creating A Fresh Clean Look After Christmas
Easy ideas for ways to create a fresh, clean look around your home after Christmas.
As much as I adore the coziness of my home when it's dressed in its Christmas finery, I'm ready for a fresh, clean less is more look once all of the holiday decorations have been packed away for the year.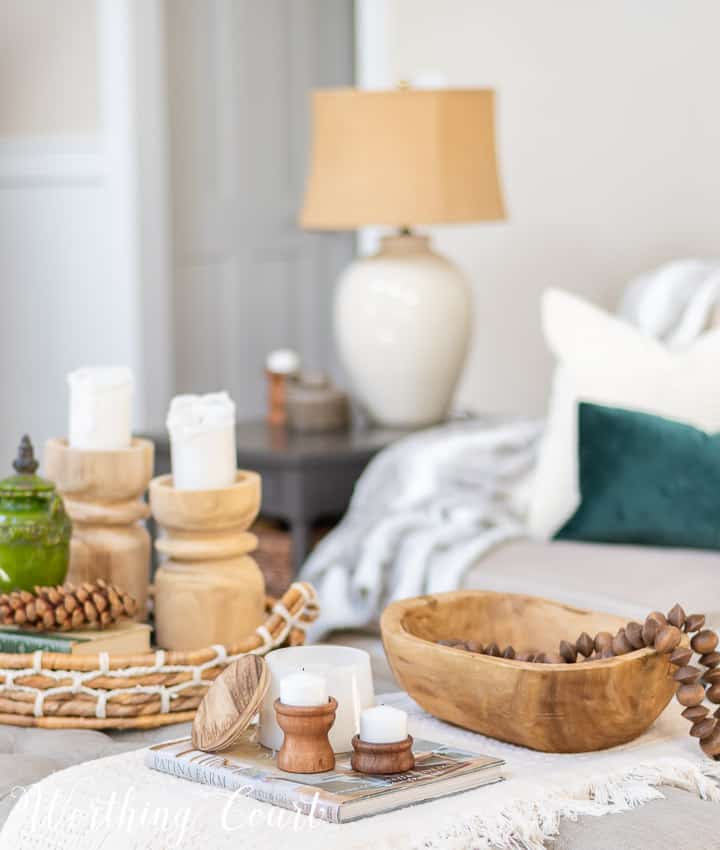 Pin
I don't know about you, but I put a lot of work into my Christmas decorations, so when I'm ready to transition my decor for the winter, simple and easy is the name of the game. You can rest assured that I try my best to employ my KISS decorating method wherever possible!
I have found that I tend to decorate for the winter with the same type of items year after year, but I always change things up a bit. This is where having a winter home decor capsule comes in super handy and saves me lots of money! So, this year, as usual, you'll see lots of artificial pine, pine cones, shades of white and touches of various wood tones spread throughout my house.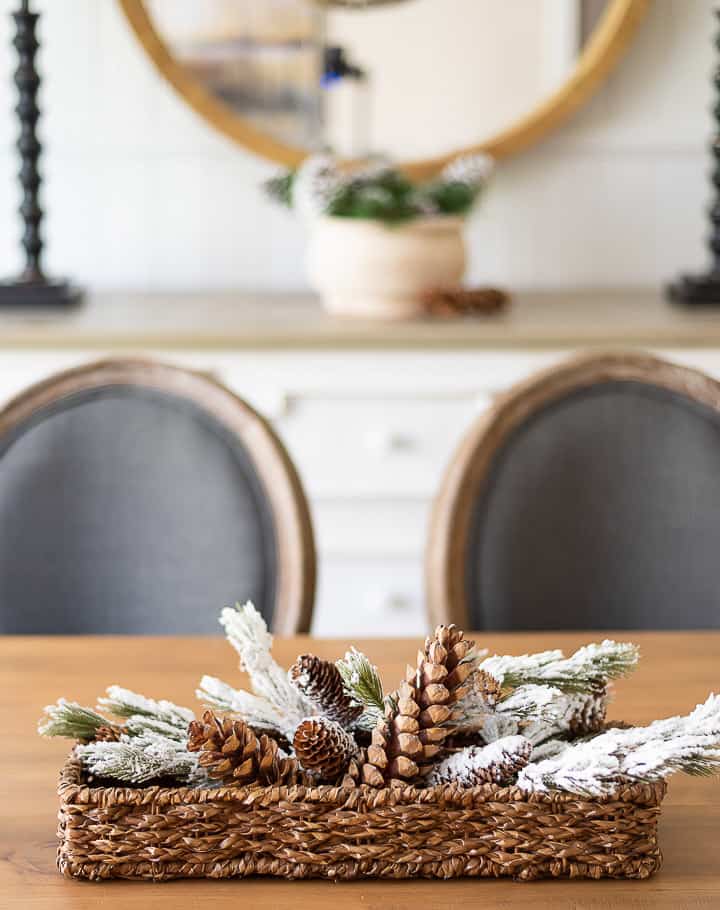 Pin
Rather than making my home look like winter exploded in it, I prefer to sprinkle what I like to call "winter moments" throughout my main rooms. It's such an easy look to live with, but still gives me the coziness that I crave this time of year.
In my family room for example, I brought my favorite round basket back in to use on my upholstered coffee table, where I created a simple vignette with chunky wood candlesticks, some books, an old green jar and a pine cone.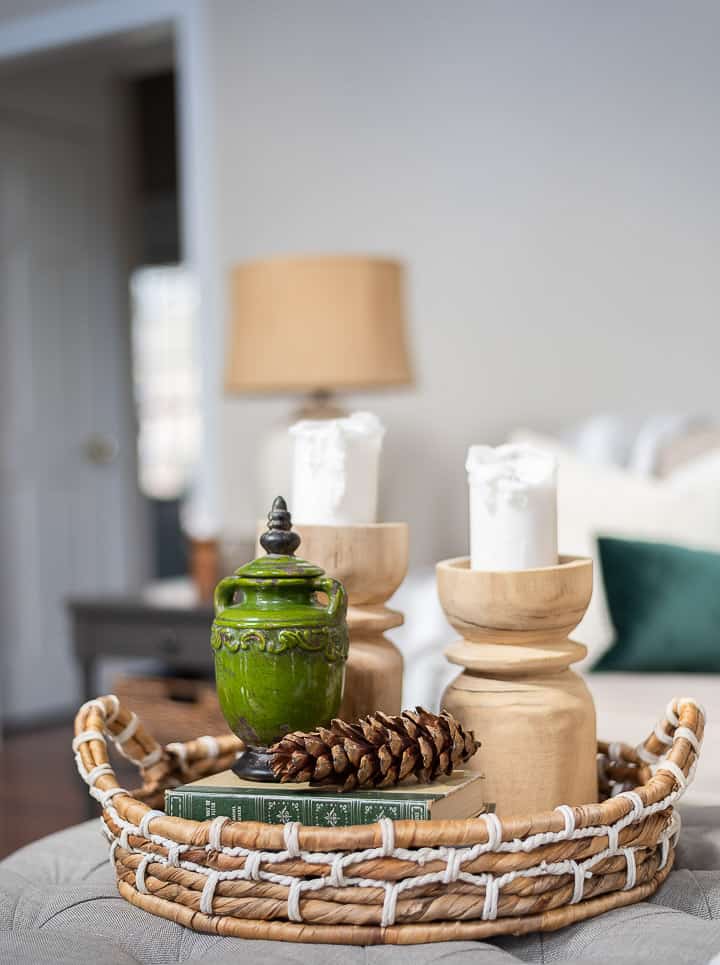 Pin
The rest of the decor on the table was kept simple, but cozy by using lots of texture. A folded throw over the table. a wood bowl, some wood beads and a few candles all give off a cozy textural vibe. And yes, we really do burn those candles!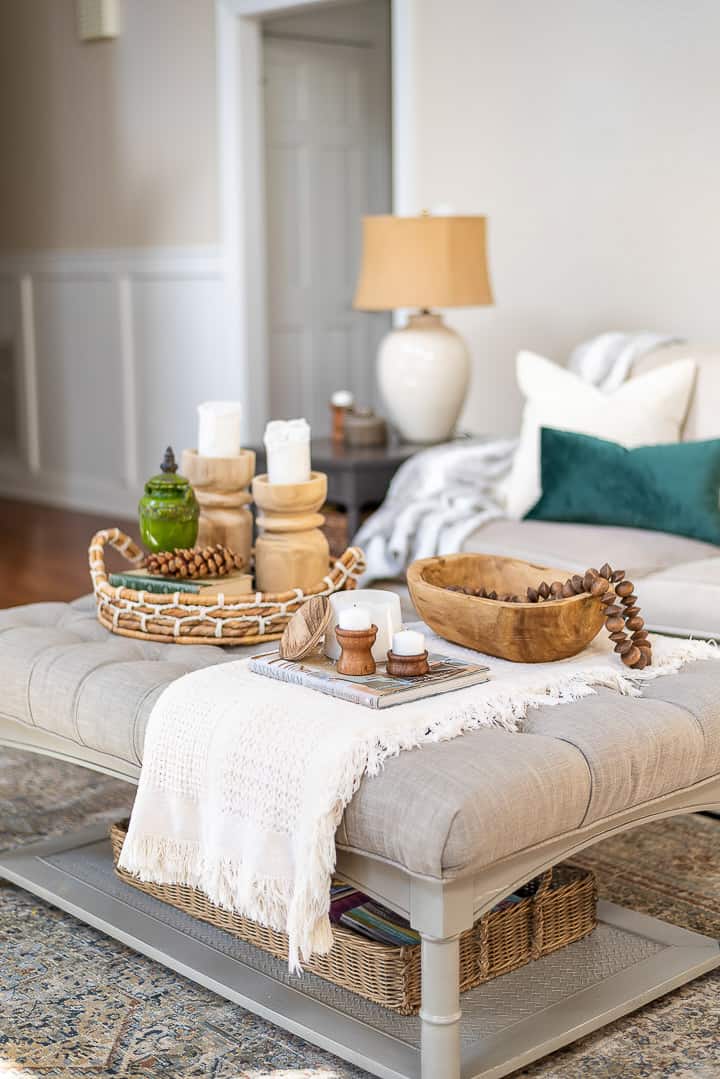 Pin
DECORATING TIP: Anytime you're decorating a room, especially when you want a cozy feel, texture is one of the key elements that you'll want to be sure to include.
After all of the fussiness of Christmas, I'm really enjoying the clean and simple look in the corner where our Christmas tree was. It was one of my favorite trees ever, but I'm actually glad to have everything put away.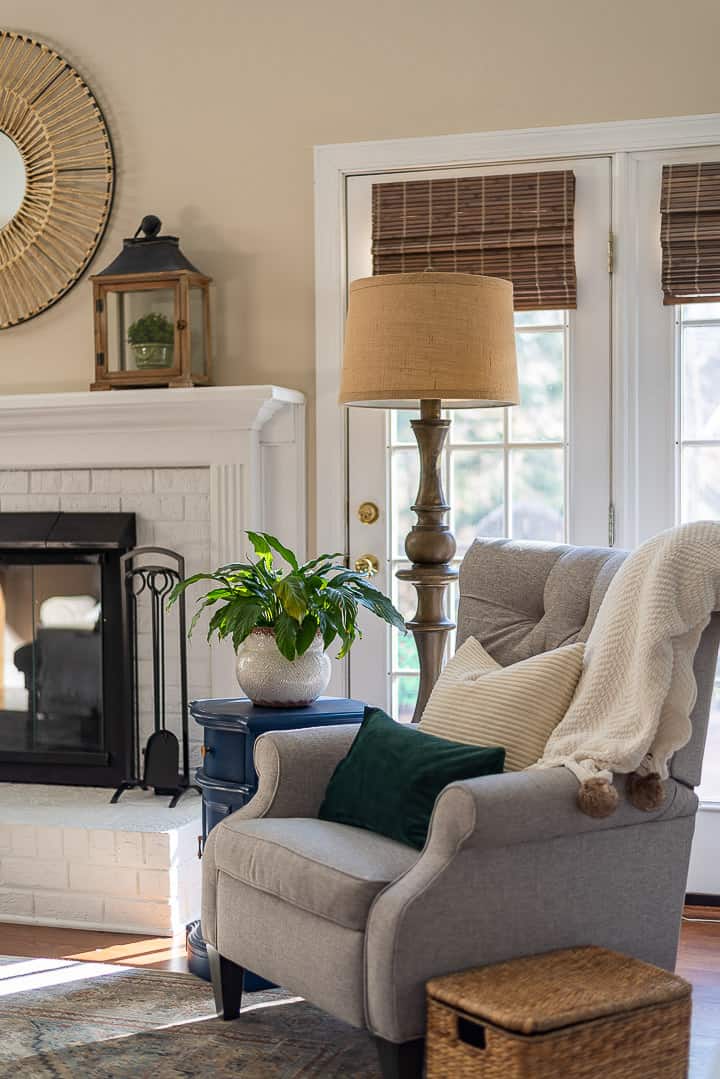 Pin
To make room for Christmas, my live plants get relegated to the laundry room, so I'm always glad when it's time to bring those back out because they breath so much life into a room. This particular one just loves this bright and sunny spot. I can almost see it smile once I put it back here.  😀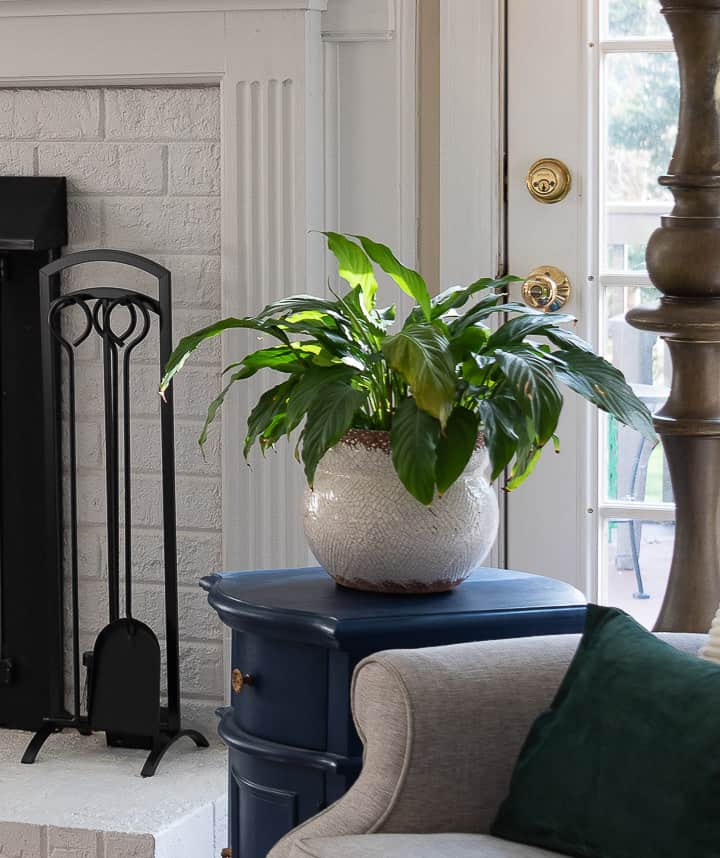 Pin
I kept things simple on the fireplace too. Just a lantern and a grouping of black candlesticks are enough for the mantel. I added some faux long needle pine branches to my crock and even brought in a set of fireplace tools to use on the hearth. Our fireplace is gas, but those tools just say "cozy winter fire" to me. Can you see my dog's reflection in the glass fireplace door?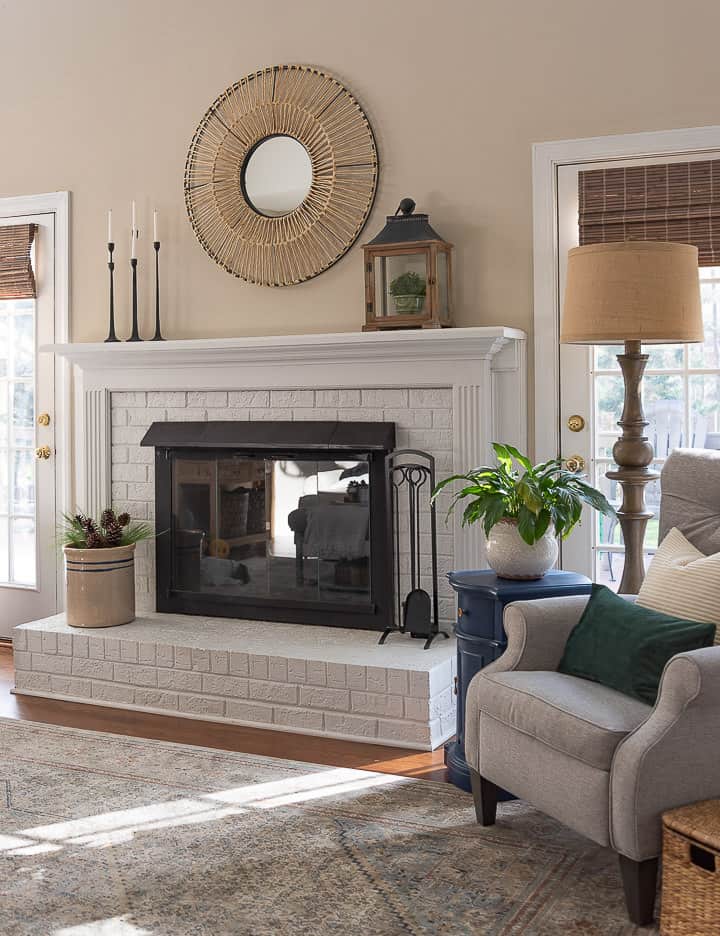 Pin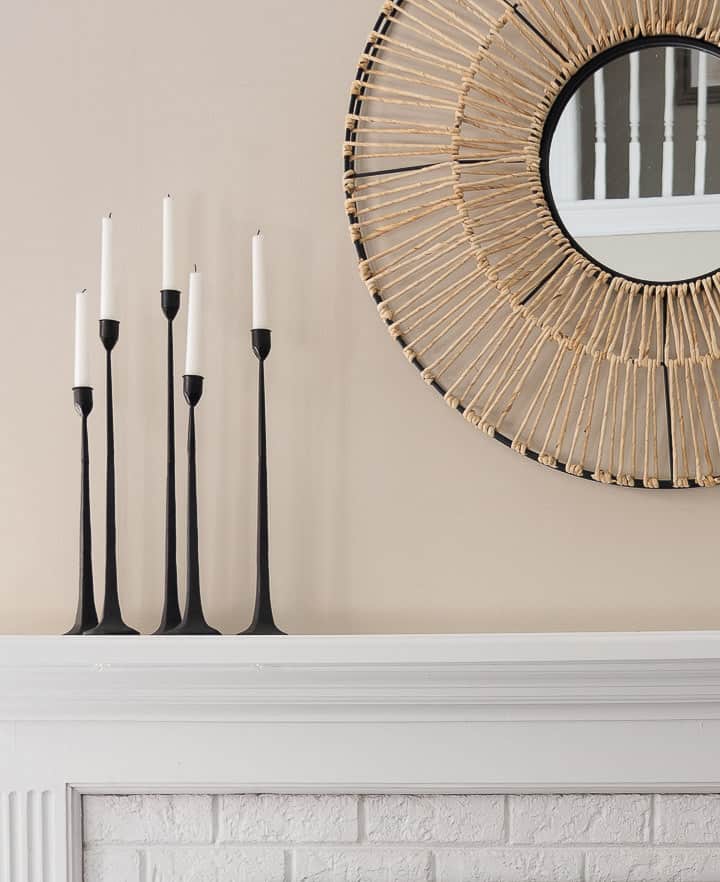 Pin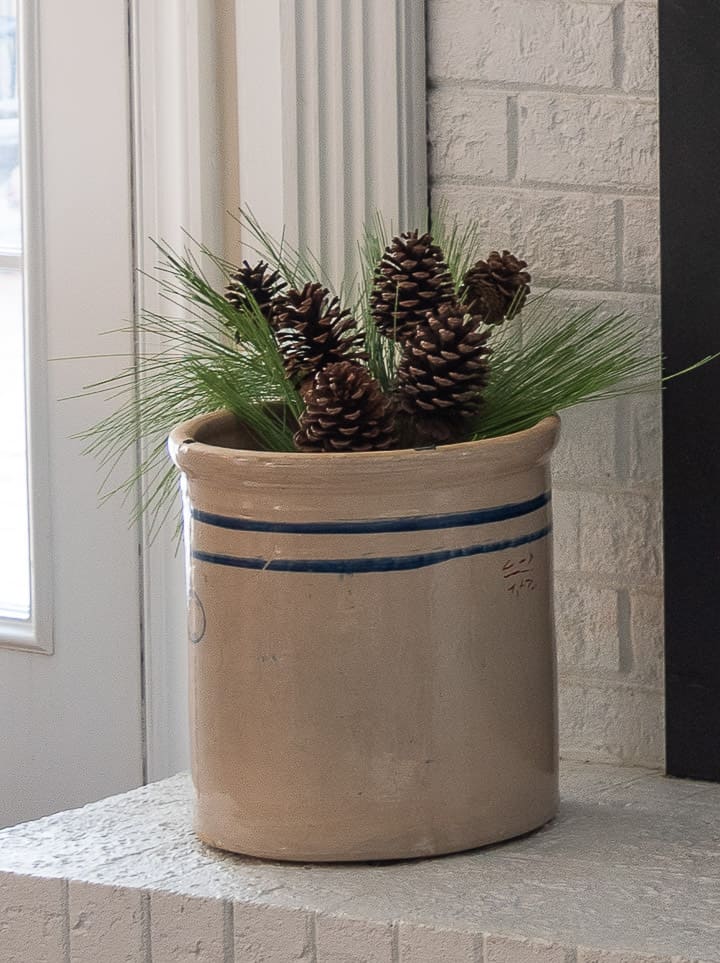 Pin
Let's talk about how super simple I kept things in the dining room too. I made things really easy on myself by just taking away anything that said Christmas and filling in with things that say winter.
I left the snowy garland that I had above my mirror for Christmas, but took away the gold tinsel wreath and gold ornaments that filled the wooden bowl down below.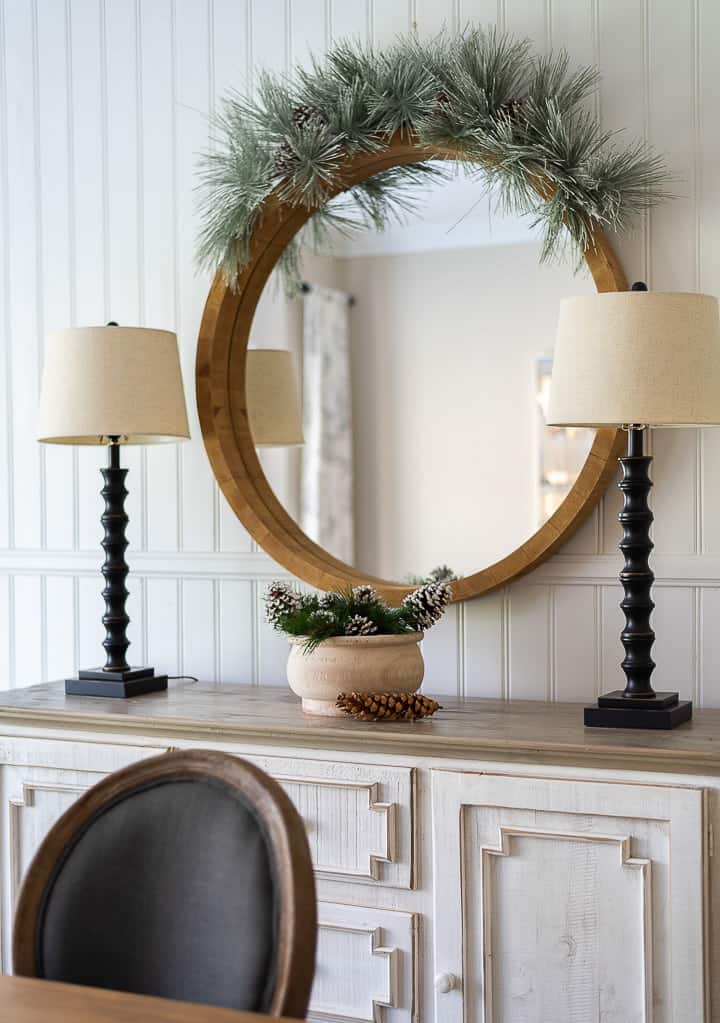 Pin
The snow covered pinecones were actually used in the tree topper for the Christmas tree that was in this room.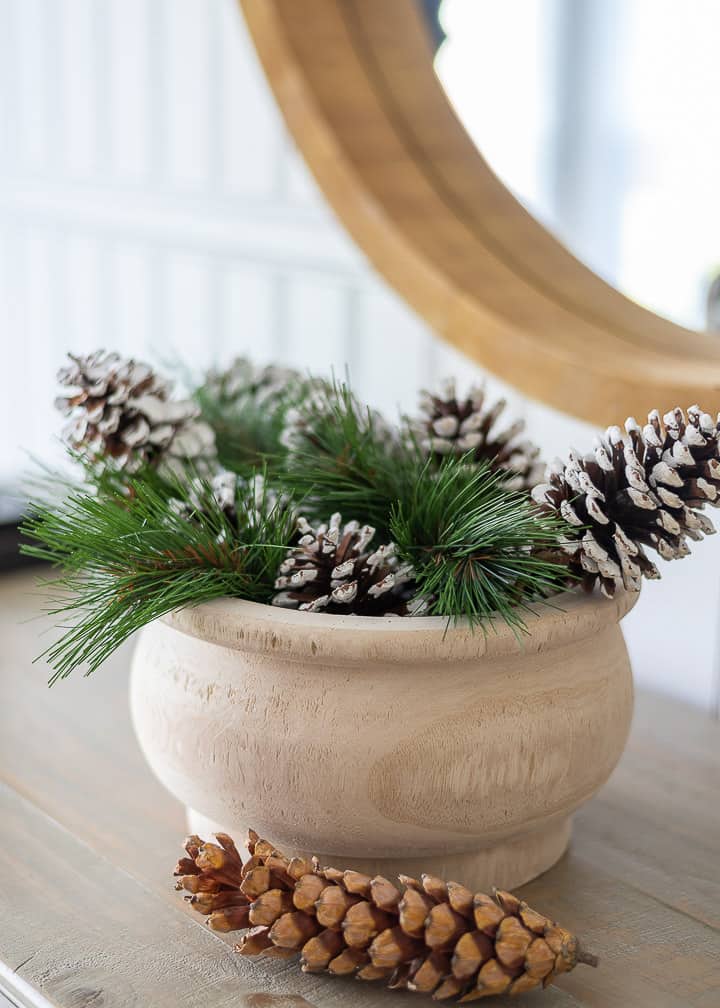 Pin
The only change I made to the centerpiece was to remove the gold tinsel trees and fill in with snowy pine branches that were also a part of the tree.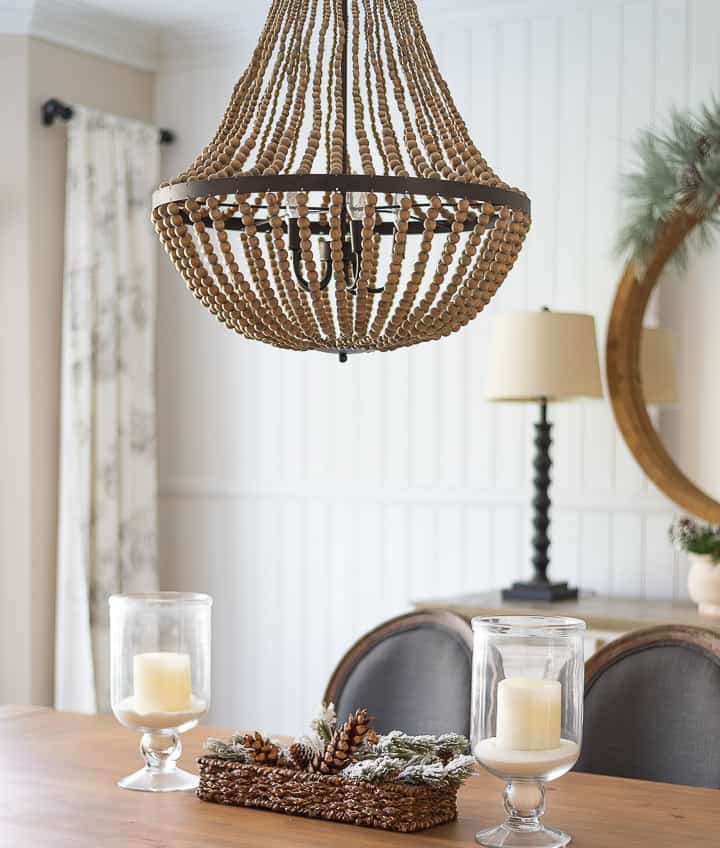 Pin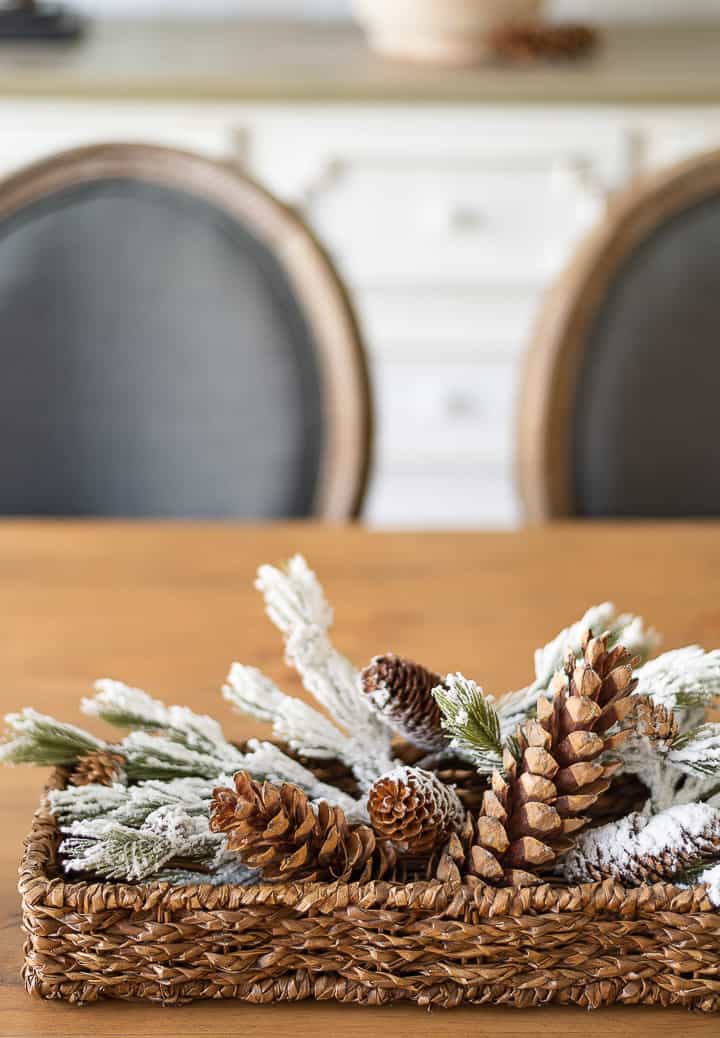 Pin
The last spot that I made any changes to for the winter is the open shelves in my breakfast area. I mentioned a while back that I was going to try keeping the same basic decor on the shelves all of the time and just switching a few things out for any seasonal and holiday changes that I wanted to make. I started that for the fall and so far, that's worked really well and has saved me a lot of work!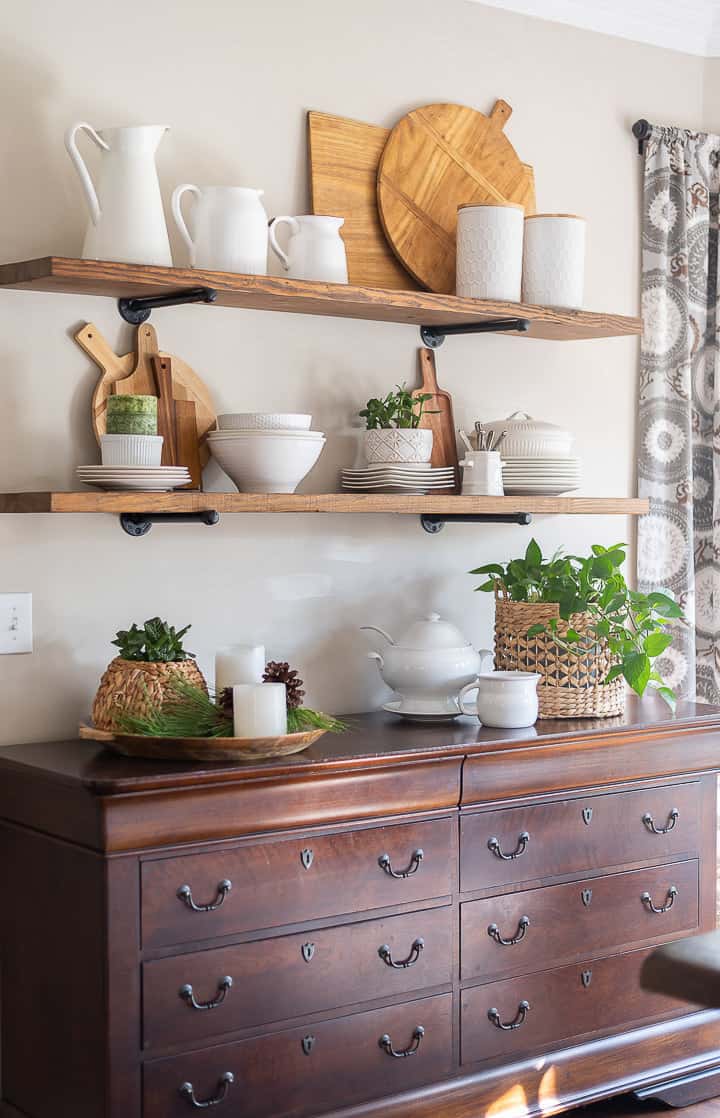 Pin
White dishes work really well as a decorating base if you want to give something like this a try in your own home.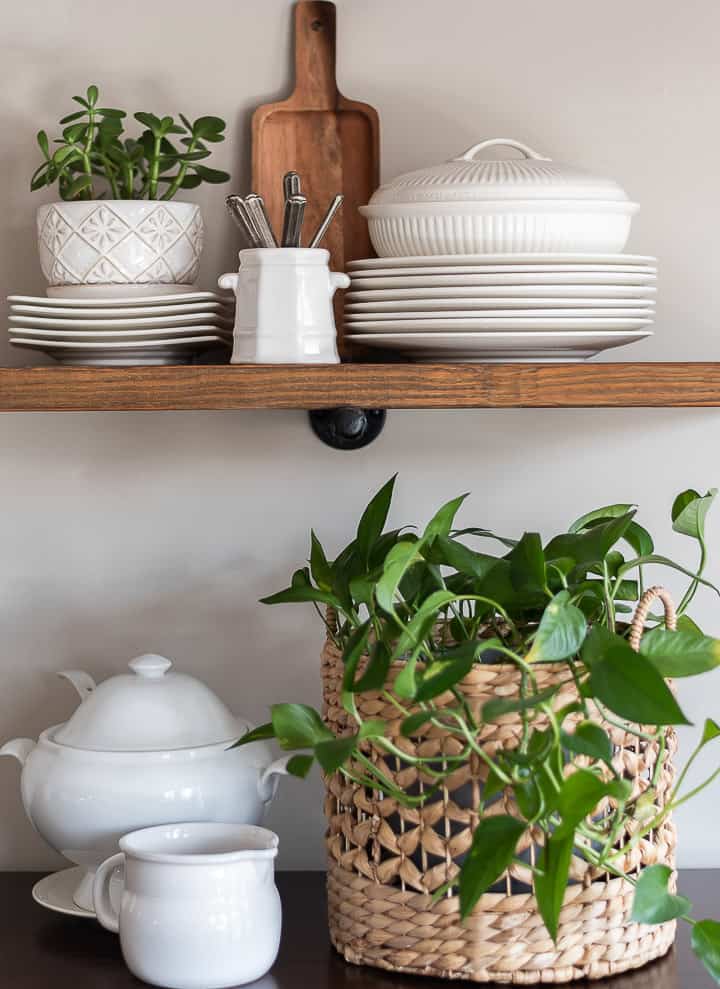 Pin
My shelves sit in a bay window at one end of my kitchen, so the live plants love it here too.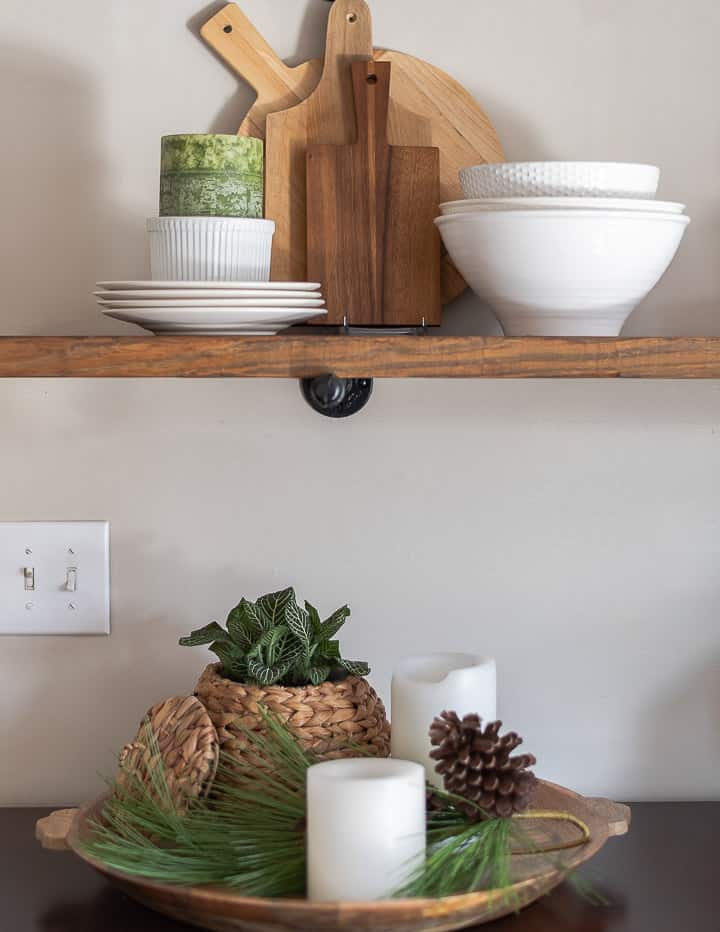 Pin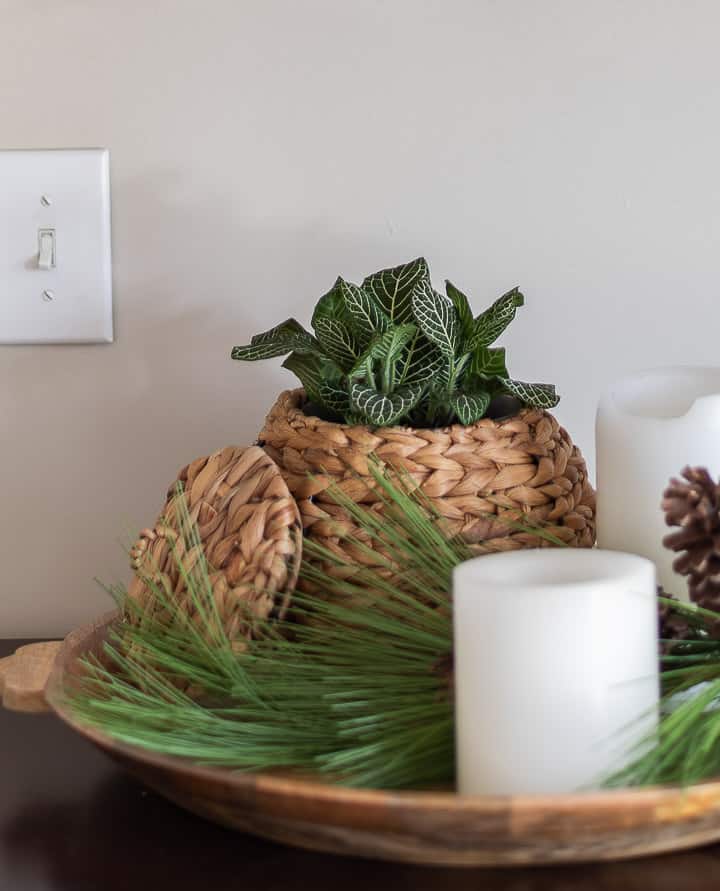 Pin
Do you decorate your home for winter or do you just clean the Christmas up and wait until spring?