Winter Into Spring Decorating Ideas
Cozy and easy winter into spring decorating ideas for your home. You'll be able to easily transition into spring by making just a few small changes.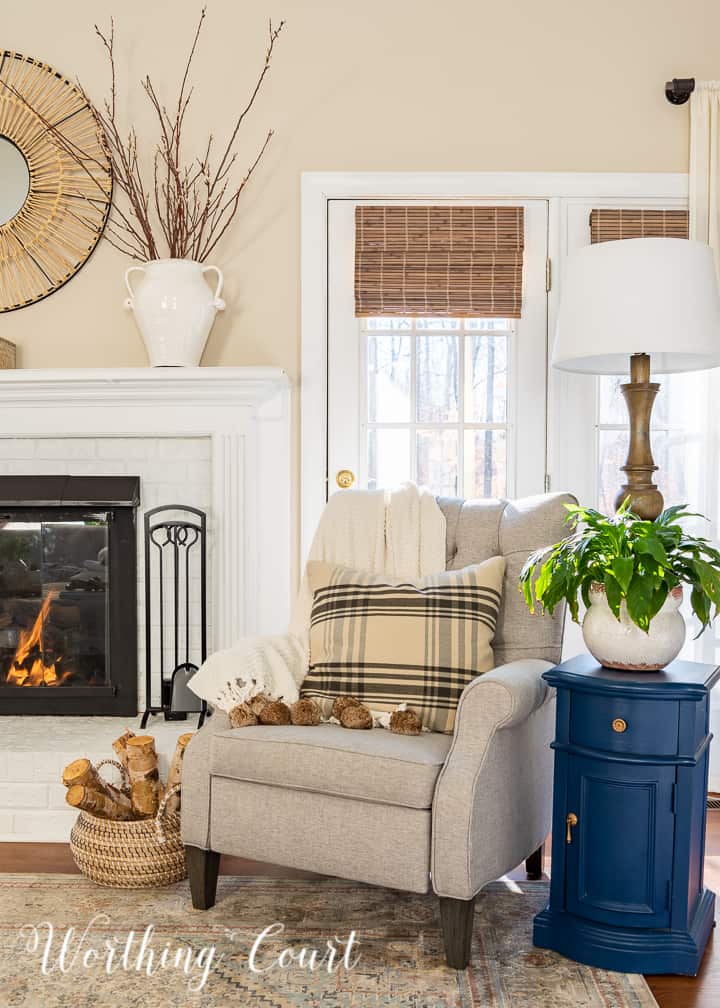 Pin
This post and photos may contain Amazon or other affiliate links. As an Amazon Associate I earn from qualifying purchases. If you purchase something through any link, I may receive a small commission, at no extra charge to you. All opinions are my own. See my full disclosure HERE.
After the explosion of Christmas decor is put away, I'm ready for a clean slate and a fresh look around my home. Don't get me wrong – I adore having my home filled to the brim with all things Christmas, but after enjoying it for several weeks it starts to feel like a lot of clutter once the holiday is over.
I've linked to the products that I can below each image.
MY FOCUS FOR KEEPING IT EASY
However – there is one huge consideration for me when it comes to decorating the house yet again though. Since I just spent the last eight weeks decorating for Christmas, I'm not really in the mood to redecorate my whole house again. LOL
To keep the winter decorating simple, I'll only focus on a few key areas – the front door, fireplace, coffee table, dining tables and the open shelves in my breakfast room.
Whatever I do, it needs to be quick and effortless. There's an added bonus if I can decorate so that the decor can easily transition it to spring!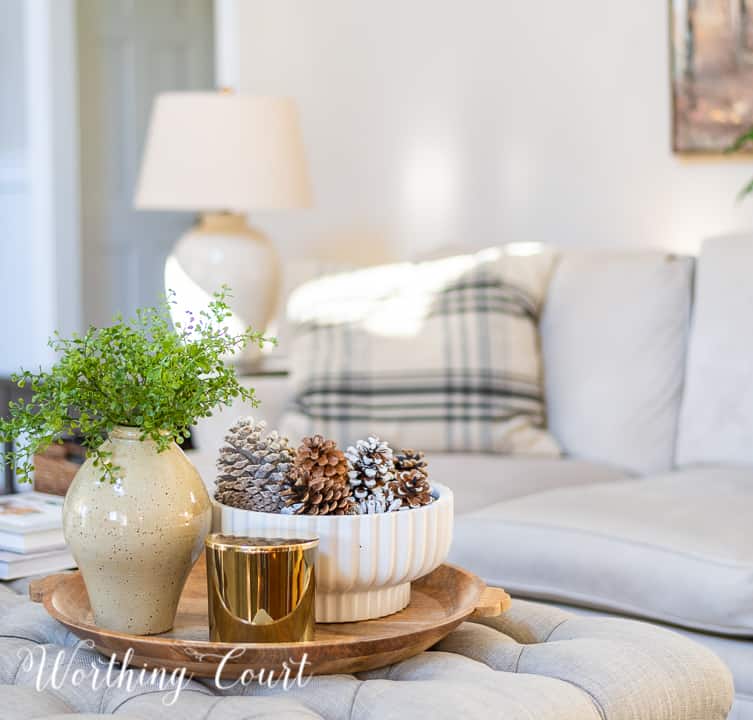 Pin
VINTAGE LOOK VASE || FLUTED BOWL (link is for the 8″ size) || FROSTED PINECONES || CHAMPAGNE CANDLE
THE PROCESS – FIRST THINGS FIRST
I want to start with spaces and surfaces that are completely free of Christmas decorations.  That way I'll have a clear view of the spots that I want to add winter decor to and there won't be anything to distract me off to the side or in the background.
The next step is to thoroughly dust, vacuum or mop all of the spaces and surfaces. There's no point in adding more decorations if I'm just going to have to move it all to clean under it.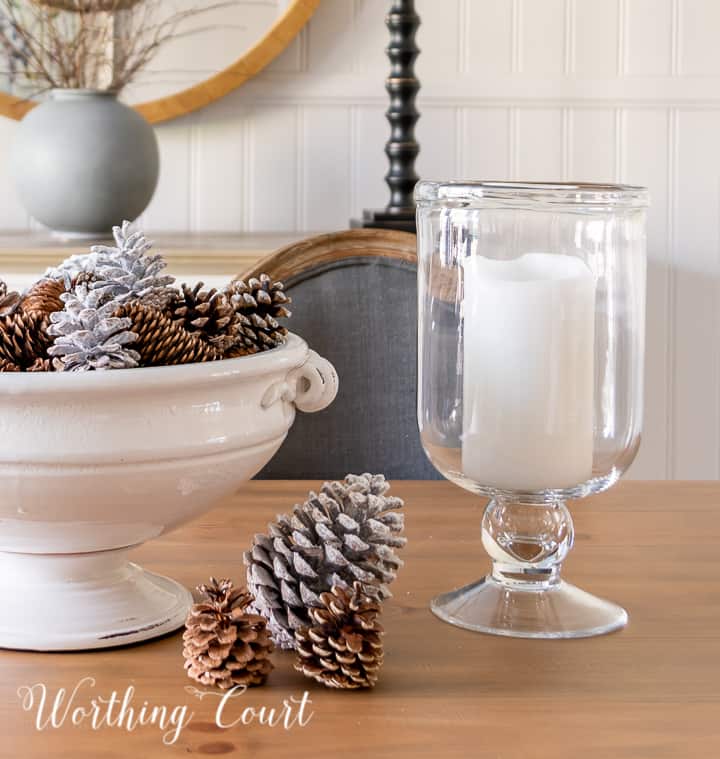 Pin
LET'S GET STARTED
Once everything is clean and shiny, I'm ready to get started. The first stop is to my attic where all of my winter decorations are super easy to find now that I organized it last year.
The second stop is to the closet where I keep a decor capsule that I can pull from. By decor capsule, I mean a stash of items that I can always go to that has basic items that can be reused over and over again anytime that I'm ready for a refresh.
I can't tell you how much time and money having that stash has saved me! I even wrote a post about what type of items you should include in your own decor capsule.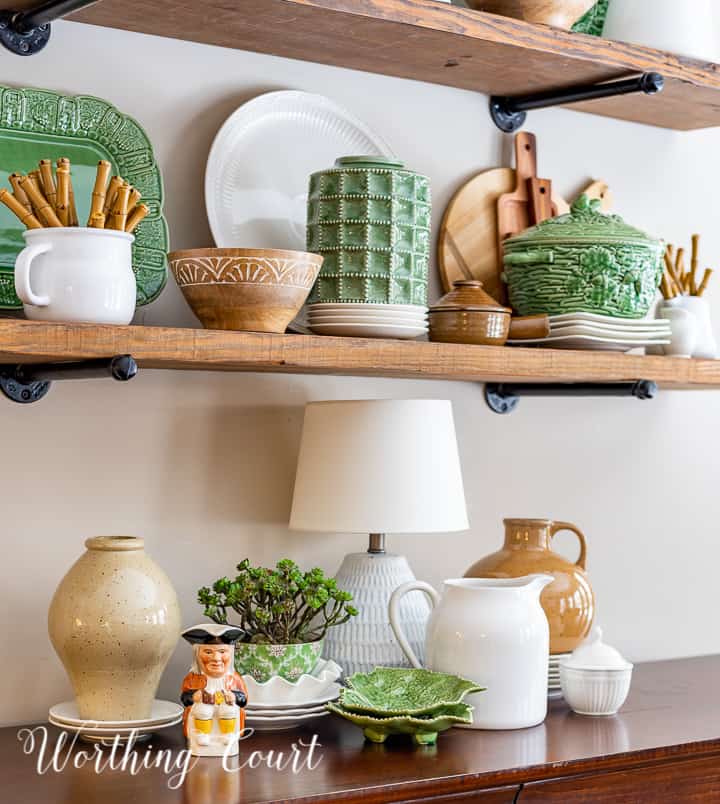 Pin
LAMP || SHADE || BROWN VINTAGE LOOK VASE || BEIGE VINTAGE LOOK VASE
WINTER INTO SPRING DECORATING STRATEGY
Now the fun begins! Remember – I'm not only refreshing and decorating my home for winter. I'm doing it in a way that allows my decorations to easily transition into spring with little or no changes. Here's a list of the items that I'll be using:
lots of white accessories.
bare branches
pinecones – bare ones and frosted ones
candles
artificial greenery
throw pillows
green dishes.
On my front door, I'm reusing the four ingredient winter wreath that I made last year. I love it because it's an uncomplicated, no-fussy wreath that says winter simplicity to me.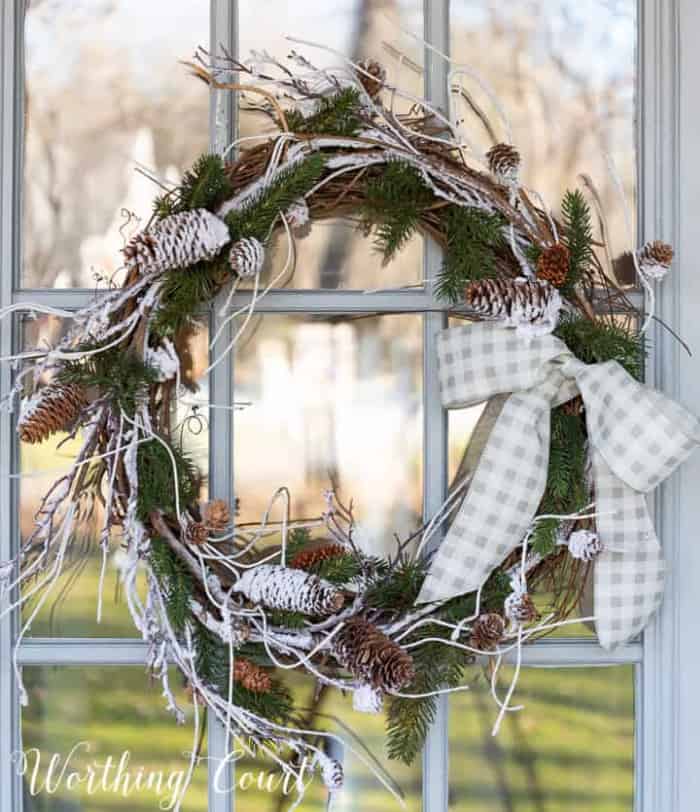 Pin
I really love to make the interior of my home a reflection of what I see when I look out of my windows. I took a field trip into the woods around our house to harvest a collection of bare branches that I'll be able to use in several spots.
My field trip also yielded a plethora of pinecones, so I added those, along with some frosted ones that I already had, to a large white pedestal bowl on my dining table. Flanking the bowl with pretty glass hurricanes reinforces the fresh, clean look that I'm craving for winter.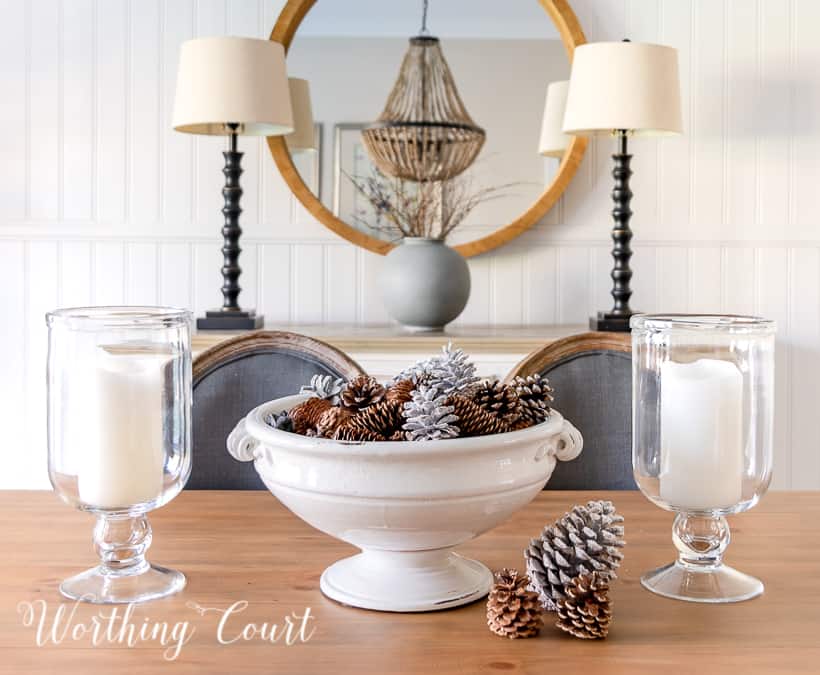 Pin
GLASS HURRICANES || FROSTED PINE CONES (similar)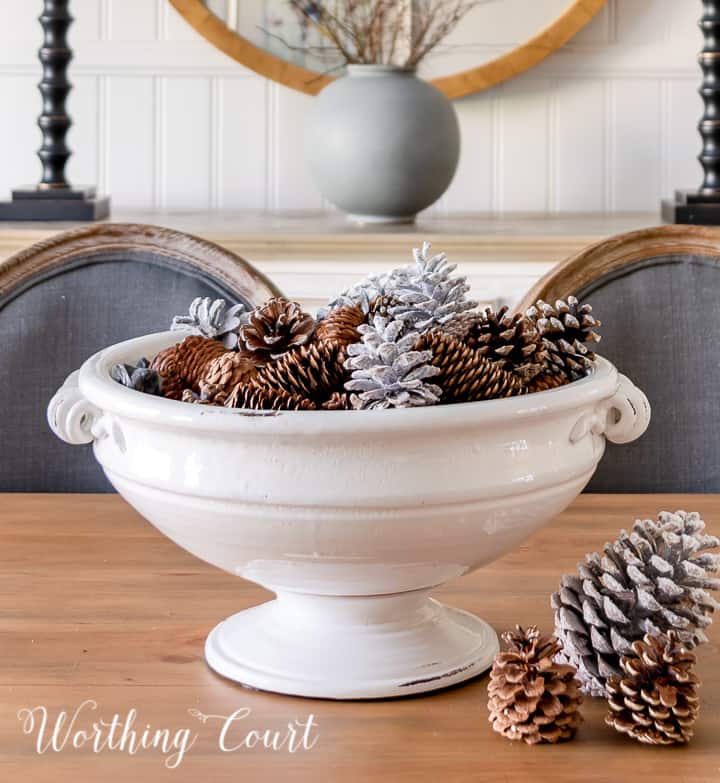 Pin
They're a little difficult to see in the photo because of the reflection of the chandelier in the mirror, but I love the smaller bare branches that I placed in a fat squatty vase on the sideboard! To change the look for spring, I'll create a moss bowl in the pedestal bowl and add my favorite faux tulip stems to the gray vase.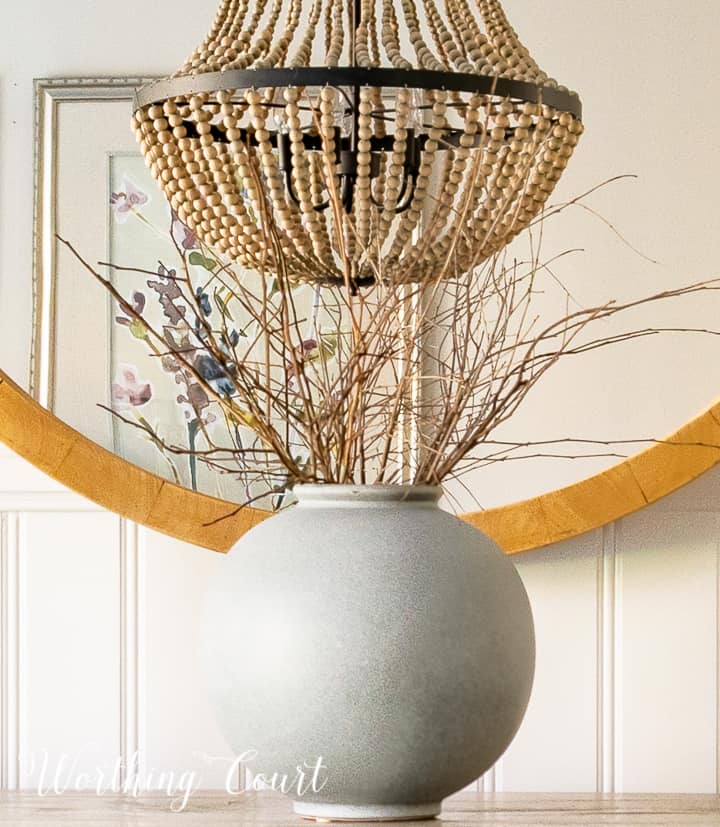 Pin
Since we have a vaulted ceiling in our family room, a bunch of the longest branches looks great displayed in a huge white urn on my mantel. I have to be very careful with scale and proportion in this spot because anything too small looks dinky.
It will be easy to turn winter into spring in this area by simply switching out the pillow and throw, removing the logs from the basket and replacing the bare branches with greenery stems. I'll leave the candleholders and white candles in place and add a large'ish plant to the basket.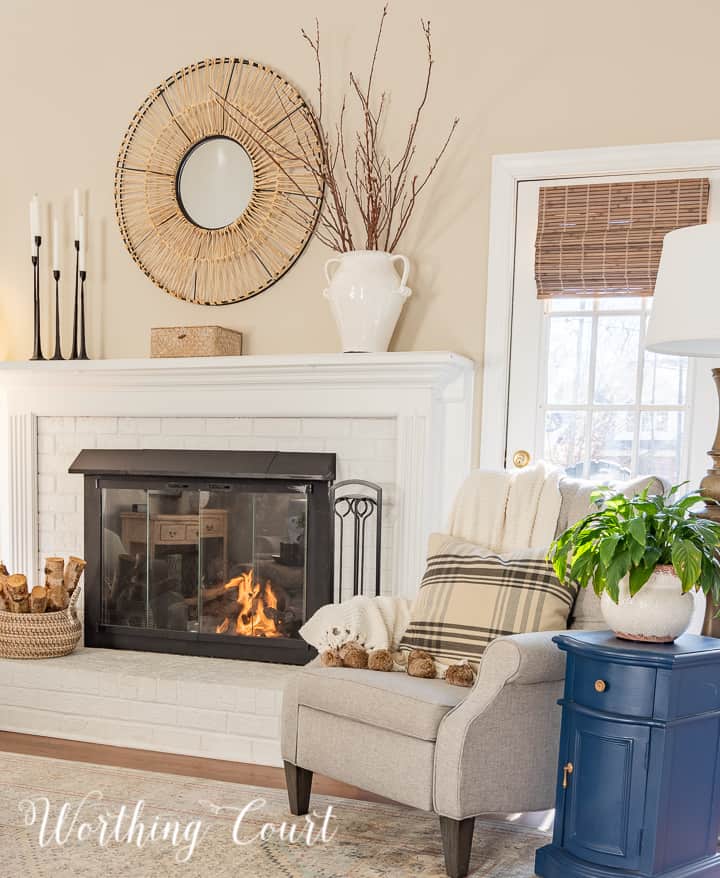 Pin
RECLINER || LIDDED WICKER BOX (set of 3) || BLACK METAL CANDLESTICKS (set of 3)
Two textural chunky pillows give a cozy and inviting feel to the recliner on the opposite side of the fireplace.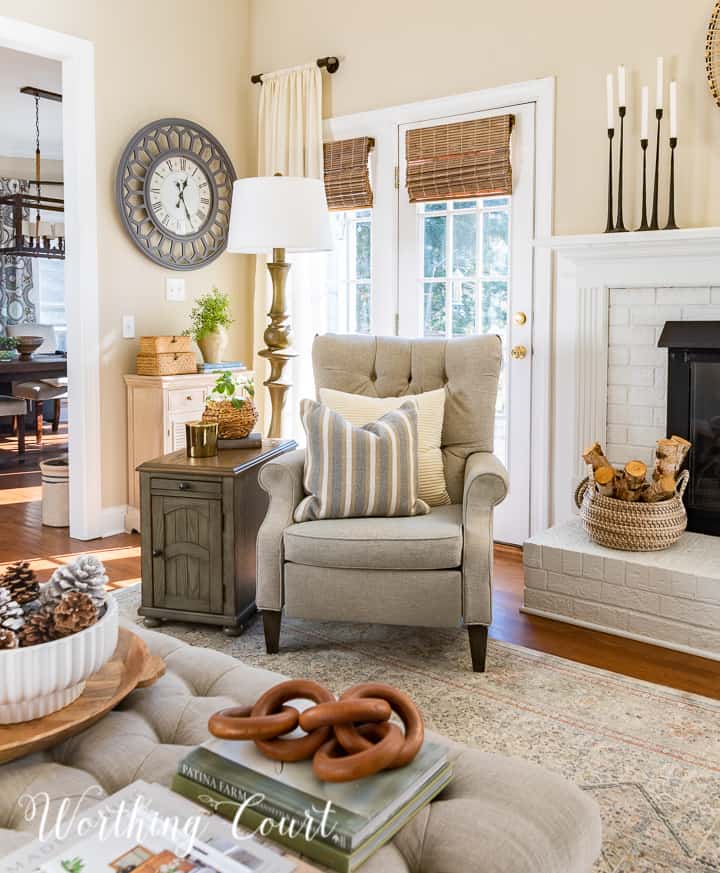 Pin
WICKER BOXES (set of 3) || WOOD LINKS (similar)
This cozy corner beside one end of my couch, upholstered coffee table and a console table is located right across from the fireplace. I added faux greenery in several places to add life to the room. The nice thing is that it will carry right through spring. One less thing to change!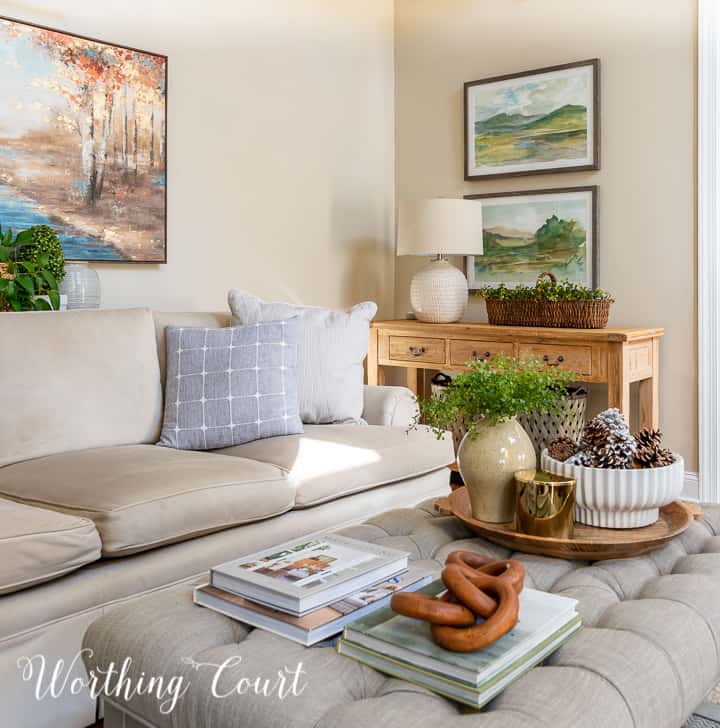 Pin
I have a thing for fat, squatty lamps – I love them! I recently found this cutey and love the way it helps to fill the space a bit. The link is below the next image. By shopping this store's online outlet, I found it for $60 less than in-store!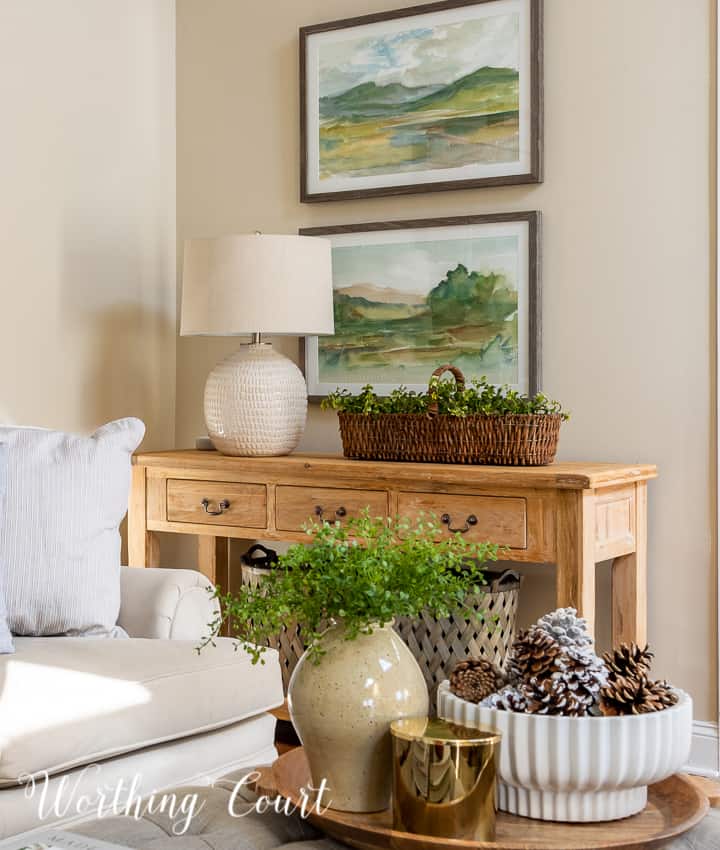 Pin
There's an art to creating vignettes, but this one took me less than five minutes to put together!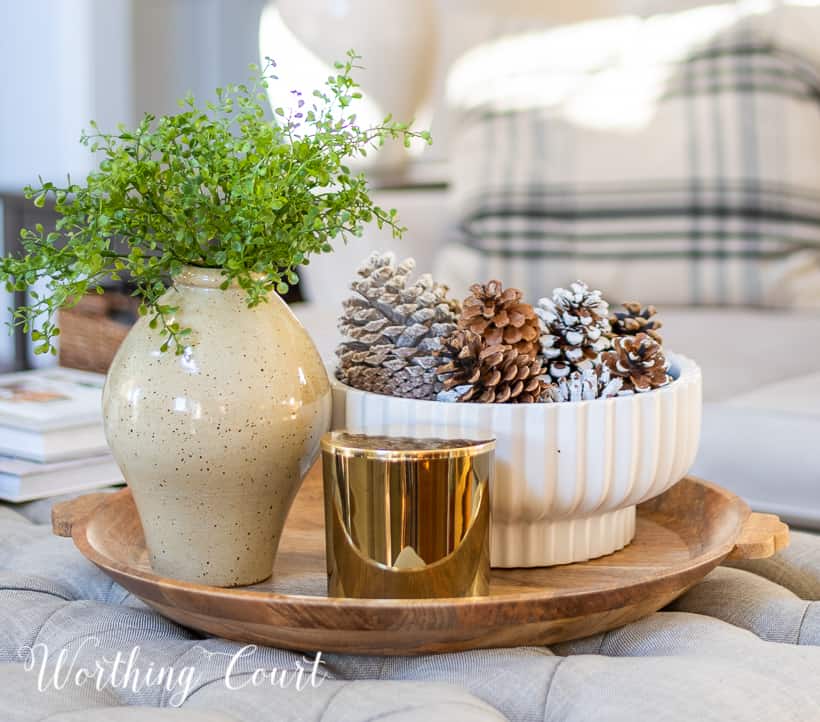 Pin
ROUND TRAY || VINTAGE LOOK VASE || FLUTED BOWL (link is for the 8″ size) || FROSTED PINECONES (similar) || CHAMPAGNE CANDLE
I also decorated the open shelves in our breakfast area, which is located at one end of the kitchen. This is one spot where I don't think I'll have to change a thing for spring!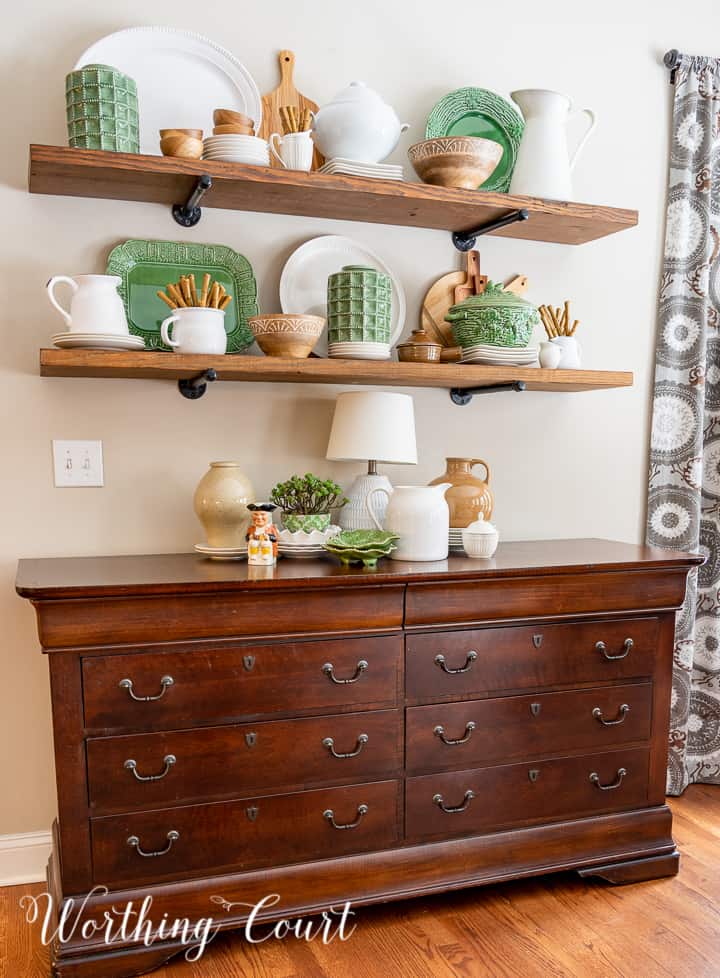 Pin
I filled the shelves with lots of elements to reflect the outdoors. White represents snow and wood and natural colored elements represent the bare trees. The green dishes and accessories represent all of the evergreens in the woods.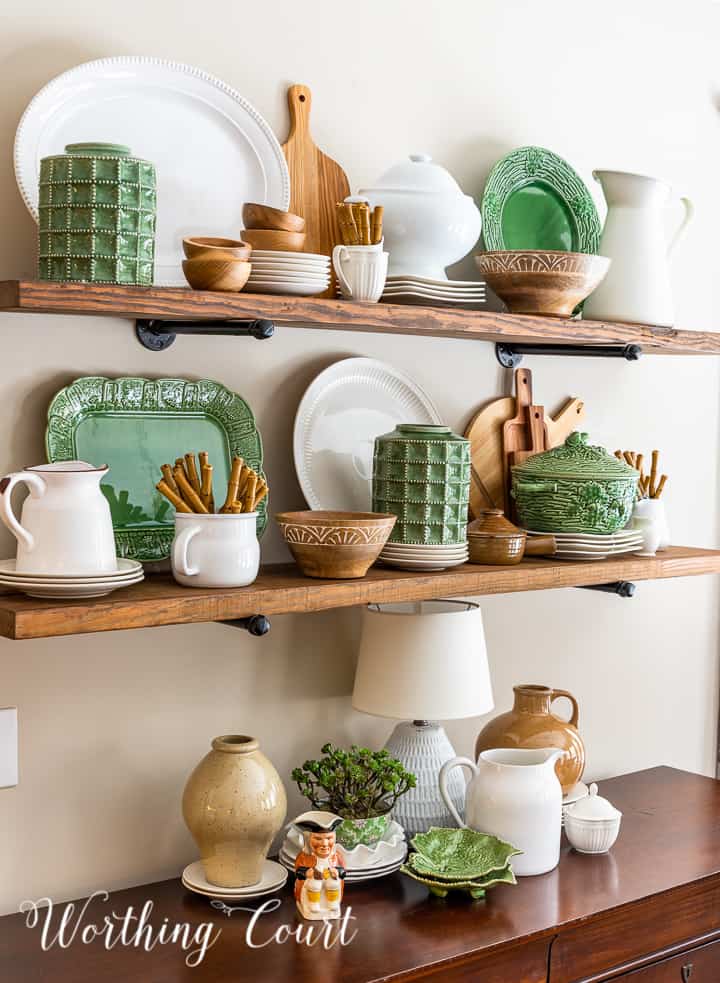 Pin
BAMBOO-LOOK FLATWARE || LAMP || SHADE || BROWN VINTAGE LOOK VASE || BEIGE VINTAGE LOOK VASE
Now it's your turn – what do you do around your home after Christmas?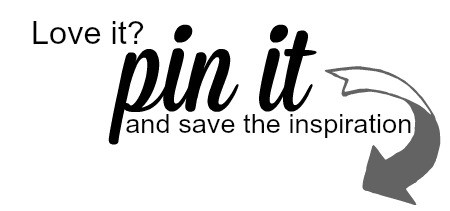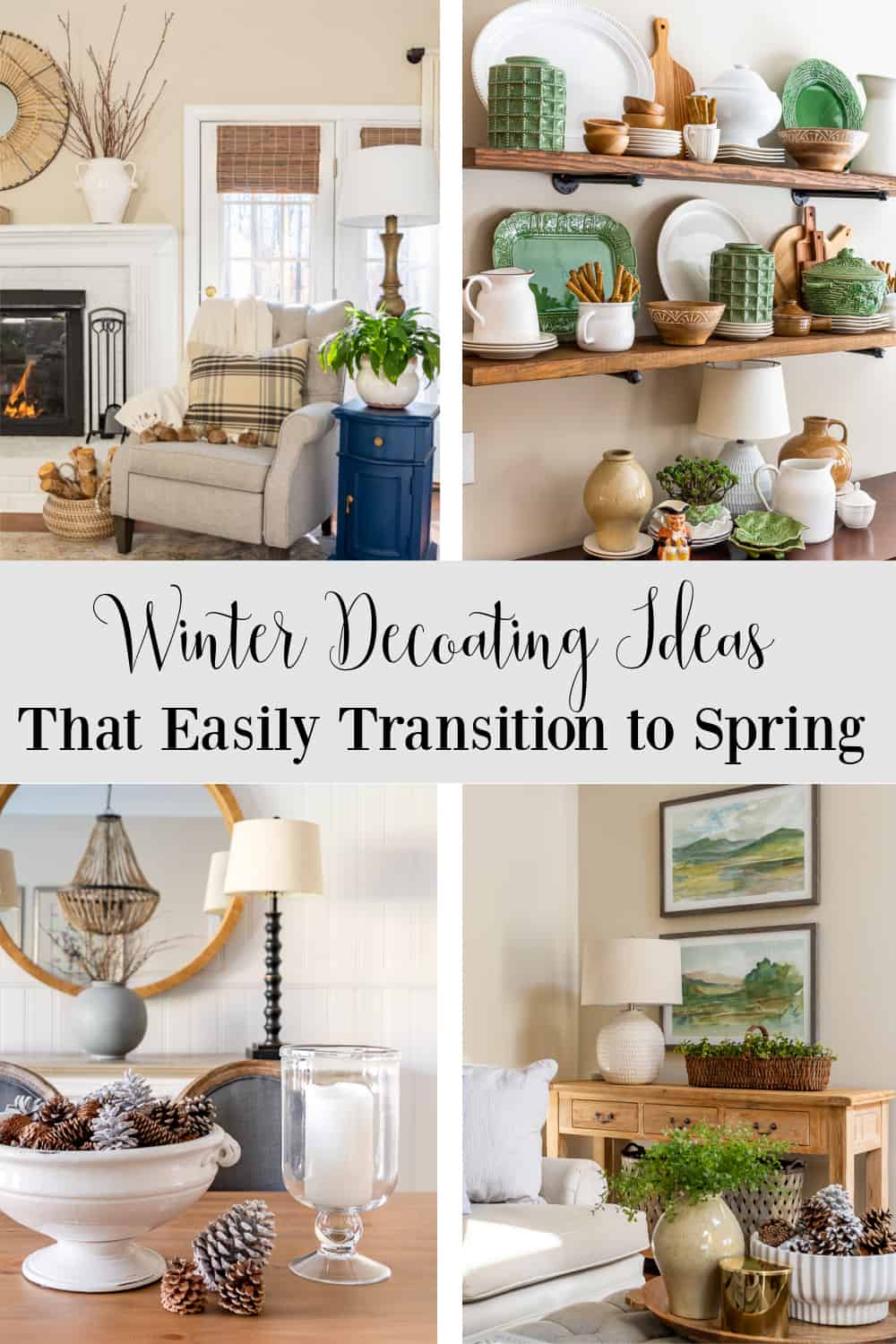 Pin