4 Thanksgiving Designs And Ideas For Your Dinner Table
A beautifully set Thanksgiving dinner table will enhance the festive feel of your holiday table and create a memorable dining experience for your guests.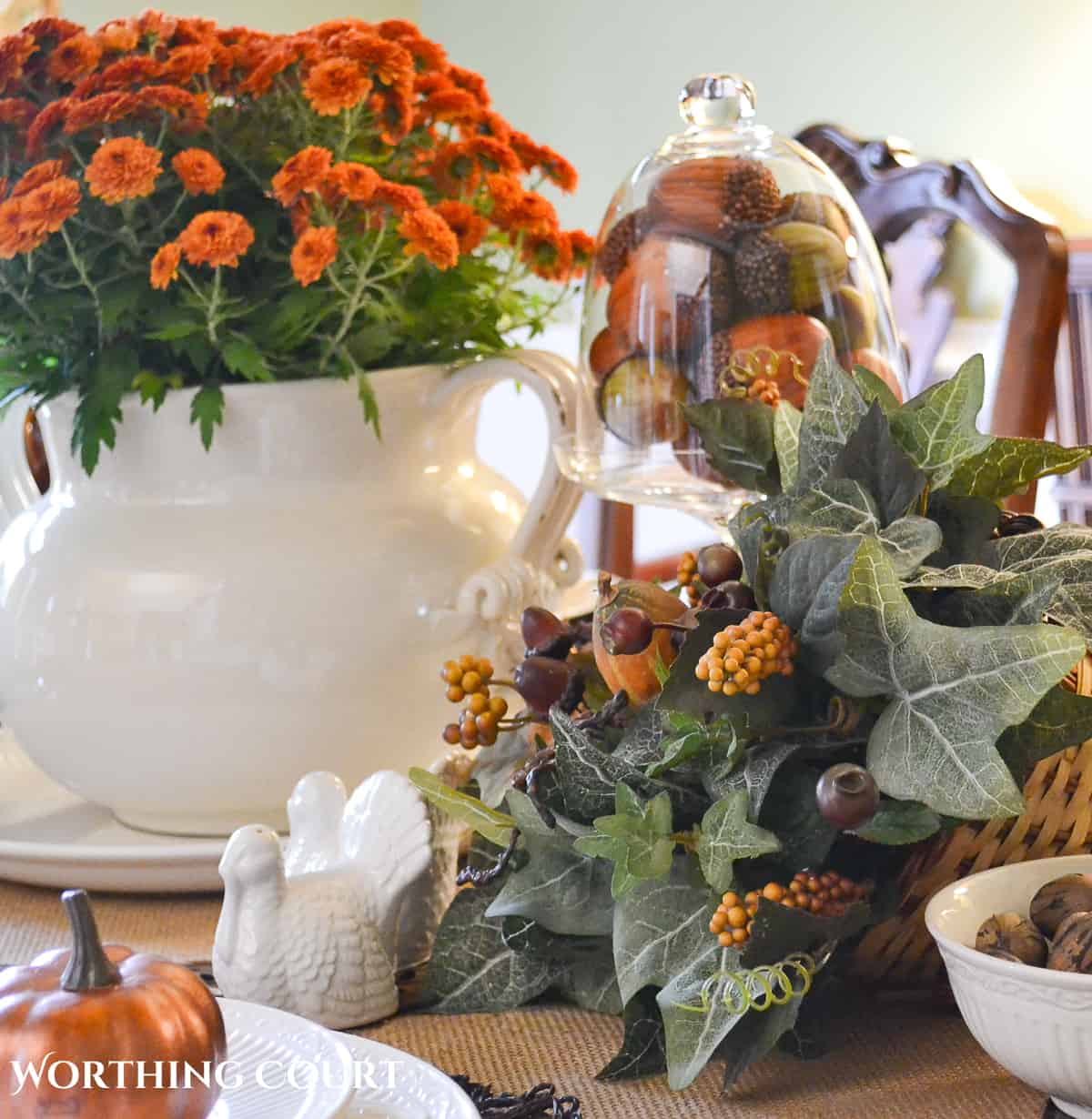 Thanksgiving is a time to gather with loved ones, reflect on gratitude, and enjoy a delicious feast. So, as the holiday season approaches, you're probably thinking about how to set the perfect table for your dinner party. 
Let's look at four different Thanksgiving table setting ideas for inspiration to help you create a stunning, cohesive look for your own holiday dinner table.
Woodland Thanksgiving Decorations
A woodland-inspired Thanksgiving table is the perfect backdrop for a cozy and special holiday gathering. This beautifully set table strikes a balance between rustic charm and understated elegance.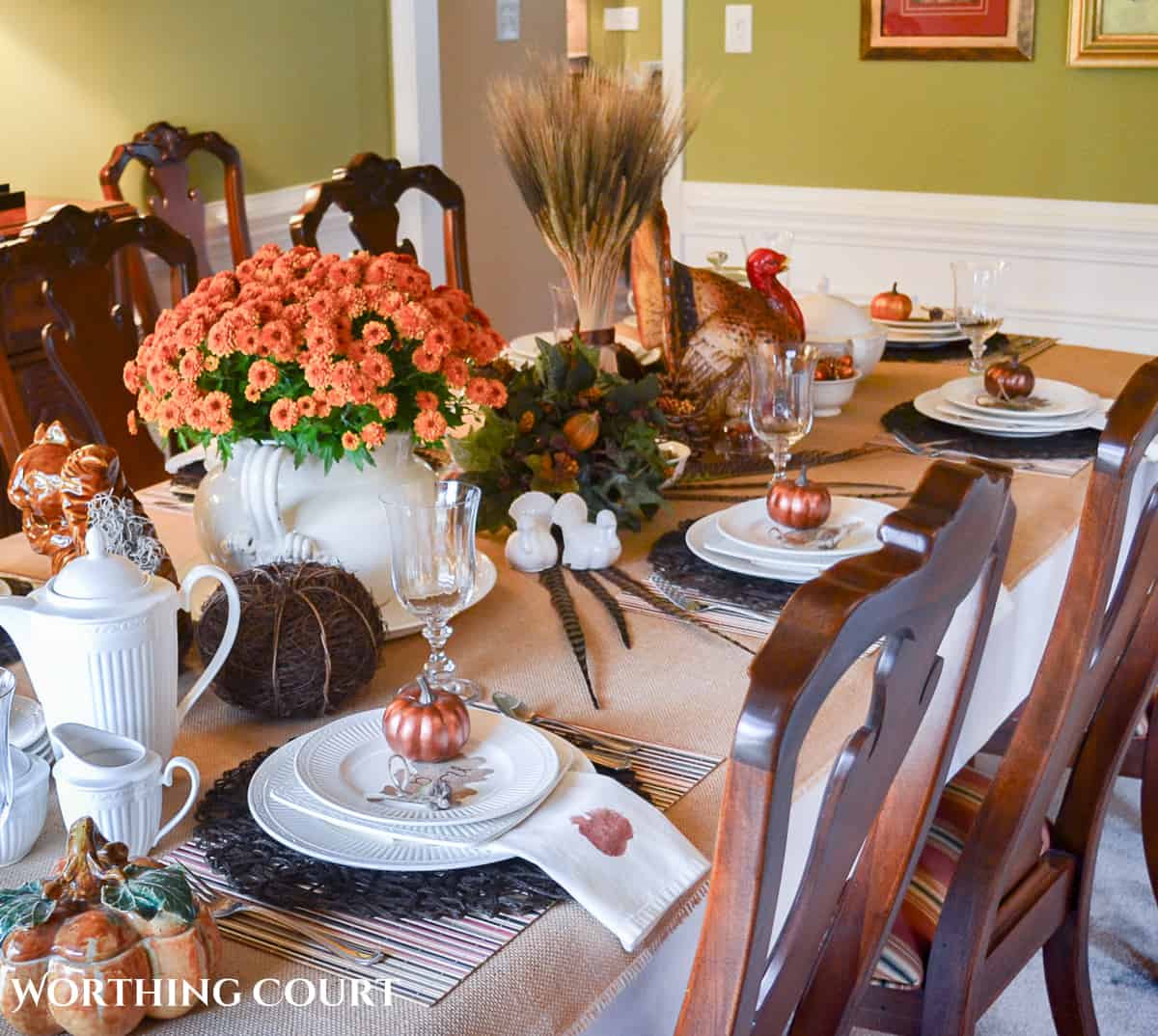 If this type of table theme appeals to you, include these elements:
A burlap table runner to mimic the texture of tree bark.
A color scheme of earthy tones in mossy green and warm brown.
Fill the center of the table with a variety of natural elements – both real and faux.
Mix in items with a bit of sparkle and shine to prevent the table from appearing too rustic.
Add visual interest with unexpected elements.
Fill in gaps with mini pumpkins, pine cones, acorns, and other items that would naturally be found in a forest.
TIP: To keep the eye moving along a wide centerpiece, be sure to include elements with varying heights and textures.
You don't have to use formal china to create a perfectly beautiful Thanksgiving day table. In fact, I use dinner plates from my everyday dinnerware, stacked with a salad plate, on every holiday table that I set. Once in a while, I'll add an accent plate to the stack, but not always.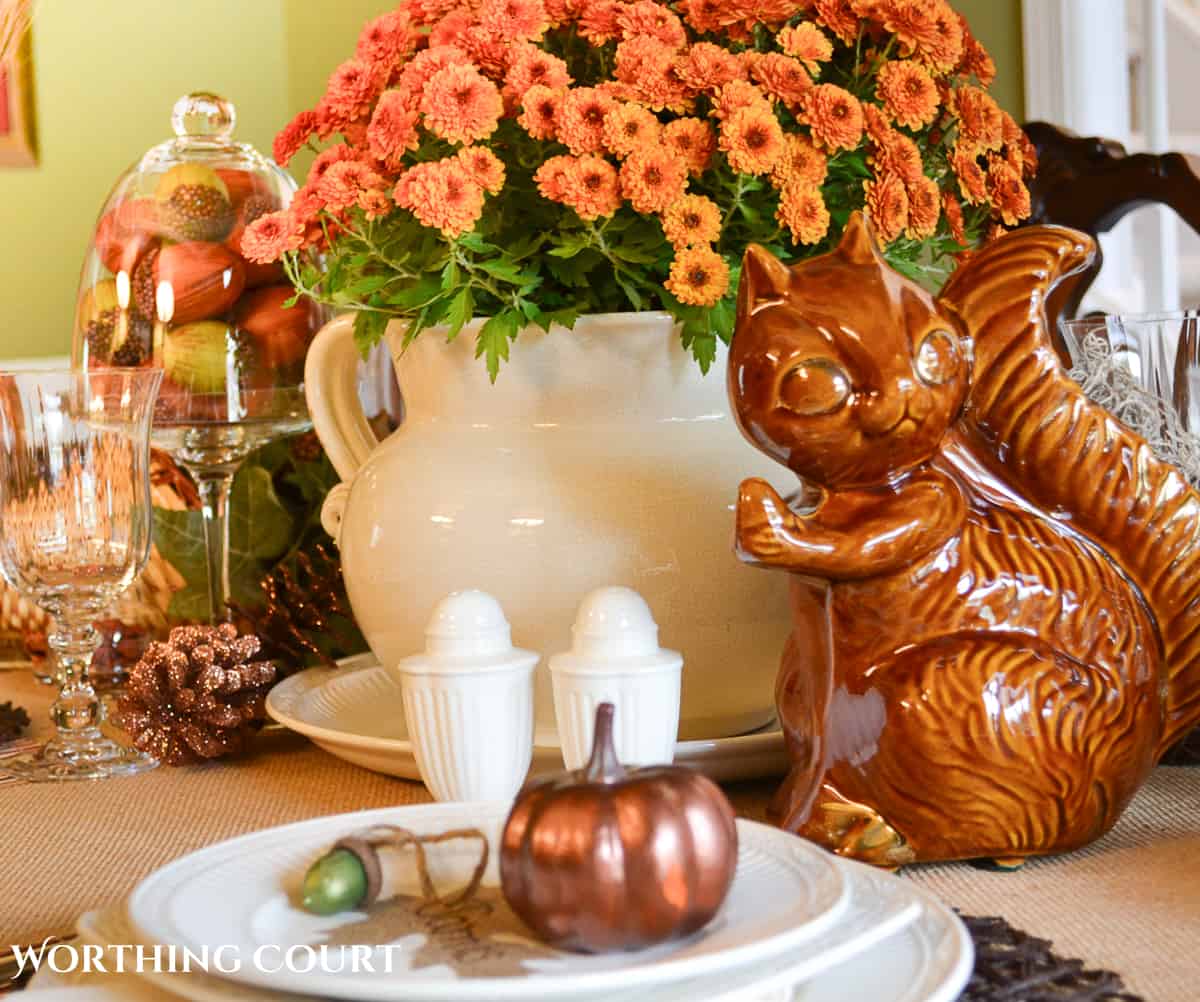 White dishes are like blue jeans – they go with everything. To tie them into the rest of the table, each place setting rests on a double layer of placemats in fall colors.
A leaf cutout, with each guest's name written on it, rests on top of each place setting and takes the place of formal place cards.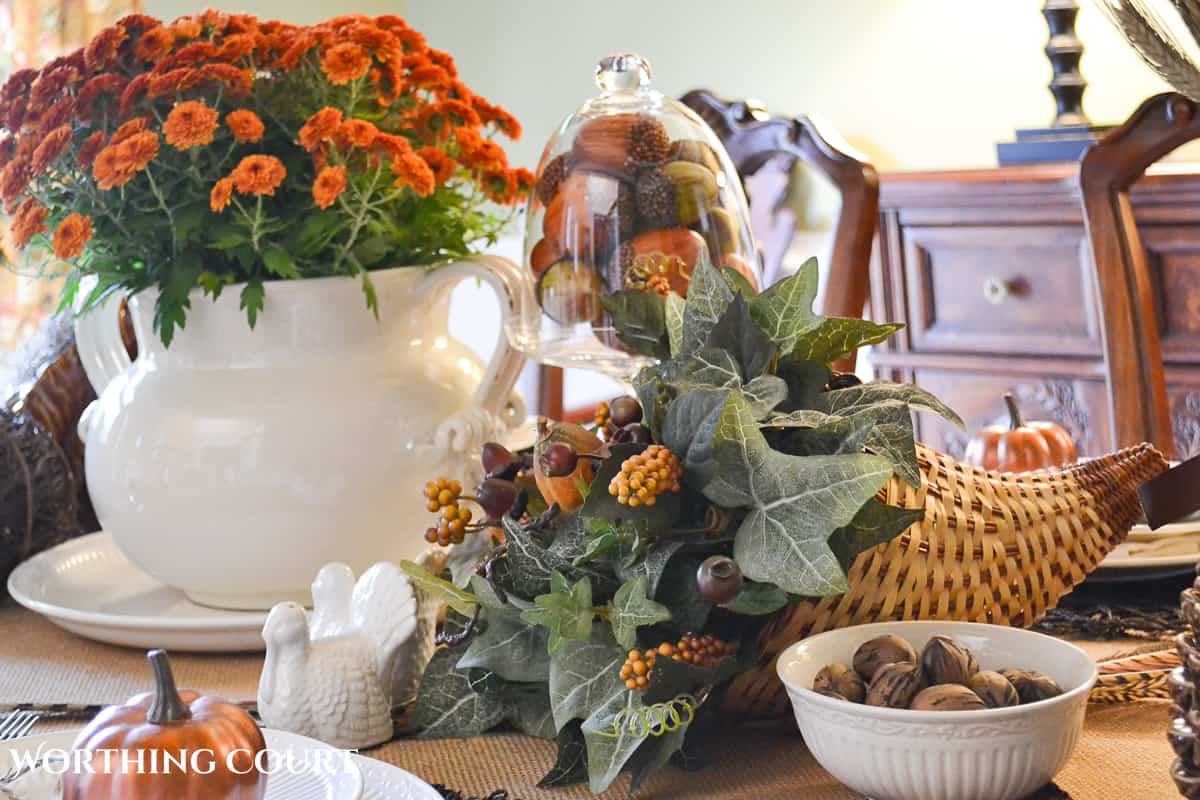 Setting a Thanksgiving table with a woodland theme brings a cozy and inviting vibe to your holiday celebration. Blending nature's charm with rustic elegance creates a relaxed atmosphere that is still elegant enough for a favorite holiday meal.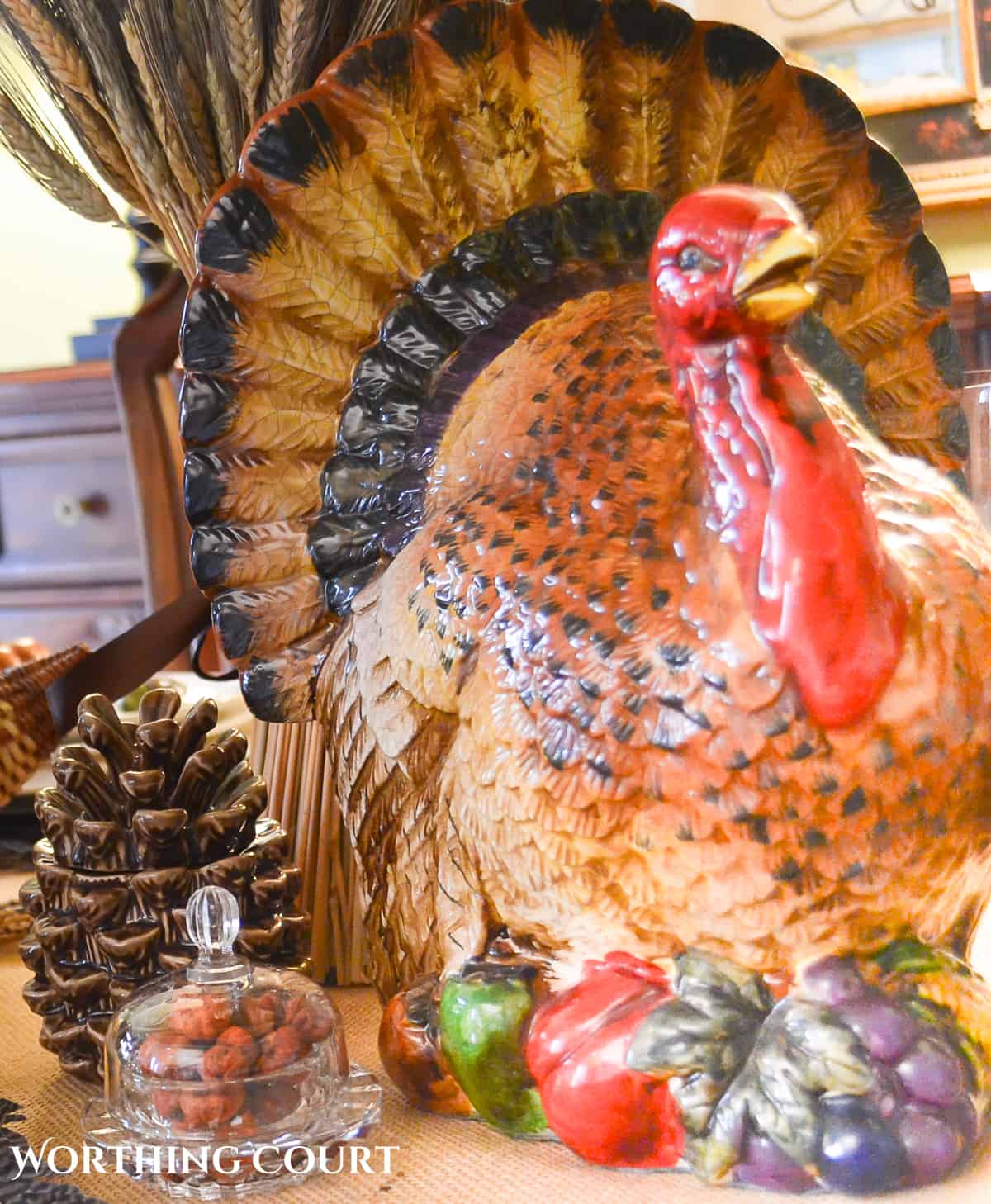 Neutral Thanksgiving Tablescape
If you love the idea of timeless elegance at your dinner table, a neutral color scheme will create a backdrop that pairs well with any tableware or centerpiece.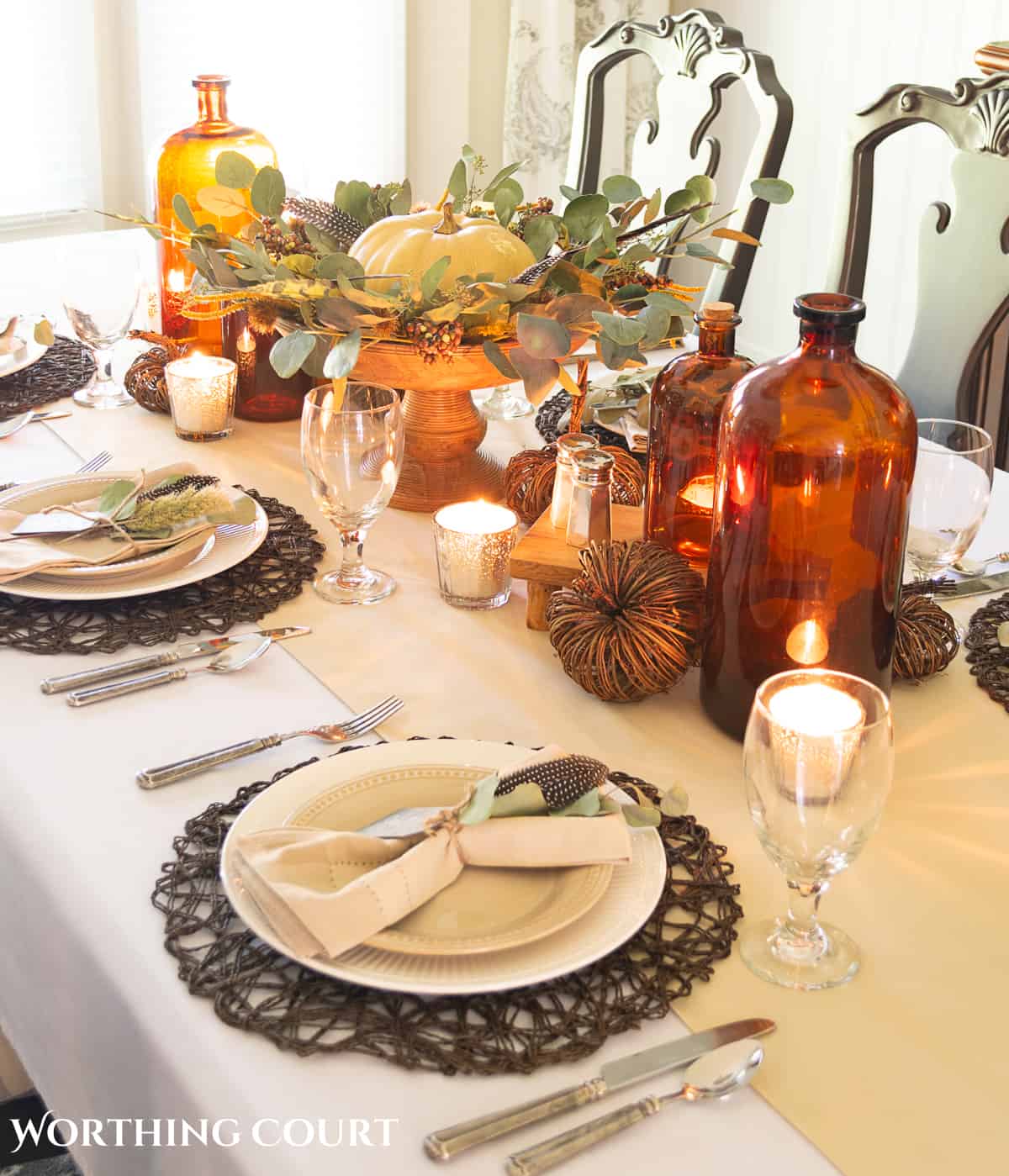 By using neutrals in lieu of autumnal colors, you allow the beauty of the great food to shine, making the meal the true focal point.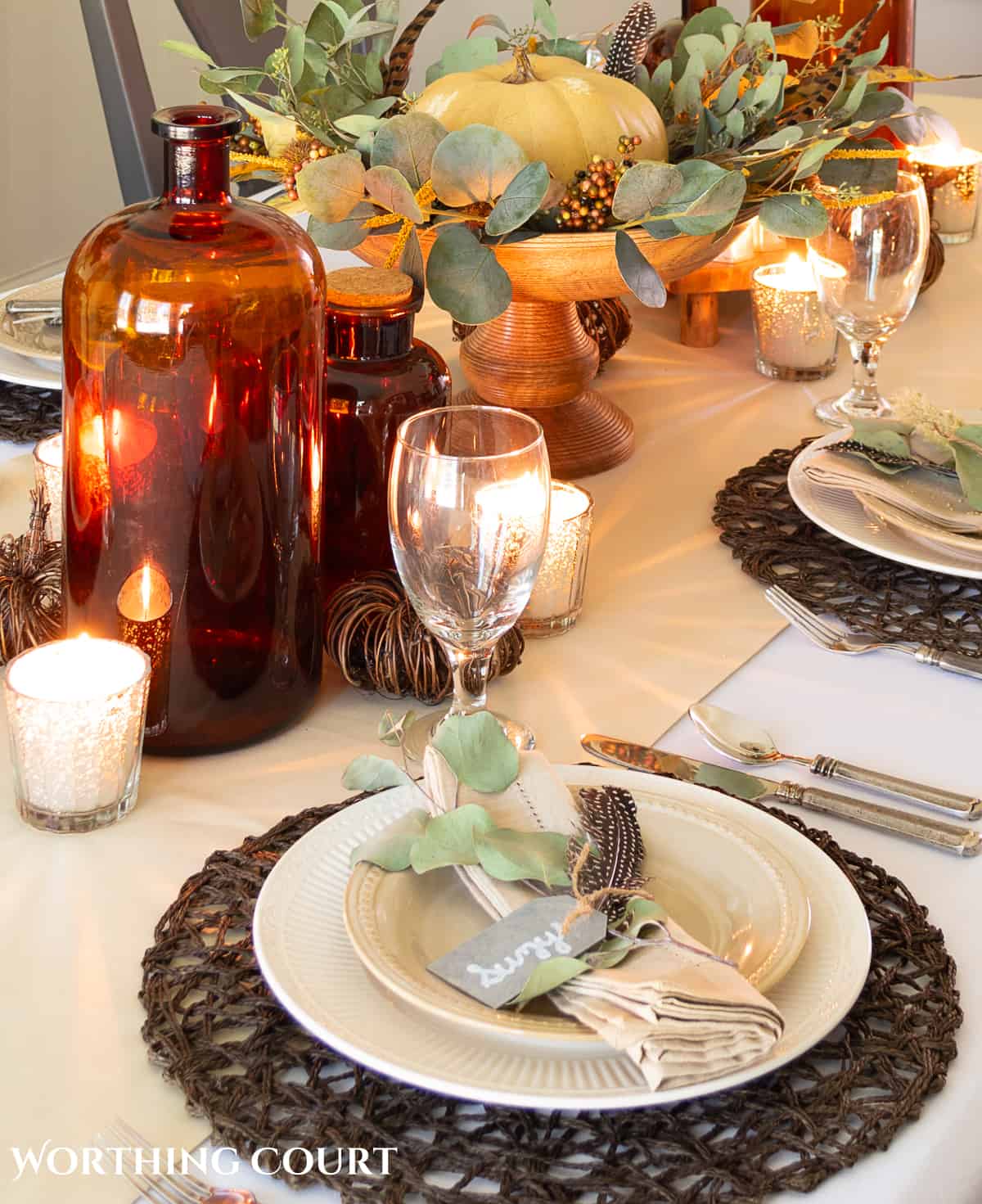 You'll need to include these items to create an elegant, neutral timeless tablescape on your dining room table:
A neutral tablescape will consist of soft whites, creams, or muted shades of gray or brown.
Use neutral colored table linens – tablecloths, table runners, cloth napkins, and placemats – to set the foundation.
Opt for classic white or ivory dinner plates as the base of your place settings.
Salad plates, bowls, and other pieces may or may not match, but should still be in muted tones.
Silver or brushed metallic flatware will add an elegant touch to the table and complement the neutral color palette.
Whether using good crystal or glass, keep the design of each piece simple.
Elements such as white or cream taper candles, or tea lights in mercury glass votives, or a glass vase will add a bit of sparkle to the center of the table.
Use subtle gold or silver accents, such as a gold napkin ring, chargers, or candle holders to provide a level of sophistication to a formal table.
To soften all of the harsh reflections and sharp edges, add different textures with natural elements such as woven placemats, pine cones, acorns, or dried fall leaves in shades of brown to the center of your table.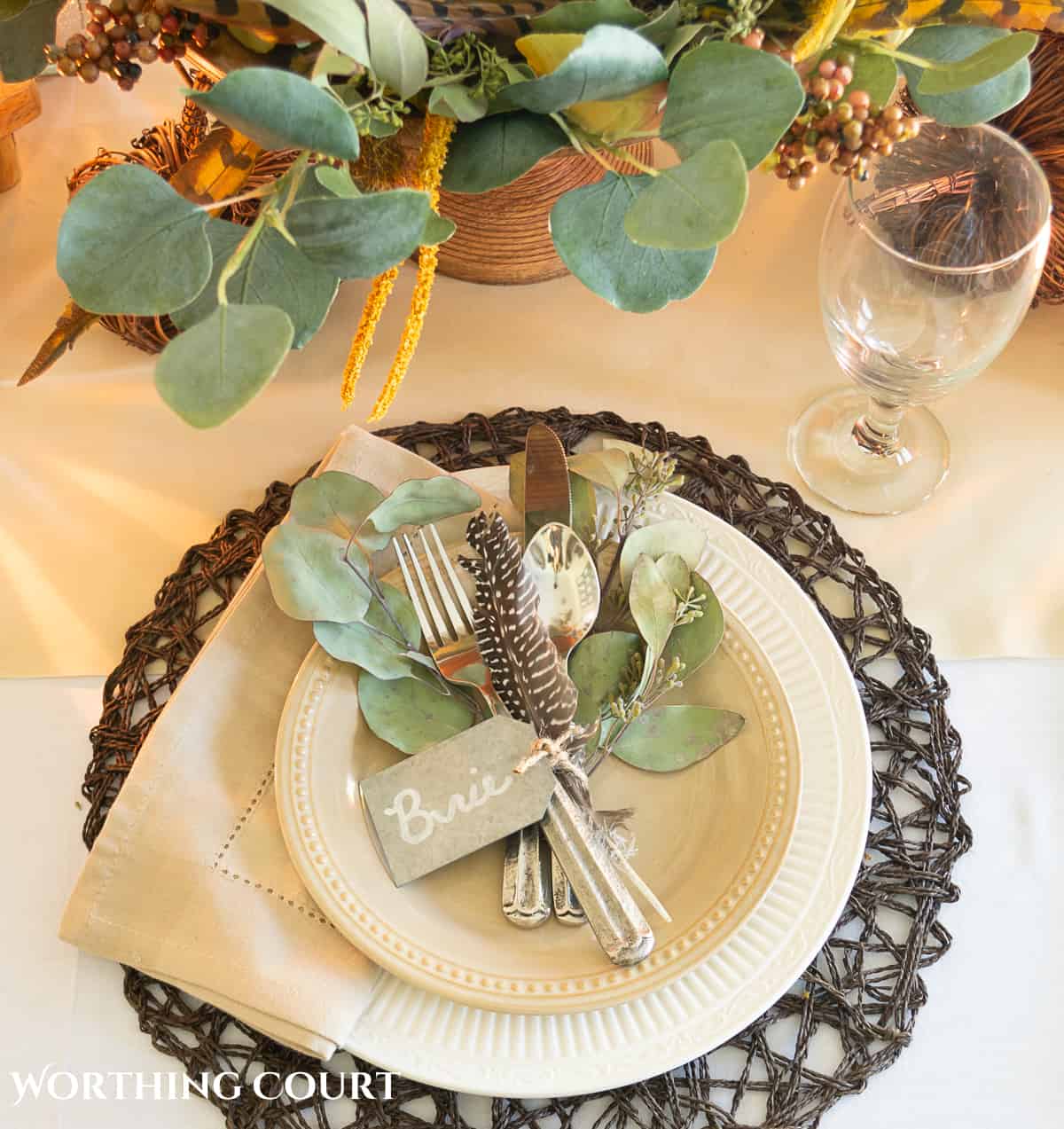 In a nutshell, if you're aiming for a table that effortlessly combines timeless elegance and the spotlight on great food, a neutral color scheme is a great option. It provides a versatile canvas that pairs well with various table elements and keeps the focus where it belongs.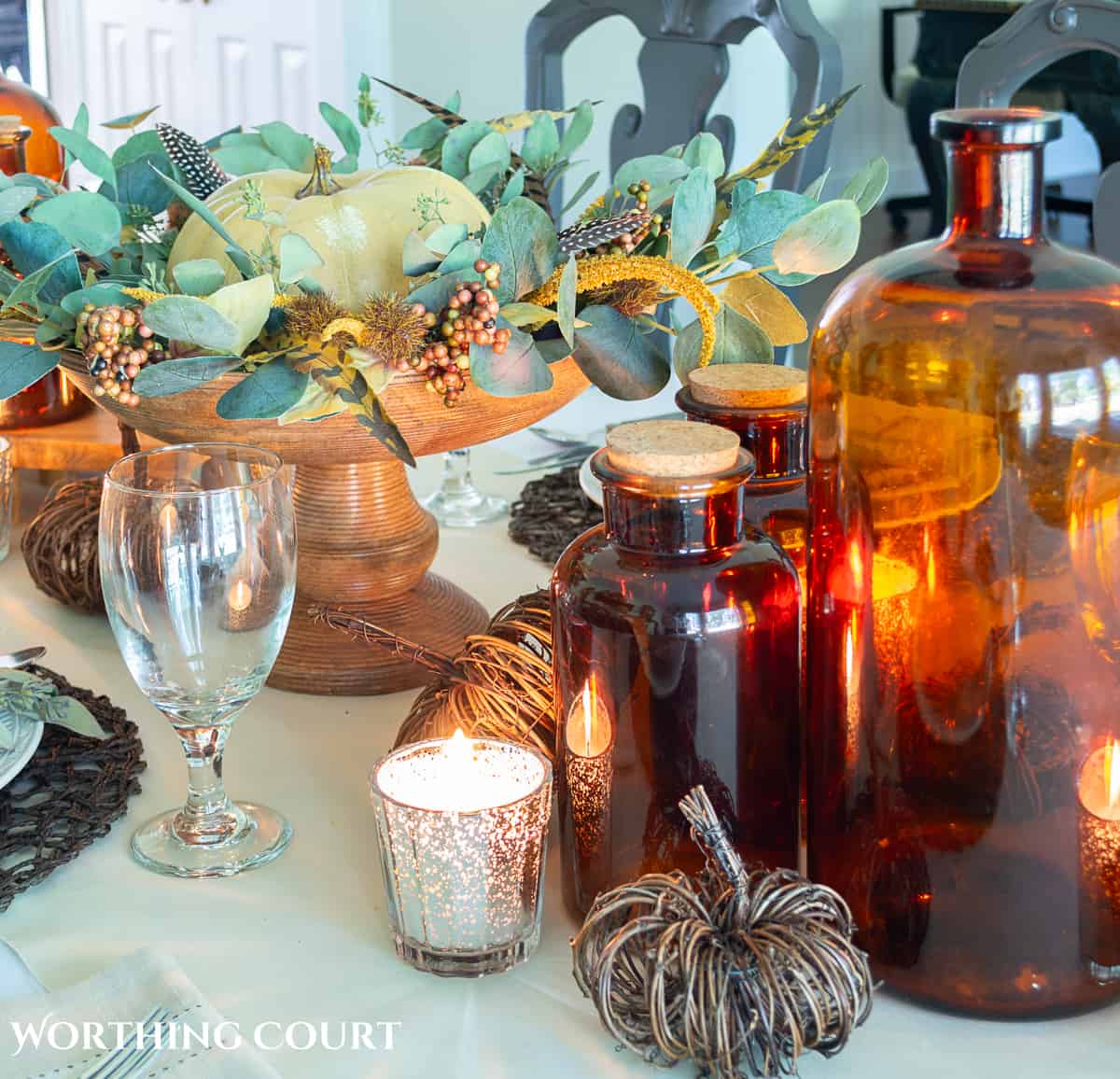 Not-too-Fancy Thanksgiving Table Decorations
 If your main focus on turkey day is to keep things casual, but still reflective of the special occasion, then not-too-fancy table decorations are just what you need to strike the perfect balance between comfort and celebration.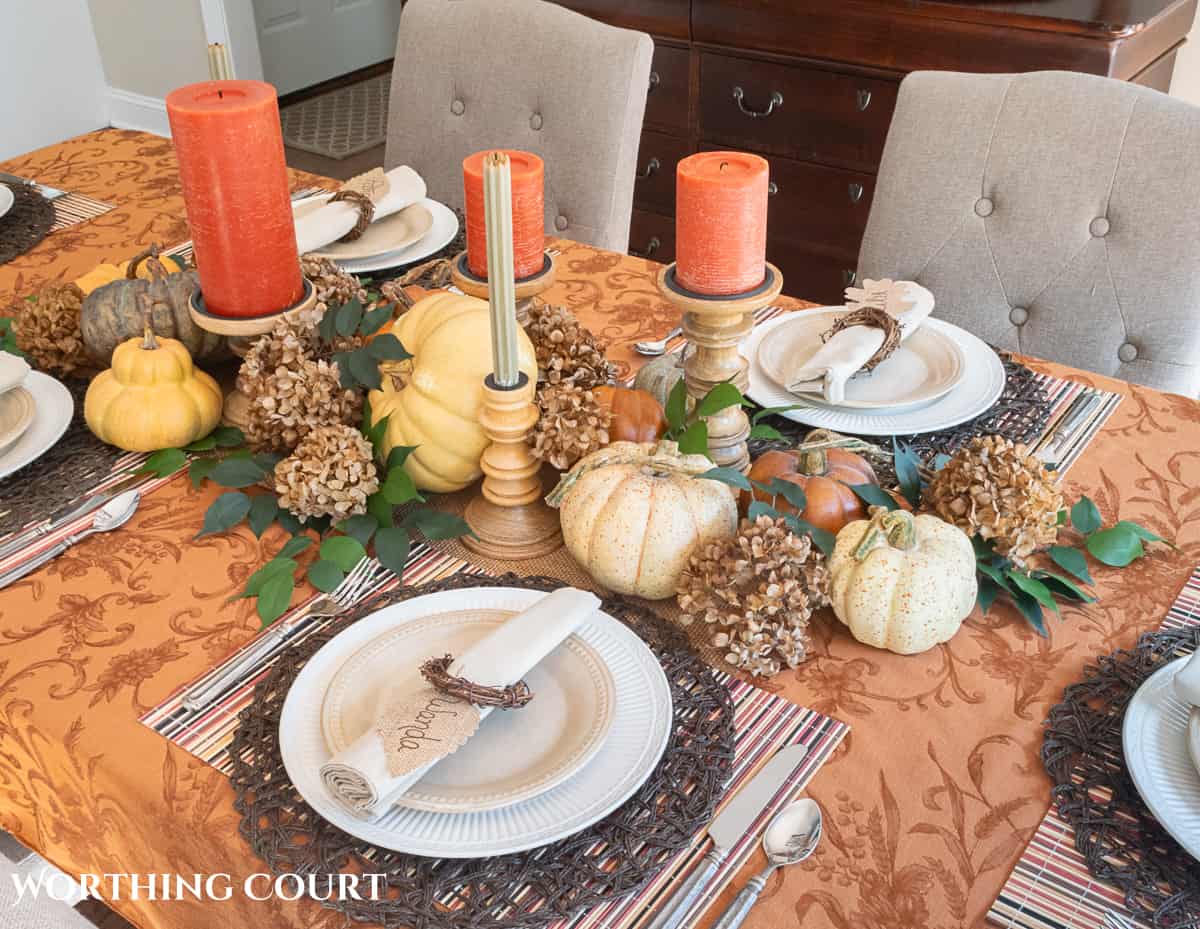 To keep your table on the less stuffy, slightly special side use these elements:
A tablecloth immediately identifies a table setting as being on the special side. To keep it not-too-fancy, use a solid tablecloth, with no pattern, whether basic white, ivory, or a fall color.
Use subtle, rustic accents, such as a woven place mat at each place setting, to calm down the formality of a tablecloth.
Use your everyday dishes, instead of formal dinnerware.
Keep the silverware on the casual side. A single fork, knife, and spoon at each place setting will do.
Single floral centerpieces work well on a not-too-fancy table, but an assortment of small pumpkins, pillar candles, taper candles, and foliage is easy to create and is a great way to add relaxed coziness.
Use simple place cards with handwritten names or personalized touches.
A balanced use of earthy tones and metallic accents will add a touch of sophistication without going overboard.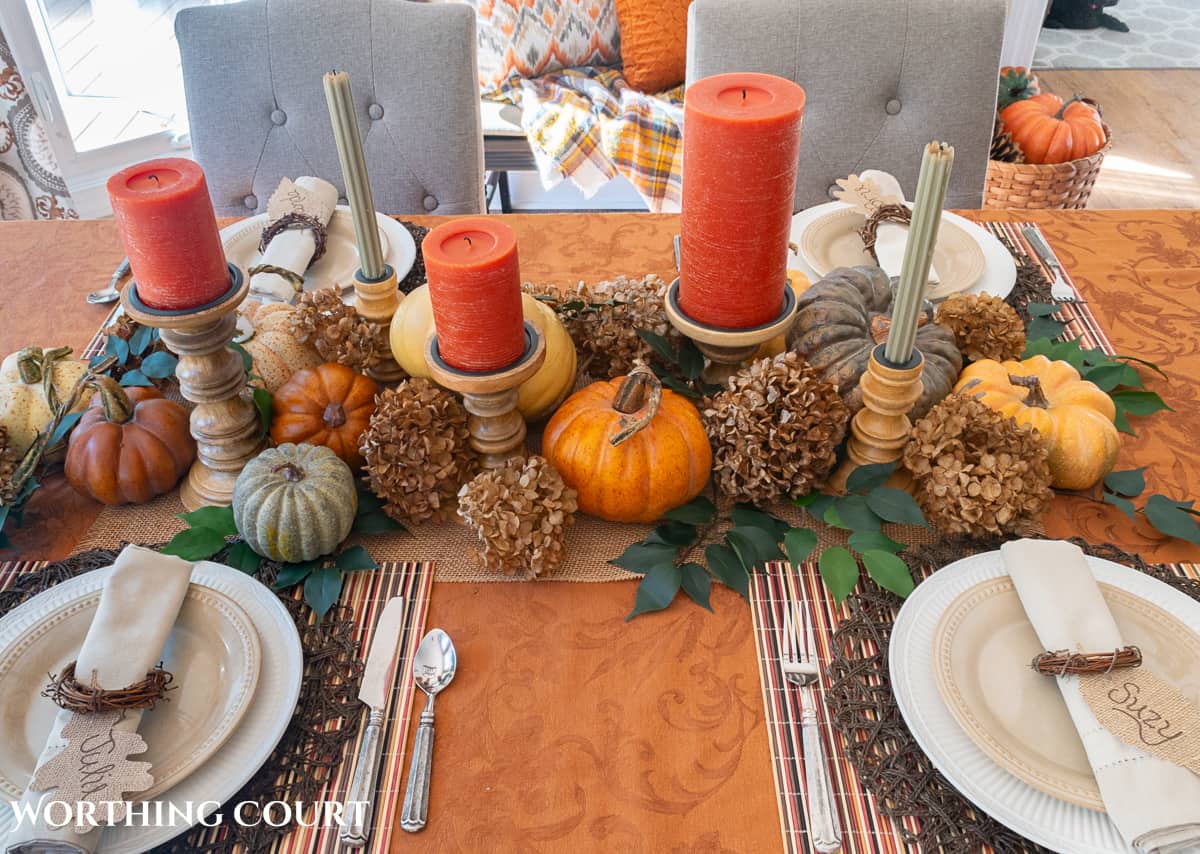 Incorporating these elements on your table will create an inviting, family-friendly atmosphere that centers on togetherness and the joy of sharing a delightful Thanksgiving meal.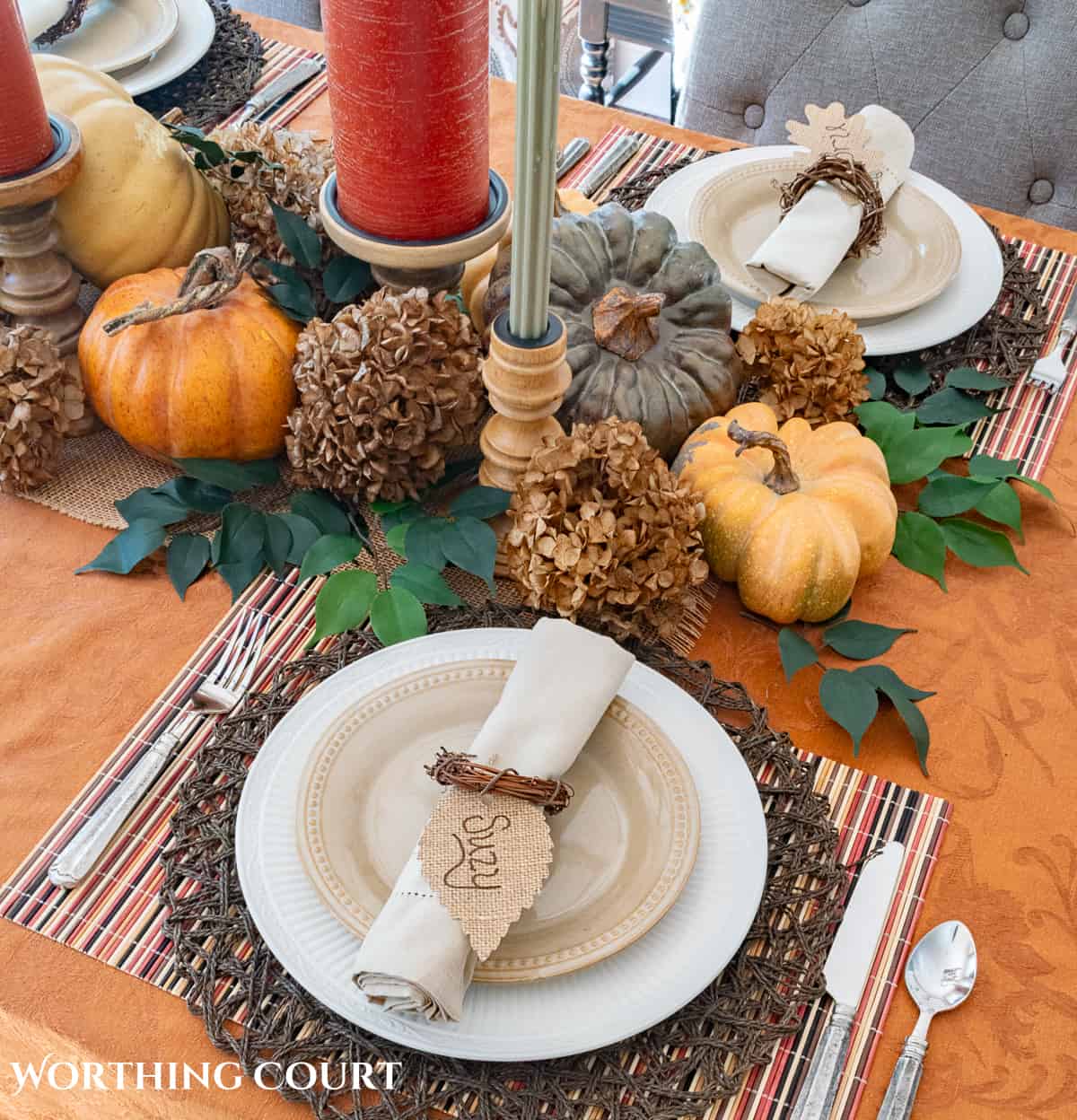 A Chinoiserie Thanksgiving Tablescape
For a beautiful Thanksgiving table, with formal, classic elegance, design your table with chinoiserie in mind. It's a unique, yet versatile style of table setting that can be adapted to fit various color themes. ​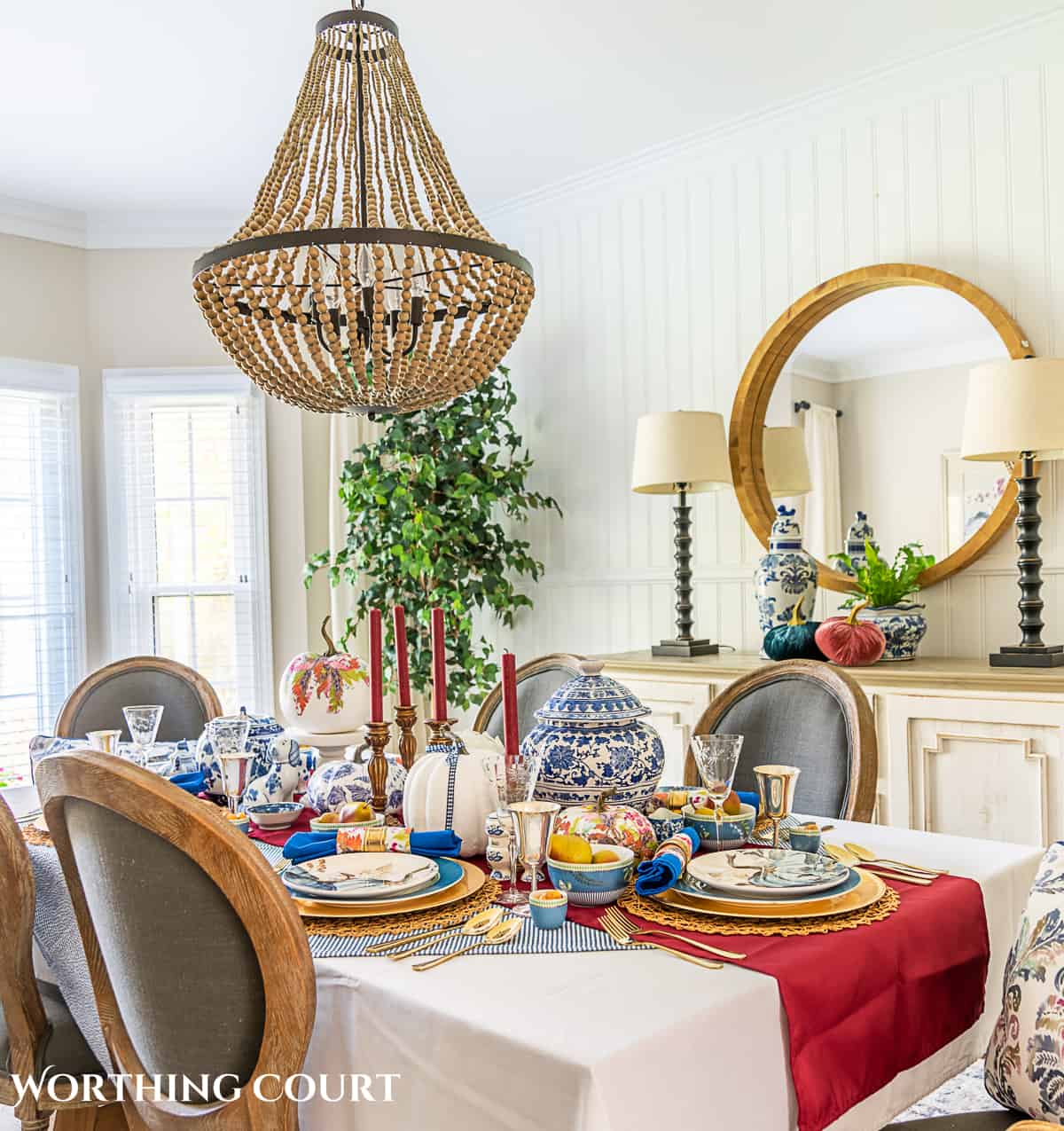 For, gorgeous tables, Include these elements for a uniquely beautiful, elegant dining experience:
Begin with a neutral base, such as a white or ivory table cloth, to allow Chinoiserie elements to stand out.
Stick to an overall blue and white color scheme, which is characteristic of Chinoiserie.
Accent with complementary colors, such as burgundy, red or green.
Use Chinoiserie decor items like ginger jars, figurines, or lanterns in a centerpiece or for accent pieces.
Incorporate gold or brass accents with napkin rings, candle holders, or cutlery to provide a touch of luxury and complement the Chinoiserie aesthetic.
Use dinnerware either with a simple blue or gold rim or porcelain plates with delicate blue and white designs.
For drinkware, use crystal wine and water goblets.
Create visual interest by layering placemats and table runners on top of the table cloth.
If you will use a floral centerpiece, add traditional Asian-style elements such as cherry blossoms, peonies, or orchids, to the arrangement.
Bonus points for adding beautiful velvet pumpkins to your centerpiece for added texture.
TIP: Visit thrift stores and consignment shops to collect chinoiserie pieces to decorate with or to use in a tablescape.
Embracing Chinoiserie design for your Thanksgiving table promises a stunning and elegant setting for your holiday celebration.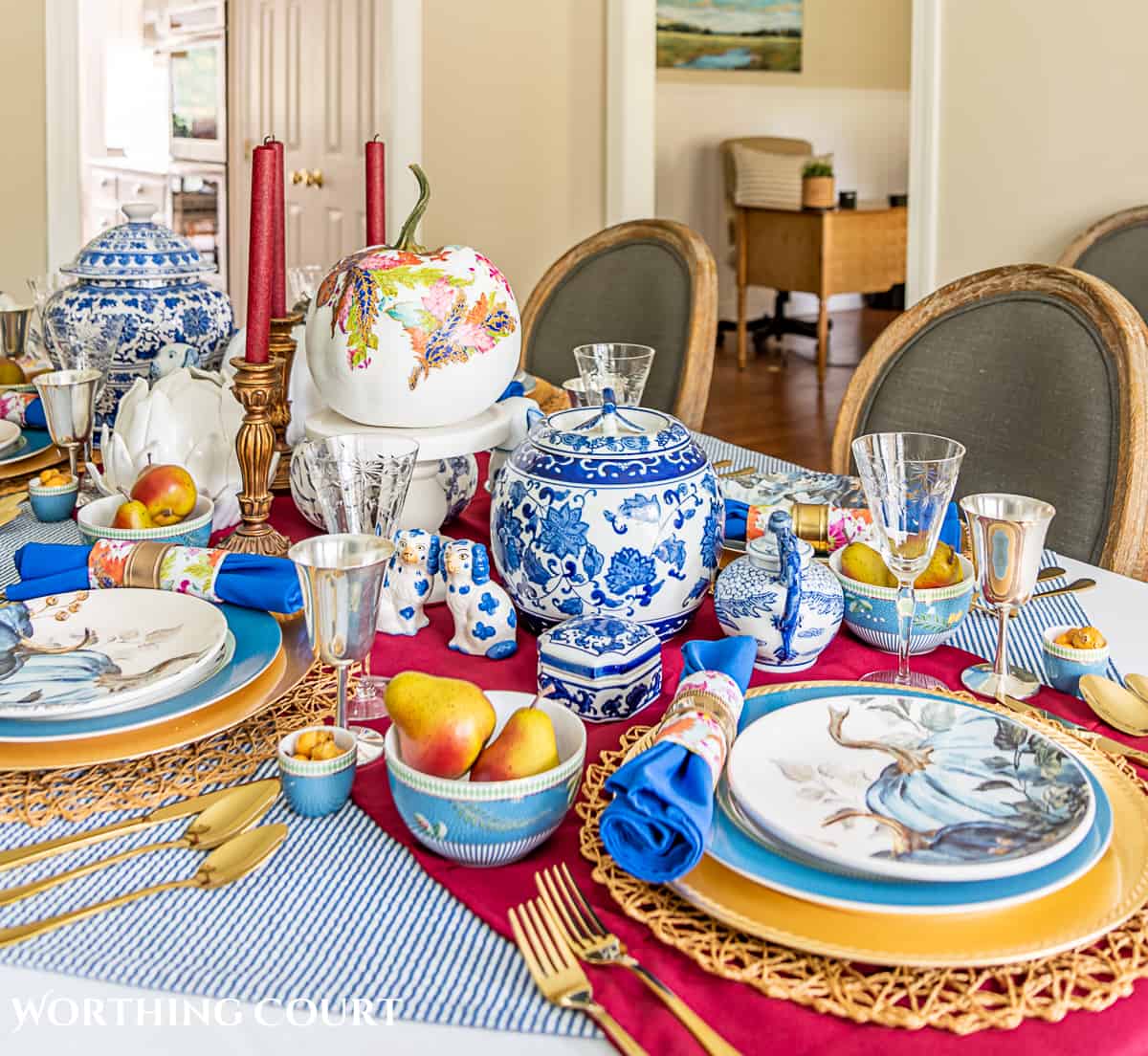 Whether you choose to embrace the cozy woodland vibe, the timeless elegance of neutrals, the relaxed ambiance of not-too-fancy decor, or the formal grace of Chinoiserie design, your Thanksgiving table will become a focal point of the celebration, enhancing the joy and togetherness of this special holiday season.