Transform Your Space into a Coastal Haven with These Decorating Ideas
Are you dreaming of a peaceful and relaxing home that transports you to the beach every time you enter a room? These coastal decorating ideas will instantly transform your space into a seaside haven, even if you don't live near the beach.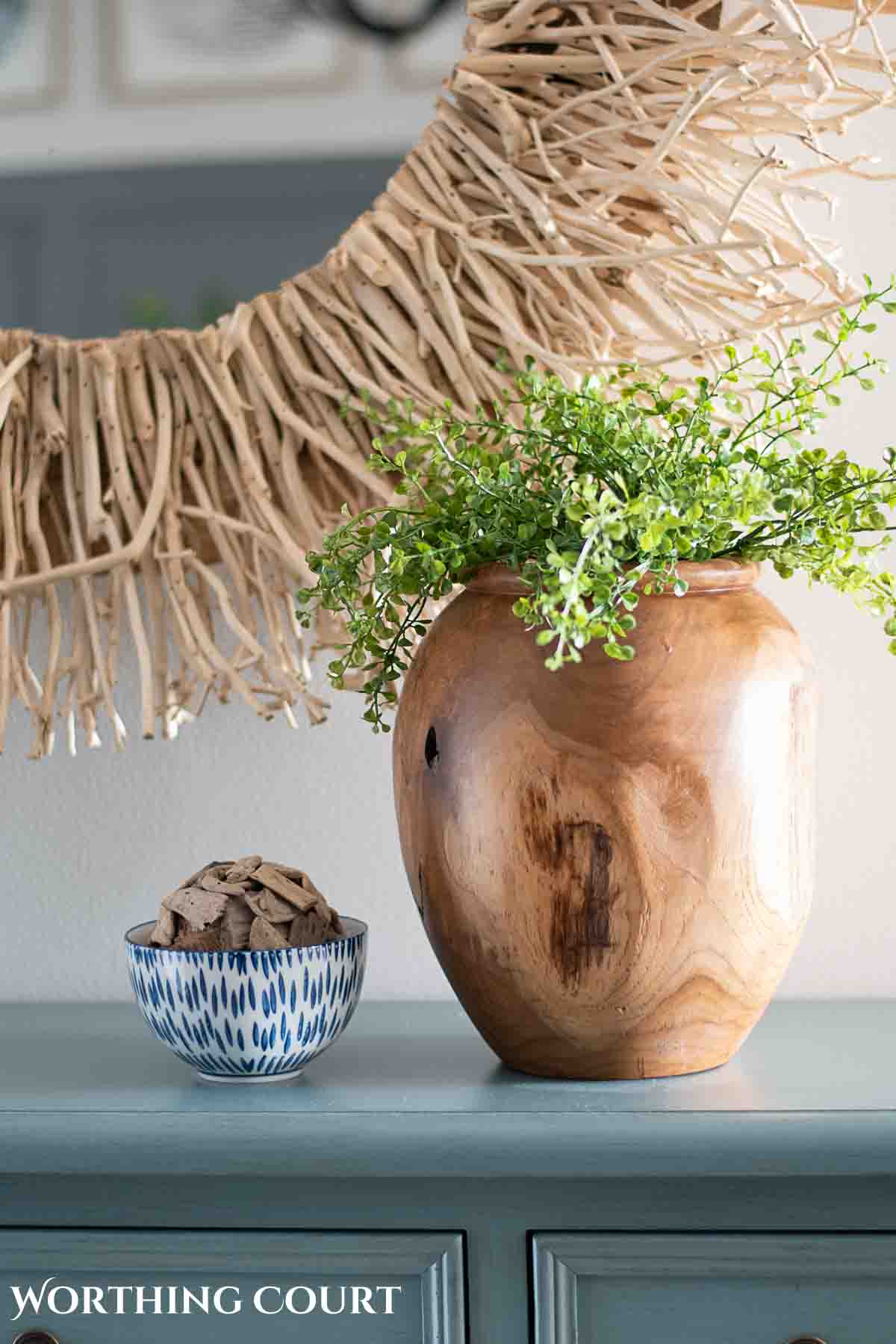 Coastal decor is has become a mainstream design style and is used in homes across the country, not just near the beach.
Whether you're looking to revamp your living room, bedroom, or even your bathroom, these tips will bring the perfect coastal vibe in your home. From incorporating natural elements like driftwood and seashells to choosing a color palette that mimics the ocean's hues, this post has you covered.
So grab your sunscreen and get ready to dive in!
What Is Coastal Decorating Style?
The coastal decorating style is all about creating a calm and relaxing atmosphere that reminds you of the beach. Using some of these key elements of coastal decor will help you achieve this look in your own home.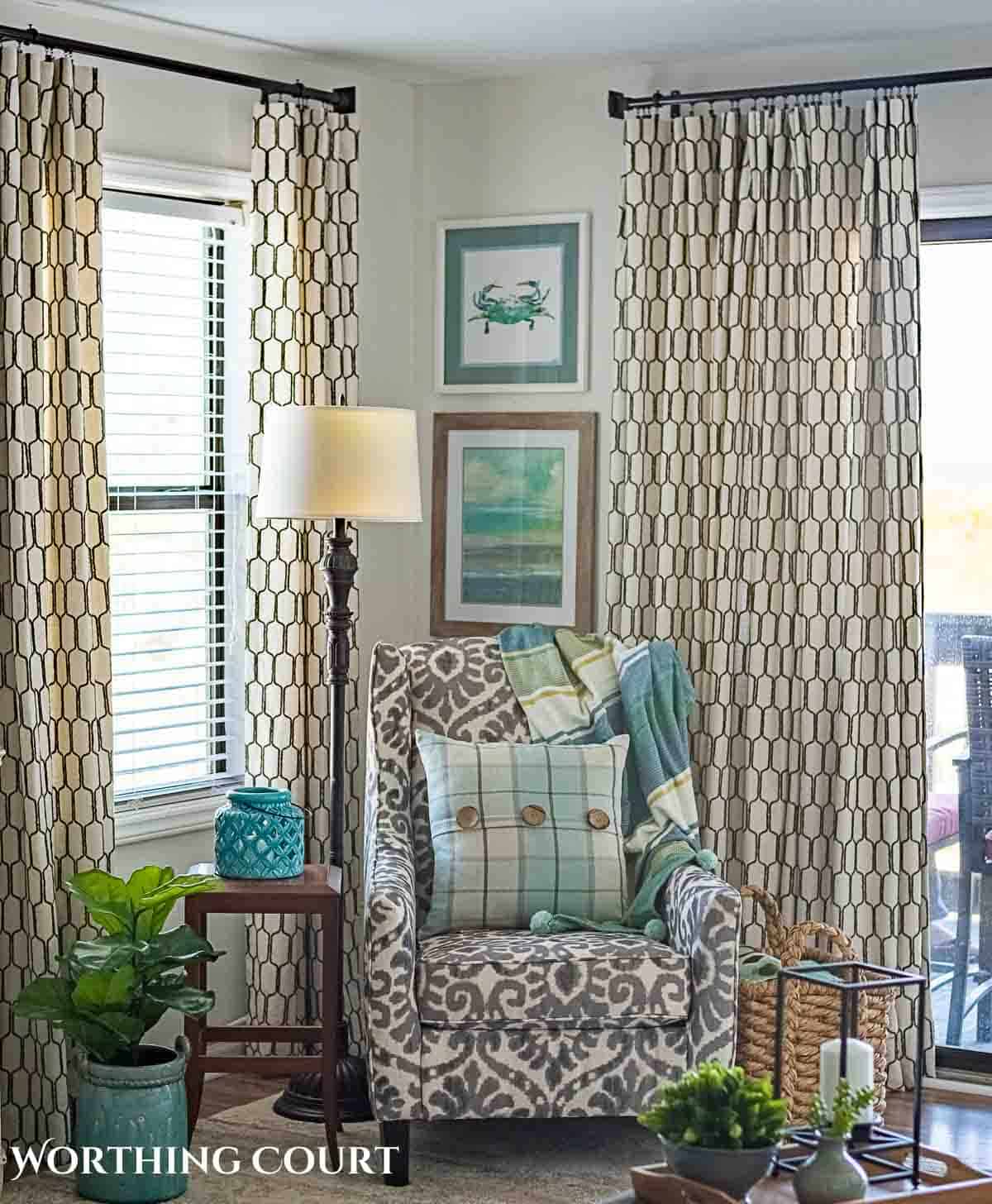 Natural Textures and Materials
Natural textures and materials are a crucial part of coastal decor.
To get that beachy vibe, incorporate natural materials such as a sisal rug, wicker baskets and anything made with rattan.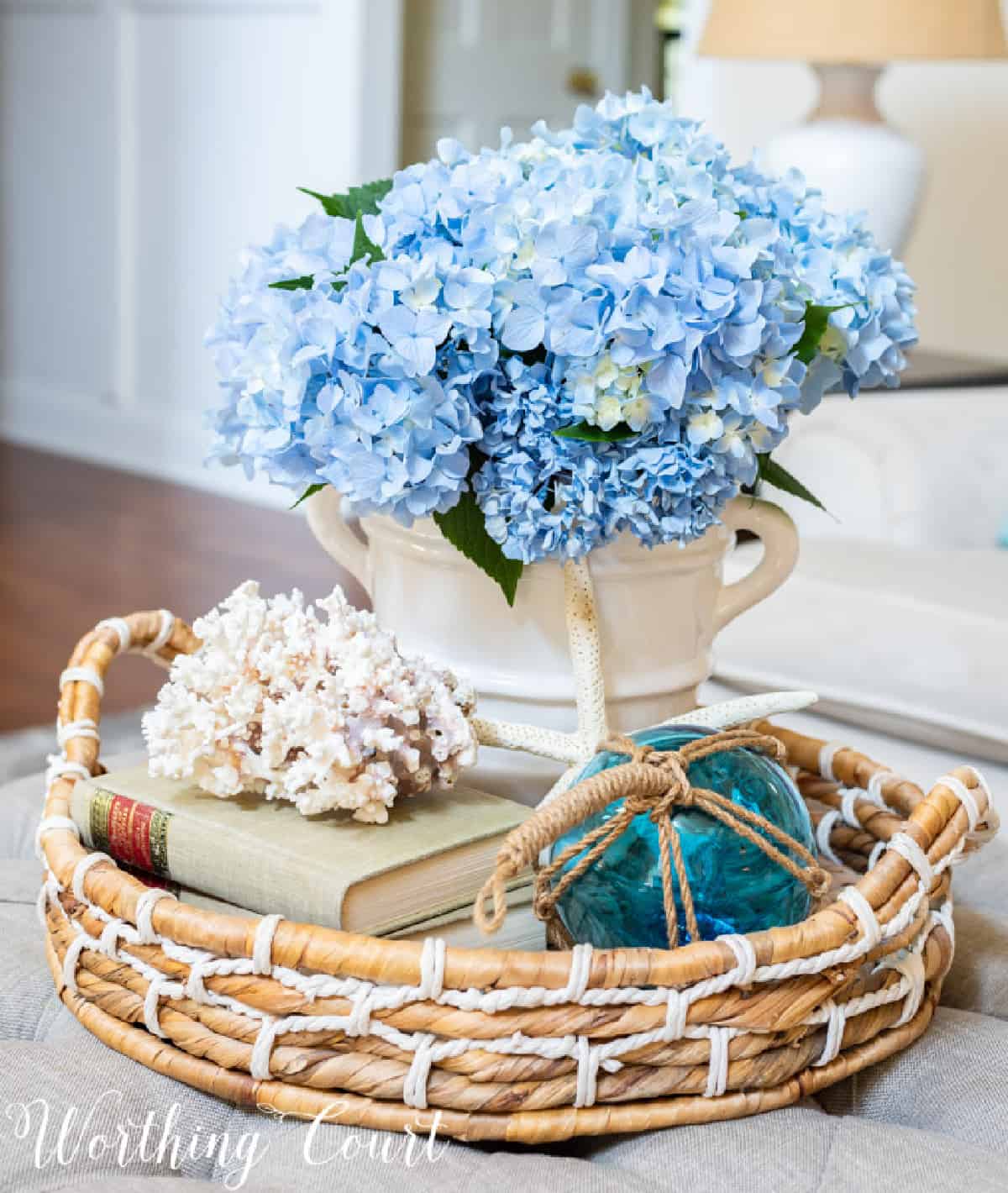 Consider adding a coffee table, console table or dining table with a driftwood type finish. Of course you can never go wrong with wicker furniture either.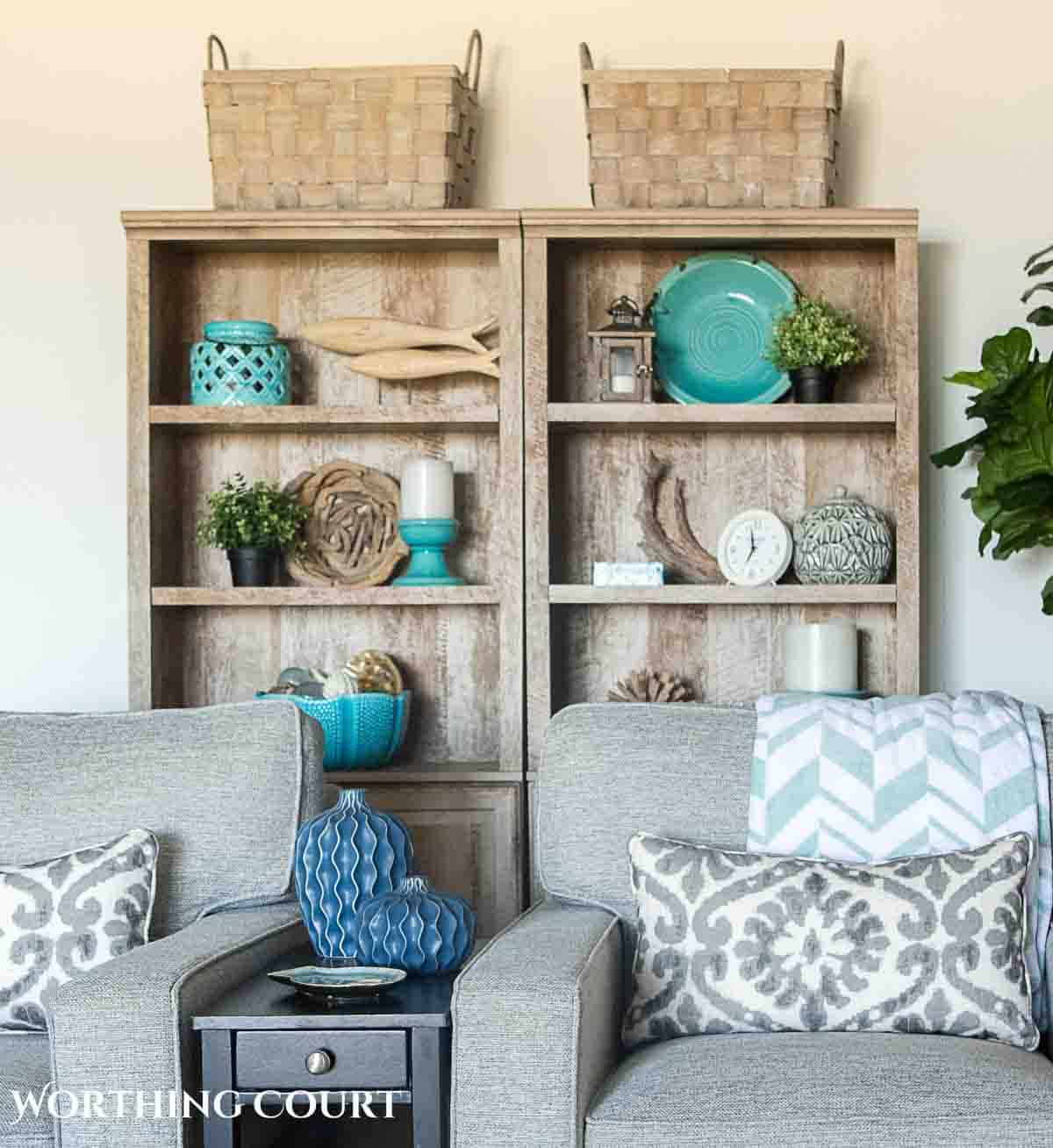 When it comes to textiles, use natural fibers like linen or cottons for curtains, upholstery and bedding.
Use of these natural elements will help to bring the beach right to your front door!
Beach Inspired Accessories
An easy and inexpensive way to add a coastal vibe to your home is with the use of accessories.
Small touches of seashells, coral, or starfish can make a big impact. Just be careful not to go overboard with it or your room might scream "the beach barfed in my living room". 😆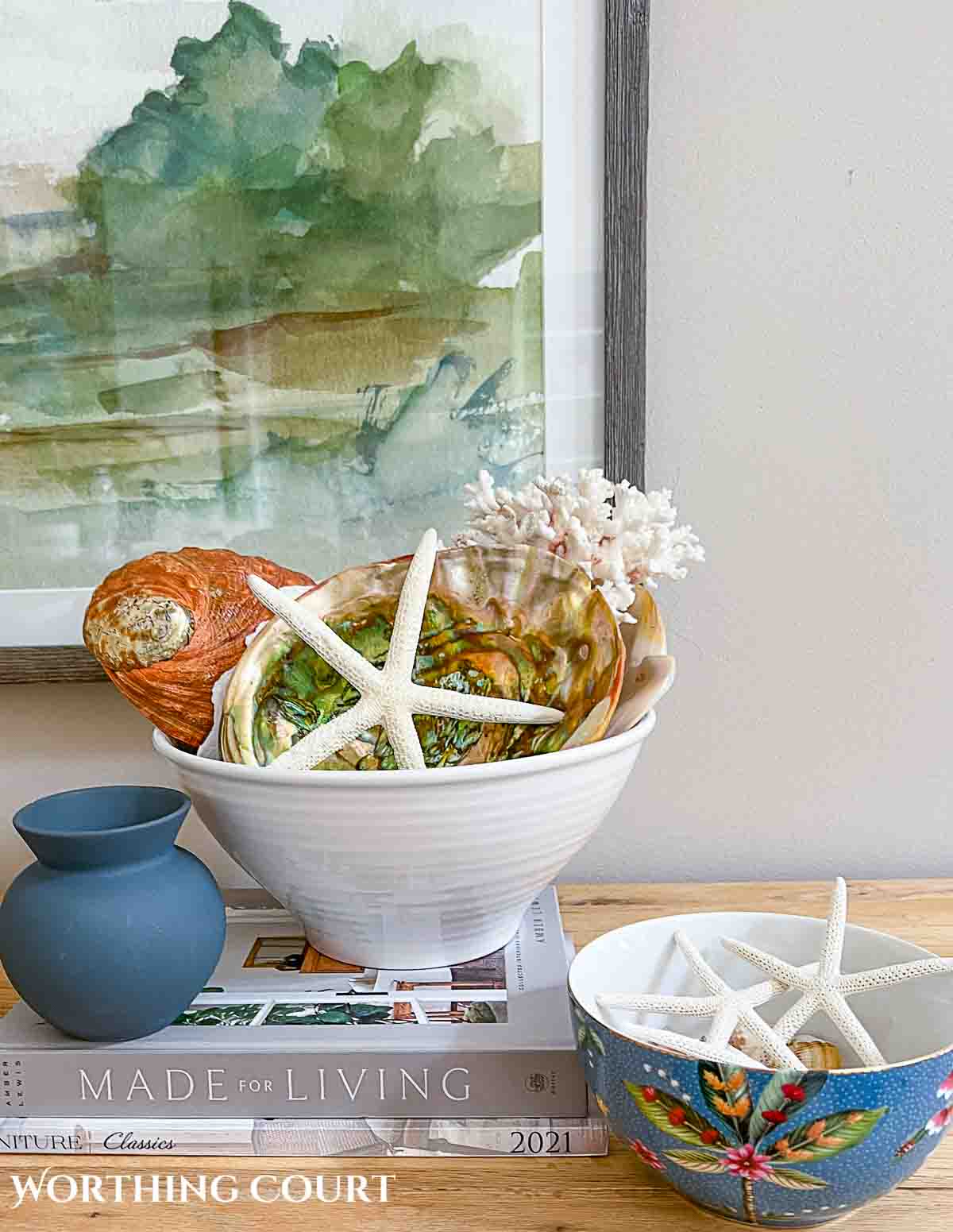 You can also add beach-inspired art, such as paintings of the ocean or beach scenes. These accessories will help create a serene and calming environment.
A mirror with a frame made with driftwood or twigs fits right in with traditional or modern coastal decor.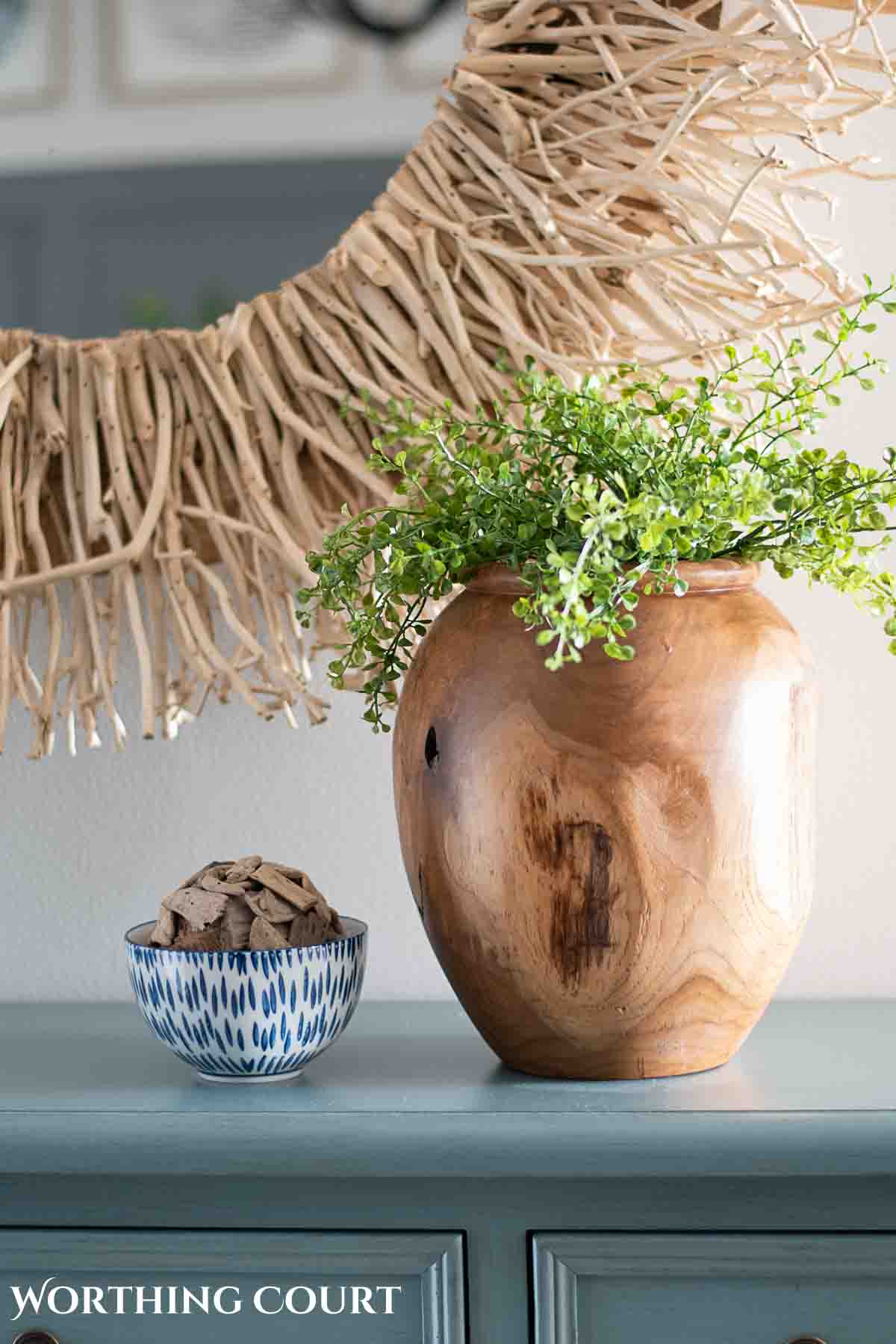 Coastal Color Scheme
A coastal color palette is most often inspired by the colors found in the ocean and the sand. And those colors can vary greatly, depending upon the coastal area you want to emulate.
For a non-tropical palette you might choose soft colors such as neutral tones in muted shades of white, off white, beige and gray. Using these colors will help create a soothing and calming atmosphere.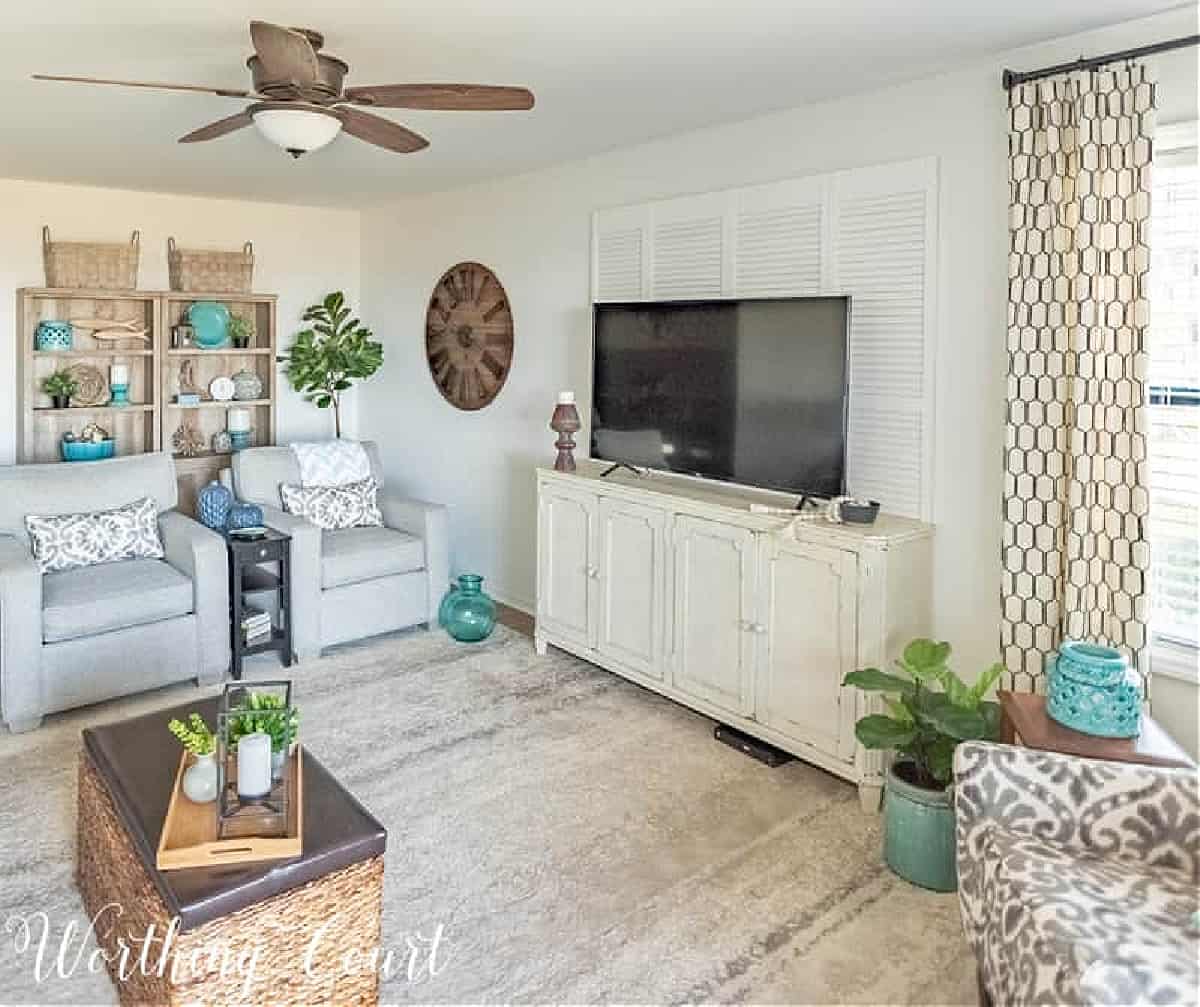 For a tropical palette, go with more vibrant colors such as bright, deep hues of blue, coral and green. You can also add pops of yellow or pink for a playful touch.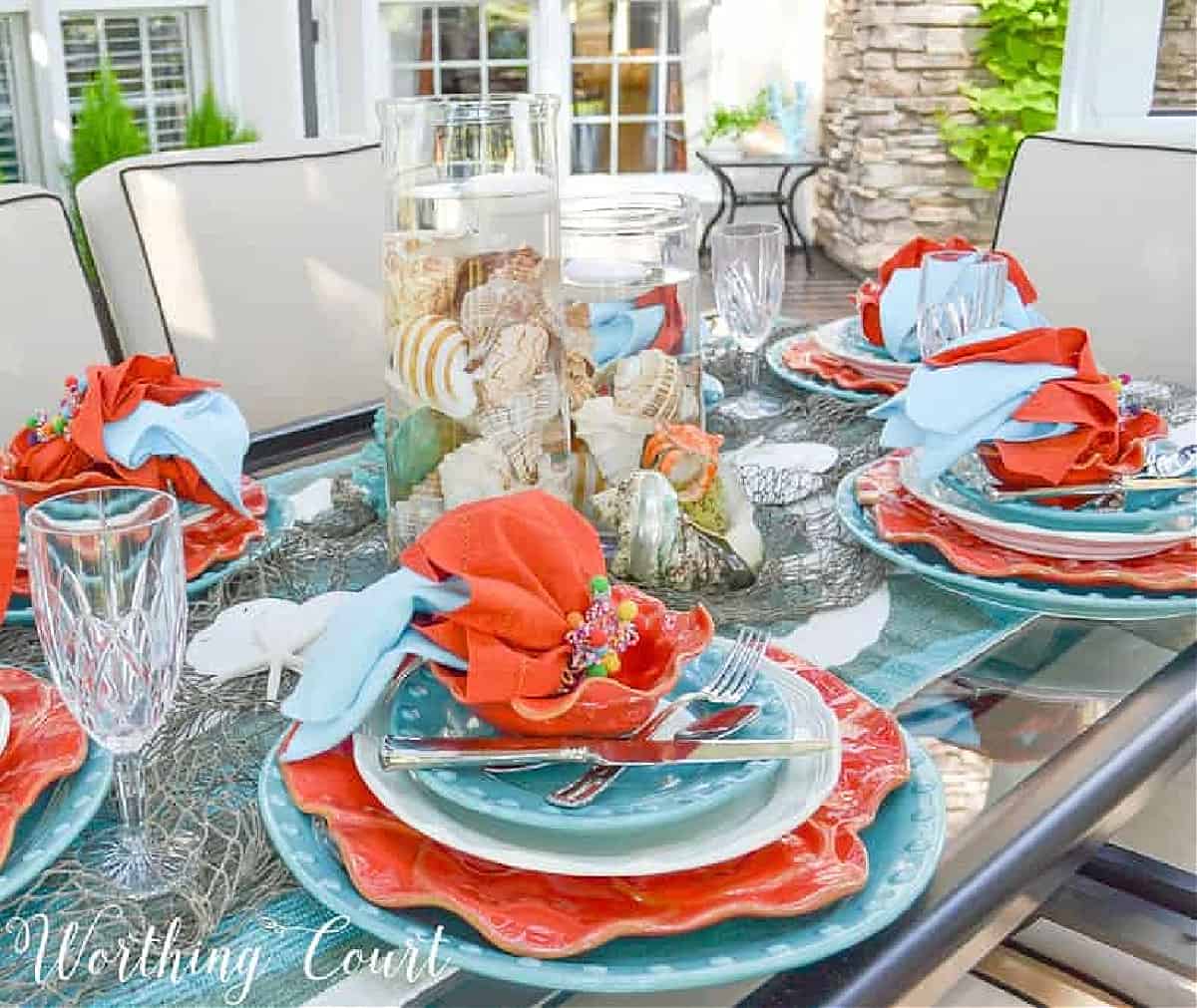 Tips for Incorporating Coastal Decor in a Non-Coastal Area
If you don't live near the beach, you can still create a coastal vibe in your home. Here are some tips for incorporating this popular decor style in a non-coastal area:
Use Natural Materials
If you don't actually live near the coast, you may want to be a little more subtle with your coastal home ideas. Incorporating natural materials, like those mentioned above, can help create a beachy vibe no matter where you live.
My living room is nowhere near the beach, but the burlap lamp shade, wicker baskets and wood lantern all work together to give that at-the-beach feel.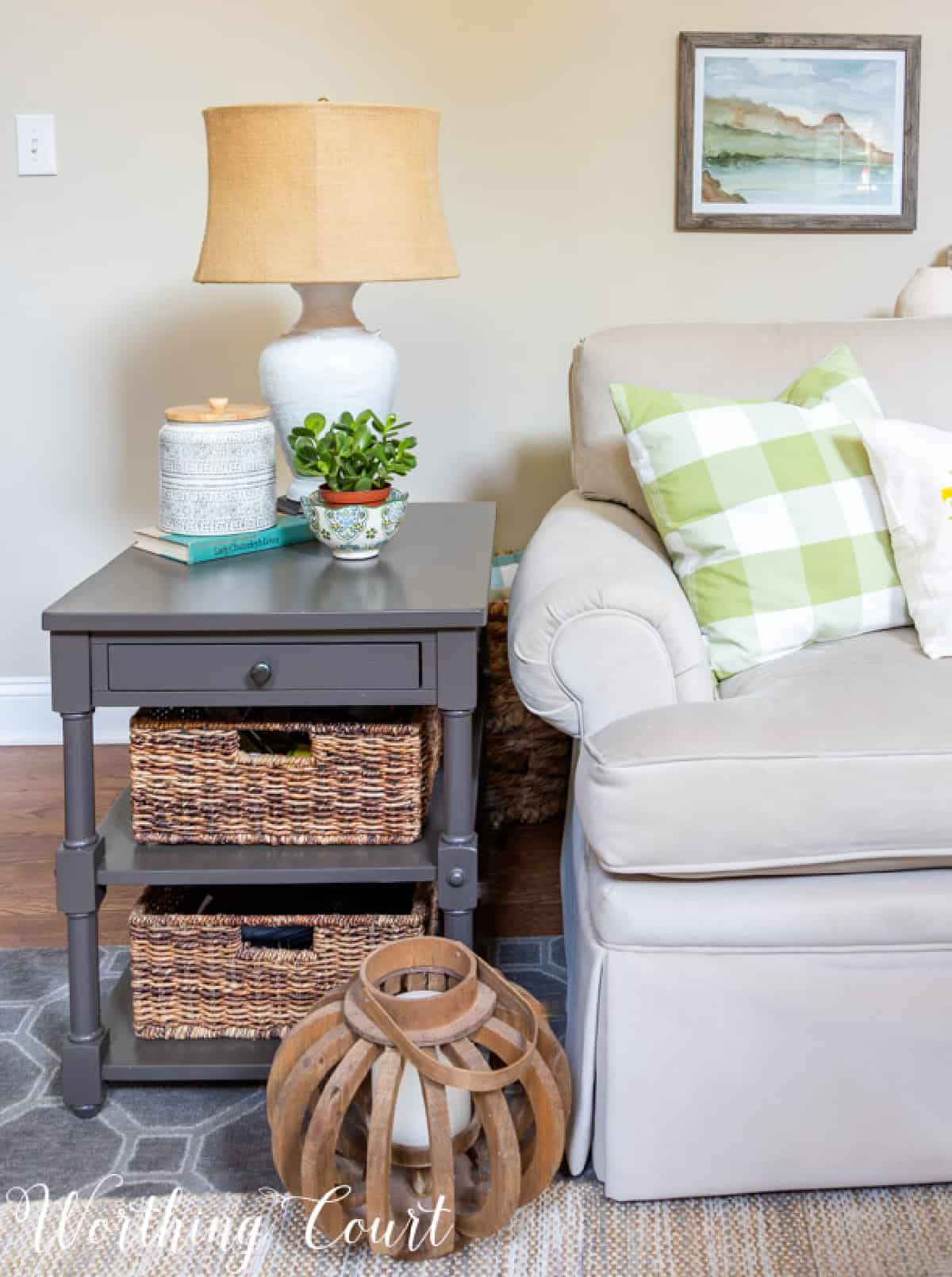 Even something as simple as a stack of dishes in multiple blue hues will exude the feeling of being near the water.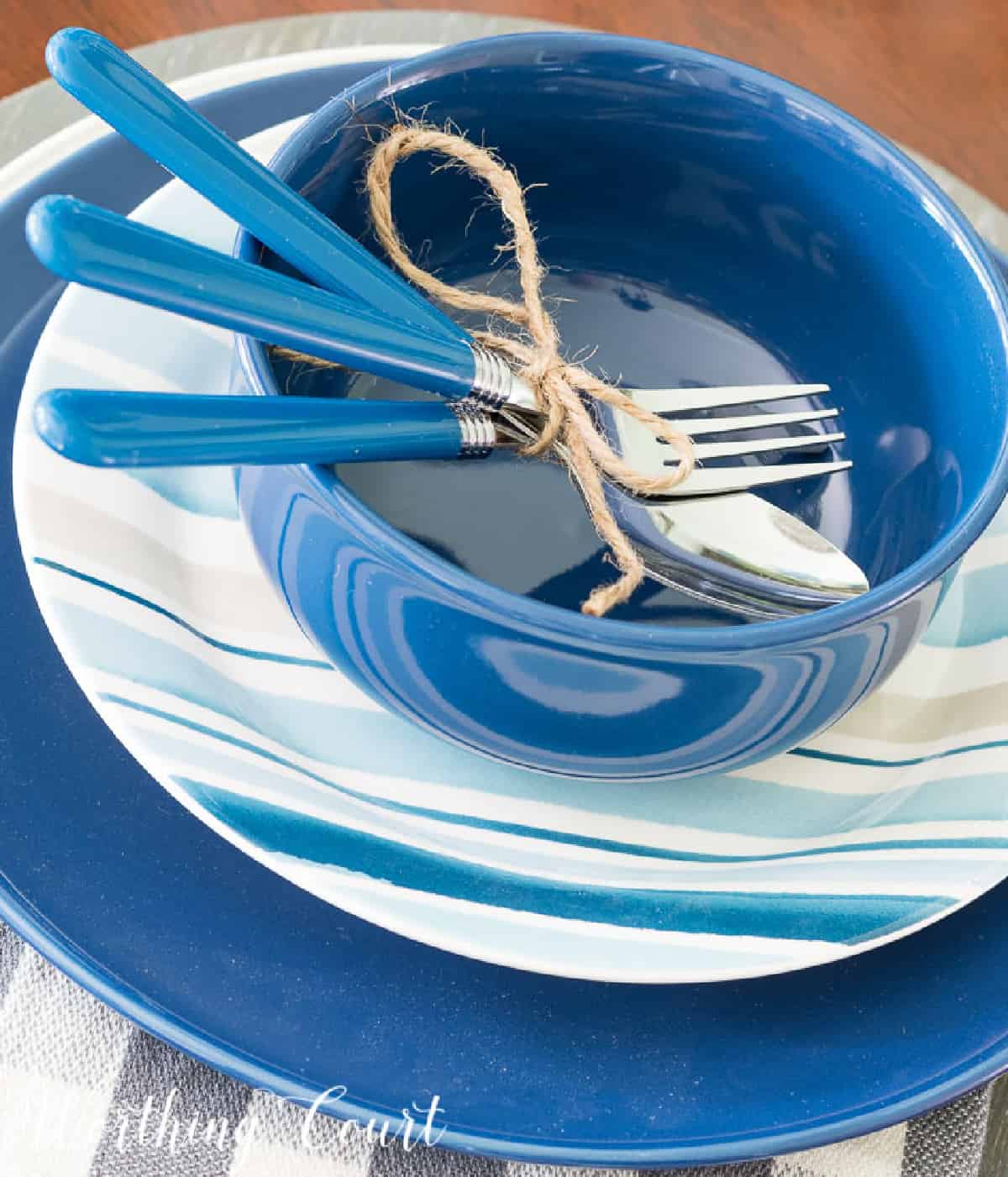 Add Beach-Inspired Accessories
Adding beach-inspired accessories to your decor is an easy way to create a coastal vibe. Consider adding seashells, coral, or starfish to your decor. You can also add beach-inspired art, such as paintings of the ocean or beach scenes. These small touches can make a big impact.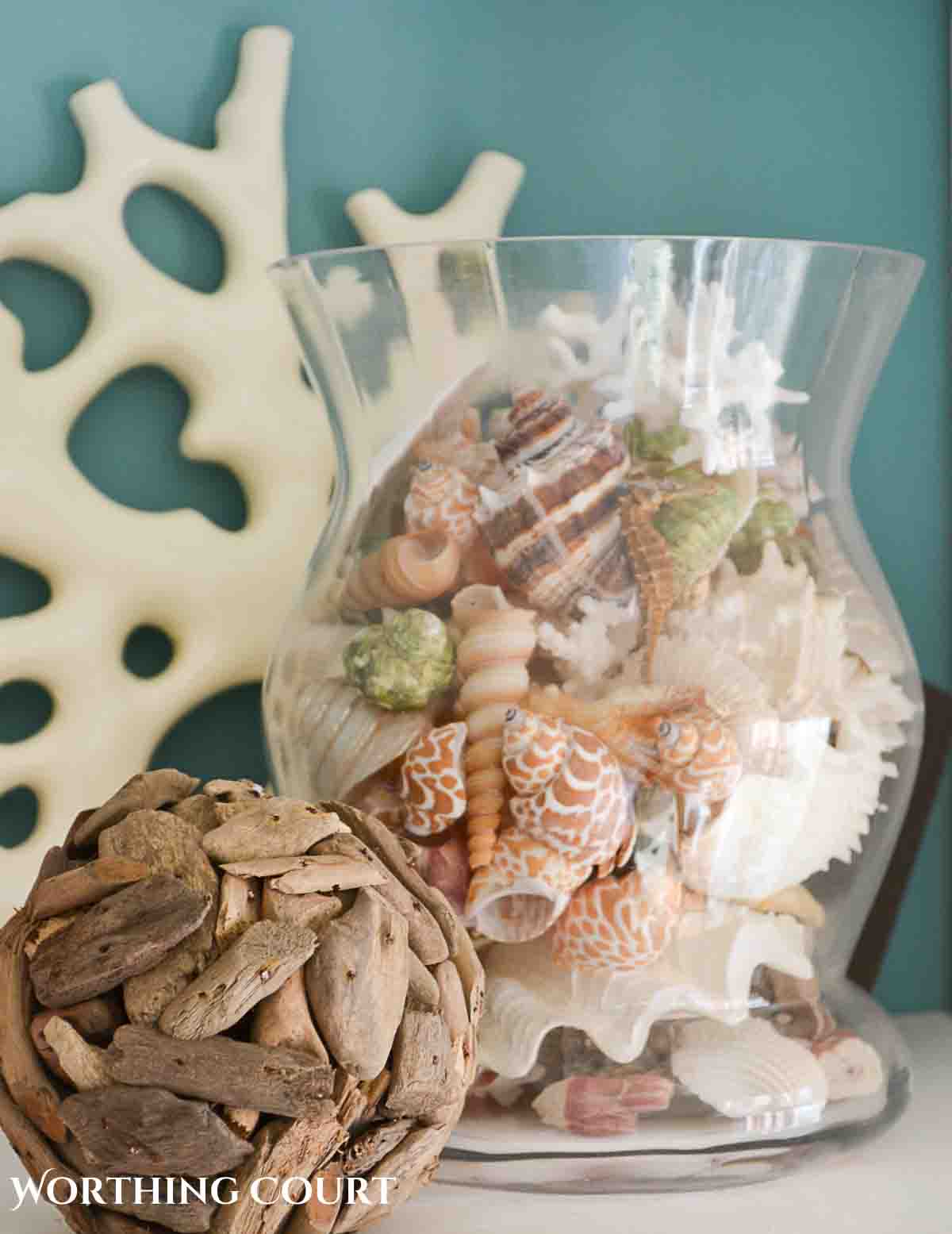 Color Palettes for a Coastal Look
Choosing the right color palette is essential for creating a coastal look in your home. Here are some color palettes to consider:
A Neutral Color Palette
Neutrals are a good backdrop for interiors when you want to keep your coastal design on the subtle side. The color scheme might look something like this…

The soft shade of green mimics the color of water, while the beiges and grays mimic the colors of sand and driftwood. Add in white for a fresh, clean, coastal-style look.
Moderate Coastal Colors
If you would like a little more color, but don't want to go full-blown, consider the same range of colors that are more intensely saturated.

This grouping includes a soft blue to give off even more water vibes than the neutral scheme above.
A Tropical Color Scheme
If you want an all out coastal decor scheme, use intensely vibrant colors. These colors really stand out so there will be no doubt about the message you're trying to send.

This design style can be overwhelming though, so I recommend using these colors in small doses, such as pillows and accessories.
Creating a Beachy Vibe with Accessories
Layering accessory accents is the easiest way of all to add a beachy vibe to your home. They make it an affordable way to get the look without spending a ton of money.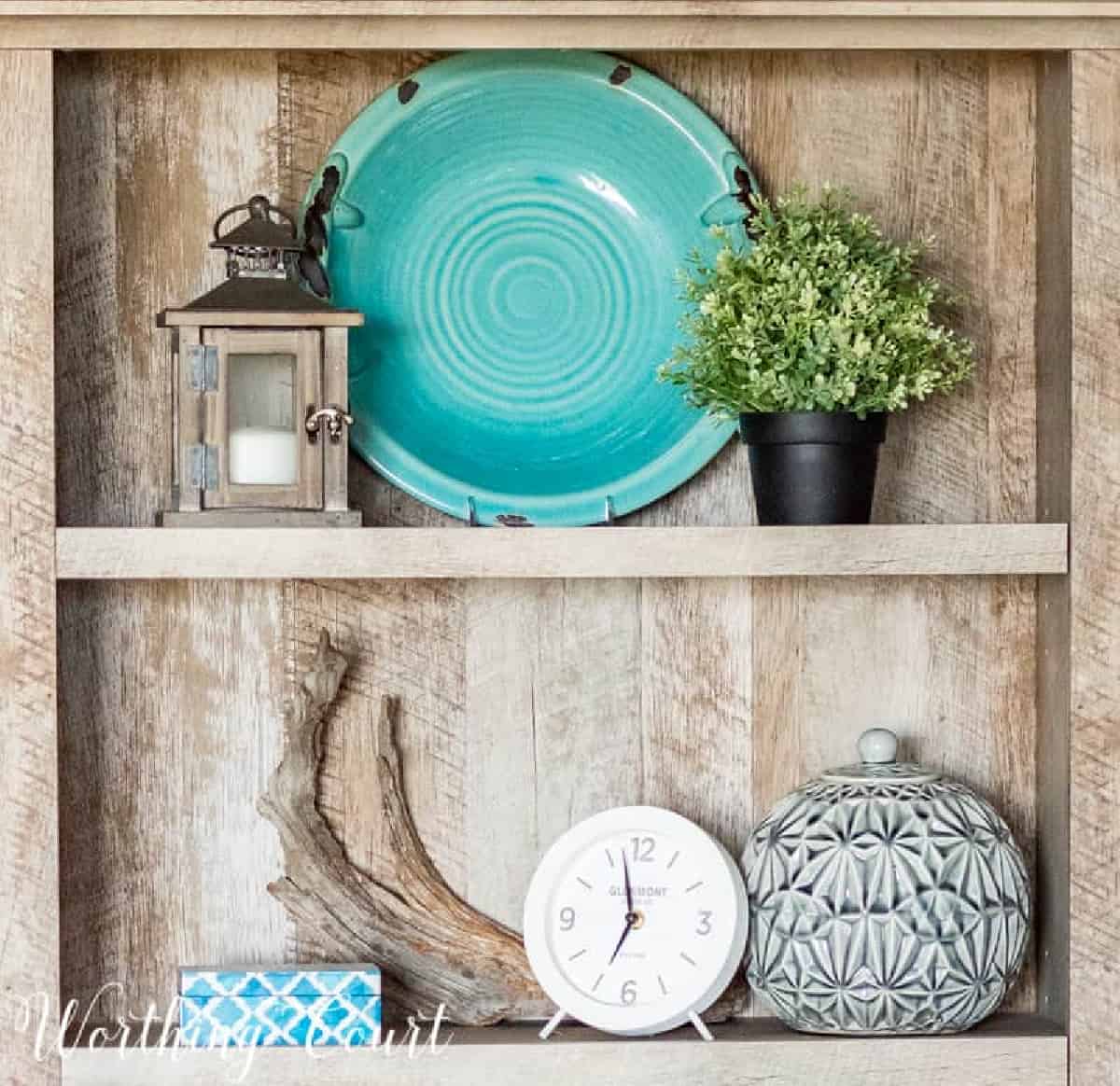 It's also a great way to get that beach house look if you only want to go beachy during the summer vacation months.
Seashells
Seashells are the classic beach-inspired accessory. They can be used as decor or as part of a DIY project.
A single larger shell, or piece of coral, can be displayed alone.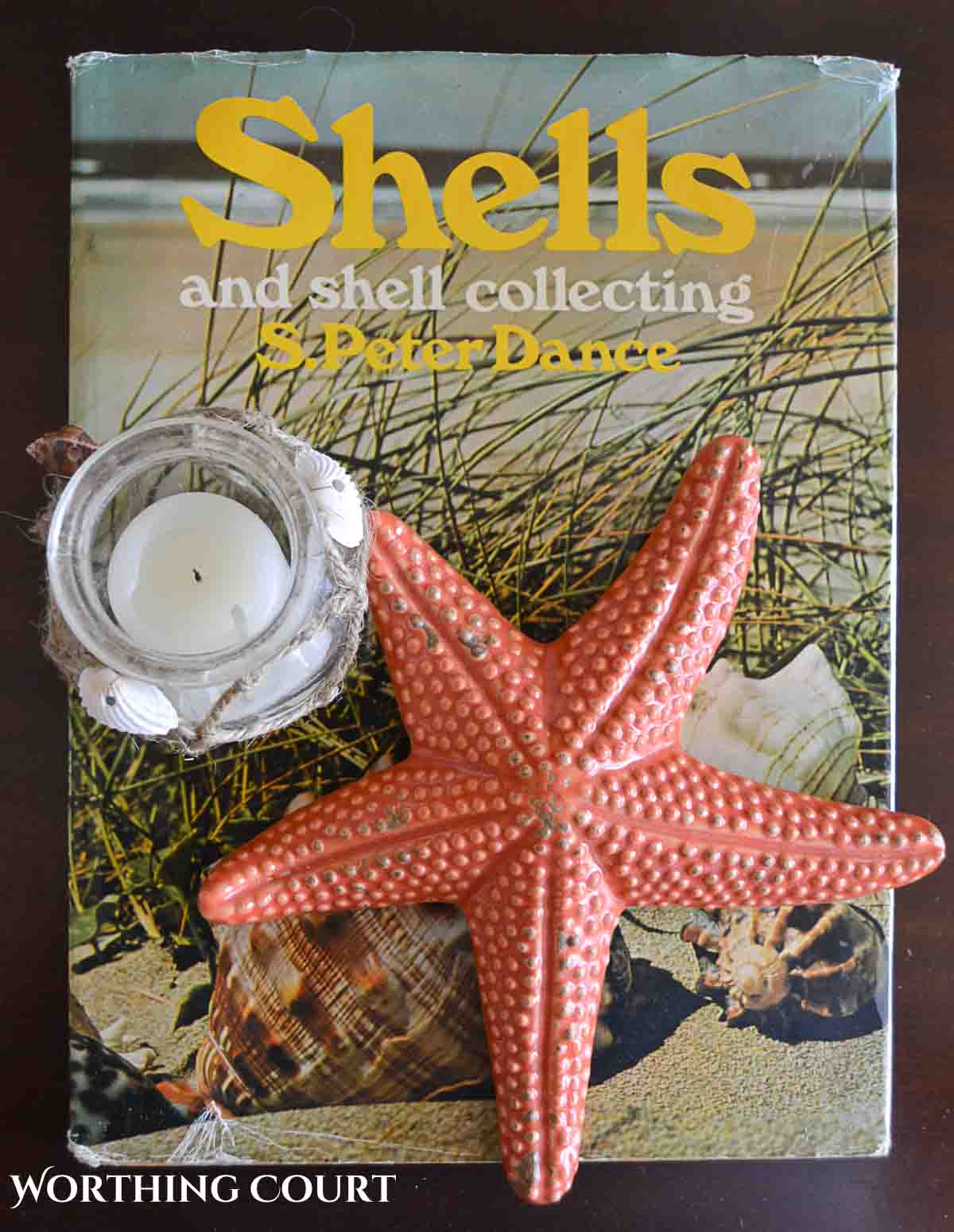 A large bowl looks pretty filled with an assortment of various types and sizes of shells.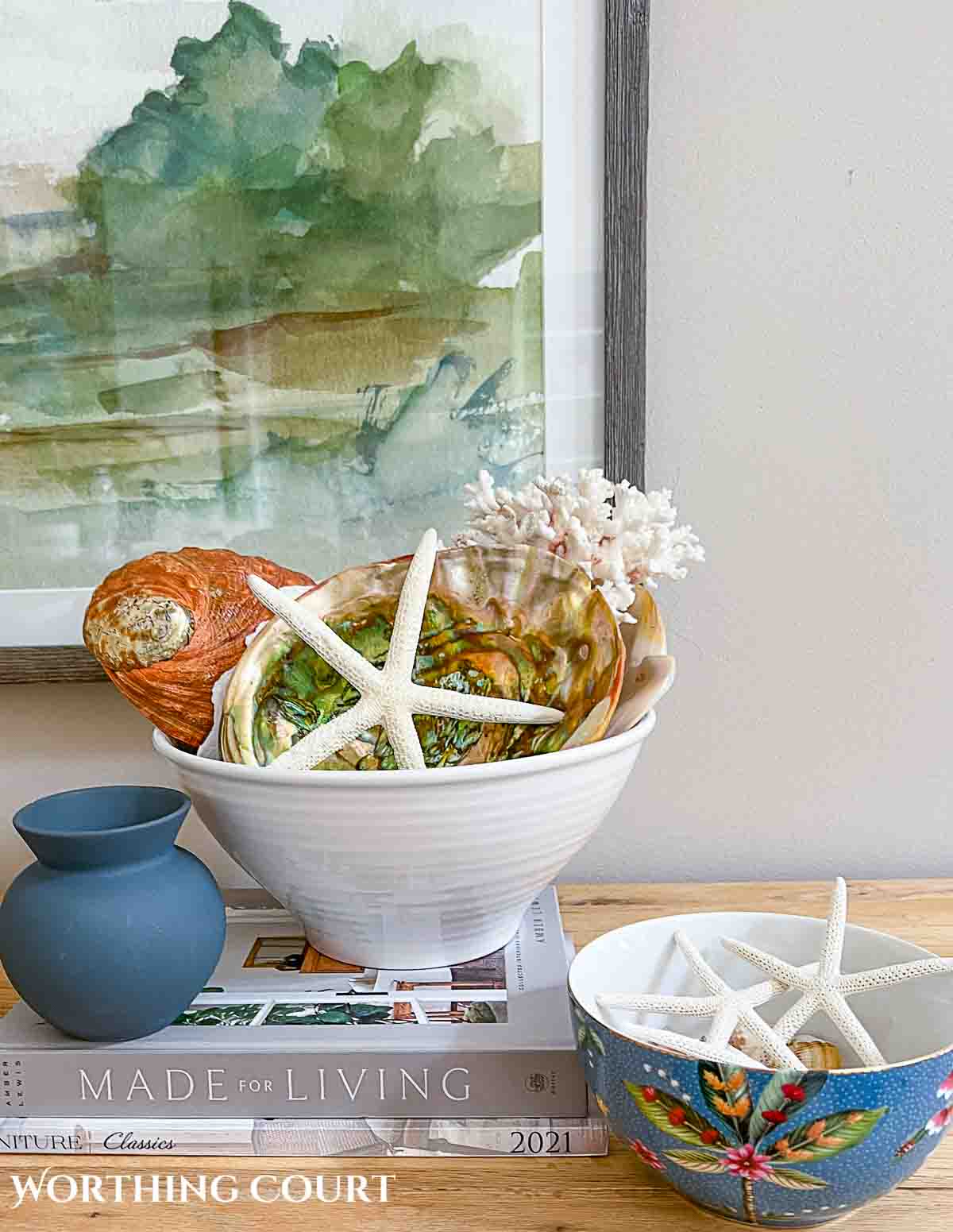 A variety of small shells looks pretty displayed in a bowl on a coffee table. It's also the perfect way to bring back those shell collecting, walks on the beach type memories from your summer vacation.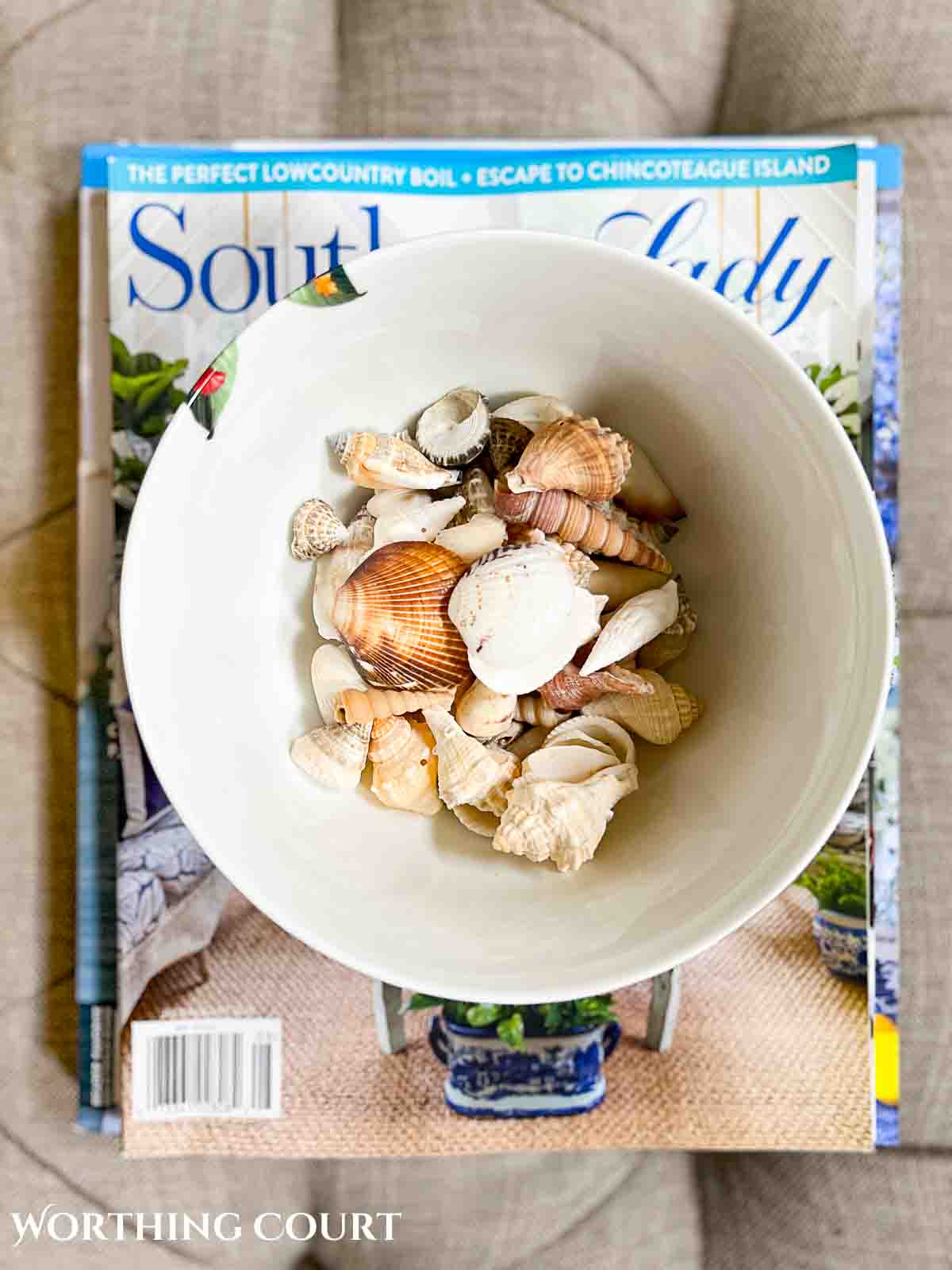 Beach-Inspired Art
There are endless choices available when is comes to decorating your walls with coastal inspired artwork.
A painting of the ocean or a beach scene pretty much speaks for itself.
Seaside birds and critters are a popular choice too. This isn't the greatest picture, but this pair of herons was a favorite of mine when they were above the couch in our last beach condo.
How cozy does this corner look with a stacked beach-inspired art display?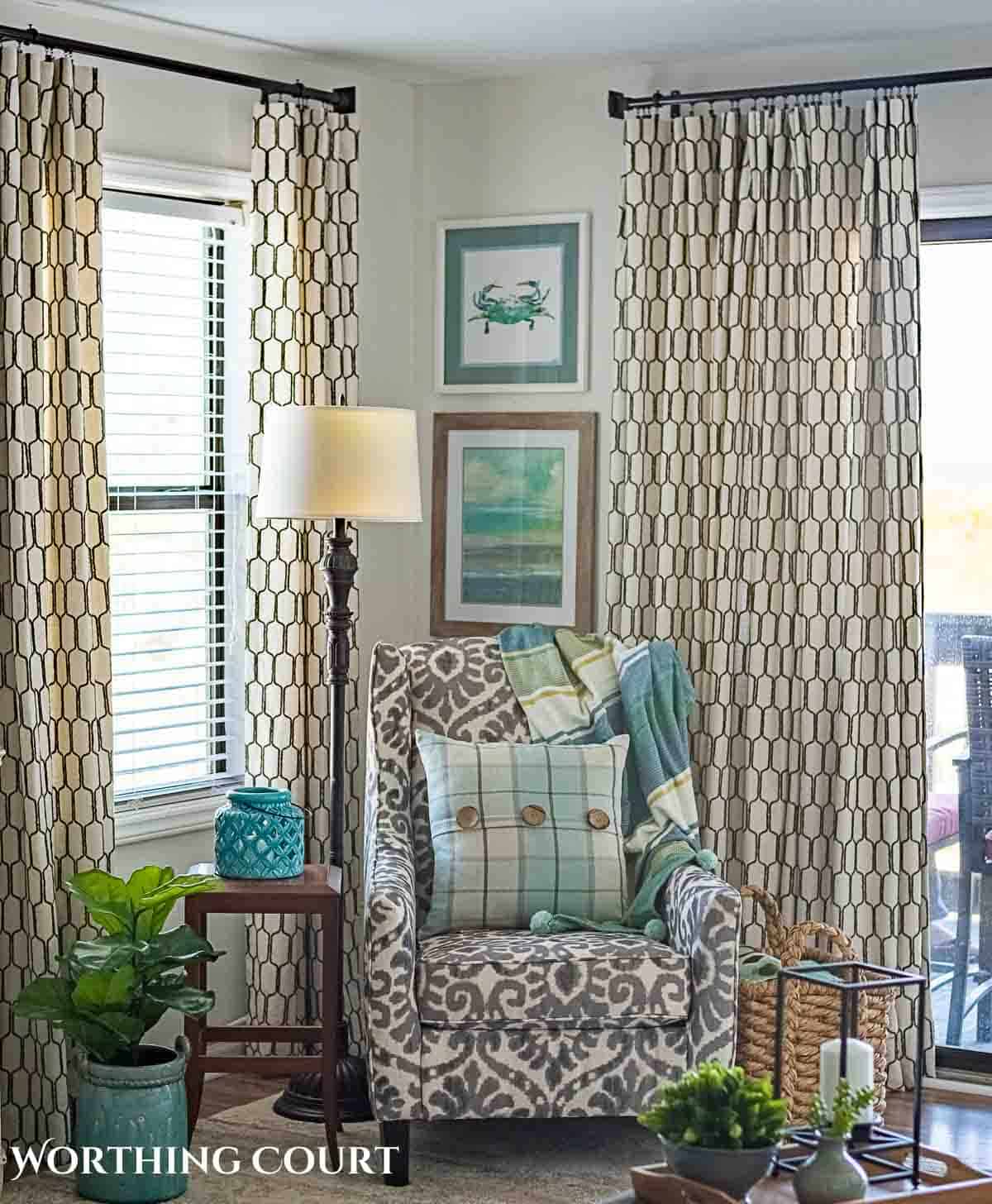 Coastal-Inspired Furniture and Lighting
When it comes to creating a coastal-living look, don't forget about furniture and lighting.
Wicker Furniture
Wicker furniture and rattan furniture are classics. Both types add texture and warmth to your space. And don't feel like you have to have large pieces of this type of furniture.
Wicker head chairs at a dining room table add a nice coastal accent.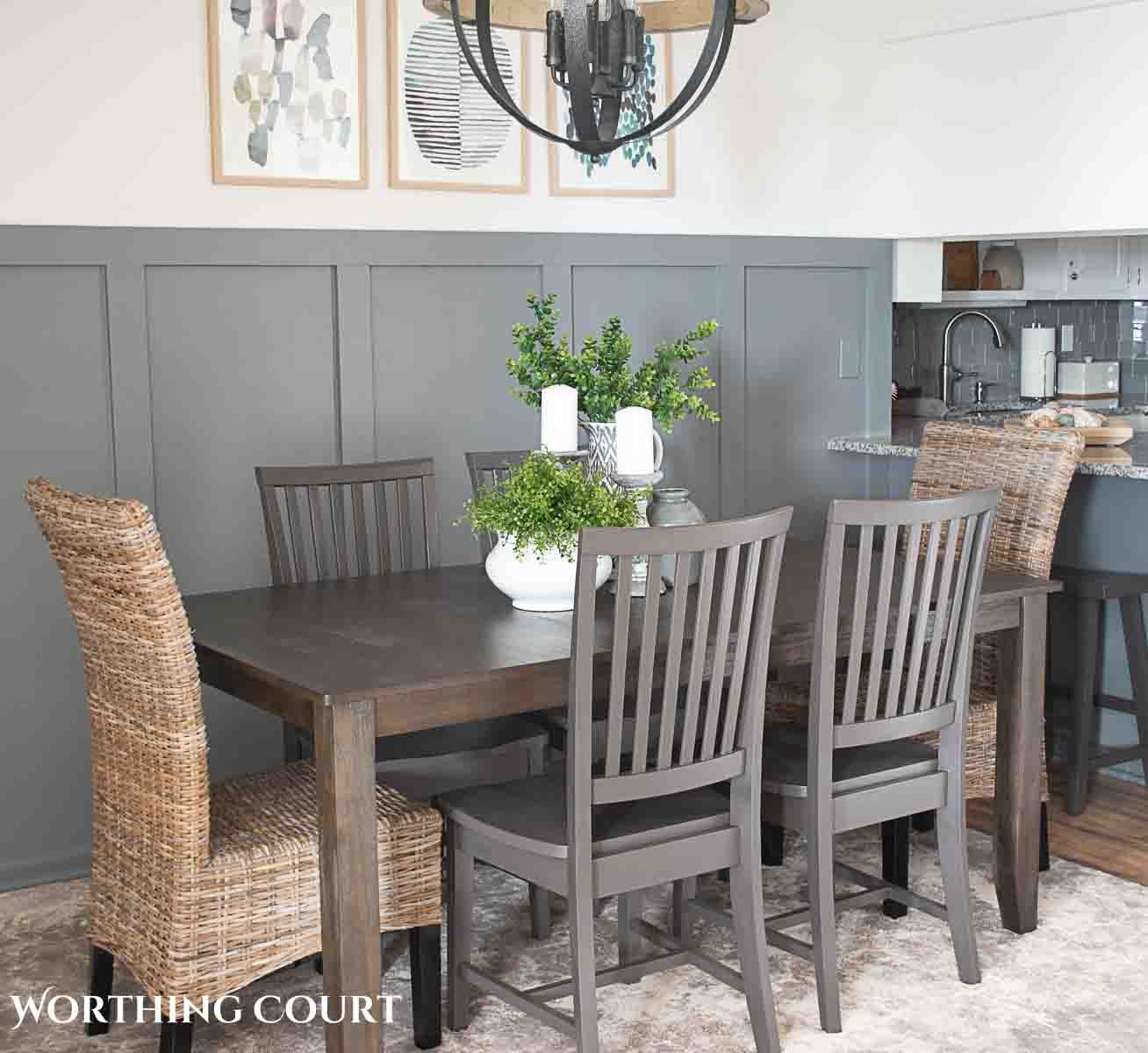 A wicker accented coffee table is usually in a very visible location and sends the right kind of message without being a large piece of furniture.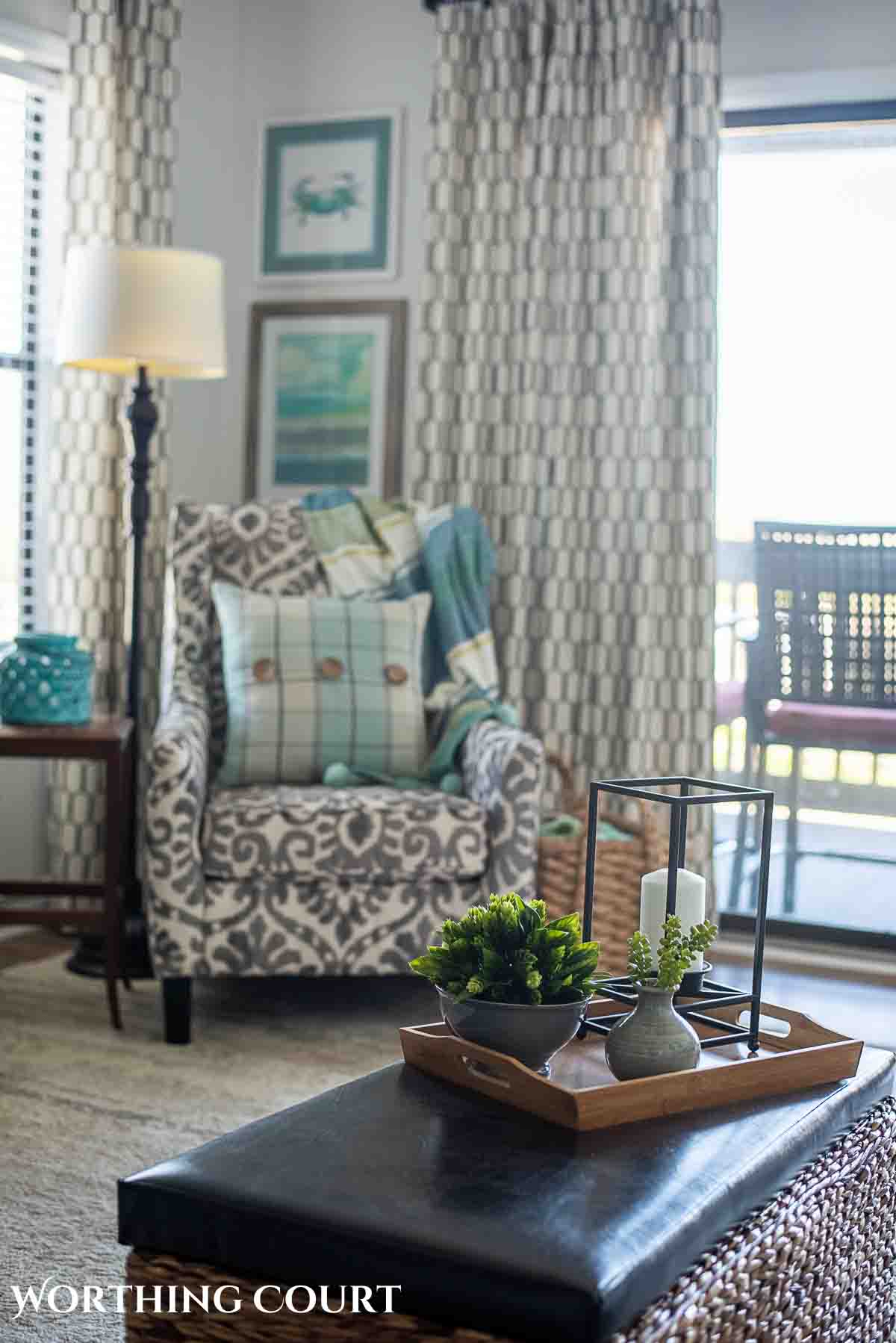 A rattan plant stand is easy to tuck in anywhere.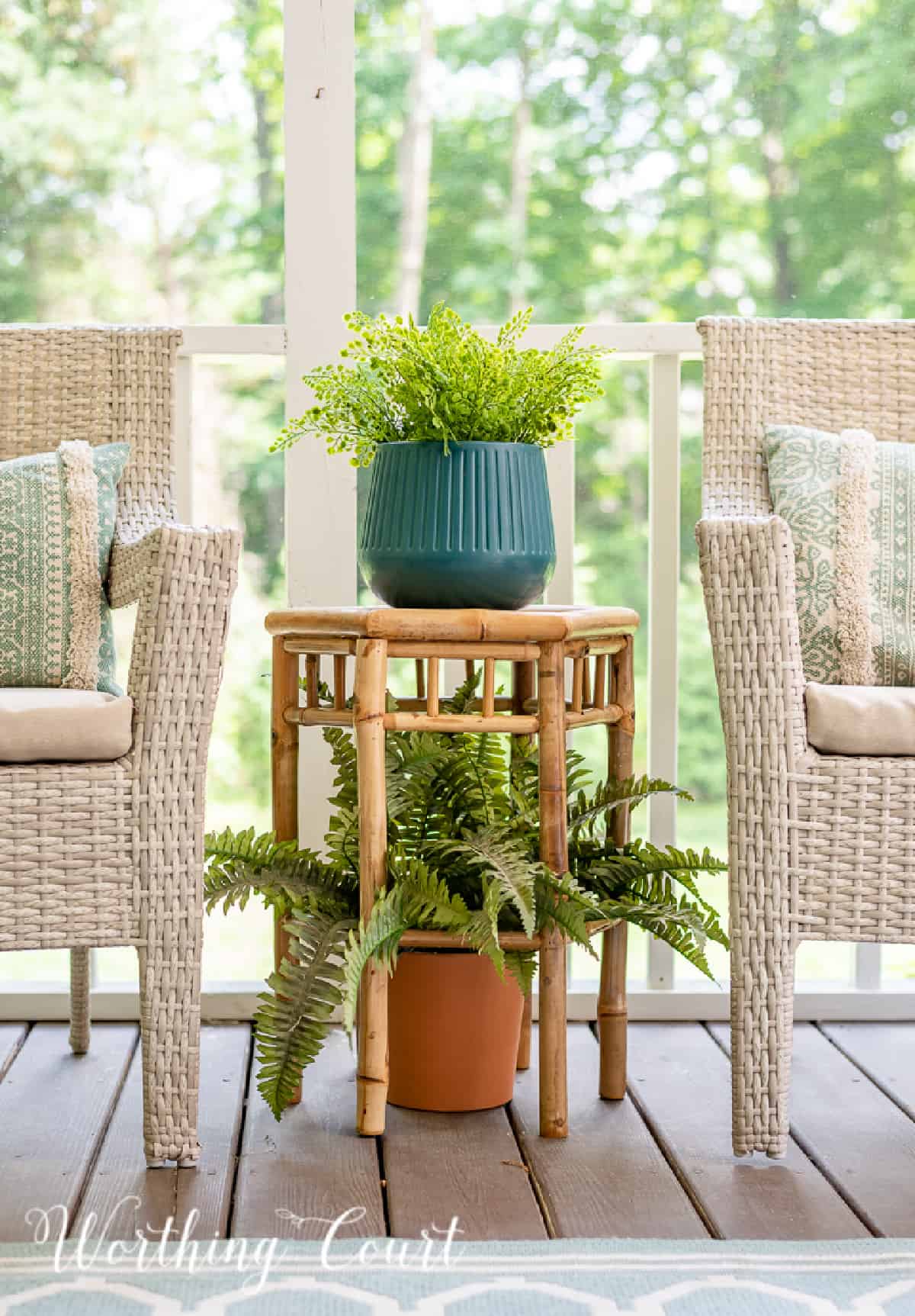 If you're looking for case goods (upholstered furniture), driftwood colored wood is a good beach-vibe option.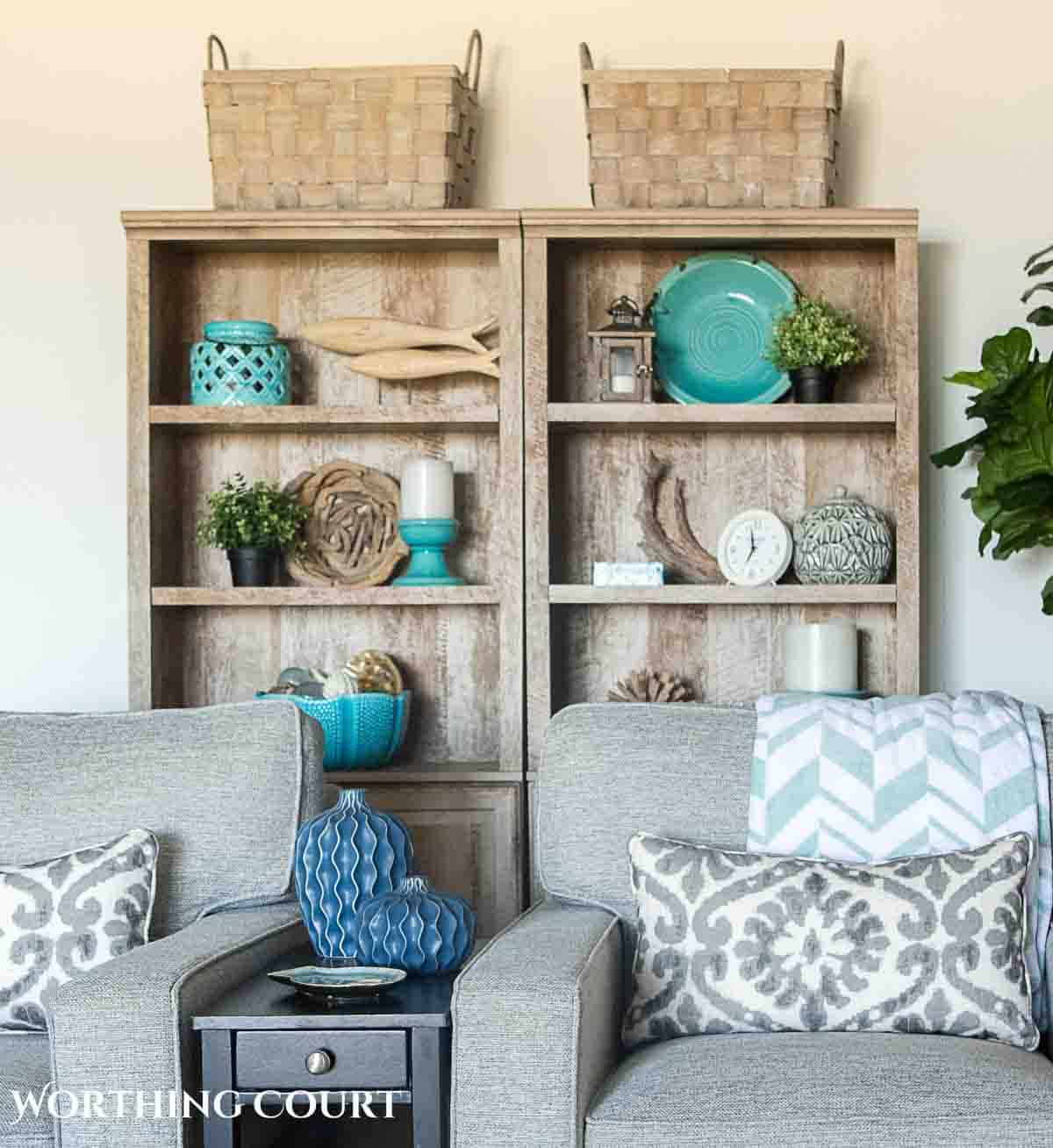 Painted Furniture
One of the most popular types of coastal-inspired furniture is painted furniture. Consider painting end tables, chests or a console table with a color out of your overall color palette.
A fun color will serve as an eye-catching accent piece.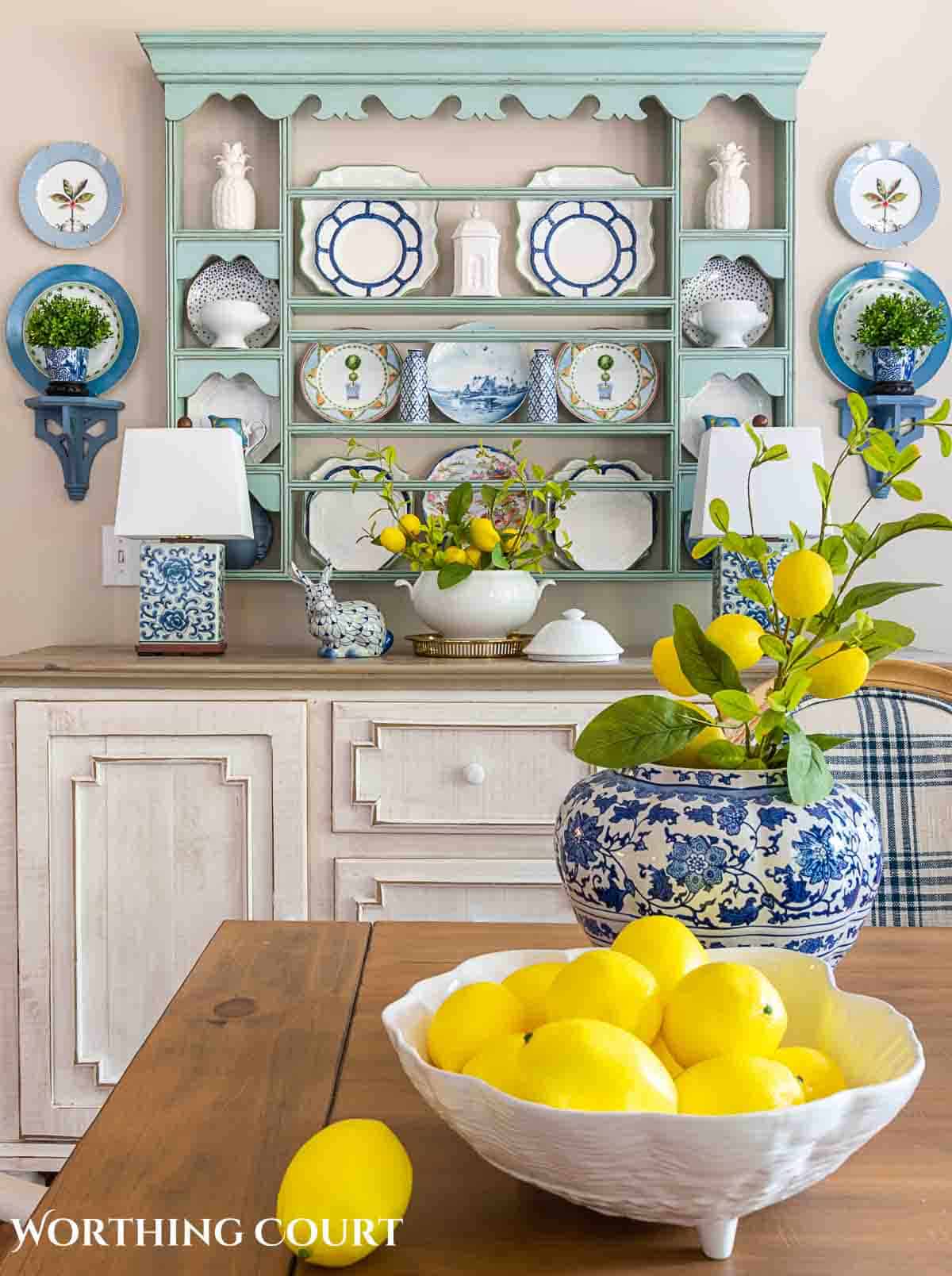 Furniture painted in white or gray will blend in with the rest of surroundings more, but can still give off a coastal vibe.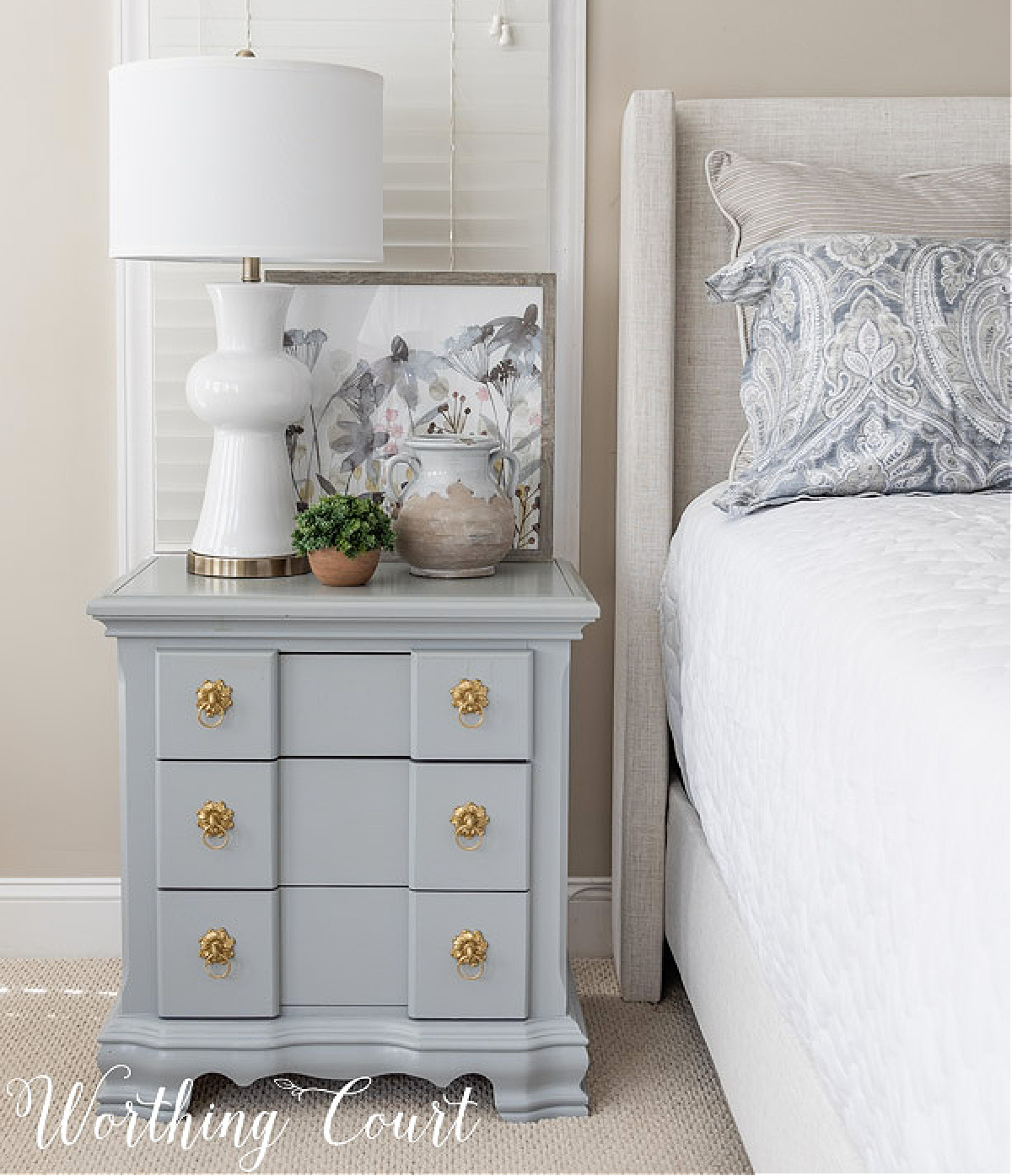 Lighting
Choosing lighting for your coastal-inspired home is another area that I think you have to be careful with.
I recommend sticking with non-specific beach-inspired lighting, for the most part. For example: one small seahorse lamp might be a fun accent tucked in somewhere, but I don't think you'd want much more than that.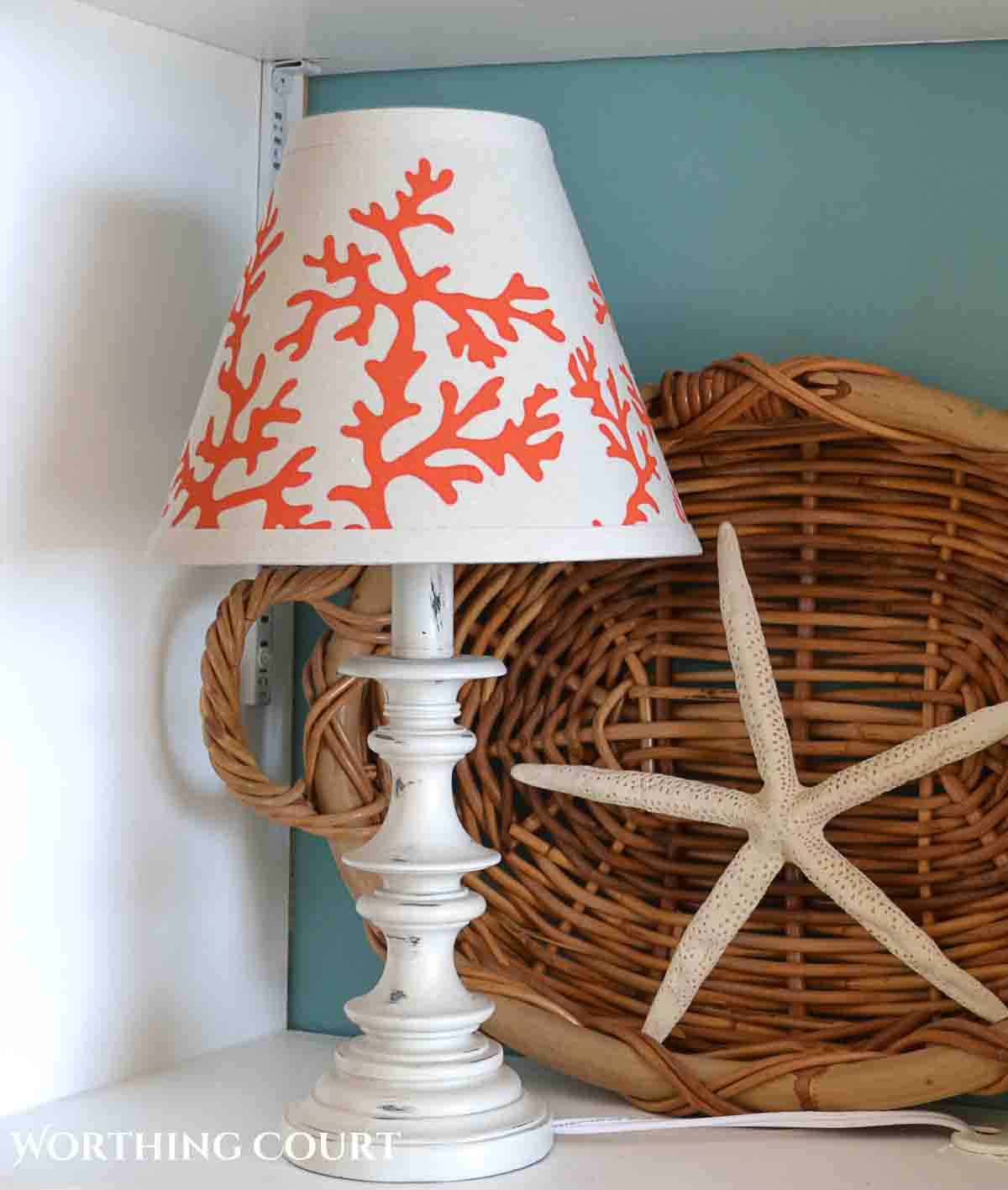 For overhead lighting you can use a chandelier that gives off subdued beach vibes. The driftwood tone of the wood in the light fixture above the dining room table our beach condo fit right in.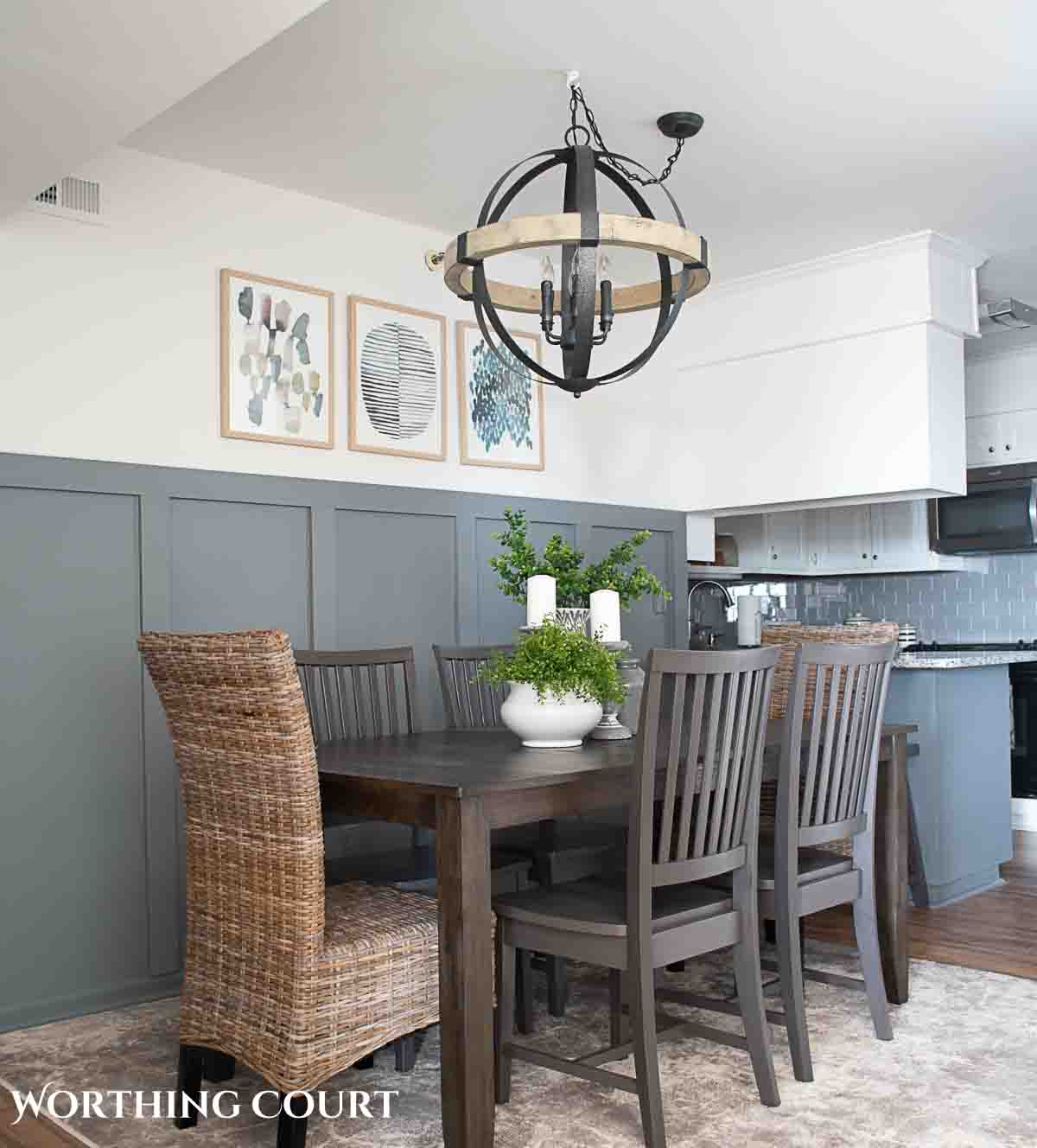 For ambient or general lighting, consider using floor and table lamps in solid colors that compliment the rest of the room.
Transforming your space into a coastal haven is easier than you may think. By following these tips and incorporating natural textures and materials, beach-inspired accessories, and the right color palette, you can create a relaxing and refreshing atmosphere right in your home.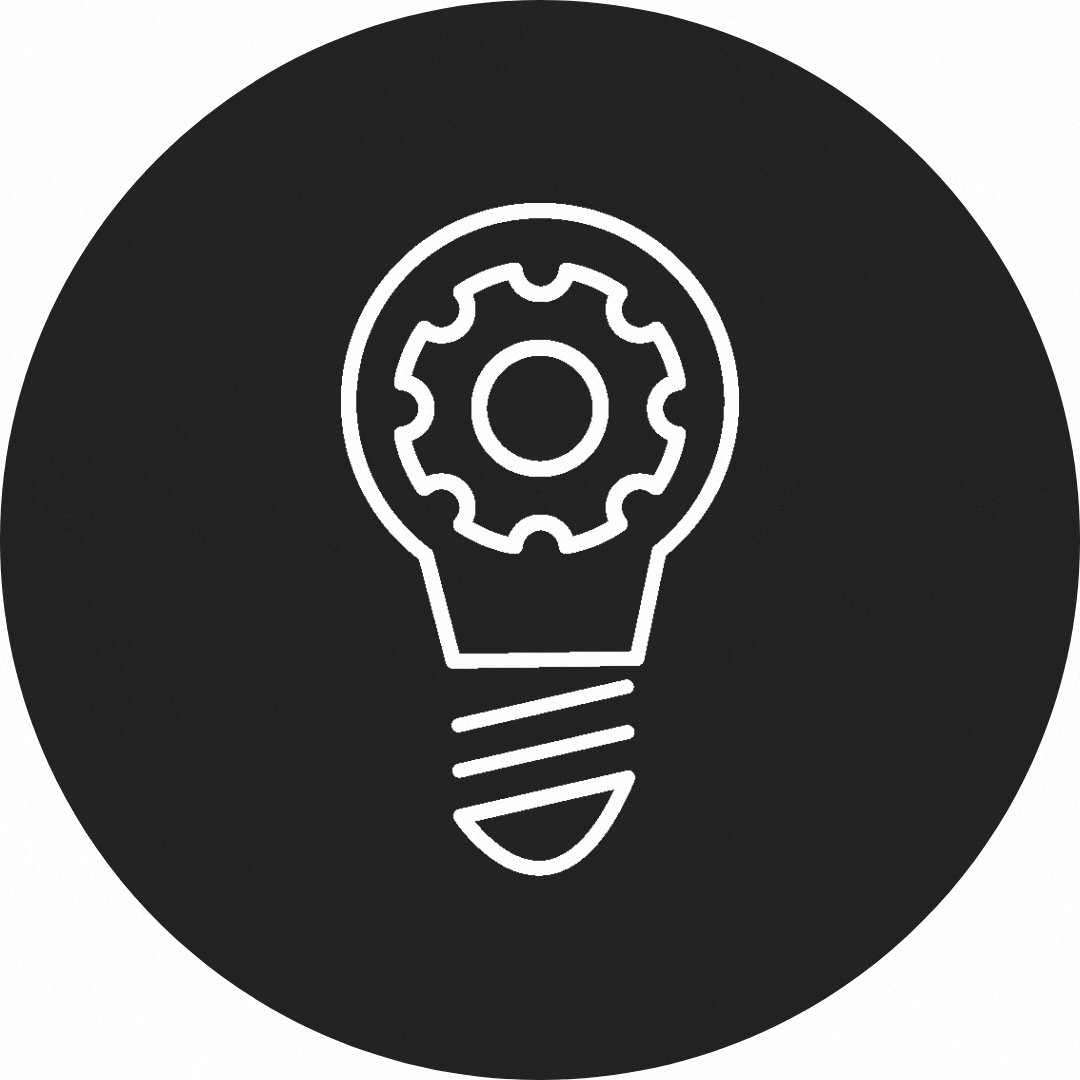 FAQs coastal decorating: