Use these clever tips and tricks to give any room in your a home a brand new look without blowing the budget.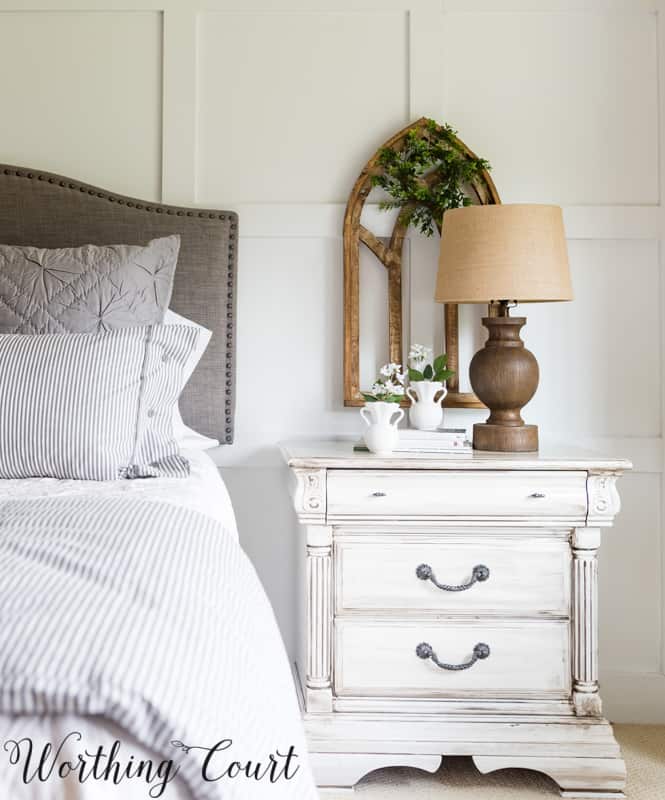 If you've been following Worthing Court for a while, you've seen me share several room makeovers, as we work our way through our twenty year old home that we purchased almost six years ago.  We still have quite a few more rooms to go, but you can see the reveals of all the rooms that we've completed to date by clicking HERE.  
First of all, I want you to know that I do not have deep pockets – all of my room makeovers are done on a budget. but I've been able to completely change my decor from traditional Tuscan'ish style to a fresh updated traditional look with a little ingenuity, a lot of bravery and good old fashioned elbow grease!
I'm frequently asked how in the world I've done it all, without spending a fortune, so let me share my tips with you.
BE PATIENT AND TAKE YOUR TIME
I can't stress this one enough, but it took me a long, long time to learn this lesson!  I wish I had a list of how much money I've wasted over the years by allowing myself to be impatient and settle for something just because I thought it was a good deal.
A prime example is our home office.  I needed two side chairs for our office and was shopping for a bargain.  The chairs were more for looks than actual use, so I didn't want to put a lot of money into them.  When I ran across chairs on clearance for roughly $150/ chair, I snapped them up, telling myself that I could make them work.
But, what really happened is that I wasted $300 because I didn't take the time to think things through and come up with an overall plan for the space first.  Those chairs, that were such a great deal, are now sitting in another room, waiting for me to decide what to do with them.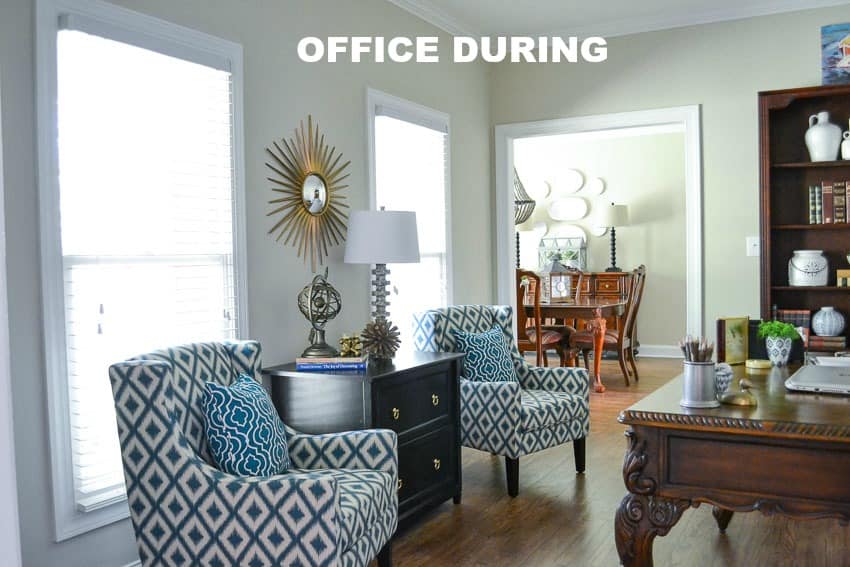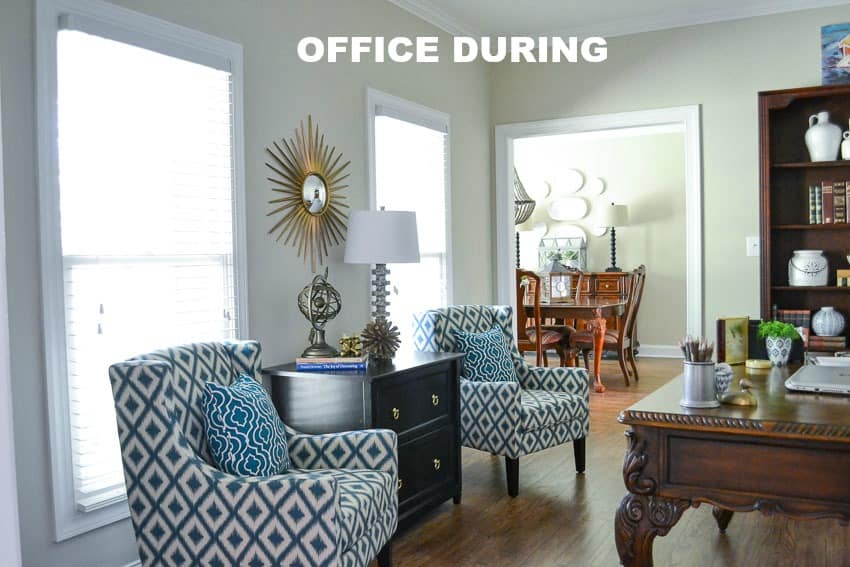 USE WHAT YOU ALREADY OWN
When I made the decision that I was going to update the deeply traditional style in my home, I assumed that I'd be replacing a lot of my scrolly, heavy, traditional furniture.  Oh, wait – remember my comment above about me not having deep pockets?  Yeah, that.  I finally realized that if I was ever going to finally have a home that I truly love, I was going to have to figure out a way to work with a lot of what I already own.
Enter my dining room makeover.  How in the world was I going to make all that super traditional furniture look updated???  After much thought, I decided to take a chance and paint my furniture.  Yikes!  It was super scary for me, but I haven't regretted my decision one bit!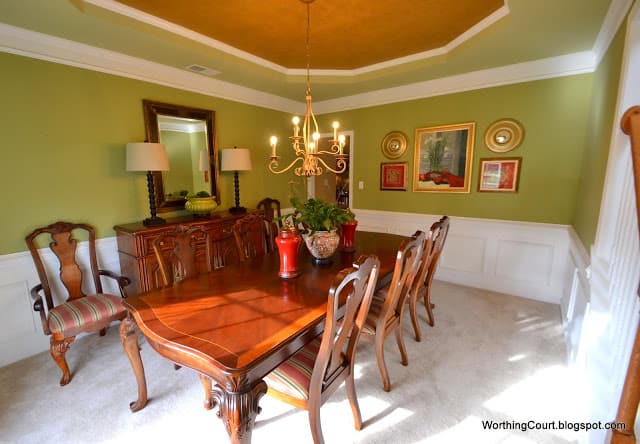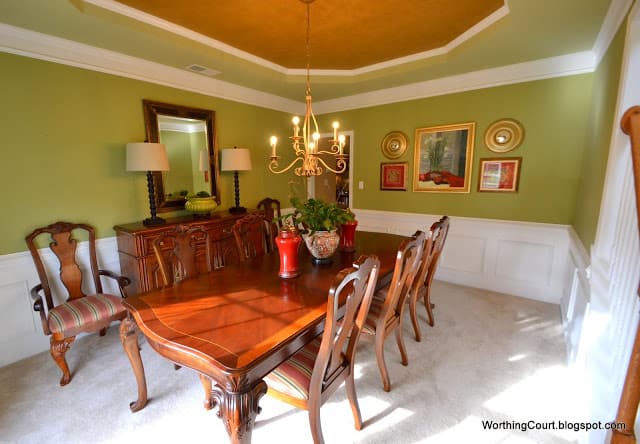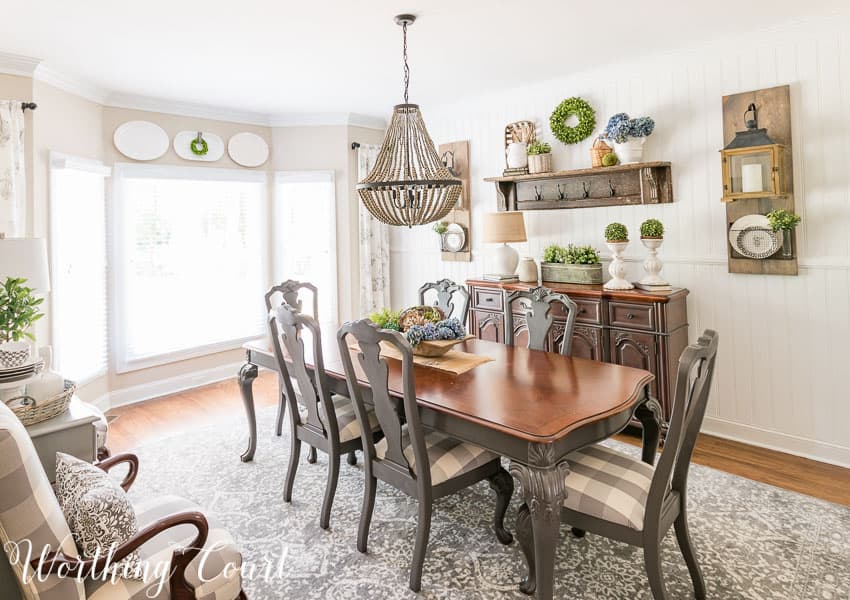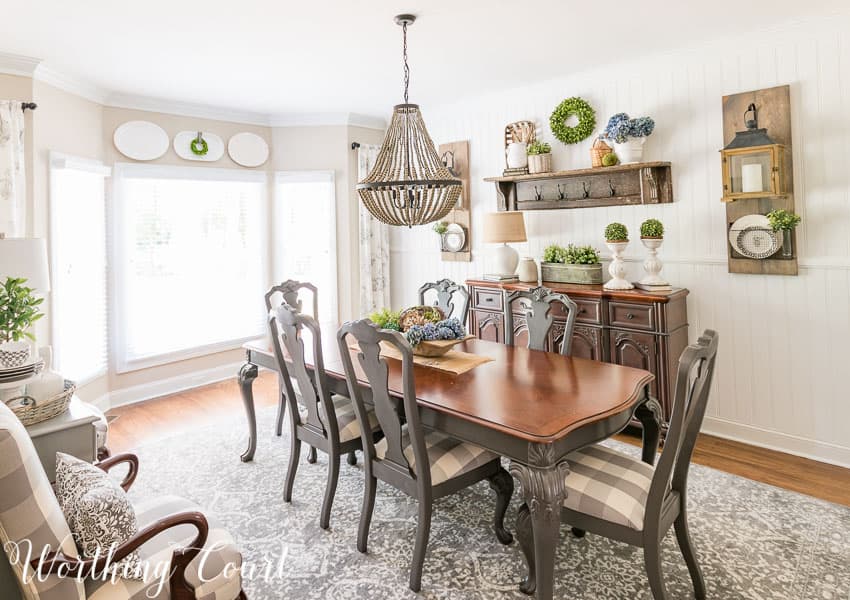 SET A BUDGET FOR YOUR ROOM MAKEOVER – BE WILLING TO COMPROMISE
This one is another life lesson that I learned the hard way.  If you don't set a budget for yourself AND keep up with how much you've spent, the spending for your room makeover can very quickly get out of hand.
I'll use the makeover of one of my bedrooms, as an example for this one.  My budget for the makeover in this room was super low.  I needed to update the existing furniture and replace the gaudy ceiling fan with something more stylish.
If I simply chose the new furniture that I would like to have, I would wind up spending a fortune!  Instead, my low budget forced me to take my time figure out a way to update and use the furniture I already own and figure out a really low cost replacement for the ceiling fan.
Here's a look at the bedroom before.  Notice the $300 "good deal" chairs that I mentioned above that I would force to work somehow?  They've since moved to yet another spot in my home.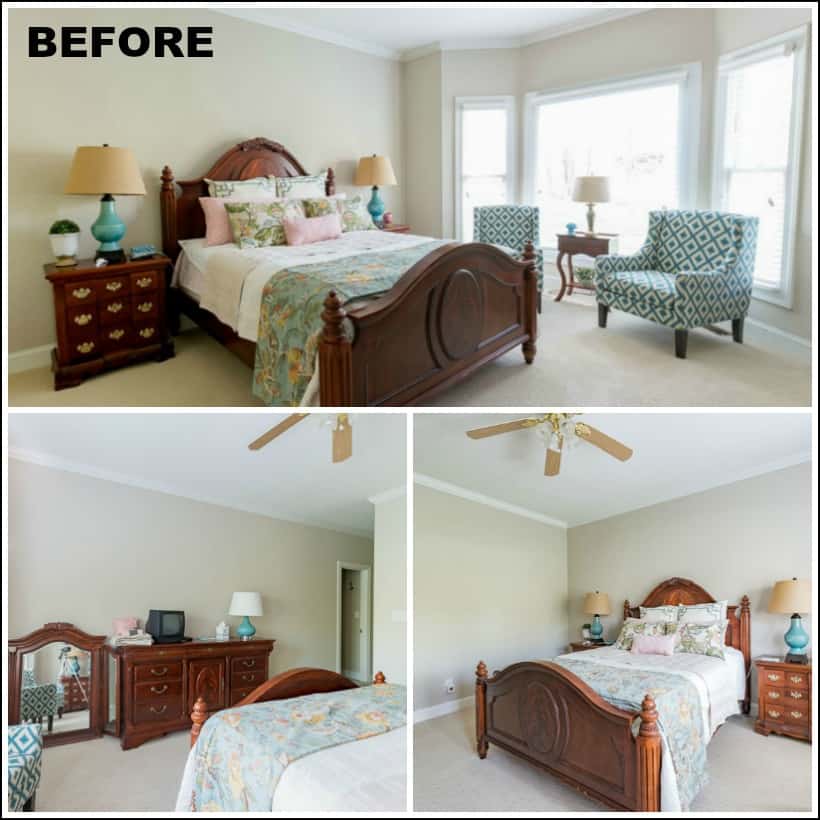 And here's a look at the bedroom today, along with the old chandelier out of my dining room that I gave a makeover to.  The only new item in this room is the headboard which I purchased for under $150.  The chairs were stolen from another room.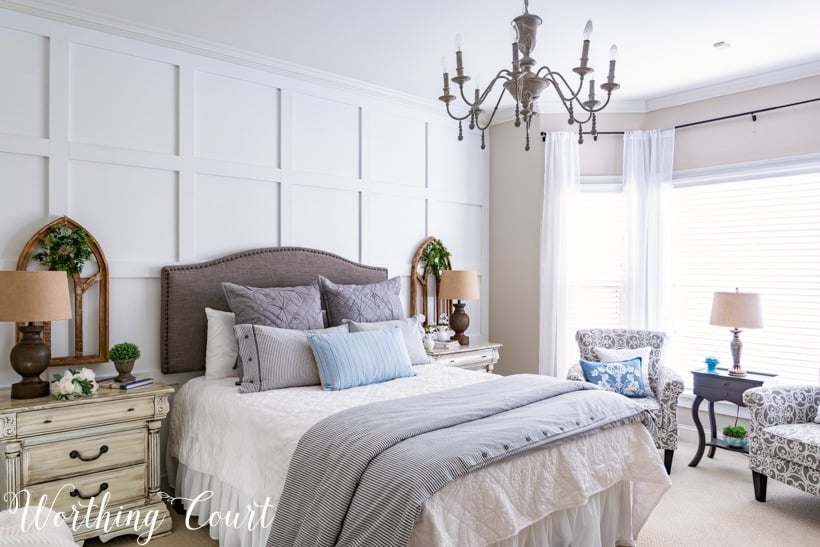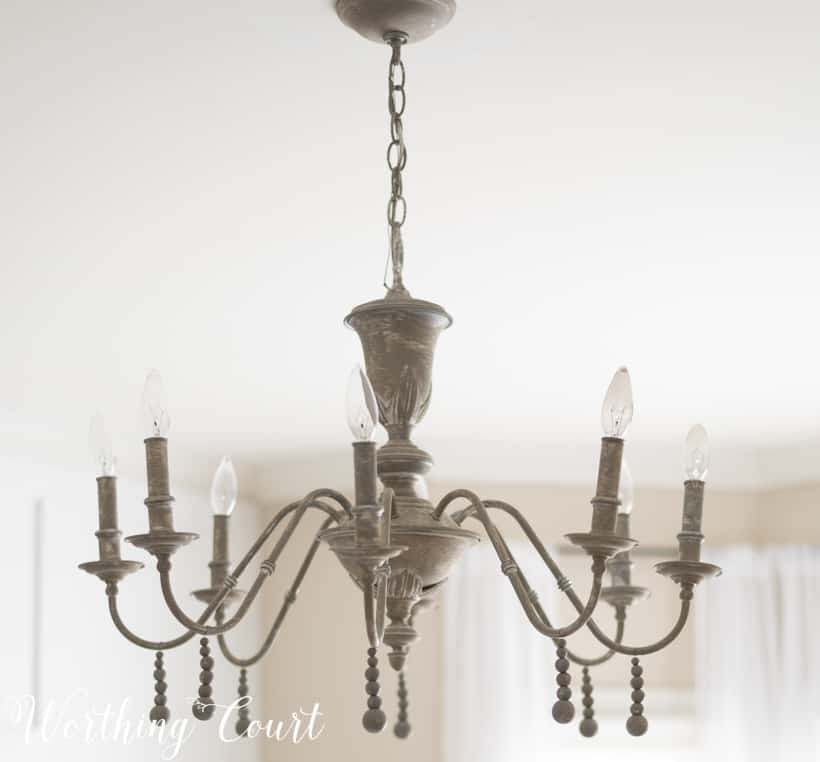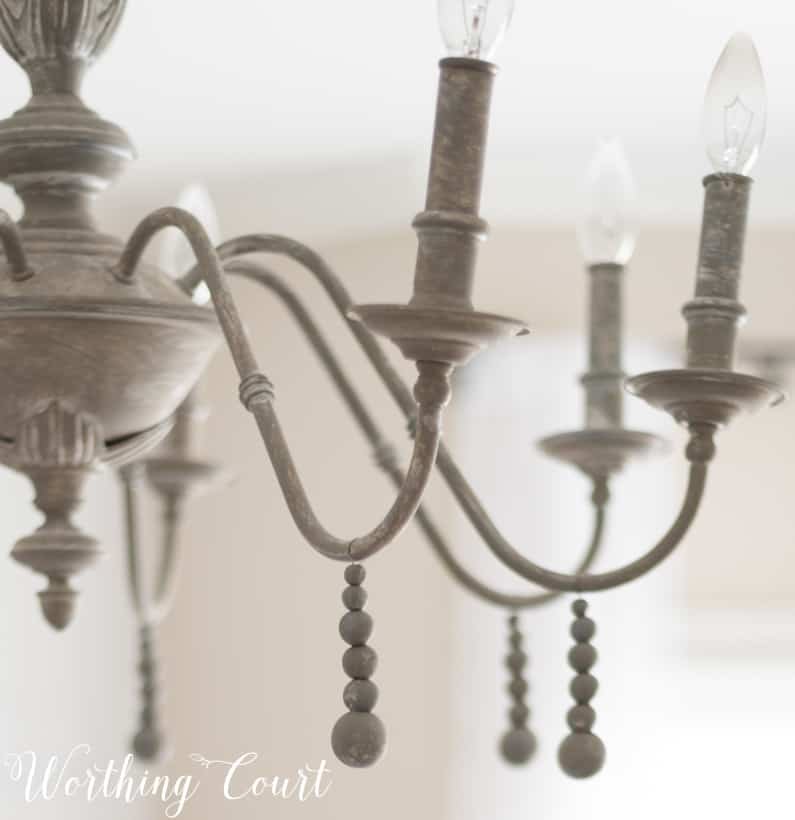 BE WILLING TO THROW IN SOME ELBOW GREASE
I'm not talking about the kind of elbow grease that it takes to build or make something.  I'm talking about the kind of elbow grease that it takes to paint!  Or to put some faux shiplap up on your wall.  These types of projects aren't hard and aren't expensive, but boy oh boy, do they make a world of difference!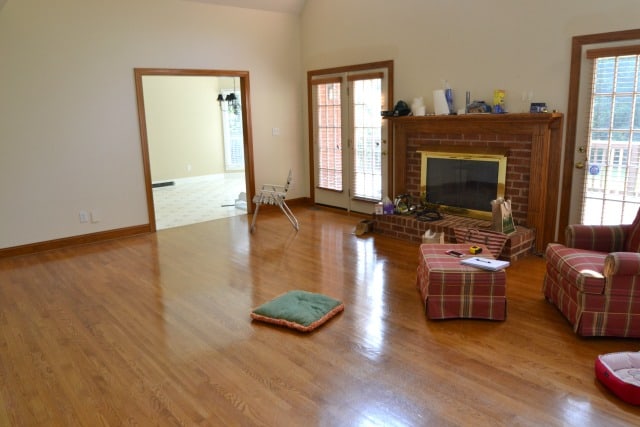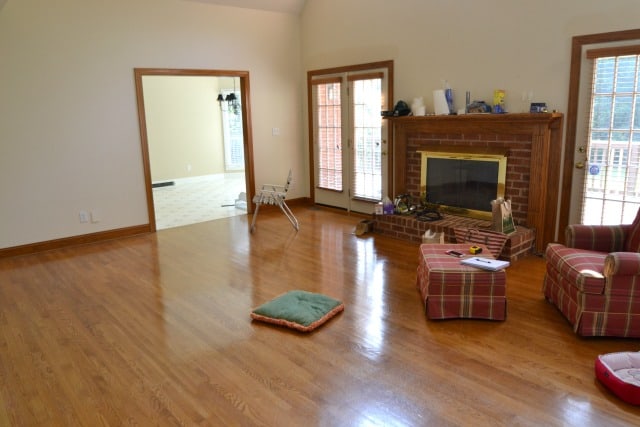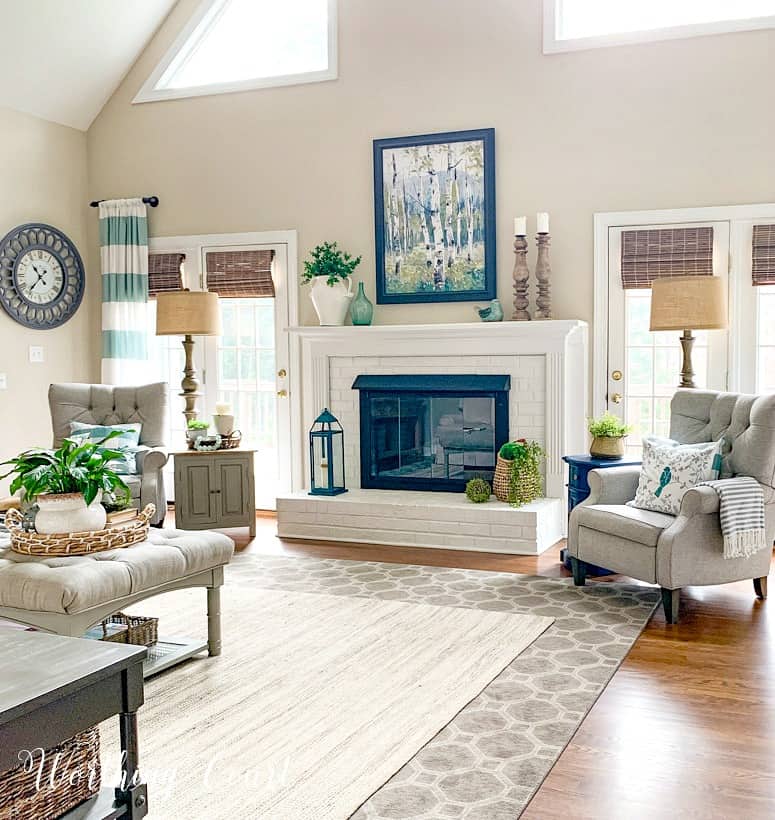 TRY A LITTLE DIY
Oh, how I would love to always be able to just run to the store anytime I want something for my home.  Who doesn't love instant gratification?  Pardon my grammar, but that ain't gonna happen at my house!
When I gave my foyer a makeover, I found myself wanting two benches to flank the entrance into our home office.  I knew that finding benches in the style and size that I wanted would be pretty pricey, especially since I needed two of them.
So…the hubs and I put our heads together and built them.  And you know what?  That feeling of accomplishment was waaay more gratifying than if I had run to a furniture store or if I had ordered something online – not to mention, we saved a ton!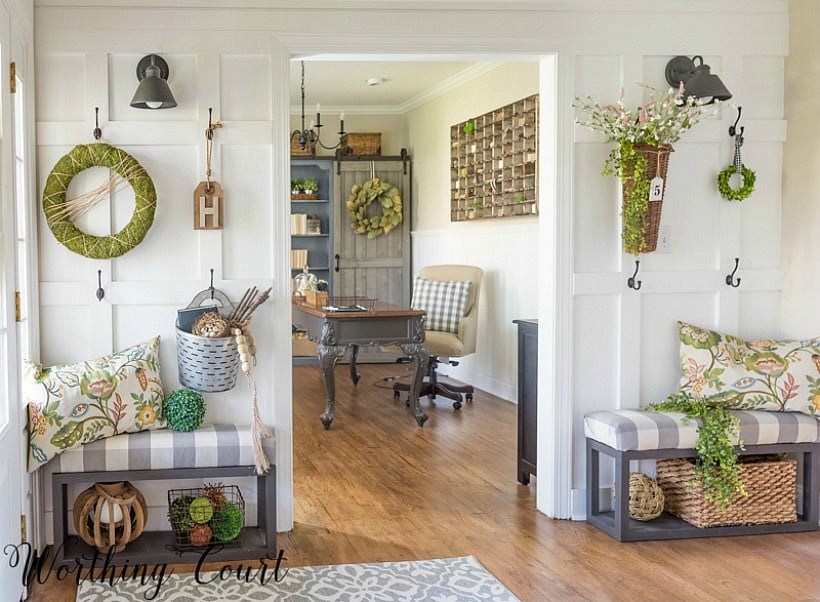 EMBRACE SHOPPING AT THRIFT STORES, AUCTIONS, CONSIGNMENT SHOPS OR YARDSALES
You never know what you're going to run across!  I can safely say that I find something at a thrift store, etc., that I'll actually use, only about 20% – 25% of the time.  Now, that doesn't seem like a lot, but the savings can be huge and well worth the time that you've spent shopping!
I very unexpectedly ran across a vintage mantel for just $10.  Yes, it was in rough shape, but with a little of that elbow grease I was talking about, it turned into an absolutely awesome shelf!  It first saw light in the basement makeover in our previous home and today it lives in our dining room.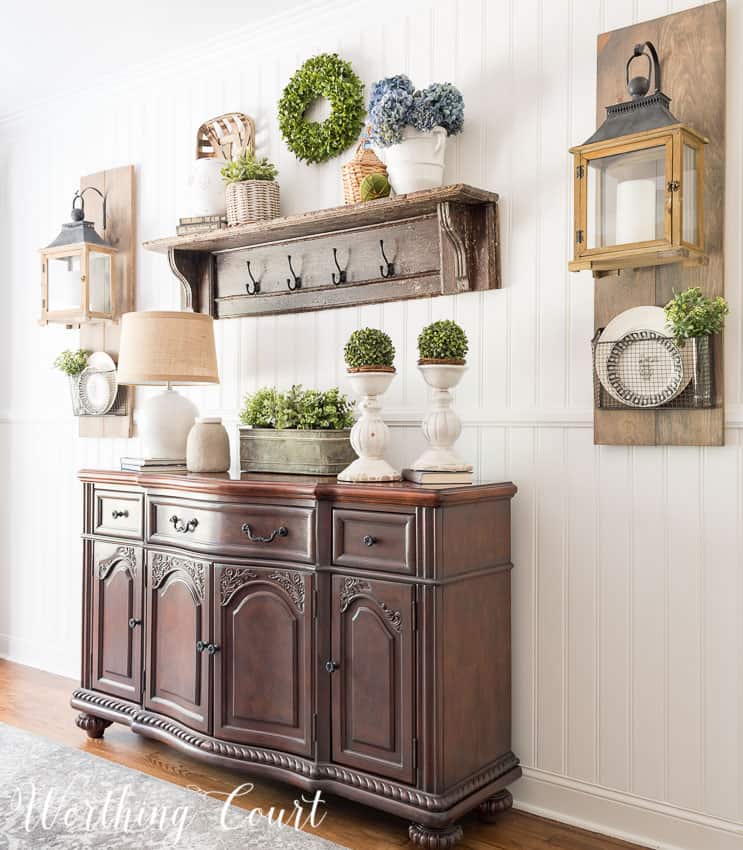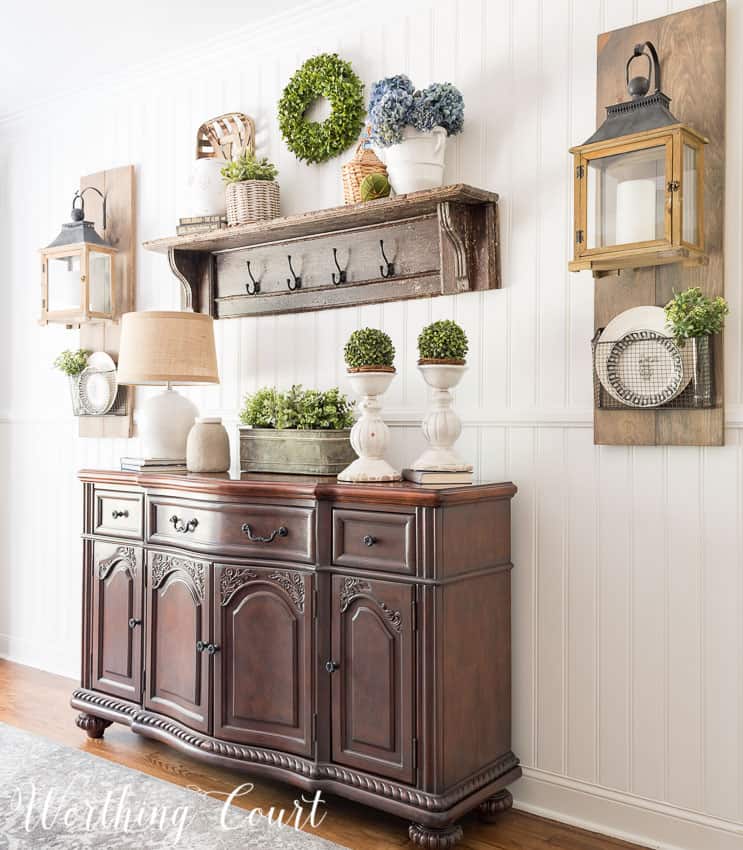 For those of you who are struggling with just how to go about changing and/or updating your home, I hope you'll find these tips helpful!