Early Summer Rustic Farmhouse Open Shelf Decor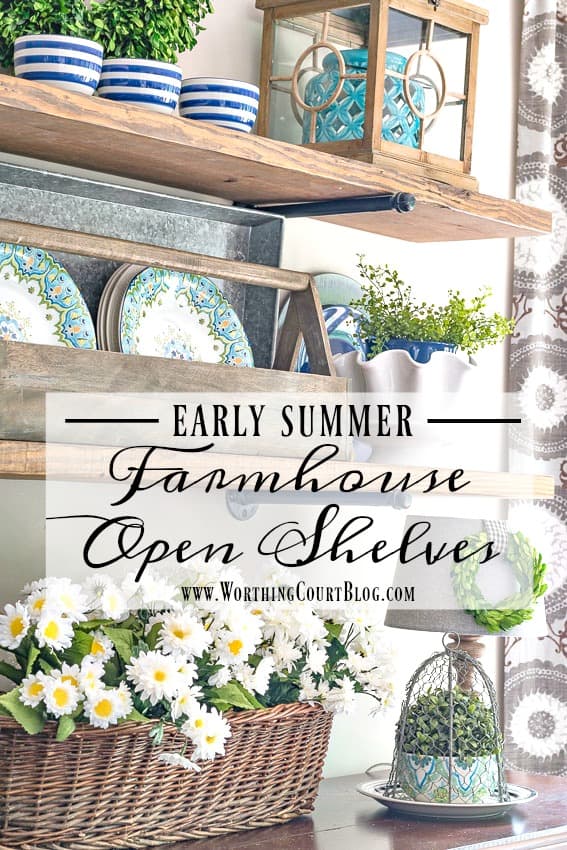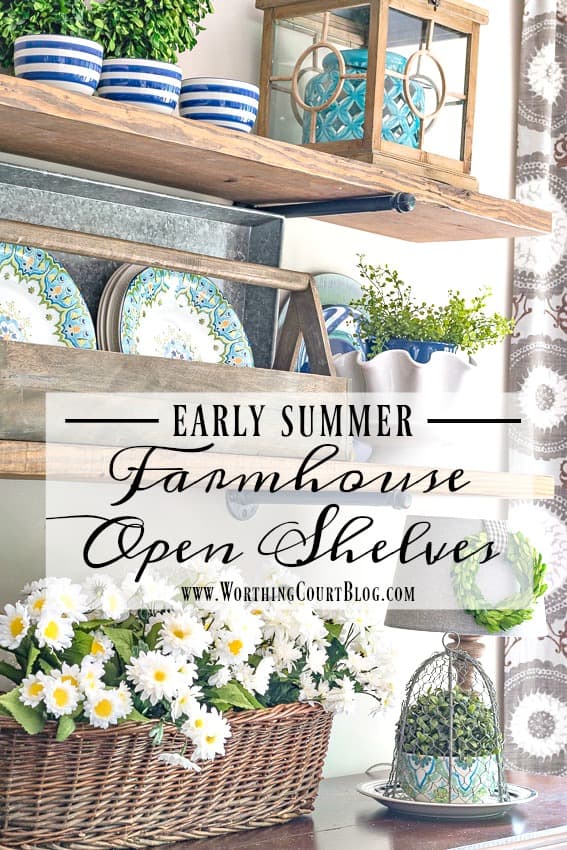 Pin
Other than my fireplace mantel, there's one spot in my home that gets refreshed for every single season and holiday. If you've been following me for a while, you probably already guessed that it's the open shelves in my breakfast room area. Yes, they have a prominent spot in the breakfast room, but they're also visible to anyone who enters our home through the foyer and proceeds into the family room. There's a large opening between that room and the kitchen, so they're pretty much hard to miss. 😀
TIP: Don't be afraid to use large or oversize accessories. Here, the lanterns on the top shelf are huge, but add so much oomph to the overall appeal. The key is to use something large enough to make an impact, but not so large that it overwhelms the space or everything around it.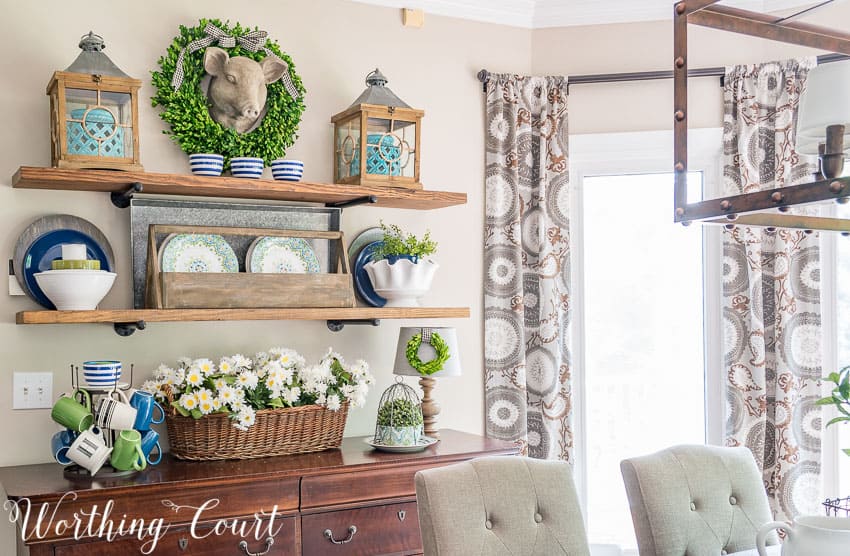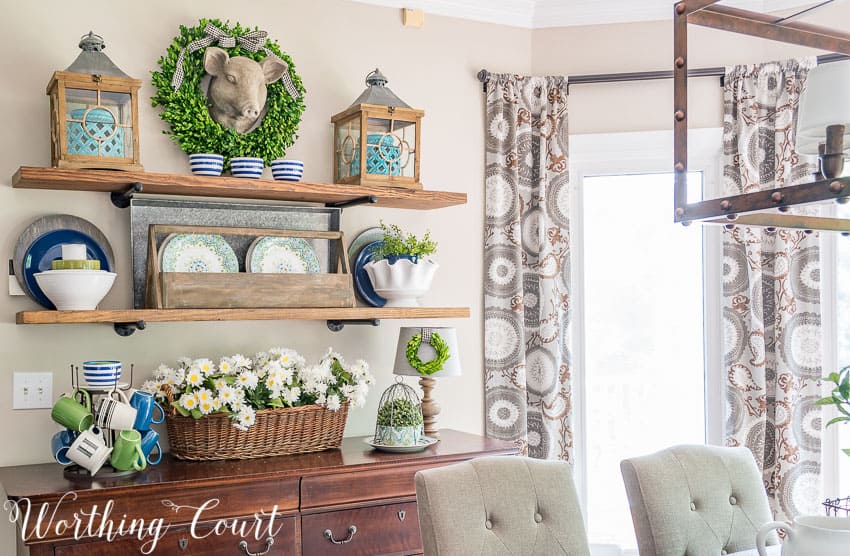 Pin
For the summer this year, I chose to carry over the blue with touches of green decor from my summer dining room into the breakfast area. I don't know why I haven't used this color combination in a bigger way before because I truly love it!
I'm all about KISS decorating, so you'll see that I kept several of the same elements from my shelves decorated for spring, but I did manage to change a few things. First up is this awesome basket that I found at a flea market a few weeks ago. Filled with a riot of daisies, it literally screams (ok, maybe yells) summer to me!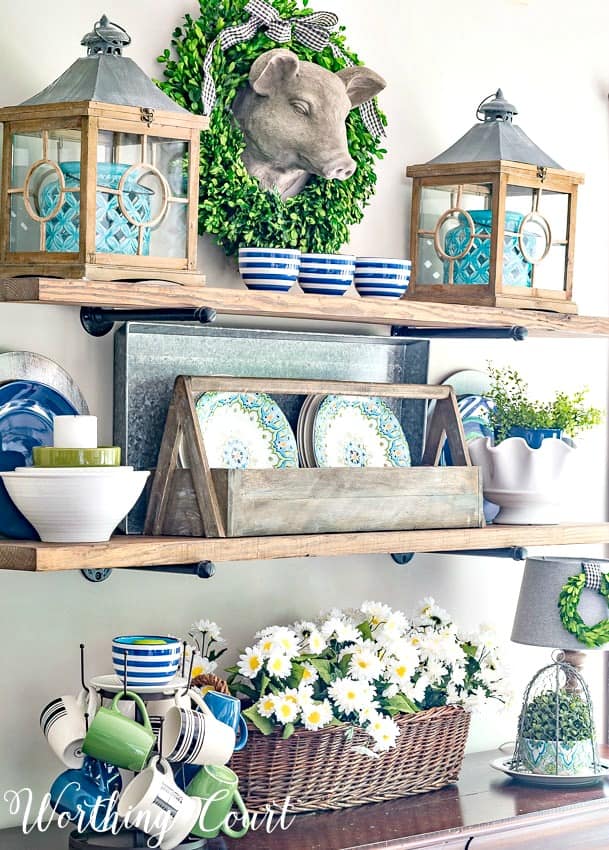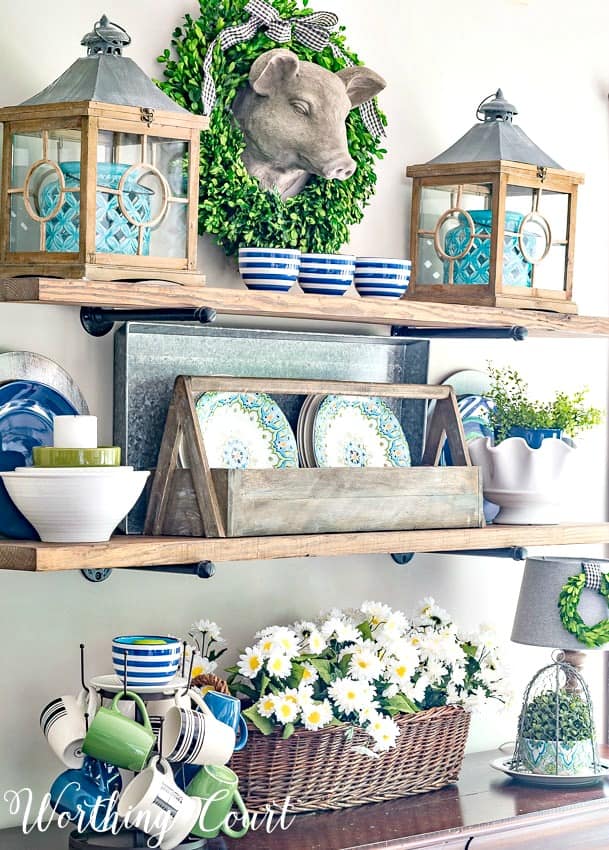 Pin
I added blue and green plates to my reproduction vintage toolbox and blue plates from the dollar store on the shelf on either side of it. The plates are backed with my diy driftwood look chargers to give them more presence. The blue and green plates were found on clearance a few years ago and are no longer available. 🙁 The blue mugs are from the dollar store too and the blue and white striped bowls were used on our July 4th celebration table last summer. Love them!
TIP: If your shelves are looking a little plain, try using a large tray behind your accessories. The tray will help to "ground" the display and draw your eye to the area.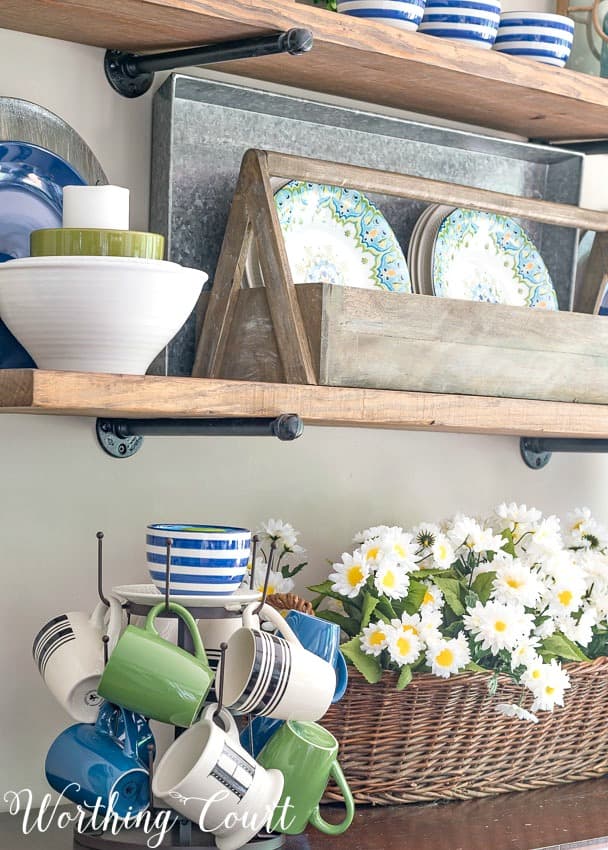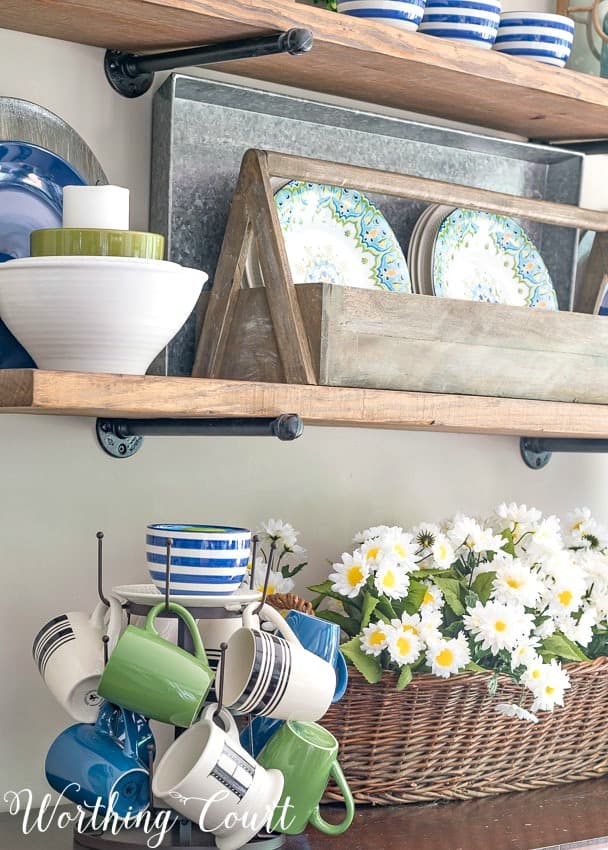 Pin
On the other end of the sideboard, my little buffet lamp still sports its mini boxwood wreath, for the summer I added a boxwood orb in a blue and white bowl and nestled them under a chicken wire cloche.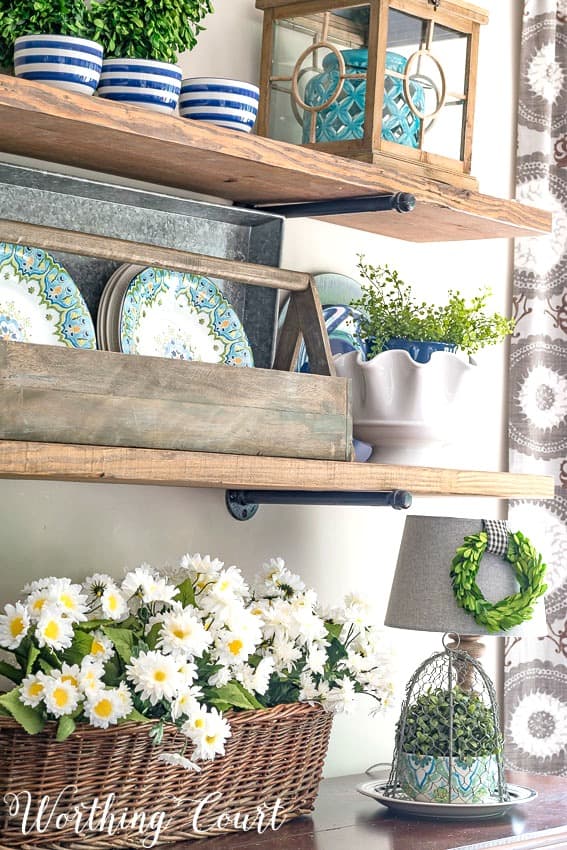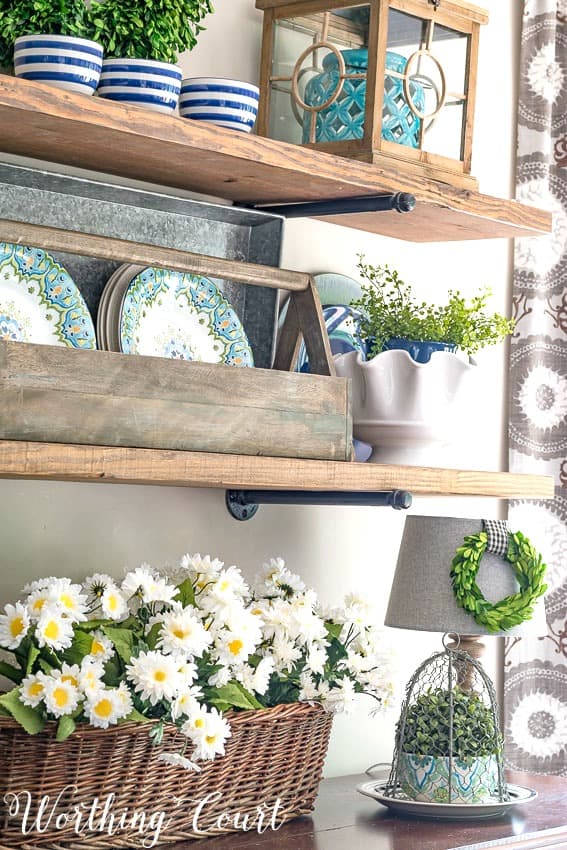 Pin
And of course I can't forget to give the honorable mention to Mr. Hubert. He still reigns supreme above the shelves and I don't foresee him giving up his spot anytime soon!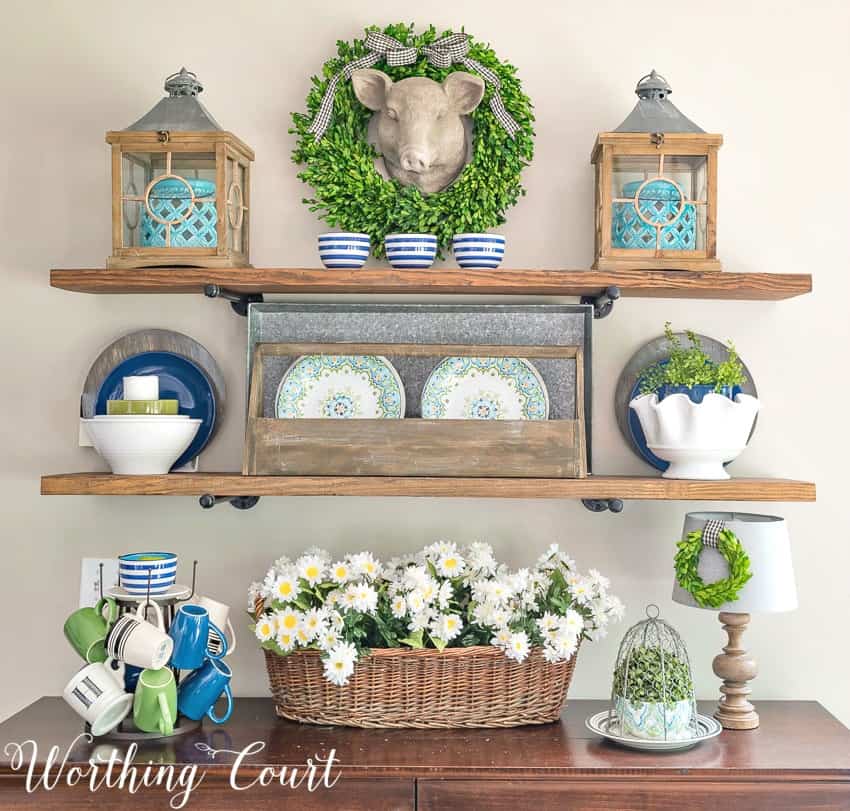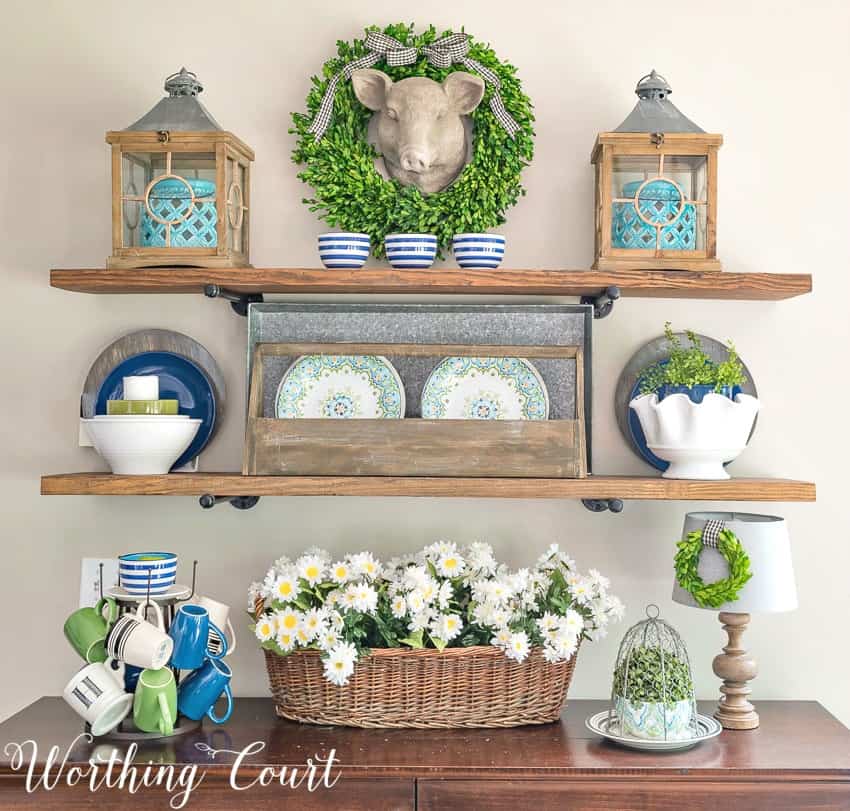 Pin
ONE FINAL TIP: When decorating a spot, or even a whole room, the area will look much more pleasing to the eye when you use a common theme. I'm not talking about being match'y-match'y. I'm talking about using some of the same elements throughout the area. For my shelves, I used a blue, green and white theme and repeated it over and over, but in different ways.
Sharing at THESE great parties.