Creative upcycling ideas for old furniture. Whether it's furniture that you already own, that is no longer needed in its present location, or a great find at a thrift store, check out these awesome ways to reuse furniture in an unexpected way. 

When it comes to my home, I'm a big believer in trying to use what I already have as much as possible.  Why purchase a costly, new piece if I can upcycle furniture that I already own?
If you look closely around my home, you'll find quite a few pieces of furniture that I've repurposed and given new life to!  I wanted to share some of my own upcycling ideas for old furniture with you, just in case you need some inspiration for yourself.
A Perfect Solution For Kitchen Storage – Reuse A Thrift Store Dresser
The breakfast area in our kitchen has a wall that was perfect for adding a large'ish piece of furniture to instead of the dinky baker's rack that the previous owner had in the same place.  Originally, I was on the hunt for a new sideboard or hutch, but while in Salvation Army one day, I stumbled across an old dresser and a light bulb went off!  Yes, a dresser kind of looks like a sideboard, but what makes it way better is all of the drawers it has instead of only a few drawers with cabinets like most sideboards have.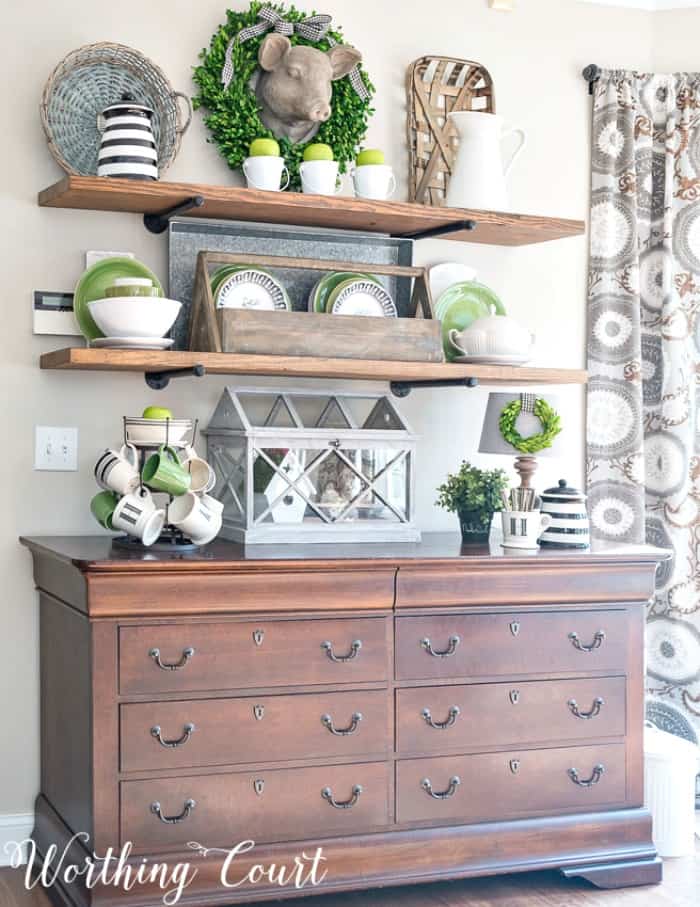 Total aside, you might need to take a reinforcement with you to watch your back when you visit a thrift store that has a lot of great used furniture pieces or it just might get the sold tag on it taken off by someone else who wants it, while you go get your car to load it up, after you've already paid for it.  Just sayin'….
When we remodeled our kitchen, we did our best to maximize the amount of cabinets that we'd have for storage, but I still had a lot of odd things that just didn't work well being stored in a cabinet.  Annnd they were things that I really wanted to have close at hand in that room.  A repurposed dresser worked out great to give me storage for all of the odd pieces, but still keep things in the room where'd I'd need them the most often.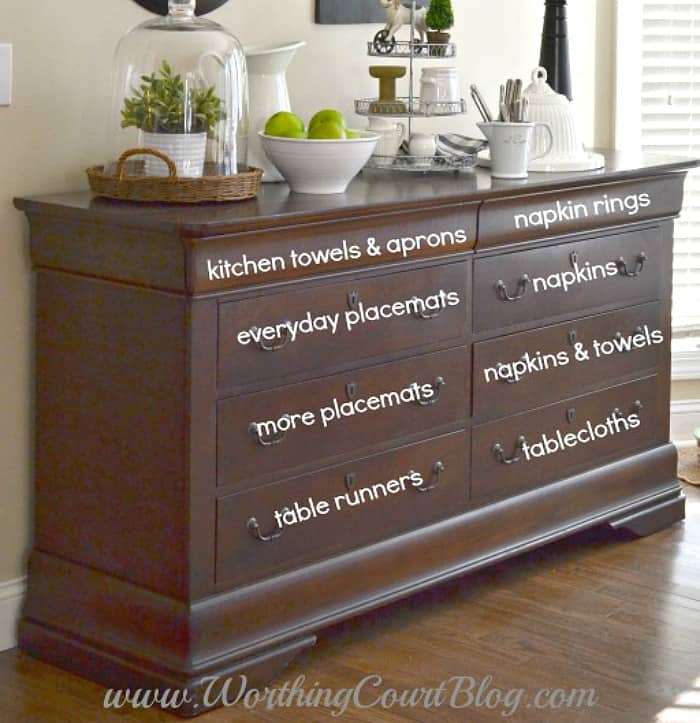 My DIY Hack Since I Don't Have Space For A Mudroom
Our laundry room was one of the rooms where there was no doubt that it was going to need a remodel when we purchased our house.  Oh my word, you should see the before!  It is a large room for a laundry room and I was so excited by the prospect of being able to have an actual mudroom located close to where we enter the house most of the time.
But alas, a mudroom was not to be.  By the time we figured out the best layout for a laundry sink, the washer and dryer, an extra refrigerator and figured out how to reuse some of the original kitchen cabinets, there was no room left for a cute bench or a place to hang your coats or other paraphernalia.
Talk about disappointed.  We really needed a place to hang all of that stuff.  Having the backs of the chairs at our kitchen table become a catchall with piles of coats, sweaters and hats got old really fast.
Enter a hutch that we inherited from my mother-in-law.  It wasn't a valuable antique, but was actually an inexpensive piece of furniture that was purchased sometime in the 1960's.  The fact that it survived this long is a testament to how well my mother-in-law took care of her things.  😀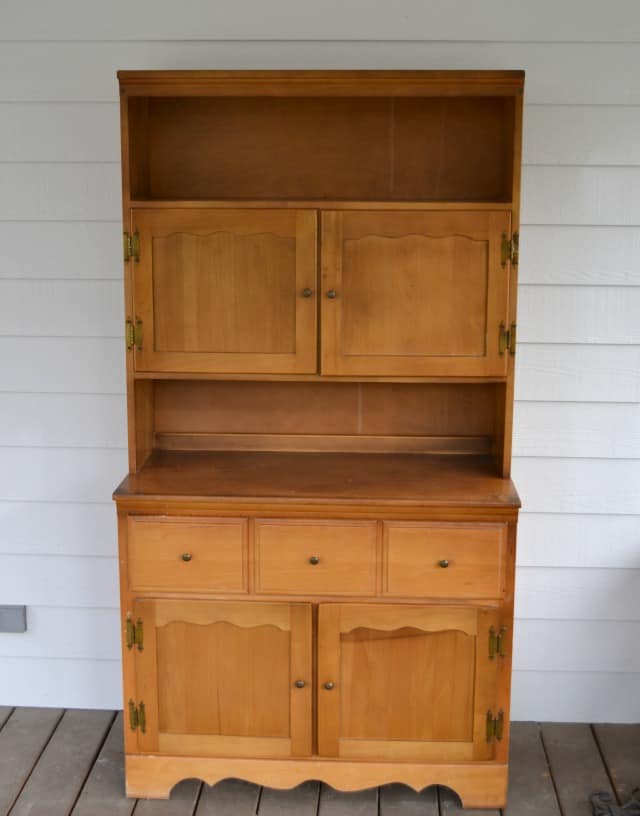 Like most hutches, this one came apart.  The shelves were completely separate from the base, I only had to remove the metal bar holding them together on the back to have two different pieces that I could repurpose into something else.
The top half of the hutch became a drop zone.  With a little paint and the addition of some hooks, I now have the perfect spot to hold all of our coats, sweaters, backpacks and other goodies!  We wound up hanging it in the hallway, only a couple of steps from where we enter our house from the garage.  A couple of added baskets hold hats and dog leashes and there's even a little room for a bit of decorating.  It's perfect.  I even trained the hubs to use it instead of the backs of the kitchen chairs for his coats.  Sorry, sweetie.  😀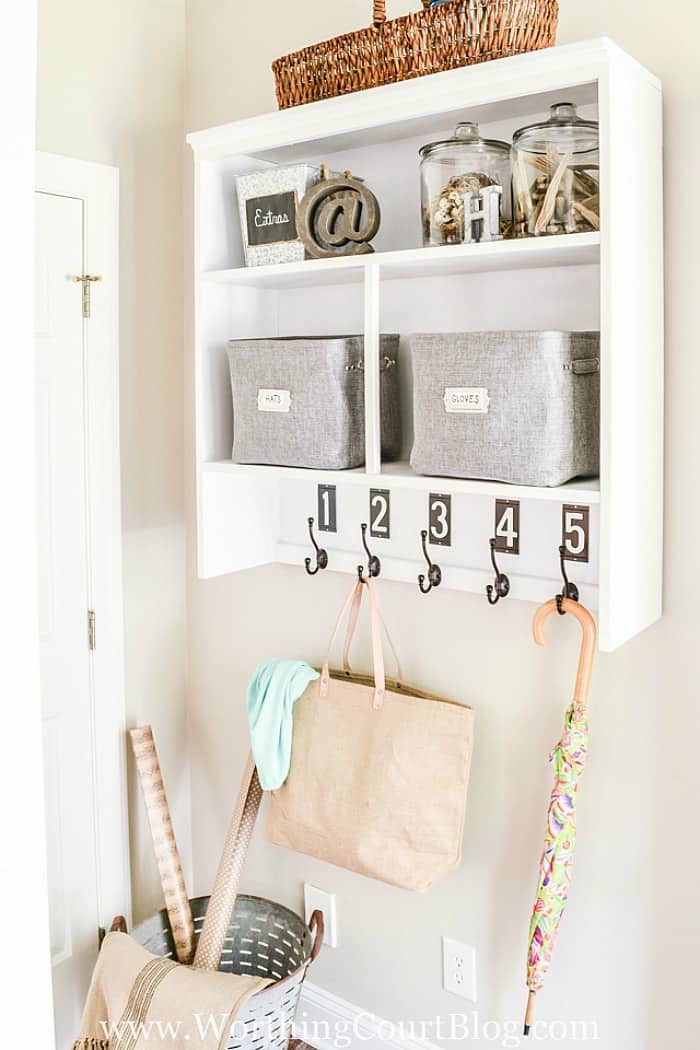 And the other half?  I gave it a couple of coats of exterior paint and placed it outside on our screen porch, where it now lives its life as a side table and storage chest for outdoorsy things.  Take a tour of our screen porch by clicking HERE.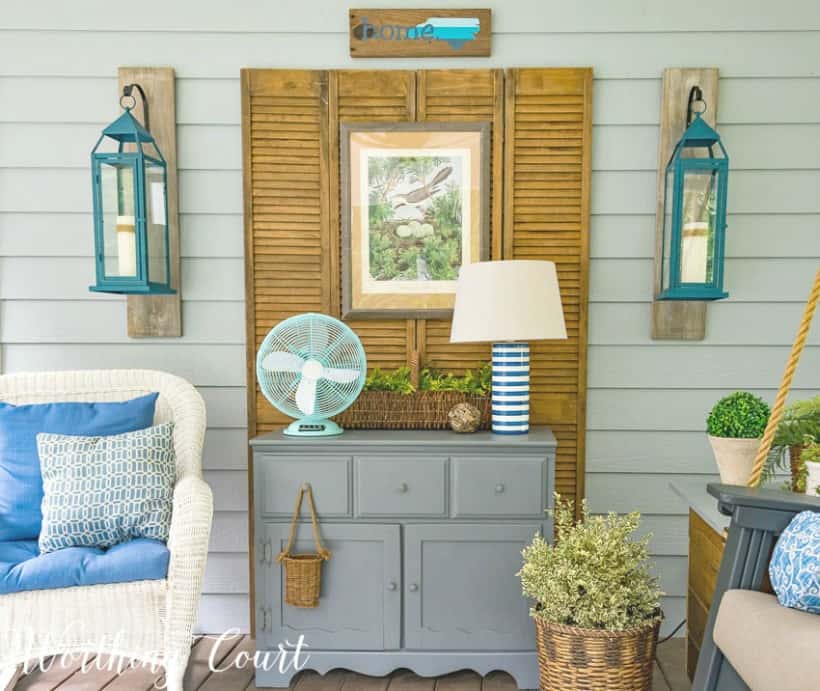 Two Great Ways To Upcycle And Reuse Old Bifold Doors
True confession: not only do I have a thing for mirror reflections, I also have a slight obsession with the indoor use of wood shutters.  Slated shutters, to be specific.  I adore the texture of them and think they make an awesome backdrop for furniture and art and also for using as unexpected "art" on a wall.  A pair of them served as part of my fireplace mantel decor for a long, long time.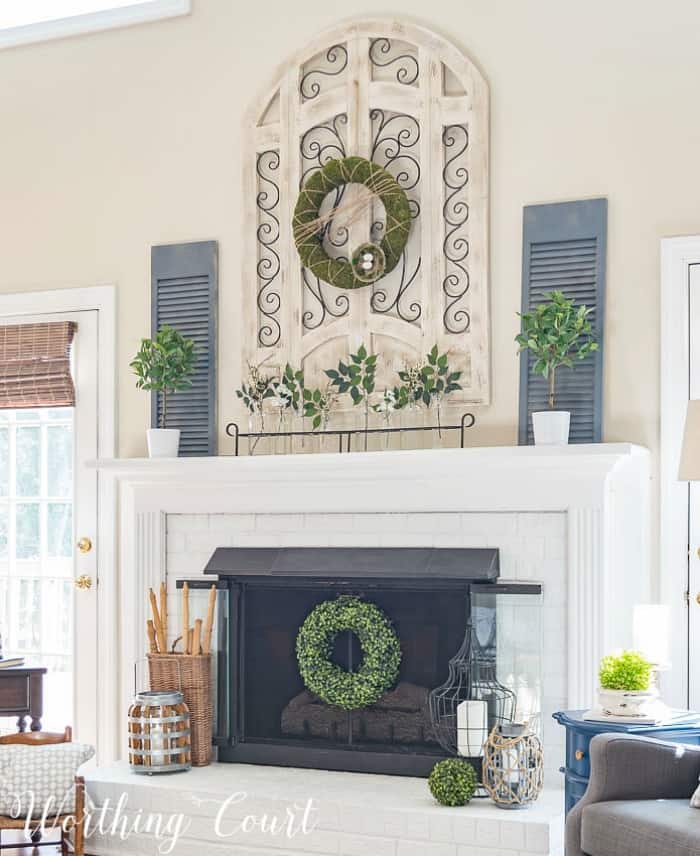 The only problem is that exterior slated shutters are hard to come by unless you buy them new.  For one thing new wood shutters are a bit pricey and for another they never have the patina that I want them to.  So, I had another lightbulb moment when we removed the old bifold doors from the first beach condo that we remodeled.  Thankfully, I held onto them knowing that I would eventually reuse them somehow.
After taking the doors apart, cutting them up and spray painting them with my favorite spray paint, I used two of the pieces to flank the mirror in our dining room, which helps to fill a long empty'ish wall.  For some extra detail, I added a couple of salad plates to each shutter by attaching a plate hanger to each plate and winding florists wire through top of the hanger and then through the slats.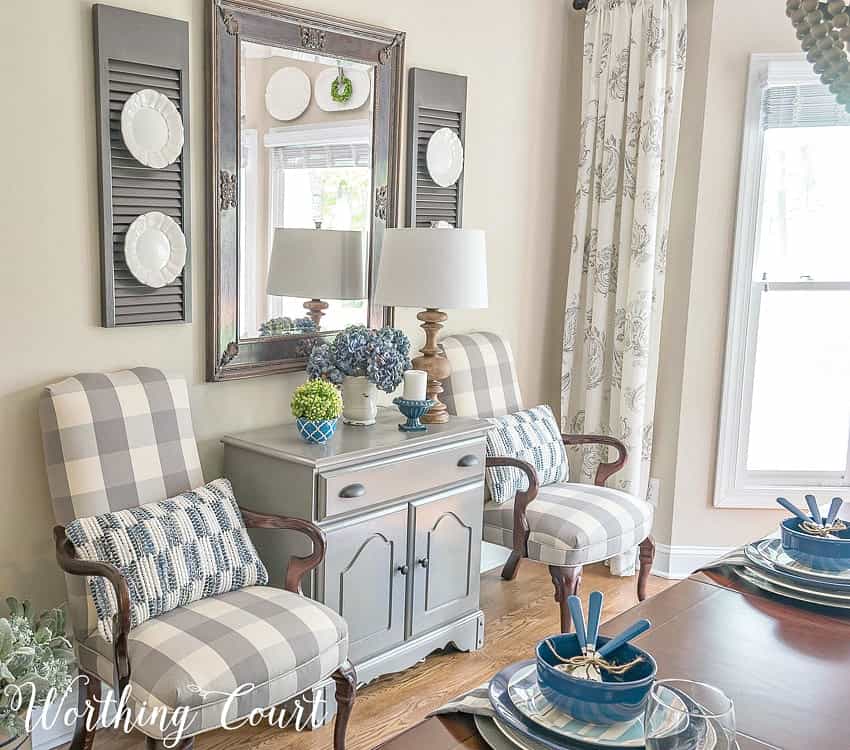 A Totally Repurposed Fireplace Mantel Surround
Any time you visit a thrift store, be sure you don't pass by the clearance section without taking a look around.  You never know what score might be waiting for you there.  😀  Such was the case with the vintage shelf in my dining room.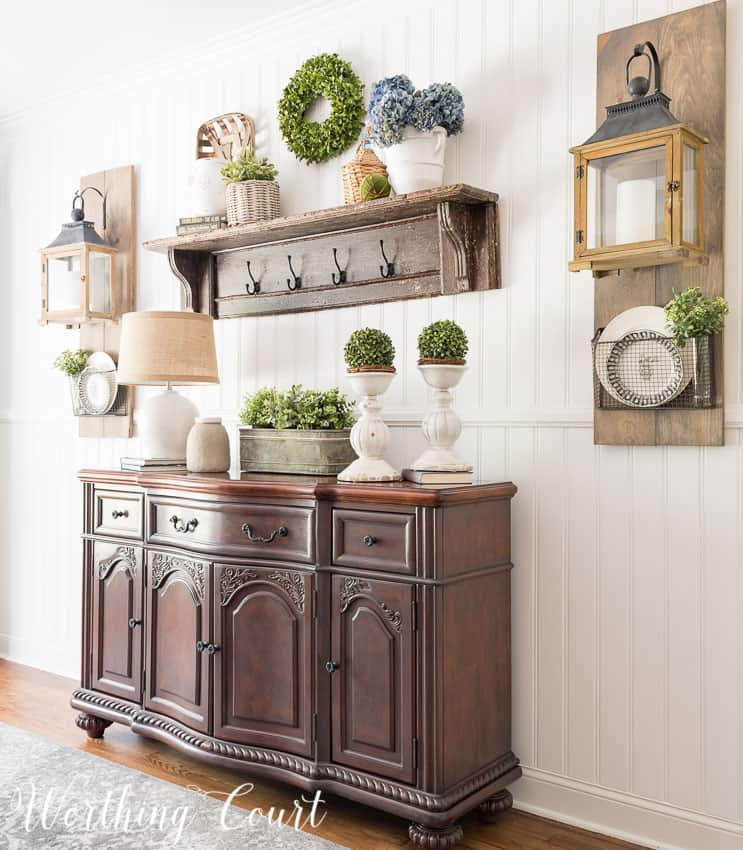 I scored this awesome shelf in the back corner of a shop for only $10!  Once I brought it home, I realized that it's actually the mantel portion of an old fireplace surround.  Someone had cut the sides off of it and turned it into a great looking shelf.  You can't see it in the photo, but it has wonderful chippy old paint on it, that I couldn't bear to scrape off, so I sealed it with some poly to prevent any chips flaking off just in case the paint had any lead in it.
I added a few hooks across the bottom that I occasionally hang things from and now I love decorating it for every season and holiday.  In case you're curious, I added a D ring to each corner on the back of the shelf to hang it from.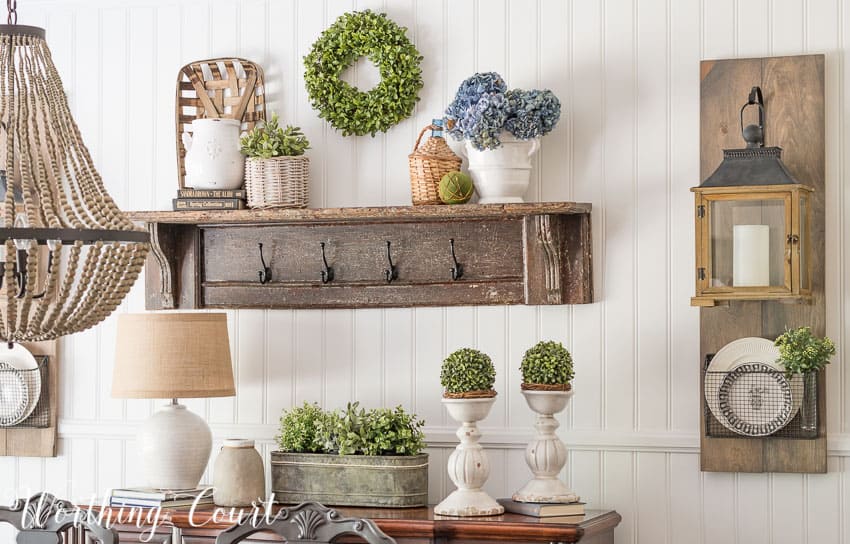 An Upcycling Idea For Old Bookcases
Bookcases are the type of old furniture that I have the hardest time getting rid of if they no longer fit my current style, especially if they're solid wood ones.   When I gave our home office a makeover, I realized that the cherry finish on the bookcases that I already owned definitely didn't fit in with the vision that I had for the space.
This project is one of my diy hacks that I'm the most proud of.  With the help of the hubs, we totally transformed these with a couple of coats of paint and with the addition of a diy sliding barn door.  The bookcases do double duty now – the left side serves as a spot for me to decorate and the right side is filled with baskets that organize and hold all sorts of small home office stuff.  All I have to do is slide the door to the other side to access everything and then slide it back into place to hide it all.  Read all about how we built the sliding barn door HERE.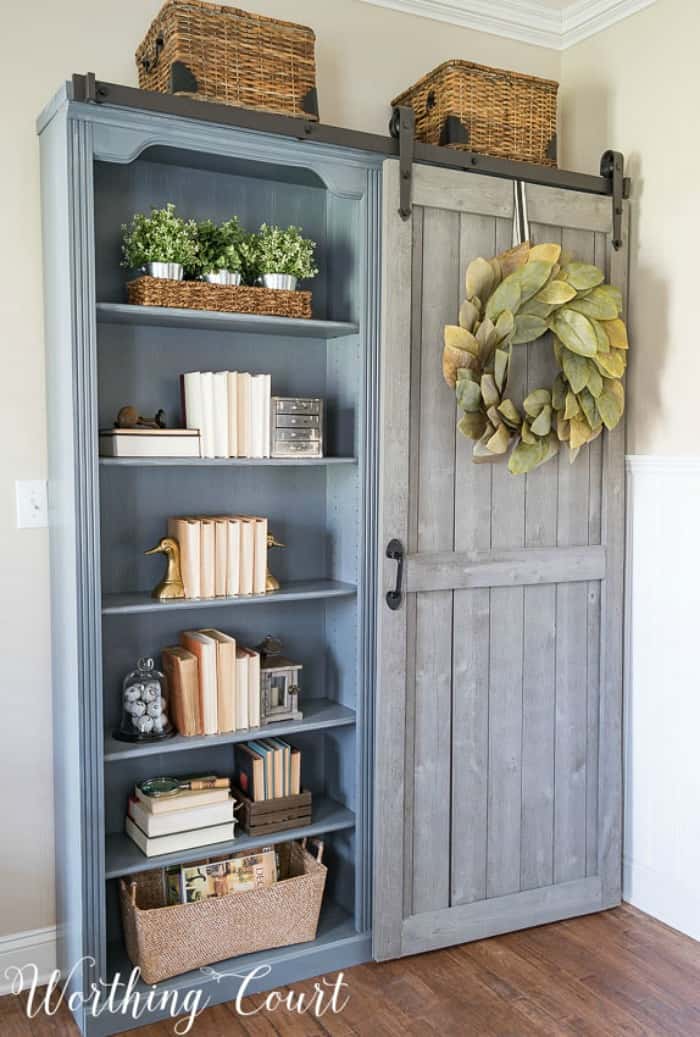 An Easy DIY Hack For An Old Desk
I haven't shared much of our master bathroom yet, but that's because it's still a work in progress.  We did quite a bit of remodeling in there when we purchased the house four years ago, but it still isn't completed.
We enlarged the old shower, ripped out the huge old step-up tub and framed in a potty room, which left a nook that I planned to turn into a spot for a dressing table.  It's a rather wide nook and with having 9′ ceilings in the room, I knew that a dinky piece of furniture wouldn't look right, so thus began the hunt for the perfect sized piece.  A visit to yet another thrift store yielded an old desk that would fit the space perfectly! Paint to the rescue once again and I now I have a pretty and functional dressing table that I use every single day.
Oh, and those shelves above the table?  They're another piece of repurposed furniture.  They're actually a small set of shelves that are meant to sit on the floor and had a dark mahogany finish when I purchased them in the clearance section of Bombay (anyone remember those stores?) back in the 90's.  Today, they've been given new life as a set of wall shelves that hang above the dressing table.
So, here's my advice if you're a budget-minded decorator like me.   If you already own a piece of old furniture that doesn't fit your current needs or style or if you score a great deal at a thrift store, put your upcycling thinking cap on.  With just a little bit of thought and maybe some elbow grease, you just might be surprised at what you can turn it into!