Living Room Wall Decor Ideas
Do you struggle with how to decorate the walls in your living room? Choosing the right decor for your living room walls can be challenging, given the plethora of options available.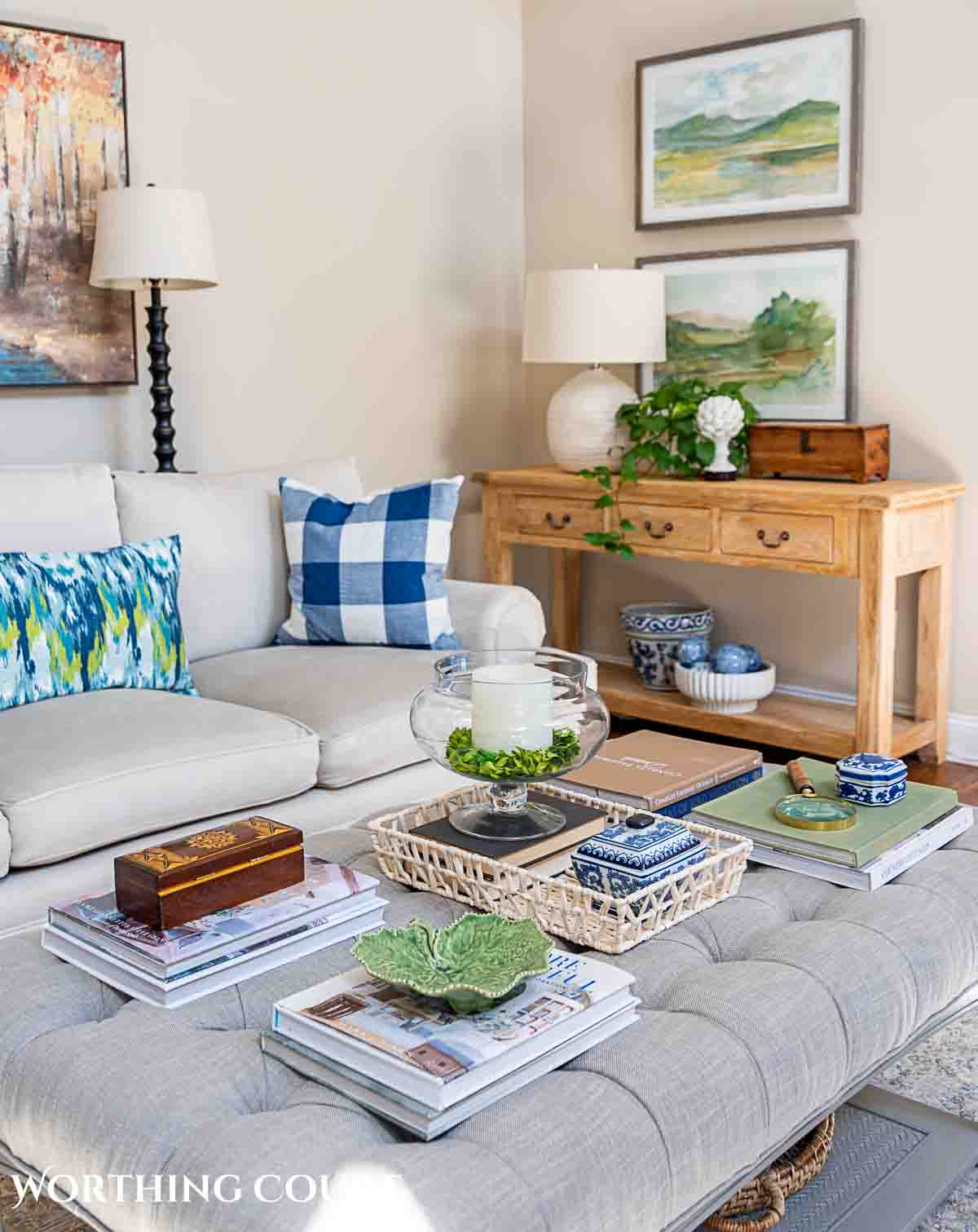 The right living room wall decor can make a huge difference in transforming a bland living room into a cozy and inviting space.
Let's explore some ideas for living room wall decor that can help you create a stunning living room that you'll love to spend time in.
WALL ART
When you think about living room wall decorations, one of the most obvious choices is wall art.
It's one of the most popular and versatile ways to decorate a living room wall. Whether you're into classic paintings, abstract art, or inspirational quotes, wall art can be the perfect way to create a focal point on a blank wall. 
You can choose to go for a large piece that dominates the room or group together smaller pieces for a more eclectic look.
Depending on your taste and budget, you can opt for canvas prints, framed posters, or even original artwork.
Click HERE to see how to frame a large piece of canvas art for under $50.
GALLERY WALL
Gallery walls make excellent wall decorations for a living room. They are perfect for filling an empty wall and showcasing your personal style.
A gallery wall can add tons of visual interest to your living room and doesn't have to be just a group of paintings or framed prints. A few items you might find on a gallery wall are:
clocks
plates
tapestries
photographs
hanging baskets with greenery
The list is pretty endless! You can choose a theme or mix and match different styles for a more eclectic look.
MIRRORS
Mirrors are an excellent way to add dimension to a living room. In a small living room, they are perfect for creating the illusion of a space.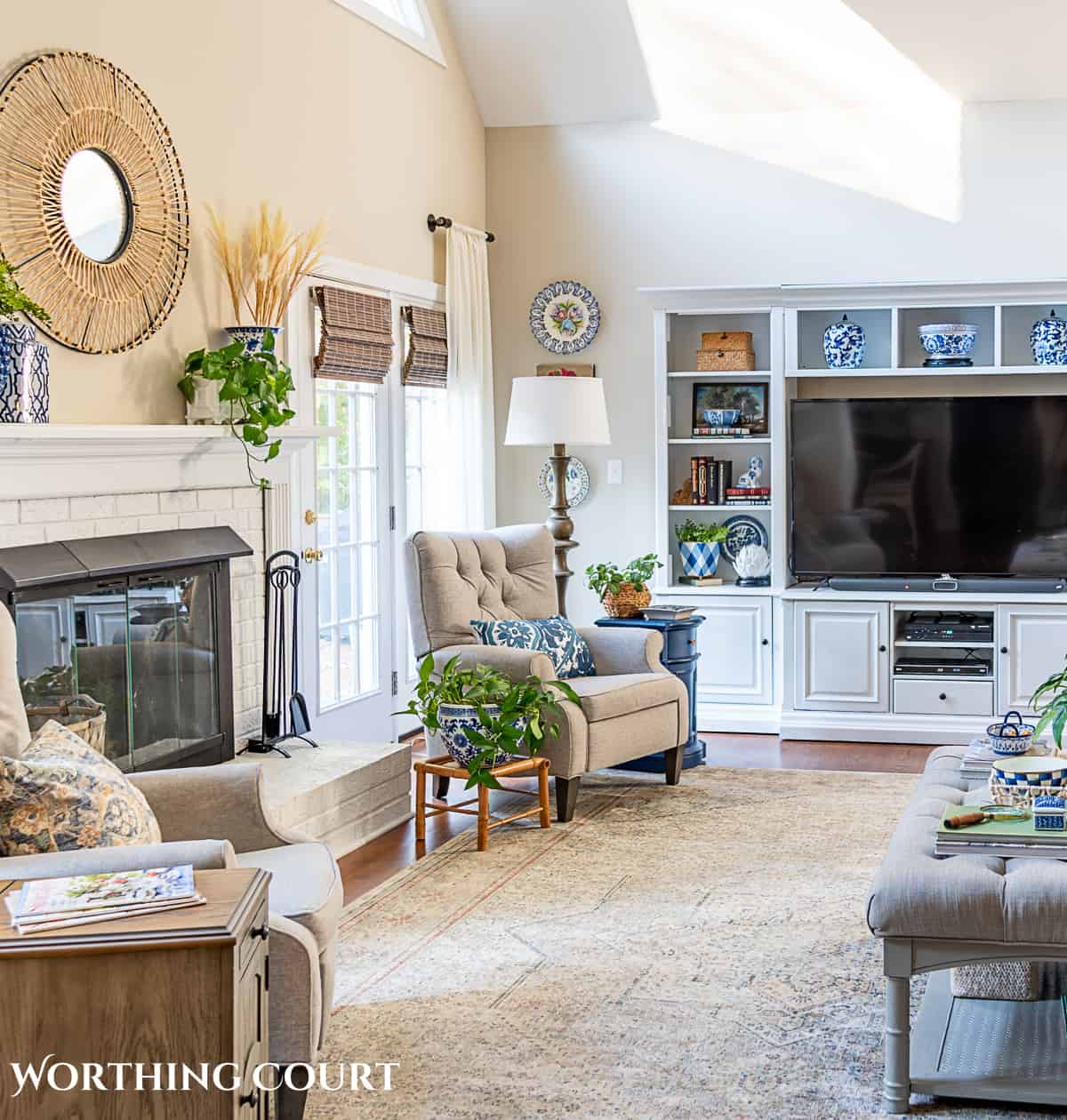 Mirrors are also a great way to reflect light and add brightness to a living room by reflecting natural light coming through a window. 
Probably, the most traditional place to hang a mirror in a living room is over a fireplace or sofa.
There's one thing to be cautious of when hanging a mirror though – that's to be sure to consider what it reflects, especially in an open floor plan. For example, you probably don't want a mirror above your mantel that reflects the garbage can in your kitchen.
You can choose to go for a large statement mirror that dominates the wall or group together smaller mirrors in various shapes and sizes. 
WALL SHELVES
Wall shelves are an excellent way to add decor to your living room walls. You can choose to go for floating shelves or shelves with brackets, depending on your style.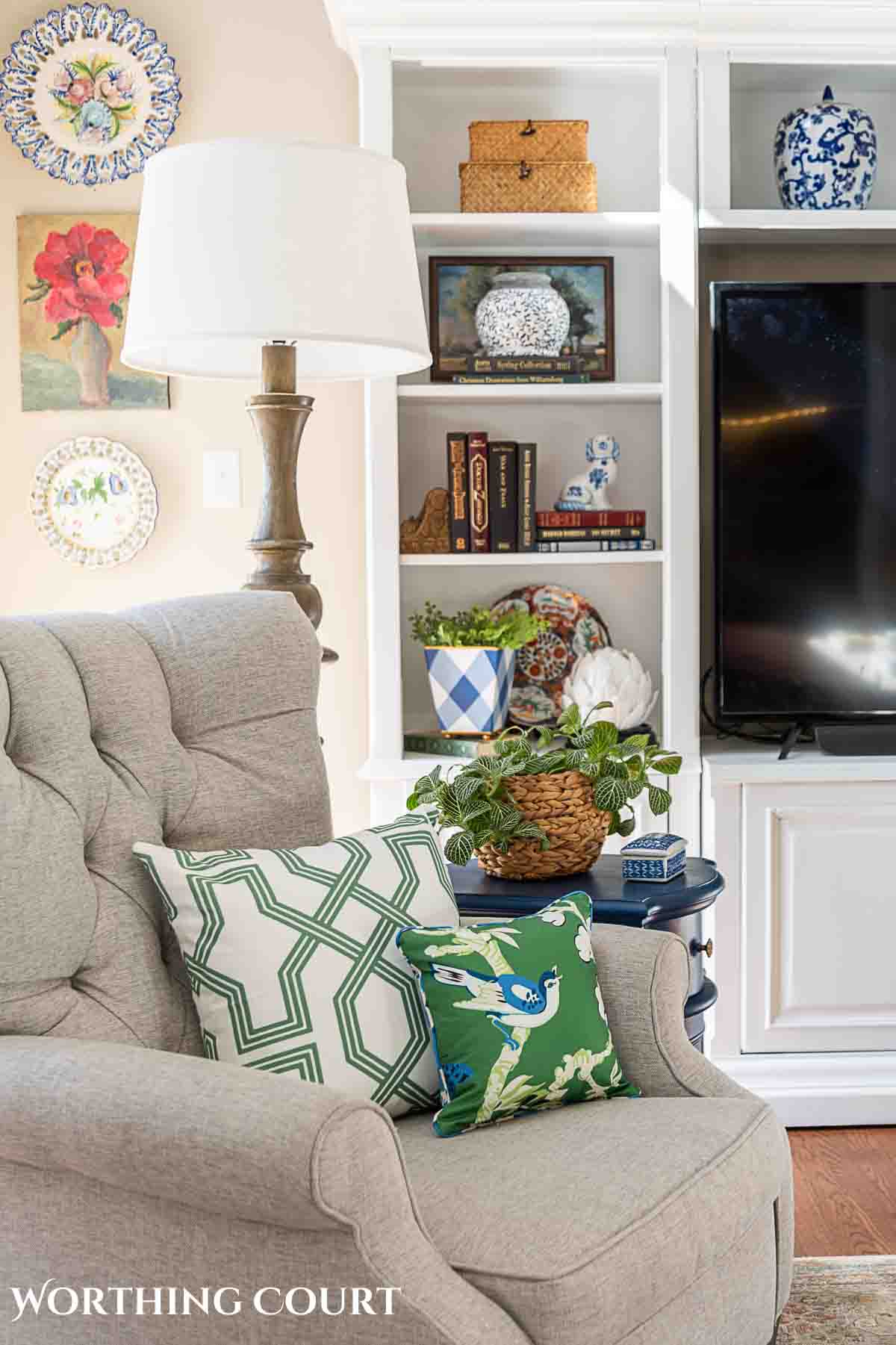 Wall shelves can be used as a bookshelf, to display plants, photos, and other decorative items in addition to books. You can also mix and match different shapes and sizes of shelves to create a unique and eclectic look.
Our entertainment center isn't technically considered wall shelves, but it does do a good job of filling a large blank wall in our living room with a variety of decor.
WALL DECALS
A creative way to add personality to a living room wall is with a wall decal.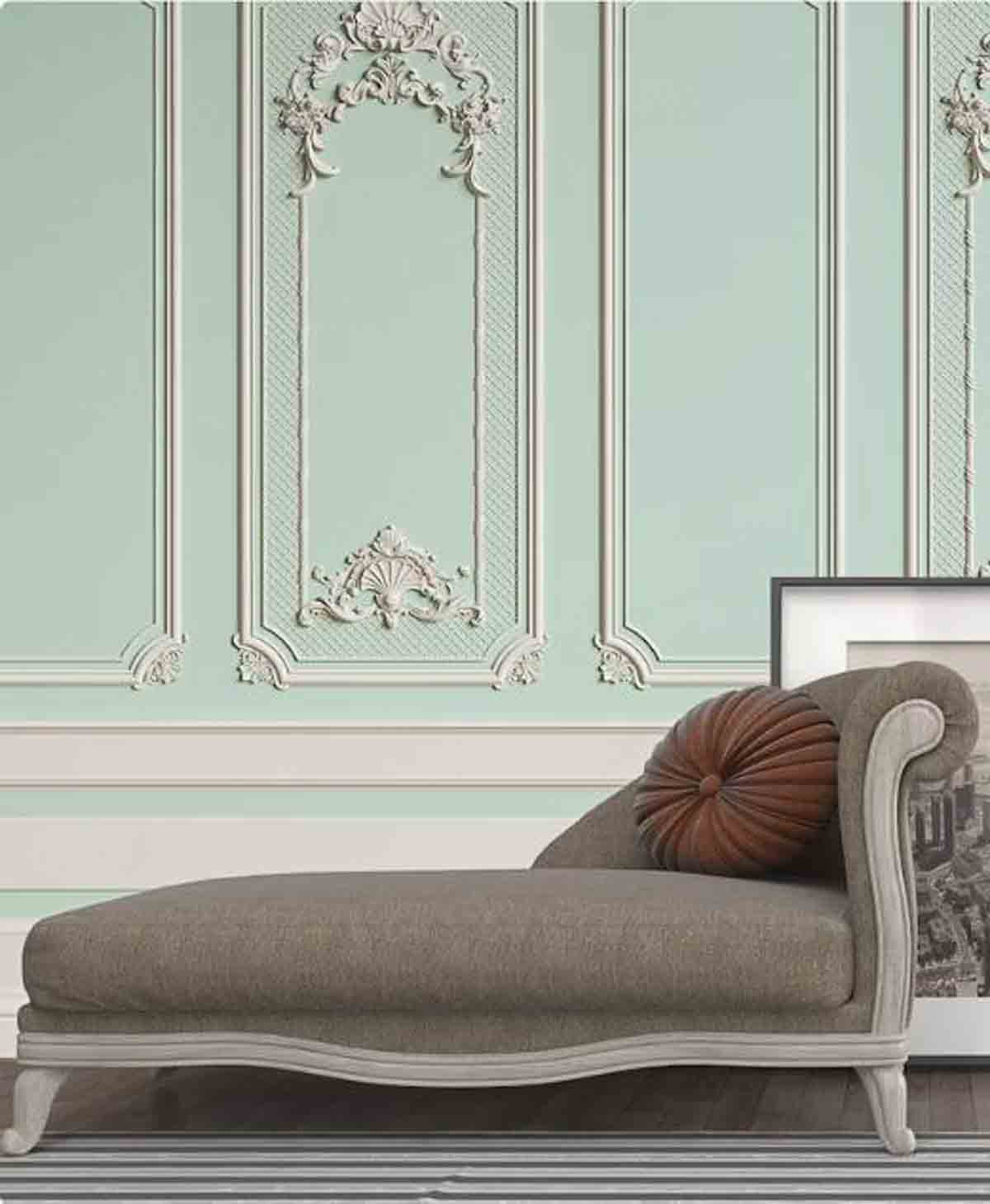 Decals are available in a variety of forms:
stickers that give the illusion of architectural features
floral stickers that can be creatively arranged on a wall
inspiration phrases or sayings
The decals of today are easy to apply and remove, making them a great option for those who are renting or like to change up their decor frequently.
WALL MURALS
Wall murals aren't just for the dining room. In today's decor world, you'll find interior designers as likely to add them to a modern living room as well as traditionally designed spaces.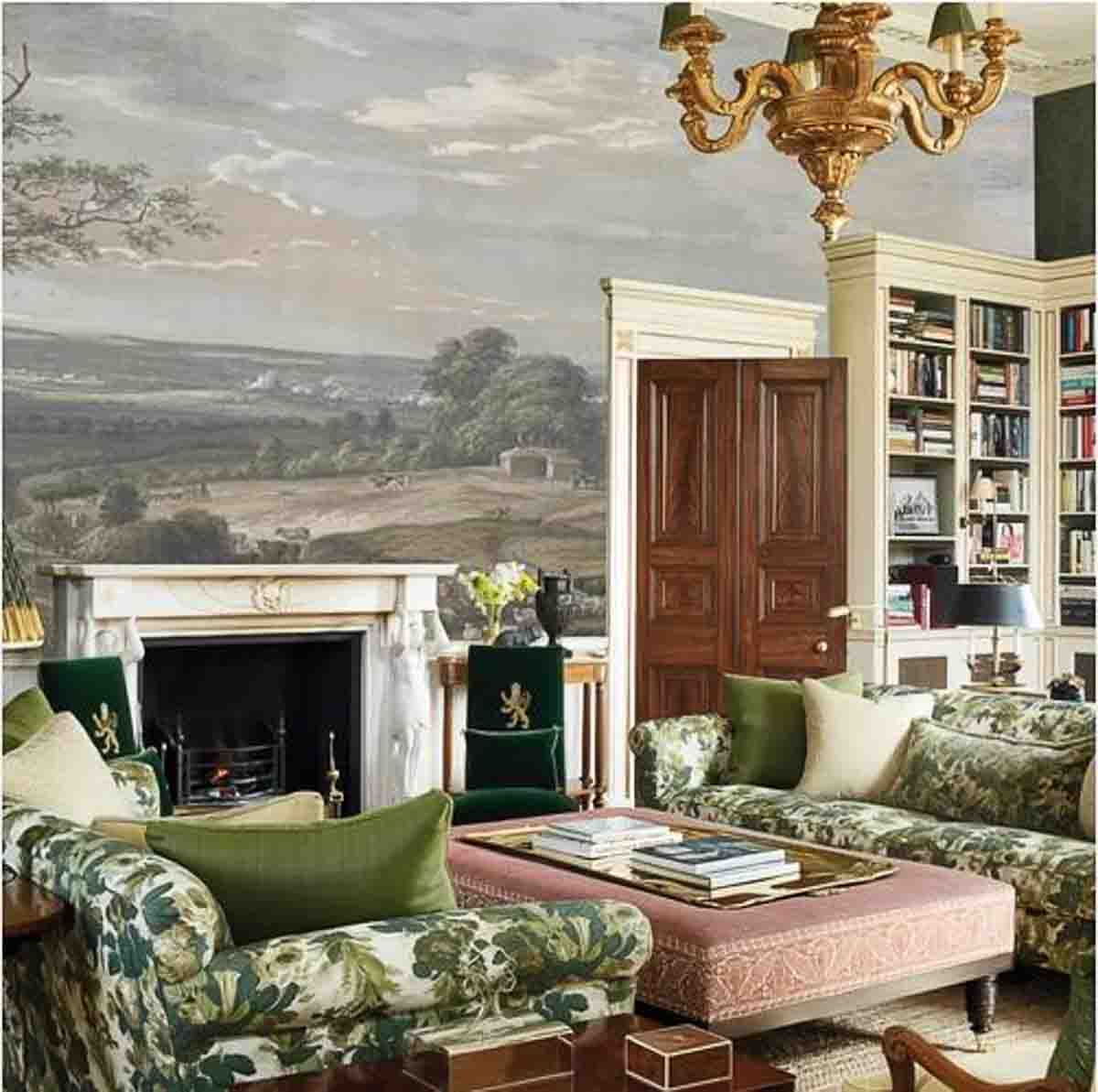 They are a unique and bold way to add art and creativity to a living room wall. You can choose to go for a landscape mural, an abstract mural, or a mural that reflects your personal style and the mood of your decor. 
A mural can be painted directly onto the wall, or you can opt for a removable wallpaper mural.
It can help create an accent wall or be used as a backdrop to other furnishings in your living room. One thing for sure, a mural definitely adds personality to the space.
WALL HANGINGS
Wall hangings are a good choice when you're trying to figure out how to make a plain wall more interesting.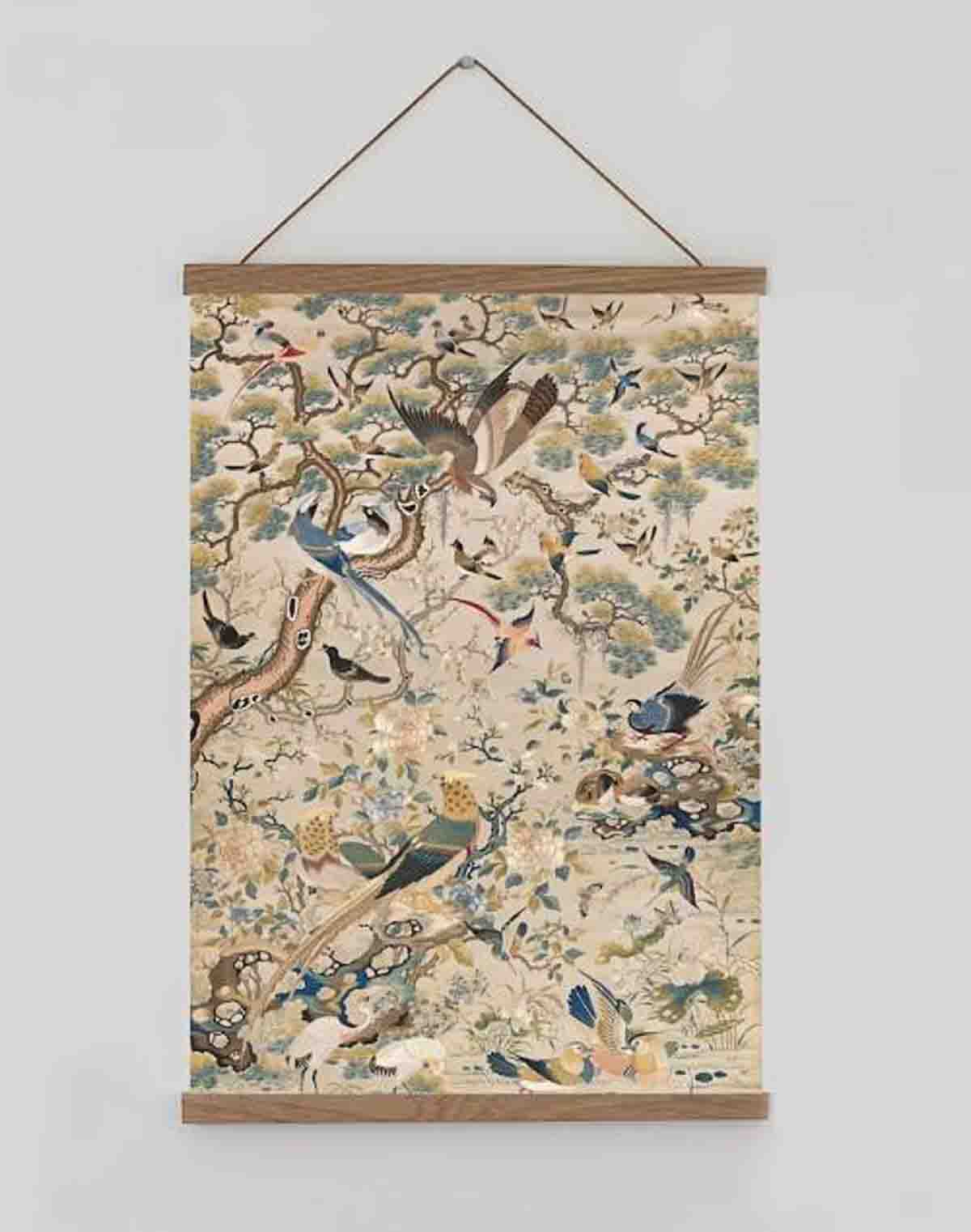 There are several types of wall hangings to choose from. Each has its own style and charm and is a great way to add a touch of personality to a living room.
Woven wall hangings, such as macramé, are a popular option. Featuring intricate knotting patterns, they are traditionally used to add a bohemian touch.
For a more traditional look, textiles such as tapestries, quilts and small rugs make beautiful wall hangings that can also serve as functional decor when hung so that they are removable.
LARGE WALL CLOCKS
Wall clocks are not just functional. A large clock can serve as a statement-making decorative element on a blank wall and add a bit of unexpected visual interest in a living room.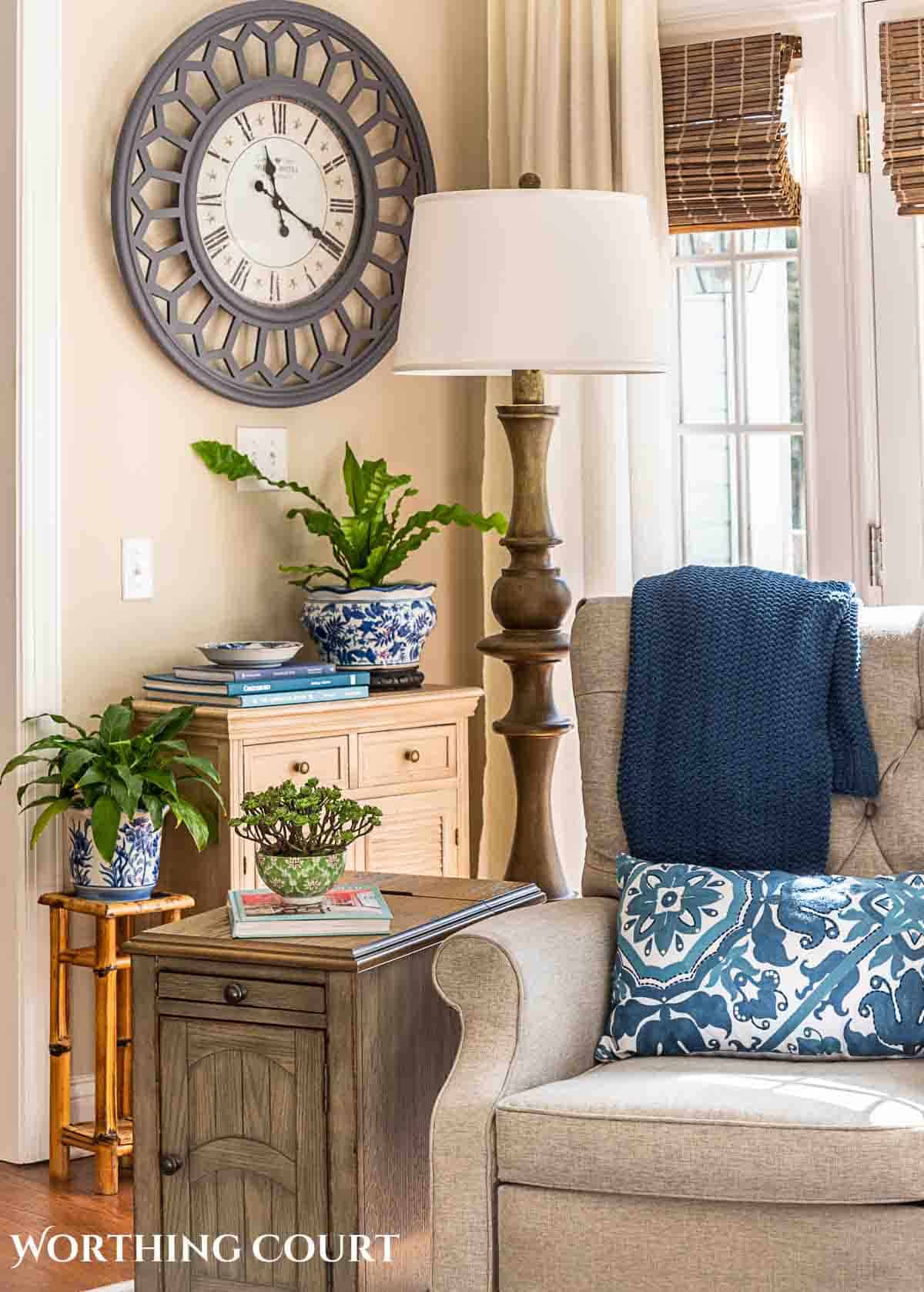 You can choose to go for a vintage-inspired clock or a modern one, depending on the your room's design.
In a living room, you'll typically see them hung above a mantel, above a couch or above a console table.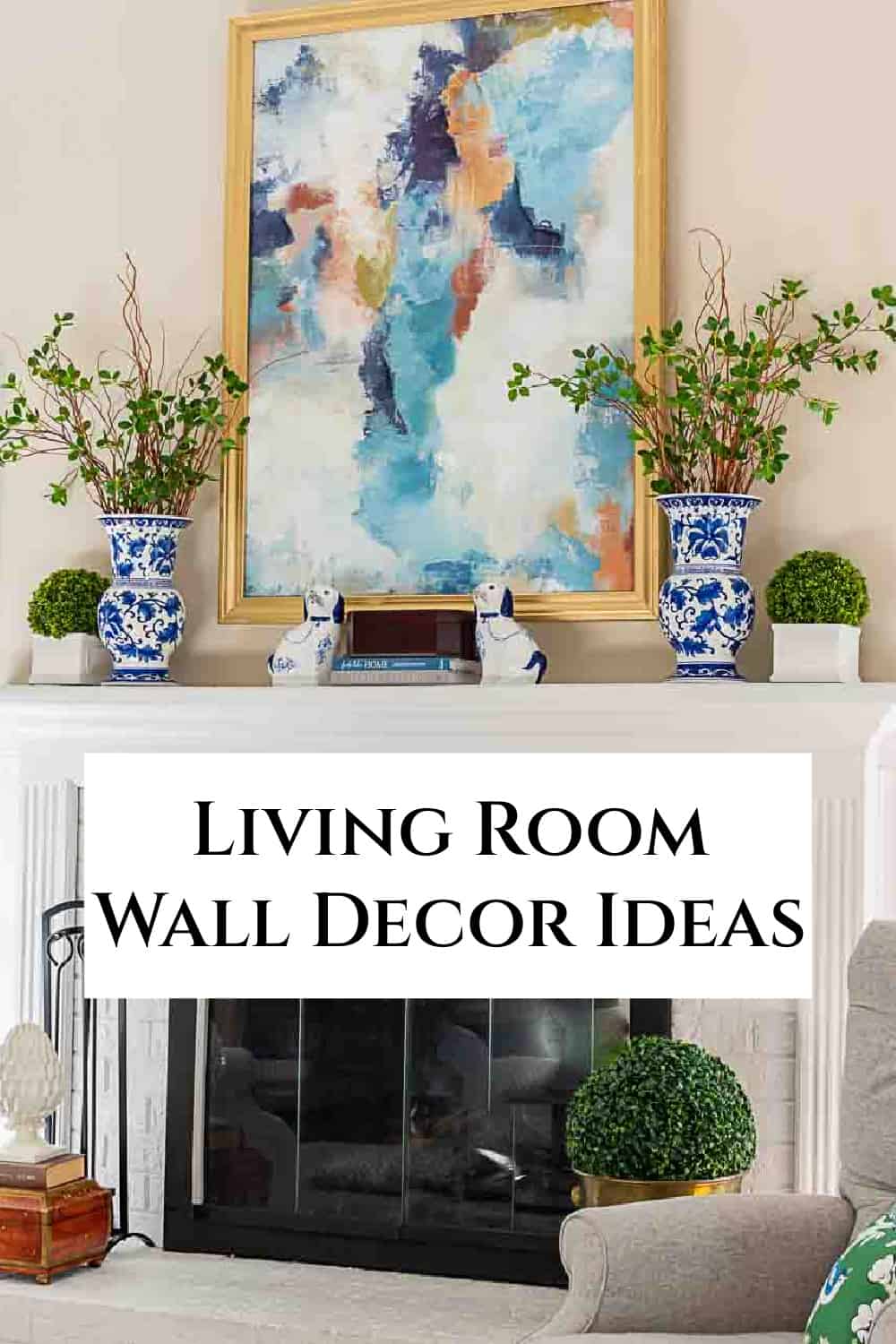 In conclusion, the right wall decor can transform a bland living room into a cozy and inviting space. The most important thing to remember is to choose something that is a reflection of you!