Tips for styling an easy, breezy summer vignette for your coffee table.
It's summer time, the livin' is easy and it's a time for uncomplicated, laid back decor in our homes. That doesn't mean that it shouldn't be beautiful though.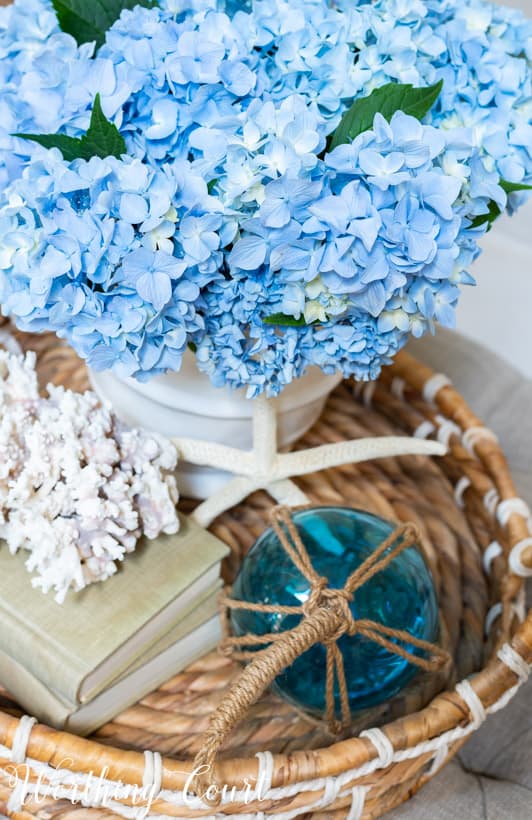 I've shared with you the 7 steps for how to create a vignette, but let's create a standout summer coffee table vignette that can last all season long!
I have a hydrangea bush that is currently blooming its heart out, so I couldn't resist cutting a few of the gorgeous blossoms for me to enjoy inside. You may not have hydrangeas available to you, but that's okay! Any type of florals or stems will work – real or artificial, from your yard or from the store!
The beauty of creating an easy summer coffee table vignette like this is that you simply change the blooms in your vase as the season progresses and leave the rest of the vignette the same.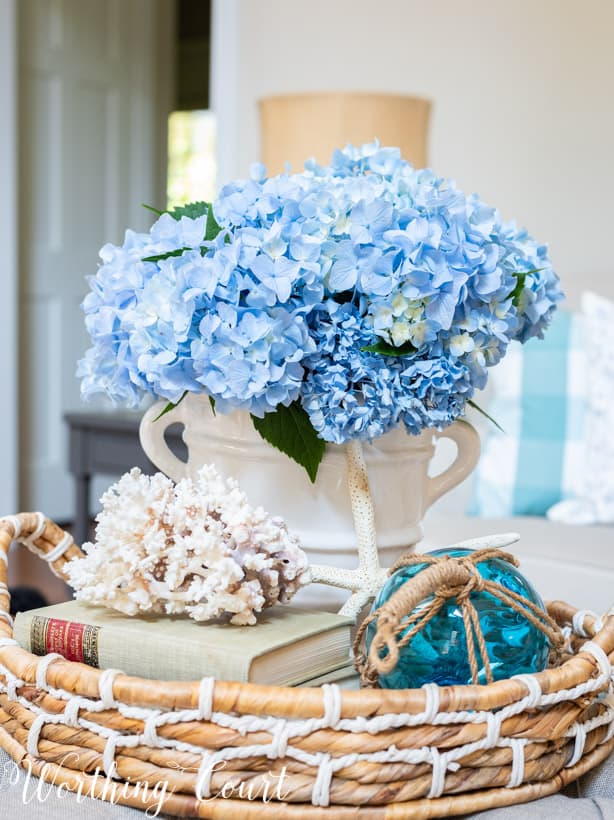 Every vignette should be a mix of textures – rough, smooth, hard, soft, intricate lines, simple lines and everything in between.
Let's start with the base. Since I created this summer vignette for my coffee table, I'm using my favorite woven basket. My coffee table is actually a large upholstered one, so not only does the basket serve to corral all of the items, it also gives me a solid base for the display.
When I purchased this basket a few years ago, I didn't know exactly where I would use it, but I loved the texture and woven material design of it so it came right home with me.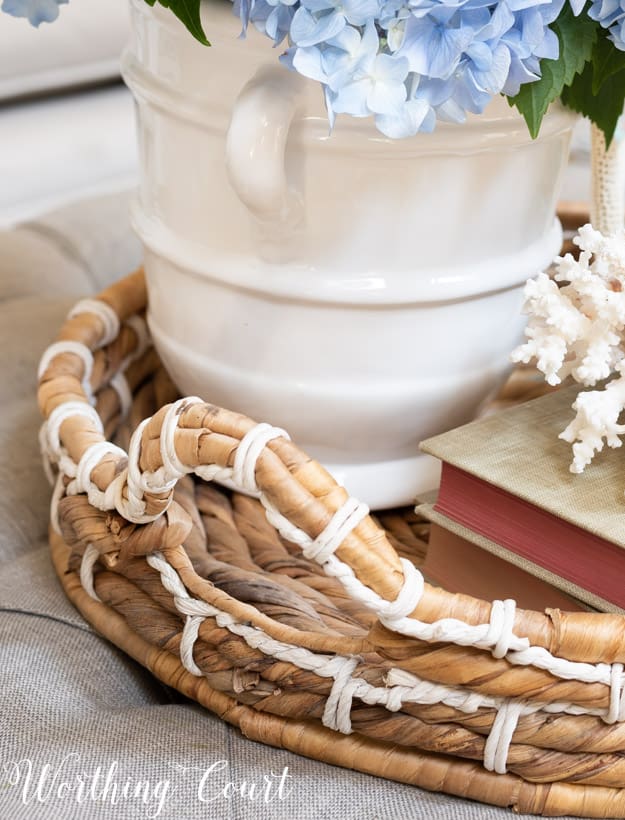 If you stumble across a piece that you love, snap it up, even if you don't know exactly where you'll use it. I can't tell you how many times I've kicked myself for not taking that piece of advice!
I made sure to leave a lot of "white space" within my vignette, which allows the beautiful woven bottom to show and also stops the vignette from appearing too cluttered and fussy. Remember – summer decorating is all about keeping it easy – right?
Try to make sure that any vignette that you create stays within the theme that you're working toward. Even though the items in my display are spaced out and kept to a minimum, I included several things that say "summer" to me:
the color blue
beautiful summer flowers
a piece of coral
woven rattan basket
a glass fishing float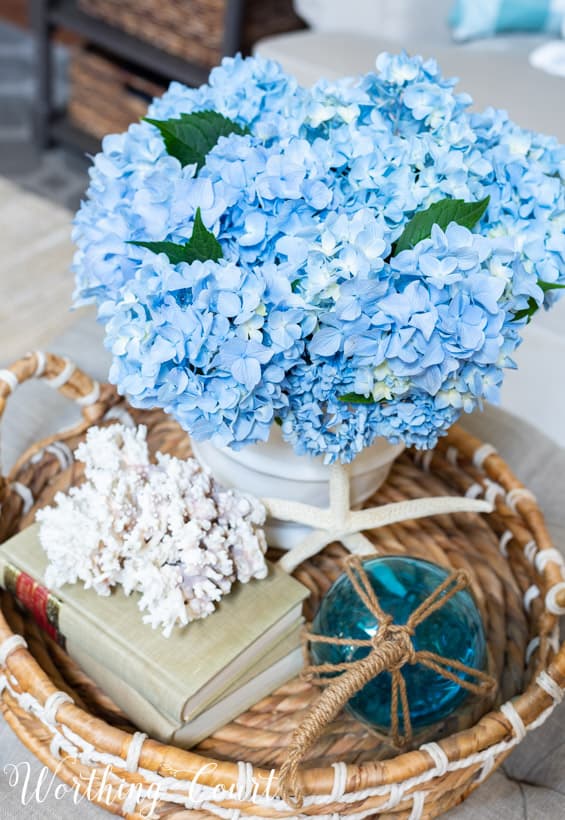 Every vignette needs a main element or dramatic focal point with some height to it, so I chose a large white container to place the hydrangeas in. This particular container has a very wide mouth, so I actually placed a water-filled vase with a smaller mouth down inside it to keep the hydrangeas from falling over.
Keep the size of the florals or greenery in mind when choosing a container to display them in. This tall, wide-mouthed vase works really well for the large scale of the large hydrangea blossoms.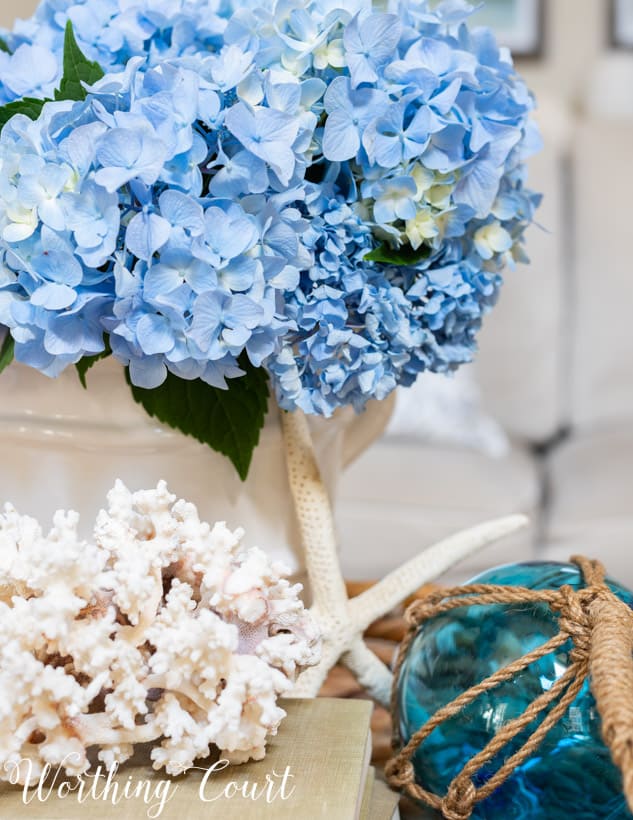 Along with texture and height, another important part of any vignette is to vary the heights of the elements within it. Nothing would be more boring than a vignette where everything is the same height, which doesn't encourage your eye to move or bounce through and explore the display.
I typically prefer to have at least three varying heights within any vignette – tall, medium height and low height.
I purposely stage my vignettes so that the tallest element (the hydrangeas in this case) is to the back of the display. My coffee table can be seen from all sides, but I staged the items according to the direction that most people will see it from.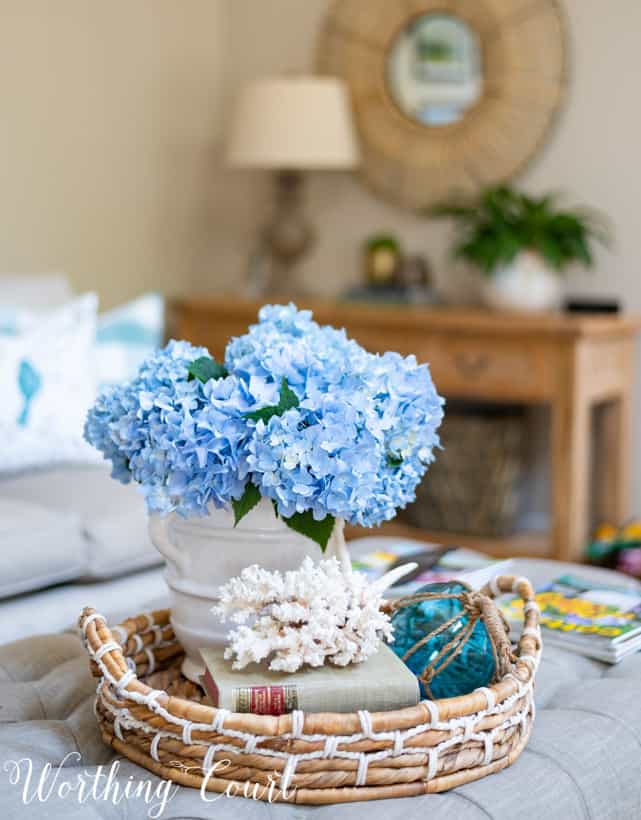 The medium height element in my display is the piece of coral, which wouldn't be tall enough on its own. Enter stacked books. I use books everywhere and they are one of my #1 decorating staples in my home decor capsule that I keep on hand! If you need something taller, simply add another book or simply remove books for something lower.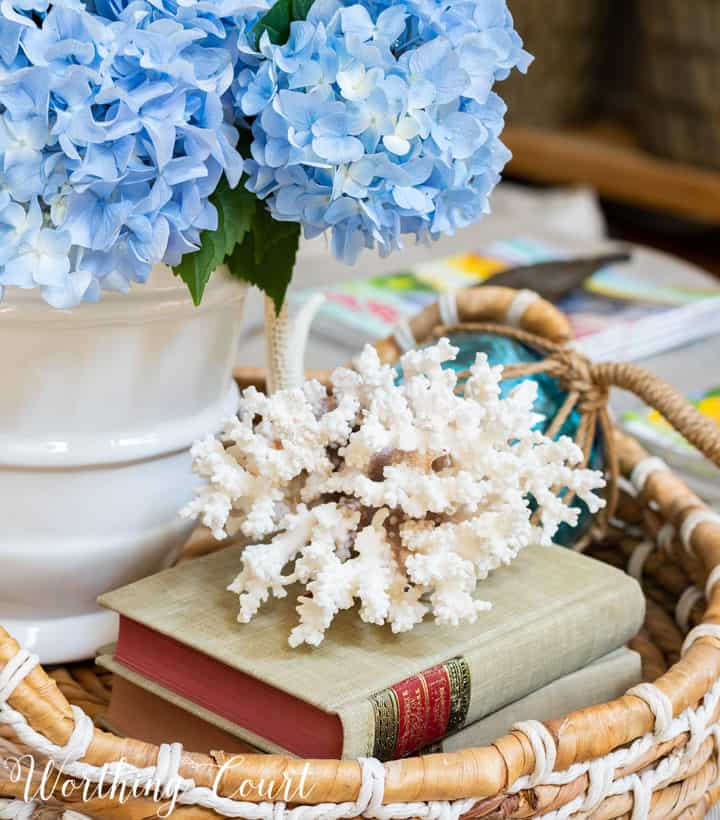 The lowest element in my summer vignette is a glass fishing float wrapped in heavy twine. The shade of blue is fabulous and the heavy twine adds one more touch of that all important texture.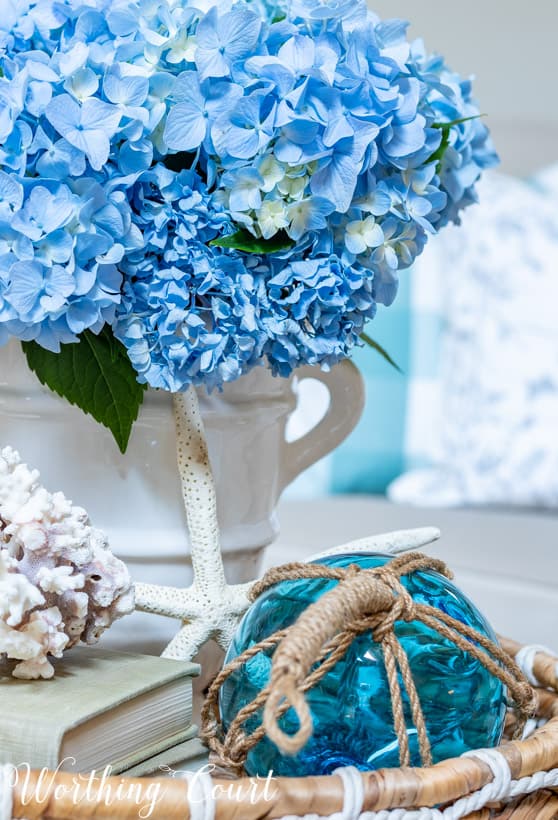 To round off the vignette, I added a large starfish that I picked up at the beach a few years ago. It's just one of those rather unexpected touches that helps to complete the whole summer vibe of the display.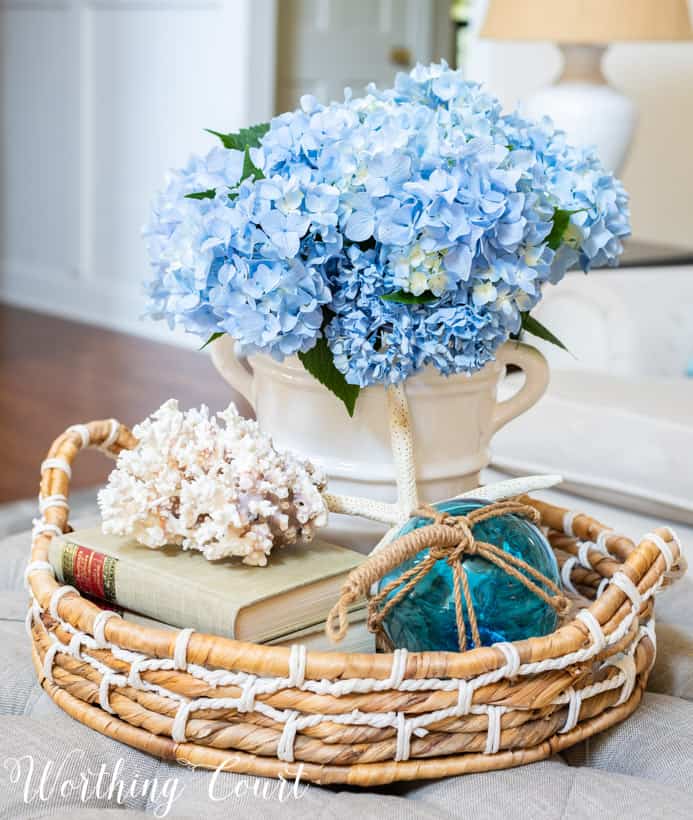 Now it's your turn! What kind of items would you include in a summer coffee table vignette?