Easy Ways To Decorate For Summer
Let's decorate for summer by embracing those laid-back summer vibes with these easy ideas. No fussy decor allowed!
Picture this – summer has arrived, you're busy, busy, busy vacationing, playing and enjoying the season, but the interior of your home still looks like it's the middle of January.  Oops!  Is that you?  It's okay – I can totally relate.  There's still plenty of summer left so let me help you out by giving you several ways you can almost effortlessly decorate for summer right now!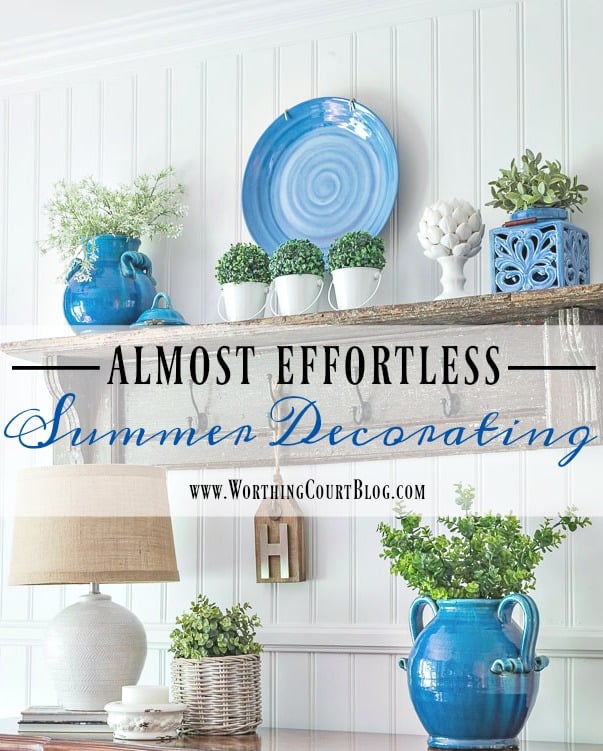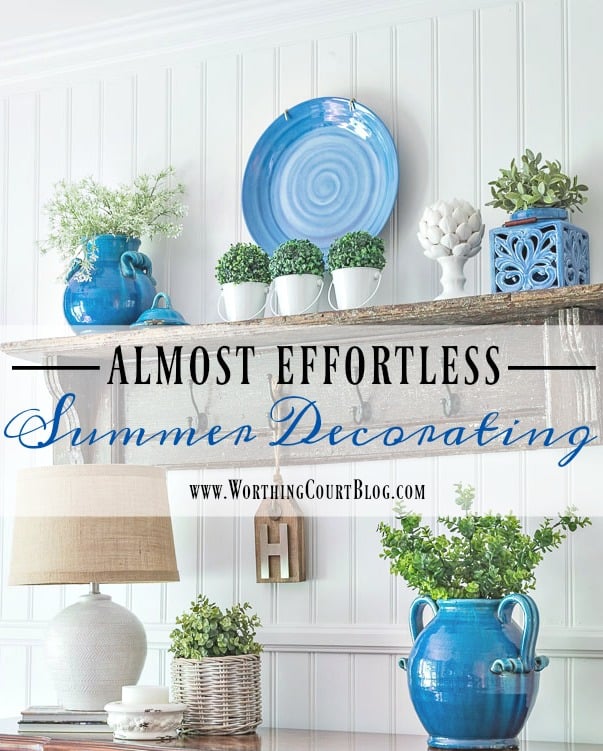 Pin
All of these tips are quick and easy and require very little effort on your part, but will replace the "baby, it's cold outside" vibe in your home with "it's summertime and the livin' is easy".
SWAP OUT PILLOWS AND THROWS
I live in the south where summer temps sometimes soar into the triple digits – whew!  In spite of the hot weather out of doors, I still find myself reaching for a light throw when I'm inside in the air conditioning.  I don't need my heavy winter throws this time of year though – just something light will do.  So, switching out the winter throws that I keep on my diy blanket ladder for something lighter not only looks more summery, but is practical too!
SUBURBAN FARMHOUSE SUMMER HOME TOUR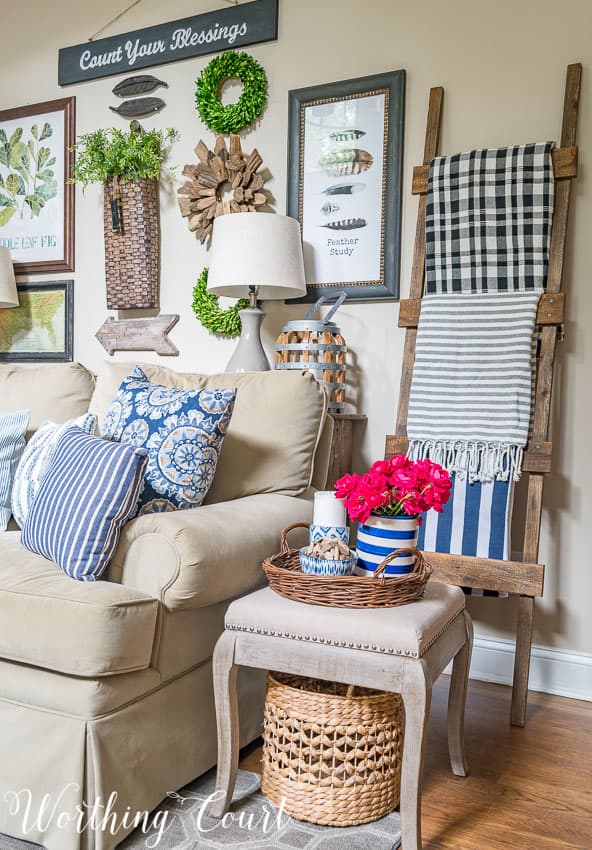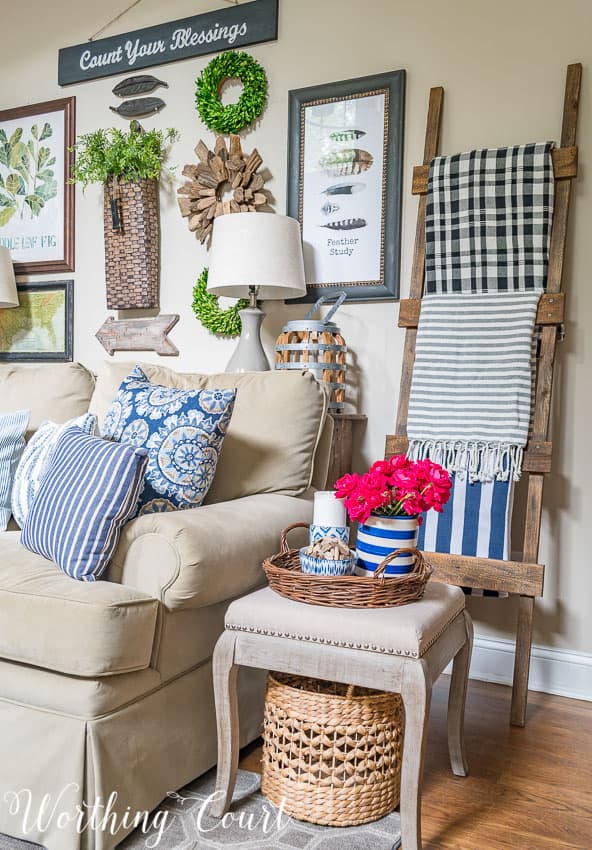 Pin
Just like with the throws, my winter looking pillows are banished to the closet!  Gone are the flannel, nubby, heavy textured pillows.  In their place you'll find more colorful, summer textured pillows around my house.  I might even sneak in something a little funky too!
HOW TO MAKE A SCREENED IN PORCH A RELAXING OASIS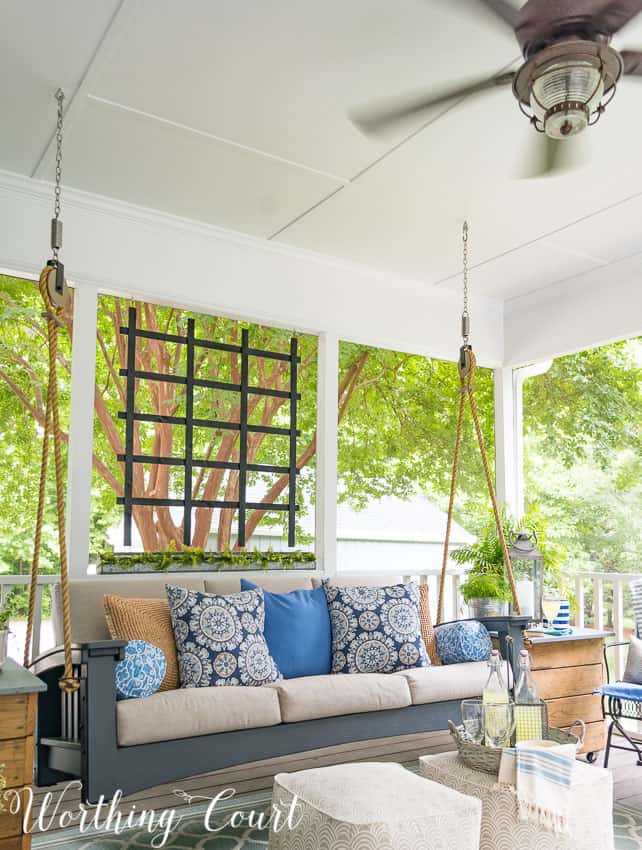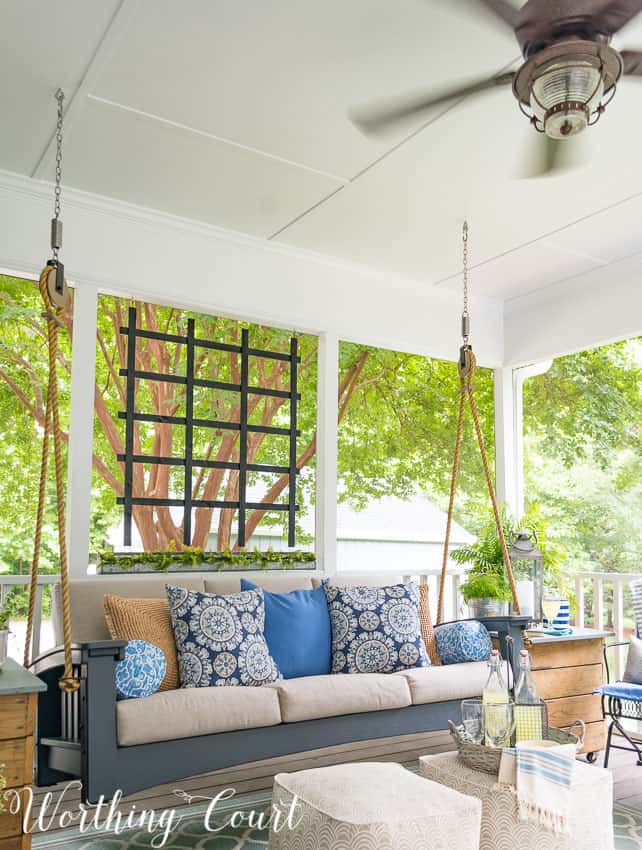 Pin
Don't want to spend a lot on seasonal pillows?  Check out this great roundup of affordable summer pillows that I put together!
LOOK WHAT I FOUND! AND DECORATING WITH SUMMER PILLOWS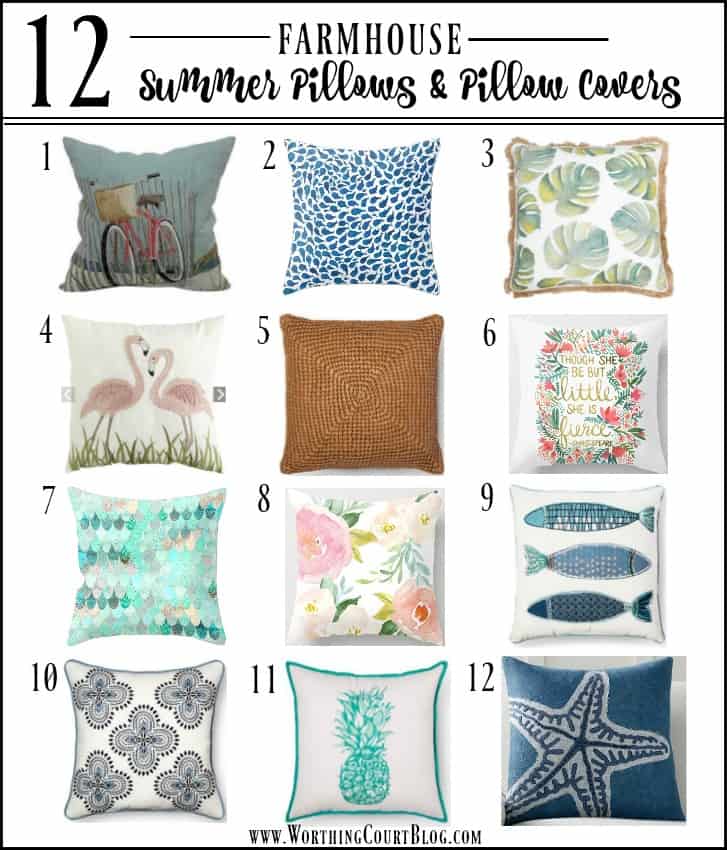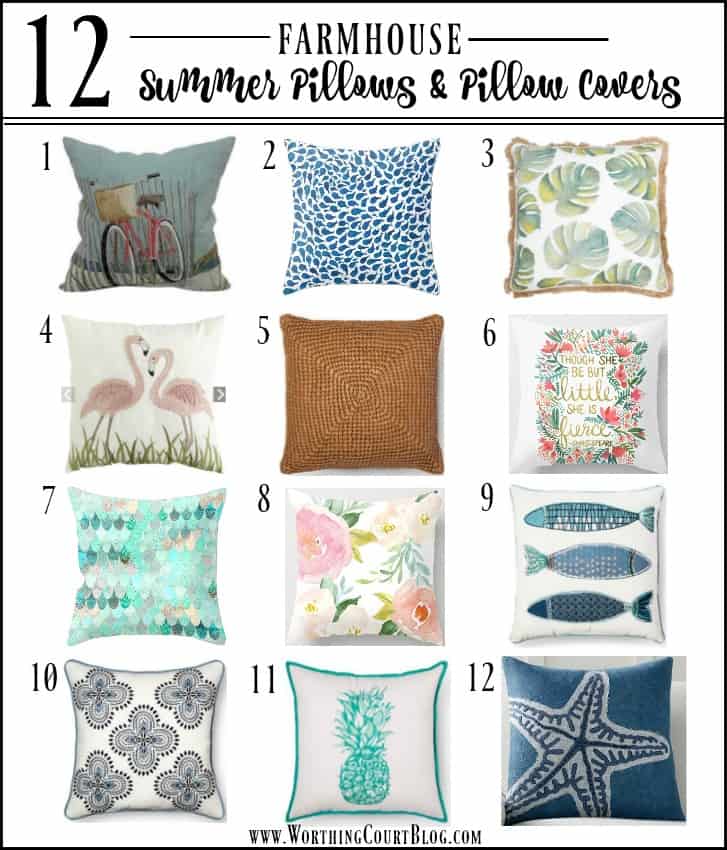 Pin
ADD SOME BRIGHT, SUMMERY COLOR
I've purposely kept the main elements of my home – walls, floors, furnishings – on the neutral side.  That allows me to mix in most anything that strikes my fancy and still work.  I love adding pops of cheery color for the summer and my favorite ones this year are blue and green!  Those two colors make me think of cool ocean water and are sprinkled throughout my house this summer.
SUMMER FARMHOUSE STYLE DINING ROOM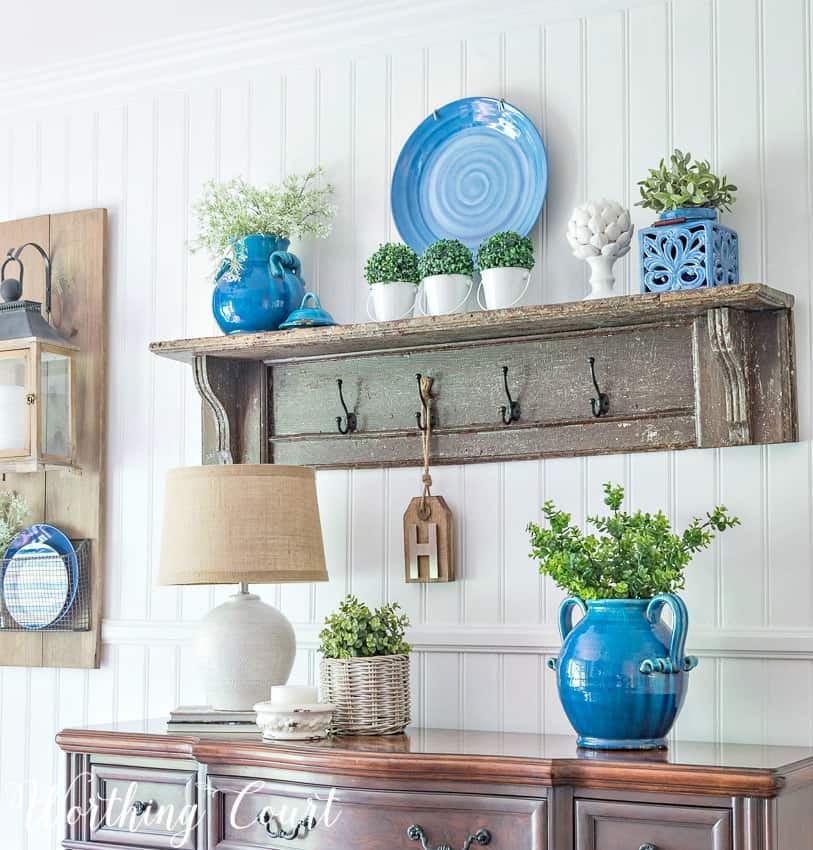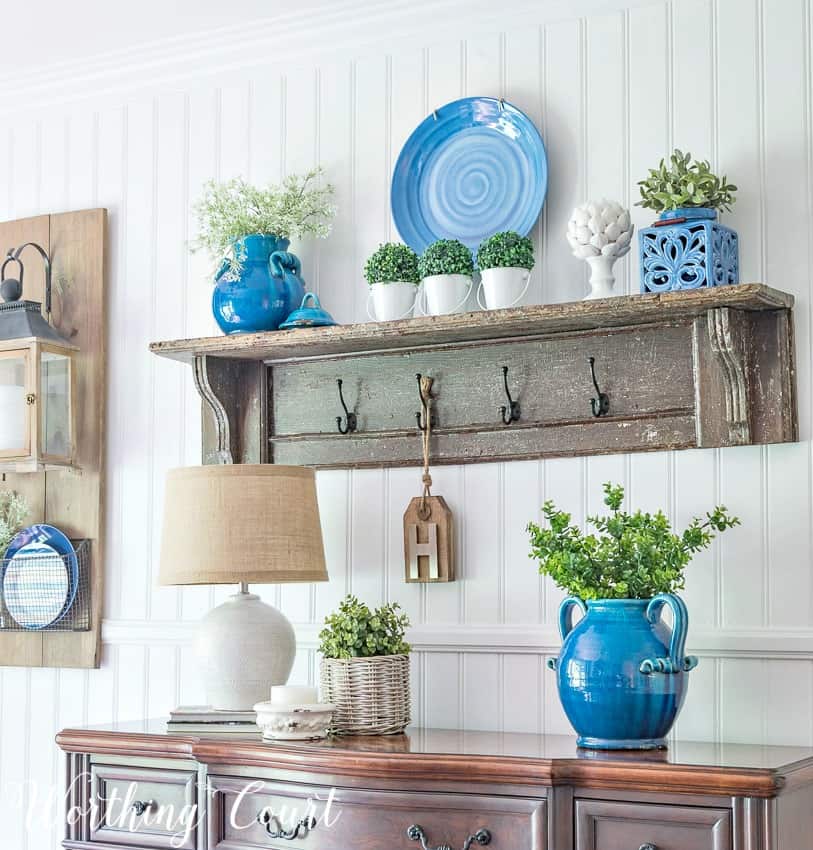 Pin
ADD A FEW PLANTS – REAL OR FAUX
For many of us, summer is the time to garden and fill our outdoor spaces with lush containers of glorious flowers and plants.  Why not bring some of that inside too?  Maybe you're like me and don't want to go the bother of keeping real plants alive.  No worries – today's faux plants and flowers have come a loooong way!  Daises are the epitome of summer to me, so I filled a basket on the buffet in my breakfast nook full to overflowing with gorgeous, realistic looking ones.
SUMMER RUSTIC FARMHOUSE RUSTIC OPEN SHELVES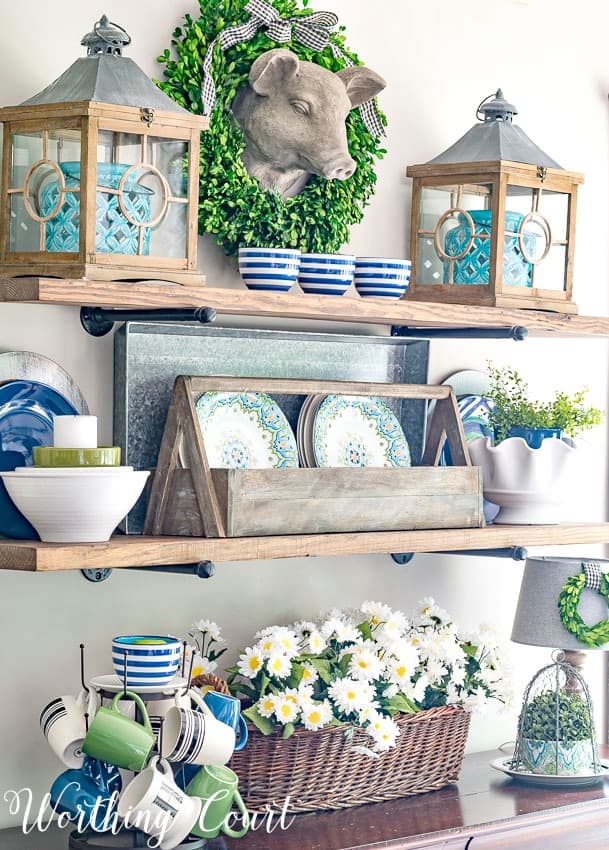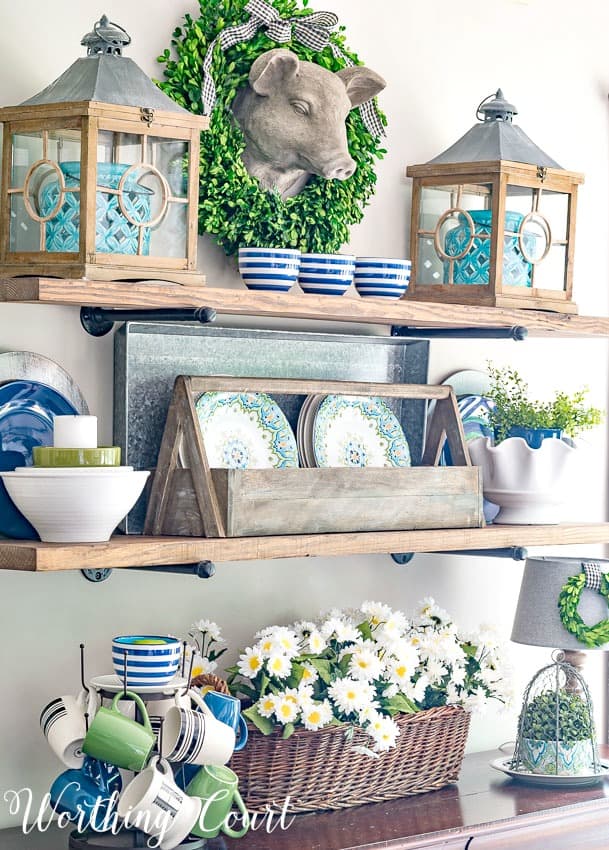 Pin
REMOVE "HEAVY" DECOR ITEMS
Sometimes I like to go all out when decorating for a season or holiday.  My fall mantel and my Christmas mantel from last year are prime examples of that.  When it's cold outside, I enjoy the coziness of it all.  BUT – when summer arrives, I want things light and airy instead of heavy with a lot of stuff.  So when I decorated my mantel for summer this year I kept things light by using just a few items, but not so few that it feels barren to me.  I kept the look leaning heavily toward the natural elements side of things, which I think is a good fit for the season.
HOW TO KEEP YOUR FIREPLACE DECOR SIMPLE FOR THE SUMMER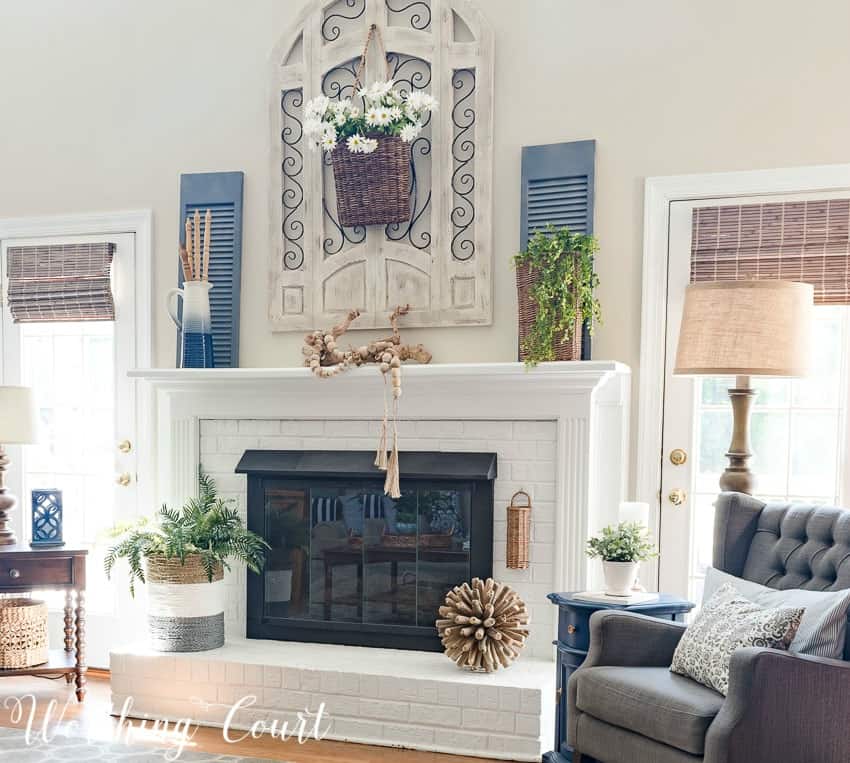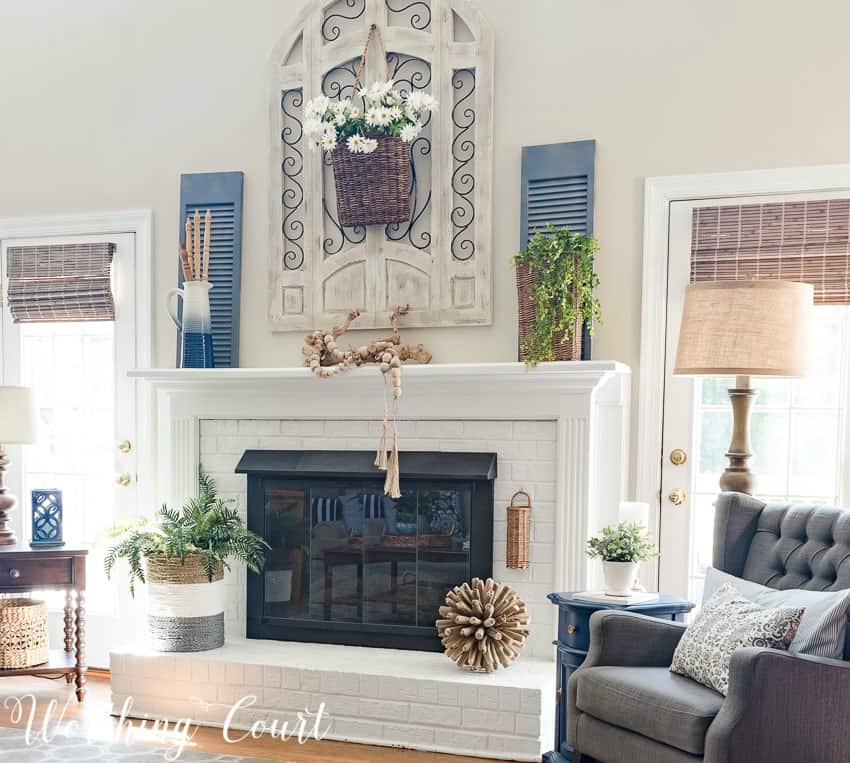 Pin
KEEP SOMETHING REFRESHING IN THE REFRIGERATOR
OK – this isn't home decor related, but when it's a scorcher of a day, you need something refreshing to help cool you off – right?  If you are a lemonade lover, give this pomegranate lemonade recipe a try.  Not only is it super yummy, it's low calorie and only takes a couple of minutes to make!
A MOST REFRESHING LOW CALORIE DRINK – POMEGRANATE LEMONADE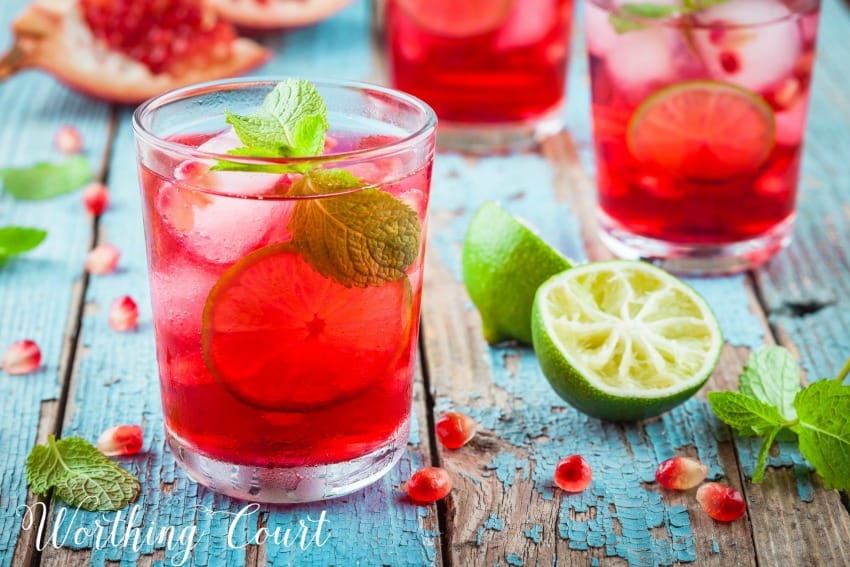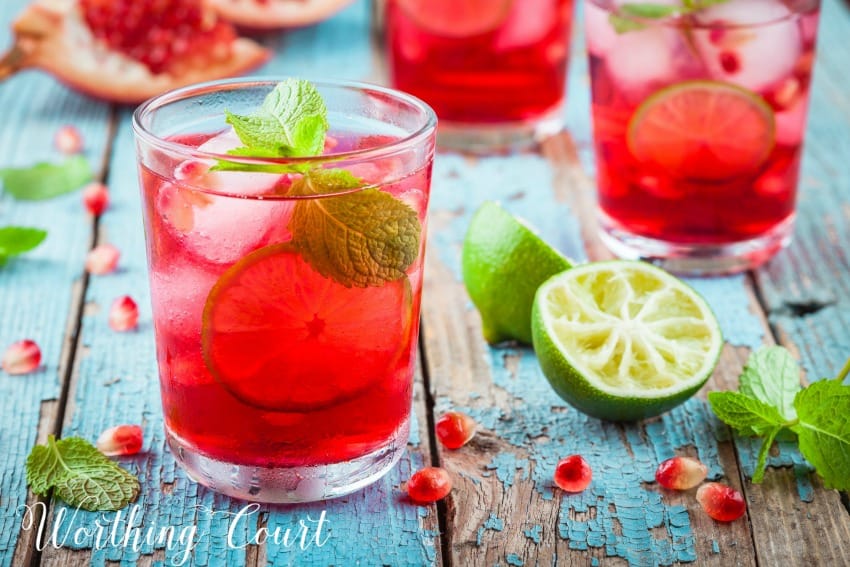 Pin
Do you have any effortless ways that you've decorated for summer? Do share!