Easy Fall Decorating Ideas For Busy DIY Decorators
Easy last minute fall decorating ideas that you can do in 30 minutes or less.
Picture this – fall has officially arrived and you haven't done any fall decorating. Oops.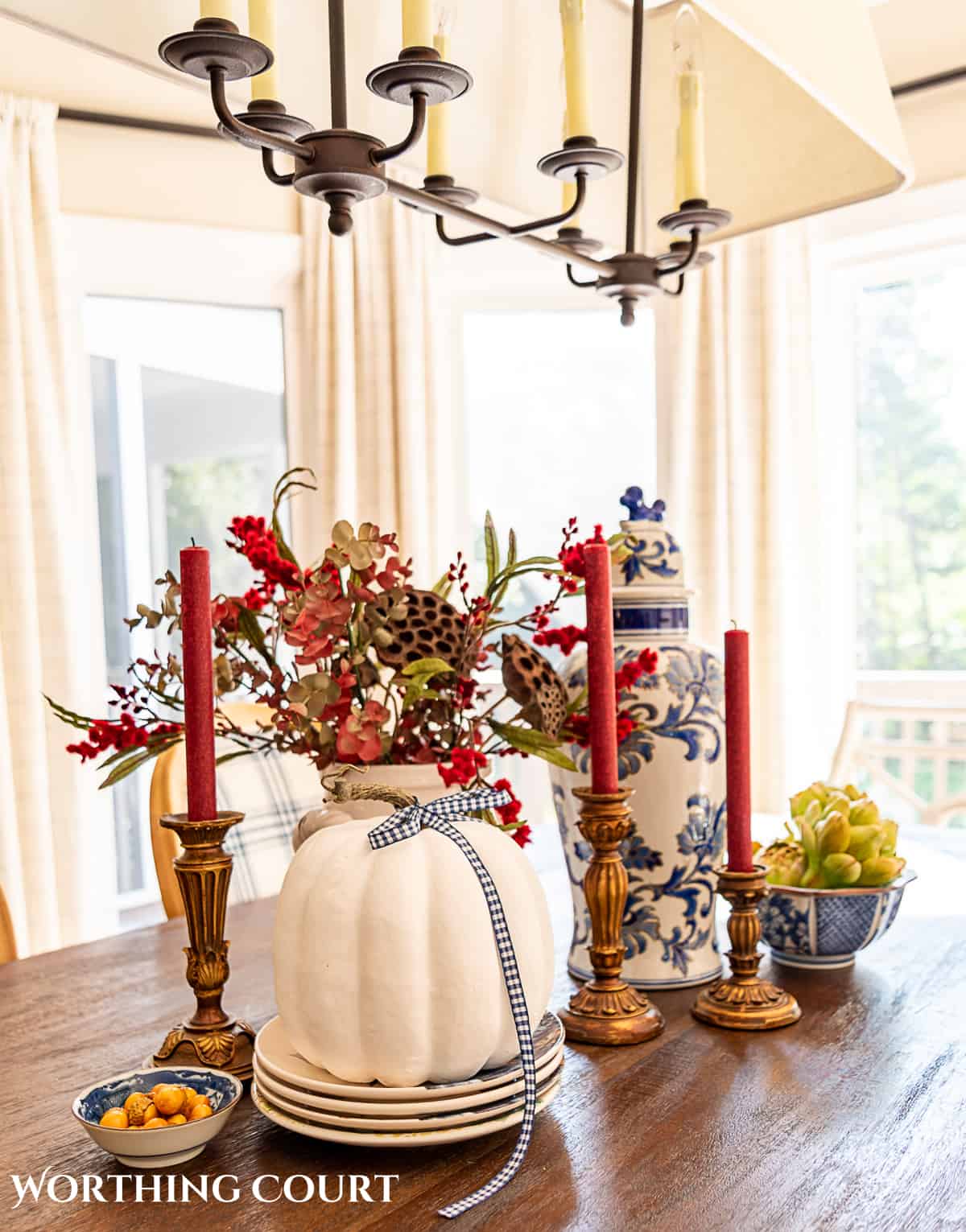 That's ok – if you're like me, your schedule is full to overflowing this time of year!
Don't worry though because all of these fall ideas are super easy and can be done in 30 minutes or less.
The idea here, is to keep things quick and easy, so if you're in a busy season of life right now and need some fall inspiration, these — ideas are sure to help!
Easy Fall Wreath Ideas
It may seem that the fastest way to get a wreath for your front door is to just run to the store to buy one. Can I disagree?
If you're shopping on a budget, like I always am, what you'll usually find in the stores often looks sloppy, skimpy and thrown together. It just isn't worth spending money on something that's only okay.
I'd much, much rather use the same amount of time (or less!) that it takes me to go to the store to make my own and wind up with a fabulous creation.
This post has 9 diy fall wreath ideas that will get your creative juices flowing. It includes a shopping list of my favorite wreath making supplies too!
But, let's be honest – can you really make a wreath in 30 minutes? Absolutely! And when it comes to making your own easy wreath, grapevine wreaths are your best friend!
With a grapevine wreath, you usually don't have to do any gluing or wiring to add foliage to the wreath. Simply poke faux foliage stems in between the branches of the wreath. How easy is that?!?!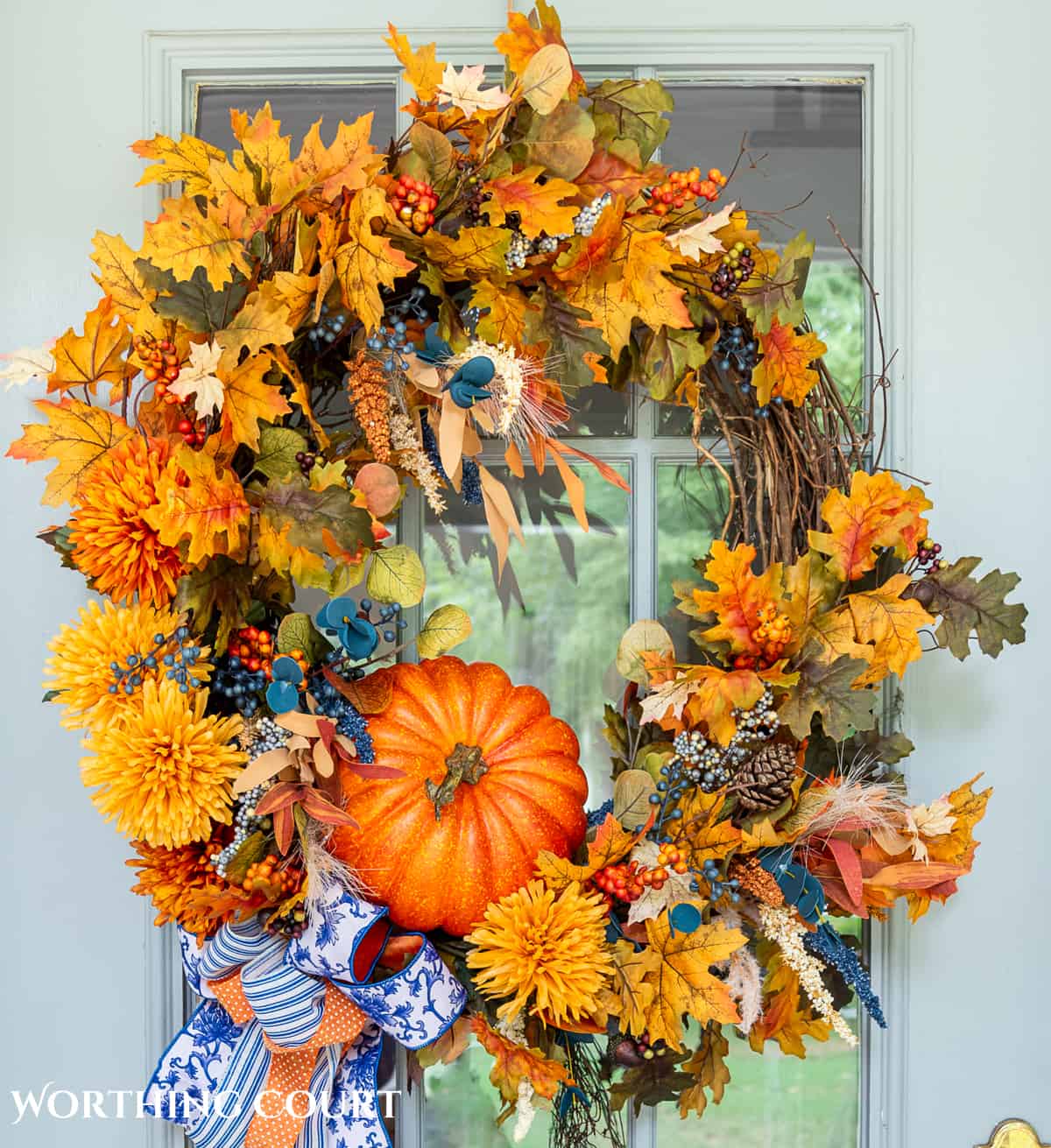 This wreath may look complicated, but it really isn't anything more than lots of bits from my stash of fall picks, single loops of ribbon and a pumpkin on a stick.
Check out the below posts for more diy fall wreath ideas.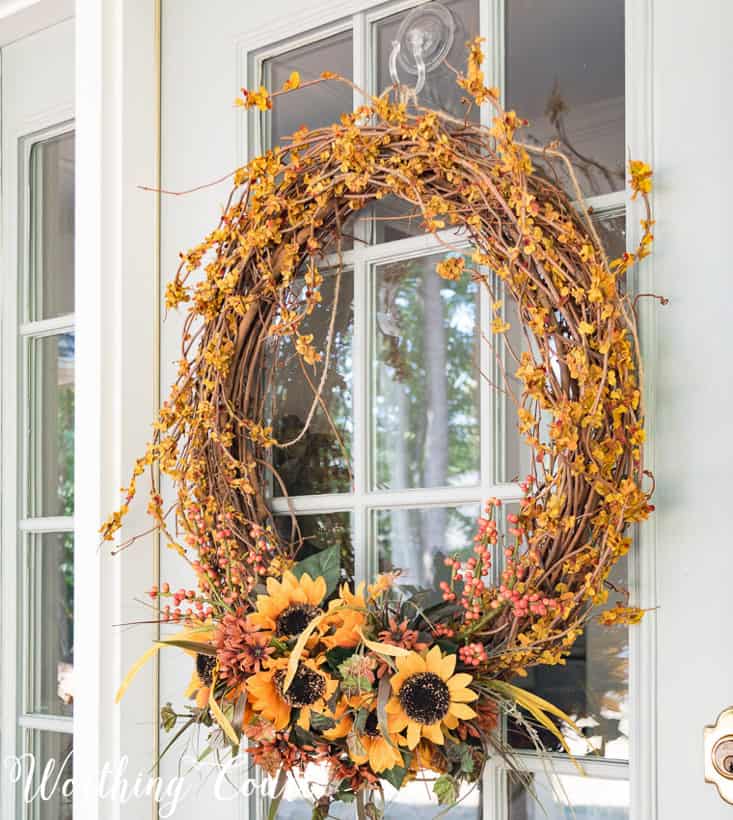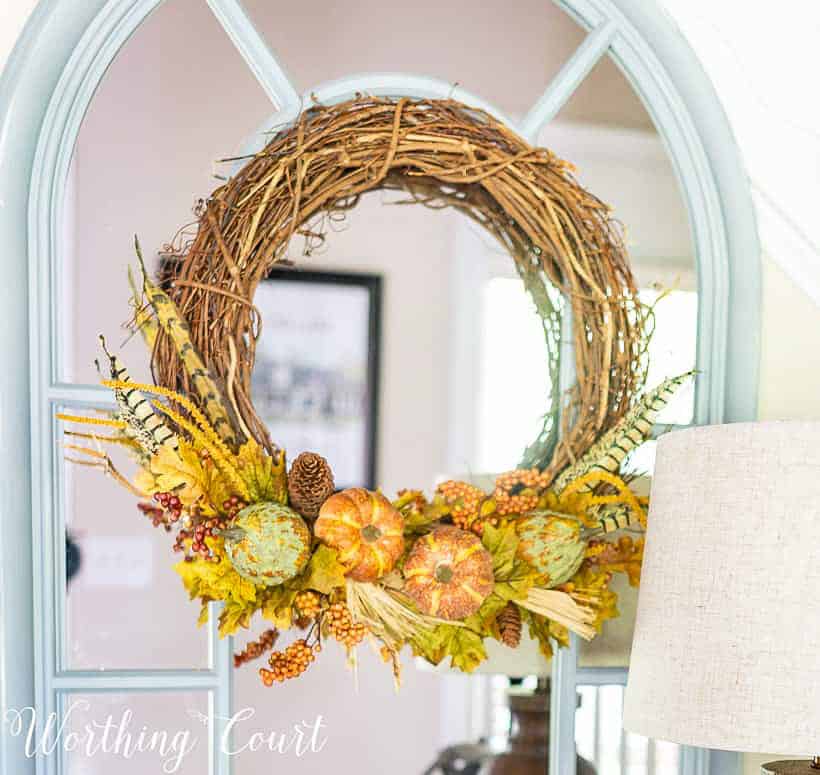 Fast Fall Centerpieces
Putting together a fall centerpiece doesn't have to be complicated or time consuming. Each one of these ideas came together in 10 minutes or less!
When you place a centerpiece on a dining table, it's often the only fall decor that a room needs.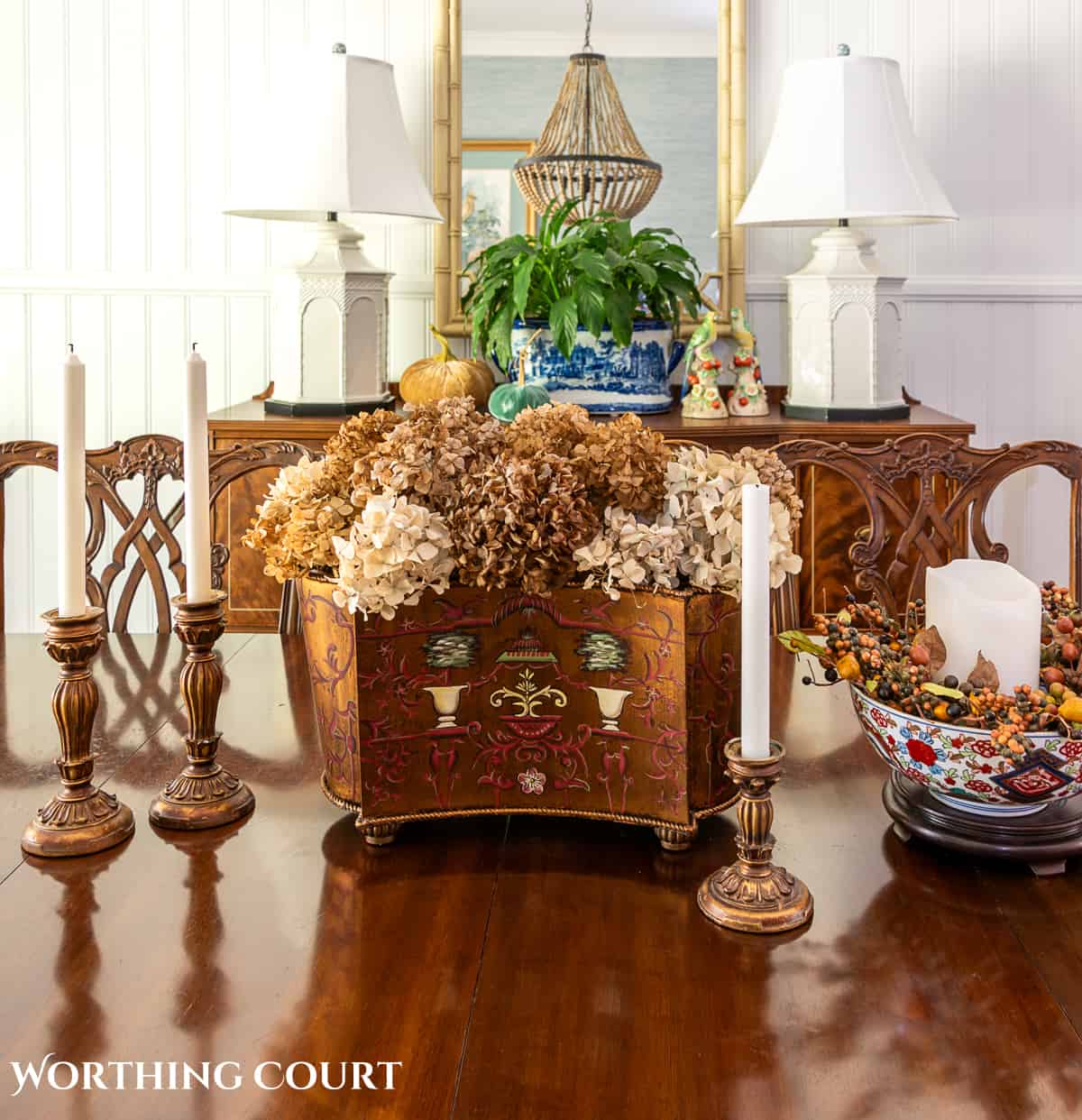 If your centerpiece is on the small side, you can make it appear larger by placing it on a base of some kind. It can be a runner, a tray, a basket or a bread board.
Some sort of base will help to "ground" a small centerpiece as well as giving it more presence.
The posts below have even more ideas for easy fall centerpieces.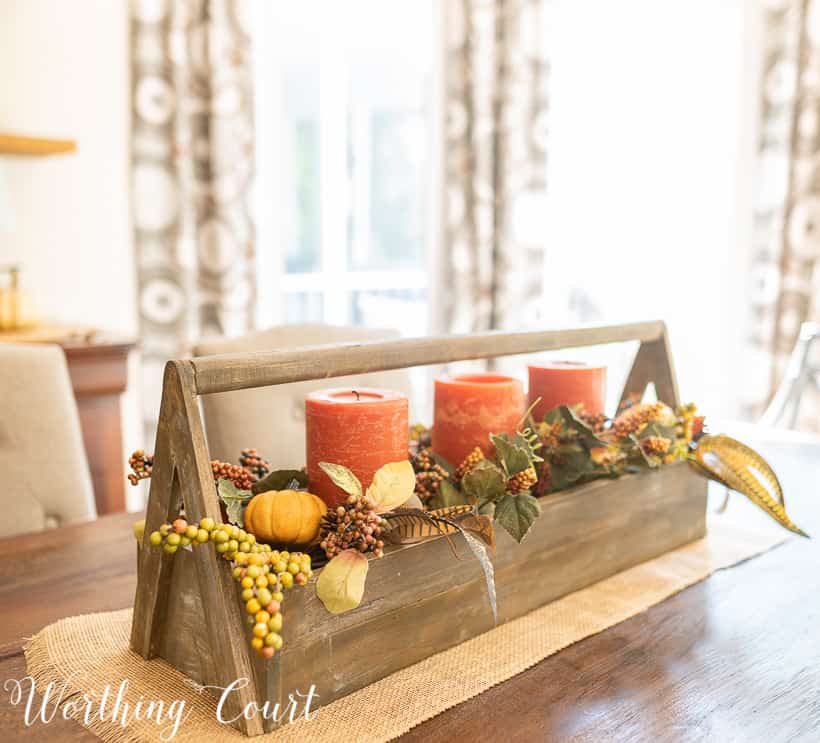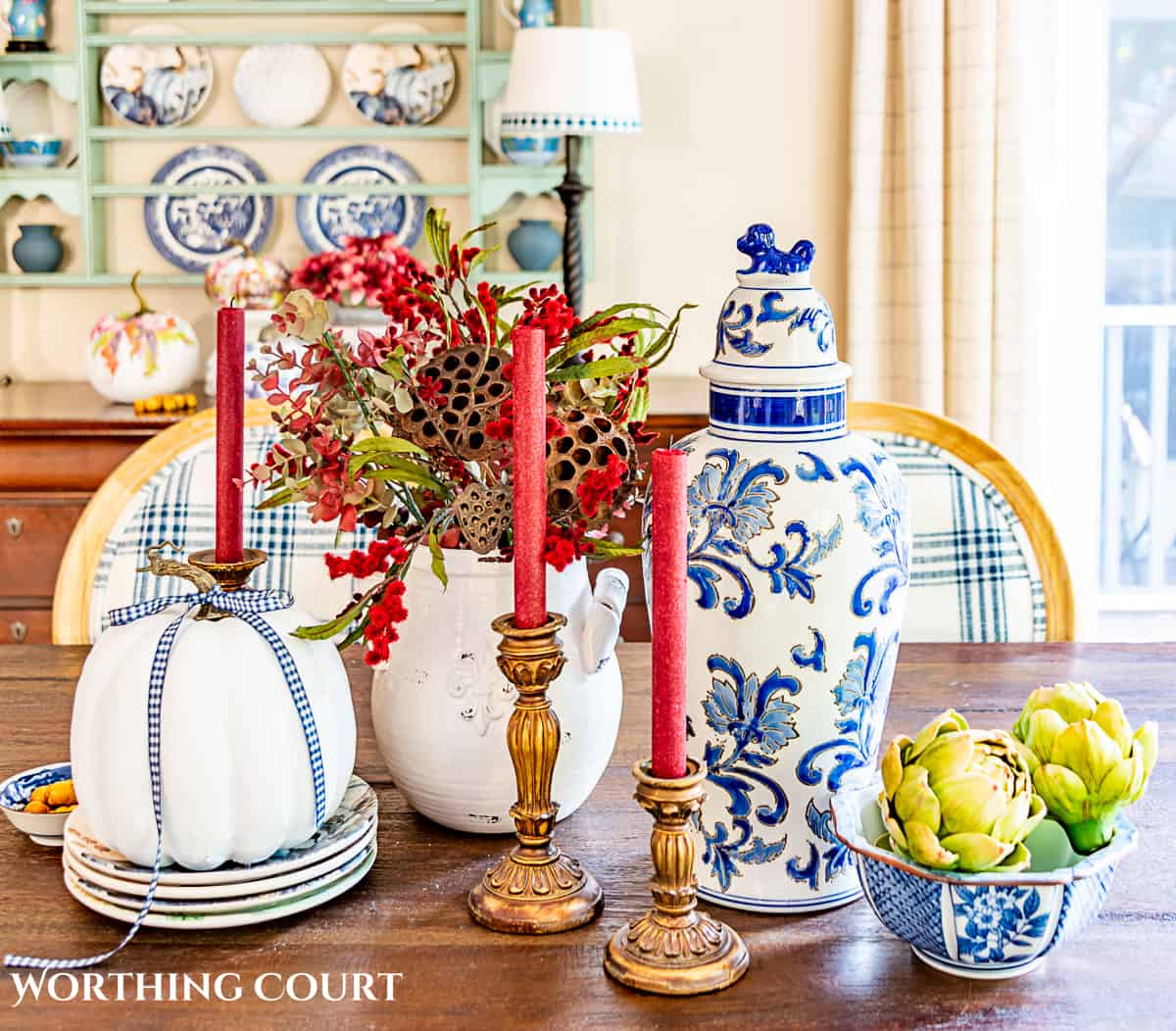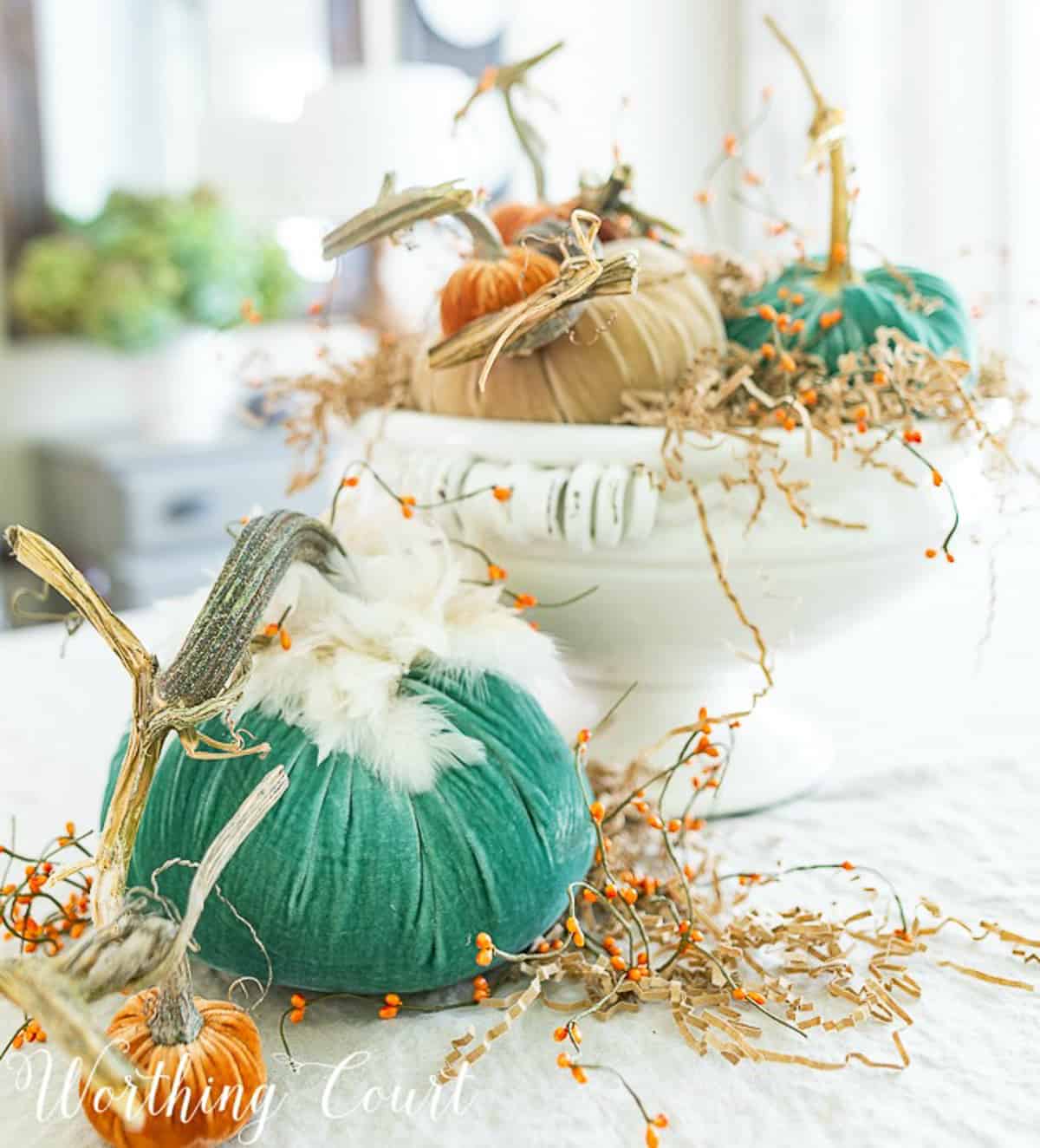 Fast And Easy Fall Vignettes
Vignettes are one of my favorite easy ways to decorate for fall! They are usually the first thing to catch someone's eye as they enter a room and can be thrown together in nothing flat.
A vignette can be as simple or as elaborate as you desire and can be placed just about anywhere.
Adding a vignette here and there in a room is a simple way to embrace fall without making it appear that fall exploded in the room.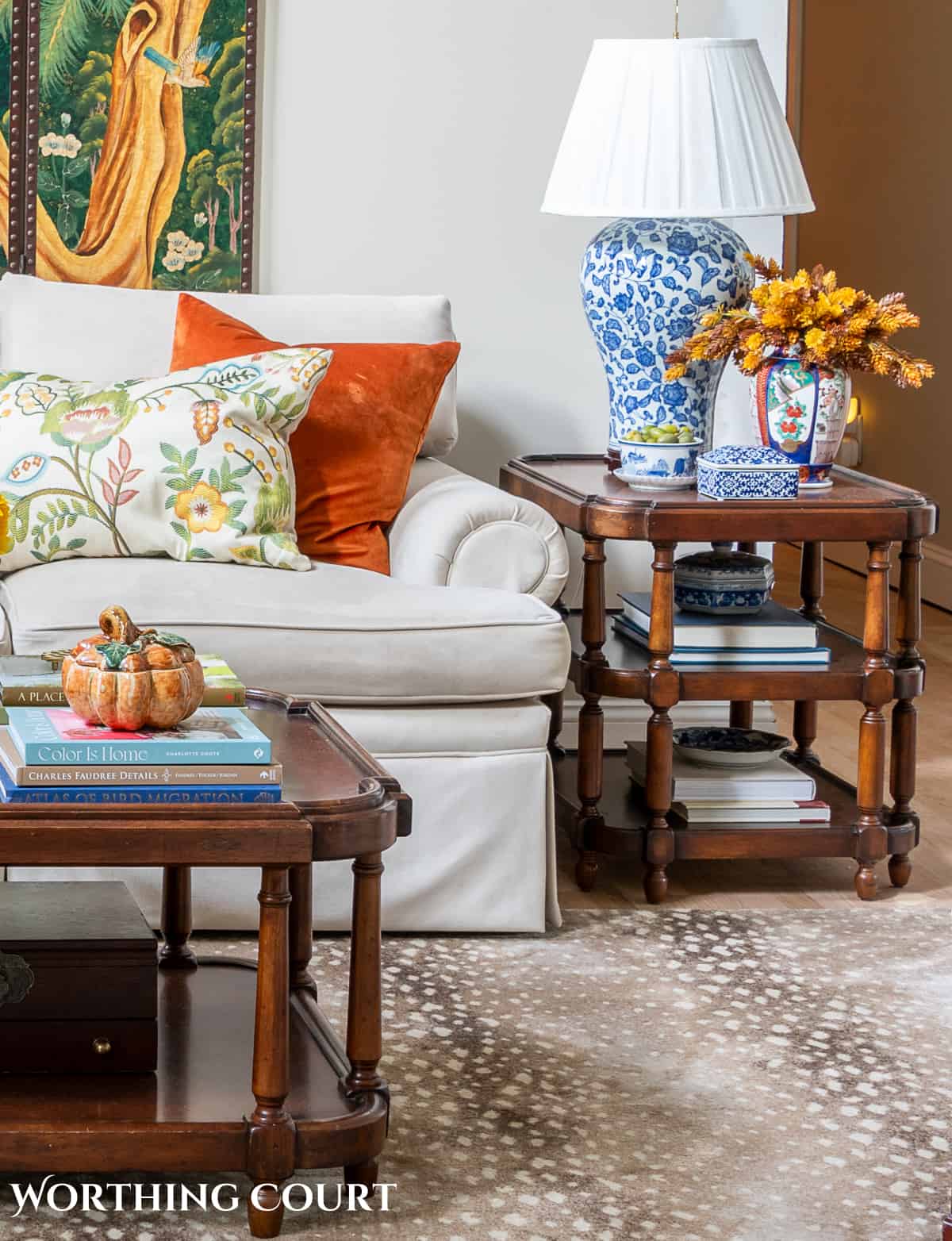 Get step-by-step directions for how to create a fall vignette HERE.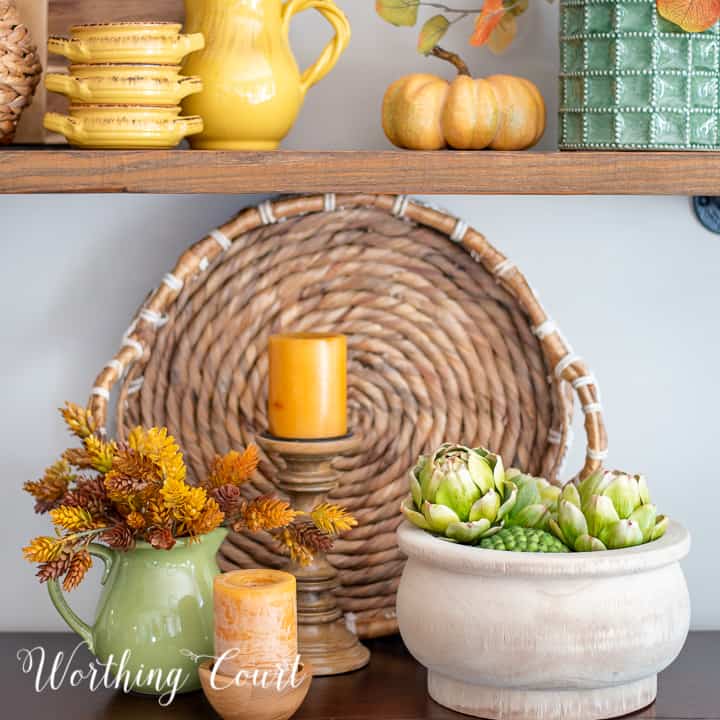 Old wooden crates are the perfect color and texture for decorating with during the fall! Think outside the box (no pun intended) and try standing a crate on its end with a lantern and fall candle placed inside.
Tiered trays are the absolute best when it comes to corralling lots of itty bitty bits of fall decor that would just look like a bunch of clutter if randomly placed on a surface.
Talk about easy fall decorations! It doesn't get much easier than placing a pumpkin on a stack of plates under a glass cloche.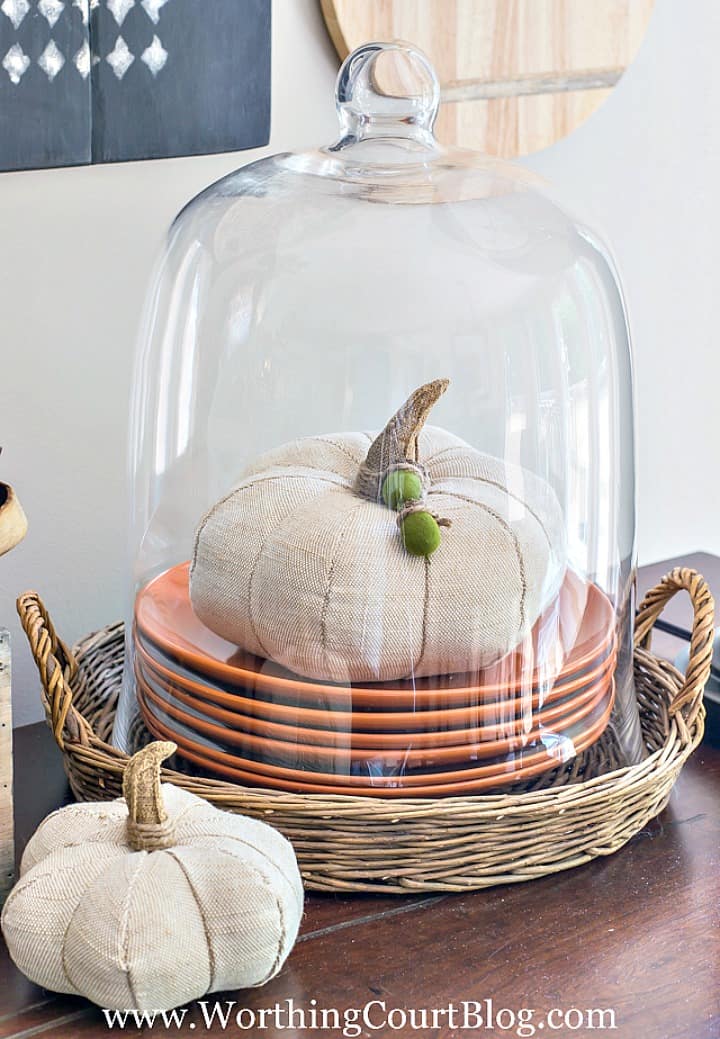 Quick Fall Porch Decor
We all know that using mums and pumpkins makes decorating a front porch super simple, but how about displaying them in a unique way? Or, how about not using mums at all?
The below urn arrangement may look complicated, but it isn't! Simply place a grapevine wreath on top of the urn, add a lantern to middle and poke faux fall foliage picks in between the branches of the wreath.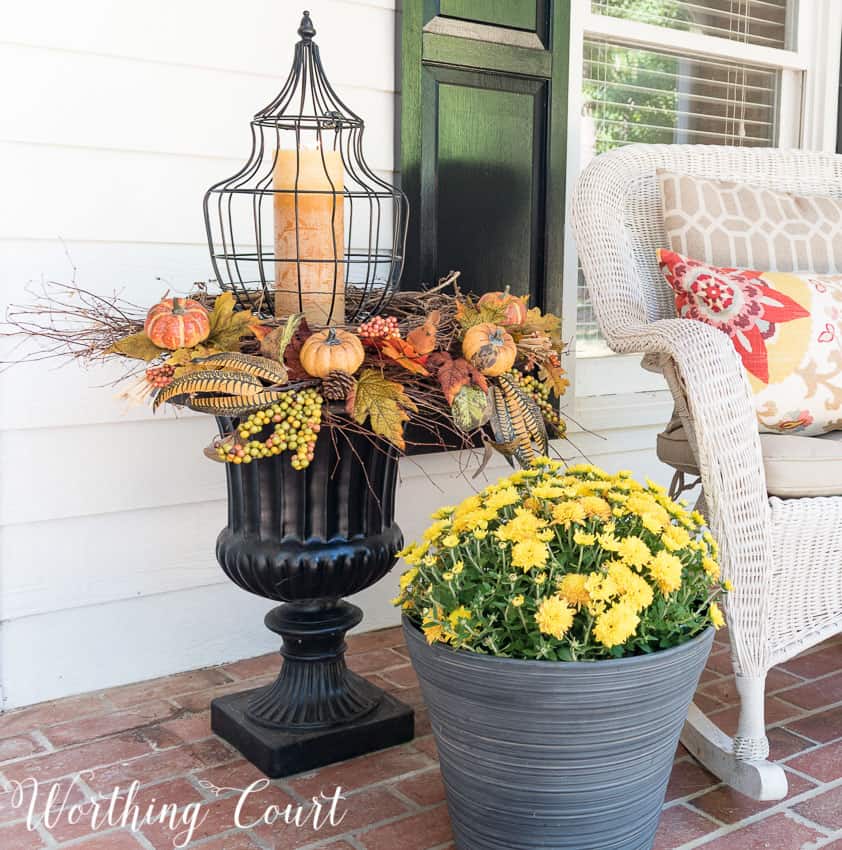 Another easy fall planter idea is to place a large pumpkin in the center of a grapevine wreath and fill with fall picks.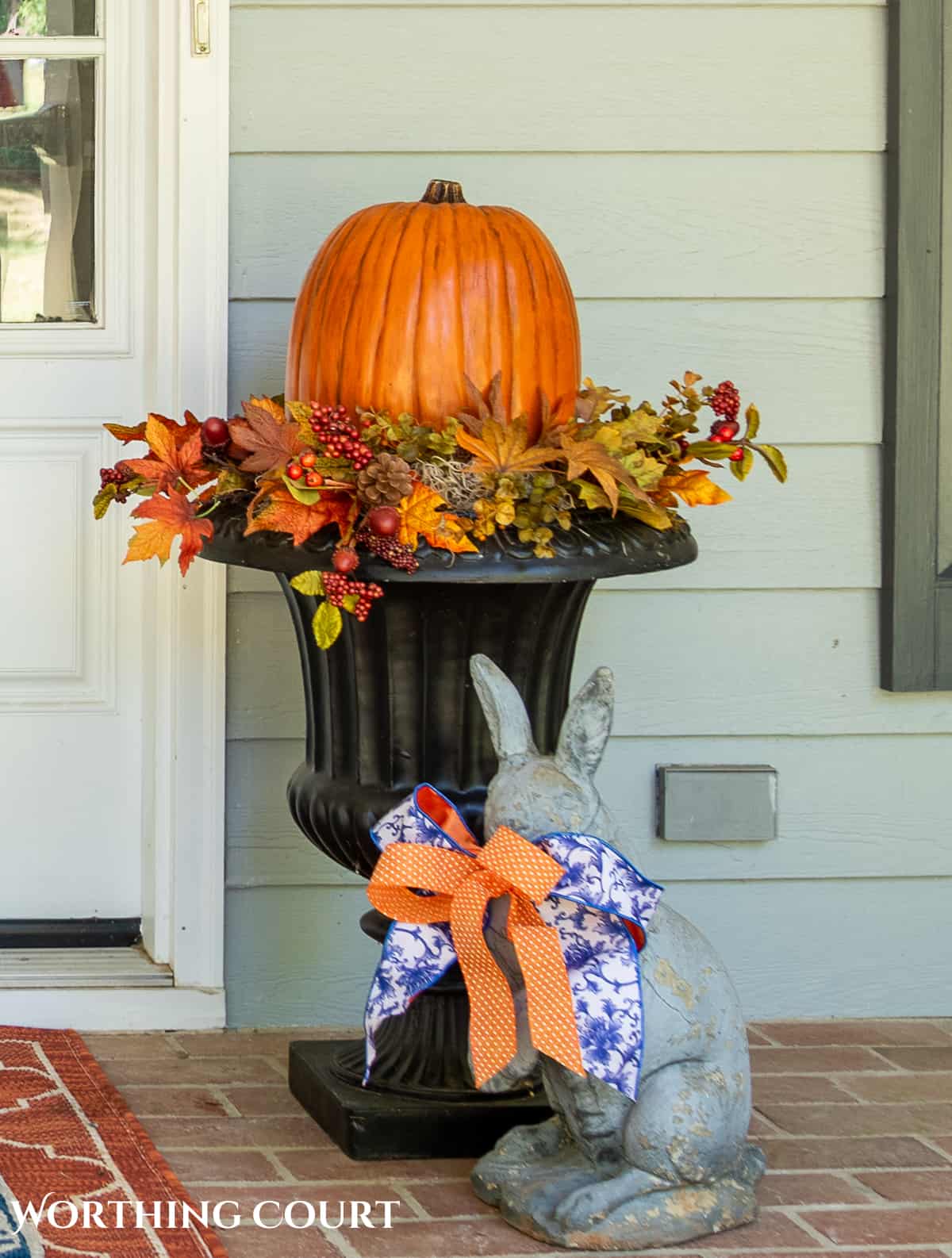 Trying cascading a variety of different colored mums and pumpkins down a set of steps for a welcoming fall "pathway" to your front door.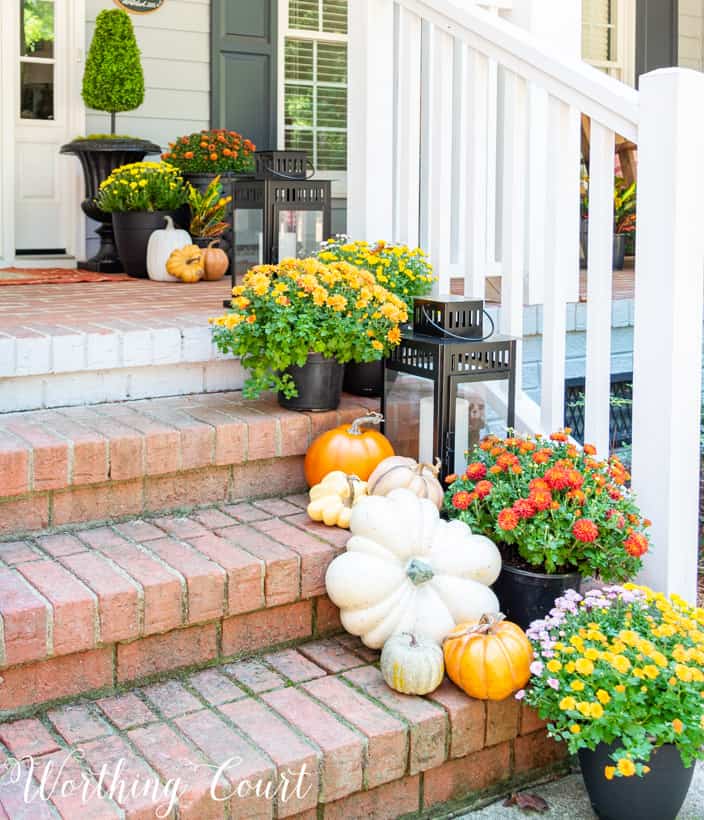 You don't even need to re-pot or change out your container plants for fall. In this container, where I usually keep ivy growing year round, I added a few pots of coleus and a few pumpkins right on top of the soil.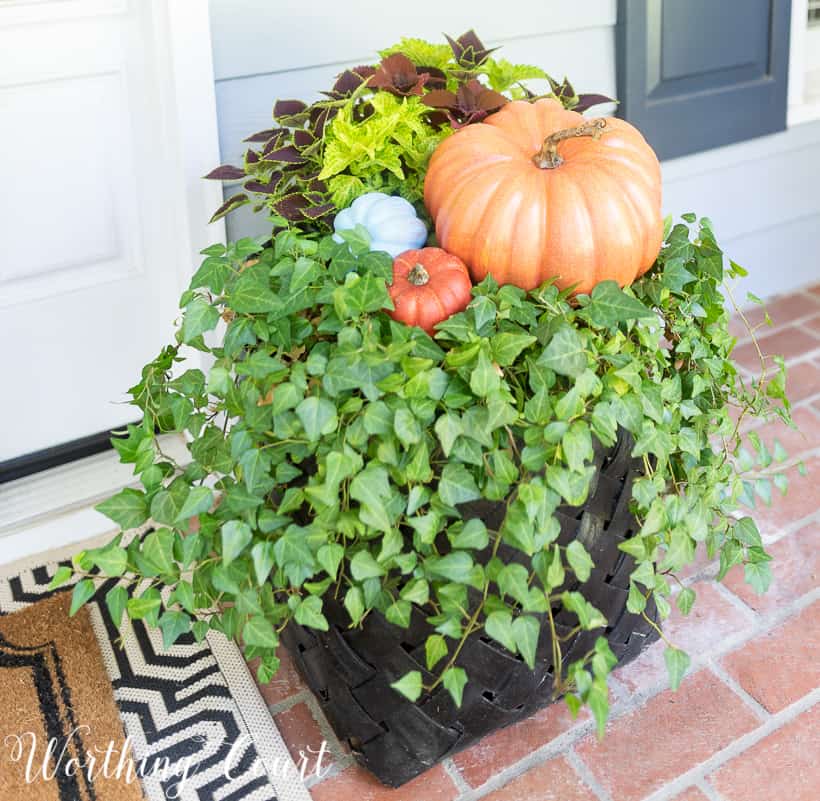 Always remember – decorating should be fun, not a chore. So use these easy fall decorating ideas all around your own home!