Are you ready to bring out your fall decorations, but don't know where to start?  These eleven inspiring ideas will get your creative fall juices flowing!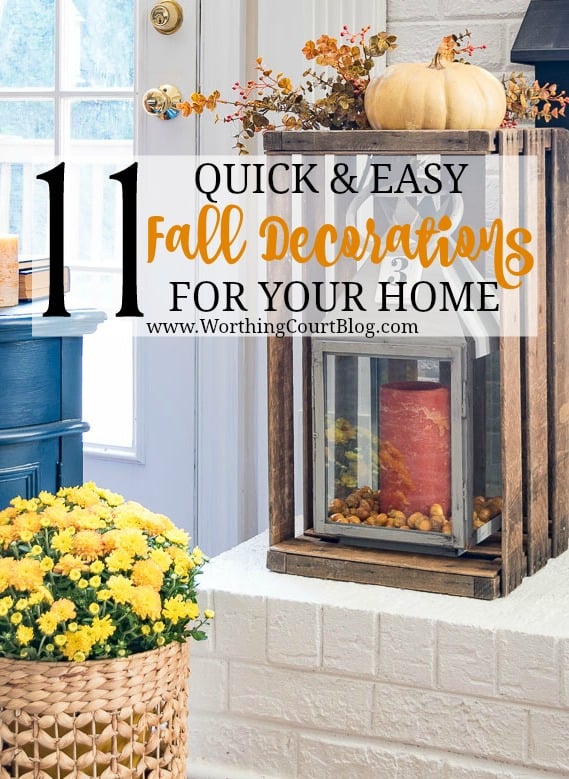 When my plate is overly full and I have more than normal on my mind, I have trouble allowing my creative juices to flow, especially when it comes to seasonal decorating.  That's me right now.  Can you relate?  As I pull all of my fall decorations out of storage, I've been having trouble feeling inspired.  When I find myself in that situation, it helps me to review some of my favorite fall "moments" from seasons past and before you know it, ideas start popping in my head.
The idea here, is to keep things quick and easy, so if you're in a busy season of life right now and need some fall inspiration, I hope these eleven ideas will help!
EASY FALL OUTDOOR IDEAS
EASY AND SIMPLE FALL FRONT PORCH
No need to go to the fuss and bother of making a new wreath for your door.  Simply hang a basket filled with lush faux foliage instead.  This may look like I went to a lot of trouble, but all I used are two bushes each of two different fall foliage bushes (total of four foliage bushes).  Insert the bushes into your basket and fluff – done!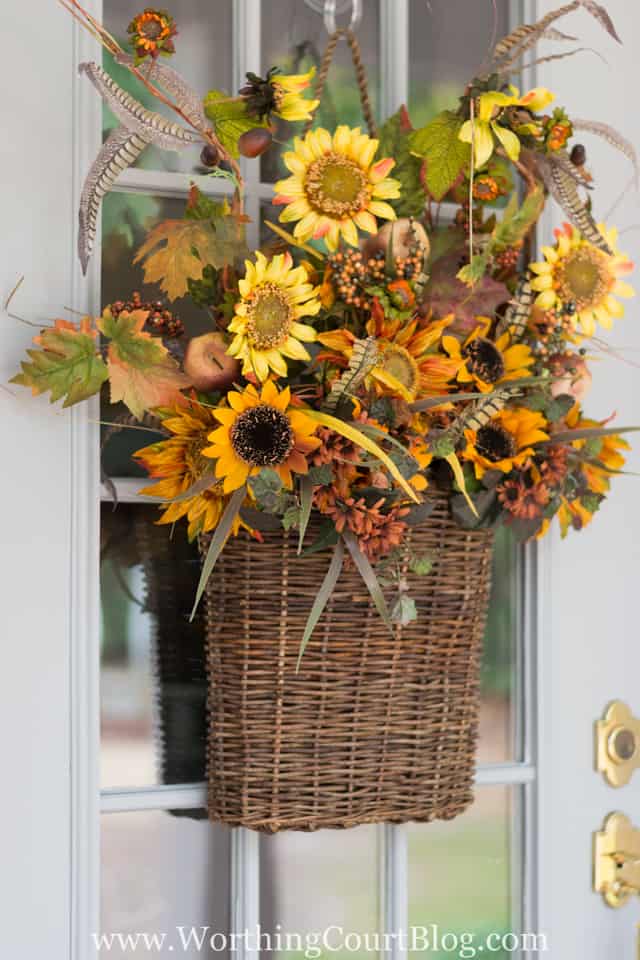 HOW TO CREATE A FALL URN THE FAST AND EASY WAY
There's no need to keep up with remembering to water live mums either.  Lay a grapevine wreath on the top of an urn or planter, add a berry garland and a faux pumpkin and you've just put together a stunning fall planter in under ten minutes!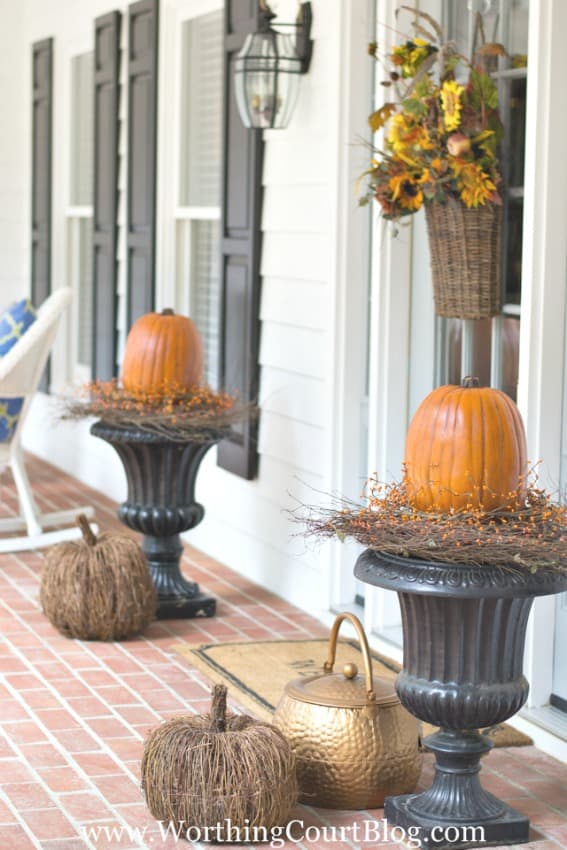 FAST FALL CENTERPIECES
KISS FALL DECORATING – OPEN SHELVES AND CENTERPIECE
A bread board or tray makes a perfect base for this super easy centerpiece.  All you need to add is a container filled with fall foliage, a few stacked plates and a pumpkin or some small bowls.  Done in five minutes!  Check out how easy it is to get two different looks by making only a couple of changes.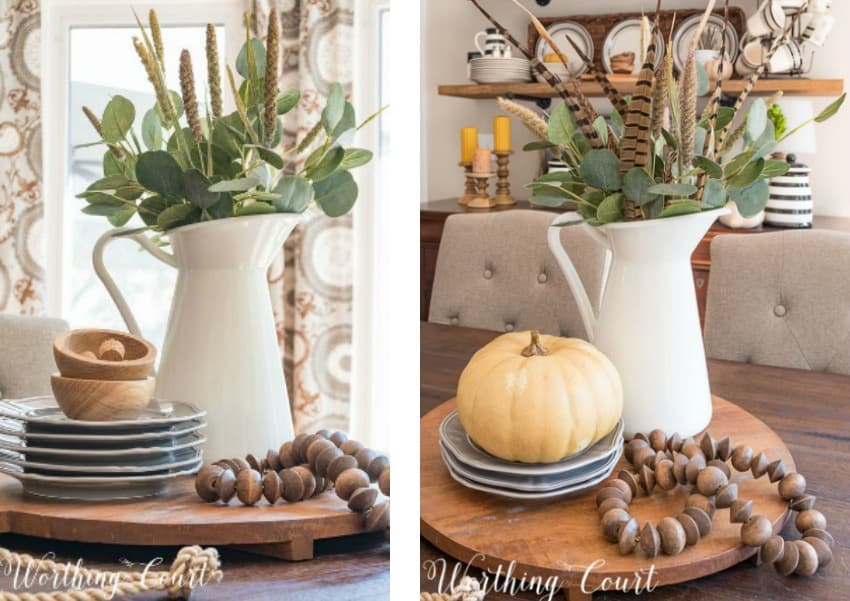 FALL IN MY FARMHOUSE DINING ROOM
Fill a dough bowl, tray, or any type of container will fall decorations that you already have on hand.  Tuck in a few cotton stems or other fall foliage for filler and you're done.  No fancy floral arranging skills needed!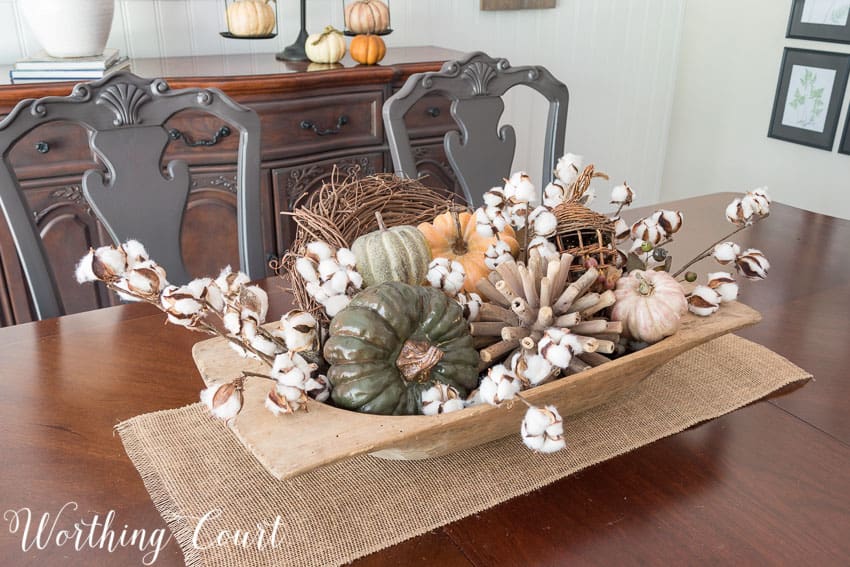 This centerpiece may look complicated, but trust me, looks are deceiving!  If you examine it closely, you'll see that it's just a box filled with a variety of pumpkins, a few clippings from my yard and candles tucked into empty spots.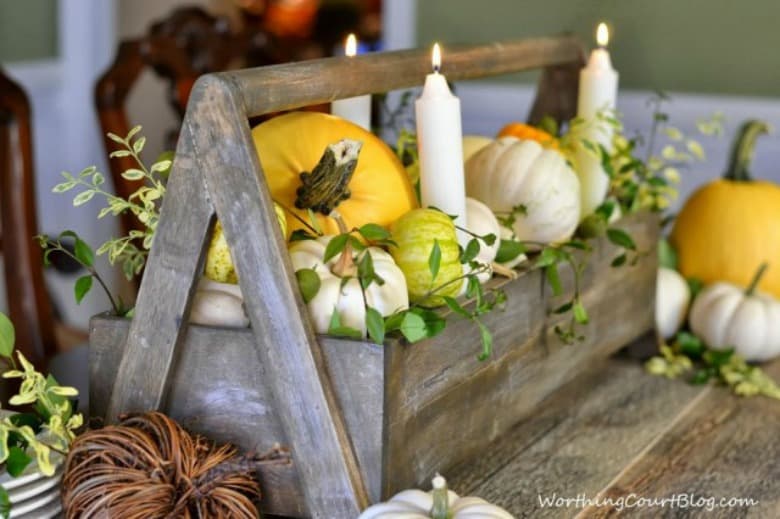 FAST AND EASY FALL VIGNETTES
ONE FALL COFFEE TABLE – TWO WAYS
It doesn't take a lot of fall decorations to put together a pretty vignette for your coffee table.  Just grab a tray or basket, some candlesticks and candles and a few pumpkins.  Drape a strand of beads in the tray to complete the look.  BTW – the beads that you see are made from a container of wood beads that I bought at a craft store and strung onto fishing line – easy!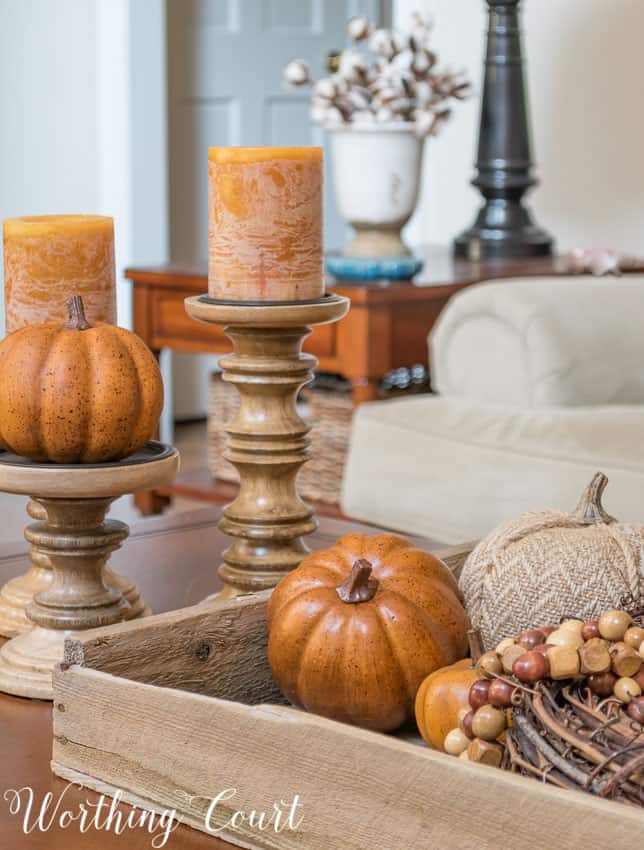 Place a lantern inside of a wood crate, top the crate with a pumpkin and fall foliage and you have a unique, but super easy display for your hearth.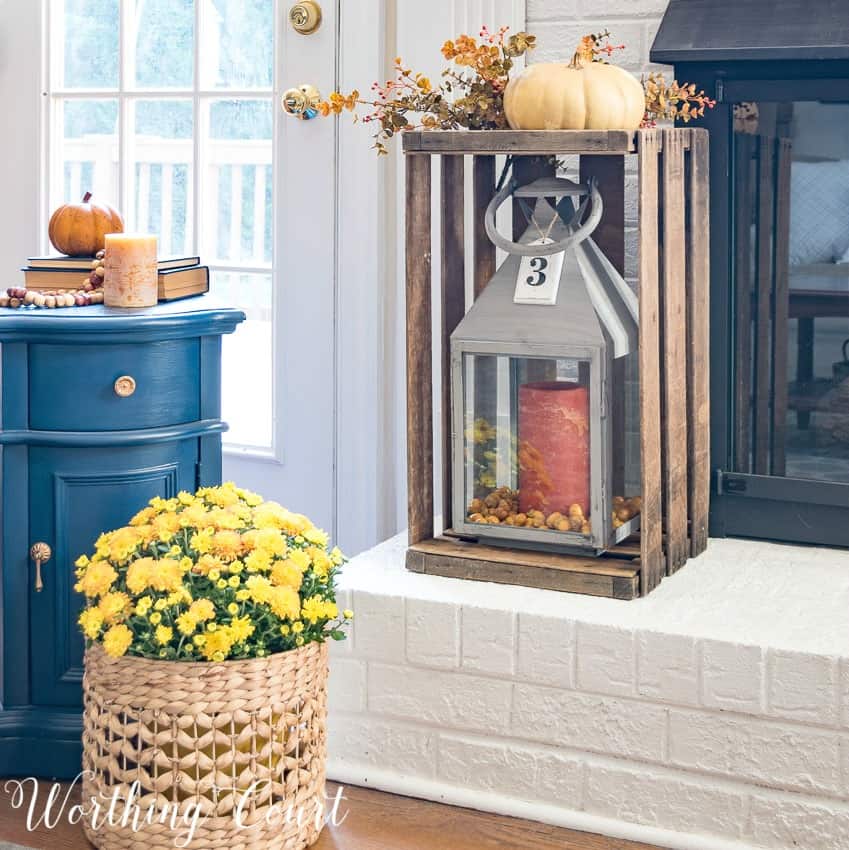 A terrarium looks great and is so easy to fill with a variety of fall decorations.  The more full the terrarium is, the better!  Just grab some of your small'ish items and play to your heart's content.  Don't forget to think outside of the box either – everything in the terrarium doesn't have to be geared toward fall.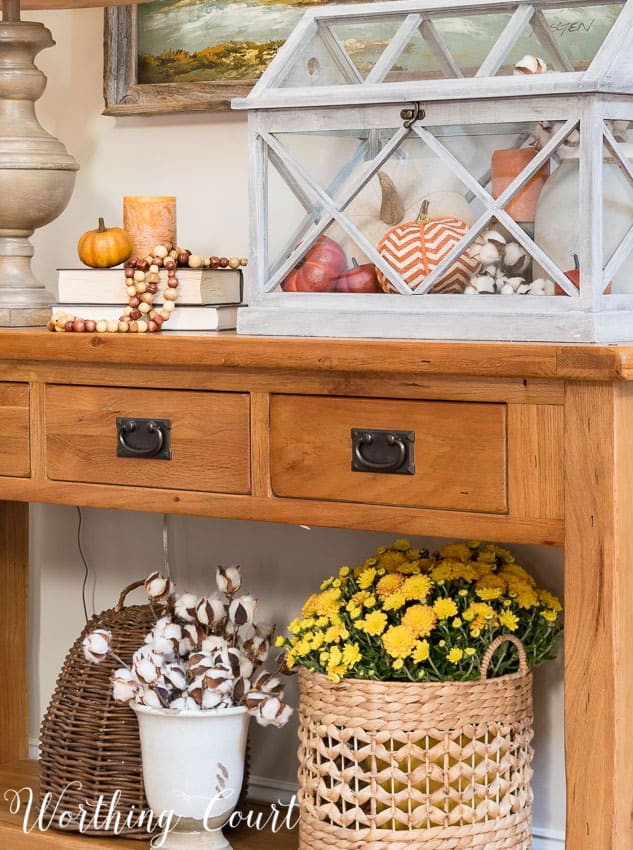 Using monochromatic colors makes creating a great looking vignette super fast and easy!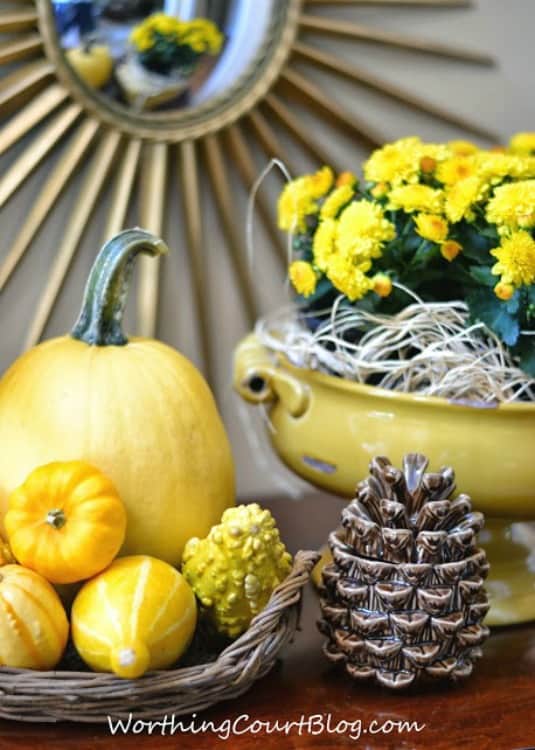 Candlesticks aren't just for candles.  Try topping a grouping of candlesticks with a combination of fall colored candles and pumpkins.  Use them on your hearth, your table, a sideboard or just about anywhere!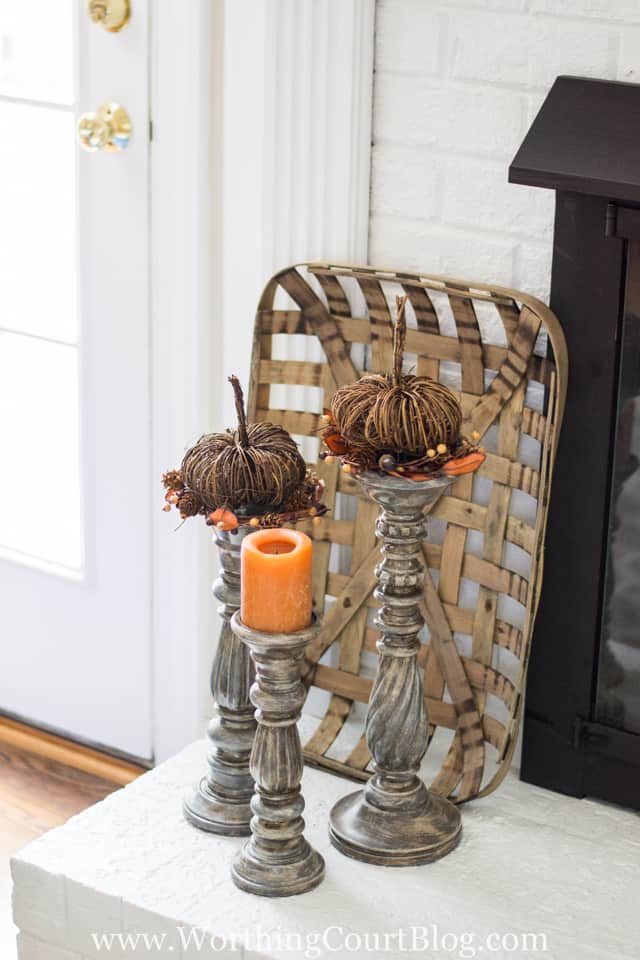 And one last idea – drape a fall throw over the side of a basket, add sticks from your yard and a few pumpkins.  So easy and this will work anywhere in your home!