A Collection Of Beautiful Christmas Tree Decorating Ideas
The Christmas tree will be the focal point of your holiday decor, so you'll want to make sure that it makes the statement that you want it to. This collection of beautiful tree ideas, in a variety of styles and color schemes, is sure to give you inspiration for decorating your own tree.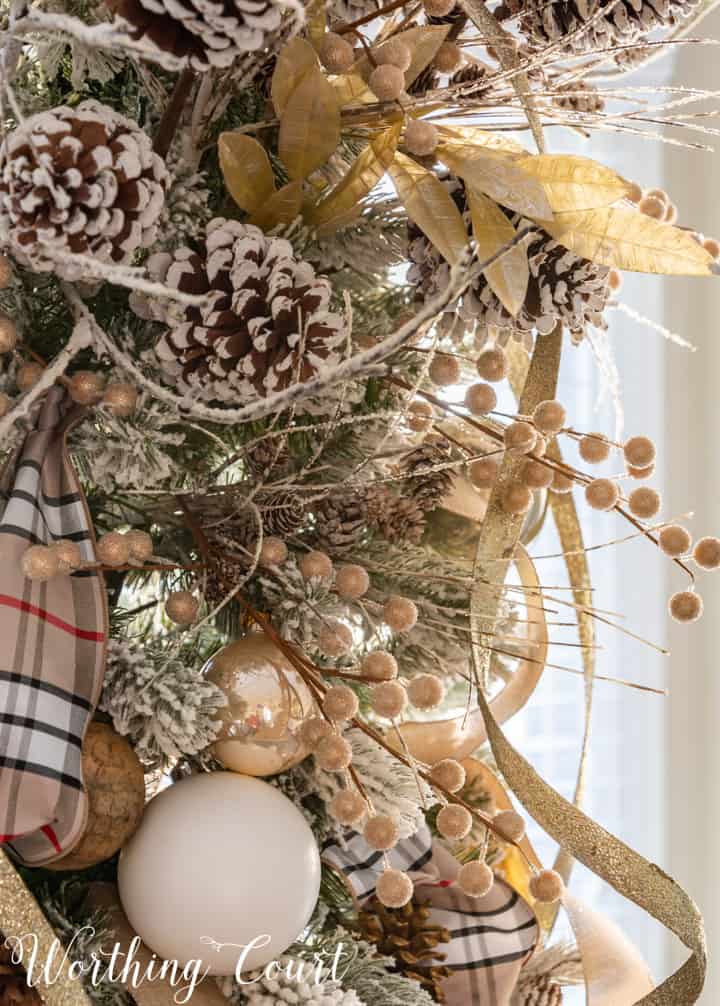 Pin
As you can imagine, I've managed to decorate quite a few Christmas trees in the 10+ years that I've been blogging. Here are over a dozen of my favorites that I hope you'll be able to use to inspire your own tree decorating this year.

You'll find ideas from traditional to elegant to woodsy to rustic glam. No matter what style or color theme you use at Christmas, you're bound to find some great inspiration here!
BEFORE WE GET STARTED, CHECKOUT MY ULTIMATE CHRISTMAS DECORATING RESOURCE LIST:
Christmas Decorating Timeline – includes a free printable!
Christmas Tree Basics – How To Choose, Set Up & Fluff An Artificial Tree – an idea you may not have thought of!
How To Professionally Decorate A Christmas Tree – Designer's Step-By-Step Directions – my most popular post of all time!
Recipe For Classic Red Velvet Cake With Cream Cheese Icing
How To Decorate A Christmas Wreath – Directions From A Pro
How To Decorate A Small Front Porch For Christmas– another reader favorite!
Free Chalkboard Christmas Printable
Click HERE for tons and tons of Christmas ideas and inspiration all in one spot!
ENJOY THESE BEAUTIFUL CHRISTMAS TREE DECORATING IDEAS!
Click on the tree titles to see more details, except where noted.
This is the first year that I've ever incorporated blue with red in a Christmas tree. I was very uncertain about whether or not I'd be able to pull it off without winding up with a patriotic tree, which I didn't want.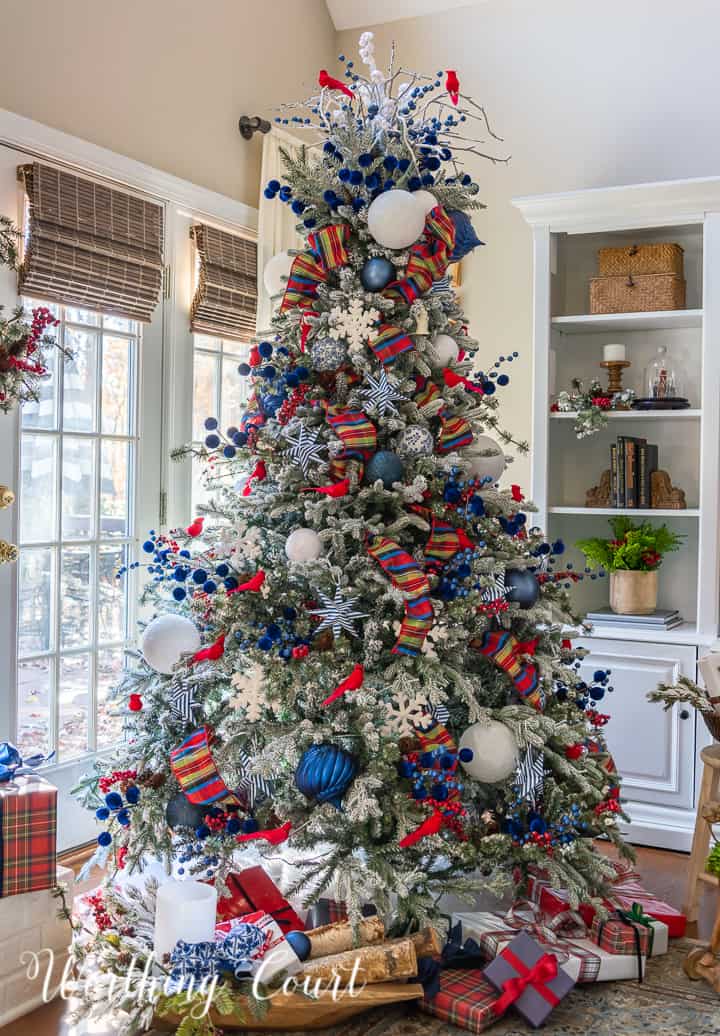 Pin
My strategy was to make blue the primary color and only add pops of red and white.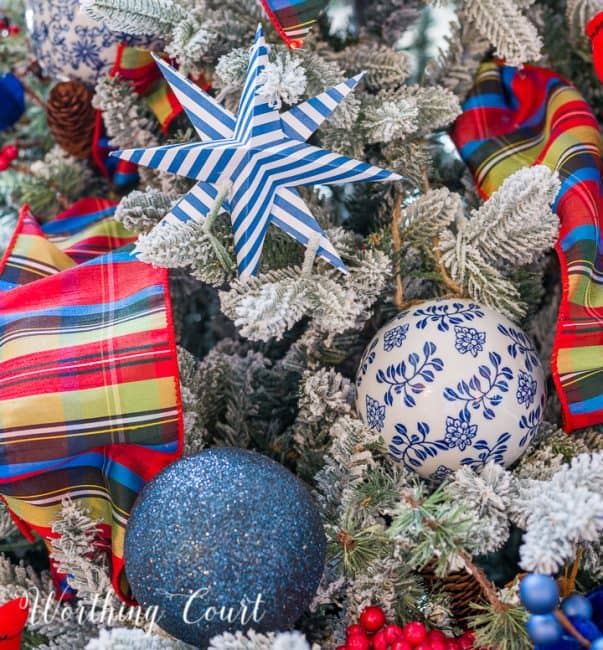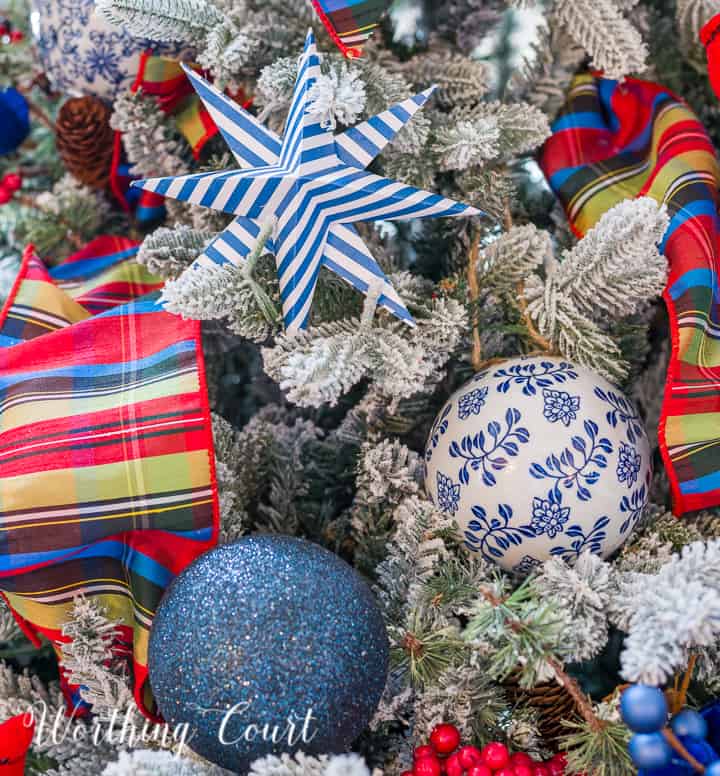 Pin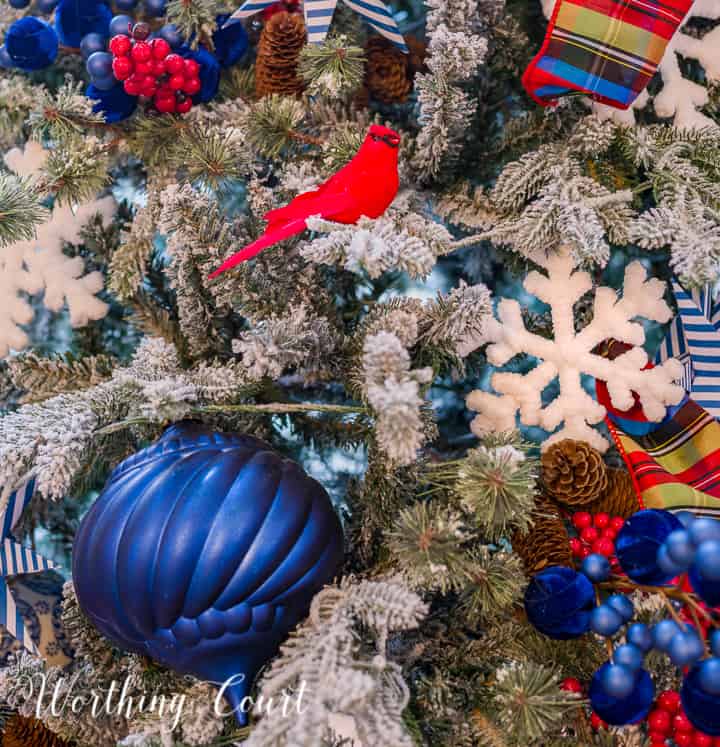 Pin
The tree in our family room is one of my favorites that I've ever decorated! It's a shorter, fatter tree than what I had in the past and I love the flocking!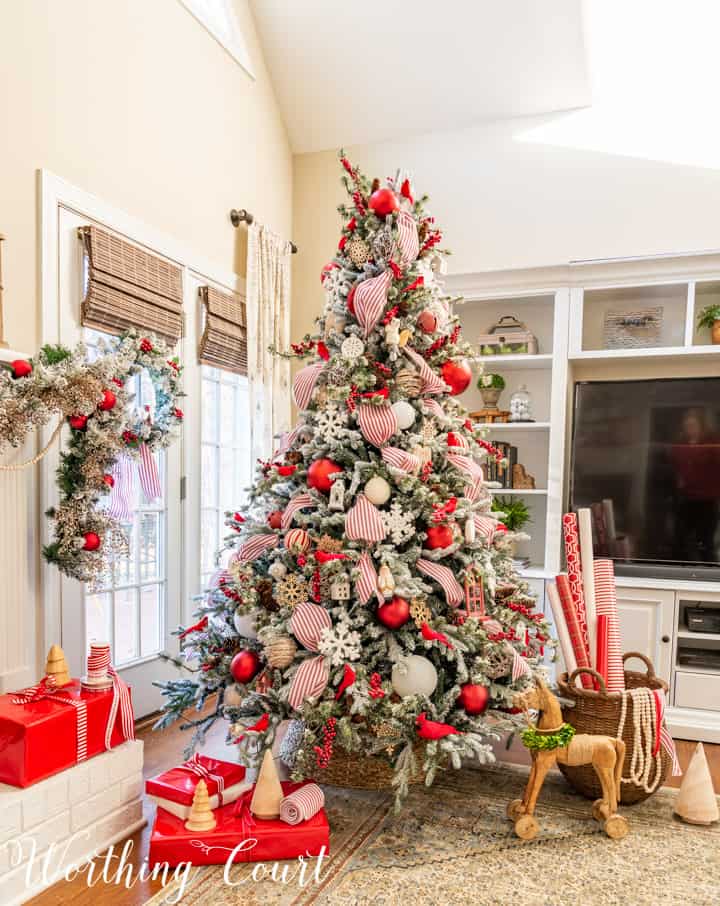 Pin
Using red as part of my Christmas decorations is a must for my family and well as myself! The bright and cheery color brings a festive vibe to a space like no other.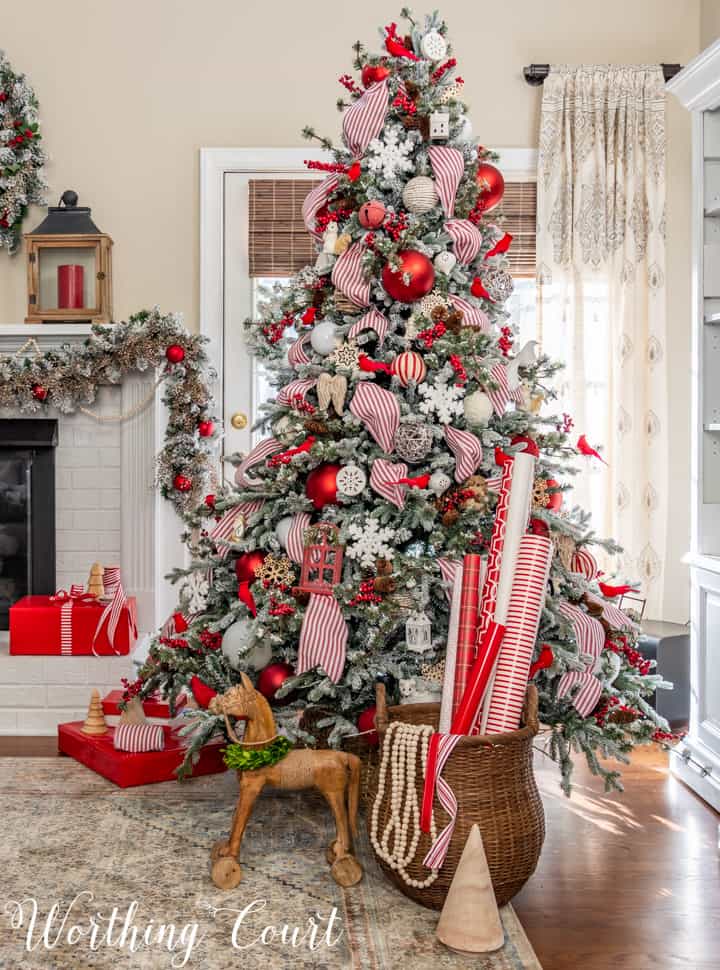 Pin
Also new for 2021 is this gorgeous tree decorated with shades of blue and neutrals. Oh my. It was quite fabulous in my opinion.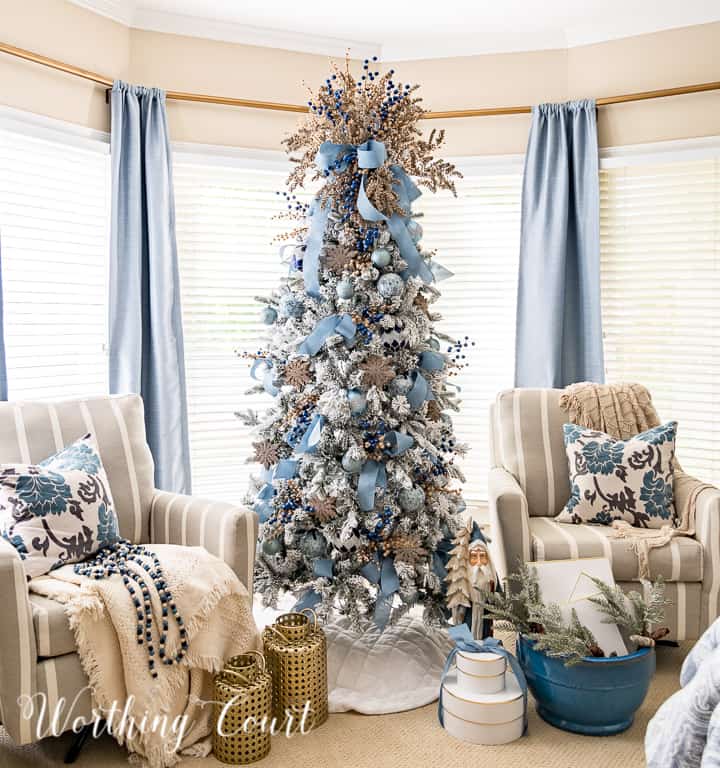 Pin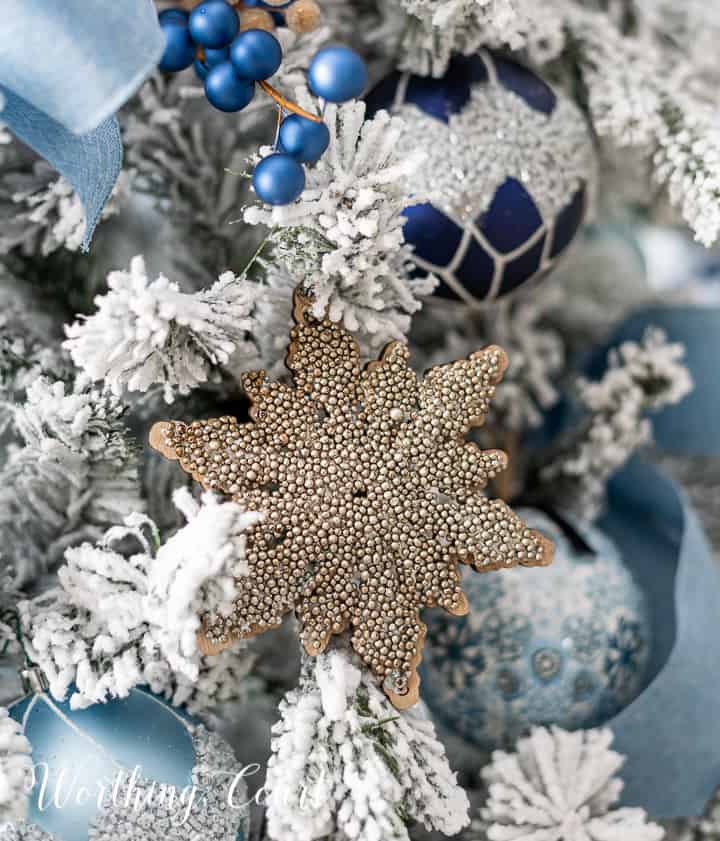 Pin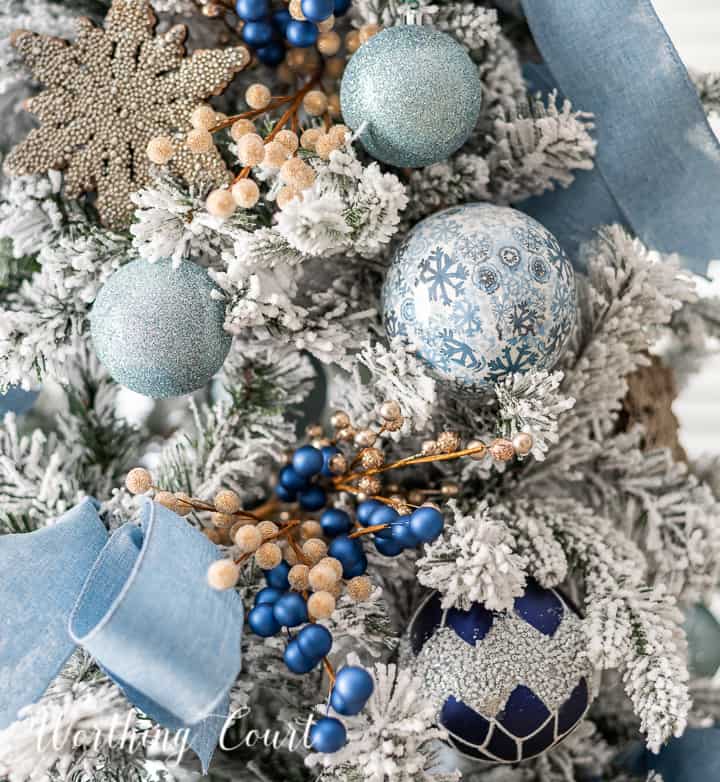 Pin
A favorite tree of mine! I love the rustic pinecones and matte ornaments mixed with the glam gold ornaments, silk ribbon and glittery curling garland.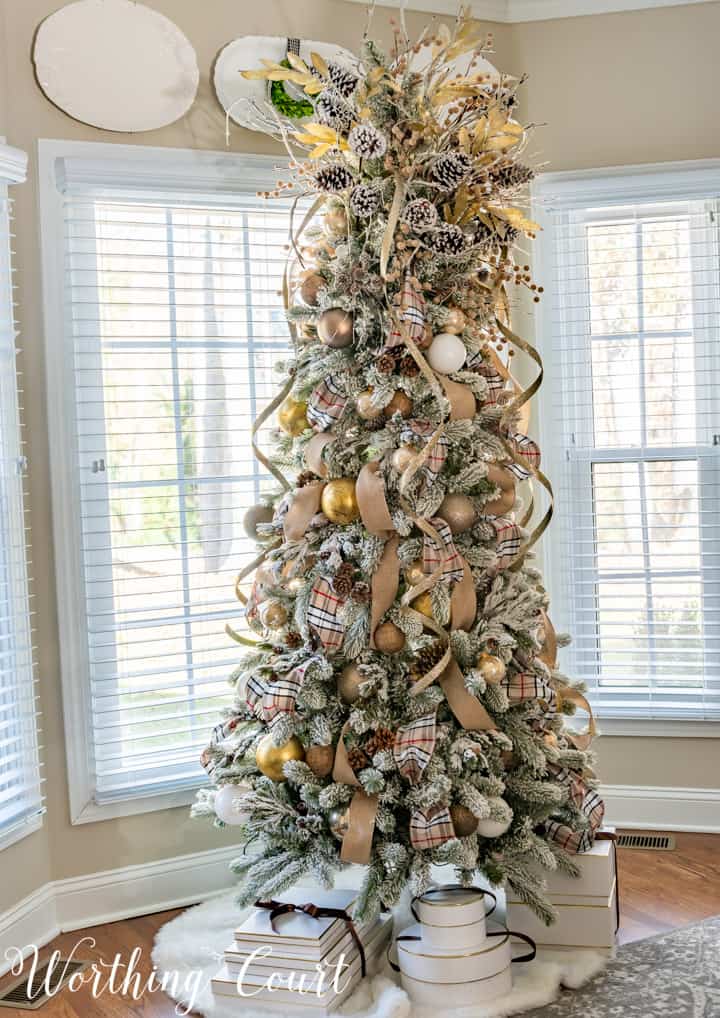 Pin
The large gold ornament balls came from the dollar store. They were super shiny (and cheap looking) until I added dark wax to them to tone the shininess down.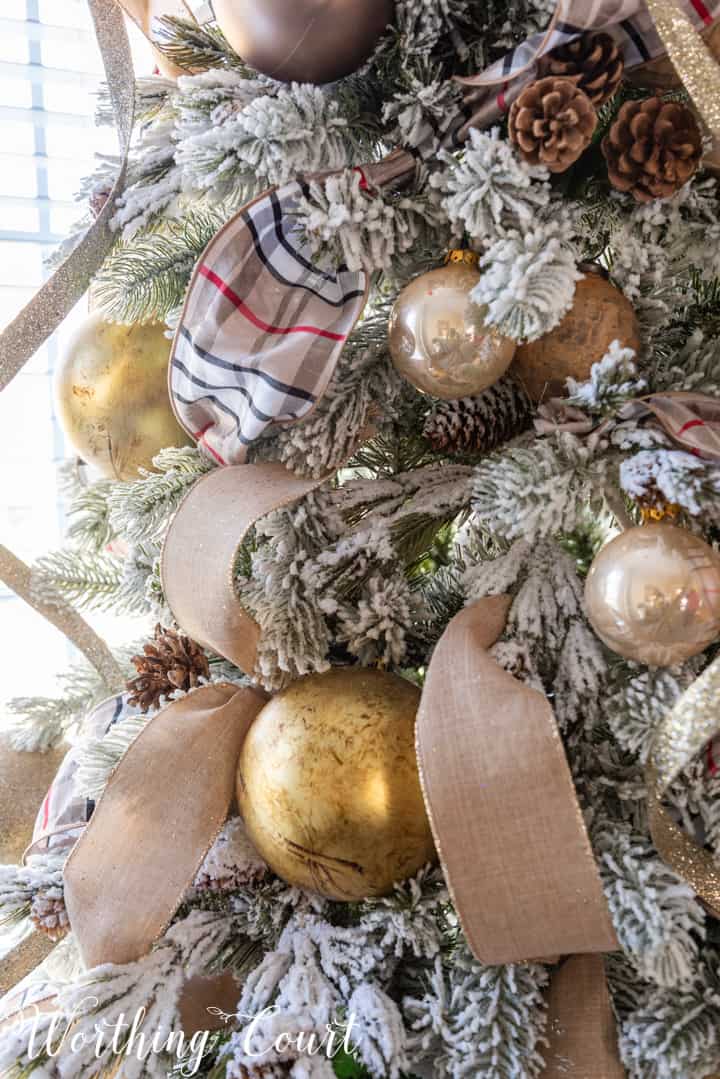 Pin
This was the main tree in our family room a couple of years ago. I was inspired by how much I loved the sagey green of eucalyptus combined with red.
The buffalo check ribbon and ornaments made quite a bold statement on their own, so I was able to keep the actual ornaments on the tree very simple.
Pin
I was so inspired by the black and white buffalo check ribbon, ornaments and tree skirt that I added two small trees with the same pattern and colors on the opposite side of the fireplace.
The effect of the tree, mantel and pair of small trees was quite the stunner!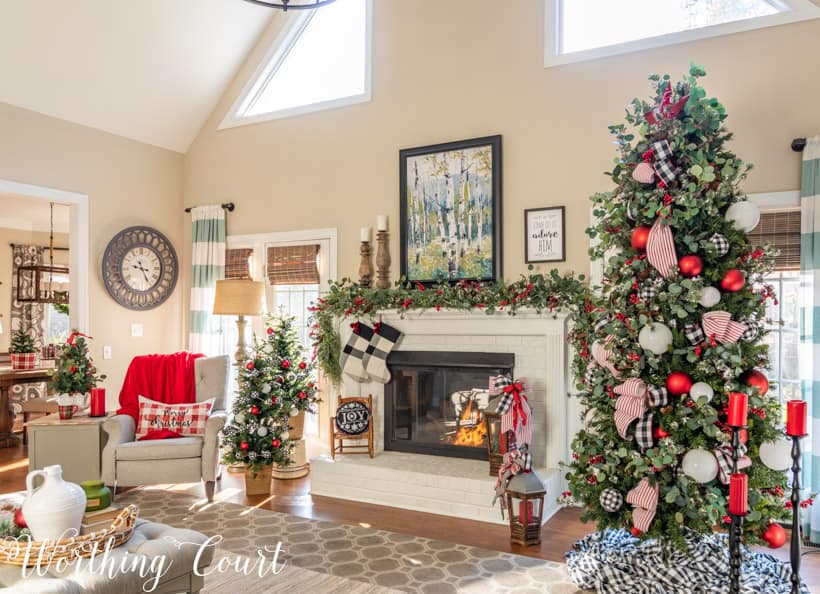 Pin
Here's one more new-for-2021 tree and it's the one in my dining room. This is another color combination that I've never decorated with before and I fell in love with the deep rich luscious mixture of burgundy and gold in this room.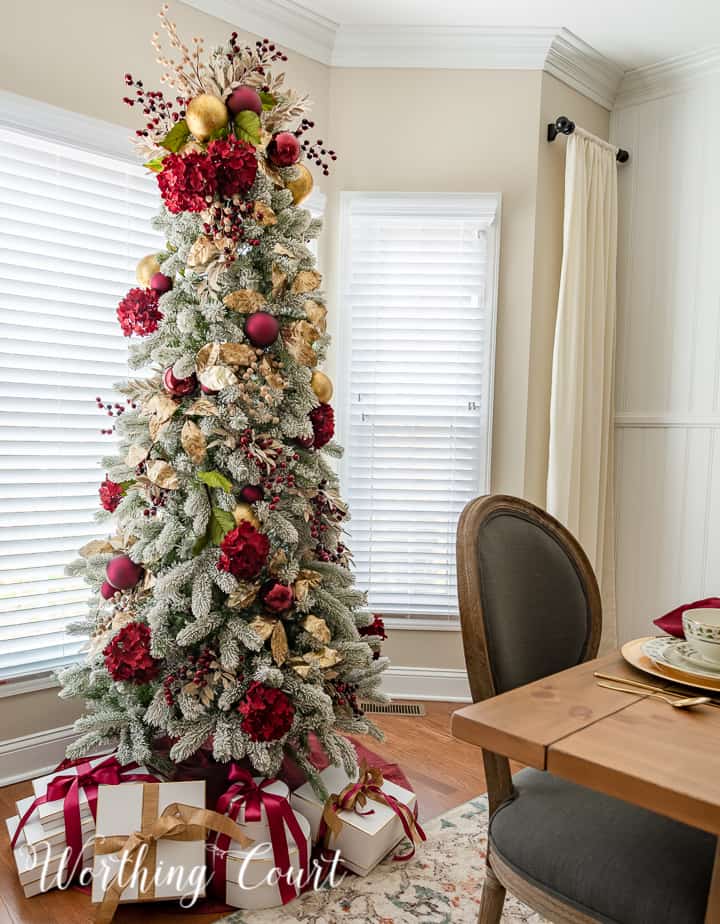 Pin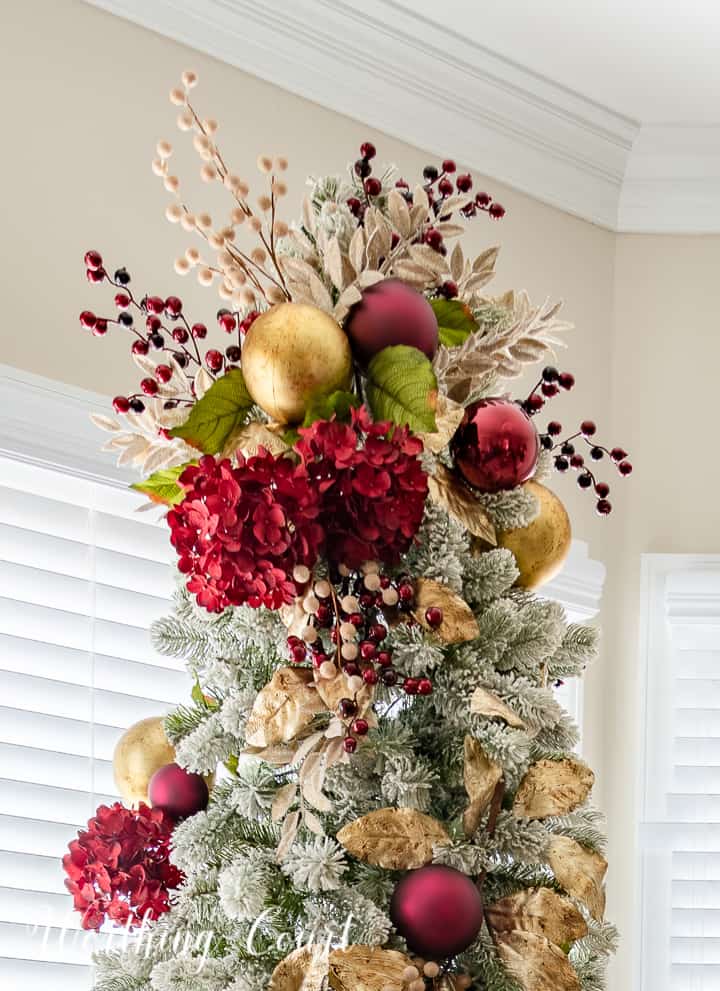 Pin
Once again, dark wax came to the rescue to tone down the shiny gold of the large gold leaves on the picks.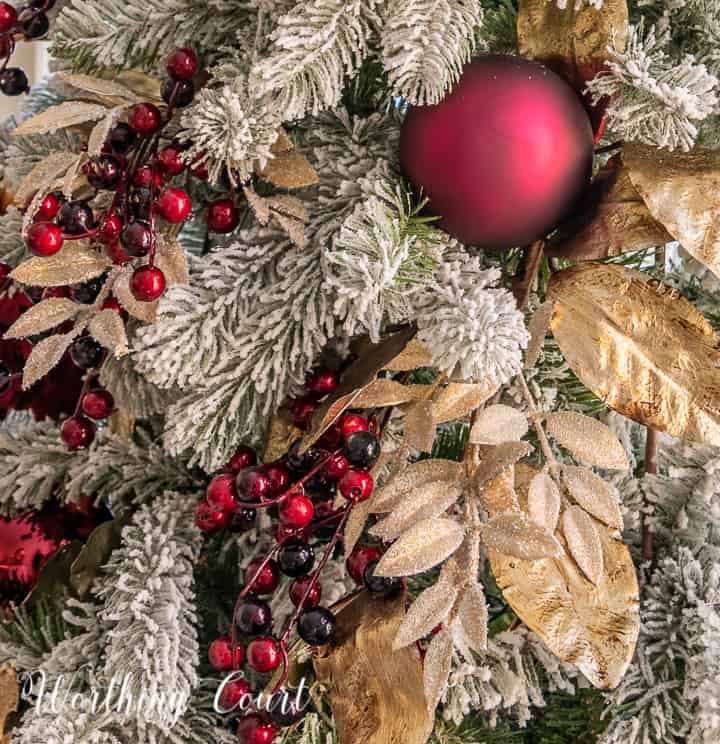 Pin
I put up two large trees every year (however this year I put up four!) – one in our family room and the other in our dining room. I like for the tree and decor in our dining room to be a little more elegant.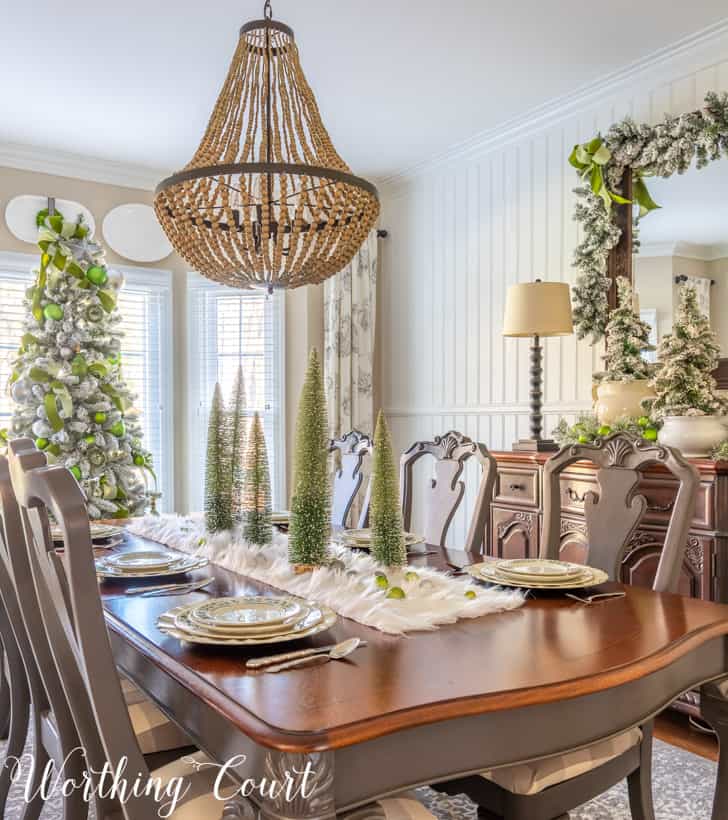 Pin
I found this combination of apple green mixed with silver on a flocked tree to be just beautiful!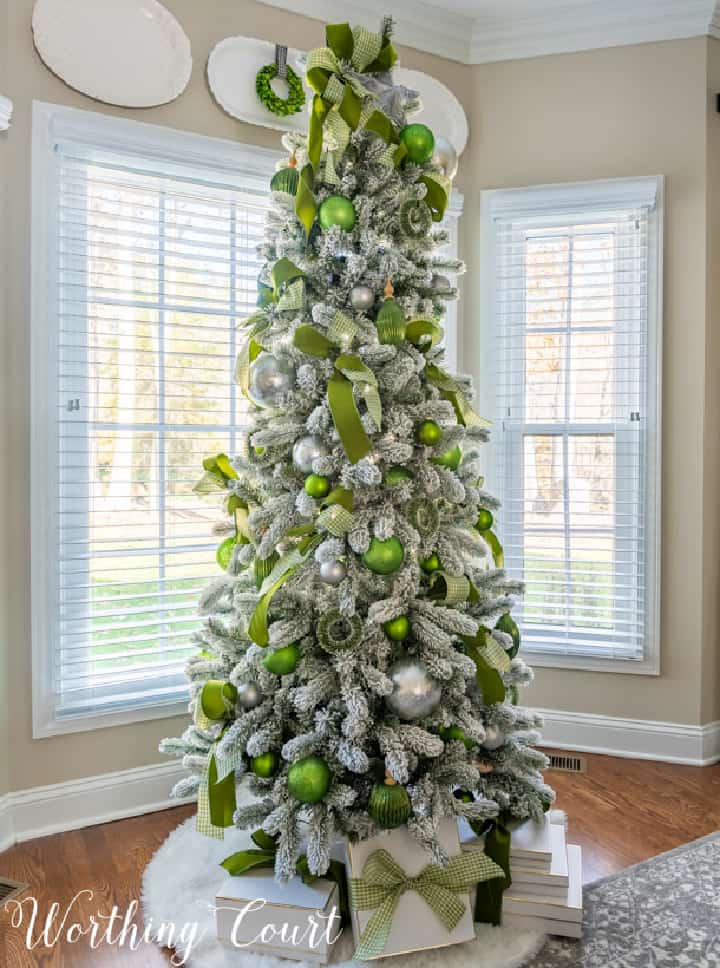 Pin
A Woodsy & Outdoorsy Christmas Tree (no link- this one will be in a magazine!)
Evidently, 2021 has been a year of Christmas firsts because here's yet another type of tree that I've never decorated before.
I decided to decorate my screen porch this year and felt like a woodsy theme would be very appropriate for an outdoor tree. I haven't revealed the porch yet, so I don't have a blog link for you.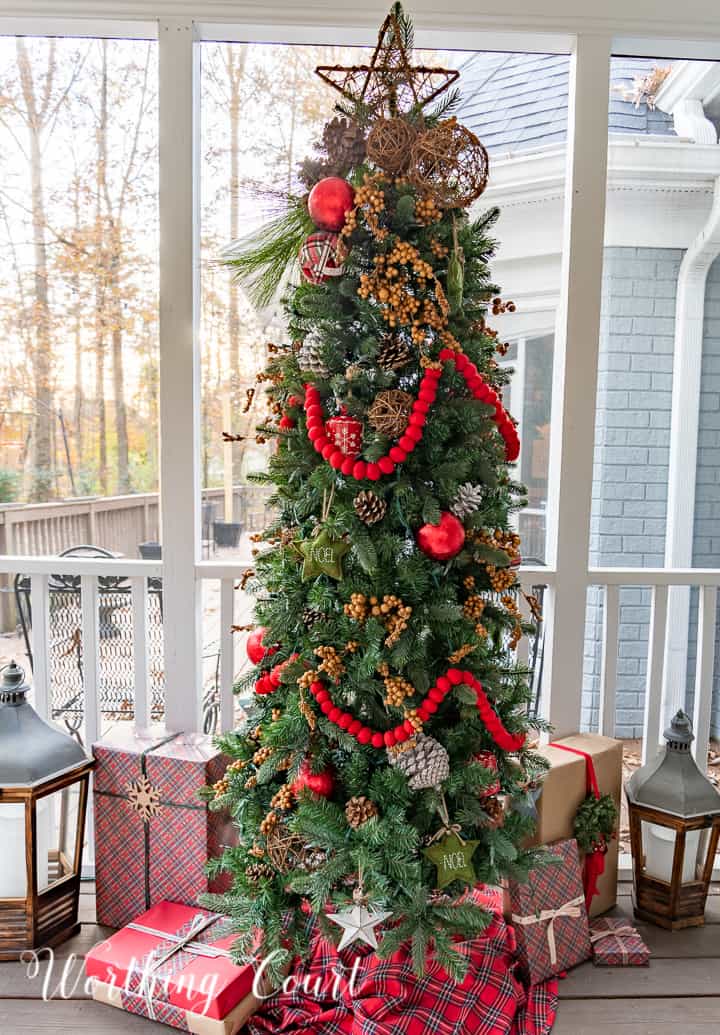 Pin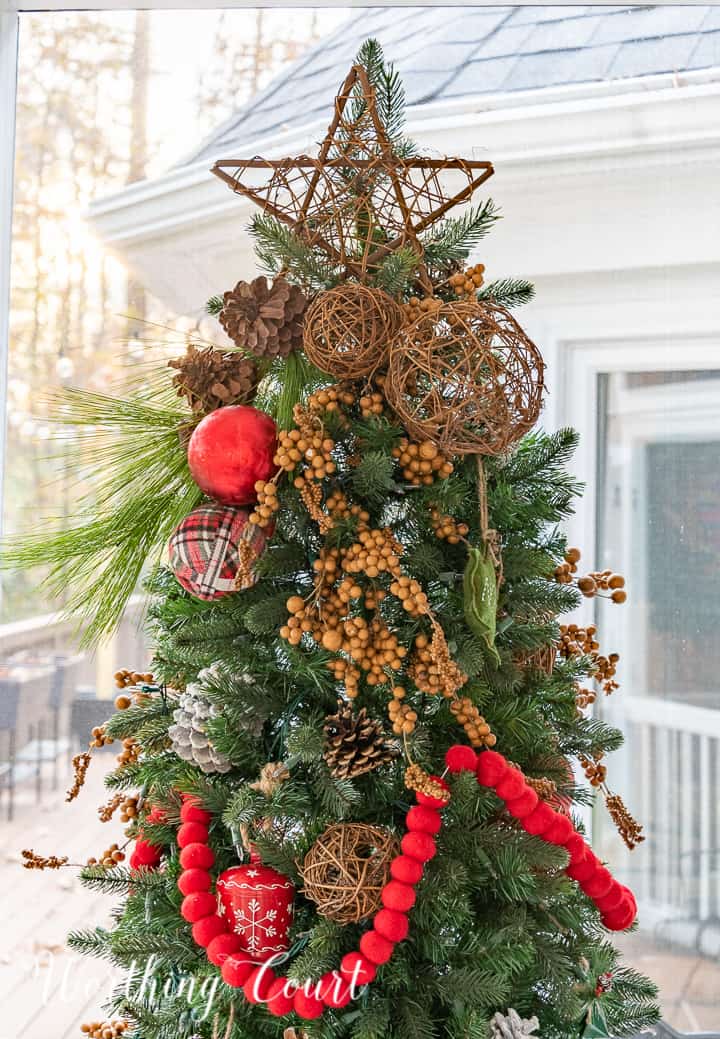 Pin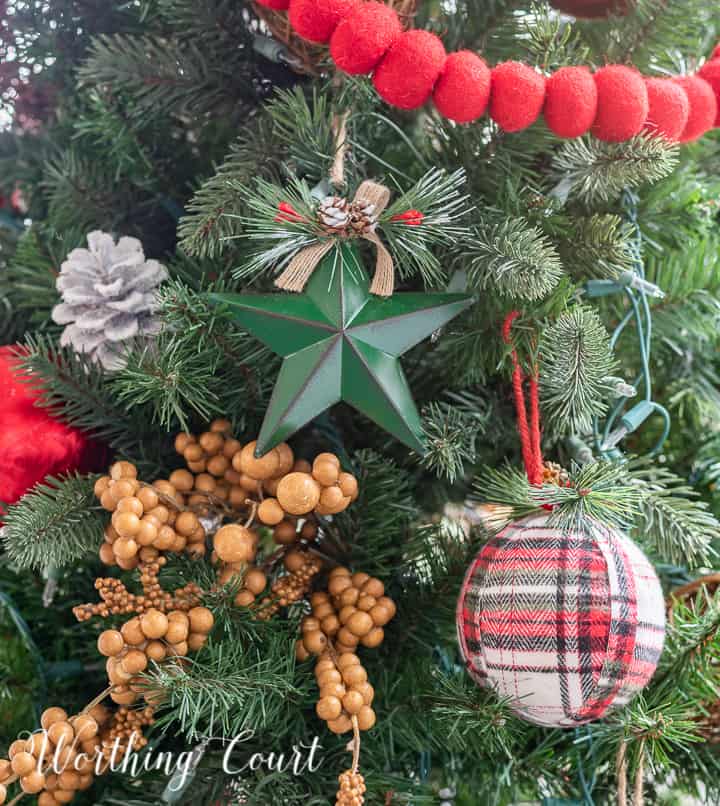 Pin
I absolutely love adding unexpected decorations in my home at Christmas! In 2018, I was inspired by several cardboard Christmas houses that I had purchased on clearance after Christmas a year or two before.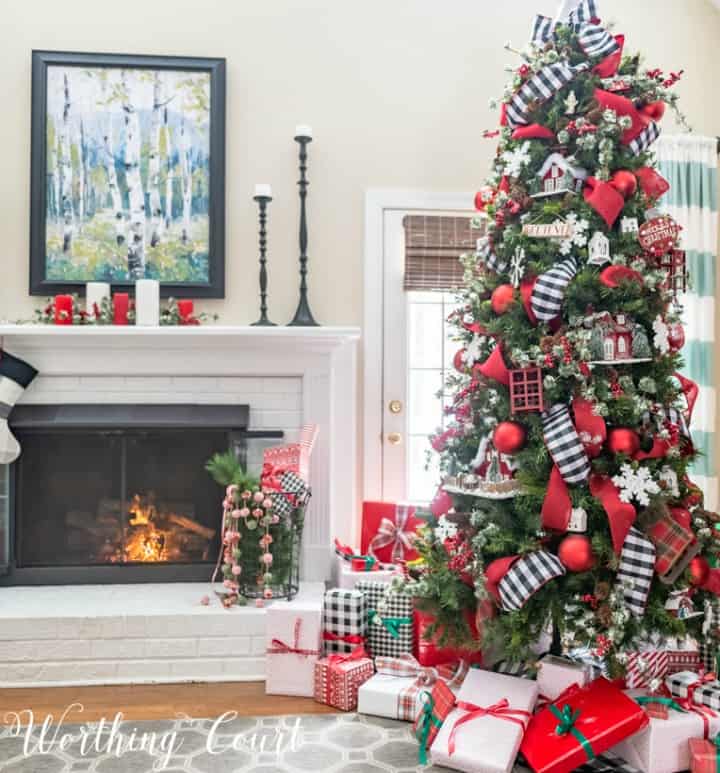 Pin
I held the houses in place on the tree by drilling small holes in the base of each house and using florists wire wrapped around the branches. It was such a fun tree!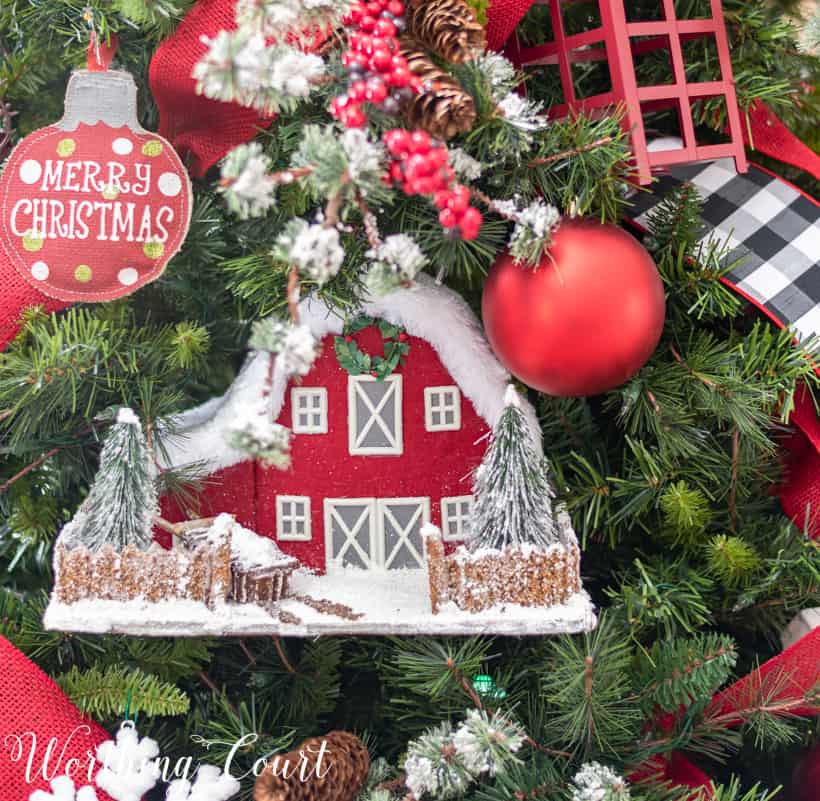 Pin
The first year that I ever had a flocked tree was 2018 and I wanted to make sure that whatever color theme I used popped against all that snow!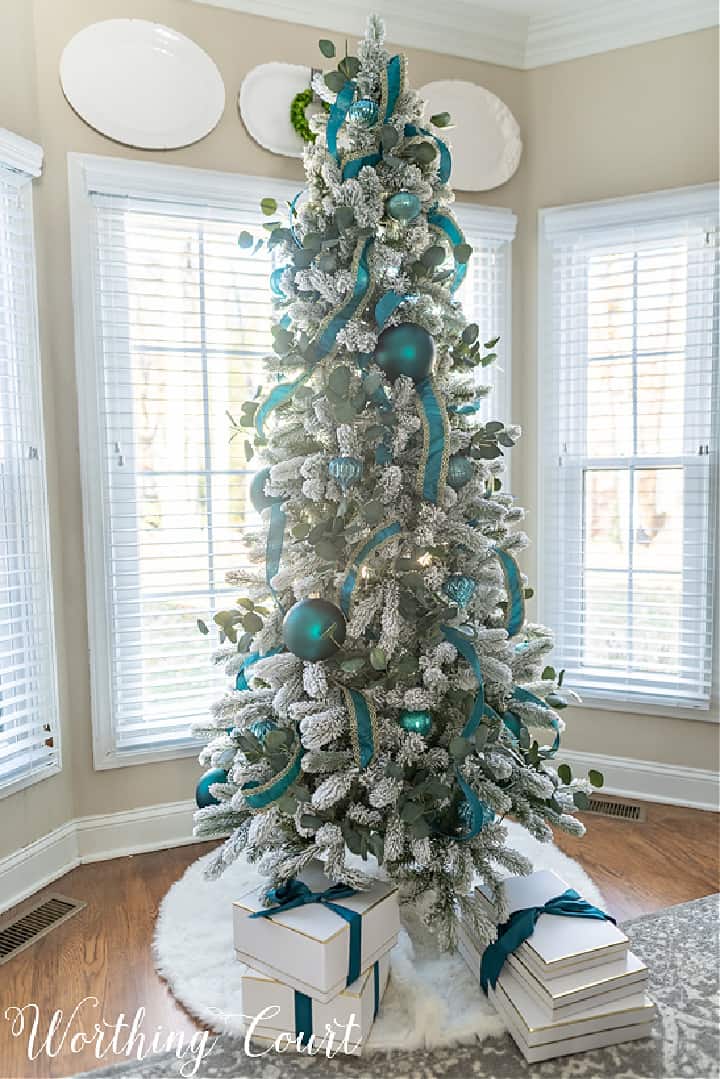 Pin
I'm always looking for something to inspire my decor every year and this year it was really pretty teal colored glass compote dishes that I ran across and fell in love with. My entire dining room was decorated for the season with that color in mind.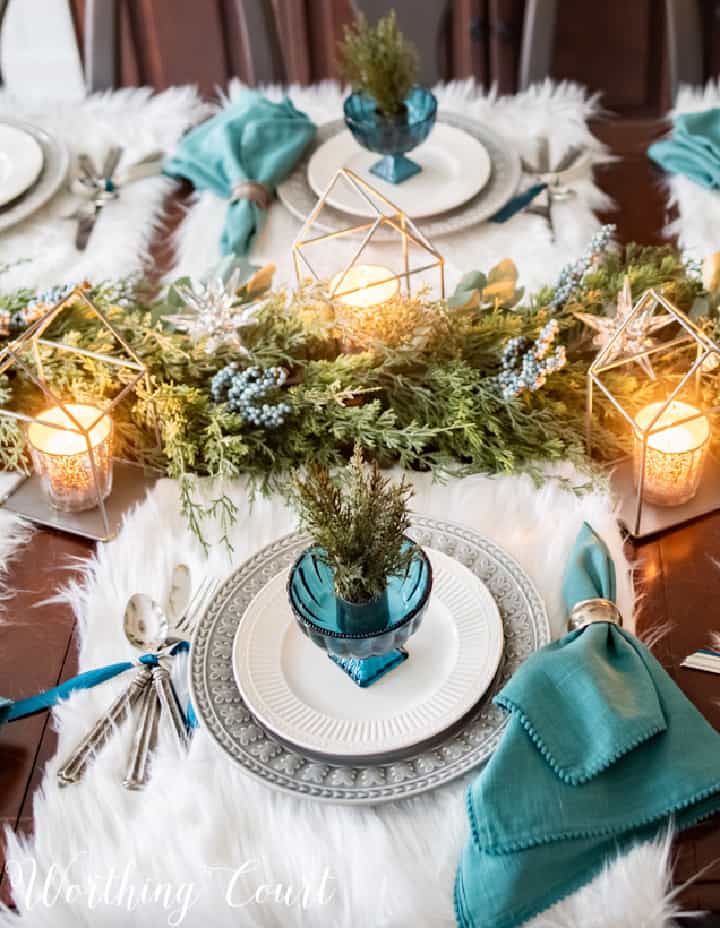 Pin
In 2017, my family room Christmas tree decorations were inspired by luscious silk red and green plaid ribbon, along with the coordinating stripe that I found at a local shop.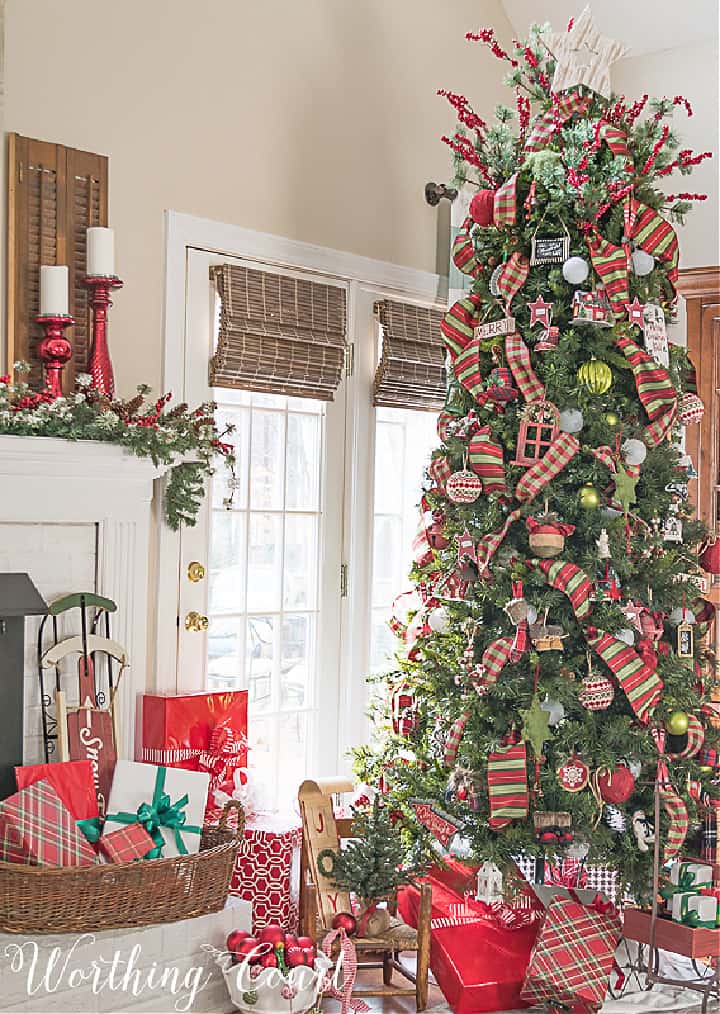 Pin
I took the time to go through all of my ornaments, one by one, and only used the ones that fit with my festive Christmas theme that year.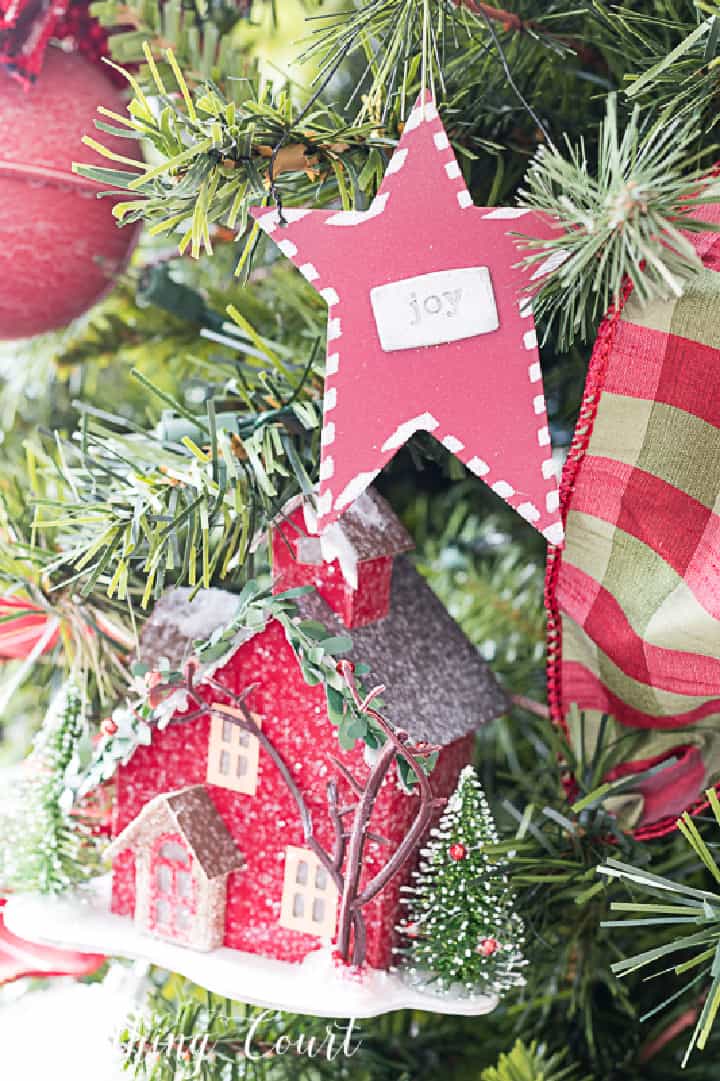 Pin
I was inspired by ribbon once again when I decorated the tree in my dining room the same year.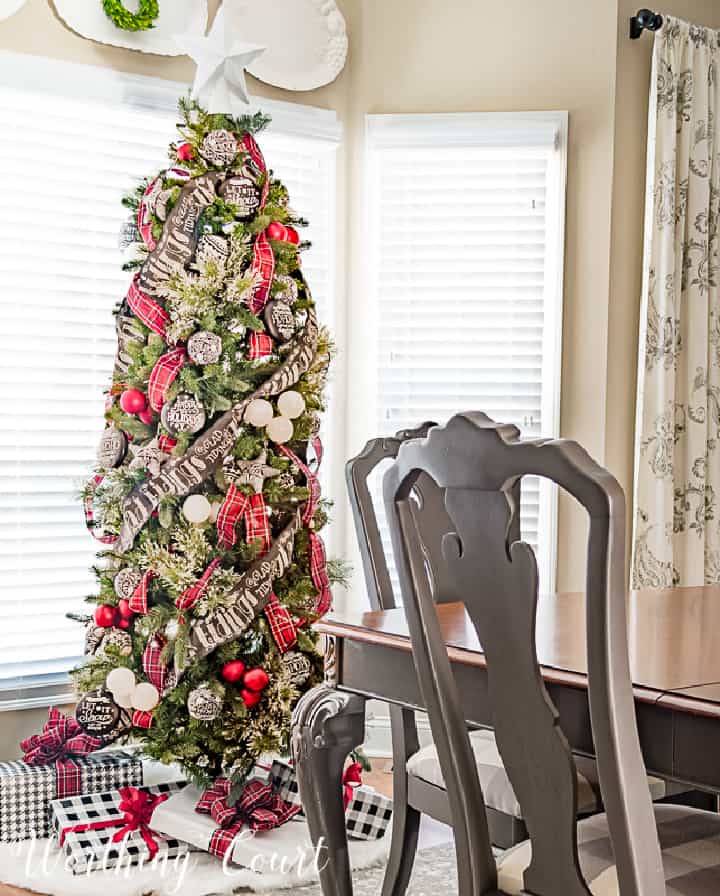 Pin
Chalkboards are still one of my favorite decorating accessories and this wide chalkboard-look ribbon inspired a red, black and white Christmas tree.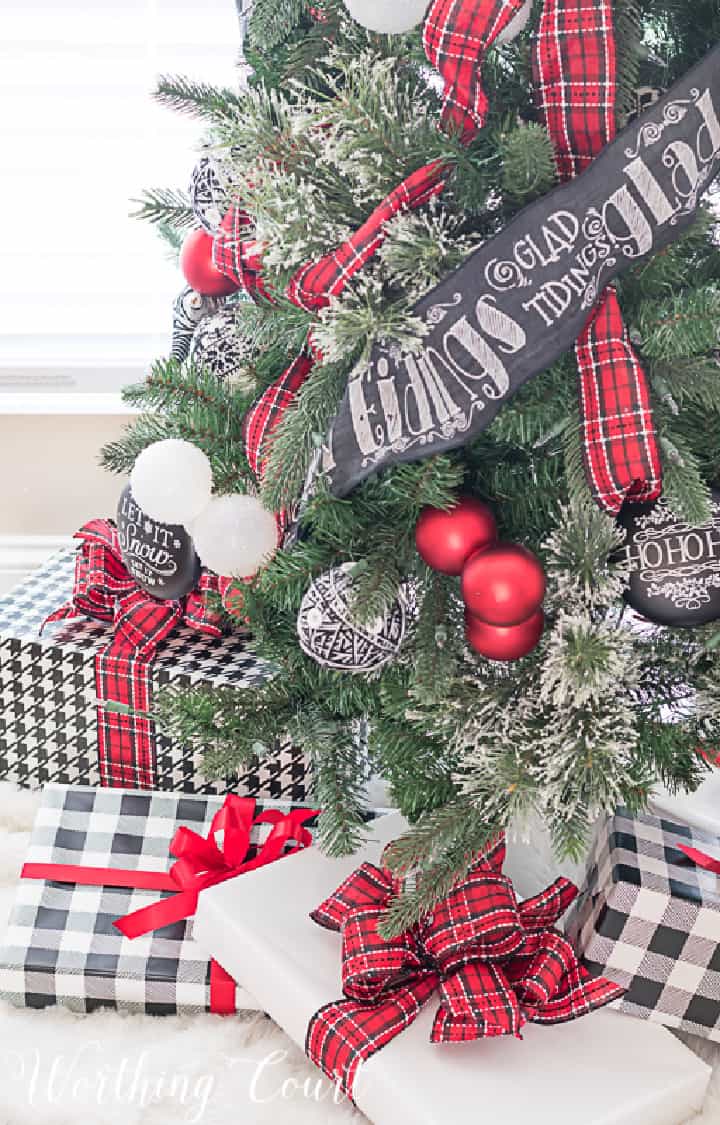 Pin
My entire tree and family room decor the year that I had this tree was inspired by a wreath I had seen in a magazine and did my best to duplicate. Every year it seems that I say this tree is my favorite, but this one was really over the top fabulous!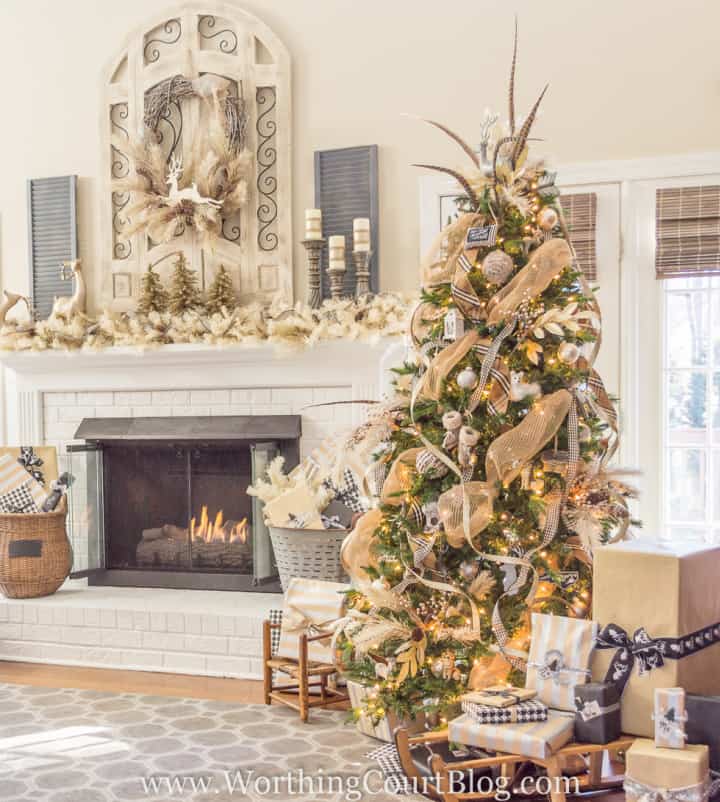 Pin
It was also one of the messiest because….glitter. Glitter everywhere, but it was so worth it!
Pin
For this year, I decided to go totally farmhouse with my tree and mantel. My Christmas "roots" lie in traditional red and green – but in an updated farmhouse'ish way – at least this particular year.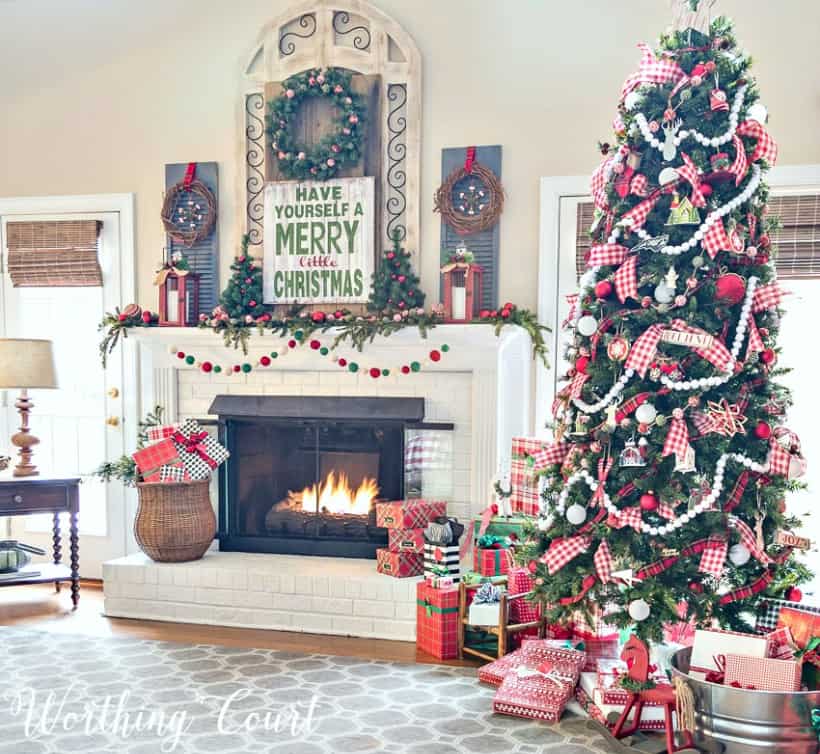 Pin
My tree was loaded with a variety of ornaments, tartan plaid ribbon, checked ribbon, a white pompom garland and a Nordic sweater garland that I fell in love with. A little bit of everything, you might say.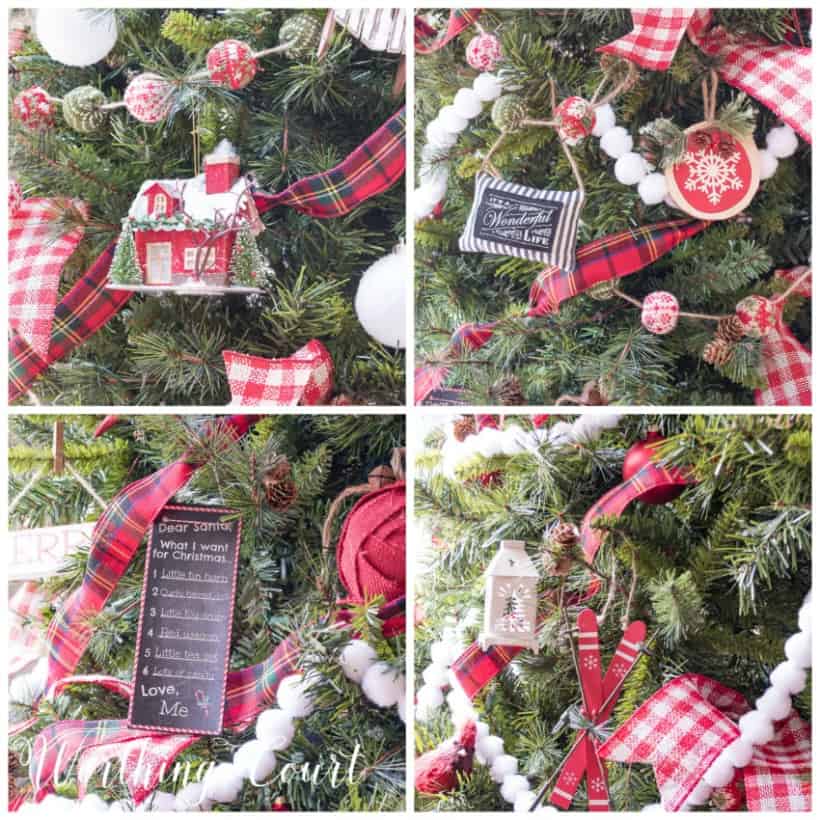 Pin
Which one is your favorite? Merry Christmas and happy tree trimming, my friends!